Mini Cooper S Mk I restomod - reader resto
---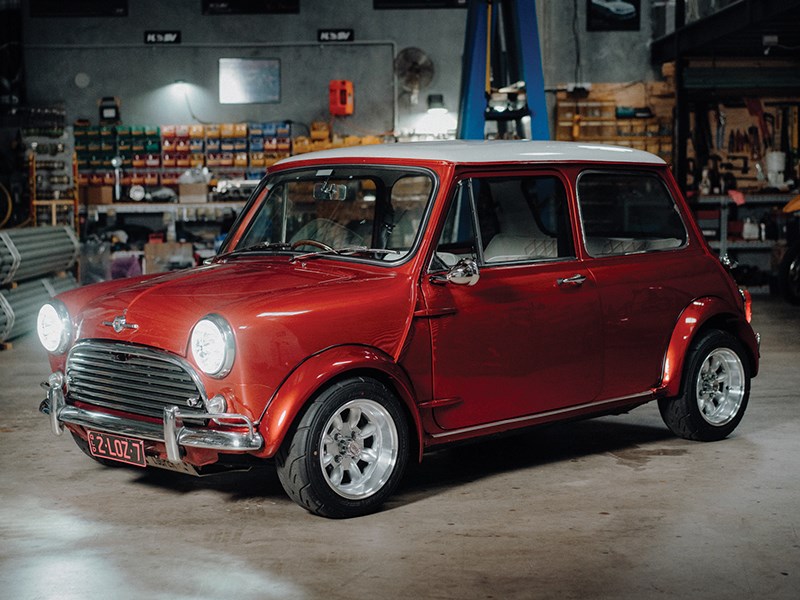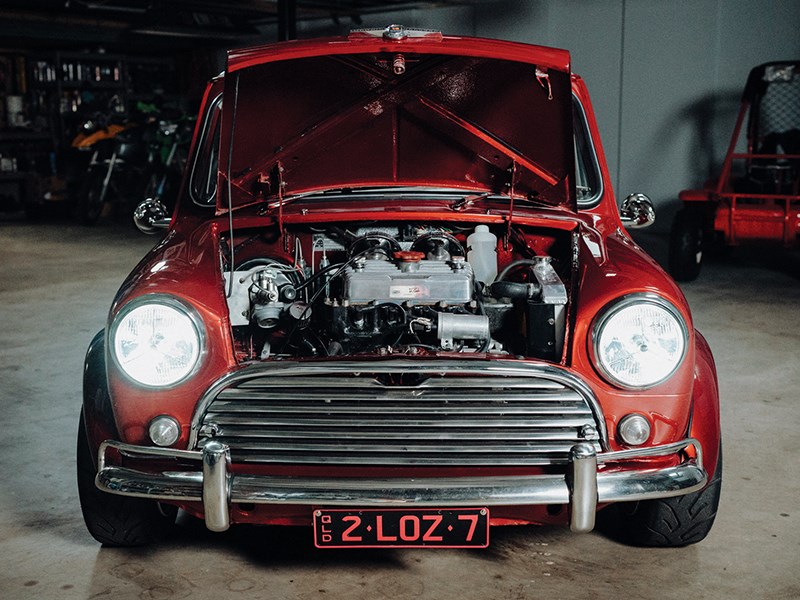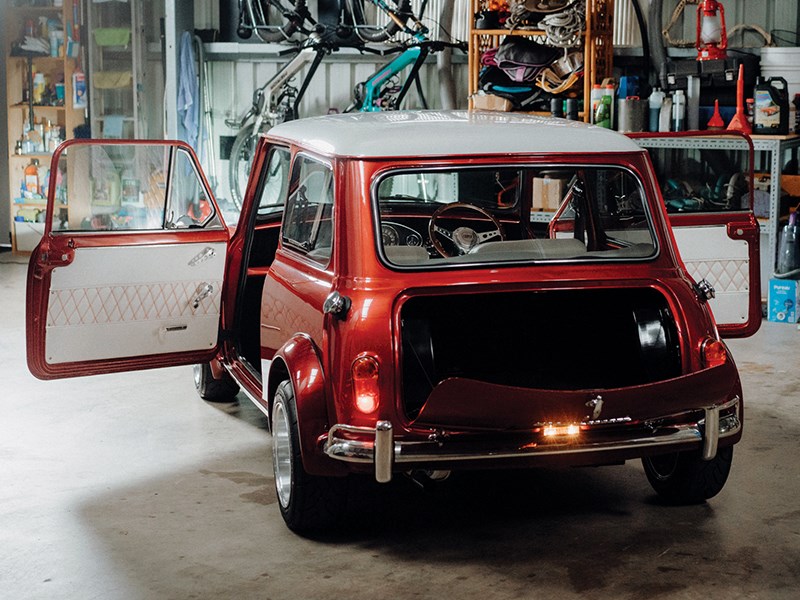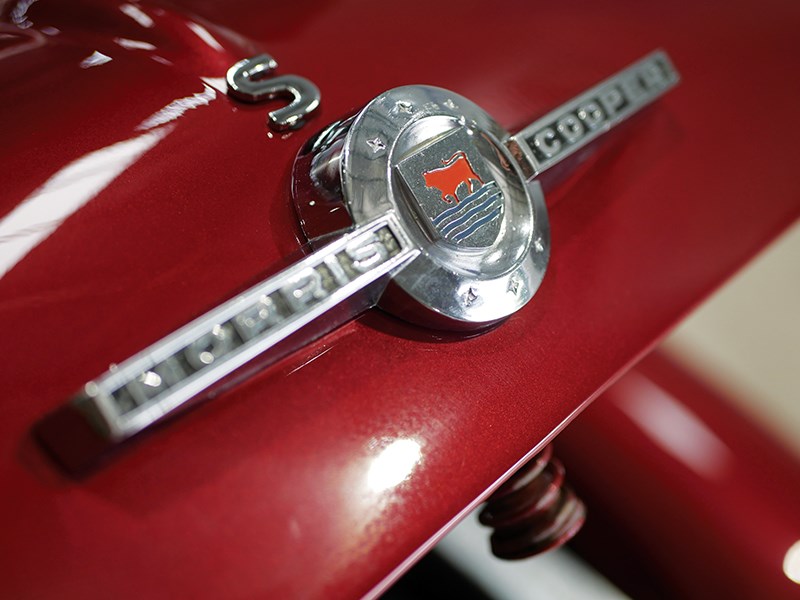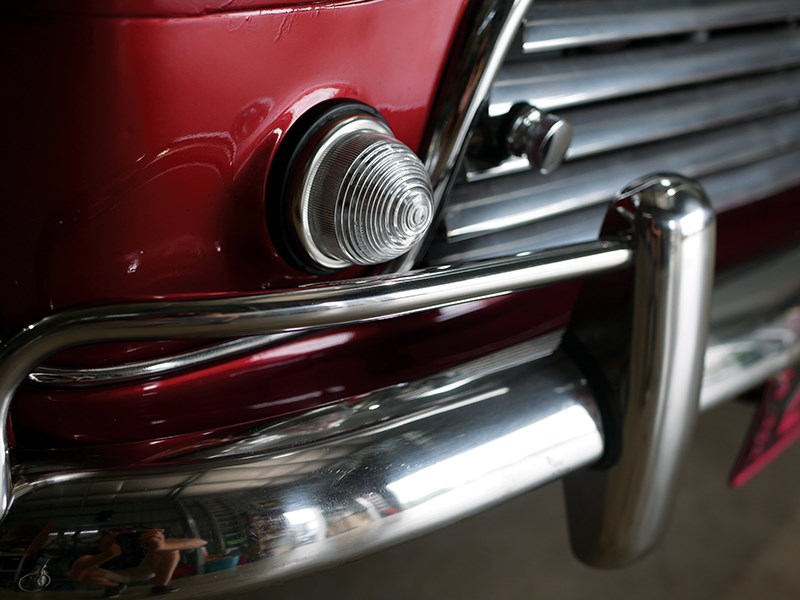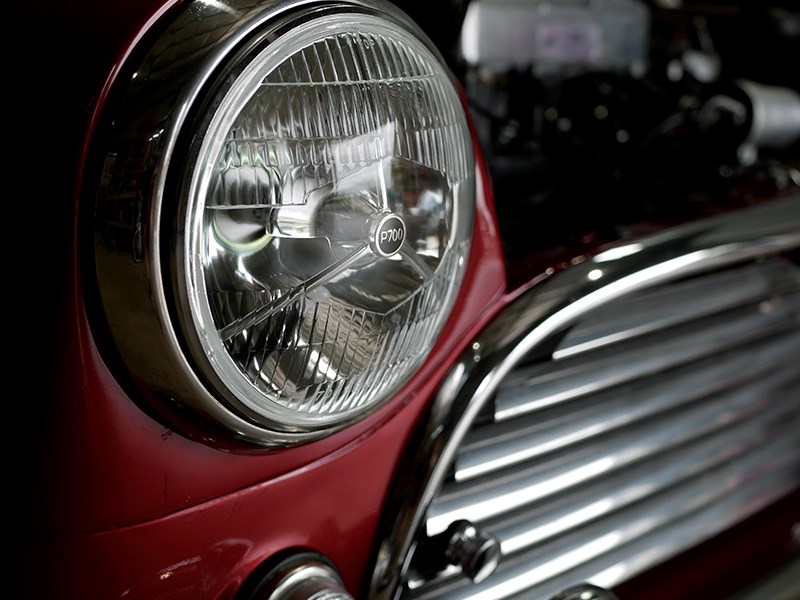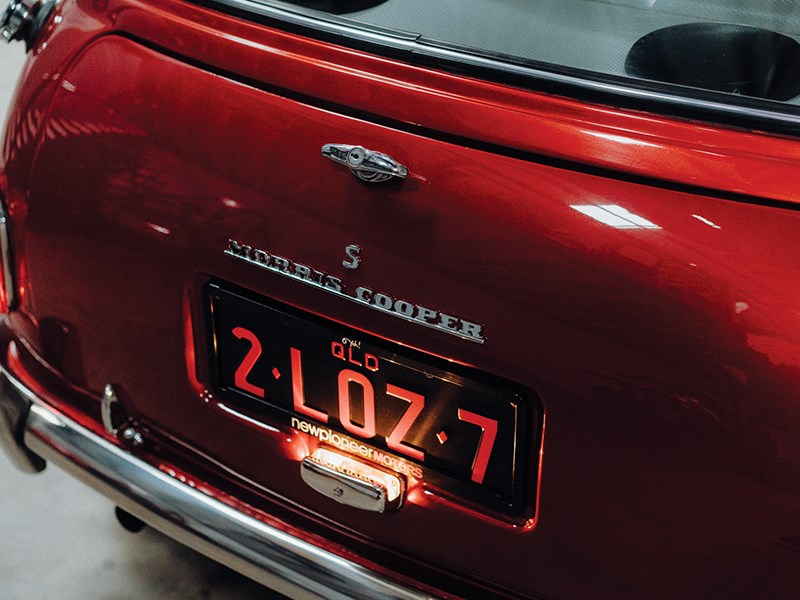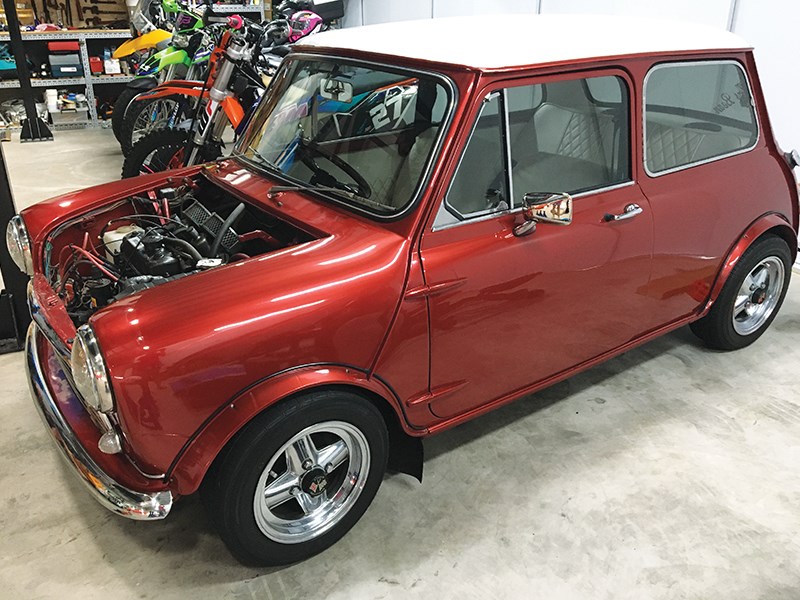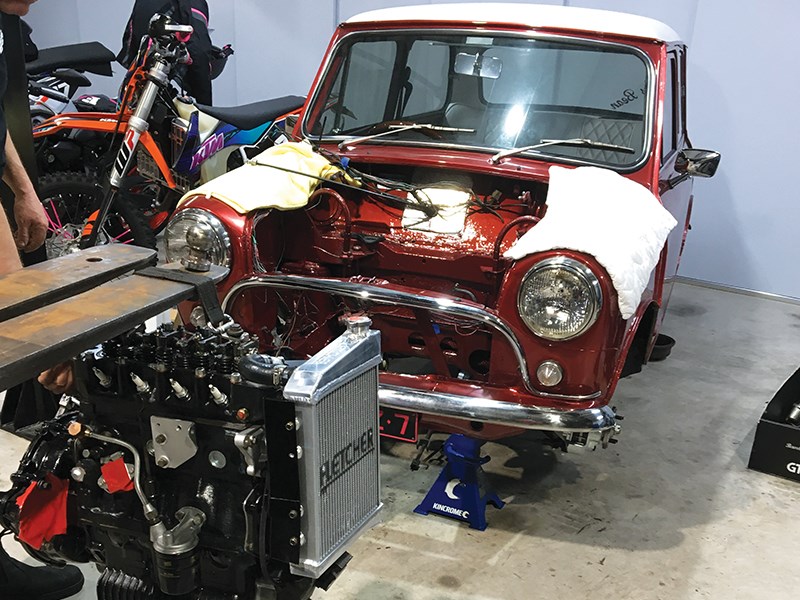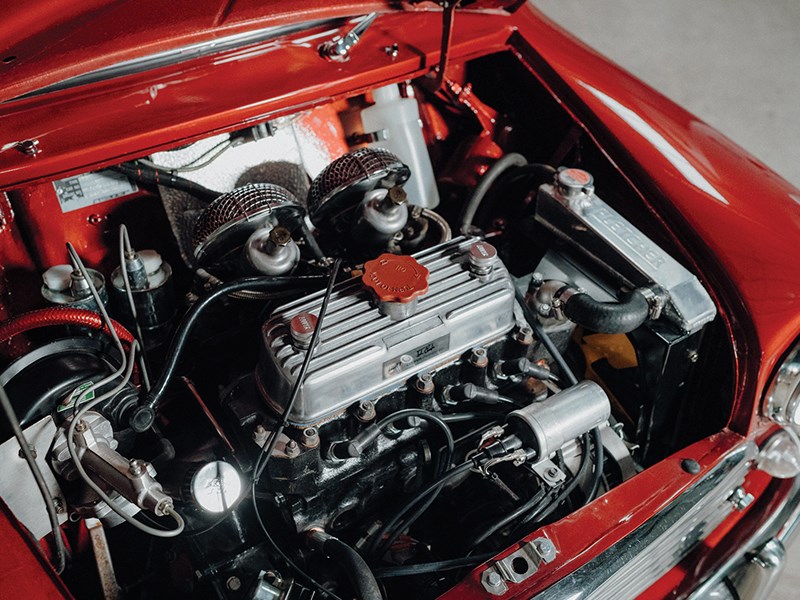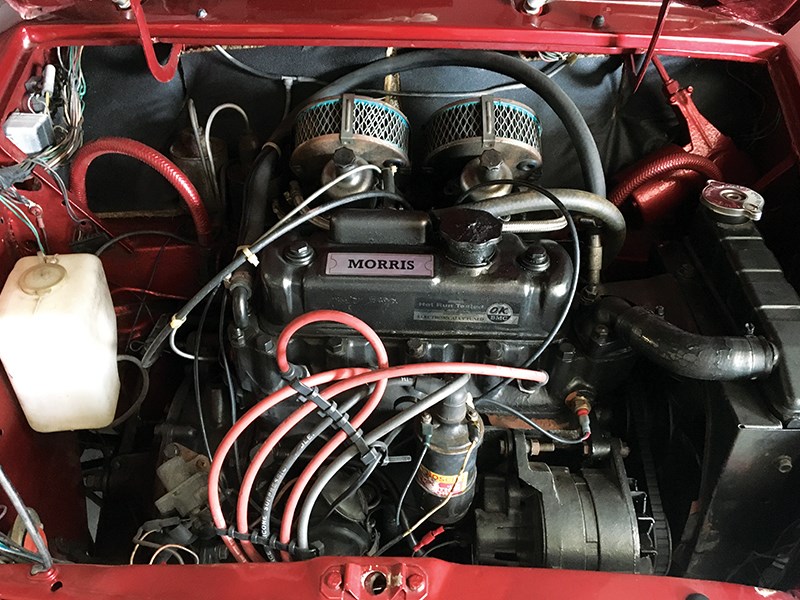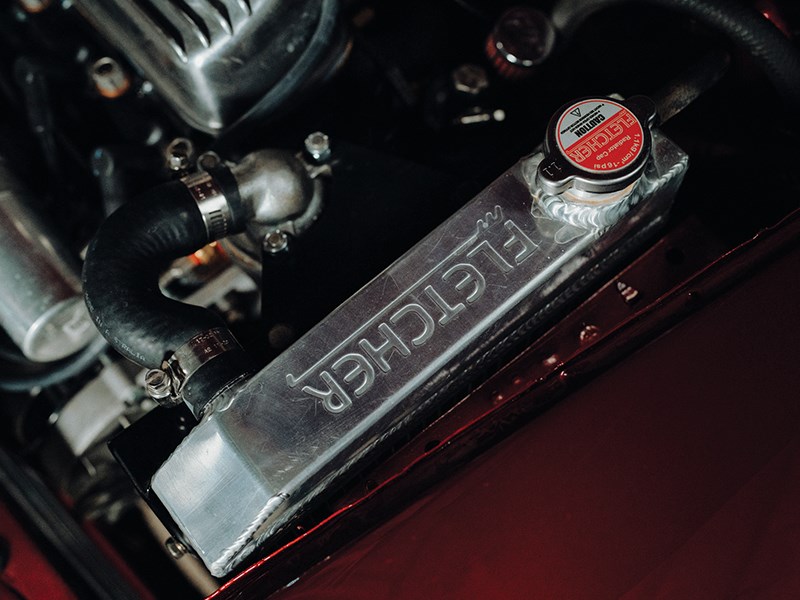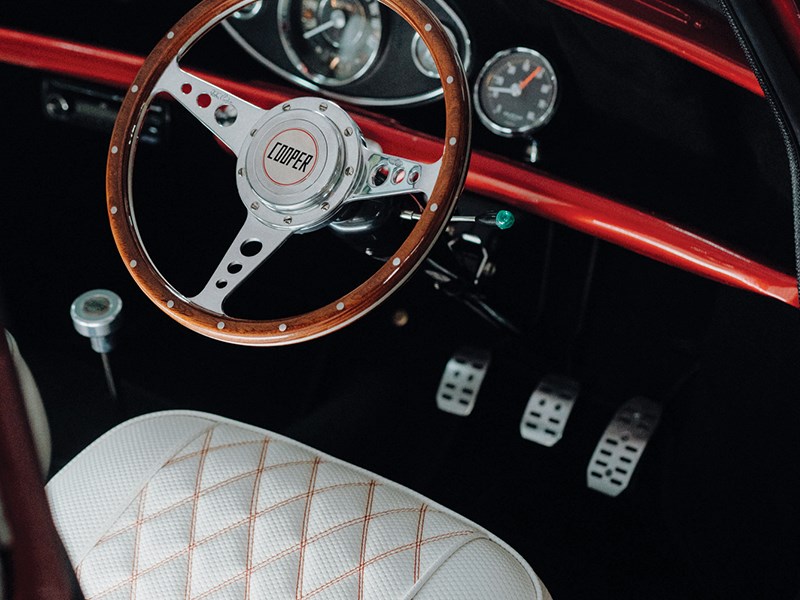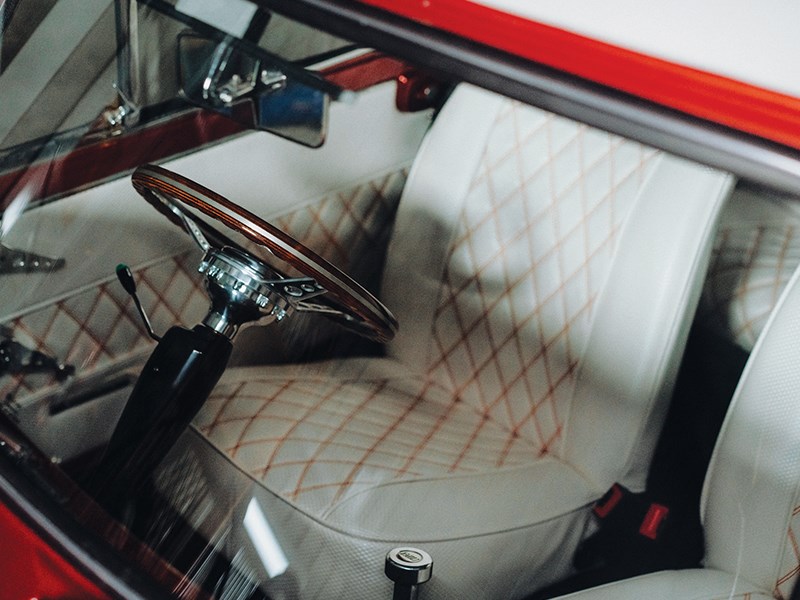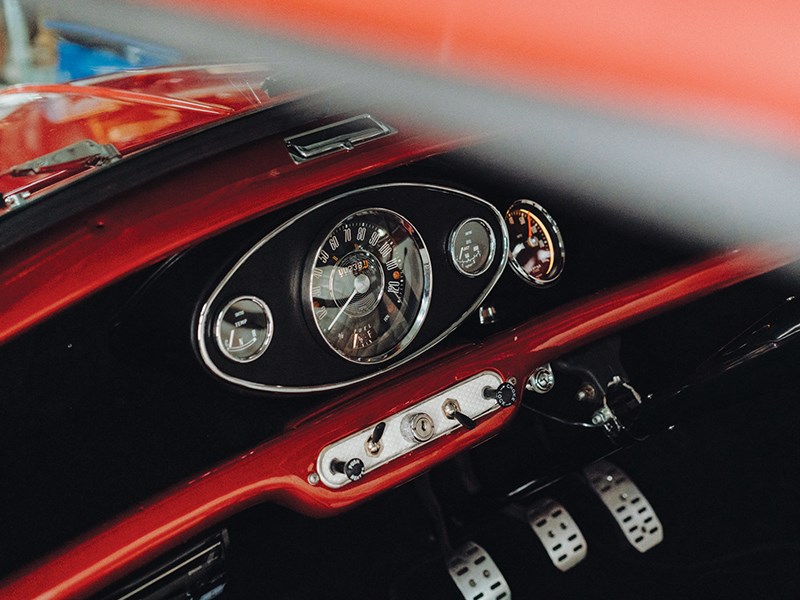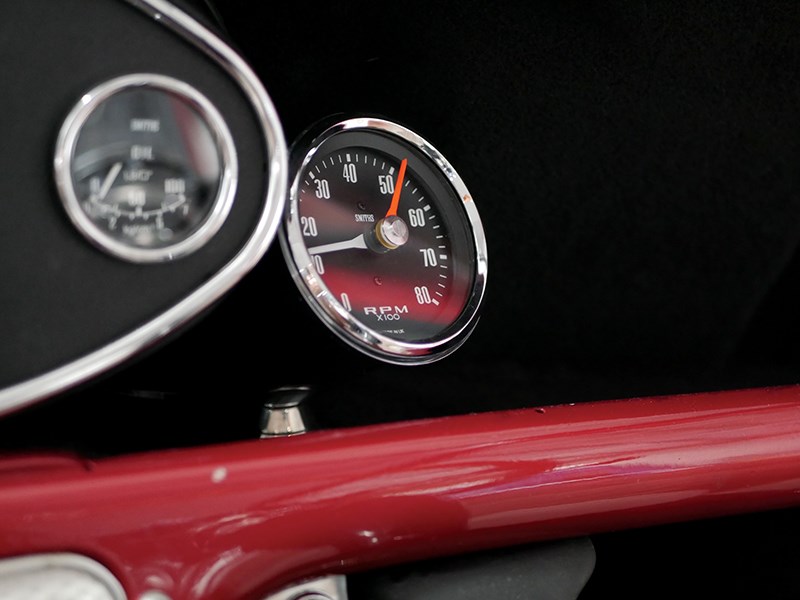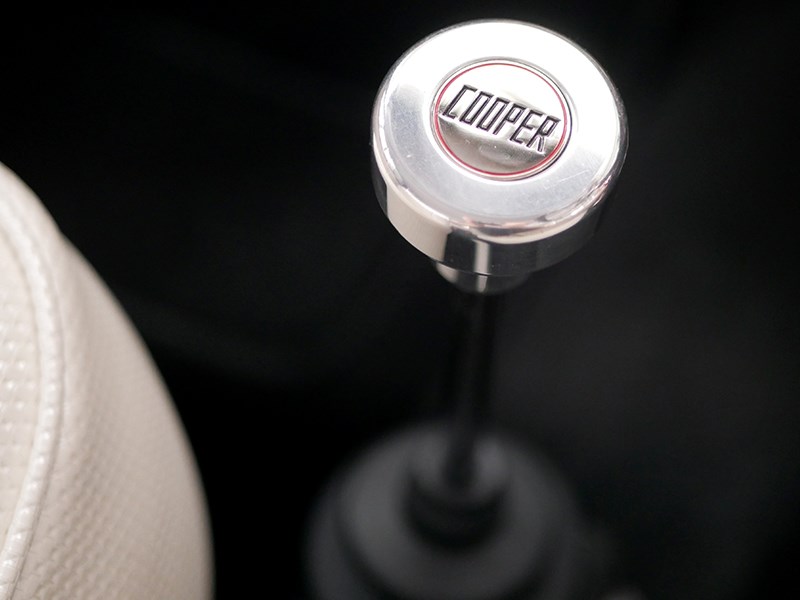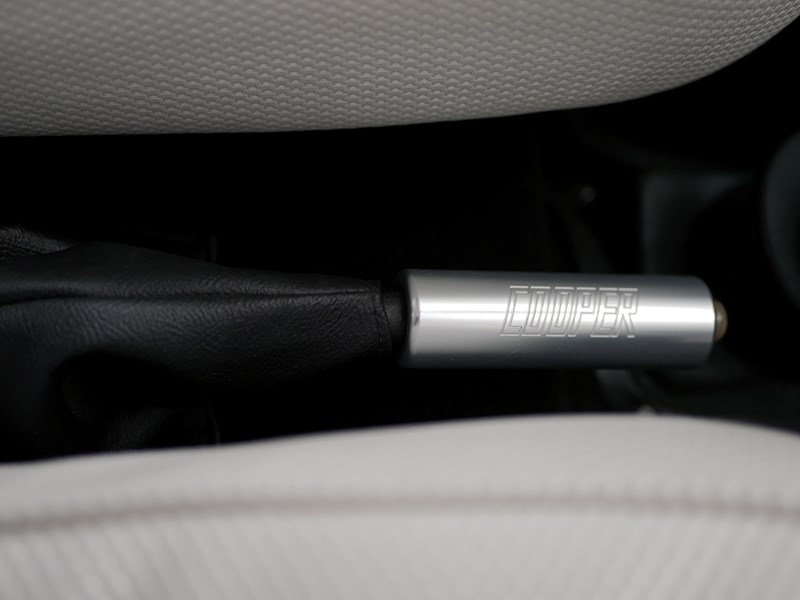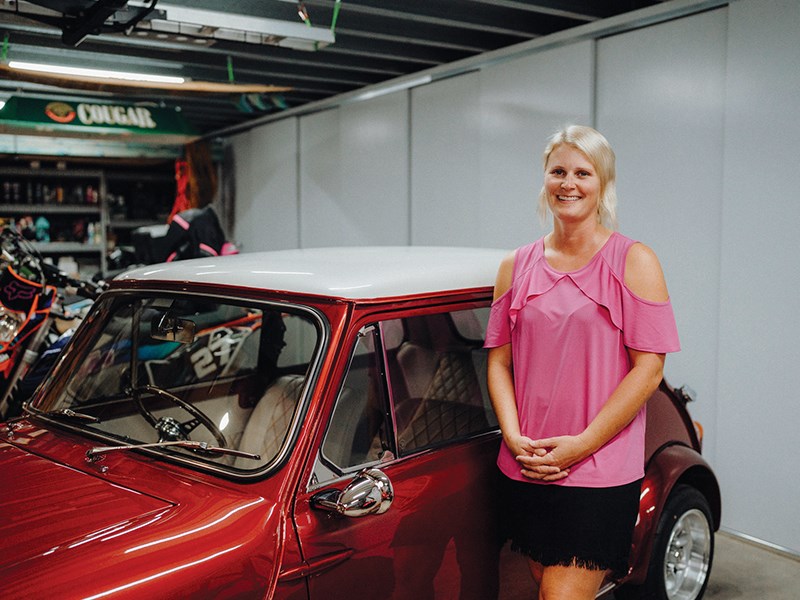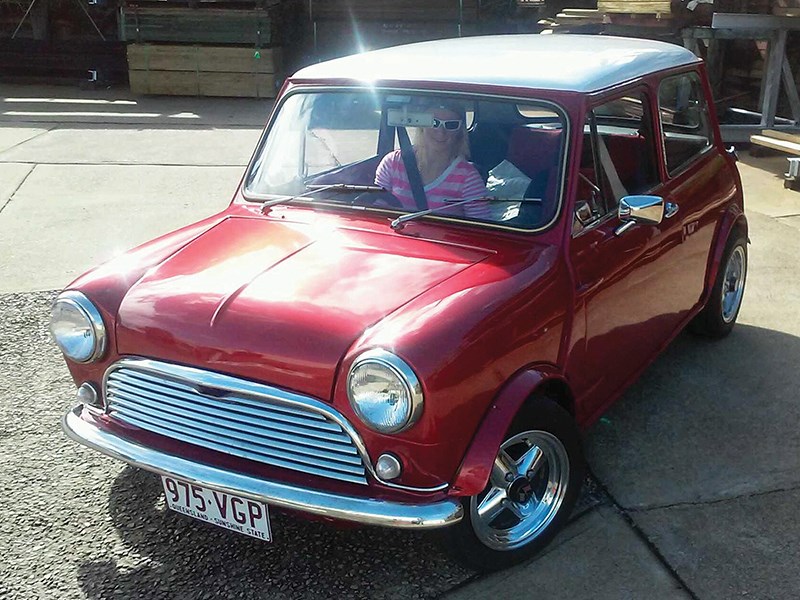 The Cooper S featured all the Cooper upgrades plus bigger brakes and a stronger bottom-end. Meet Lauren Johnson and her spectacular Mini Cooper S restomod.
In 1959 British Motor Corporation (BMC) released a pint-sized rocket that took on the world, the Mini. It not only put a smile on most owners faces but changed the way the wider car making community looked at design and layout of small cars. 
With the use of an east west engine configuration the Mini achieved what no one had done before with such a small platform; room and a surprising amount of it. With a space saving engine layout and front wheel drive platform the Mini capitalised on the available floorpan layout utilising every inch available for cabin space. Coupled with a light body and spritely 4-cylinder engine the Mini came into its own during the fuel shortage when fuel efficient small cars suddenly became in high demand.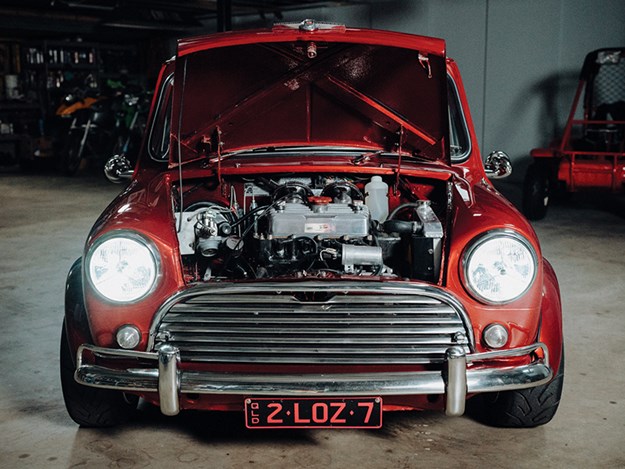 Among the many variations of the Mini on offer throughout the years, was the high-performance Cooper. First manufactured in 1961, the Cooper was the work of both BMC designer Sir Alec Issigonis, and racing car-maker John Cooper. The Cooper came with a 997cc engine producing 41kW, running twin SU carbies, close ratio gearbox, and front disc brakes. A more powerful Cooper S version was developed in parallel with the Cooper. Initially offered with a 1071cc engine and eventually upgraded to a much larger 1275cc (56kW) engine, the Cooper S featured all the Cooper upgrades plus bigger brakes, and a
stronger bottom end.
An Australian manufactured version of the MKI Cooper S began production in 1965 and came standard with the 1275cc engine plus twin fuel tanks giving the Mini a much greater range to cover the somewhat larger distances between Australian servos than in the UK. Approximately 7500 Cooper S were produced in Australia from 1965 to 1969, 4986 MkIs and 3514 MKIIs rolling off the BMC assembly line in Zetland, Sydney.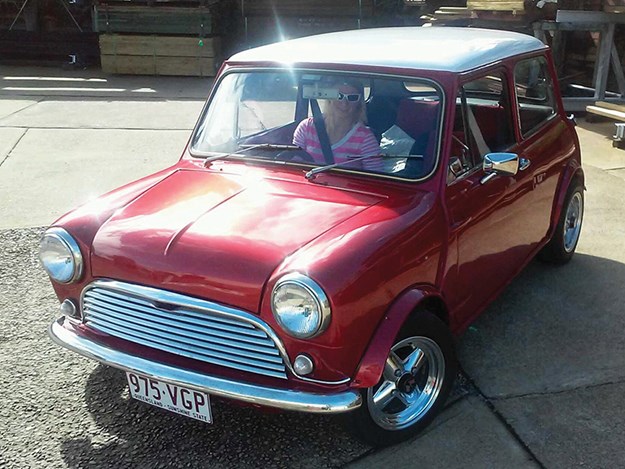 The Cooper S wasn't just a handy round town pocket rocket, it also picked up quite a few accolades over the years winning numerous international rallies, touring car and saloon car championships and even had enough gusto to win Bathurst in 1966, taking out the top nine spots, no that's not a typo, nine. A feat that has never been repeated.
It should come as no surprise that the Mini Cooper S has been popular with driving enthusiasts for as long as they have been around. They're hilariously fun to drive and once you've experienced a smile inducing dash round town it's hard not to be hooked.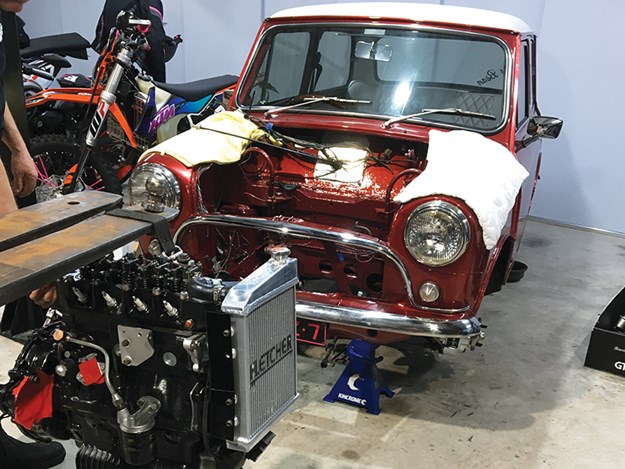 New engine ready for fitting
Lauren Johnson, a long time Mini fan has been putting the finishing touches on her Australian manufactured MKI Mini Cooper S and the result is a tasteful modernised classic.
"I've always loved Minis and have owned several before this one. I have a real appreciation for classic cars in general, but there is just something magical about a Mini. I'm  embarrassed to admit it, but Mr Bean was an influencing factor in my initial interest. I Bought my 1968 MKI Cooper S about seven years ago. I would say it was in moderate condition when my husband and I picked it up, but I wanted to make it mine. Over the last few years, we have been slowly restoring and upgrading it to what I want. The compliance plate states the colour as 'special burgundy' which is a Mini colour, but we know it's not original, someone obviously tried to put a modern spin on an old paint colour. There were a lot of scratches, dents and chips, so we had Rohan from Advance Collision Repairs re-paint the bonnet, boot and parts of both doors plus the new flairs. The roof has a lovely pearl through the white and overall, it's come up very nice".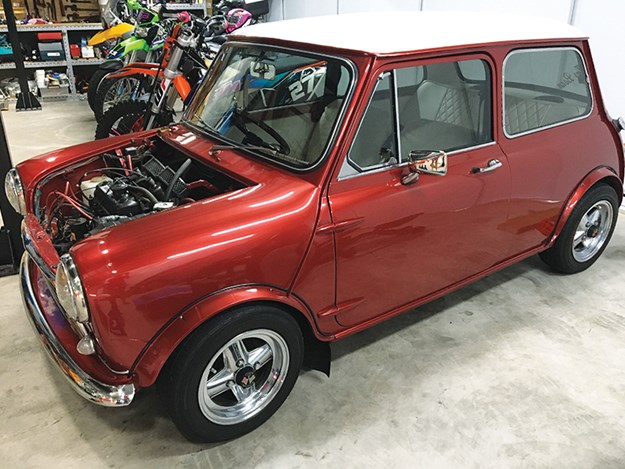 The bikes in the backgournd are more powerful
One of the first things that stands out on Laurens Cooper S is the interior, tastefully trimmed in Pearl White Marine.
"I've done the whole interior of the vehicle with the help of Craig McMillan from Killer Kustoms. It's not original, but it's what I like, my own personal take. The seat material has a pearl look to it, and I added red stitching through it to match the paint. The steering wheel is a Moto-Lita steering wheel I sourced from England. Apparently only two of them have ever been used on the Minis themselves. Everyone else keeps them on a wall for decoration, but mine's there to be used. The tacho I've installed as new, while also adding the Copper engraved gear shift knob and the hand brake. Don & Neil at Oz Mini Sports helped me source everything from steering wheel, brake lever, gear knob and basically every part from under the bonnet to the boot, their catalogue of parts is extensive. I've also had the car rewired from front to back with help of Caloundra Custom Auto Electrics.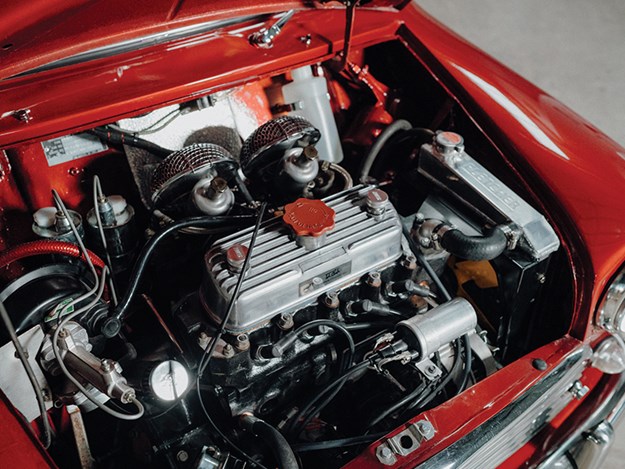 The engine is getting a supercharger soon
With the paint, panel and interior conquered Lauren turned her attention to the small exterior finishing's and fixtures that put the finality on any quality build.
"The badging on the car is a mix of original and replacement. The badge on the front is original. It still has a little bit of old unique condition to it, whereas some of the rear ones were in too poor a condition to reuse, so we've had to upgrade them to the latest badging. I'm still on the lookout for some original ones in good condition, but not too far gone. It
has been a bit of a challenge with the badges. The mirrors are new original style bullet mirrors, which the Minis had. The windscreen wipers, all the little bits and pieces like the washer, squirters, all the front overriders have been resurrected to near new. The front and rear bumpers are still the originals which have been restored"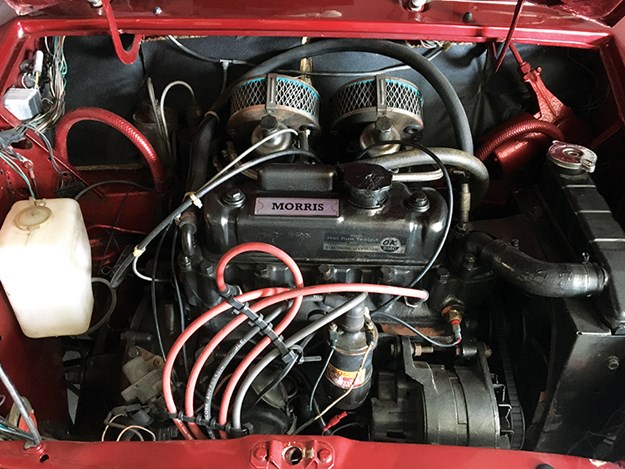 Twin SU carbys
At the heart and soul of a Cooper S is the four-cylinder 1275cc engine running twin SU carbies, get that right and you'll be smiling from ear to ear when you bury the right foot. Replacing the twin SU carbies with a single Weber is a common way to extract more power, however Lauren has bigger plans for her Cooper S.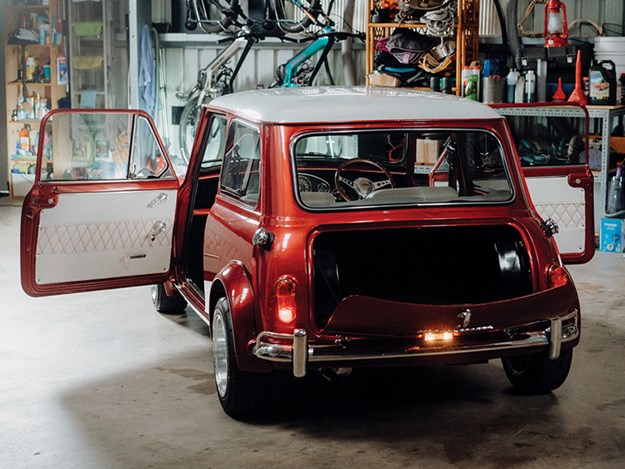 "Everything under the engine bay is brand new. We've restored as much as we could. "The engine is a completely new one, block and all. The old engine was pretty ordinary with not much power even after we added the twin carbies and extractors a few years ago with the help of Aaron at Mini & Moke Restorations. Peter O'Brien rebuilt the new 1275cc engine with a mild cam and a little bit of head work to it and David Gary Automotive fitted it all up. I'm running it in, so I've got to be a little bit gentler on it. I do like to put the foot down when I do get in it. I'm currently running the twin SU carbies but will be scraping those to fit a supercharger kit from HP High Performance Products. I know that's not original, but it's something I've wanted to do. And I think it'll get a really good boost out of it. I'm not trying to turn it into a drag car, but I like fast cars, my husband has even nicknamed me Juan Fangio.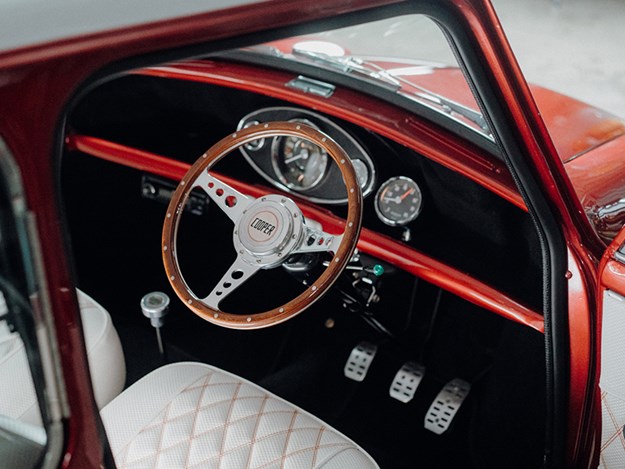 If we can give the Mini a little bit more power, that will be a benefit. To do the supercharger side of things, we're going to have to pull the motor out again, much to my husband's disgust. The cam has to be changed from a mild to a super cam. The head will be taken off again and sent away to Bryan Pope at Link Automotive to work on. Then it's a matter of coming back with the supercharger kit and fitting it in where basically the twin SUs and the carbie are now. It will go back to a bigger single SU carbie.
I'm running a reconditioned four-speed gearbox with a quick shift and a 3.44 diff in it now. The diff is too low for me.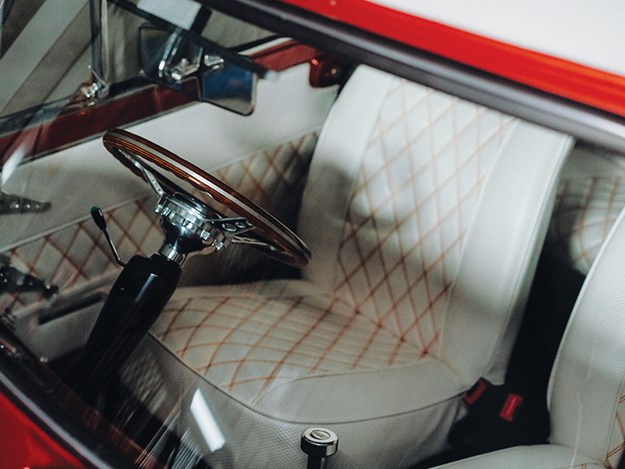 Re-trimmed like no other Mini
I'm going to upgrade that around the same time as the supercharger. The original wheel size was a 10-inch, but I've gone to a 12-inch. I'm running original drum brakes on the rear and upgraded discs on the front, which should still be fine even with the supercharger".
With any car restoration though sometimes the somewhat simplest areas can be the most challenging. "Surprisingly the most challenging aspects of the car were in the boot area. There's a lot of detail in the boot area that the original owners had not cared for. A lot of parts were rusted through. We've had to add original bits back to hold the boot board in. All the tanks were in poor condition. We've had to respray that whole area. Tanks out and tanks back in was a bit of a challenge, especially because we didn't put the taillights in to start with. There was a bit of cursing when we had to put the taillights in with the tanks in already. Under the bonnet, there was a lot of detail as well, just getting the aspects of
the vehicle back to what it should have been. Even the radiator shroud was half missing. I've had to source one, the top we had to keep, because it's got the original numbers on, we had to modify that to suit the radiator shroud".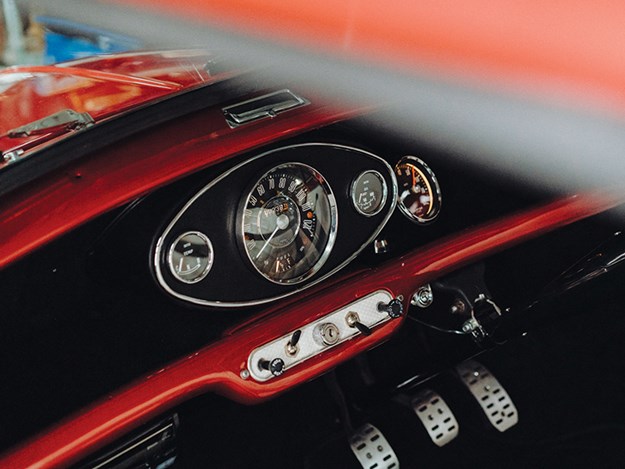 With a new supercharger kit on the horizon, Lauren's Mini will be hard to miss punting round town.
"I do try to drive it daily, but with all the modifications that we've done, it's spent a fair bit of its life off the road. When I do manage to get it out, I get people smiling and taking photos, people just love a Mini."
THE RESTO:
Bright eyes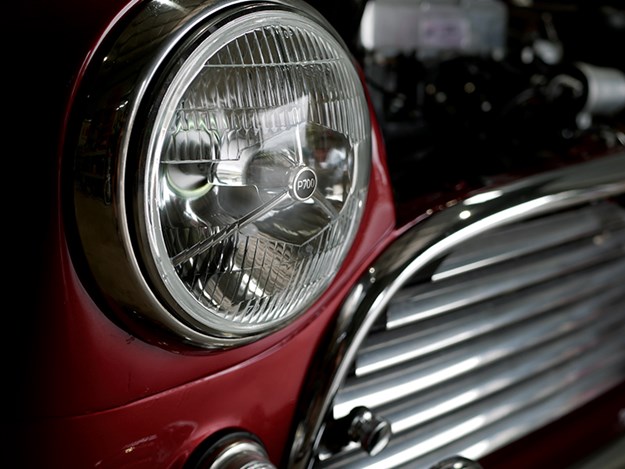 New lights for safety.
Neatly housed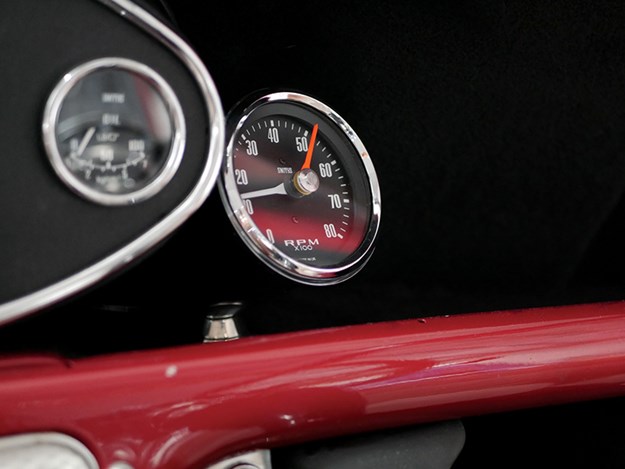 Smiths tacho sits next to pod.
Custom knob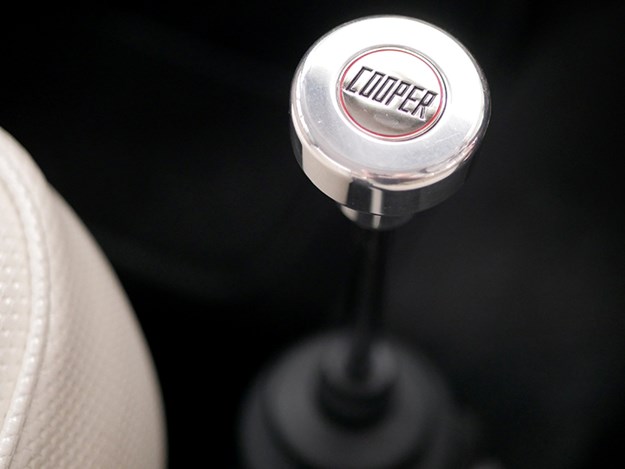 It's a Cooper you know.
Morris cooper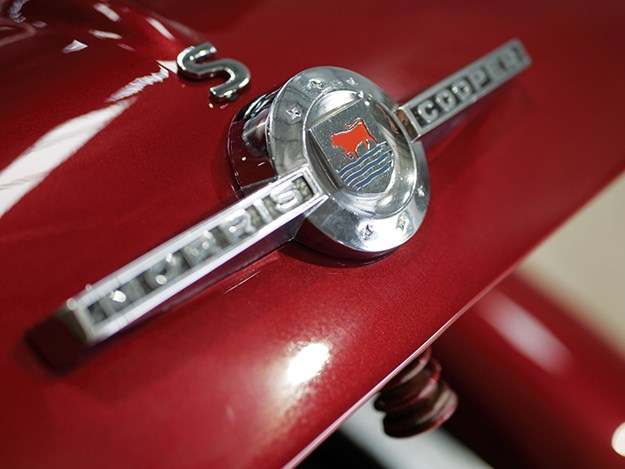 But noboby ever referred to them as a Morris.
Silver service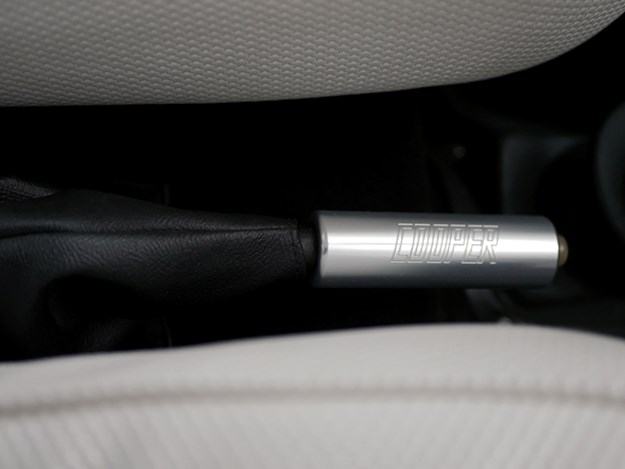 Cooper etched park brake handle.
Chromed
No shortage of metal brighwork.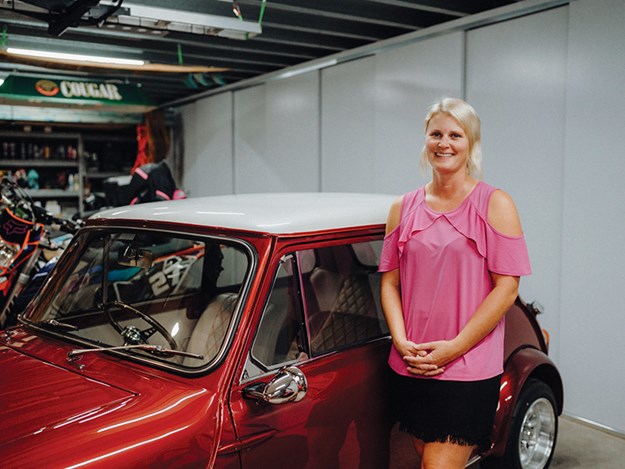 Original car: 1968 MKI Mini Copper S
Length of restoration: Work in progress 
1968 MKI Morris Cooper S specs
Body: 2-door sedan
Engine: 1275cc four cylinder
Power & torque: 58kW @ 6000rpm, 108Nm @ 3000rpm
Performance: 0-100km/h 10.0 seconds (approx)
Top speed: 156km/h (approx)
Transmission: Four-speed manual
Suspension: (F&R) Conical solid rubber cones
Brakes: Disc front, drum rear
From Unique Cars #461, Jan 2022
Unique Cars magazine Value Guides
Sell your car for free right here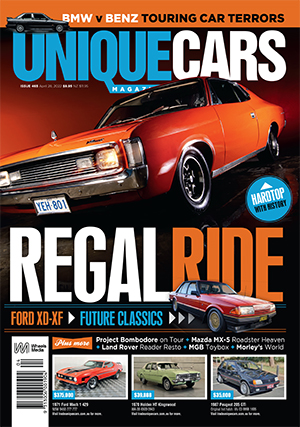 SUBSCRIBE TO UNIQUE CARS MAGAZINE
Get your monthly fix of news, reviews and stories on the greatest cars and minds in the automotive world.
Subscribe