1967 Volkswagen Kombi - Reader Resto
---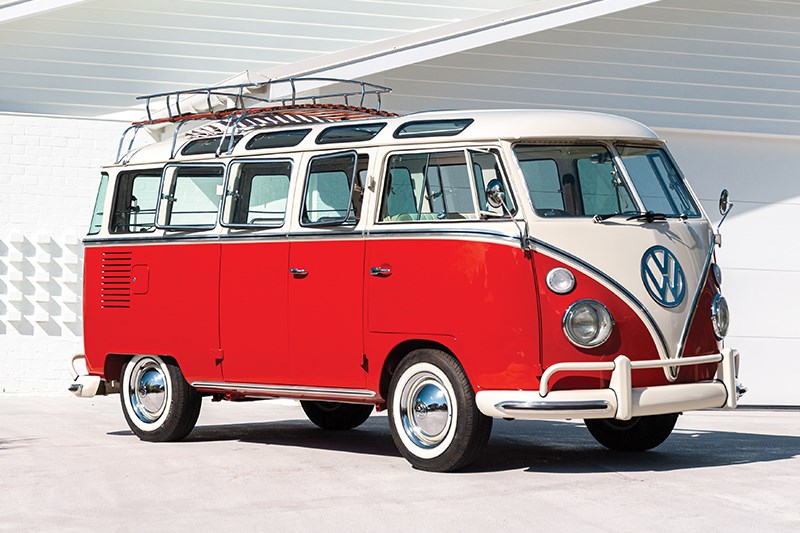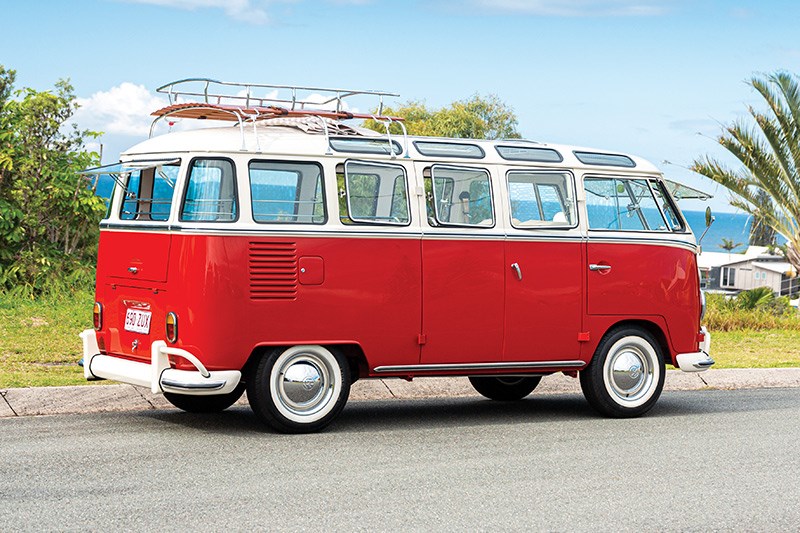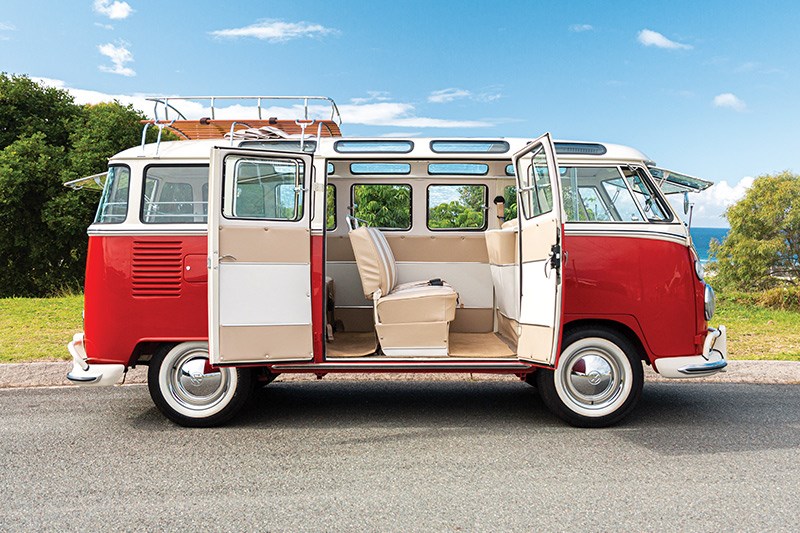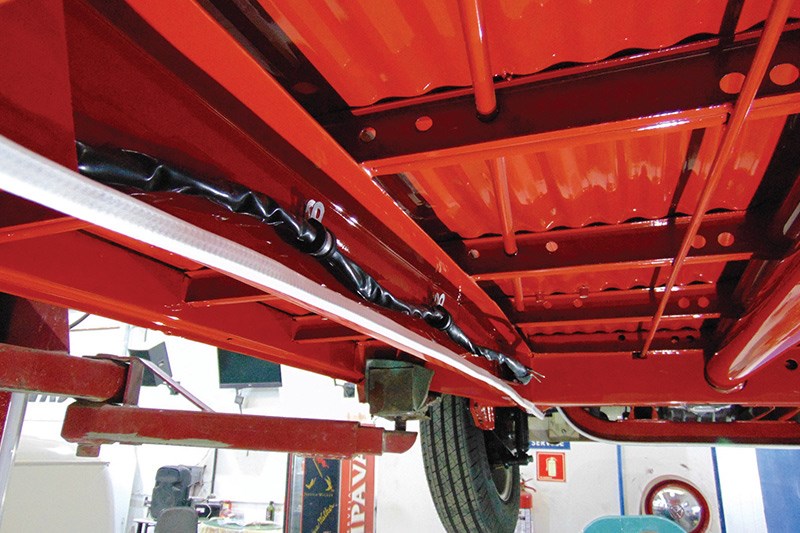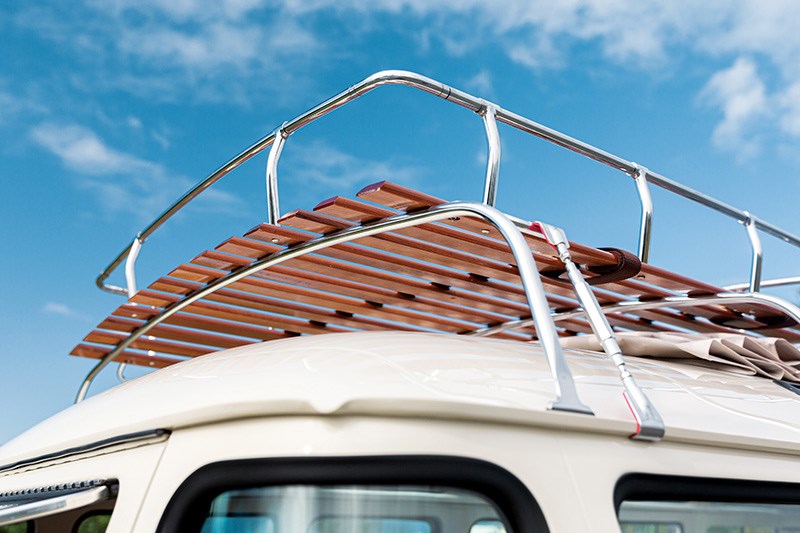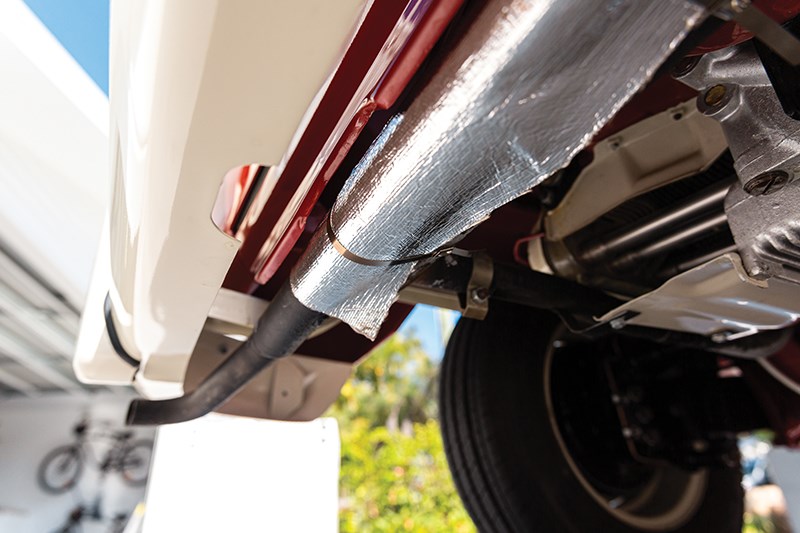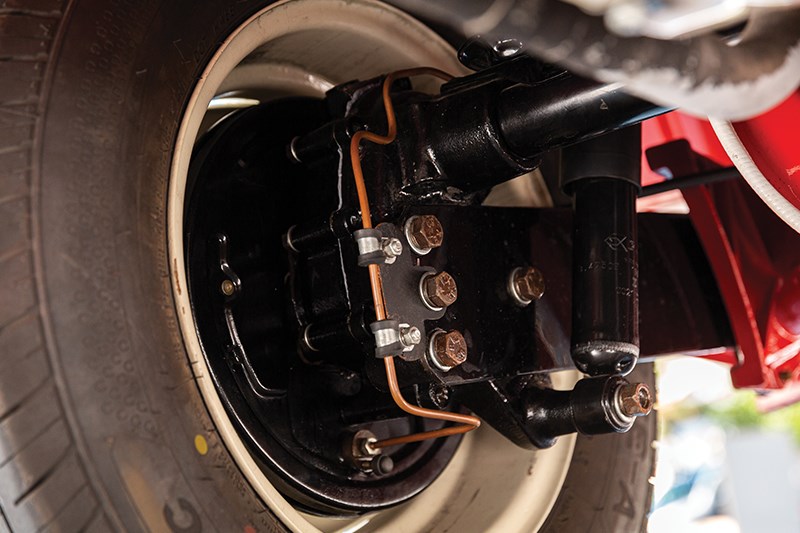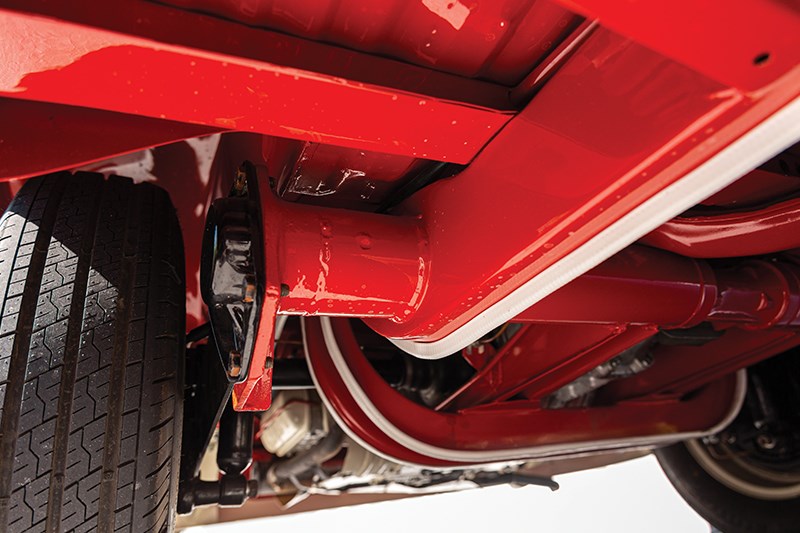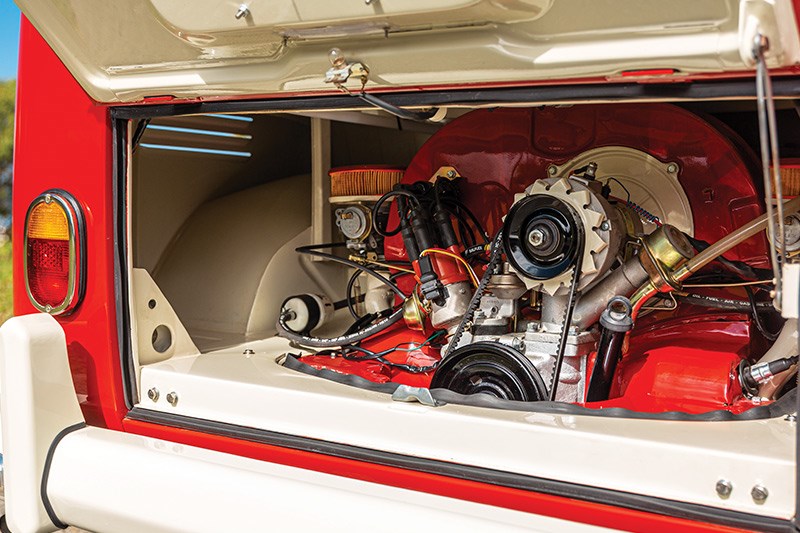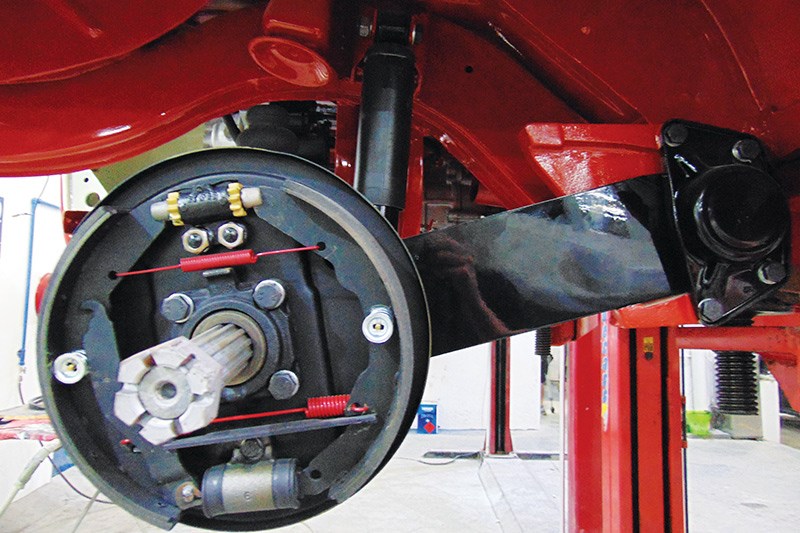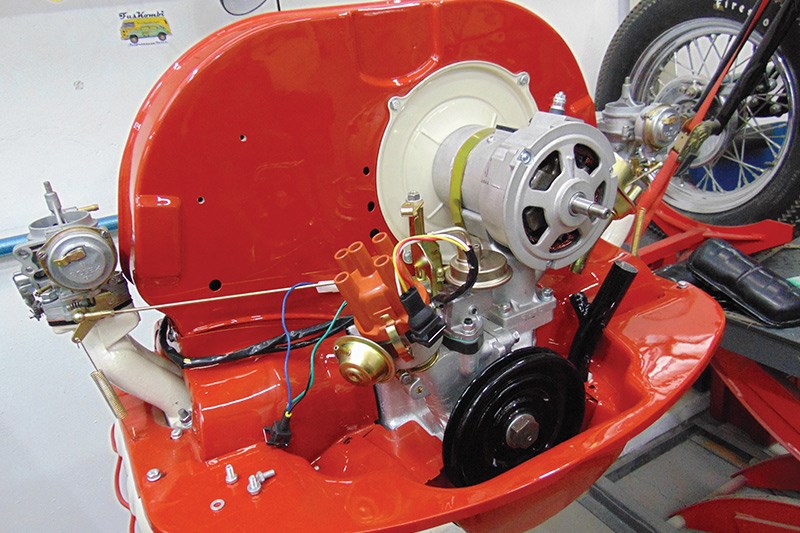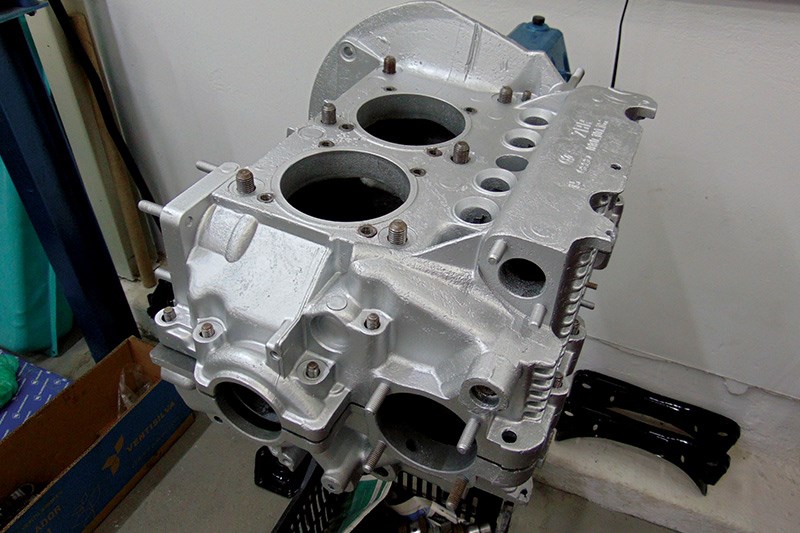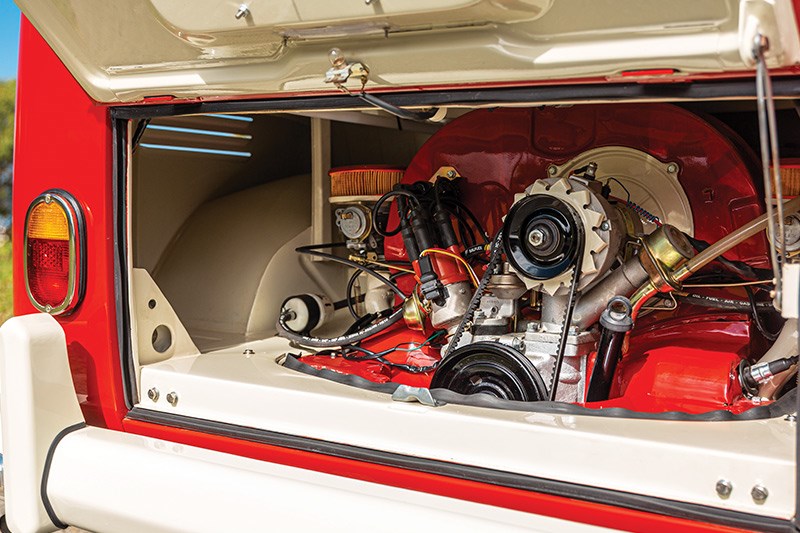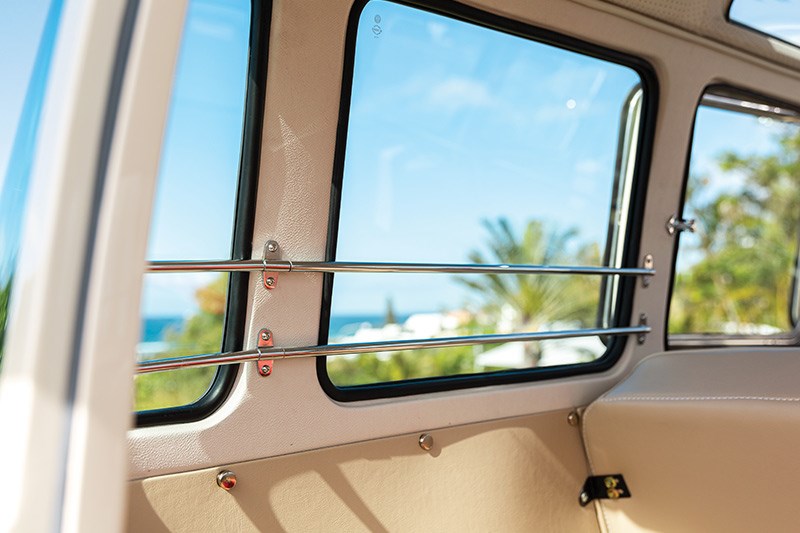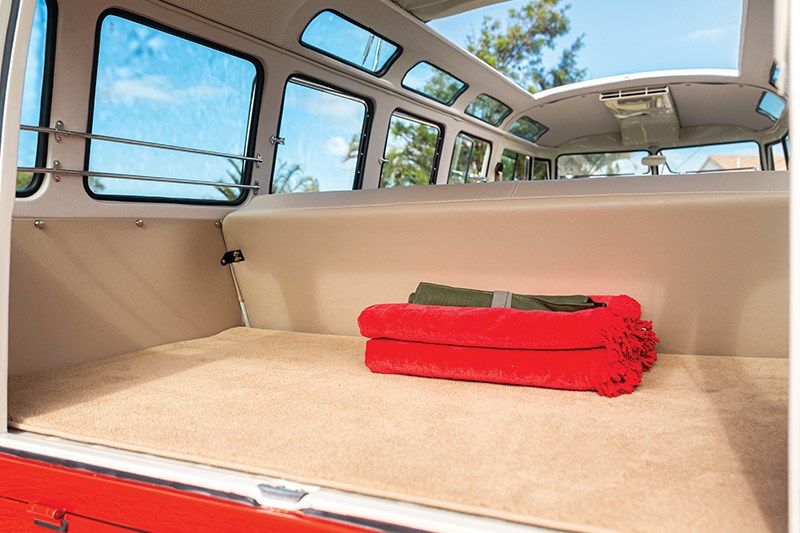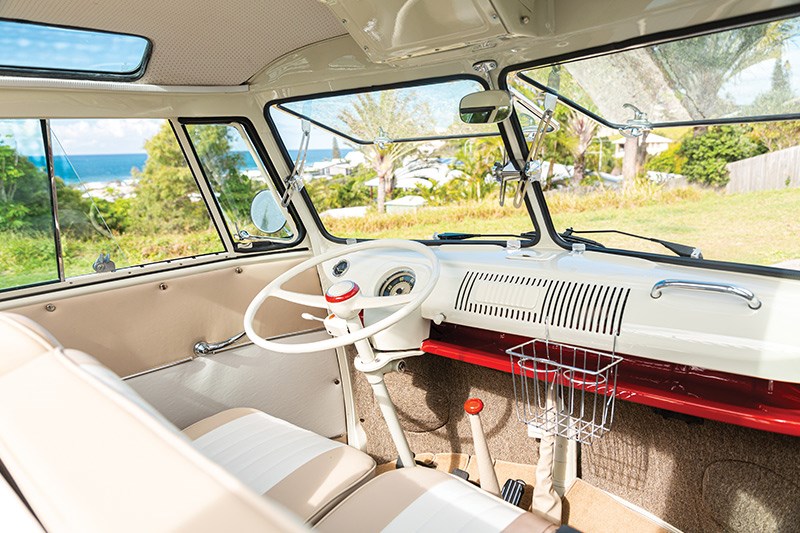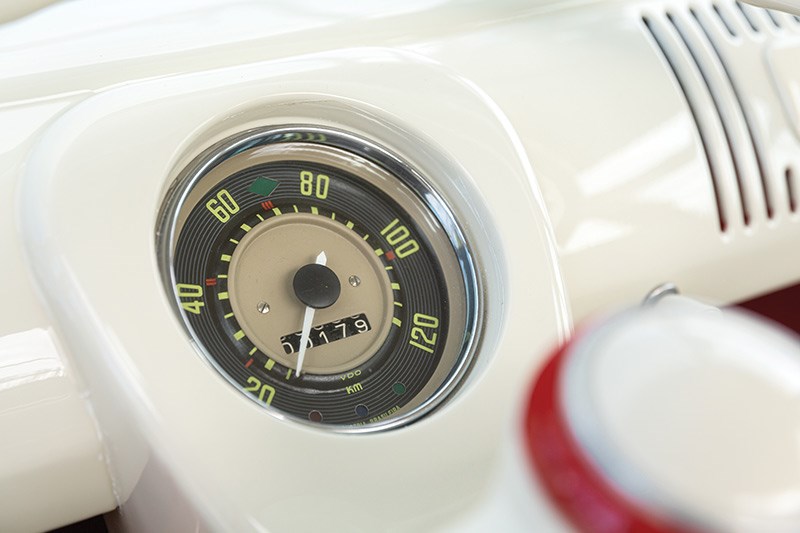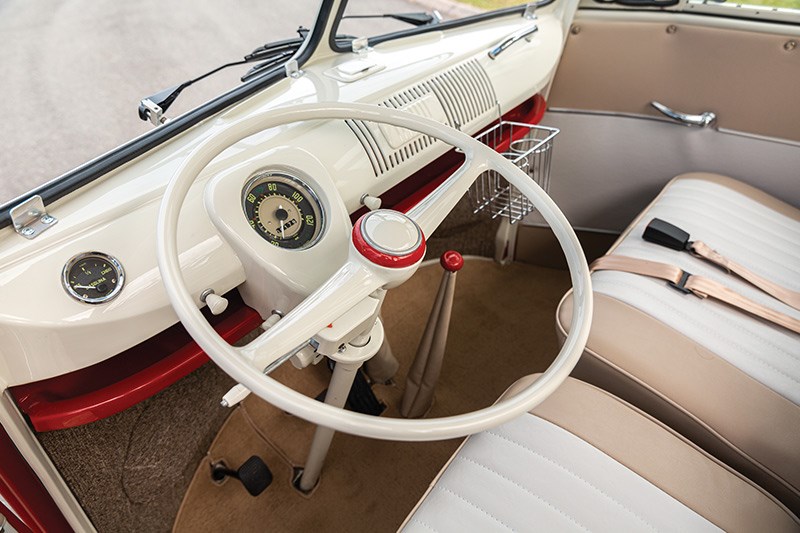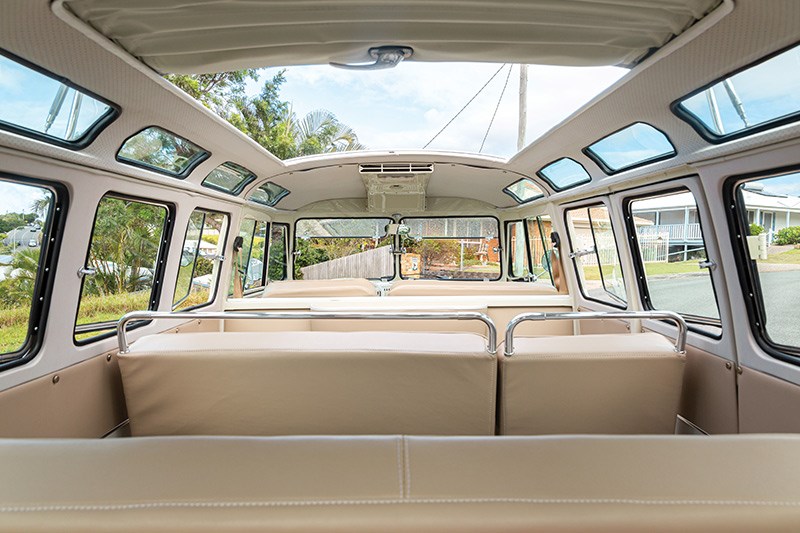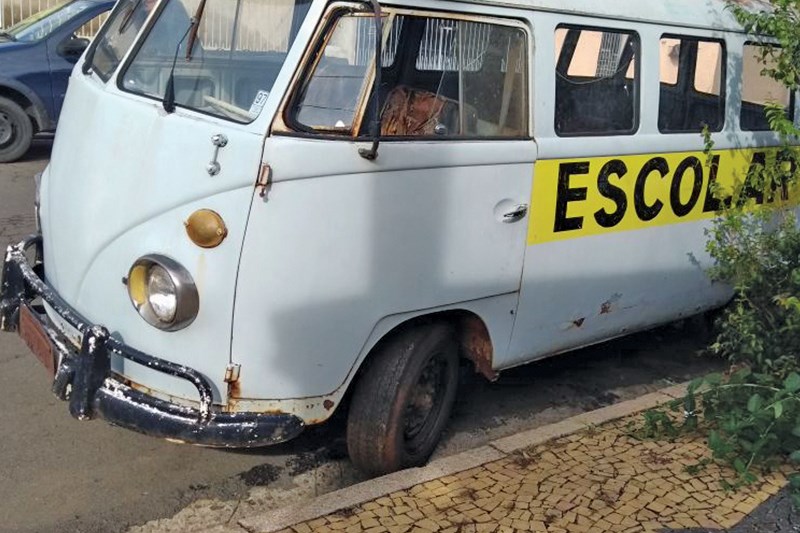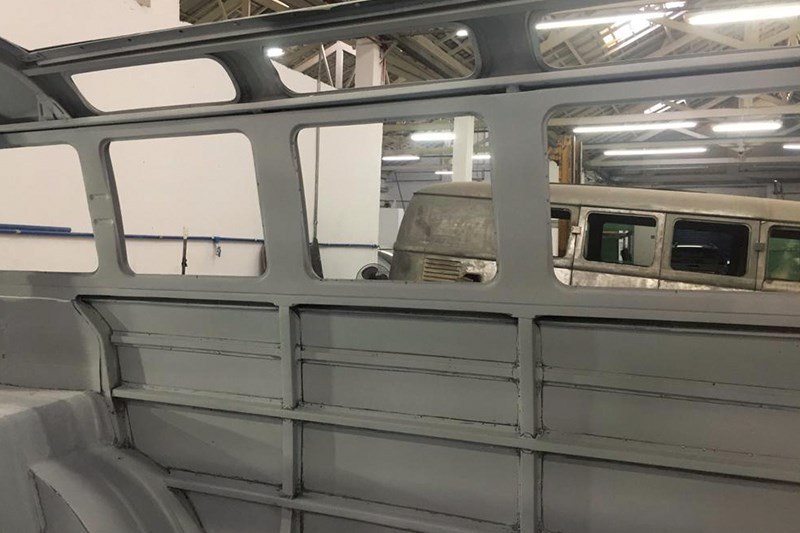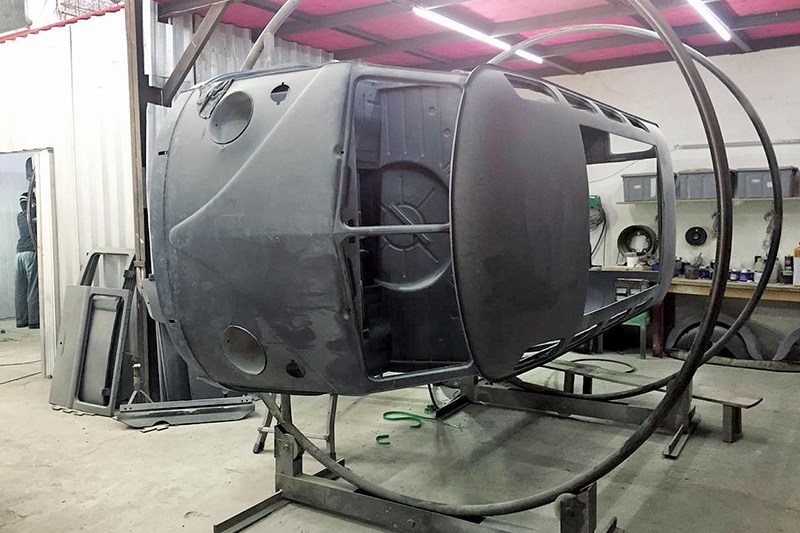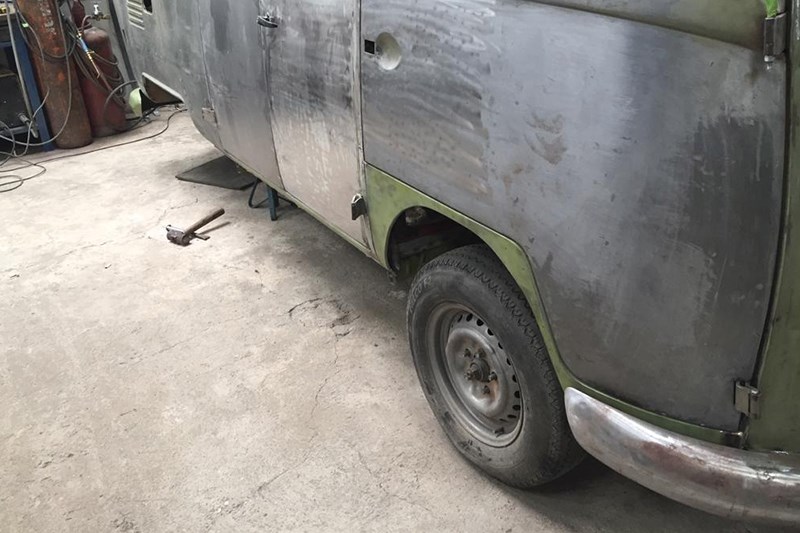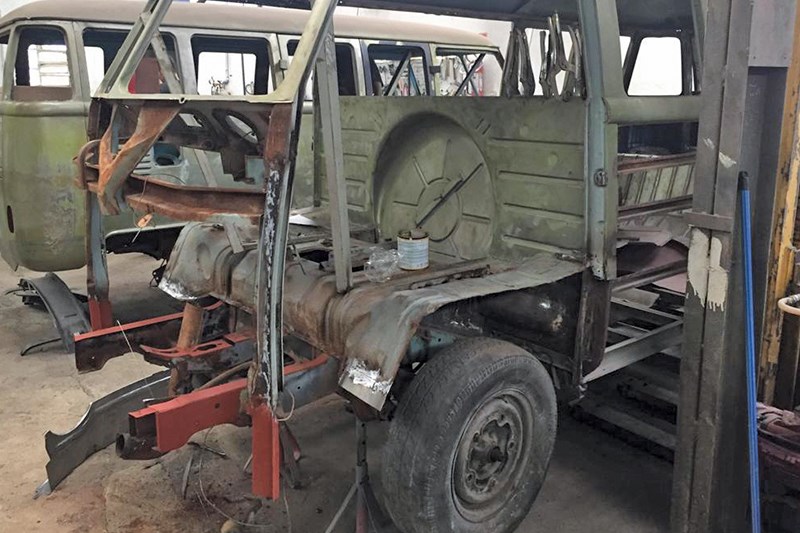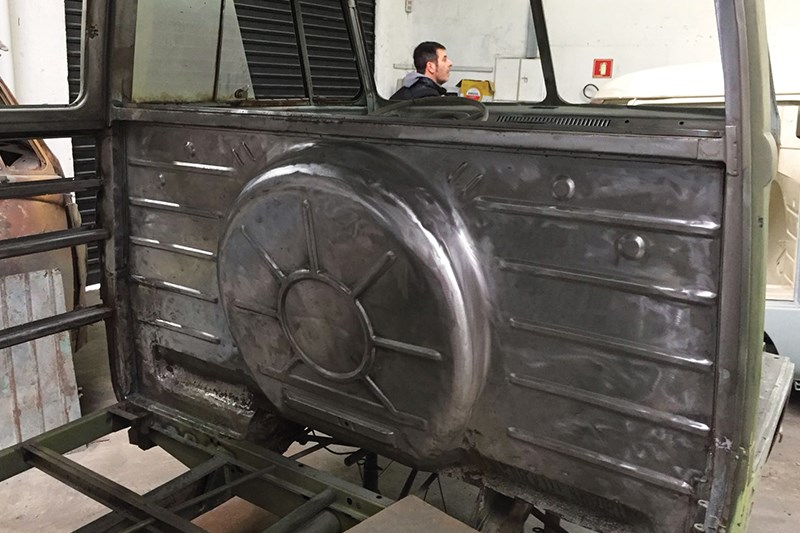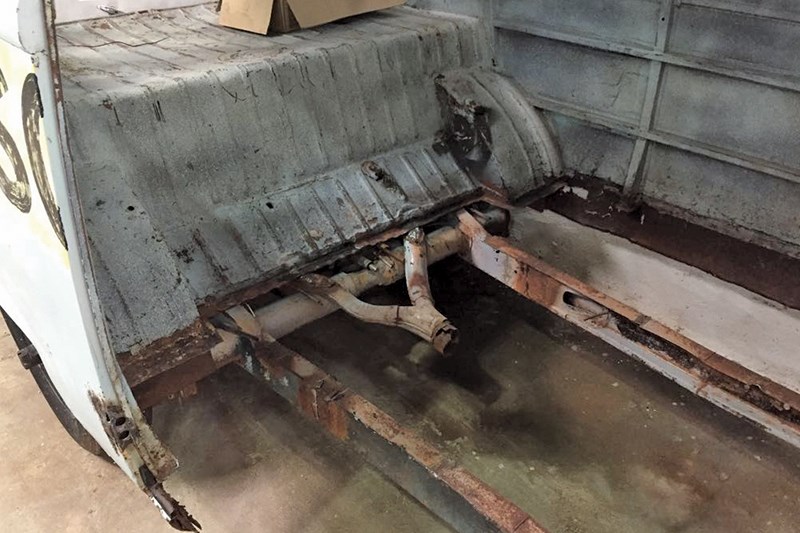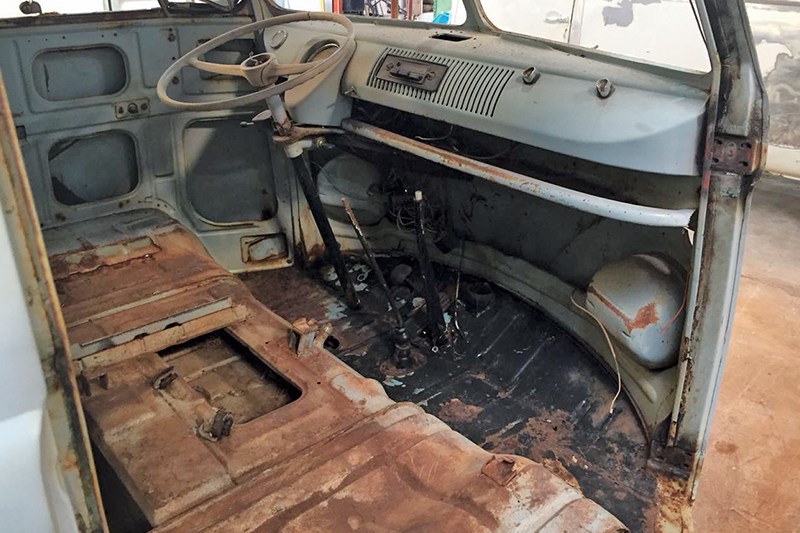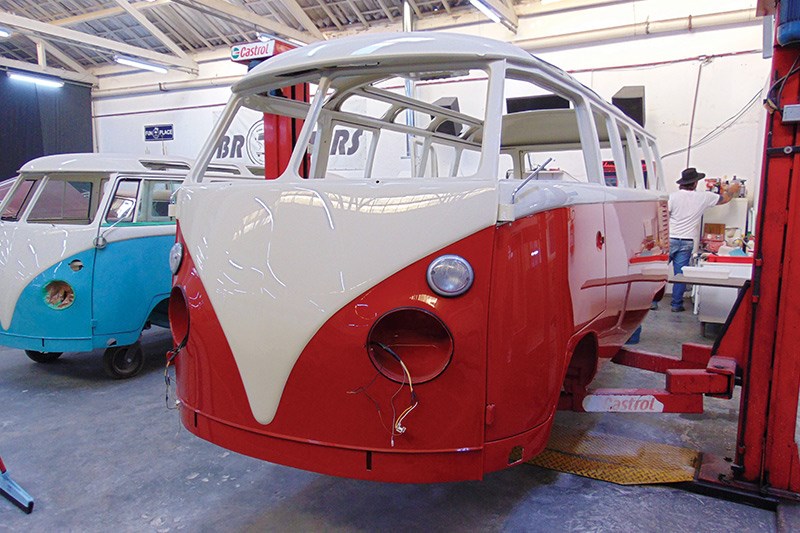 One man's search for this most collectible of Kombis leads him halfway around the world
Readers of a certain vintage may recall the Eighties television advertisement in which the 'talent', a real US entrepreneur named Victor Kiam, explains how he liked the Remington electric razor his wife gave him so much, that he brought the company.
Chris Lee can identify with that story. A few years back the Brisbane luxury car broker and his wife Genny decided to invest in a classic they could enjoy on weekends, while also benefiting from some capital growth. Their shared love of cars and the beach lifestyle of south-east Queensland led them to the idea of a split screen Volkswagen Kombi.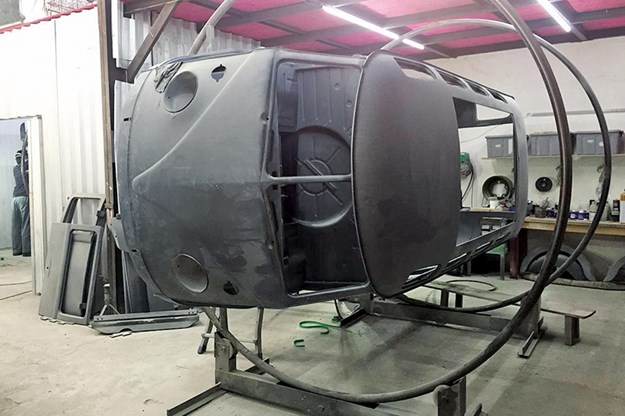 However, as even casual observers of the classic car market will know, the price of 'Splitties' has gone berserk in recent years. Prices were powering even before this latest Covid-19 driven surge in values, with Sydney's Classic Throttle Shop listing a 1960-plated Australian-delivered '23 window' Samba for a cool $279,995 a couple of years back.
| Read next: 1976 VW Kombi review
Admittedly, the Samba is arguably the most collectible Kombi of all, but even more run-of-the-mill split screens were fetching big dollars, says Chris, and after searching in vain for an Australian example in decent condition and within their budget, the couple began looking elsewhere.
With his background in the car business, Chris backed himself to find a suitable Kombi at a reasonable price, somewhere. What he couldn't have known was that the search would eventually lead him halfway around the world, to Brazil.
The South American country is, of course, well known as the home of the Samba dance, but it also happens to have a remnant population of rare Volkswagens of the same name. As Chris explains it, back in 1953 Brazil became the first country outside of Germany to manufacture Volkswagens, including Kombis and Beetles. In total, an estimated 20 million Brazilian-built Volkswagens have been churned out over the decades, many of them from the 1950s and 1960s, so it's a veritable treasure trove for collectors looking to find early versions of the marque.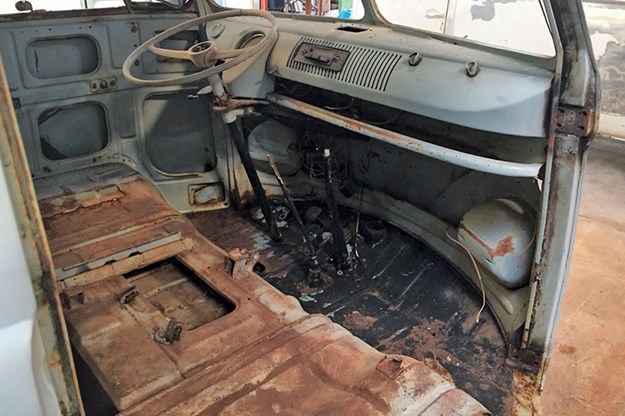 Basic best describes it
Through their research Chris and Genny's discovered that this healthy population of old VWs has given rise to a thriving restoration scene in and around Brazil's largest city, São Paulo. And while the quality of some of the restorations looked promising on a computer screen, they knew enough to know there's no substitute for shoe leather when it comes to looking at cars. The couple booked a working holiday and flew to São Paulo, where they spent a week visiting some of the better known and more highly regarded restoration workshops.
It's here that their story begins to parallel that of Victor Kiam's, because what they saw in one workshop impressed them so much, they not only purchased their own split-screen, but also negotiated a deal to become the sole Australian distributors of what Chris claims are now the country's best restored classic Kombis.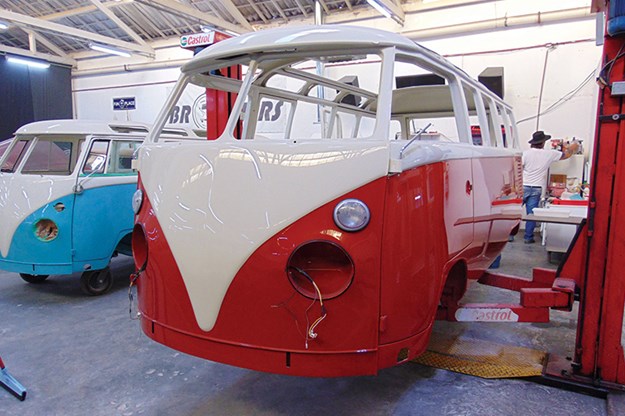 "There are a small handful of genuinely good restorers doing high quality work in São Paulo. But by visiting the place in person, by going around to the various workshops and meeting the people involved in the restorations, we were able to source the number one guy," says Chris.
"Even the other restorers there recognise this bloke as the best. The most expensive, but the best."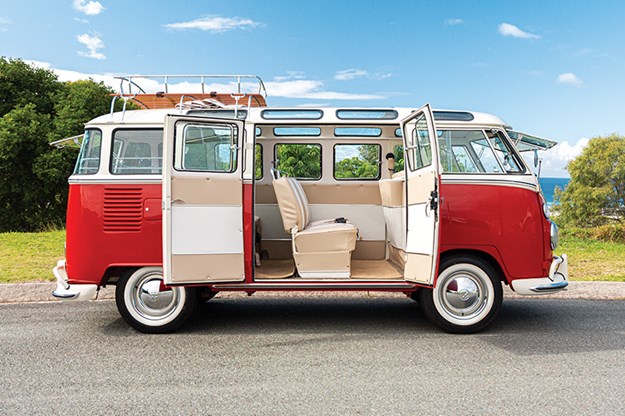 The Kombi is a head turner
The restoration process for a concourse-quality left-hand-drive Kombi from the couple's São Paulo connection takes between 18-months to two years, with the process entailing a complete overhaul of the body, engine, electrics, suspension, drivetrain, and interior.
"The vehicles are all completed to the highest standards of workmanship and emerge as a basically new car," says Chris.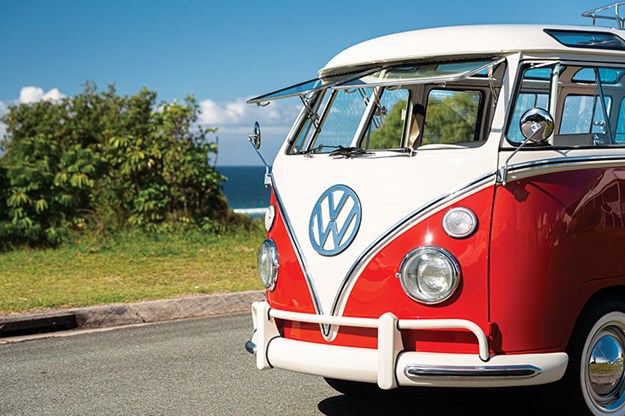 In a serendipitous twist, just as Chris and Genny were awaiting the delivery of their vehicle to Brisbane, another Kombi tragic who had been on a similar path heard of their new venture. Brisbane IT specialist Greg Booker had long dreamt of owning a classic car and, like many Aussies of a certain vintage, had his heart set on an early Aussie muscle car. But by the time Greg was able to afford the car of his dreams, prices for the homologation specials he aspired to were accelerating beyond his reach. Having been a surf lifesaver throughout his teens and adult life, Greg had spent plenty of time on the beaches of Queensland's Sunshine Coast, where Kombis were regular sightings. If he couldn't have an Aussie muscle car, Greg reasoned, he'd have the next coolest thing, an early split screen Kombi. However, he too soon realised that locating a restored split-screen with the correct provenance in Australia was almost as big an ask.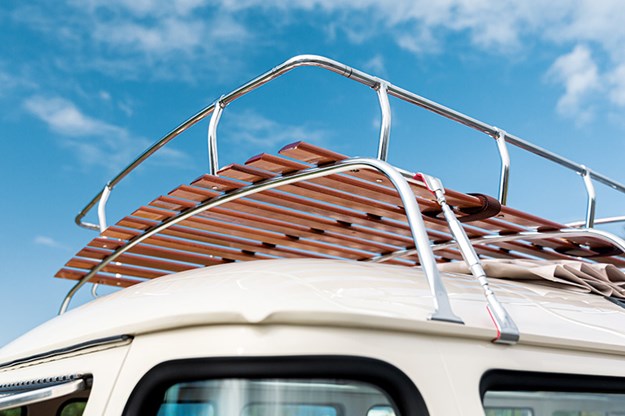 "The examples that were out there were either already ridiculously expensive, or so far gone that the cost to restore them here in Australia was prohibitive," says Greg.
Frustrated but undeterred, he began searching elsewhere, spending countless hours researching international markets, and on more than one occasion chasing down leads that ended in disappointment. Eventually, however, the search led him to Brazil, just as it had Chris and Genny. The trail might have ended there, though, based on a litany of internet horror stories from burnt owners, and a busy corporate role that made him wary of attempting to manage a restoration project from the other side of the world.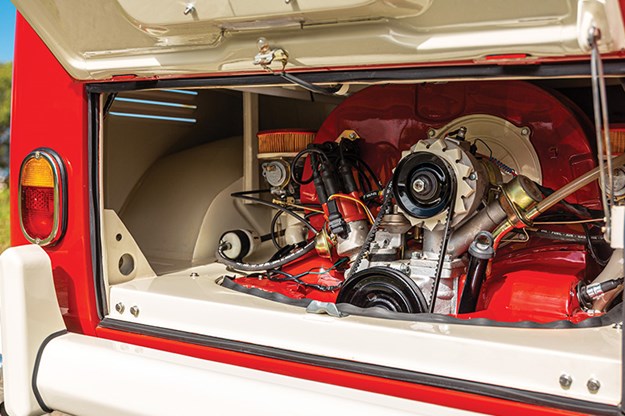 More power has been extracted from the engine
It was then Greg stumbled on Chris's and Genny's nascent Kombi import business, based just down the road in suburban Brisbane. By the time the trio connected in late 2019 the entrepreneurial couple had commissioned two restorations from their Brazilian partner, one being their own Kombi and the other, a restored 1967 Type 2 Samba Deluxe that fitted Greg's wish list to a tee.
Distinguished by its unique Plexiglass panoramic windows, "Safari" style windscreen and unusual 23-window design, the Samba Deluxe was originally conceived by its German designers with Alpine Touring in mind, but became synonymous with the sun and sand of the emerging surf scene here and in the USA. It was exactly the sort of machine Greg had visualised strapping his longboard to and cruising north for some weekend waves.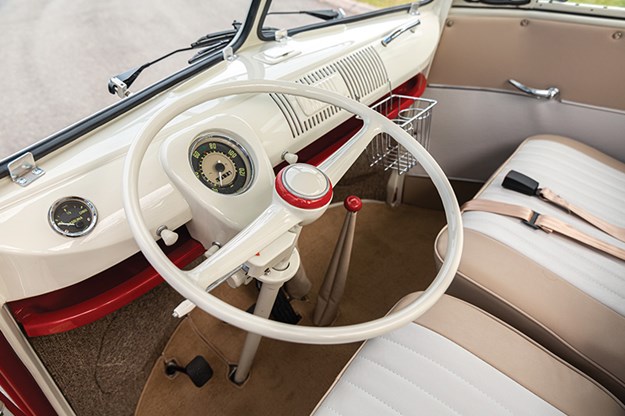 Chris picks up the story again, explaining that the ground-up restoration of what became Greg's Samba began in November 2018, taking 15 months to get to the concourse condition it arrived in. Looking at images of the tired baby blue bucket that was the donor car it's hard to believe it could be transformed into the gleaming white-on-red Samba Greg now calls his own. But each step of the restoration is detailed in incredible detail on the Red Plum website.
The process for this and all Red Plum's restorations begins with the donor car being stripped of its chrome strips and bits before any rust is carefully cut out and the panels either repaired or replaced, says Chris. The body is then sandblasted and sprayed with two undercoats, including rust proofing on an automotive rotisserie. The engine is fully dismantled, and each part sandblasted and restored before reassembly with new pistons, cylinder head gaskets, connecting rods and crankshaft bearings. In the case of Greg's car, the engine was also upgraded to 1600cc with twin carbs, for a bit of extra motivation, says Chris.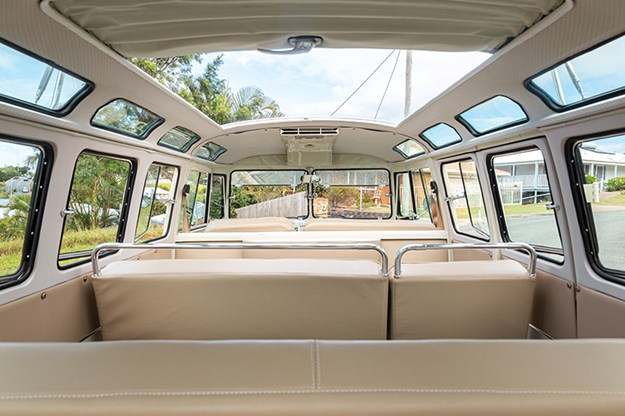 The standard four-speed manual transmission is dismantled and sandblasted before reassembling, with an ASSY ignition and modern alternator, along with a new clutch, gearbox, steering joints, and pins. Brakes were never a Kombi strong point, so red Plum's restos are modernised with discs at the front and new drums at the rear, unless owners specify otherwise. Other nods to safety include fitment of Australian Standard seat belts, plus heavy-duty fuel hoses and clamps, a fuel cut-off system, and a blaze-cut system above the engine. The old electrics are also stripped out and replaced with new fuses, fuse boxes and relays, and for comfort's sake additional sound deadening is added to the door panels.
Thoroughly revitalised, with its distinctive livery, front and rear Safari windscreens, pop-out side windows, cloth sunroof and splashes of classic chrome, the Samba pops in any crowd, and has become a popular attraction with the surf crowds around Mooloolaba, where Greg and family spend their weekends. While undeniably a showstopper, Greg readily admits that even in its fully restored condition, the Samba is a throwback to a simpler era.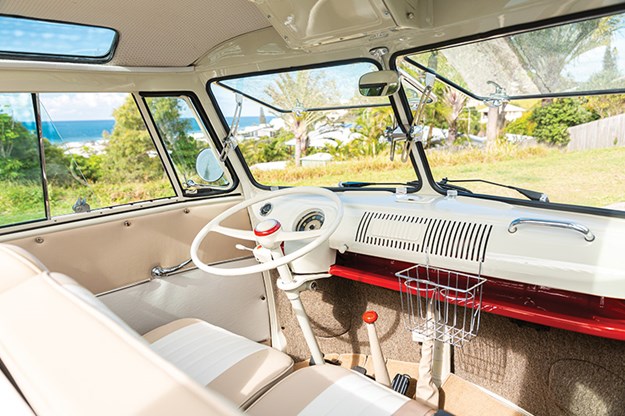 "I've had to learn to drive again," he jokes, adding that the old 'dub "drives like a car that is 53 years old."
"There's no power steering, you have to guide the gears in gently. You wouldn't say it's relaxing, and you need to be focused to drive it, but it's a heap of fun," he laughs.
Not that the Samba is a daily driver, as its rarity and concourse-quality restoration mean it's strictly a special occasion vehicle.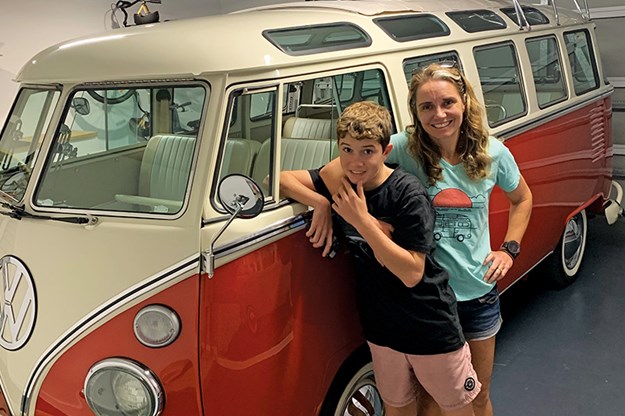 "It's a dry weather car, but if you've had a rough week and want to feel good, then just take the thing out for a spin," says Greg with the smile of a man who has ticked a major box on life's bucket list.
"It seems everybody has got a story about Kombis, it's just that sort of vehicle that makes people feel good. It's the nature of the vehicle, they're iconic, people love them, and when they see one that's pristine and original, it really does attract a lot of attention."
THE RESTO:
Restorers delight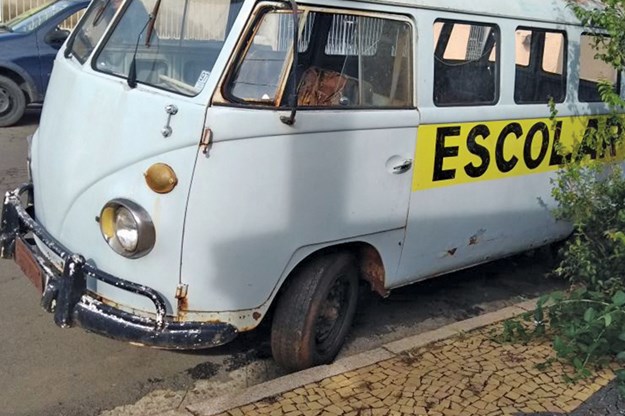 A sorry looking Kombi looking for a restorer.

Yabba dabba do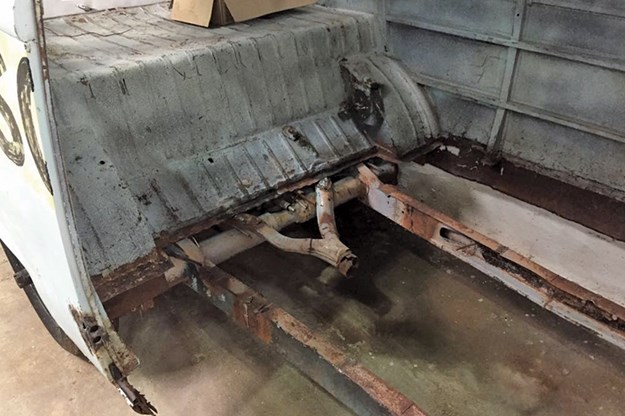 Rust has given this Kombi Flinstone power.

Stripped bare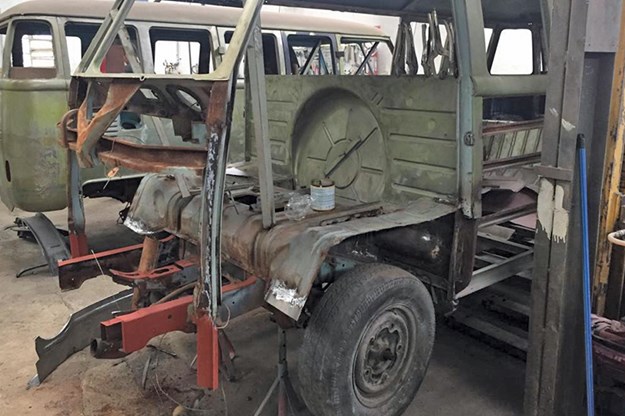 When you see the Kombi liks this, you appreciate the amount of work ahead.
Taking shape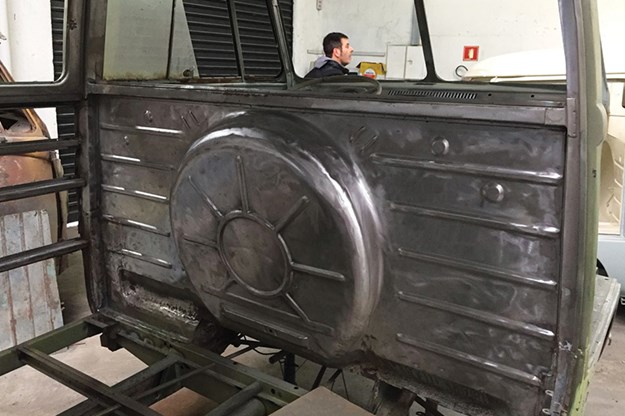 Panels are repaired or if too far gone, replaced.

Let the sun shine in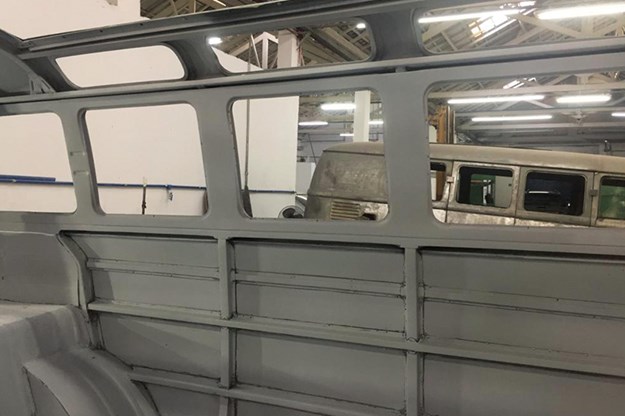 All those windows will help brighten life inside.

DAK DAK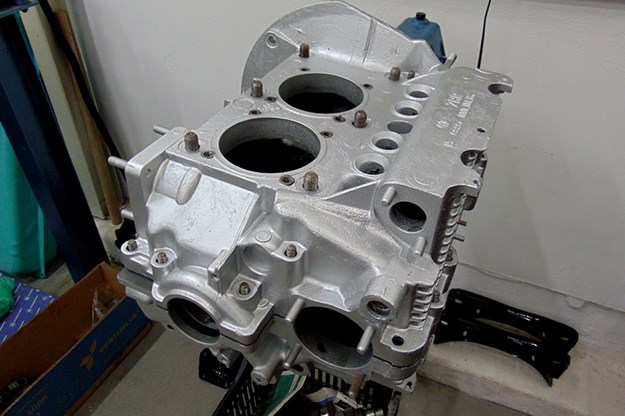 Horizontally opposed Kombi pusher.

Volkswagen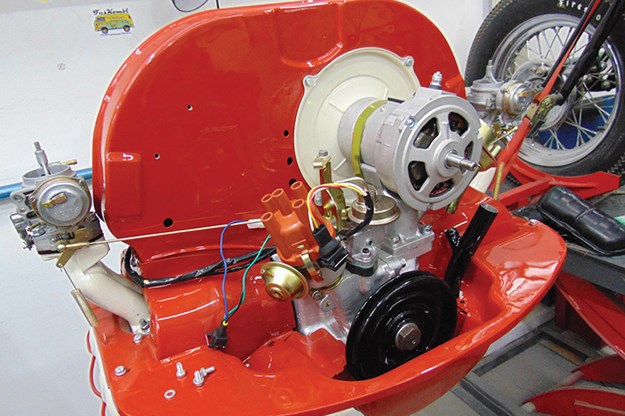 Never made Kombi engines look this good.

Underbelly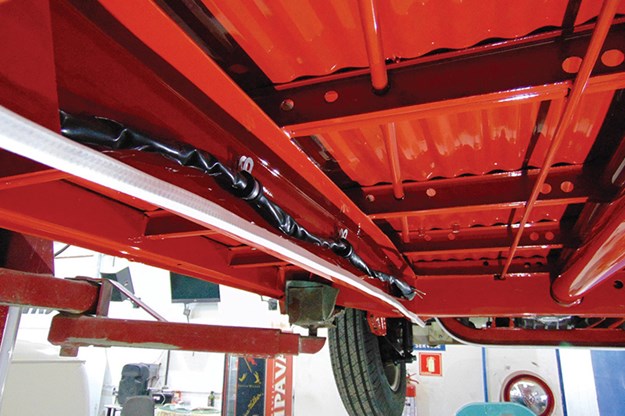 Given its appearance it's a shame only mechanics will see this side.

Stop that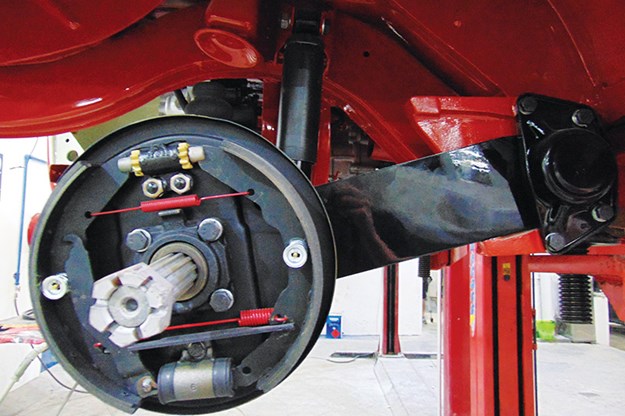 New brakes are a part of the thorough resto..

Original car: 1967 Volkswagen Kombi
Length of restoration: 15 months
1967 Volkswagen Kombi specs
Body: 6 door van
Engine: 1585cc Opposed four
Power & torque: 47kW @ 4600rpm, 118Nm @ 2800rpm
Performance: 0-100km/h 19.7 seconds
Top speed: 105 km/h
Transmission: four-speed, manual
Suspension: (f) Transverse torsion bars with trailing arms swing axle (r)
From Unique Cars #456, Aug 2021
Unique Cars magazine Value Guides
Sell your car for free right here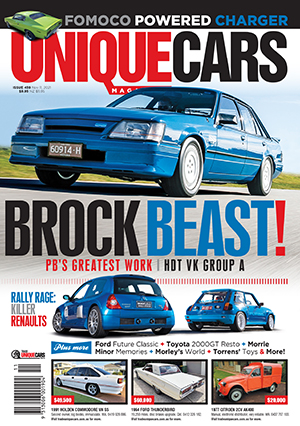 Subscribe to Unique Cars magazine for 12 months and save!
Australia's classic and muscle car bible. With stunning features, advice, market intelligence and hundreds of cars for sale.
Subscribe