Ford GT40 tribute review - part 1
---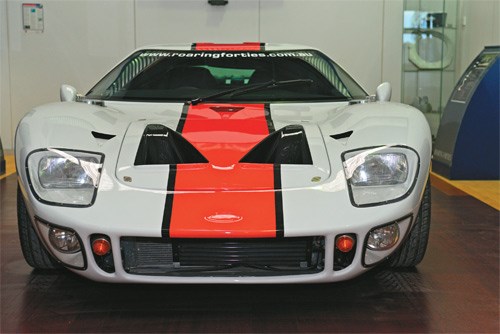 Ford GT40 tribute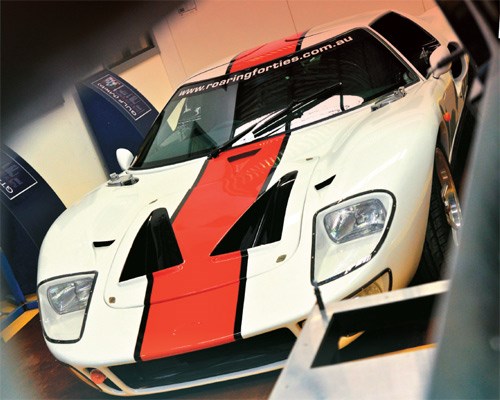 Ford GT40 tribute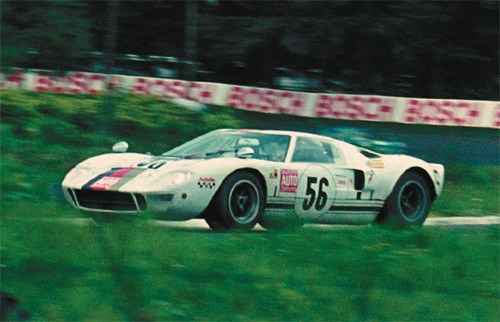 Ford GT40 tribute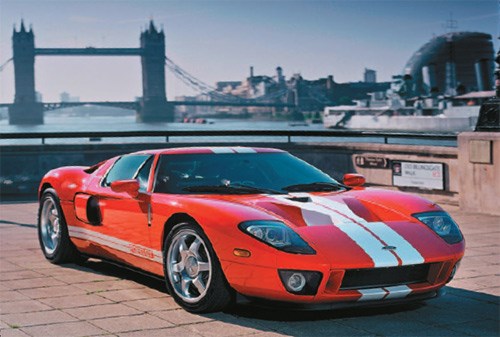 Ford GT40 tribute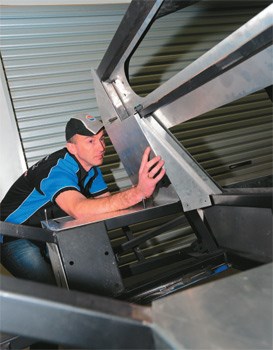 Ford GT40 tribute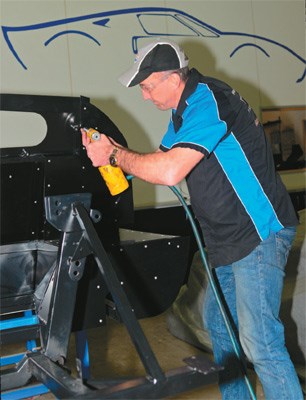 Ford GT40 tribute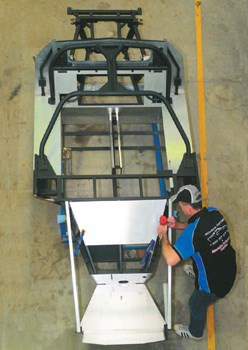 Ford GT40 tribute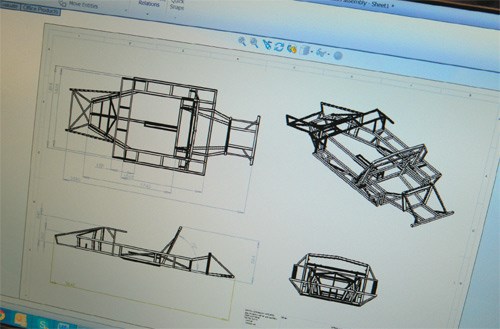 Ford GT40 tribute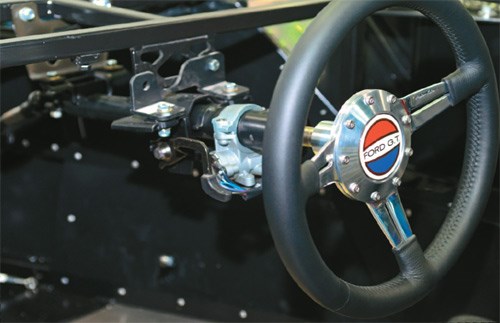 Ford GT40 tribute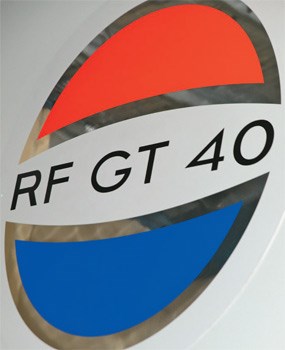 Ford GT40 tribute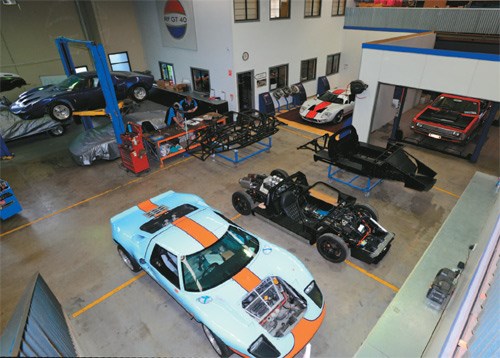 Ford GT40 tribute

For some, it's the ultimate dream – constructing a red-hot performance car in your shed. We head into the roaring forties bunker to see how to build a GT40 tribute
Ford GT40 Triubute
ROARING FORTIES - DIY SUPERCAR
Ever had the urge to build your own toy, just the way you'd like it? There are a few companies out there set up to satisfy that urge and without question replicas of Ford's legendary GT40 'Ferrari-killer' have long been somewhere near the top of that particular food chain. In Oz, Roaring Forties has built up one of the stronger reputations.
Strolling into the company's modest offices, one thing immediately strikes you: It's clearly a firm run by engineers. What's the giveaway? The workshop is spotless and well-equipped, while the office space upstairs is clearly just somewhere to park the computers and spare car parts. They could never be accused of frittering away their money on interior designers.
Owners Owen Connolly and Paul Bottomley, plus Operations Manager Adrian Sorensen, are all engineers – albeit from three different disciplines. And before you start thinking lab coats and slide rules, it seems they're more comfortable with a workshop tool in their mitts and, when necessary, a CAD terminal.
Talking to them, you soon see the petrolhead twitch coming into play. That movement of the hands over a pretend steering wheel, and the grin as they describe overcoming some sort of technical hurdle. In fact, Owen ended up buying into the company because he was already building a car, while Adrian was recruited part-way through his own build project. It seems that one of the major risks of Roaring Forties ownership is that you could end up working there.
Owen in particular gets worked up as he talks through the legend of the original GT40. After a last-minute failure of a proposed Ford-Ferrari corporate partnership in the 1960s, engineers in the American firm were given orders by Henry Ford II to come up with a car that could beat Ferrari on the track. With the help of Lola owner Eric Broadley and former Aston Martin team manager John Wyer, the trans-Atlantic project involved Ford engineer Roy Lunn and team leader Harley Copp.
Various iterations of the car won the Le Mans 24-hour four years in a row (1966-69) plus a number of FIA championships. A number of companies internationally have built replicas of the low-slung missile, with Roaring Forties even managing to sell cars back to the US over the years. Ford itself built a modernised version for the 2005-2006 model years.
Back to the boys at Roaring Forties. Calling their toy a kit car tends to make them jumpy – with some reason. They argue that 'kit car' elicits thoughts of gathering up borrowed chassis parts from various production vehicles (probably down at the local wrecker) and somehow cobbling it together with an engine, then throwing a sexy-looking bit of fibreglass over the top.
That's not quite how it works in this case. The crew is at pains to point out that every piece is a bespoke part. Sure, some components may have been picked up from other makers, but they're generally re-engineered to suit the Roaring Forties pattern. In many cases, it involves a surprising amount of development cost and detailed experimentation.
They quote the example of their recently-released suspension package. It went through several iterations until they came down to a final three contenders, each with subtly different set-up and geometry. Then they fitted those variants to a car in-turn and slung the keys at race legend and Unique Cars tester John Bowe, who gave his advice on the final selection. Here's the kicker: That new set-up, like all their development pieces, can be retro-fitted to earlier cars. "It rides like a $300,000 supercar," promises Owen. "It's brilliant."
Since we've mentioned dollars, a complete car is up to around $130,000, plus build time. The basic package (there are as many variants as there are owners) includes a 5.4-litre quad-cam V8, which Owen reckons has a bit of Jekyll and Hyde about it. The Jekyll: "It's so tractable as an engine, it drives – dare I say it? – a bit like a Falcon." And the Hyde: "But the car weighs just 1000 kilos, so it's really responsive."
That's all fine, but do I need to be a rocket surgeon to build one? An emphatic no, is the response from both Owen and Adrian, emphasising their owner assistance program. For example, if you're not comfortable installing the plumbing for the brakes, they can do it for you. For the car to be legal, you need to do 50 per cent or more of the total build yourself.
Much of that build is plug-and-play – sometimes literally. For example, the electrical harnesses are deliberately crafted so you can't possibly get it wrong, thanks to colour coding and some thoughtful design.
There's no welding involved and, in general, they reckon a reasonably competent home mechanic with a decent workshop space can tackle it. Adrian comments that "good sound mechanical knowledge and good hand skills" will get you through.
Realising the whole process can seem a bit daunting at times, they offer a lot of back-up. It's a sophisticated car and Adrian says he spends a couple of hours a day talking to owners and helping them unwrinkle whatever is worrying them, while the company also strongly encourages membership of the GT40 club as a support network. Very often they can put you in touch with someone nearby who is either building a car or has been through the build process previously.
All up a complete build generally takes around 18 months. Some people will take years while others barrel through the process in six months. For people like Owen, the process never seems to cease, as he constantly fiddles with and fettles one aspect or another.
Okay, so what about getting it on the road? "We've got registered cars in every state and territory in Australia," says Owen. "And we've got good relationships with engineers in those states."
And the reward? That's when the imaginary steering wheel movements and the grins kick in – "Driving a car you built yourself is the greatest feeling in the world," enthuses Owen. "It's the best workshop time you'll ever have," agrees Adrian.
So, what's actually involved in building your very own GT40 tribute car? Over the next five editions, we'll be following the patented 10-step plan to see what's really involved. Come with us – after all, what could possibly go wrong?
PANNELLING THE CHASSIS
At first glimpse, this may seem an arse-about approach, adding panels from the start. That is until you realise that we're talking about critical chassis panels, such as firewalls, floors and so-on.
What you're presented with is the car's steel spaceframe (we can recommend getting it powder-coated) plus a host of laser-cut aluminium panels. Some will require a little bending, but they're already cut and drilled. You'll need to drill holes in the frame, so the kit includes a complete set of Cleco pins to fit and hold panel pieces steady while you get the job done.
This part of the kit comes with rivets, plus a bonding agent which is designed to seal the panels and reduce NVH.
The process is typical of a lot of tasks on the car, where the level of technical difficulty is not at all high, but you will need patience. Oh, and you might have to break with tradition and read the instructions!
 The 10-phase build
1. Panelling the chassis
2. Rolling chassis
3. Ergonomics
4. Hydraulics, cooling & fuel
5. Air-con & electrical
6. Body fit
7. Body fit-out
8. Engine
9. Drivetrain
10. Completion
*****
More reviews:
> Driven: Roaring Forties RF40 review here
> Ford GT RHD (2006) review here
Search used: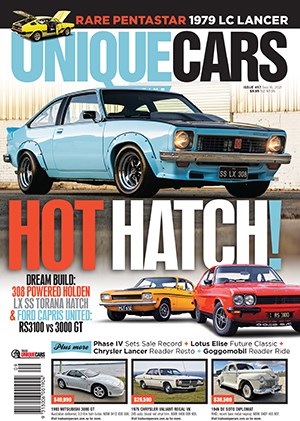 Subscribe to Unique Cars Magazine and save up to 42%
Australia's classic and muscle car bible. With stunning features, advice, market intelligence and hundreds of cars for sale.
Subscribe