Ford GT40 Tribute - Part 4 (second stage)
---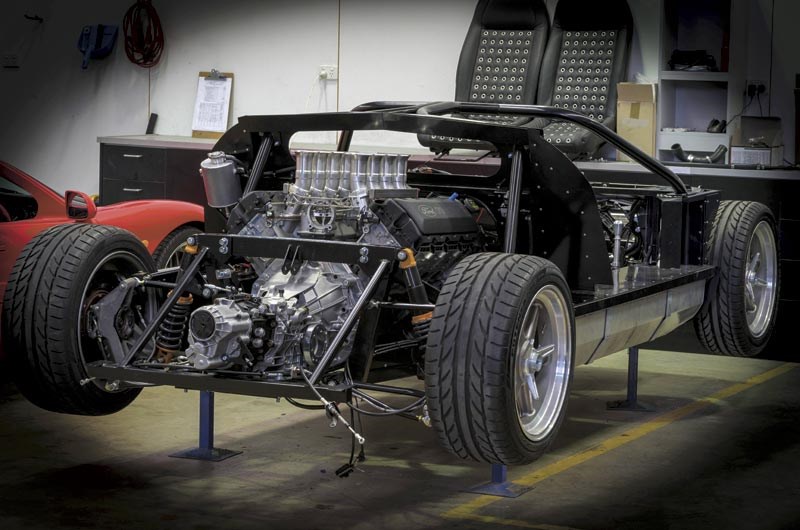 GT40 Tribute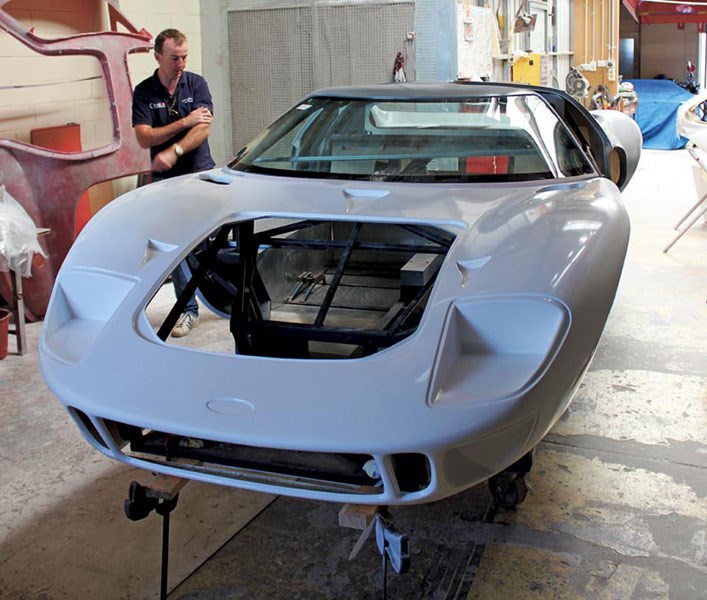 GT40 Tribute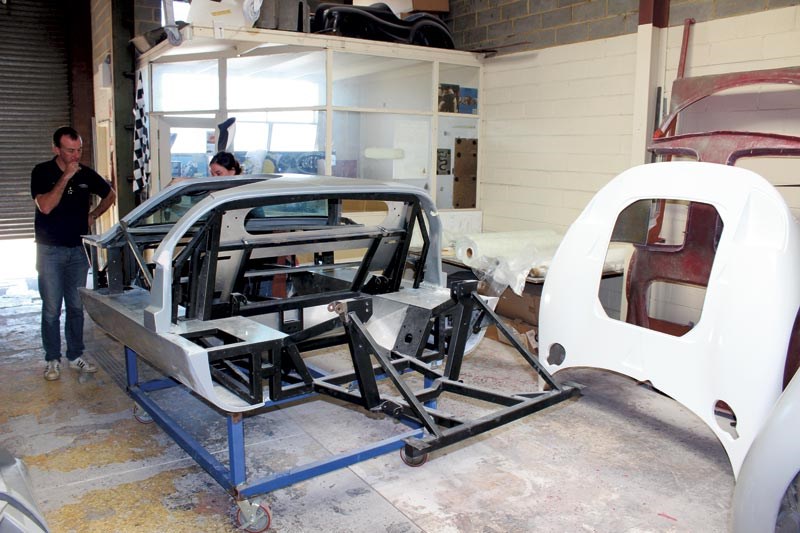 GT40 Tribute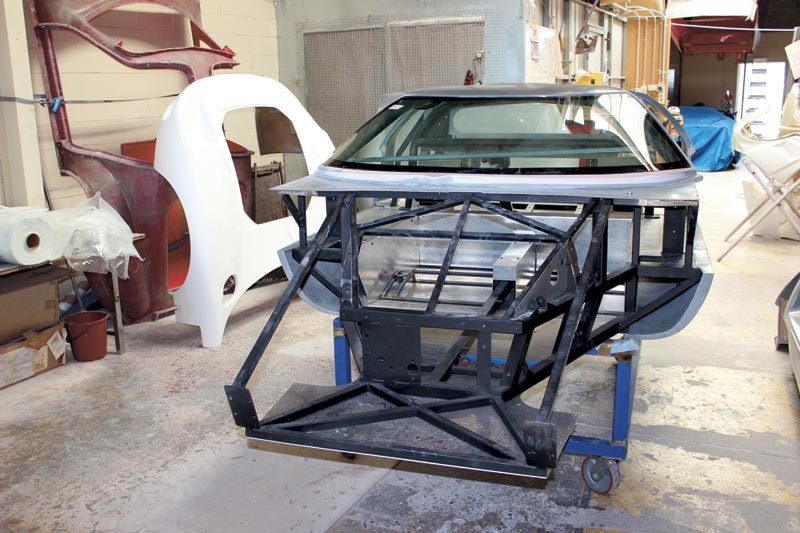 GT40 Tribute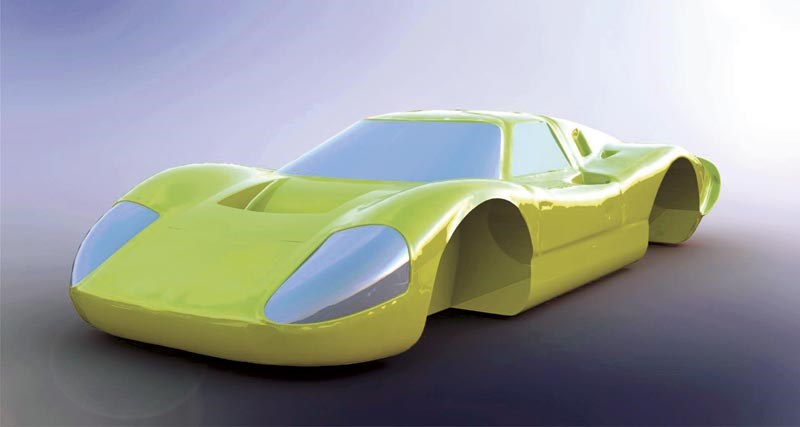 GT40 Model Development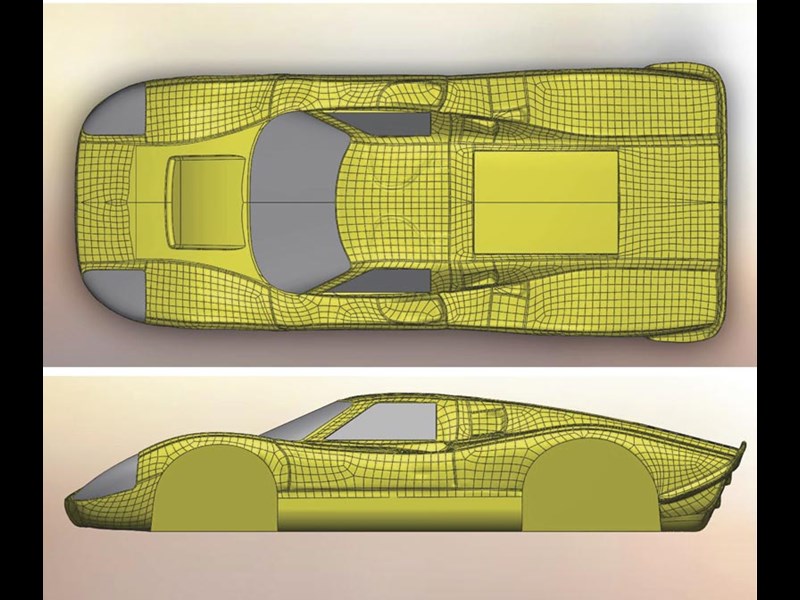 GT40 Model Development


GT40 Model Development

GT40 Model Development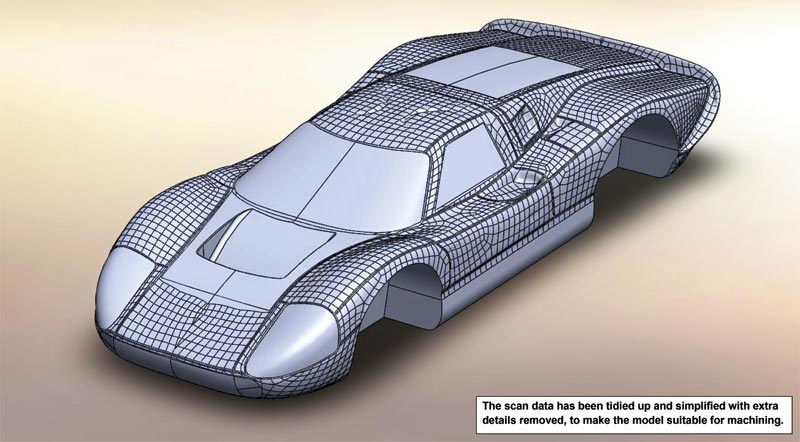 GT40 Model Development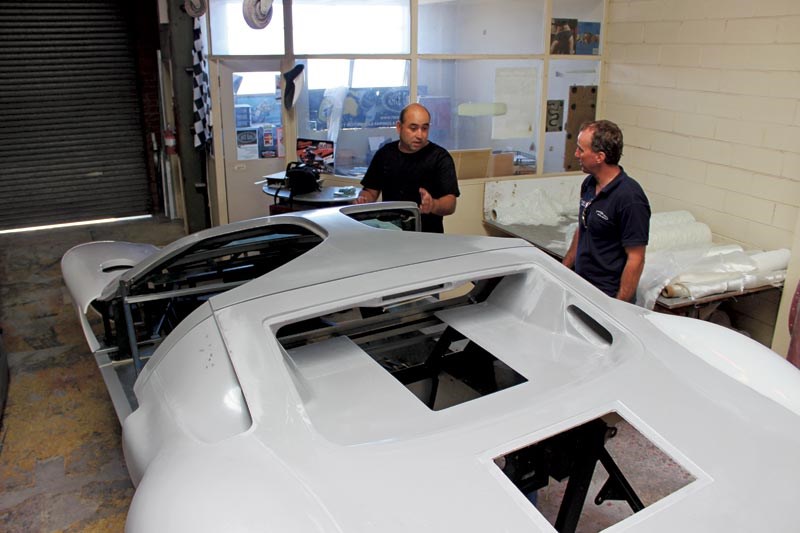 GT40 Tribute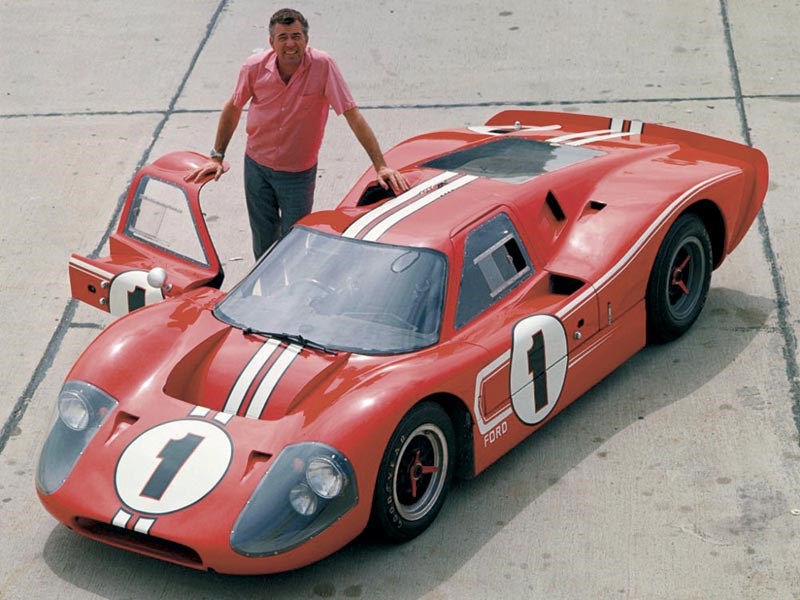 Carroll Shelby with a MkIV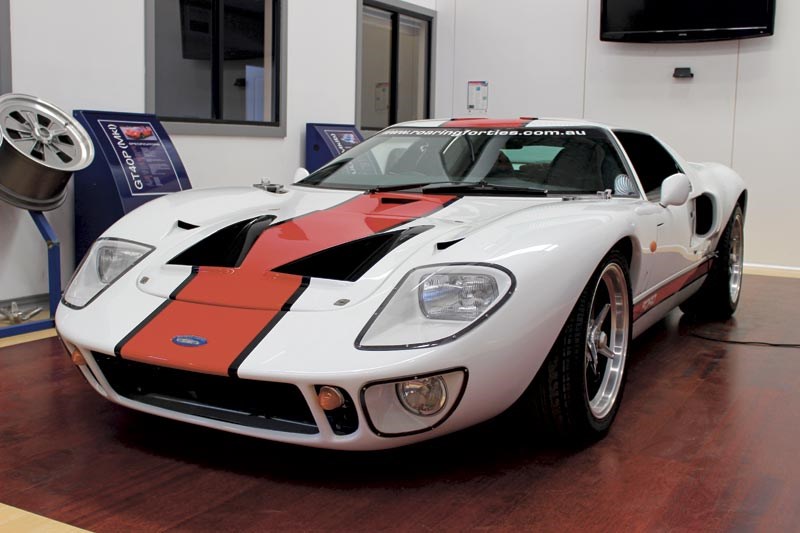 GT40 Tribute

While the roaring forties crew fine-tunes one body, a whole new one takes shape...
GT40 Tribute - Part 4
BODY BUILDER
You wouldn't think it would be an issue, but a recent heat wave in beautiful downtown Melbourne pretty much stopped progress on the bodywork for a shiny new GT40 tribute car. How? The crew at Raceglass in Bayswater – on the city's outer east – found that a string of 40-plus degree days made laying fibreglass pretty much impossible.
That hasn't meant that progress has halted entirely. In fact, much of the time has been spent on reshaping and improving the existing moulds which were in need of some fine-tuning.
Included in that work has been a major push to ensure the shapes of the curvy design are consistent from one side to the other. That's involved employing some very traditional skills, such as cutting a series of pattern or profile pieces based on the shape of one side, reversing them, and using them to hand-shape the other to match.
One of the issues facing designs like the GT40 is that the majority of the body work consists of three giant pieces: the central four-legged roof panel which the company calls a spider, plus the massive front 'clip' (or bonnet and guard section) and the equally giant rear. Even a slight miscalculation or flaw in the 'glass process – from constructing the mould through to laying out the product – can result in some pretty big panel gaps and inconsistencies.
Being run by a gaggle of engineers means the company simply can't leave such issues alone, so Raceglass was recently engaged to tackle a complete refresh of the moulds. The work we've seen so far, which includes a spider and front clip, is sensational and is a significant step up in quality and finish. Listening to the Raceglass crew go over the car with Adrian Sorensen from Roaring Forties, you can hear a conversation that sounds disturbingly obsessive to an outsider. I guess if you're a punter, that's what you actually want to hear.
Something that's thrown a bit of a curve ball into the process has been one of those oddball situations that only happens to bespoke manufacturers: someone walked in with a model car and enquired, "Can you make one of these?" Really? 'One of these' turned out to be a MkIV GT40, the final iteration of the race cars, built entirely in the USA. When you look at one the big give-away is its narrower cabin; its bigger 'shoulders' give it a more muscle-bound feel than the older cars.
Only seven originals are said to have been built, so it's not as though you could just hop across the Pacific and borrow one to take a mould. Worth literally millions of dollars, it's not something you'd normally loan out to some stranger from Oz.
Again, being engineers with the inevitable obsessive nature that implies, the Roaring Forties crew couldn't resist the challenge. Adrian explains, "He liked our base chassis and our operating system. He wasn't entirely impressed with the level of quality of kits available in the States, so he approached us and asked if we could do it. We had a bit of a scratch and a think and eventually said yes."
The original MkIVs were significantly different to their predecessors and were best known for one example winning the 1967 Le Mans 24 Hours for the Shelby American team, driven by AJ Foyt and Dan Gurney.
However rather than engineer an entirely new machine, it was decided the look of the MkIV could be achieved with a reshaped body fitted to a mildly modified version of the existing Roaring Forties platform. This saves the huge cost of developing then certifying a car from scratch – this is, after all, going to be a road car.
"It's purely from the sill, up," explains Adrian. "The chassis is still the same. We're not sticking 100 per cent true to the original – we're making a few differences in the interests of passenger comfort.
"For example we've mirrored the doors (they were different shapes on the original), so they both have that nice swoopy targa profile. We've done away with some of the superfluous flaps, like the filler access to the original dry sump.
"The MkIV had very different dash, but we're using our MkI dash, extended and modified, so we can use the same wiring loom and instrument and switch set.
"There's a different windscreen profile – it's longer and more sloping – plus a different spider, and the doors are longer."
It doesn't sound too bad when you say it quickly, but there is a ton of work in there. In reality, you're talking about an entirely new body.
While the existing Roaring Forties bodies were lovingly shaped by hand, times have moved on a little. There's this thing called Computer Aided Design (CAD) that's been around for a fair while now. It has become the go-to technology, while the gradual development of more sophisticated milling equipment at reasonable money has made the connection between concept and final product a whole lot more direct.
Enter a mob called Kaber Design (www.kaber.com.au), which works out of the same building as Roaring Forties. This is a young crew of folk who have a background in prototype work, particularly with composite materials, and have gone freelance. With people like Adrian watching like hawks, they took the customer's model and literally scanned it into the machine to form the basis of the shapes they needed.
Adrian explains the process: "They expanded it [the 3D scan] out to full size and smoothed out any imperfections. Then they dissected the model into individual panel sections, extracted them and then worked on items such as the door flanges and returns and hinges.
"So they took their exoskeleton and fleshed it out into a real working model.
"Then they import that shell onto the CNC router and carve out a part, which they then treat and smooth off. That then forms the buck, which they can make a mould from. The buck effectively looks like the part of the car. The mould is used to generate the parts."
Essentially what you end up with is something that's machine-carved rather than hand-carved, that should be less labour intensive, more accurate and more consistent in its both its final gapping and detail finish.
At the time of writing, the first body (they're going to be made available to the wider market) had yet to be popped out of the mould. Rest assured, we'll be keeping an eye out for that one.
In the meantime, the whole process has opened up the possibility of creating a new range of cars form the existing GT40 platform. "We're now looking at other vehicles with similar configuration. It's not impossible to put another body on the established chassis.
"Compliance is a lot easier and it means we now have the in-house tech and ability to do a car from scratch."
But we're getting a little ahead of ourselves…
For the time being we have a rolling chassis with the Coyote Ford V8 engine, transmission and all the plumbing, with most of the body ready to go.
Watch this space…
Unique Cars magazine Value Guides
Sell your car for free right here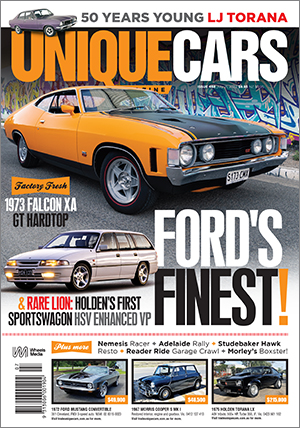 SUBSCRIBE TO UNIQUE CARS MAGAZINE
Get your monthly fix of news, reviews and stories on the greatest cars and minds in the automotive world.
Subscribe