Roaring Forties - Ford GT40 tribute - part 5
---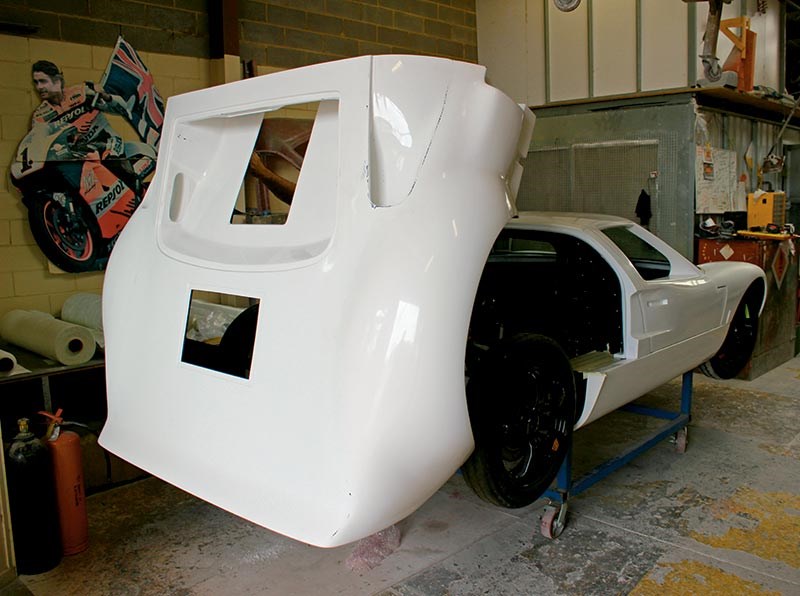 Roaring Forties - Ford GT40 tribute - part 5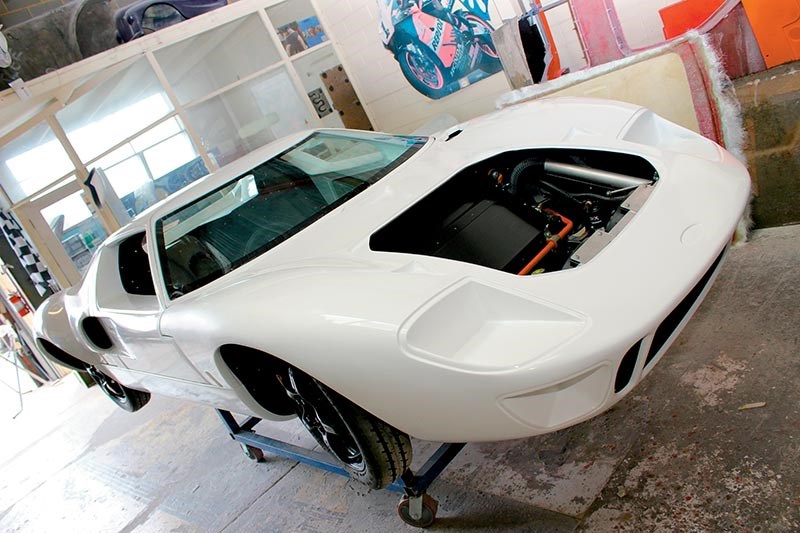 Roaring Forties - Ford GT40 tribute - part 5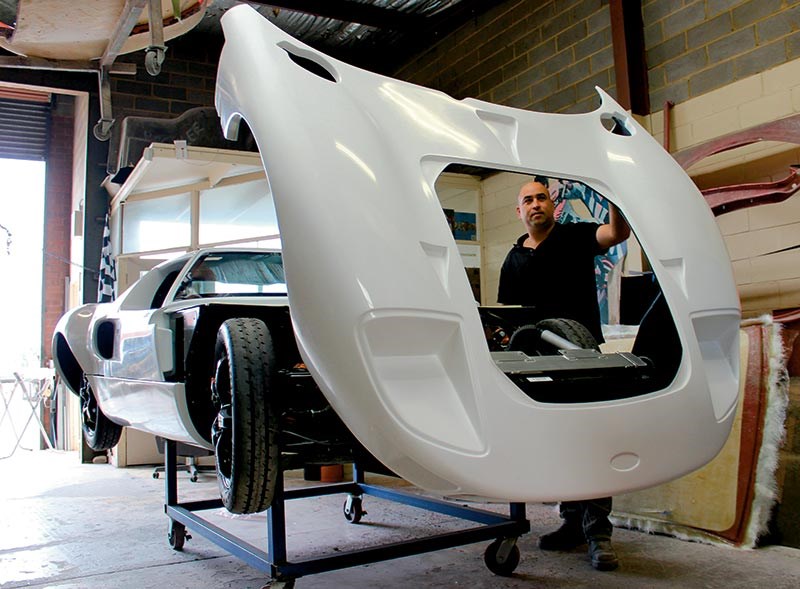 Roaring Forties - Ford GT40 tribute - part 5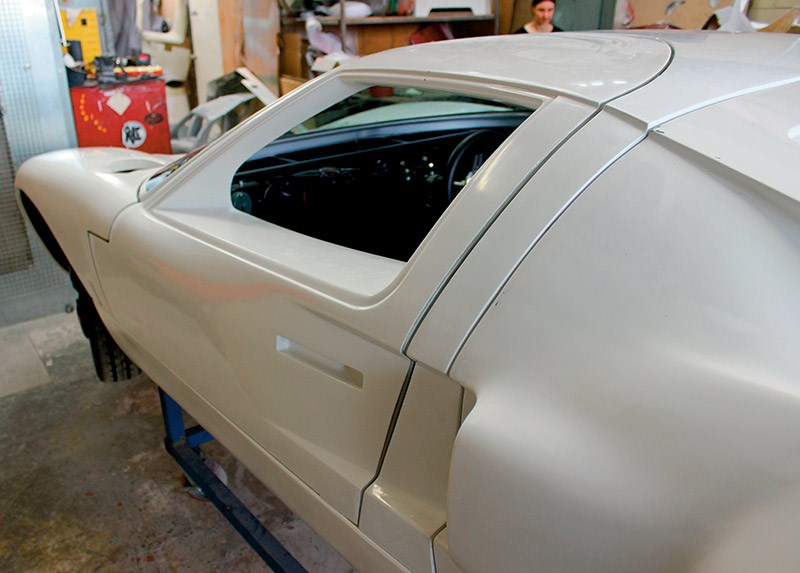 Roaring Forties - Ford GT40 tribute - part 5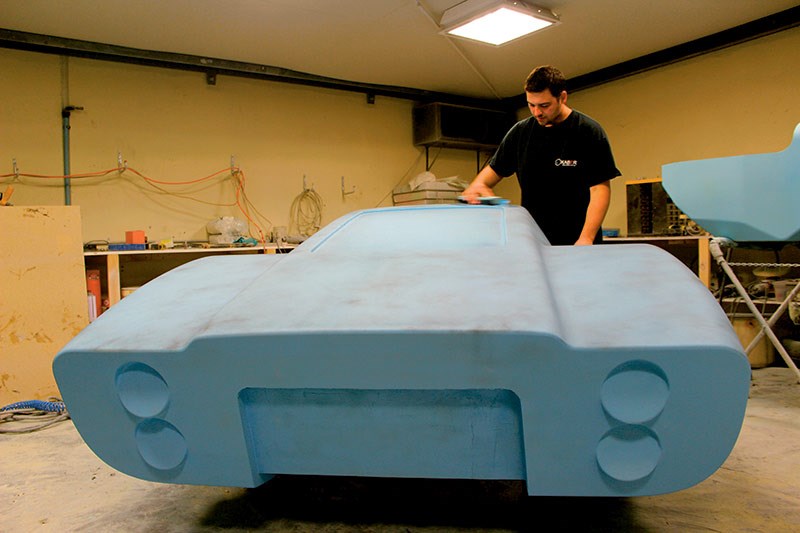 Roaring Forties - Ford GT40 tribute - part 5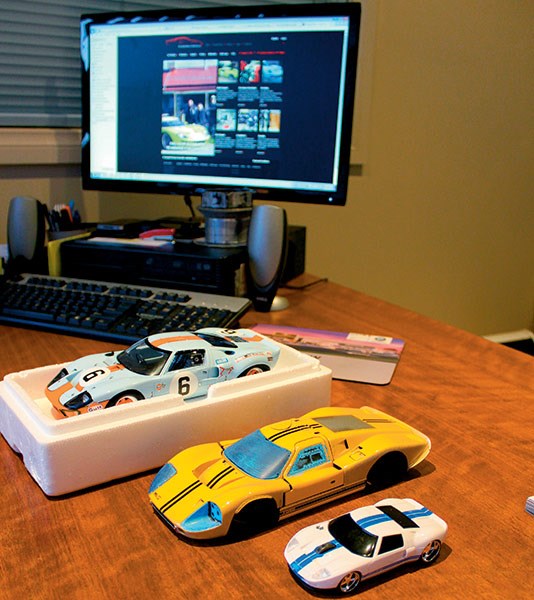 Roaring Forties - Ford GT40 tribute - part 5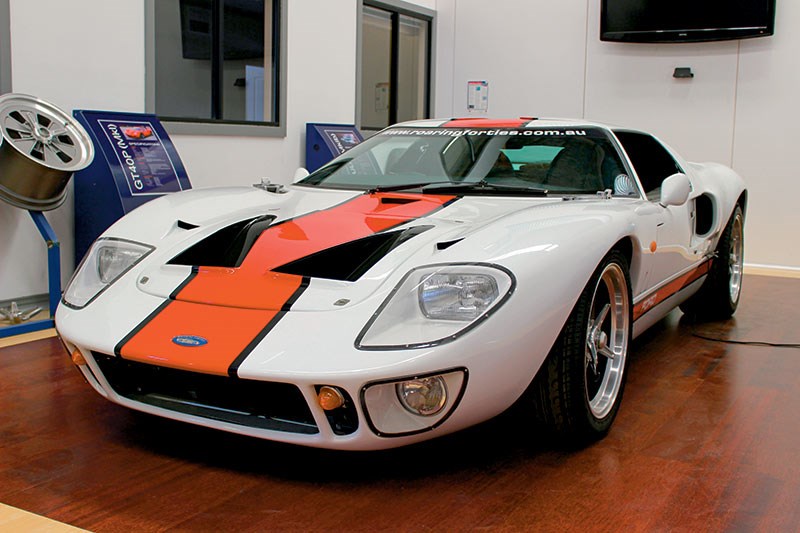 Roaring Forties - Ford GT40 tribute - part 5

Our GT40 chassis finally gets to meet the part that makes peoples' hearts melt - that magnificent body
Roaring Forties GT40 Tribute
There's been a bit of a delay with our DIY supercar, partly thanks to the weather and in part due to the insistence of the folk at Roaring Forties that the wait would be worth it. How so?
The moulds for the MkI car really needed an update. Young Adrian Sorensen from Roaring Forties says the customer feedback is positive, but there's been a bit of room to make the moulds for the massive fibreglass panels (there are eight in each car) match up better. An engineer by trade, he's building a GT40 himself and so has an insight into the trials and tribulations the company's customers encounter.
Raceglass in Melbourne was hired to do the honours, spending a considerable period of time working on the overall fit – something that's easier said than done when talking about a giant three-dimensional object that has a very complex set of curves. When that shape was invented, reproduction was not high on the minds of the designers. It had to be sexy, fast and, well, hang the expense.
"The close fit established by Raceglass won't have a big impact on how the car feels, but it will look better," explains Sorensen. "Right out of the box the panel fit and gaps will look better." Now that may not sound all that important at first, but when you sit back in the shed with a glass of your favourite tipple to survey your handiwork (and you will), there'll be a greater sense of satisfaction.
With the new and improved moulds popping out our bodywork, it's time to introduce the panels and the chassis to each other. As we mentioned there are eight sections: the central roof and screen pillar piece (called a spider), the massive front and rear clips, two doors, two side clips and the nostril piece. All that needs to be located on the spaceframe.
"The body comes in gelcoat at this stage. There's no sense in going anywhere near paint until you have the fit sorted," says Sorensen. "The spider goes on first, because that's the reference that everything else goes off – roof, A-pillars and rear pillars. Both main clips rest on the spider, while the doors nestle into the openings in the spider. So getting the spider right is critical.
"You take some accurate measurements from datum (reference points) on the chassis, then position it and clamp it, then offer up a door to check that's looking right," he explains. "You almost dummy assemble it." He goes on to point out that fibreglass isn't like steel, so there can be slight variations. That is why you ensure everything is temporarily positioned to check the fit is right, and then you can start locking things in.
This is the time where you grab that mate who's been hanging round, possibly annoying you and almost certainly wanting to get their paws on your toy. Guess what? You now have a job for them. "The pieces are big and a second set of hands to help move and slowly shuffle things into position is going to be invaluable," says Sorensen. "I think it's definitely a two-man evolution. A lot of clients opt to get us to fit the body, but it's certainly not beyond the capabilities of most people."
Once you're satisfied with the fit, you can start drilling and cutting for mounting points, hinges and lights. The crew at Roaring Forties suggest you do a final fit-up of all the gear, because you really want to be sure everything works before you remove the pieces and send them off to the painter.
So, any thoughts on a painter? Sorensen says any professional will be able to do it – they happen to use the nearby Corporate Auto Body, in Thomastown (Vic), which also did our magnificent Project XU-1 a little while ago.
Meanwhile the crew has a little side project going, namely a MkIV GT40 replica. This absolute monster of car has been developed from a 1:18 scale model and now the bucks for the bodywork are starting to take shape.
Sorensen says it's incredible how much speed and flexibility is allowed by modern computer modelling. They've been able to try the fit of virtual parts before committing to hand-finished bucks for the final moulds on this next-gen shape. It's also got them thinking about how their existing chassis might be adapted to other historic shapes, with similar basic layout.
Back to our car, though. With the body established, we now have something that looks very much like a real car. All the big components, including the basic mechanical package, are in place. From here we're looking for paint and what's probably going to add up to a fair bit of work getting everything hooked up and running sweetly. We'll see…
Unique Cars magazine Value Guides
Sell your car for free right here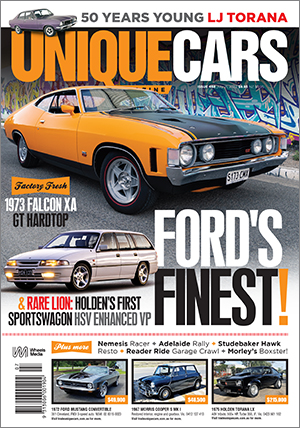 SUBSCRIBE TO UNIQUE CARS MAGAZINE
Get your monthly fix of news, reviews and stories on the greatest cars and minds in the automotive world.
Subscribe