Mazda RX-7 Type R Bathurst R Review
---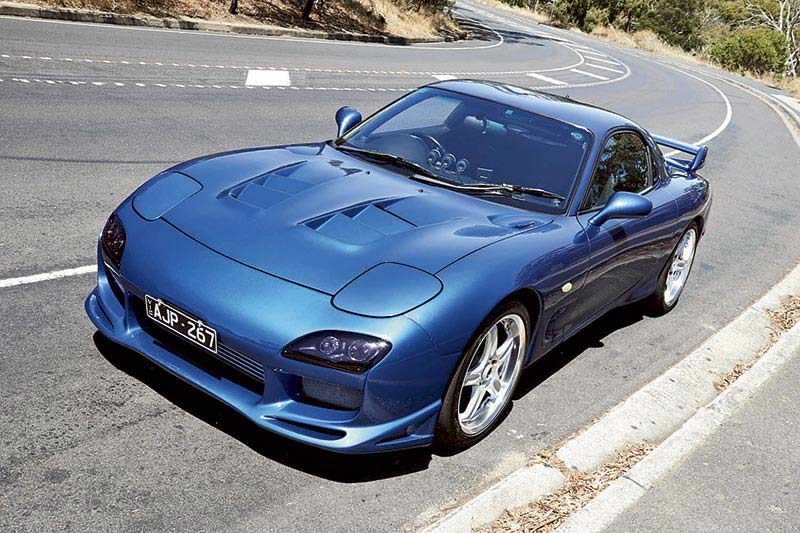 One man's race against time to own the car of his dreams
Mazda RX-7 Type R Bathurst R
On first acquaintance, this isn't a very Unique Cars vehicle. There are no chrome bumpers, no bent eight under the bonnet and you'll find no faded photos of Uncle Norm using a Mazda RX-7 to tow the family caravan on beach holidays. Yet in other regards, this is about as heartland as it gets. Why? Because not only was this car built to commemorate Mazda's consecutive endurance wins on Mount Panorama, but there's a backstory here that speaks directly to the passion we share as car enthusiasts.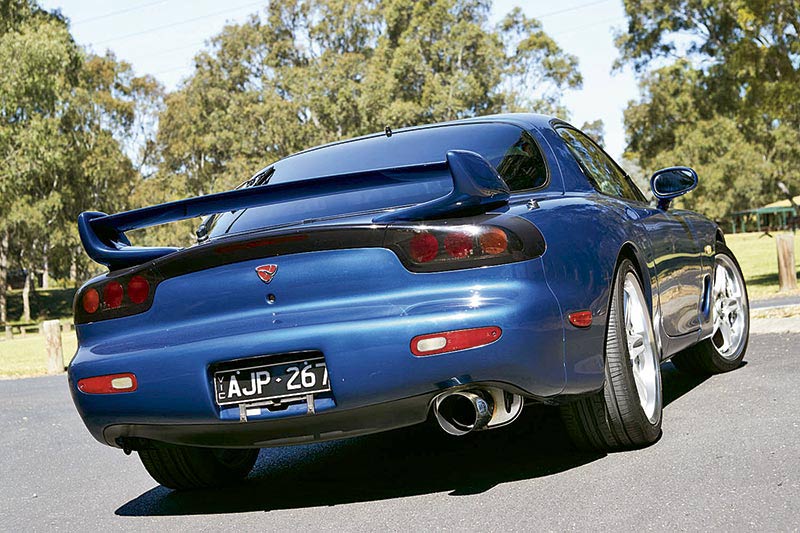 First up, a bit of a primer on the car itself. Speak to most with a passing knowledge of the RX-7 and they'll identify the Spirit R as the model to choose. The last of the FD3S RX-7s, 1500 Spirit R models were produced. To many it's ultimate RX-7. And the limited-run Australian SP version is probably the most collectable. Thing is, the smart money just could be directed at a car that's not anything like as well known.
 | Buyer's guide: Mazda RX-7 Series 4-5
The RX-7 Type R Bathurst R limited edition model was, despite the badge, never officially imported to Australia, instead being a Japanese domestic market special. The reason it's rated so highly by those in the know is straightforward. It's the fiercest, most focused roadgoing RX-7 ever to roll from the factory. Based on the featherlight Type R, it had the best power-weight ratio and also got a suite of well-judged go-faster bits. This wasn't a case of throwing every option at the car, Mazda instead judiciously choosing just the parts a keen driver needed and nothing else, including some trick adjustable dampers. There are also the interior features such as the carbon tone interior panels and a carbon-fibre shift knob and parking brake lever similar to the racing car. Most importantly, it's not over-tyred like some versions, the car coming with 225 section rubber at the rear, giving the car an adjustability lacking in later cars which featured fat 255 width rear treads.
It's rare too, with only 500 being manufactured between December 2001 and June 2002. Tipping the scales at just 1260kg, which is less than something like a Toyota 86 GTS, it packs the 276bhp (206kW) that, at the time, was the self-imposed power limit amongst Japanese manufacturers. It scuttles to 100 km/h in just 4.9 seconds and the quarter mile will only detain you for 13.6 seconds. Peak torque of 314Nm is reassuringly hefty thanks to a pair of sequential Hitachi HT12 turbochargers. Compare that to the 304Nm of a 3.2-litre Honda NSX-R and you'll appreciate why the Mazda was such a brilliant base for a competition car.
 | Mazda RX-7: Great cars of the '70s
Owner Jamie Turnley has got the rotary bug something bad. Secreted away down the side of his house are three other RX-7s including an FC with a 20B triple rotor under the bonnet and of the four Mazdas, the Bathurst you see here is the slow one. Unfortunately, it could also be his last one. "This might be the car I get buried in," he muses. At the tail end of last year, he was diagnosed with stage four cancer. The scale goes from one to four, with four being the end you'd rather not be at. The plans for a house deposit went out of the window and instead Jamie did what any committed petrolhead would probably do, namely buy the car he'd always wanted. He's bought well.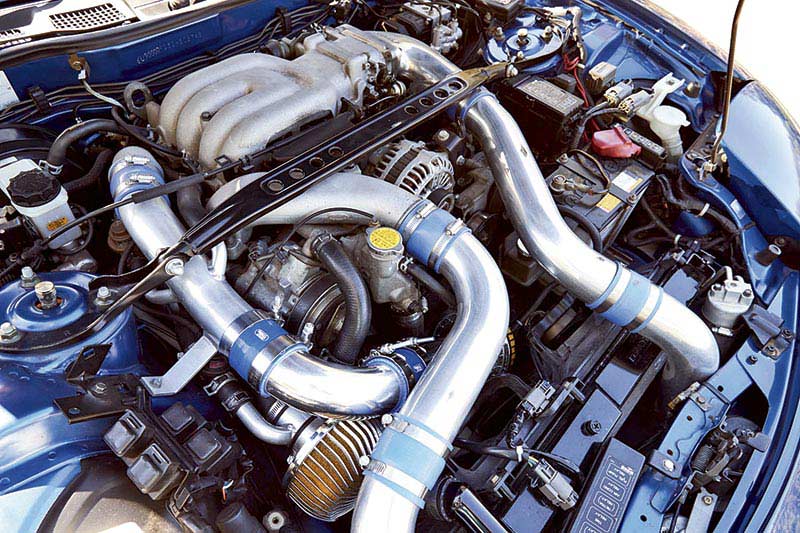 The RX-7 is a real head turner and that's all the stranger because, by and large, time has not been kind to the majority of early-90s sports cars. Put that down to aerodynamics. In the last quarter of a century, designers have become a lot smarter at managing the airflow over a vehicle, figuring out how to create clean surfaces and razor-sharp creaselines while still retaining a low drag coefficient.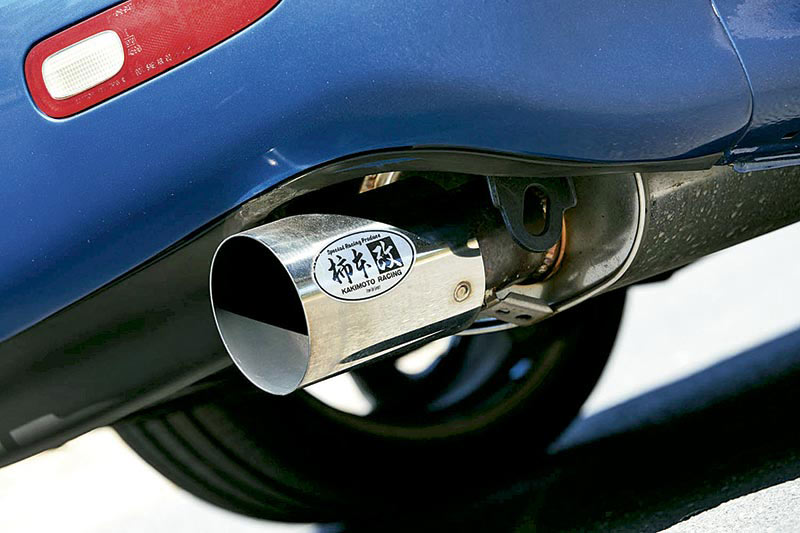 By today's standards many of the coupes that came out of Japan look dated. The Toyota Supra and the Honda NSX have both gone through their blousy periods, while the Mitsubishi 3000GT has yet to emerge. The FD-3 RX-7 has never gone through the fallow years. It looked great from the get-go and while some cars were tastelessly modified, this one's kept the aftermarket licks to a sensible level. You'll probably spot the forged aluminium Volk Racing GT-C wheels, the intercooler, the RE Amemiya fibreglass bonnet and inside there's a Bride driver's seat, an Apexi boost controller and a set of Defi clocks on the dash. The shocks have also been swapped for height and preload-adjustable Öhlins units and there's a triple-core radiator. A lot of the suspension rubbers have outed for rose joints for a more direct channel of communication.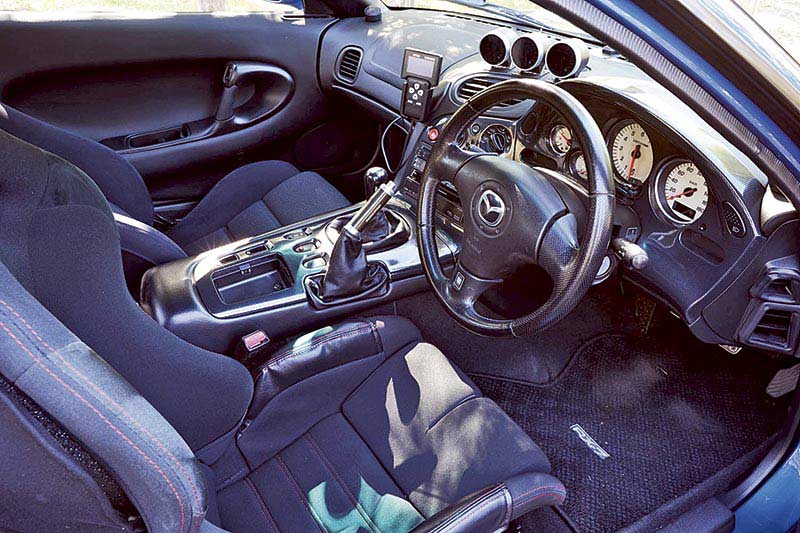 "I've had the car for two or three months now. The RX-7 has been my dream car since the early nineties when they were released. One of the suppliers had one and I saw it in the car park at work and I thought, 'Oh my God, what is this?" I went up to Mazda in the city on Elizabeth Street and checked it out but they were about $85,000 or more, and that was just unobtainable for me. So I thought, that's going to have to wait. Then just before Christmas, I thought I'd get my dream car. I couldn't believe the colour. When I was looking, I saw an RZ and this one online, but I wasn't sure that this was an actual Type R Bathurst R," said Jamie, before confirming that this was indeed one of these unicorn Mazdas.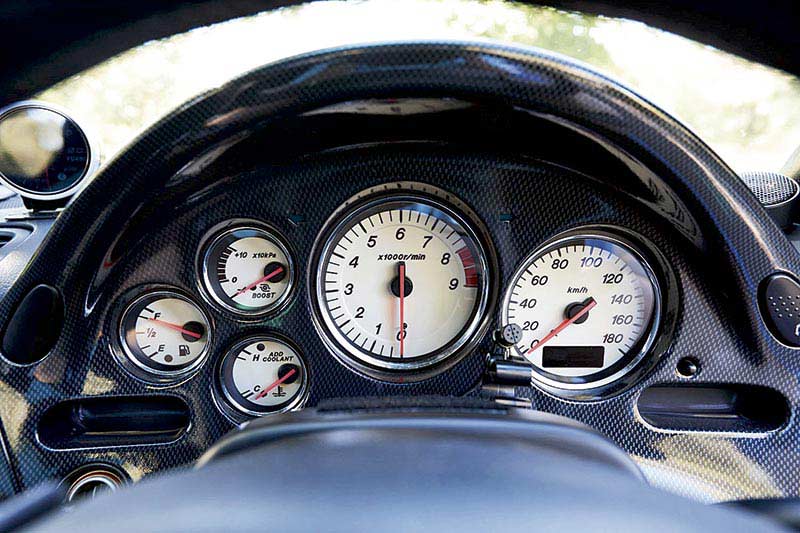 "I went and had a look and that was it. There was another guy who'd come to look at it and it was hidden away at the back of the dealership behind a bunch of vans. As soon as I saw the car I knew I had to have it. There was another guy who was interested in the car and he was having the car started and was going over the vehicle and I just said to the dealer principal, 'Let's get the paperwork'. Import Revolution were really good with the way that they went over the car and highlighted every aspect of it to me. I was going to try to knock them down a couple of grand, but they did a lot of stuff like fit brand new tyres to it, so I paid the asking price," he said. "It's a great car to drive. Very readable, I absolutely love it. You jump in and it brings a great big smile to your face every time. Once it's warmed up to operating temperatures, it's so much fun to drive. Good on you, Mazda," he smiled.  "I used to work for SelectMaz years ago and we were in on the ground floor when Motec just started, so our job was to do a lot of the data logging. We did a lot of running at Calder Park on the improved production car that we were running. At the time, SelectMaz held just about every lap record for their class in Victoria!"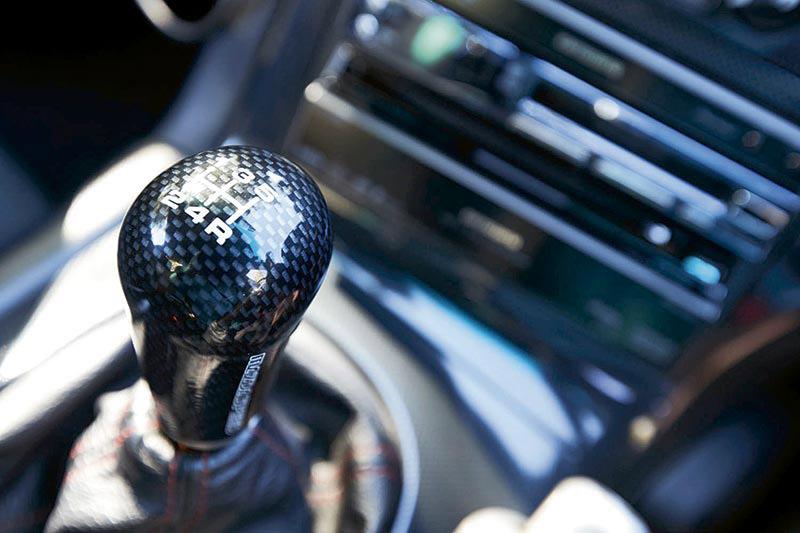 For a vehicle that started its design cycle in the tail end of the 1980s, the FD3 still feels a class act. Put that down largely to getting the fundamentals right. The front-mid engine is mounted low in the car, driving the rear wheels with a perfect 50/50 weight distribution. Suspension is double wishbone all round, unlike the cheaper strut/semi-trailing arm setup of the car's key German rival, the Porsche 968. The driving position is spot on, although the Bride seat perhaps isn't the best choice if you're at all acquainted with the finer details of a Hungry Jack's menu. Mazda honed the formula over the FD3's lifetime and these Series 8 cars can show their contemporary equivalents a thing or two in terms of steering feedback, turn-in response and even nerdy stuff like throttle mapping. There's no traction or stability control on this car, the only safety net being your restraint and your reflexes.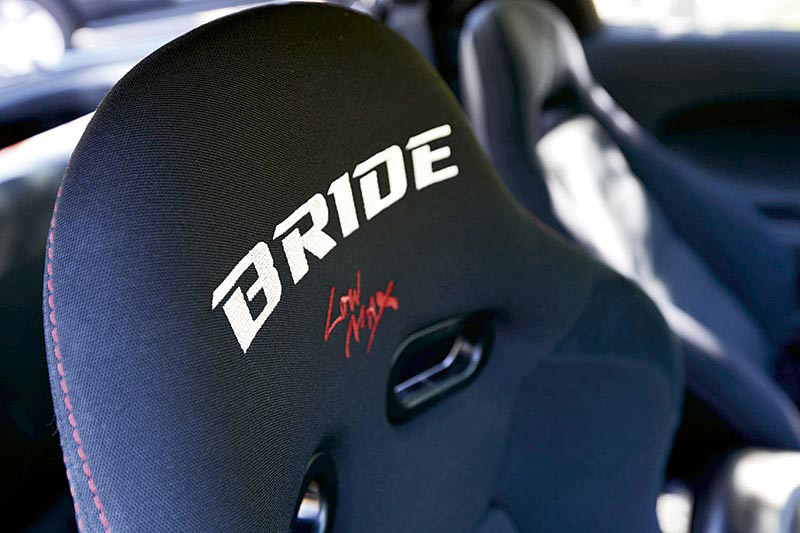 It's a sobering thought that this could very well be the last car Jamie owns. This Series 8 RX-7 is the apex of rotary-engined sports car development and we'll probably never see its like again. That's why there was little chance that the dream car could have been a disappointment; a case study in never meeting your heroes. The Bathurst has more than lived up to its billing and, besides, not all heroes wear capes. Sometimes a set of blue overalls does just fine.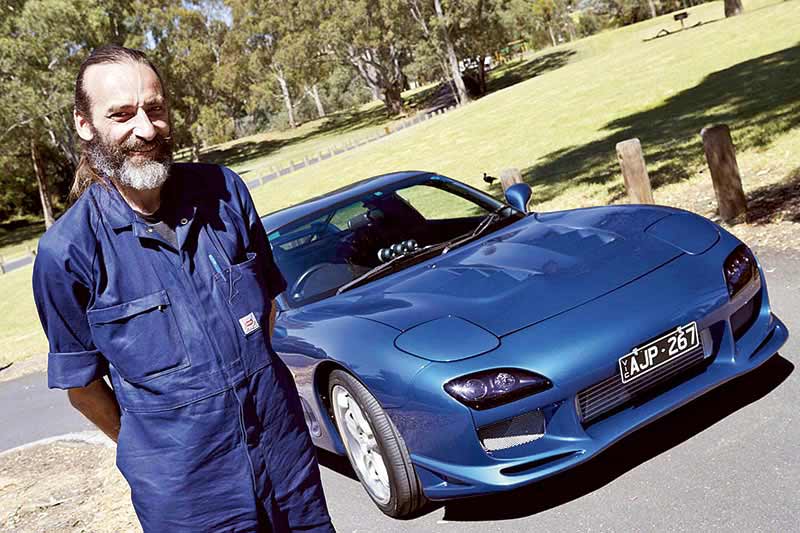 (Ed's note: We're sorry to report that Jamie has since passed away. RIP)
Unique Cars magazine Value Guides
Sell your car for free right here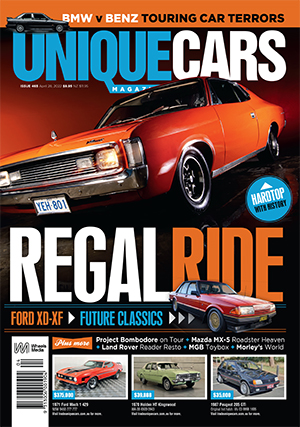 SUBSCRIBE TO UNIQUE CARS MAGAZINE
Get your monthly fix of news, reviews and stories on the greatest cars and minds in the automotive world.
Subscribe