Mazda RX-8 (2008) Review
---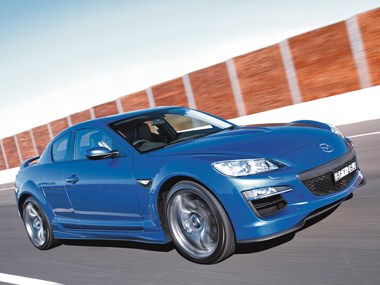 2008 Mazda RX-8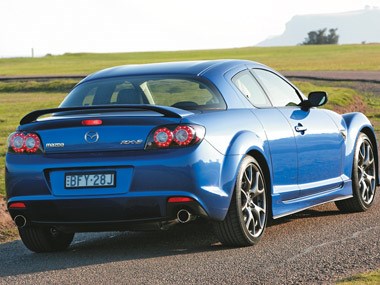 2008 Mazda RX-8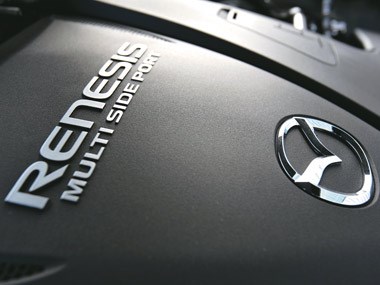 2008 Mazda RX-8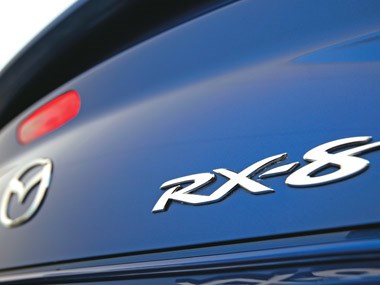 2008 Mazda RX-8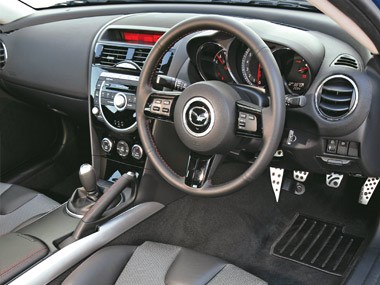 2008 Mazda RX-8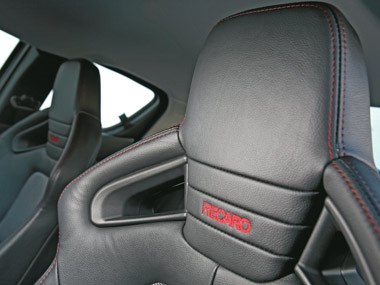 2008 Mazda RX-8

Mazda sharpens the RX-8's family-friendly sports car focus.
2008 Mazda RX-8
[Sep 2008] Mazda makes three claims for the RX-8: It's the only mass-production car with a rotary engine, it's the only sports car with rear-hinged doors and it has no direct four-seater sports coupe competitor.

Put these standalone qualities together and a great sports car they do not make. Although the rear seat accommodation and access are outstanding for four adults in such a sporty-looking coupe, it's hard to think of a worse engine than a rotary for hauling a 400kg payload.

As for "no direct four-seat sports coupe rival", the local market is thick with cheap and sporty local rear-drive models that do the same job on the same amount of fuel with much more comfort, for much less. Volkswagen is poised to upset this equation with its Passat four-door coupe while the new BMW 125i coupe/convertible is a strong contender.

Following its last update, the Nissan 350Z is now the purist sports car benchmark from this company, so if you don't need the RX-8's rear seats, you may as well head straight to your nearest Nissan dealer.

To counter the inherent loss of rigidity and sports car feel from the RX-8's missing centre pillar, Mazda has been forced to boost chassis rigidity with extra welds, thicker steel in the suspension towers and rear aprons, extra welds in the door openings and a reinforced steering mount.

A trapezoidal front strut brace has been added to manual models, while the rear suspension has longer links and a raised upper link attachment point at the rear wheel to reduce toe change.

The rotary engine continues with the same power (170kW/8200rpm) and torque (211Nm/5500rpm) as the outgoing model after power was cut to meet new noise levels in 2006. It has improved oil feed and knock sensor systems, with claims of improved mid-range torque.

Yet it's the shorter 4.777:1 final drive (previously 4.444:1) charged with maintaining performance and flexibility at speeds that matter most in Australia.  Some incremental performance figures are slower with the shorter final drive creating an extra gear shift. It also boosts fuel usage from 12.6 L/100km to a big car's 12.9 on a diet of 95RON, but fuel tank capacity does go up four litres. Both are a small price to pay if filling the RX-8's four seats is a priority.

Major styling tweaks not only restore the RX-8's sports car appearance for a tougher 2008 context, but also cut drag from 0.31 to 0.30.

The big news is Mazda's own new 6-speed manual lifted from the MX-5, with rotary-friendly ratios, trick carbon triple-cone synchromesh on first to fourth gears and one of the slickest shifts in the business. A new Aisin 6-speed auto replaces the old 4-speed which could never keep the rotary on the boil. Because this new auto shares the manual's ratios, it now has a chance.

To protect the auto box, Mazda limits engine revs to 7500rpm and cuts power to 158kW, which is still 17kW more than the old auto.  Although torque matches the manual, it's 9Nm less than before. The nobbled auto engine, otherwise identical to the manual, delivers a better fuel figure of 12.1L/100km.

The other big news is a new three-tier model range starting with the RX-8 at a keen $49,720, the Luxury at $55,520 and a new GT for $57,625.  The $1645 auto option is available only on the Luxury.

Where the Luxury adds sunroof, Bose sound, xenon lights, leather trim and front fog lamps, the GT boasts sticky 19-inch wheels and tyres, Bilstein shocks, urethane-filled front cross member, leather/cloth Recaro seats and body kit. The Luxury adds 28kg over the base RX-8, the GT adds just five.

The RX-8 Luxury's driving position, equipment, amazing grip and tight feel are on the money, yet there's a whiff of cost-cutting about the dash materials and the instrument panel. Two near-empty dials, no analogue speedo and an afterthought digital speed readout in the corner of the half-tacho, are far from Mazda's best. With the rotary's frenzied acceleration between 7000 and 9000rpm, it's too easy to ping a speed camera before this readout settles on a figure.

Of greater concern is the brittle ride on anything other than a smooth freeway. Despite ride improvement claims, Mazda has installed a hundred little men with hammers in the Luxury seats, pounding on your nether regions. It's the GT that rides better, despite its firmer, sportier feel. Perhaps the Bilsteins can tell the difference between road imperfections and cornering forces when your typical Japanese shock can't, even a softer one.

So the RX-8 now has a more authentic sports car feel and look, is slightly more tractable under urban conditions and it's an even wilder and more frenzied drive at high revs, when both new transmissions can better exploit the rotary.

If you can live with the soundtrack of a mosquito singing in E flat, the flawed dash, peaky torque delivery, the extra fuel costs and the fidgety ride, the RX-8 still travels to the beat of a very different drum, while making almost as much sense on the school run as on a Sunday drive.
SPECIFICATIONS
2008 Mazda RX-8
BODY: 2+2 Sports Coupe
WEIGHT: 1374kg
ENGINE: 1308cc twin-rotary
POWER/TORQUE: 170kW @ 8200rpm/ 211Nm @ 5500rpm
DRIVETRAIN: front eng, RWD
TRANSMISSION: Six-speed man/auto
PERFORMANCE: 0-100km/h - 6.4 secs (manual)
PRICE: From $49,720
Unique Cars magazine Value Guides
Sell your car for free right here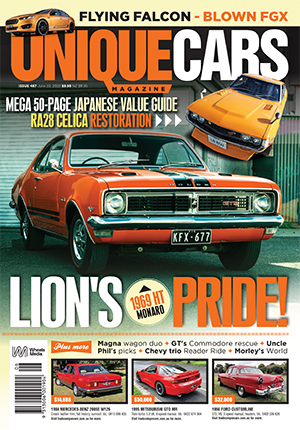 SUBSCRIBE TO UNIQUE CARS MAGAZINE
Get your monthly fix of news, reviews and stories on the greatest cars and minds in the automotive world.
Subscribe