Mazda MX-5 - Where It All Began
---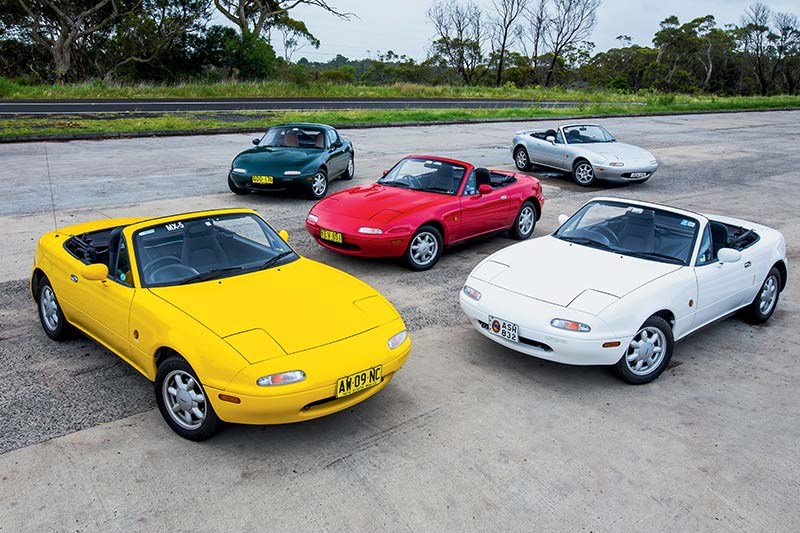 With Mazda MX-5 production having just passed one million, it's time to look back at where it all began
Mazda MX-5  - Where It All Began
Mazda's MX-5 roadster was one of the most significant new car launches of the 1989 – if not the whole of the 1980s. No matter who you were, even if you weren't really interested in cars or motoring, by summer 1989 chances are you knew something about "that new little sports car."
The idea for Mazda building a lightweight roadster is credited to Bob Hall, an American motoring journalist. Fluent in Japanese, he discussed what cars Mazda should make with the company's boss, Kenichi Yamamoto, in the late 1970s.
One of the ideas was a simple, inexpensive drop-top roadster. This was a hugely popular market in the USA for much of the previous 20 years but was lacking fresh product. For instance, the design of the MGB was by then more than 15 years old and was hardly a pinnacle of technology or reliability.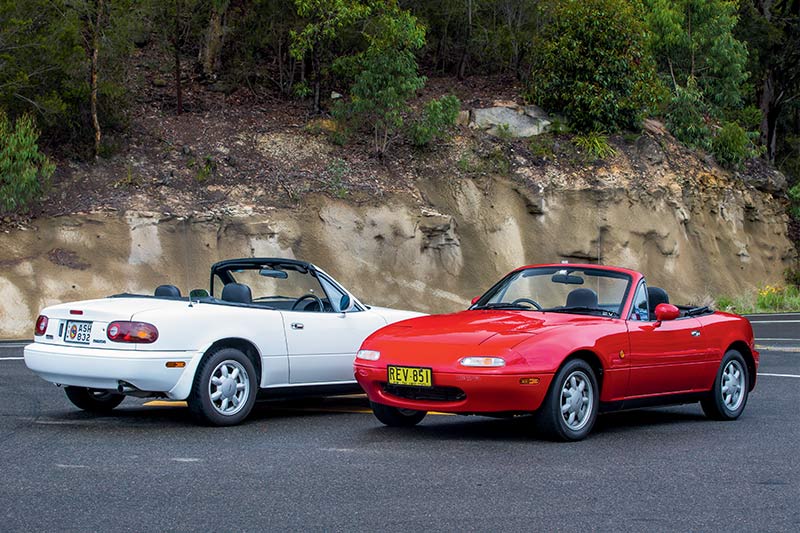 The sporty roadster idea had merit: The first Mazda RX-7 had been released in '78 and was a terrific success for Mazda, especially in the USA. Mazda had created its Cosmo two-door sports car in the early 1960s, too. But even with this heritage, it took more than five years for the roadster idea to be accepted as a possible new model for Mazda, and of course even longer before the finer details of the specifications and layout to be decided.
There were several ways a roadster could be created but Bob's concept – and passion – was for a front-engine, rear-drive drop-top roadster. Mazda's 1970s 323 – and the 808 before it – was a rear-driver so was a natural choice for sharing parts such as engine and suspension. But, like other mainstream Japanese manufacturers – Mitsubishi, Toyota, Nissan – in the early 1980s Mazda had switched its 323 small car to front-engine, front drive. That killed the idea of a rear-drive 323-based roadster…but the 323's new east-west layout opened up the possibility of a mid/rear-engine, rear-drive car like the Fiat X1/9 or Toyota's Corolla-engined MR2. There was also the possibility of a front engine, front-drive sporty based, once again, on the then-new 323 front-drive components.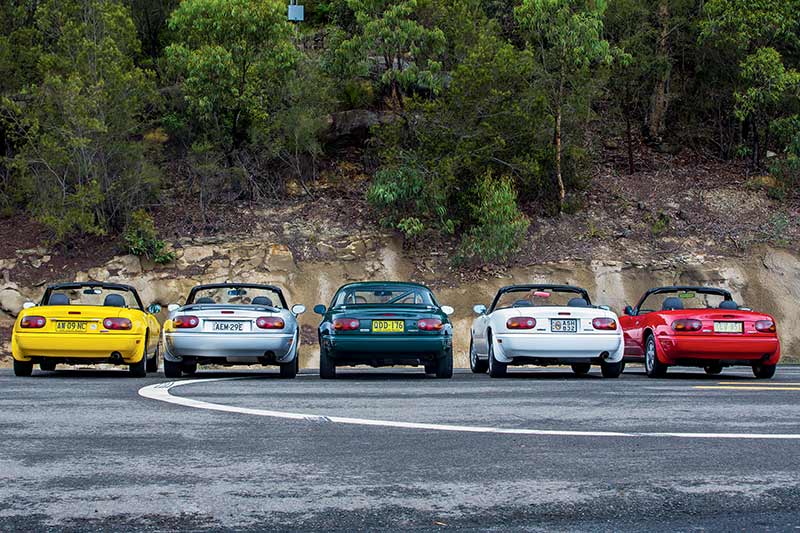 By 1984, the roadster idea had become styling proposals: at first sketches then full-size models. Two were created in Japan but the front-engine, rear-drive, drop-top proposal was created at Mazda North America's office in California where Hall now worked as a product planner.
But what really gave momentum to the idea of Mazda building a new-generation light weight roadster was a real-size early prototype that was contracted to British company IAD. Created mostly from a cut-down old rear-drive 323, the result was a mock-up that could be driven.
To see the general public's response to the idea, Hall and other Mazda staffers took the little roadster on an undisguised public test drive in California.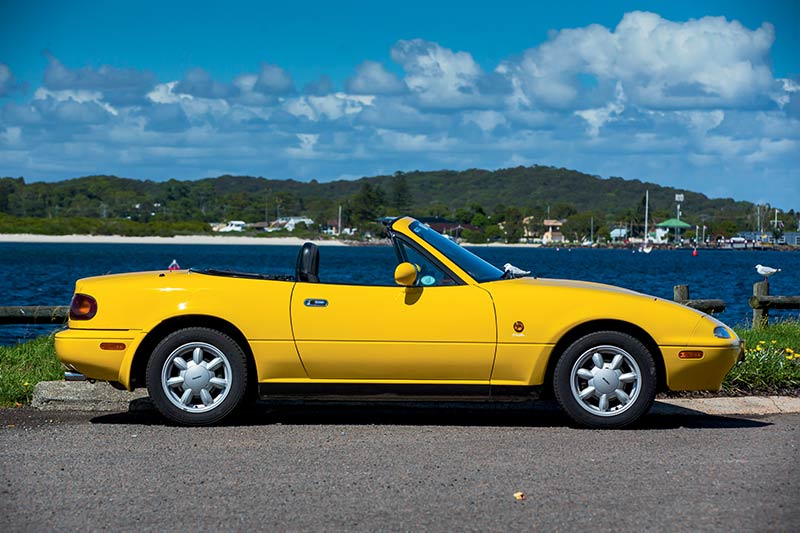 The response was overwhelming with the little red roadster being just about chased down – and off – the road by people wanting to know what it was and where to buy one. And no wonder: Americans had been starved of a simple light-weight rear-drive sports roadster since the MGB had ceased production nearly five years before.
As time has told us, Mazda was on to a great idea.
LET THERE BE LIGHT
Even though the car recalled the past – MGB, Triumph TR7 and Lotus Elan were just three of the cars the MX-5 design team were inspired by – it was actually one of the first cars to be created with the assistance of computer aided design, bridging the technology chasm between old-school drawings and today's virtual prototyping.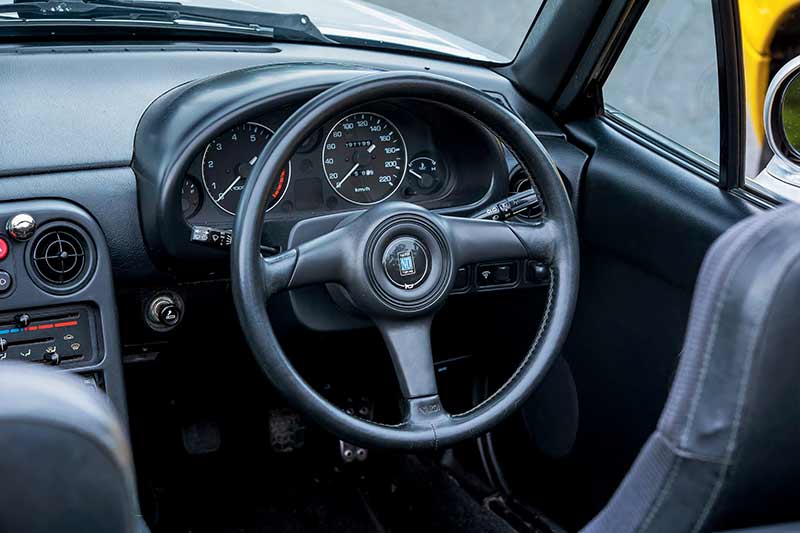 But it was passion for traditional sports cars and the simple pure enjoyment of driving that really pushed the project, from Bob Hall's first idea, right through development and beyond the time the car went on sale. Members of the MX-5 design team – most of whom were properly car-crazy – had a holistic design mantra for the MX-5: "light weight sports" with a focus on simplicity and purity, rather than big horsepower and high performance, such as available with cars such as big brother Mazda RX-7, Toyota's Supra or a Porsche. Later, the Japanese term Jinba ittai – loosely translated as 'unity of horse and rider' – was adopted as a design motto for how the MX-5 should feel to drive; how the driver was to connect with the car.
After the possible front-drive and mid-engine layouts were binned in favour of a front-engine, rear-drive chassis – to keep classic sports cars' tactility, balance and driver appeal – the team managed to create an all-new open roadster body. By using a deep central transmission tunnel and extending the boot floor and rear chassis rails as far forward as the B pillars, the body has something of a backbone and pelvis for stiffness.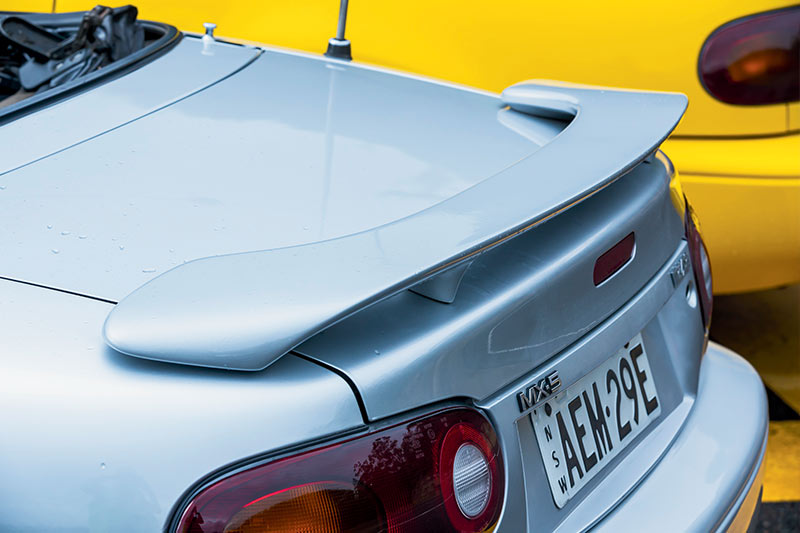 The body is a great anchor for the MX-5's suspension: all-independent with upper and lower wishbones at both ends. Effective, it's also simple: the upper rear and upper front wishbone sets are identical side-for-side and the lower rears are popped out of the same tooling, too. The steering is rack and pinion and there's a little bit of stabilising rear-steer built-in thanks to the simple inclusion of suspension bushes with different distortion rates. It's yet another example of how keeping things simple not only made the MX-5 a great car, but kept the manufacturing – and of course showroom – prices down.
Other significant features of the design are light and tight plastic bumpers (although routine today, the fit against the body was world-leading when the MX-5 was new), jewel-like chromed one-finger door handles, an alloy bonnet and a fuel tank located to help weight distribution and increase safety in a rear-end crash.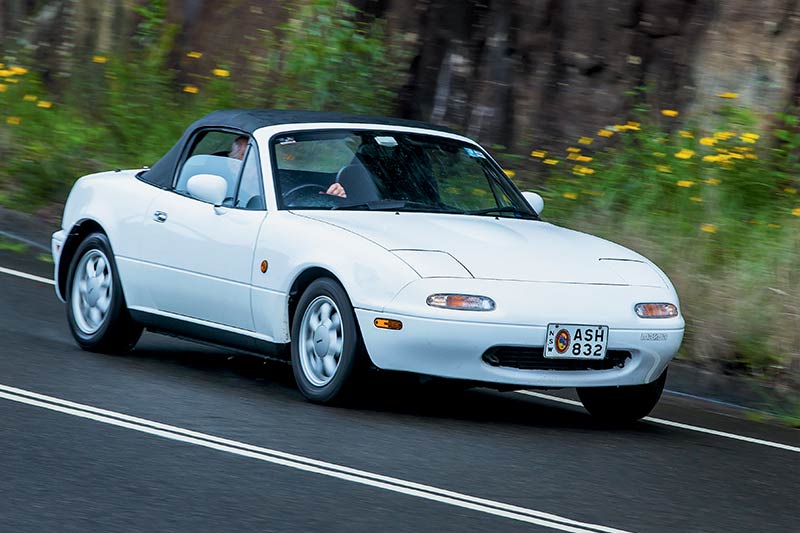 The pop-up headlights recall those used on 60s-era Lotus Elan and the styling of Bugeye Sprites – and of course, the MX-5's big brother RX-7. That allowed the headlights to comply with US height regs and – more to the point – gave the MX-5 classic sports car character.
The Mazda 323's four-cylinder engine was adopted for use in the MX-5. To make this 1.6-litre twin-cam four-valve four-pot at home in the MX-5, it was of course turned to face north-south, a structural alloy sump was added and it was tuned with Bosch L-Jet multi-point injection. A light alloy girder – what Mazda calls a power plant frame (PPF) – stops the engine, gearbox (adapted from the RX-7) and diff fighting each other, for better chassis dynamics and less vibration into the cabin.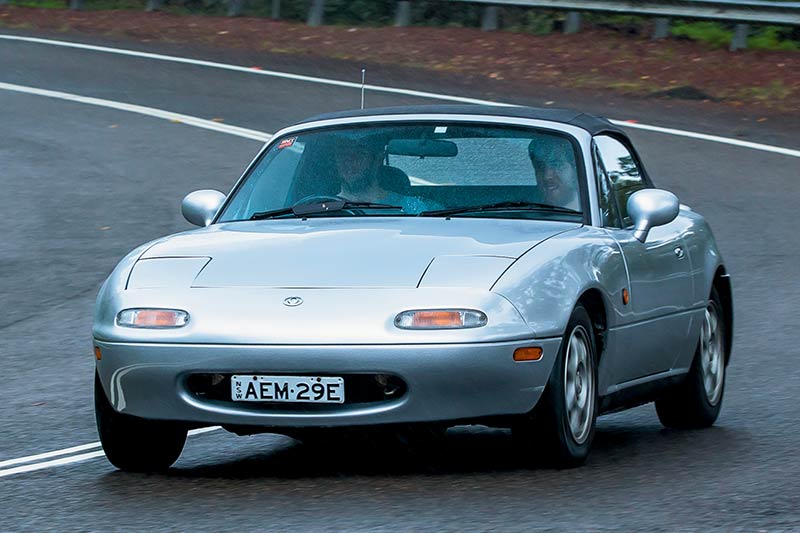 The gearbox ratios were stacked to suit the small four (rather than the RX-7's rotary) output and plenty of jinba ittai was engineered into the gearshift, too: the MX-5's lever moves with a flick of the wrist. At first there wasn't even an auto option.
Other aspects of the car were developed with the same passion. Mazda engineers went so far as to record the sound of other sports car exhausts (Porsche, Triumph etc ) to help tune the note for the MX-5. It's rorty without being noisy.
They even made the engine look good: the MX-5's motor wears a cast alloy cam cover highlighted with a sprinkling of chrome nuts.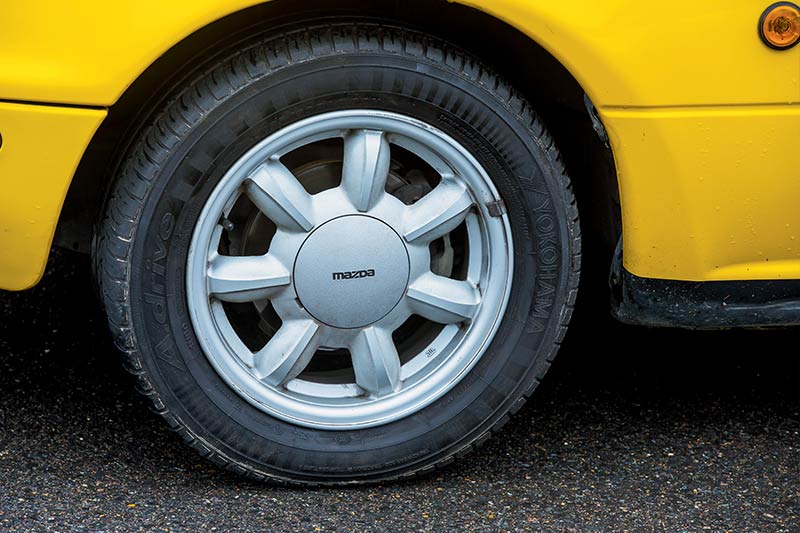 THE MAZDA MX-5 NOW
The first-gen MX-5 remains an effin' good thing. Being what it is, you sit quite close to the road, in a cosy cabin, bit not so low in the car as to feel smothered. The white-on-back instruments are simple and concise, with fine chrome rings around them – another nod to style of most ye olde classic Pommy sports cars. You're held well by comfy tall-back seats but there's no steering adjustment at all. There's a left footrest and the brake and throttle are placed so you can heel/toe. The door panels are not much more than flat black panels with an old 323 arm rest screwed on. Really, the MX-5 is all about you, just about wearing the car, and wanting to get out there and enjoy the twisties framed in the windscreen.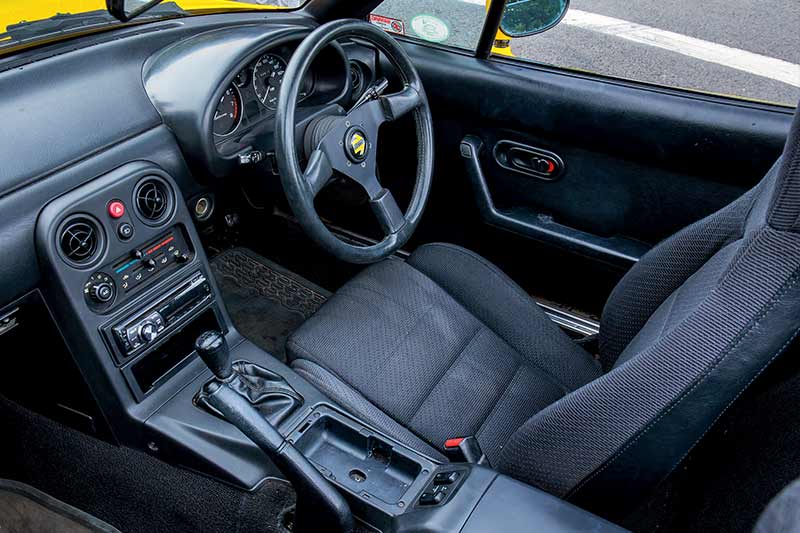 The engine develops a reasonable, but hardly outstanding 85kW (the 1.8 from late 1993 has 98kW) but in the light body – less than a tonne – performance is willing. It's capable enough down low to cope with stop/go traffic without tantrums but it really comes alive as the tacho sweeps past 4500rpm (peak torque arrives at 5500rpm and all the power at 6500rpm) on the way to its handy 7200rpm ceiling.
It's just so nice to drive. That reads like a line from a first year journalism student's essay marked 'F' but really, Mazda spent so much time making the MX-5 appealing – exhaust note, gear shift, steering feel, throttle response, ride – that it feels good just going to the shops.
It's on the twisties that the MX-5's chassis architecture really shines: the 50/50 weight distribution on nimble suspension, and the fact all the heavy bits – such as engine and fuel tank – are within the wheelbase means the MX-5 carves corners with a liveliness and balance that few cars can match.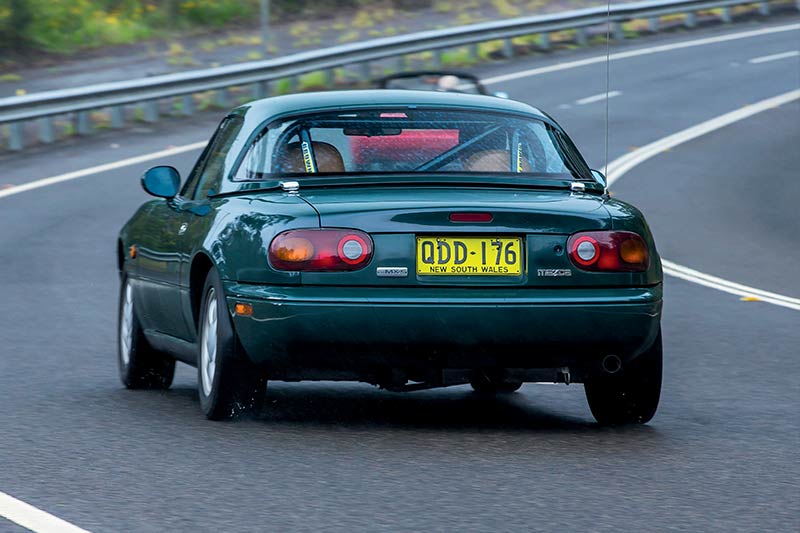 One of the big pluses of the MX-5 is the fact it's convertible as well as a handy handler. The drop-top is a pretty cool compact job that sits low in the body when down, can be put up without leaving the driver's seat and, with its well-engineered and supple sealing rubbers, is one of the most weathertight ever made. There's an optional hardtop, too.
As well as being a terrific sunny Sunday car, unlike many classics the MX-5 can be a faithful daily driver, too. It sips standard unleaded and only needs servicing every 10,000km. Its size means it's not a barge on suburban streets and it's light on tyres. However, the boot is tiny; you'll only just get a case of beer in there and a soft bag with tomorrow's clothes in it; it also holds the battery and a space-saver spare.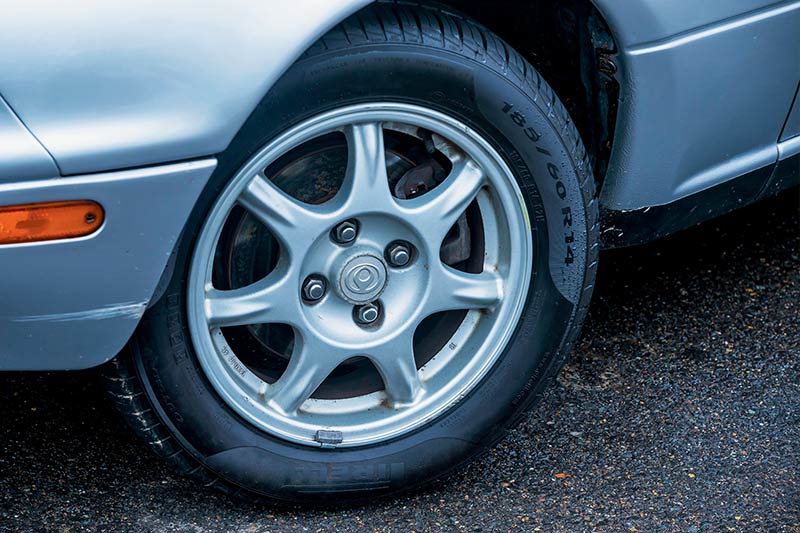 Cynics would say it was lazy; enthusiasts would counter by saying the formula was right from the start but Mazda didn't do too much to the first-gen MX-5 over its eight-year life between 1989 and 1997. The engine was increased in capacity to 1.8-litre and 98kW in late 1993, at the same time an auto option became available in Australia. Slightly larger – 14x6 rather than 14x5.5 – wheels were slipped on, too, the brakes made a bit larger and a few extra braces added to the suspension and shell – such as between the seatbelt posts behind the seats – to further stiffen the body. You may not notice the very minor styling tweaks; the rear number plate opening became larger and the rear mud flap's little top extensions were deleted and a chrome badge was added to the nose. Gee whiz! The NB that replaced it was not much more than a once-over of the design, with fixed headlights and rounded door bottoms being the 50-metre giveaways.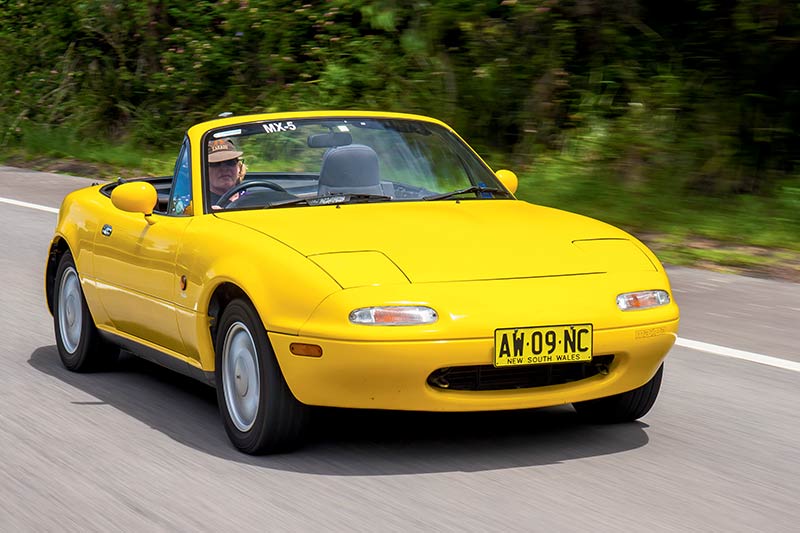 The MX-5 is a car that has survived the test of time. Don't mistake the body's small size and lack of mass with flimsiness: Some early MX-5s have travelled 300K or 400K yet remain relatively tight and rattle-free. Even though it was something of a cult car when it first arrived, the Mazda was designed to give fashion the middle-finger, and have an on-market life of a decade or so, rather than have to be updated every couple of years like so many other cars of the 1980s and 1990s.
It all makes this back to basics, sharp handling fun car a bloody good thing.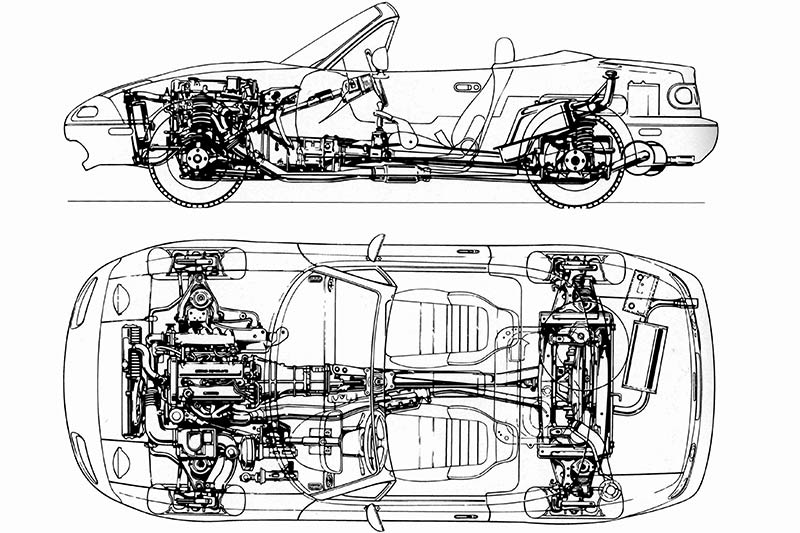 SPECIFICATIONS
MAZDA MX-5
Engine: 1598cc alloy head DOHC four-valve four cylinder with multipoint EFI
Output: 85kW @ 6500rpm. 135Nm @ 5500rpm
Gearbox: Five speed manual
Performance: 0-100km/h: 8.8s. 0-400m: 17.2s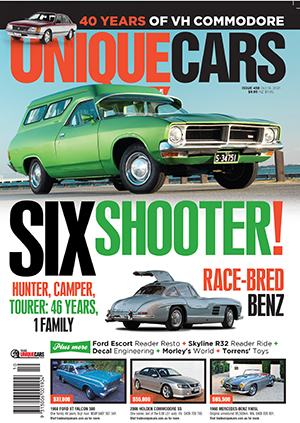 Subscribe to Unique Cars Magazine and save up to 42%
Australia's classic and muscle car bible. With stunning features, advice, market intelligence and hundreds of cars for sale.
Subscribe