VW Beetle: Herbie The Love Bug
---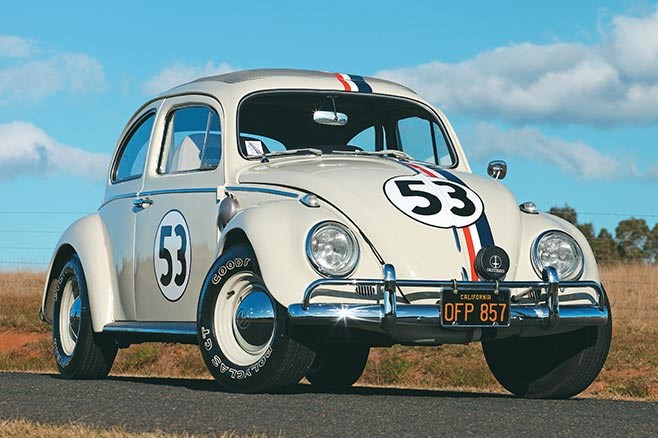 This authentic Herbie is a mix of mechanical and styling cues from the 'Goes To Monte Carlo' and 'Goes Bananas' films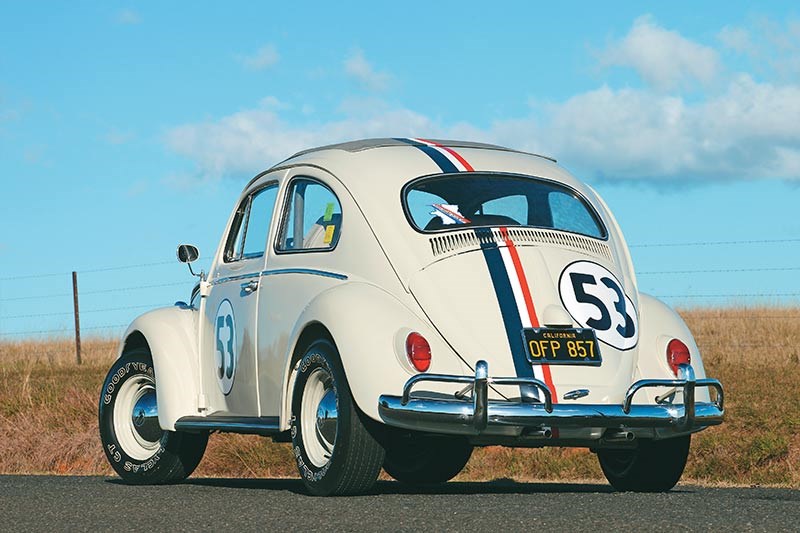 Herbie isn't registered because the authorities wouldn't allow it with film mods like holes in the floor...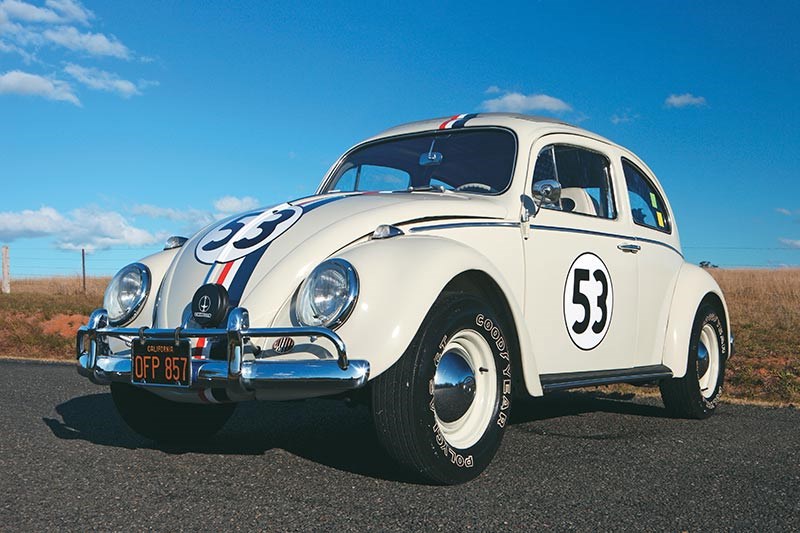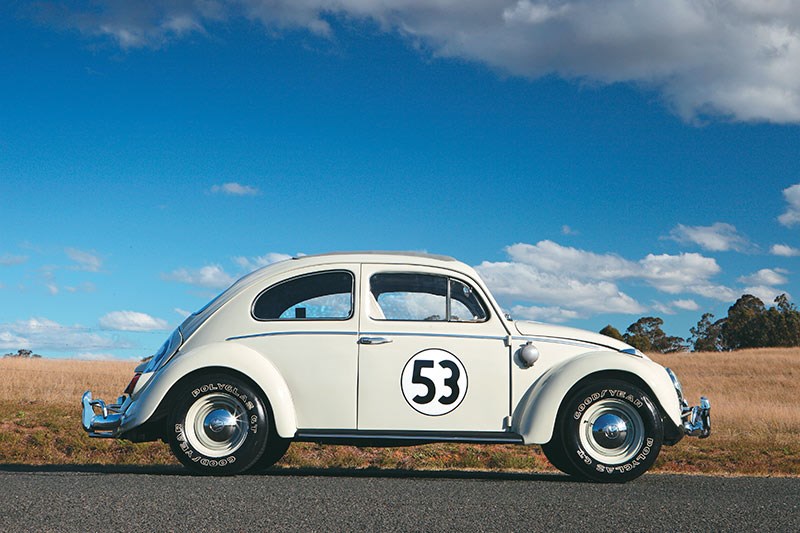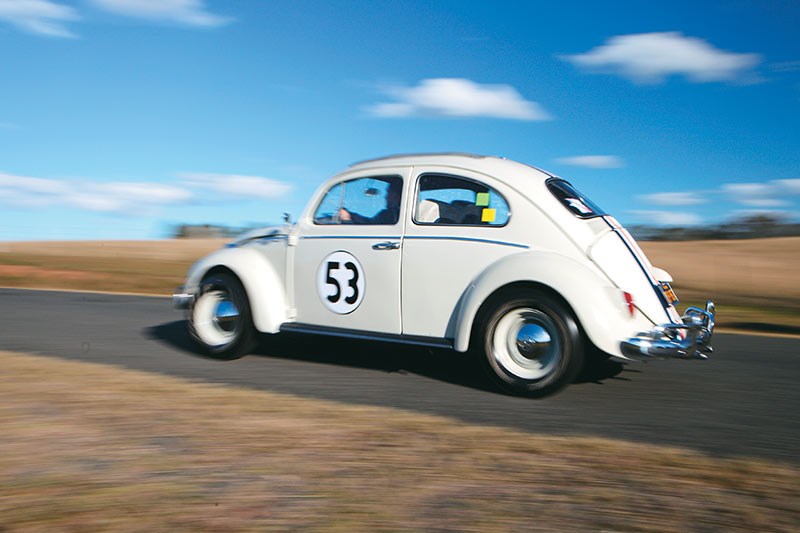 Micakovski goes bananas in his very own Herbie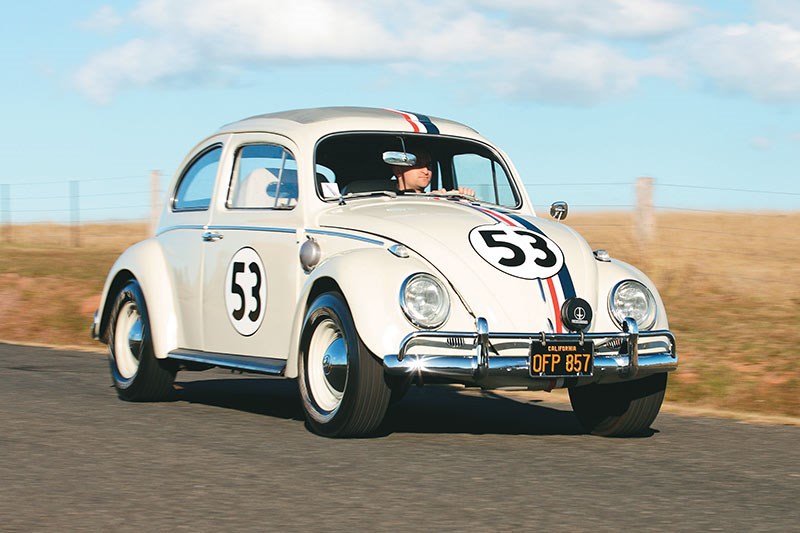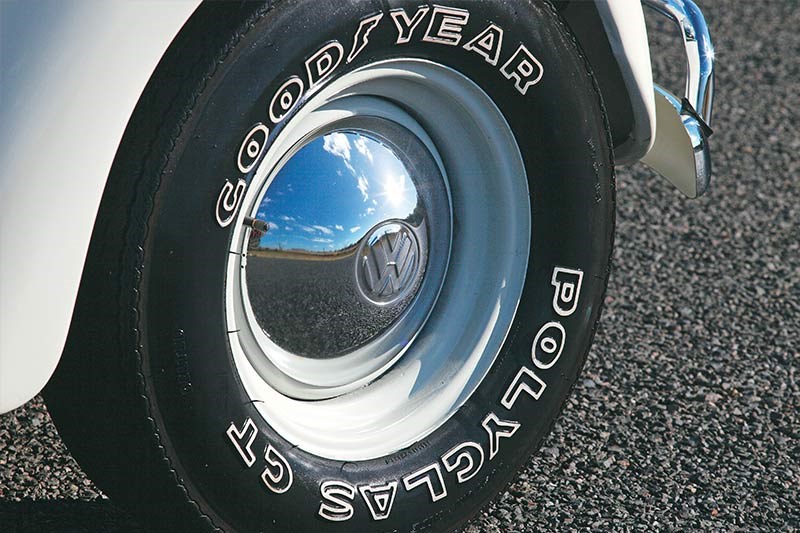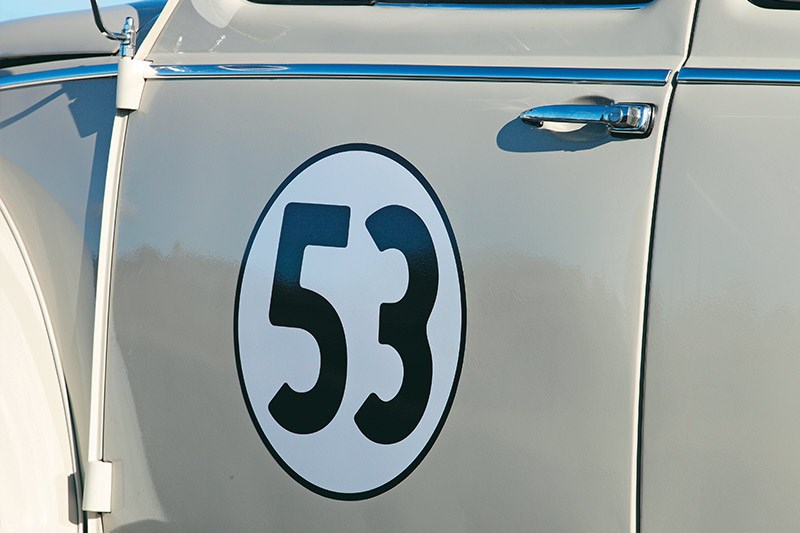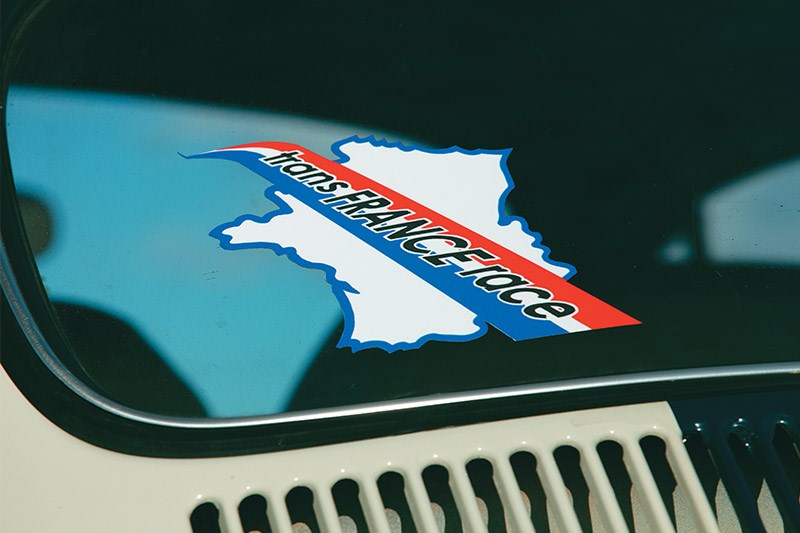 The Bug retains film details like number plate, swivelling lights and race decals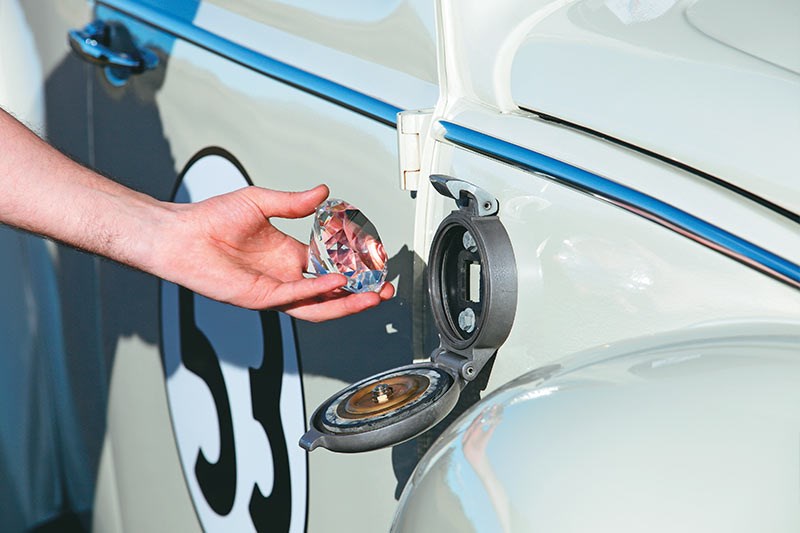 Large, non-standard, filler cap for a jewell to be dropped into the tank in one film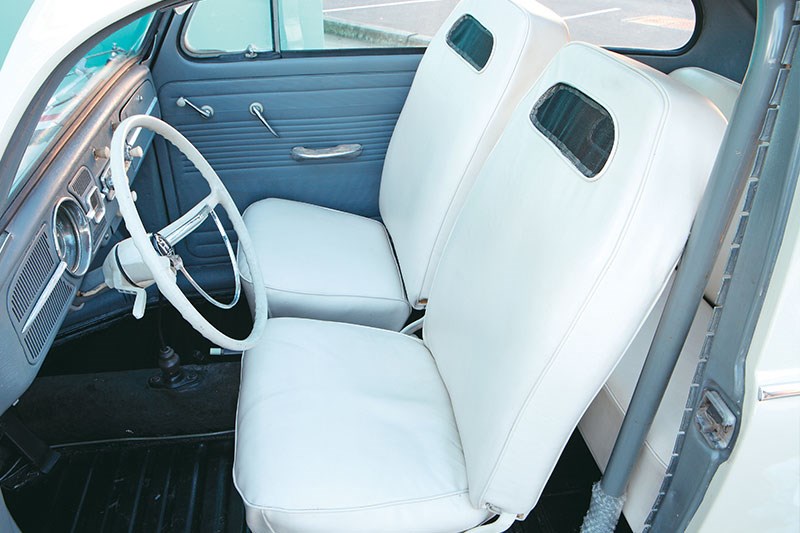 The cabin is not all it seems, including holes in the floor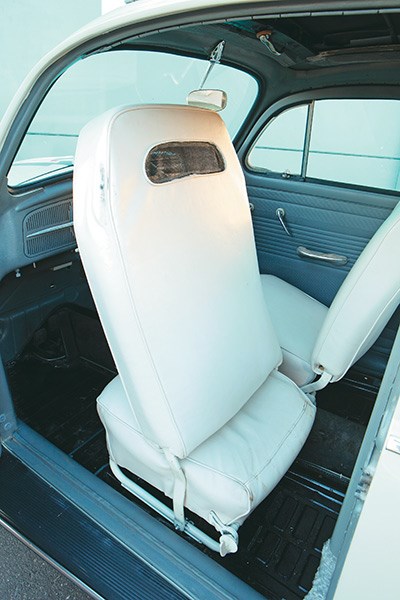 The high-back seats had mesh inserts for hidden stunt drivers to see through

Looking back: A replica of the world's most famous Volkswagen wasn't enough for Alex Micakovski, so he tracked down an original!
From Unique Cars issue #316, Sep 2010 
VW Beetle: Herbie The Love Bug
I can't recall how sick I felt on that sunny day sometime in the mid-70s, but I must have been genuinely sick, rather than merely pouting. After taking me to Dr MacKenzie, Mum dragged me into the chemist next door where, as she bought Benedryl or Disprin or whatever, I became besotted by a Little Golden Book displayed on a rotating stand by the shop counter.
I was six and the book was Herbie The Love Bug. I can still remember my surprise as Mum relented from her usual regime of "No" and bought the bloody thing! I can also remember my fascination as I sat strapped in my booster cushion on the trip home, turning each page with wide-eyed wonderment. I must have spent the rest of that day, and probably the next, finger-reading each and every word.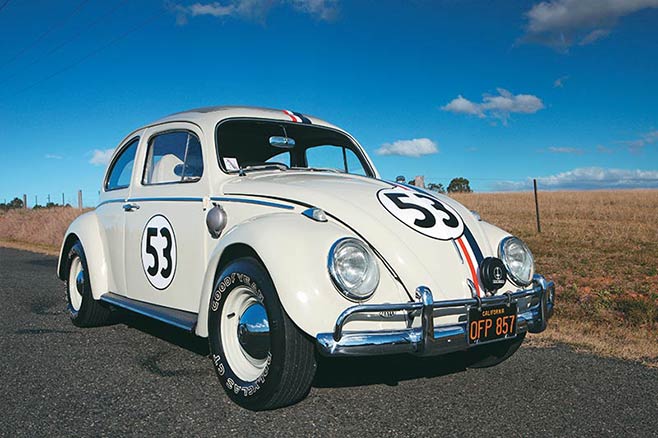 Was that very moment the beginning of my car-writing career? Or the event that kick-started my personal enthusiasm for the cute little air-cooled cars from Germany? Maybe not, maybe both.
But my little story is nowhere near as cool as that of Sydney's Alex Micakovski who owns a Herbie. A real one. Yep, his fascination with the VW Beetle character inspired him to research, source and import one of the actual Volkswagens used in the making of the original Walt Disney movies of generations ago.
"I got to know about Herbie through the movies as a kid," says Micakovski of the Disney films that featured a Beetle – at the time a huge worldwide seller – with a mind and personality of its own. "And when I started earning some money, I thought I'd build a replica."
That's a common-enough aspiration for a VW enthusiast, with most classic VW shows or events in Australia featuring at least one VW painted in Herbie's blue and red stripes and a bold '53' racing number on the bonnet, doors and boot.
But Herbie had a factory cloth sunroof (often known as a rag-top) that makes building a replica in Australia a challenge, as the sliding cloth roof was never offered in locally-produced vehicles.
However, a few private imports and aftermarket sunroof sedans still existed and Micakovski found a beautiful blue 1960s sedan for sale in Melbourne so it seemed his ambition of creating an accurate Herbie replica could come true.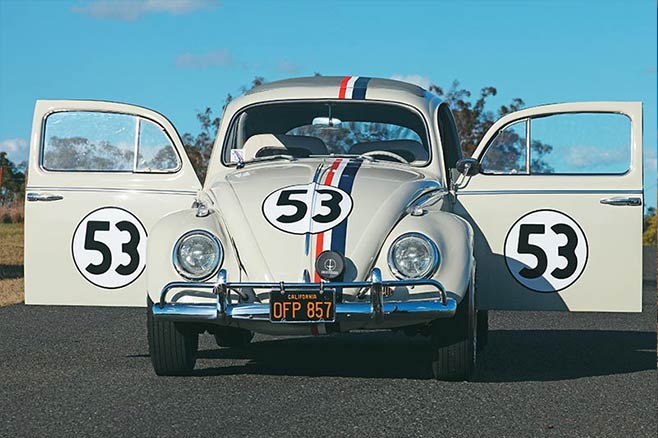 "But after I'd brought it home I realised it was far too nice to chop up," he laments. "So I kept it as a daily driver and after doing some research, I thought I might as well find a real one!"
That started a sporadic, but dedicated worldwide search. You can blame the internet for lots of stuff but it's handy for finding out about stuff that would have remained unknown, urban myth, idle gossip or dreams just a decade ago.
On the web Micakovski found a bunch of sites (mostly in the US) with a plethora of information about the making of the Herbie movies, the number of cars used and their fates after the filming was complete. In excess of 50 cars – or sections of cars – were used in the the four original movies between 1967/68 and 1980.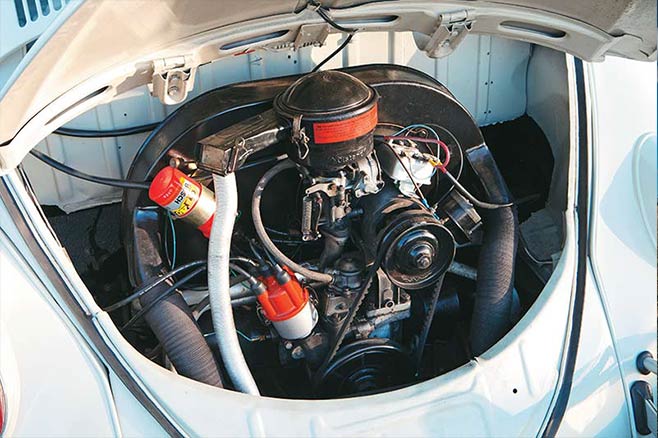 "So I put the word out that I wanted one; it seemed that every now and then one would change hands."
It took some time, but eventually Micakovski's desires were met when a proper Herbie came up for sale.
"It was one of the cars known as the 'fabulous four junkyard Herbies'," explains Alex. "After Disney had finished with them in the early-80s, at least four cars ended up side-by-side in a wrecking yard."
That sounds like a horrible fate for the star cinema car but that's the way it is with film props – once they've served their purpose, they are no more useful than an empty paint can. "This one had been bought and sold a few times and at one stage it was even used as a dog house!" Micakovski shudders.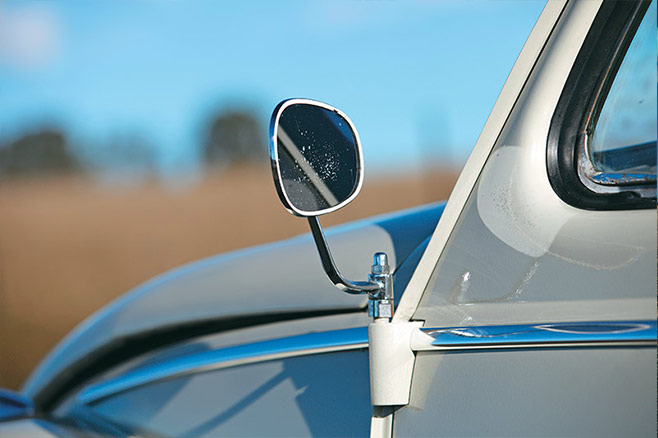 Its condition was rough but it was exactly what Alex wanted – an original Herbie complete with trademark scars from, and modifications required for, filming. After commiting to buying the car – a move seen as borderline crazy by mates and family – he decided to get its restoration done overseas, too.
"I found out about a guy, Dan Miller, who had restored two other screen Herbies plus the Lancia that was Herbie's girlfriend in Herbie Goes to Monte Carlo. He was the obvious man for the job. Once again, people thought I was nuts…"
The restoration took Miller roughly 600 hours and seven months of full-time work. Micakovski wanted as much of the original car as possible preserved and Miller more than willingly obliged by rejuvenating the whole car without destroying its original patina. Sometimes, that's a tough ask.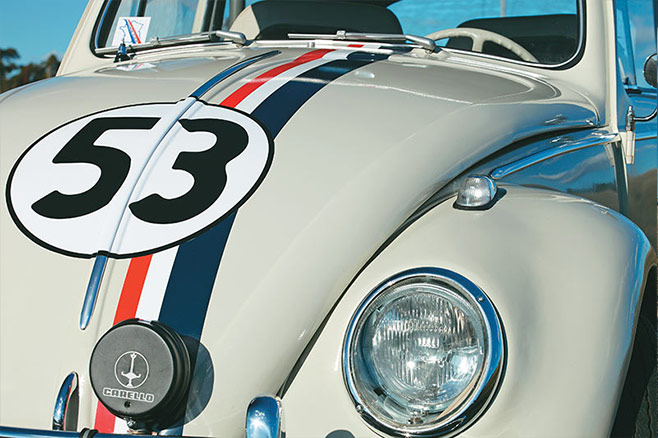 "I wanted all the original panels, as far as possible," Micakovski says. "As it turns out the rear guards are the only non-original parts on the car. They were simply too far gone to fix so we found good second-hand ones from around the same model year."
Reproduction parts and panels for VWs are a dime-a-dozen these days and that makes restoration and rebuilding these terrific little cars relatively easy. But as part of Miller's resto, the original front and rear valances were unpicked from the body, beaten back into shape and re-stitched into place, rather than replaced with new panels. It was all part of Micakovski's creed of originality.
"I also wanted most of the hallmarks of the car's role retained, things like the cut-out rear inner guards," he explains. "As you can see, they were roughly chopped with a gas axe so this car could have steerable rear wheels. There was a special chassis built with a second front beam [axle assembly] that allowed the rear wheels to be steered."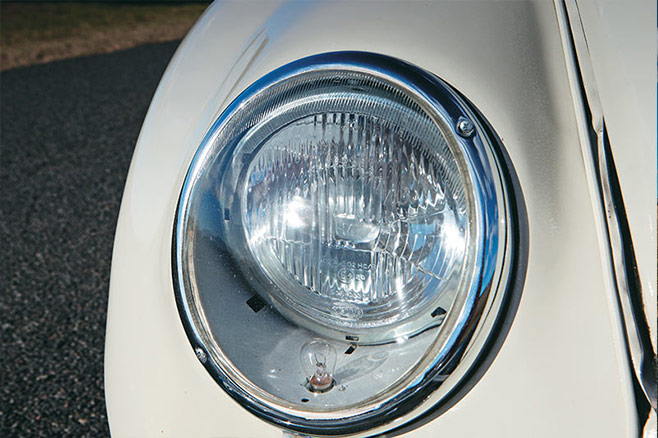 Of course, the list of original features also includes special touches such as eye-like swivelling headlights and a mouth-like bonnet that opens and closes by itself.
Micakovski's car still has the modified hinges (with air rams) and reinforcing required for this and the task of Herbie holding a red cape in the bullfight scene in Herbie Goes Bananas. Although not on the car now – it's more like how it appeared in 'Monte Carlo' – Alex also owns the set of bumpers with painted-on fake rust that was a feature of its role in 'Bananas'.
Herbie also includes other tricks such as non-factory, high-back bucket seats to help hide the stunt drivers who peered through mesh holes.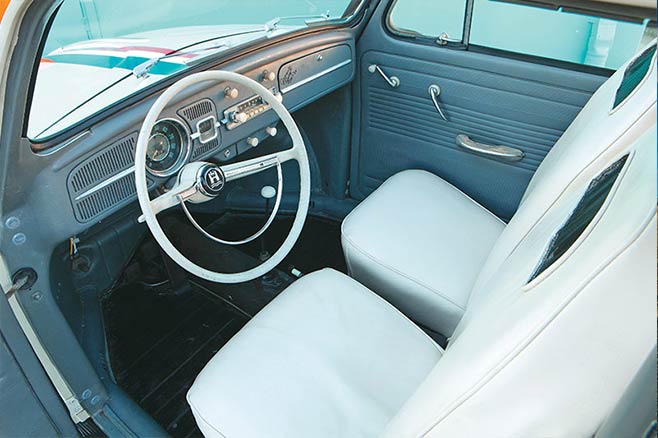 The interior is also hand-painted flat grey – probably to reduce glare into the movie cameras – and has several mystery features such as a hole in the passenger-side floor through to the front axle area. Micakovski and other Herbie experts think it's a fresh-air vent. 'Bananas' was filmed in Mexico and the child character, Paco, spent lots of time in the car in hot weather so the hole may have been cut to keep the complaints down.
Adding to the challenge was the deadline for the car's completion: Herbie's 40th birthday party at Walt Disney World Resort in Florida in March 2009. It was to be a catch-up for as many of the original and replica Herbies as possible.
With Miller's resto complete, Micakovski flew to America to attend the party before packing his Herbie into a container and having the car shipped to Sydney, realising a dream he'd had since he was kid.
Unique Cars magazine Value Guides
Sell your car for free right here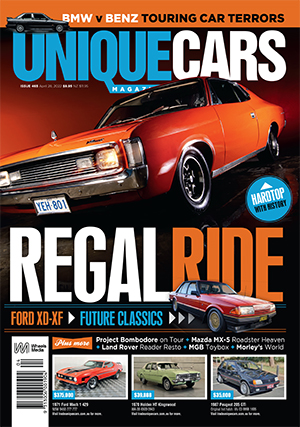 SUBSCRIBE TO UNIQUE CARS MAGAZINE
Get your monthly fix of news, reviews and stories on the greatest cars and minds in the automotive world.
Subscribe