VW 1951 Beetle & 1954 VW Microbus
---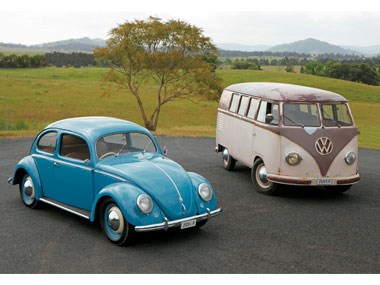 1951 Volkswagen Beetle & 1954 CW Microbus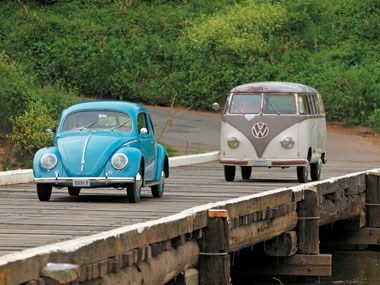 1951 Volkswagen Beetle & 1954 CW Microbus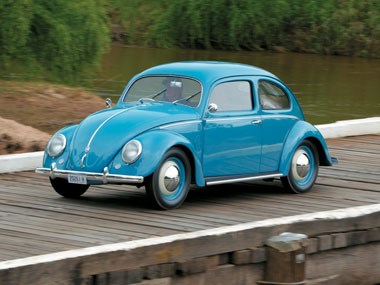 1951 Volkswagen Beetle & 1954 CW Microbus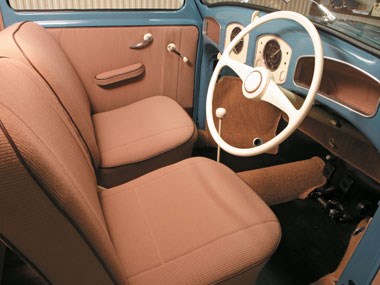 1951 Volkswagen Beetle & 1954 CW Microbus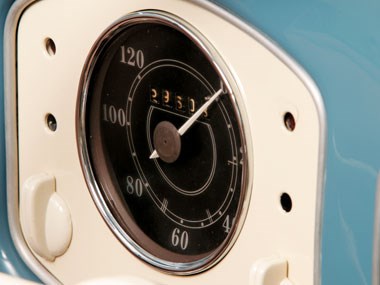 1951 Volkswagen Beetle & 1954 CW Microbus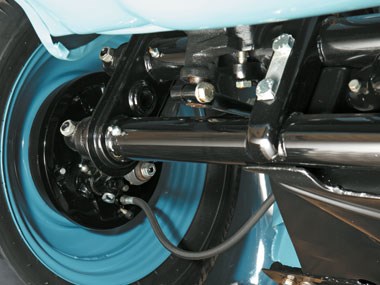 1951 Volkswagen Beetle & 1954 CW Microbus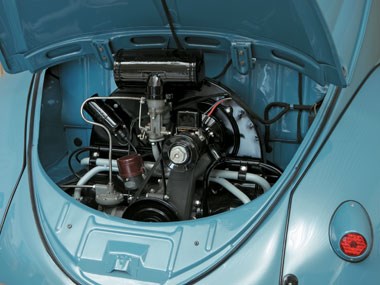 1951 Volkswagen Beetle & 1954 CW Microbus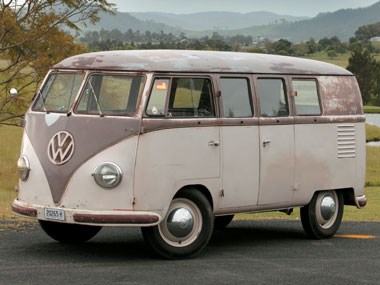 1951 Volkswagen Beetle & 1954 CW Microbus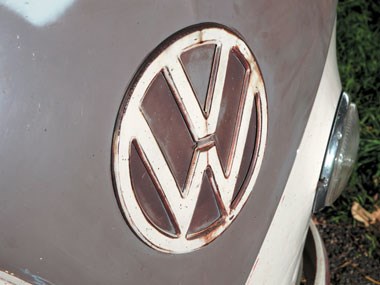 1951 Volkswagen Beetle & 1954 CW Microbus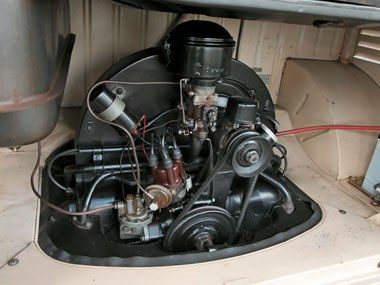 1951 Volkswagen Beetle & 1954 CW Microbus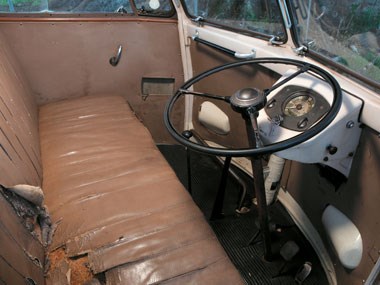 1951 Volkswagen Beetle & 1954 CW Microbus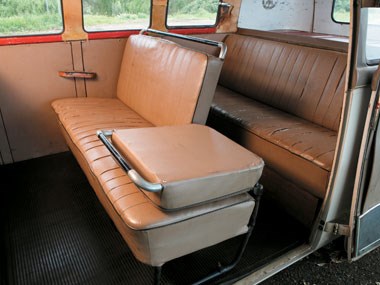 1951 Volkswagen Beetle & 1954 CW Microbus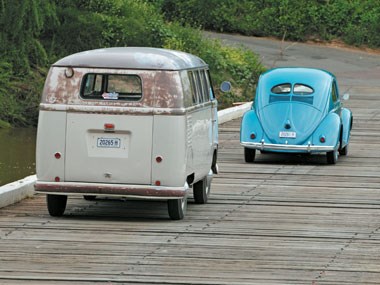 1951 Volkswagen Beetle & 1954 CW Microbus

Vintage VWs: Rod Farrell's split-window Vee-dubs represent the ultimate dream garage for many Volkswagen enthusiasts.
Volkswagen Beetle & VW Microbus
Like many Volkswagen freaks, Rod Farrell got into the dak-dak scene at an early age. "I hung around with a mate, Danny White, who was 17," Rod explains. "He had a 1959 Beetle and I was amazed at where this thing could go. We could take it across creeks, through the bush - it was like a bloody 4WD!
"So when I was 17, I'd saved enough money to buy a brand new car instead of an old bomb like my mates [and] I bought a Beetle. It was 1963." Rod's first car was the beginning of a half-decade of enthusiasm - some would say addiction - for the odd little air-cooled cars from Germany.
"In 1968, I bought a 1500 Bug in Newcastle," Rod continues. "They had an Empi Beetle [special dealer pack edition] which looked so much better than the standard Beetle. Then in 1971, the local dealer offered me a new Super Beetle.
"The '63 model had 106,000 miles when I sold it. Then the 1500 had about 50,000 miles on it. So my first three brand new cars were Beetles. Then I started rallying an oval-window beetle in the 1970s, which I brought from Newcastle and it was set up by Barry Ferguson - well known for rallying a Beetle. We did rallying in the local area."
Rod, who has worked in automotive parts retail all his life, started buying and selling Beetles as a hobby to make some spare cash. "Get this," he laughs, "the Beetle I bought new in 1968 came back to me three times and each time I repaired it and sold it off again! I've owned every type of Beetle and Kombi - singles, twins, Kombis, pop tops, Type 3s, sedans, fasties [VW's so-called Fastback] and wagons, plus a Type 3 panel van that is very rare as it was an Australia-only model. [But] I also had an XU-1 Torana."
THE BEETLE

As with most freaks of many marques, Rod had a growing desire to collect and cherish a 'keeper'. In VW circles, as it is with enthusiasts of other manufacturers, that means a toy or two from the 1950s and the earlier the better!
"I always wanted a split Beetle," he says. "When I was on my honeymoon in 1965, I saw a black split-window Beetle and I said to myself, 'I gotta have me one of those!'"
Attaining ownership took 18 years and lots of chasing, with several false alarms along the way due to the fact the split-window Beetle pre-dates Aussie sales (by which time the distinctive split-rear window had lost its centre post to become an oval shape), so those cars that are here are private imports with numbers that can be counted on one set of fingers and toes.
But perseverance - and luck - helped Rod with his ambition. "I was at a BBQ one night and we'd arrived in a Beetle," says Rod with a chuckle. "The bloke having the BBQ said, 'Oh, are you into VWs?'
"So of course we got chatting. He said he'd been working in Canberra and said he saw a split-window drive past every day. So, I jumped in my car and went to Canberra looking for it.
"Eventually I tracked it down. As it turned out the owner, Bob Dunnicliffe, was keen to sell as he was moving to WA for work. He was a mechanic and teacher at the TAFE and wanted to sell it to a good home and I assured him it wouldn't get a better home than what I would give it. That was back in 1983. I drove that car occasionally for five years and did a few shows with it."
Later, Rod succumbed to the desire for excellence for his still-original Beetle. "I was inspired by the Lees brothers [Graham and John], who ran a business called Beetle Wreckers in Sydney. They also collected and restored VWs. Seeing their as-new 1957 Oval made me want to do mine."
So the Beetle was restored during 1987 by Ian Breese at Raymond Terrace, just north of Newcastle, NSW. "He was recommended to me by a mate - he's a resto expert who works word of mouth," says Rod, who bought Ian a shed for the restoration as part-payment.
The car was in overall good condition so the restoration was easy but some parts - such as the rare early-style bumper bars - had to be sourced at great expense from overseas for the sake of originality.
The Beetle was then ready for the Bicentennial VW Nationals (yep - in 1988!) at Hawkesbury Agricultural College on Sydney's outskirts and as you can see, 24 years later, it remains a stunner.
SPECIFICATIONS
1951 Volkswagen Beetle
ENGINE: 1131cc flat 4, OHV, 8v power 19kW @ 3300rpm
WEIGHT: 740kg (approx)
GEARBOX: 4-speed manual
BRAKES: drums (f/r)
0-100km/h: 29sec (approx)
TOP SPEED: 105km/h (claimed)
THE KOMBI
The Kombi is a more recent addition to Rod's garage and despite being in what many people would consider to be poorer condition than the Beetle, it's possibly worth more.
For some obscure reason, VW commercials are bringing more money in international markets than Beetles and, as with many other classic vehicles, the more original and unmolested, the better.
In fact, many VWs that have survived in Australia for 30 or more years are being exported to enthusiasts in Europe - especially England, where right-hand drive is an advantage. Rod bought his in 1986.
"Mark Pell [another VW enthusiast from NSW] rang me and said, 'Rod, I have a list of names here and yours is at the top,'" says Rod. "I didn't know what he was on about! Then he mentioned that he knew where there was an old '54 barn-door Kombi and recommended that I buy it. I had to ask him what a barn-door Kombi was."
Barn-door Kombis are the early ones with the large engine lid and fuel tank filler inside the engine bay. Rarity means they're top of the list for old Kombi freaks and Mark knew where one was.
"It was in a shed up at Armidale," he says. "I could see straight away how original it was. It was being stored by a mechanic on behalf of a customer." Rod was so smitten with the ex-church transport vehicle that he couldn't sleep for days.
"The bloke said it really wasn't for sale when I first saw it, but when I asked to see it again, I think he realised I was serious." So the deal was done.
At the time, the Kombi was rolling on 15-inch wheels (instead of the correct 16s) and wearing later Beetle taillights. Rod immediately corrected both details and now his Kombi is deemed to be one of the most significant in Australia, if not on the planet.
Driving the Kombi (Rod offered me the keys to the Beetle, too, but it wasn't running happily) somehow reminds me of being a kid at school again, leaning forward on my desk, bored. In the context of this Kombi, substitute 'bored' for 'relaxed'.
VW's six-volt electrical system's lethargy is legendary but this one spins its starter enthusiastically and, with a little choke and a single puff of blue smoke, settles down to a sewing-machine-smooth idle.
The pedals are lovely and light in their actions and responses. With a feeble 25 horsepower (around 19kW) and four-wheel drum brakes, progress up and down the speedo is leisurely.
That's because, for all intents and purposes, the mechanicals under the Kombi are just about the same as the Beetle. Conceived and prototyped around 1949, the original Transporter was launched in Germany in 1950 with just 25hp and a top speed of around 85km/h. How would this vehicle go with its nine seats full of school kids or hotel customers and their luggage?!
Rod's Kombi is unrestored and patina oozes from every panel, rubber, fastener and knob. Once you ignore the expectation of a normal driving posture and loosen up a bit, the vinyl-trimmed seats and driving position are comfy.
Even the most basic delivery or courier vans have moulded armrests and electric windows these days, but this old rig has rattly sliding windows and the finish of the door 'trims' reminds me of old suitcases.
On this rig, the inside edge of the spatula-shaped accelerator is worn right through. If it could speak, this classic Kombi would no doubt recall happy memories of countless cold morning starts, summer days, school camps and church choirs. Rod has driven it as far as Melbourne and Brisbane for shows but a recent relocation to the Gold Coast means it's been recently sold to another Aussie collector on the promise it not be sent overseas. It's easy to see why it was a difficult decision for Rod!
SPECIFICATIONS
1954 VW Microbus
ENGINE: 1131cc flat 4, OHV, 8v
POWER: 19kW @ 3300rpm
WEIGHT: 1060kg (approx)
GEARBOX: 4-speed manual
BRAKES: drums (f/r)
TOP SPEED:  85km/h (claimed)
PROUD AUSSIE HERITAGE
Some VW sedans arrived here with German immigrants but Volkswagen officially set up shop in October 1953, with the importation of around 30 built-up 'Export'-spec Beetles. From June 1954, Beetles were assembled here using parts packs sent from Wolfsburg (Germany).
Australia was one of the earliest export markets for Volkswagen. The first locally-assembled Beetles featured the new oval rear window and were assembled in Melbourne. A lone Beetle entered by dealer Regent Motors contested the 1954 Redex Around Australia Trial and in the 1955 event, first and second were taken by Beetles. Success established VWs as reliable cars.
The Type 2 commercial vehicle, (Kombi) joined the Beetle in limited-model local assembly (top-spec models were imported) in 1955. With the Government rewarding local manufacturing, VW's local content steadily grew through the late '50s and VW invested heavily in its facilities. By 1962, the Beetle had enough local content to carry a 'Made In Australia' sticker.
But in 1968, manufacture reverted to assembly from German-supplied kits. Australia's last Beetle was built in 1976. Rod's 1951 Beetle pre-dates Australian VW sales and production.
Unique Cars magazine Value Guides
Sell your car for free right here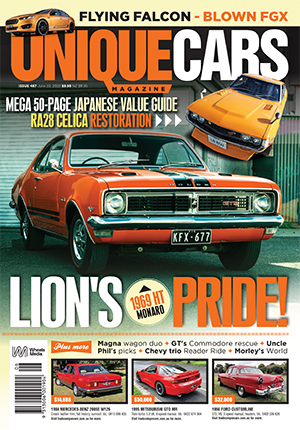 SUBSCRIBE TO UNIQUE CARS MAGAZINE
Get your monthly fix of news, reviews and stories on the greatest cars and minds in the automotive world.
Subscribe