Brock TV drama hits a bum note
---
Family and friends unimpressed with Channel 10 docudrama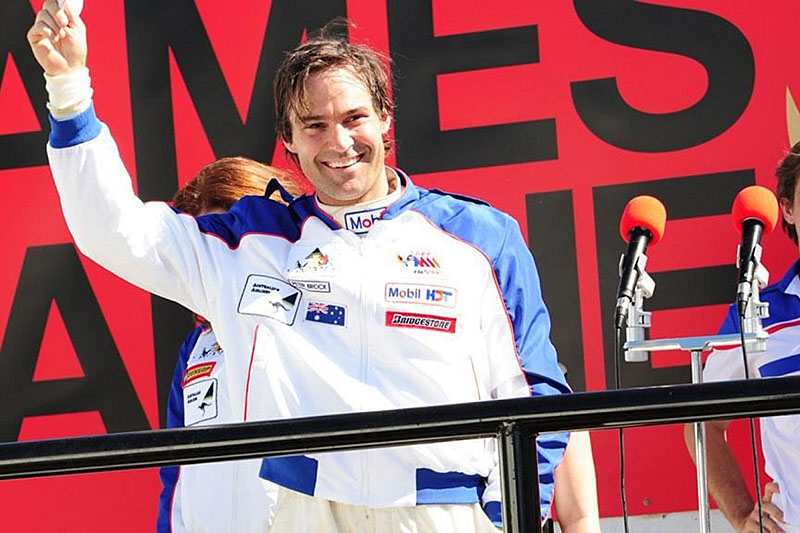 CHANNEL TEN'S two-part docudrama Brock, the story of racing legend Peter Brock, has managed to rev up viewers but in all the wrong ways.
Brock's long-term partner Bev called it "absolute bullshit", while Ian Tate, chief mechanic for the Holden Dealer Team from 1969 to 1976, dubbed it "the most pathetic crap I've ever seen."
The first part of the miniseries was watched by 828,000 viewers, per OzTAM metro figures, but viewing figures sagged to 526,000 for the second instalment, barely scraping into the top 20 shows of the night at number 19.
Brock's PR guru, Tim Pemberton wasn't thrilled at the portrayal of Brock, a complex character at best. "If you grabbed any bloke and looked at their 10 most outrageous moments in an hour on TV, no one would look very good," he said. "I don't think they've captured the real Brock."
Veteran journalist and Brock's authorised biographer, David Hassall, was equally dismissive. "Brocky driving his A30 sports sedan on the road and grabbing a tinnie from his girlfriend while being chased by the cops? Spare me. Roaring up late for a press conference in his race car, and wearing a singlet? Practising for Bathurst in his bedroom with a Frisbee for a steering wheel? Absurd race sequences? Allan Moffat working on an engine? Maybe B-grade is flattering," he said. "The great pity of this production is that it didn't need to be clumsily dramatised. Peter's real story didn't need to be enhanced; it was ready-made for the screen just as it was."
Perhaps the most scathing criticism of the show came from Brock's son James, who posted a social media update lambasting the way the production portrayed his late father.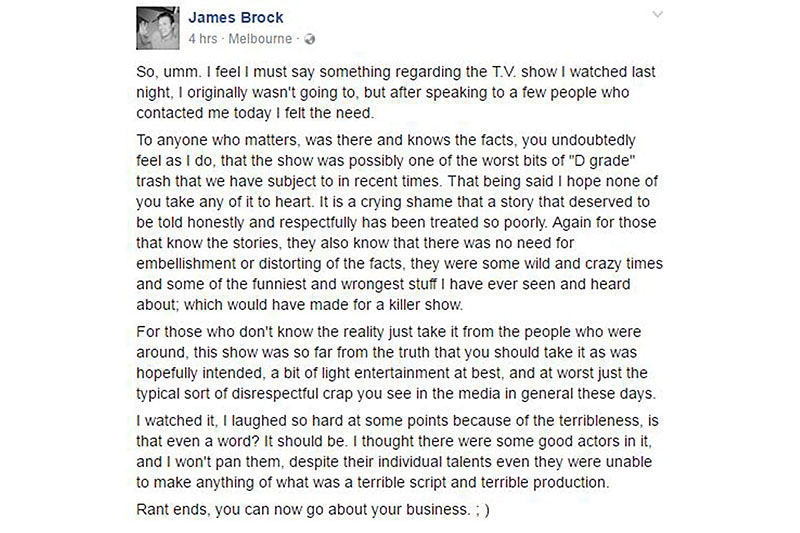 A series obviously made for superfans appears to have ended up pleasing nobody.
Here's one of the letters we received on the topic:
From: Barry Edmunds
Subject: Brock Miniseries 
After watching the endless promos for the Brock Miniseries I decided to give it a miss because it surely would not have portrayed the Peter Brock that I knew, worked with and had the pleasure of photographing during a large part of both his and my own motor racing years.
In retrospect and from the widespread negative reaction by so many, I obviously made the right decision.
Peter Brock had his faults and was not perfect, something I'm sure even he would admit to but for the life of me I cannot fathom how any self-respecting script writer could come up with such unmitigated trash as this and then have the nerve to put it to air in the weird delusion, or mistaken belief that this two-episode fantasy would go close to scratching the surface of the Peter Brock who achieved so much success on the race track and was so widely admired by so many.
Surely a man who achieved so much during his motor racing career and was admired by so many deserved better than this.
Obviously the people responsible for this low point in Australian television are graduates from the 'Why let the facts get in the way of a good story' school and went ahead with little regard to proper research and talking to the people that knew, live with and worked with Peter Brock.
Maybe I didn't know Peter as well as I thought I did.
At least they got one thing right – they spelt his name correctly.
Barry Edmunds
(Barry is a friend and former colleague of Brock.)
Unique Cars magazine Value Guides
Sell your car for free right here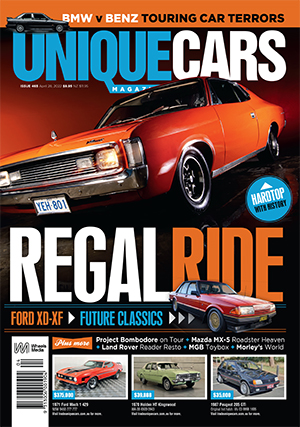 SUBSCRIBE TO UNIQUE CARS MAGAZINE
Get your monthly fix of news, reviews and stories on the greatest cars and minds in the automotive world.
Subscribe