Harrop's Howler FJ Holden Review
---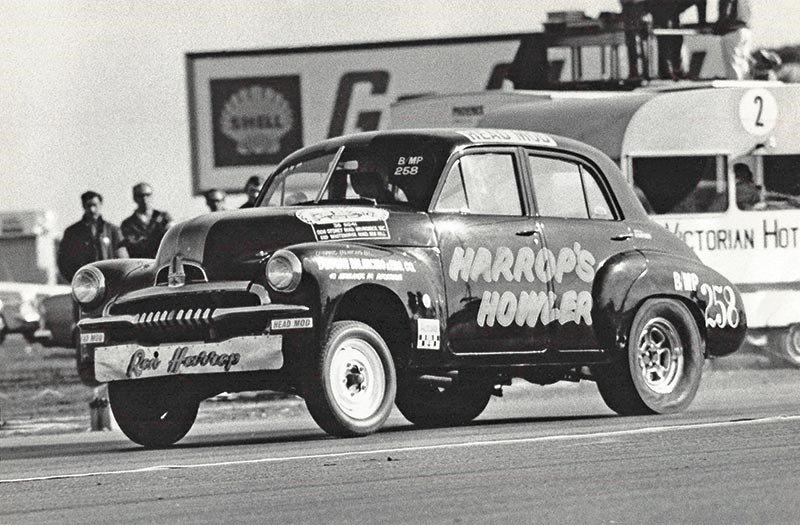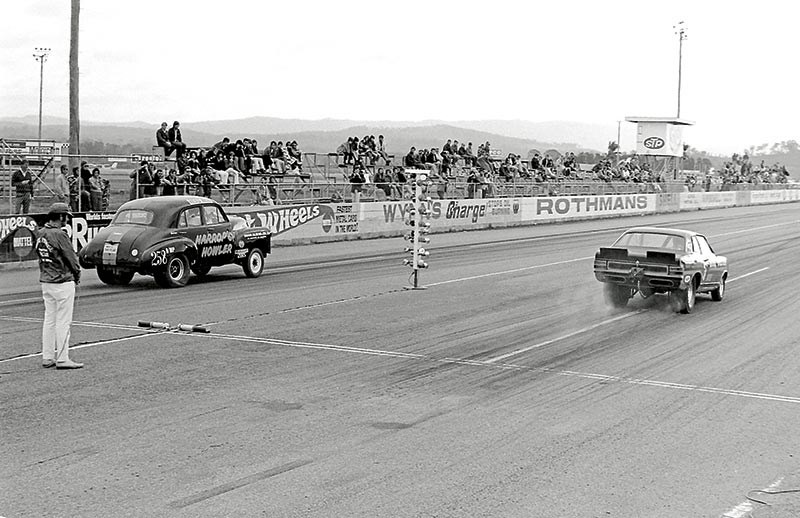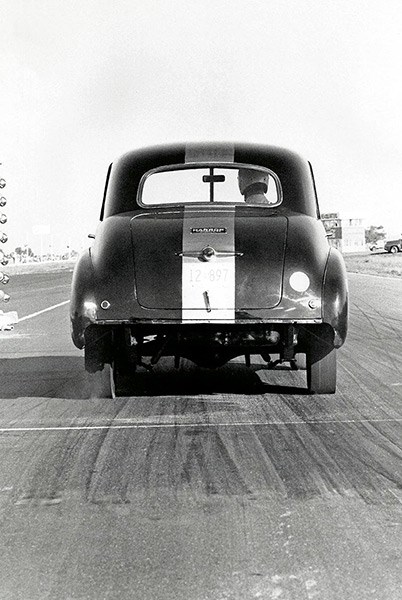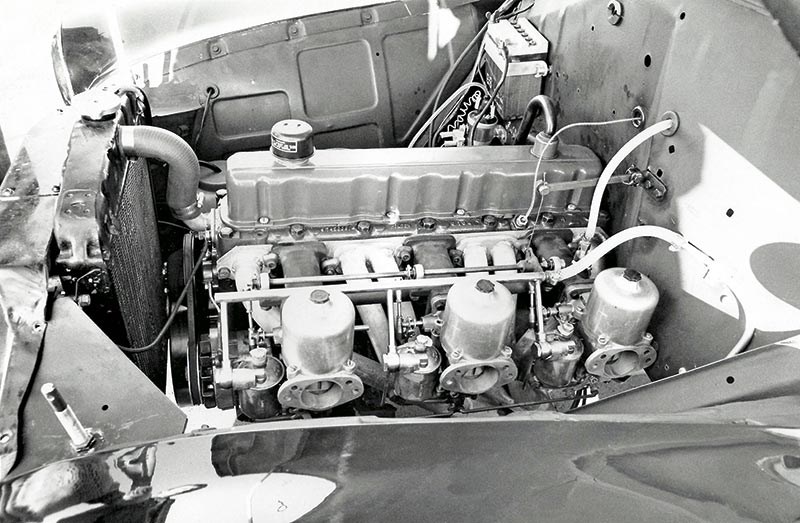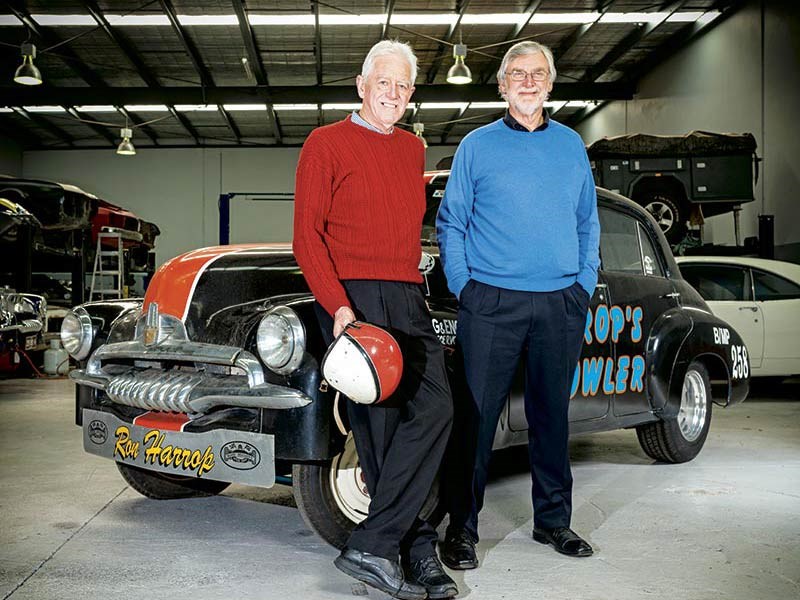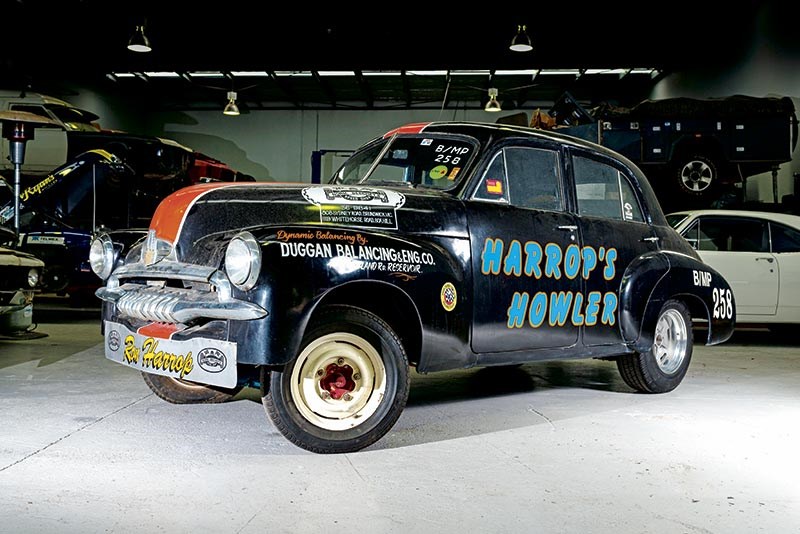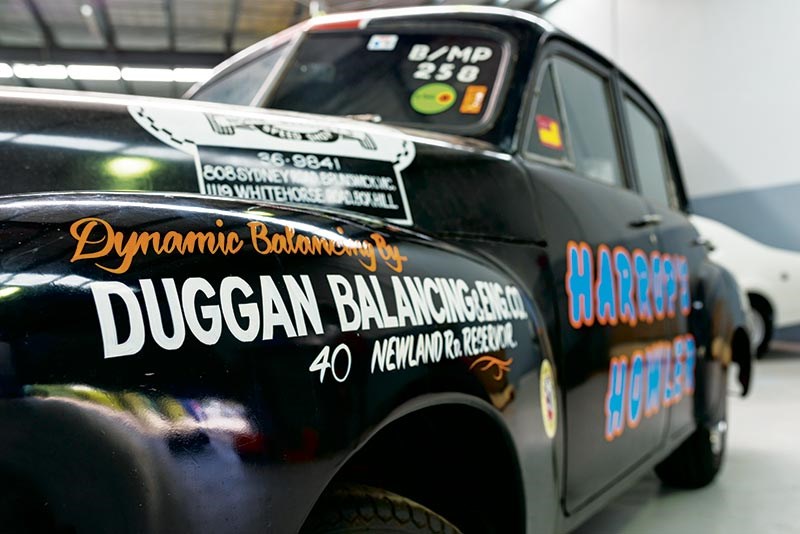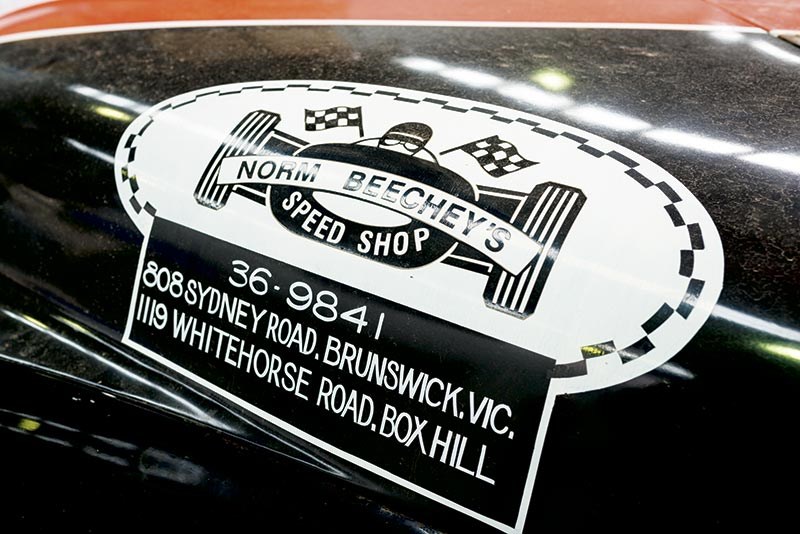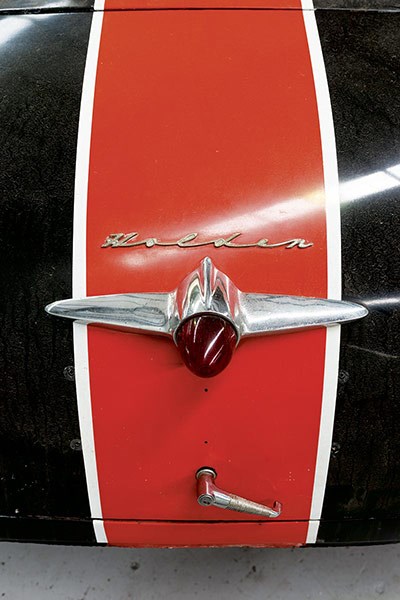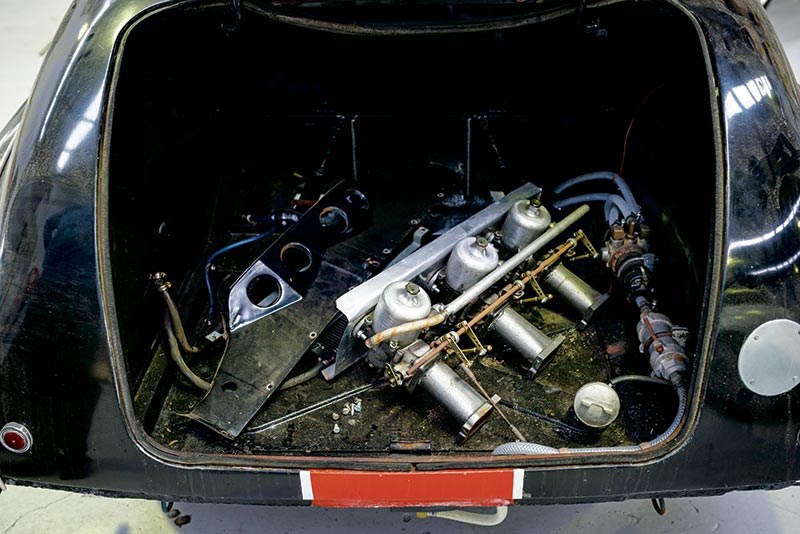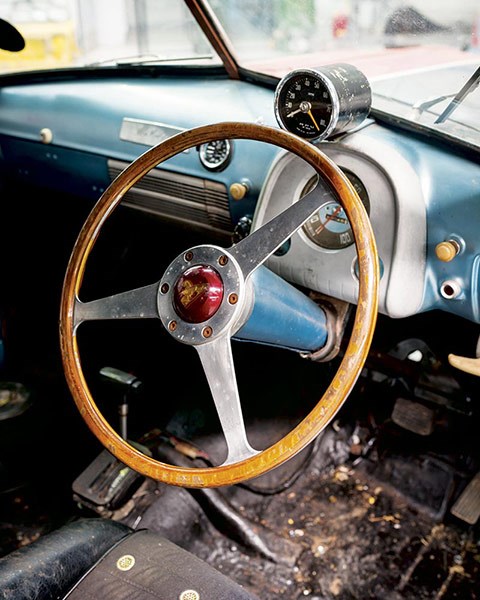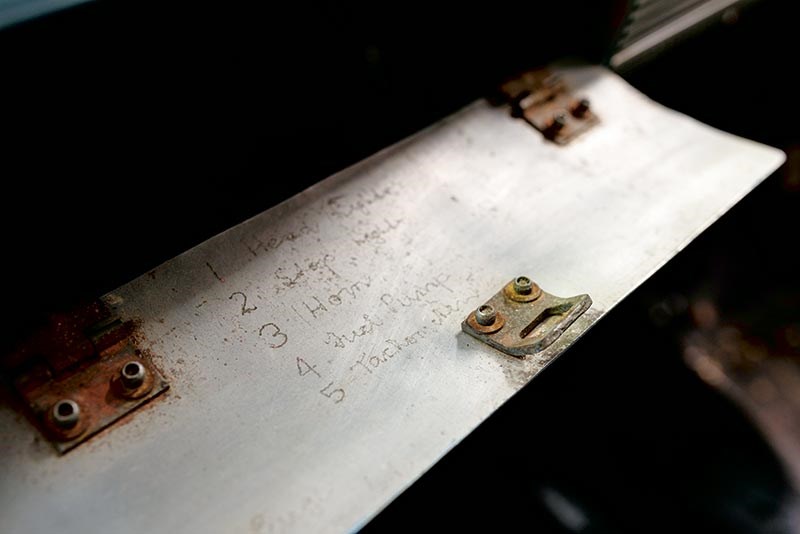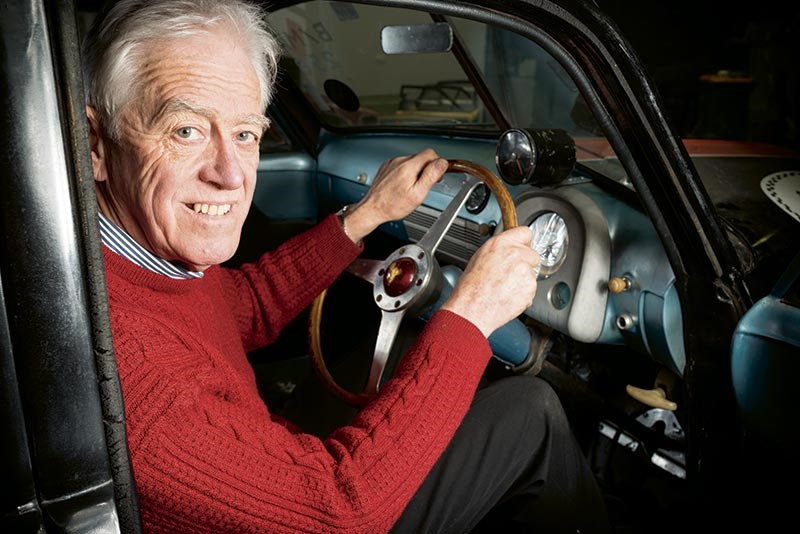 Aussie motorsport legend Ron Harrop is rebuilding the car in which he started his motorsport career: his Harrop's Howler FJ Holden
Harrop 's Howler FJ Holden
Legendary Australian racer and motorsport engineer Ron Harrop doesn't display too much emotion. He's usually busy thinking of ways to make a car quicker or how to create a technical advantage but when we met him at Rare Spares' head office to see his most significant race car, the Harrop's Howler FJ Holden drag car, he was riding high on a wave of nostalgia. He almost shed a tear as long-forgotten memories flooded his analytical brain. Almost.
For the last 20-odd years Harrop has been trying to buy his FJ Holden back. However, the owner had steadfastly refused to sell. Harrop had just about given up hope of ever owning this car again when the owner's brother called late last year to say he had died…did Ron still want the car? The asking price was high, too high, and Harrop declined. But good mate and fellow FJ fan, Rare Spares director Dave Ryan, convinced him to buy the car.
"Dave said: 'You can't miss out on that!' He insisted we buy it," Harrop grins. "I'm not saying I wasn't keen but Dave was certainly keener than I was." Ryan chipped in and the pair hitched up a trailer and made a beeline for Taree, NSW, where the Howler was stored in a shed.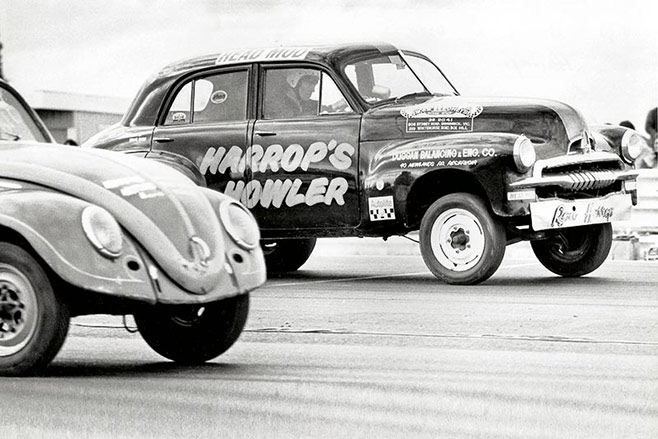 "It was the first time I'd seen in it 43 years," Harrop says wistfully. "It was a rolling shell and basically in the same spec as when I sold it. The original steering wheel was still on it and the Smiths tacho. Most of the car is untouched; it's pretty good. We paid a helluva lot but it was worth it. What I bought is the history, not so much the car."
He swears he didn't get soggy-eyed when he was finally reunited with the ol' girl. "Sometimes I think I have a problem because I don't get excited but I also don't get depressed, both emotions are a waste of energy," Harrop shrugs. "It was satisfying to finally get it back because I wasn't aware of the following the car had until recently. I was surprised by the amount of people who still talk about the car; it had a pretty big impact, it would seem. I guess I was pretty happy."
The more he inspected the car the more he recognised. "I looked at the glovebox lid first. It was originally a two-piece steel pressing but I changed it to a hinged aluminium plate and engraved all the fuse numbers on the inside; I remembered doing that."
HARROP'S FAST START
Ron Harrop has been building things with wheels all his life. First there were billy-carts; he welded his own go-kart at 12. His first car was a Morris Minor with a bored-out MG TC engine. It was replaced by an EH Holden powered by a hotted-up 179 cubic-inch motor.
Then he discovered street racing.
"A mate said there was a guy in Reservoir who had a pretty fast HD Holden but that my car would probably beat it," he recalls. "We arranged a drag race on Newlands Road past the Coburg drive-in and I managed to beat him and it sort of progressed from there."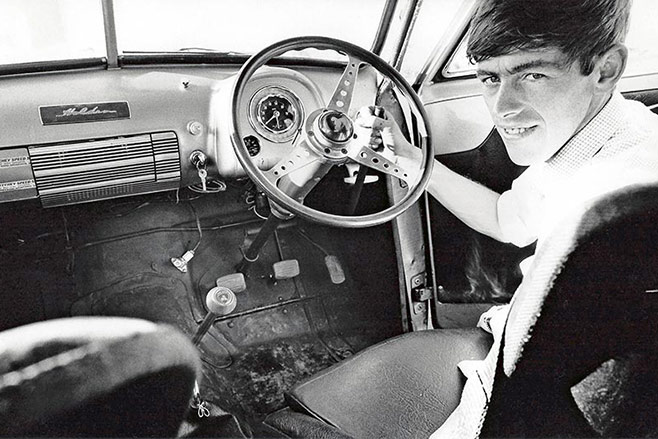 Harrop's daily-driver EH Holden did a best time of 14.05sec at Calder. But when he saw the Moore brothers' FJ Holden run a 13.70, he was awestruck and began picking their brains. They suggested that if he transferred his EH's running gear into an FJ he would be as quick as they were, so Harrop took their advice. At the time he was preparing Norm Beechey's race cars and Beechey also had a used car yard. Harrop bought a traded-in 1954 FJ Holden, chassis number 2616, for $29 then paid twice that to have it painted.
The Moore brothers were right. "My first run at Calder in 1969 was a 13.6sec then a 13.4," recalls Harrop. The FJ was lighter than the EH but it didn't have any traction. I had 13 x 4.5-inch Casler slicks but I ended up starting in second gear. It would spin the wheels, then it would get out a bit then bog down then the inertia of the engine would make it lunge forward and off you'd go."
Over the next three years Harrop evolved the FJ, extracting more power and speed out of the unlikely looking humpy. He's a bit hazy on some details these days but reckons that over its life the car had three or four versions of his 208 cubic-inch six, which ran an advanced 12-port, high-compression 149 Holden head and his own 12-counterweight 179 crank. The triple SU carburettors were replaced by 45mm Webers (out to 48mm with larger chokes) and the horsepower went from 228hp in the EH to 343 at 7800rpm at the Howler's peak. Harrop says the engine was so smooth he could balance a glass of wine on the rocker cover when it was on the dyno.
The original EH three-speed gearbox was replaced by a push-button Chrysler Torque-Flite auto that Harrop modified, ditching its torque convertor for a clutch. Eventually he fitted a four-speed Top Loader and a Detroit Locker diff. He also fabricated a simple but clever hand brake using a lever that pivoted off a bracket on the steering column connected to another lever acting on the brake pedal. With it he could stage the car on the start line and not worry about rolling through the timing beam before the green light.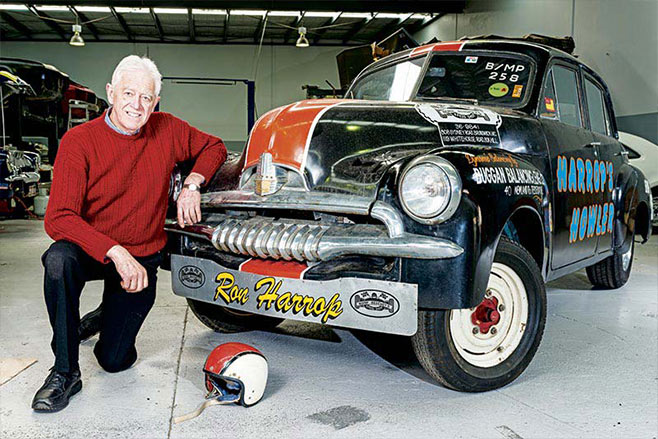 The Howler didn't look much but man, it was quick! "The quickest time it did was an 11.81sec at 120mph in early 1972," Harrop says. "With a 6.17 diff it would get to 8400 revs about 150 feet from the end then just wouldn't rev any harder. It got the speed at the start." By then it had been dubbed Harrop's Howler. "There was Moore's Missile so I had to have Harrop's something-or-other!
"There were a lot of six-cylinder FJs around but the best they were doing was low 13s; I don't know why I had one second on them," Harrop reckons. "It was partly engine and partly setup but mostly due to traction because the clutch was working pretty perfectly. I had a Holden pressure plate that I modified to a twin-plate clutch and I'd just side-step it at 7000rpm.
"Suspension was the norm for the day: 90/10 shocks at the front and standard rear springs decoupled from the diff to stop binding," he explains. "Track rods located the diff and initially they ran about half the length of the wheelbase then I shortened them by about eight inches.
"When you took off the whole car just lifted, which meant that the track rods were forcing the tyres into the ground. At 120mph on that suspension it wasn't all that stable." Stable or not, the FJ was just about unbeatable and Harrop ended up with a swag of trophies that his kids used to play with in the sandpit. He wasn't that sentimental about silverware then, either.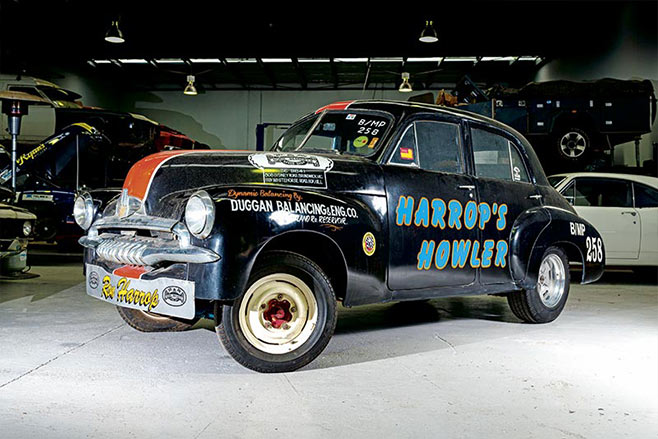 "I don't know if I was lucky or not but the car had a very good win record. A fella called Don Figgins raced a Stingray and he used to shake his head; he couldn't understand how his V8 Corvette could be beaten by an old FJ." Running in the Street Eliminator class, Harrop beat all-comers at Castlereagh Dragstrip in Sydney in 1970 and '71 to be twice crowned Mr Holden Champion.
"I was against supercharged V8s and managed to beat all of them, mainly because they were unreliable," he recalls. "I'd come home laughing my head off with a back seat full of trophies, it seemed a bit too easy!"
around it goes After a mate let Ron race an EH Holden on the Calder road circuit and he won first time out, a new bug bit: circuit racing. The Howler sat under a tarp at his Brunswick workshop until a bloke bought it as a rolling chassis for $150. The bloke raced it then sold it to another drag racer, 'Jungle' Jim Carter who sold it to John Brown from Taree – two weeks before Harrop heard it was on the market.
"I rang John, told him I was the original owner, and that I'd like to buy it back and he said: 'No, I'll never sell it'. He was going to restore it. We had a good chat at a Nostalgia Drags reunion a few years ago and he still wouldn't sell but I asked him to give me first right of refusal if he ever changed his mind."
In the end, John Brown – probably the Howler's biggest fan – never realised his ambition; it will be Ron restoring the car.
"I don't want to make it unbelievably good because it never was, just as long as it's tidy and has no rust," Ron smiles. "We'll pull it apart, build new mechanicals, fix the body and paint it. And yeah, we'll race it. But I'm a bit concerned that it won't go as fast as it used to and I've been thinking about how I can achieve it, especially if I can't get the original cylinder head back. Ideally I don't want it any different to original."
Unique Cars magazine Value Guides
Sell your car for free right here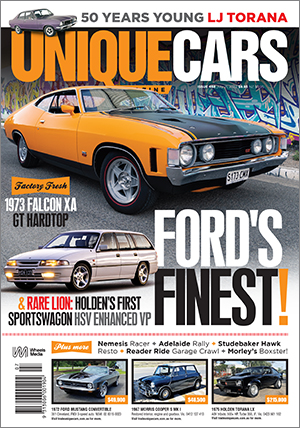 SUBSCRIBE TO UNIQUE CARS MAGAZINE
Get your monthly fix of news, reviews and stories on the greatest cars and minds in the automotive world.
Subscribe