Holden 1955 FJ Station Wagon conversion
---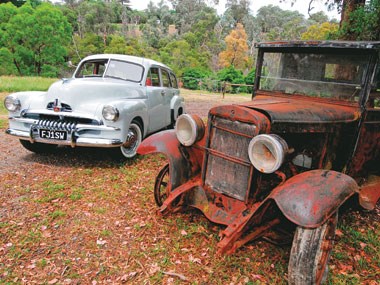 1955 FJ Holden Station Wagon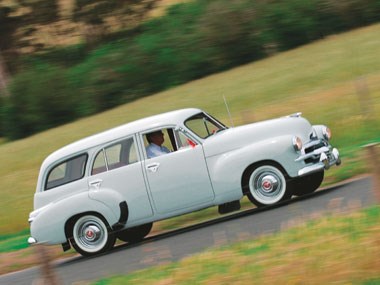 1955 FJ Holden Station Wagon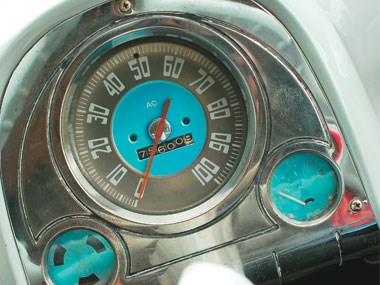 1955 FJ Holden Station Wagon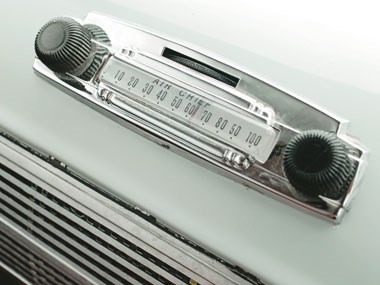 1955 FJ Holden Station Wagon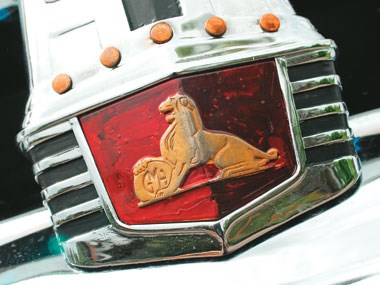 1955 FJ Holden Station Wagon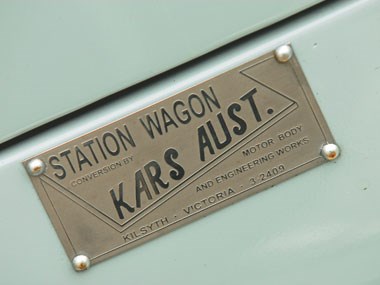 1955 FJ Holden Station Wagon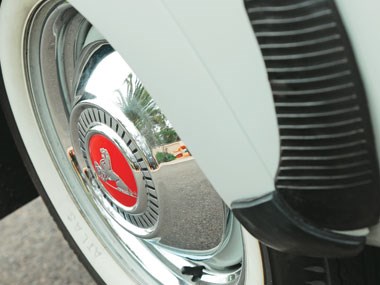 1955 FJ Holden Station Wagon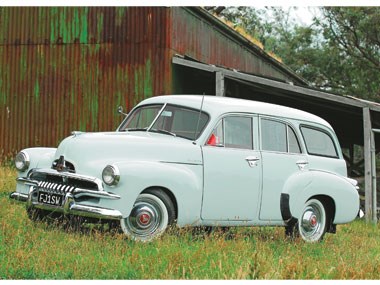 1955 FJ Holden Station Wagon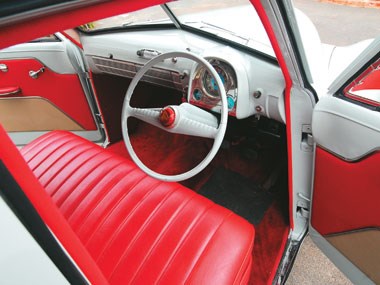 1955 FJ Holden Station Wagon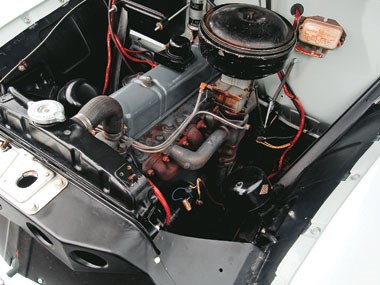 1955 FJ Holden Station Wagon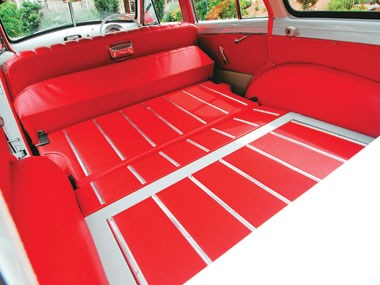 1955 FJ Holden Station Wagon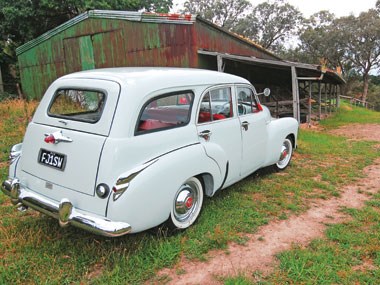 1955 FJ Holden Station Wagon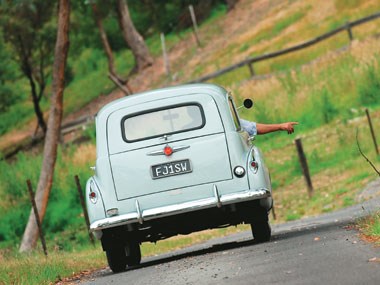 1955 FJ Holden Station Wagon
Humpy hauler: Holden FJ Station Wagon. A Melbourne enthusiast has built the wagon that Holden never officially did.
Holden FJ Station Wagon
[Jan 2008] Australia's unofficial curator of all things Holden FJ/FX has done it again! Melbourne's Phil Munday and his dedicated craftsmen have built the 1955 FJ that Holden never did, a station wagon. While Holden's Experimental division did build prototypes, just 20 FX/FJ wagons were made and most were sedans converted to wagons by Melbourne coachbuilders S. H. Cordell.
Only three examples of these stylish cargo carriers survive: Holden has a 1948/215 model, there is another in poor condition in Sydney and, yes, Munday has the third.
Only he doesn't own it. It had been sitting in the front yard of a house in Melbourne for the last 30 years and Munday will be restoring it for its owner to original finish and spec - unlike the one you see here, which has some modern quality and technical upgrades, not that they're easy to pick.
Regular readers will remember the immaculate 1953 FX Munday built for Peter Brock to race at the Goodwood Revival in England in 2006 and Munday's passion for the Aussie hero car knows no bounds; his business, Kars Australia, is flat out restoring cars for clients and Munday himself.
"Peter and I would talk about raising the profile of early model Holdens and that's why we took the FX to England to race," Munday says, wistfully. "That was an amazing experience for both of us."
You get to Munday's semi-rural Wonga Park, Melbourne home via a long, hilly driveway and over the last hill we caught sight of the wagon, parked outside a big shed. It's almost alien in its uniqueness, a time machine of Aussie motoring brought to life over one painstaking year. If it weren't for Munday's HSV GTS sitting in the shed you'd swear you had just been transported back to the '50s.
Munday is very proud of this 'humpy' Holden, which is based on a "pretty clean" shell he found in Mildura. It needed new inner and outer sills but was basically straight although "once you cut all the back off them there's not much left (to worry about)," he laughs. "There's not one part of a car that you can't re-fabricate or make again, if you've got the time and the money to do it."
The body is new (restored) from the firewall back and the doors came from some of the 40-odd Humpys Munday has in storage. He actually has some new, old-stock doors lying around too.
The roof is new, from the B-pillar back, and consists of 11 handmade pieces that were traditionally formed using an English wheel. The guards, floor and quarter panels are from the donor sedan and everything up from there, including the tailgate, was hand-fabricated by Munday's mob, using the same process that S.H. Cordell did back in the '50s.
It took 11 months and 11,000 man hours - a lot longer than the Cordells used to take to transform a brand new FJ sedan.
"We thought the best thing to do was bring the quality up to modern day levels in areas that Cordell and Holden weren't too concerned about back in the '50s," Munday says. "Back (then) Cordells advertised the conversion for £335-plus tax but they weren't very detail-orientated. The headlining was fairly agricultural and the cargo area was just made from Nelson board, scribed and bent, it wasn't trimmed or fitted well and the back windows were a little smaller than the front ones.
"Talking to 'Johnno', who did the welding for Cordells in the '50s, every car was different, as so few were built, and had they continued they might have refined the design more, like we did. For example, Cordell's tailgate was just like an old hearse, with a straight back, but we put a little step in it to make it look more like a tailgate; so our car is probably pretty close to the last one he made."
Munday used stronger door hinges on the tailgate, one of the nice modern touches, which also improves the appearance as the Cordells had external hinges.
"The whole look of the car flows so well," Munday beams. "When you cruise around people wave at you; it's amazing how many people acknowledge the car or drive up alongside and give you the thumbs up; none of them would have ever seen an FJ wagon before."
The floor pan is original except for a depression formed to take the spare wheel, and it's covered by a sheet of marine ply that has been upholstered and trimmed to blend with the rest of the period interior.
The rear seat is FJ and narrowed and moved forward slightly so that when it folds down it doesn't hit the doors and with the seat down there is quite an expansive cargo area.
"Cordells must have had to do this too but we didn't know about it until we came to fit the seat," Munday smiles.
Much of the car is original including its evocative Mist Grey colour and original materials have been used to retrim the interior, which boasts gorgeous, deep red leather upholstery.
Munday has added every available NASCO accessory to his car including chromed door handle escutcheons, red wind deflectors on the quarter vents, mirrors, mudflaps, headlight covers, Air Chief radio, chrome trim around the speedo, number plate surround, exhaust tip deflector, reverse light, wheel trims and the white-wall 'flappers'.
Inside Munday has ribbed the (original) lining material over the roof's structural bows. Again, this is another improvement over the Cordell versions, which just had Nelson board glued to the roof (which didn't have the ribs) and the lining attached to that. Not very structurally sound.
Sitting behind the wheel, one is reminded just how uncomplicated cars were a half century ago. The steel dash is dominated by a large speedo and the huge steering wheel. The beautifully retrimmed bench seats are firm and comfortable but you'd slide around on them like a dog on Lino if you cornered too hard.
Of course, there are no seatbelts. Or indicators; it's all hand signals, just like grandpa used to do. And, almost as if to prove the wagon is a daily driver and not a show car, Munday didn't bother to vacuum the red carpet for our photographs. "It's not a concours resto," he admits.
Mal and Brendan - "old timers" as Munday refers to them - did the majority of the work and interestingly Munday did his apprenticeship under Mal 36 years ago.
"Mal has been working with me for the last three years and he was the obvious choice to do the wagon," Munday says. "He loves cars and he has the same passion he had when he was young and he's teaching our two apprentices the art of fabricating and one of the young kids is an absolute world-beater; he's just got it.
"We have all the old tools like a leather sandbag and blocking hammer that you use to shape a piece of steel. One of the young guys is doing a course on shaping and making panels so the art isn't dead, it's still well and truly alive."
The wagon's running gear is pure period too. Under the bonnet is the venerable 138ci 'grey motor' backed by the classic 'three-on-the-tree' gearbox. The engine bay is a mix of shiny restored and scruffy original parts showing off the patina of 50 years of aging. Munday hasn't missed a trick; even the Lucas voltage regulator is mounted upside down, just like it was in 1955.
"Everything about the car is as stock as can be," he emphasises. "We started building the wagon while we were finishing off the racecar and Peter (Brock) used to come in and say, 'Geez, I can't wait until you finish this thing'.
"Some people say 'Why did you do it?' But this is a one-off car, no one will ever produce another one of these because they will always be different. And I don't think anyone would want to put 1000 hours into a job like this.
"(Former Holden Motorsport PR) Tim Pemberton took it down to Holden for a photo shoot and a bloke pulled him over and offered him $80,000 for it but Tim said he'd have to come up with more than that. It's really a priceless car; it's probably worth $150,000 but I'm not selling."
You won't believe this but Munday's next FJ project will be a roadster with a rumble seat! Naturally, he's already got the parts he'll need for the rumble seat from the US, off a '32 Ford roadster.
"I've drawn it all up and done all the measurements and we reckon it'll fit in beautifully on a ute body," he grins. "It should be ready in about a year from now." We suggest the car after that should be an FJ 'Rat Rod' and his eyes light up and the wheels start spinning in his head. "Yeah, we could put some Strombergs on it," he enthuses. And paint it matt black, we chip in.
By the way, Holden introduced the production station wagon with the FE model in 1956 and since then has built around one million station wagons. But none are like Munday's.
SPECIFICATIONS
1955 FJ Holden Station Wagon conversion
ENGINE: 138ci (2.26-litre) in-line six-cylinder
POWER: 65bhp (48kW)
TRANSMISSION: three-speed automatic
SUSPENSION: wishbones, telescopic shocks (front), leaf springs, telescopic shocks (rear)
BRAKES: hydraulic drums (front & rear)
WHEELS: 15x4.5inch steel
TYRES: 15x5inch BF Goodrich crossplies
VALUE: $150,000 (est)
CONVERSION: Kars Australia
---
Sign up to one our free weekly newsletters:
Receive more Unique Cars reviews and features here or get the latest unique and classic cars for sale here.
Subscribe to Unique Cars magazine
- Print edition
- Digital edition
Unique Cars magazine Value Guides
Sell your car for free right here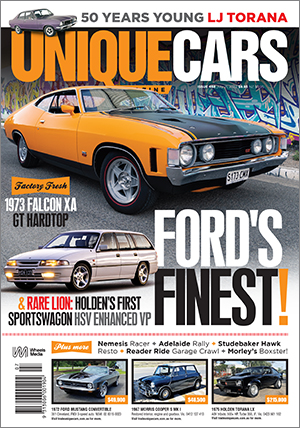 SUBSCRIBE TO UNIQUE CARS MAGAZINE
Get your monthly fix of news, reviews and stories on the greatest cars and minds in the automotive world.
Subscribe