Brock Holden FX race car
---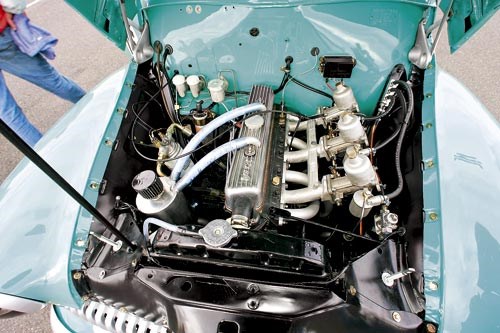 Brock Holden FX race car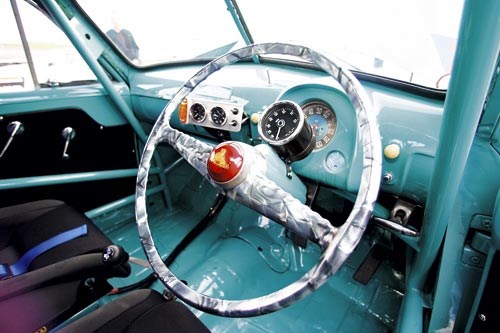 Brock Holden FX race car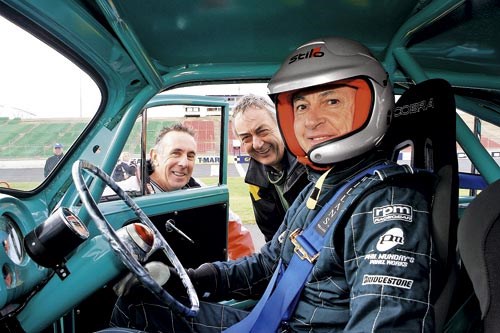 Brock Holden FX race car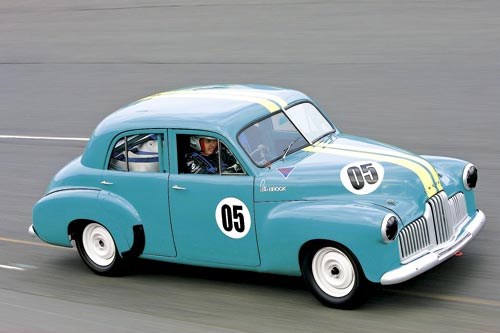 Brock Holden FX race car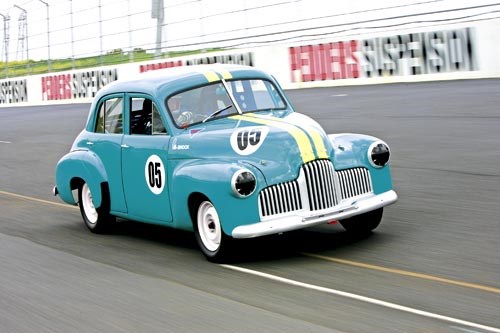 Brock Holden FX race car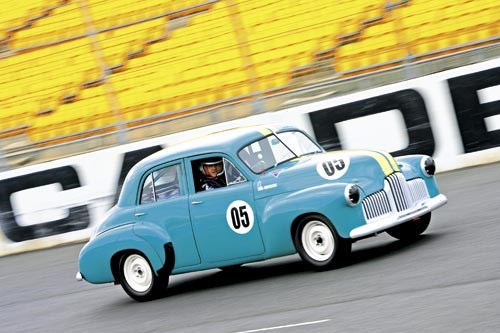 Brock Holden FX race car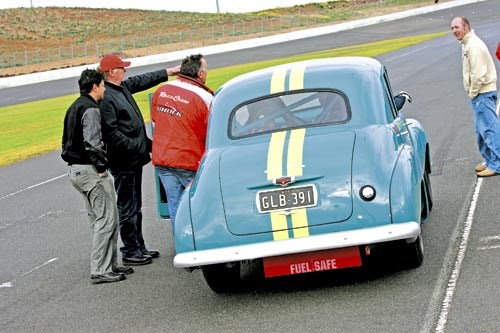 Brock Holden FX race car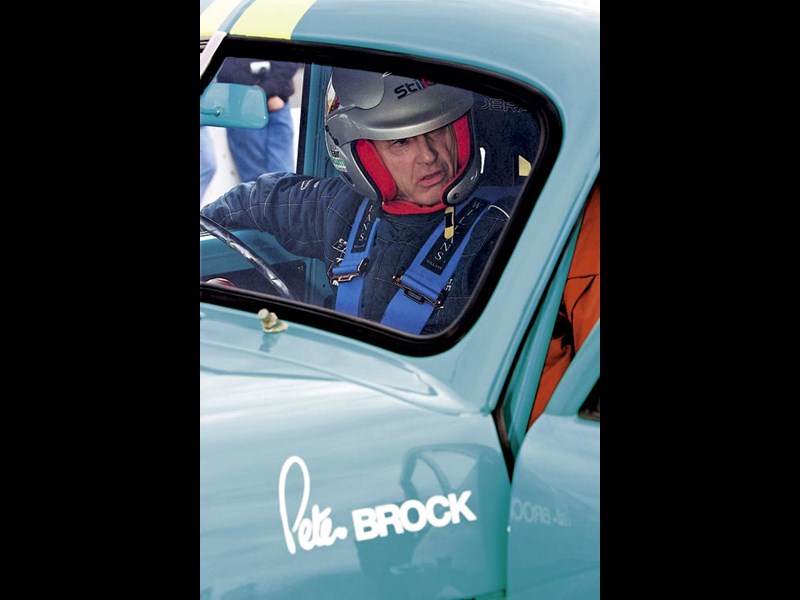 Brock Holden FX race car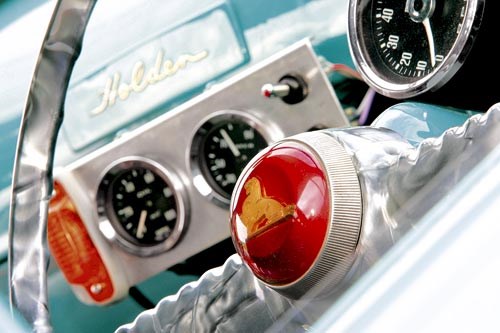 Brock Holden FX race car

Read about Peter Brock's legendary FX race car...

First published Unique Cars magazine, issue #263 (Aug, 2006)
Brock Holden FX race car

Brocky is ready to take on all-comers at the famous Goodwood Revival later this year in his humble Holden 48-215, but all is not what it seems...
Think you know all the Peter Brock stats? Well here are two facts you may not know about Peter Perfect: one, he got his CAMS licence in an FX Holden and two, he's a dab hand with a paintbrush and water colours.
These gems of Brock-ology were unearthed when Unique Cars attended the shakedown test of the stunning restored 1953 FX that Brock will race at the Goodwood Revival for historic cars in the UK in September, but more about them later.
On a cold June day at Calder Park's vast and imposing Thunderdome, the solitary FX went back to the future and hot lapped for the first time after an intensive three-month build. The car belongs to the project's other driving force, Phil Munday. Like Brock, the smash repair expert has had a lifelong love for the rotund little Aussie sedan (the first Holden, don't forget) and he just can't bring himself to throw one away. At last count, he had around 30 shells and rolling chassis at his house, much to his long-suffering wife's chagrin.
The one he picked out to rebuild for Brock was the pick of the bunch but would still need a lot of intensive care, for not only did it have to look better than new among the well-heeled historic racers at plum-in-the-mouth Goodwood, but it had to go a damn sight quicker than when the FX first rolled off the line over half a century earlier.
The body and chassis were Munday's mob's forte but when it came to building an engine for the humpy there was only one man for the job, legendary tuner Ian Tate. Tate, like Brock, is a former Harry Firth and Holden Dealer Team alumnus and has probably built more winning Holden engines than anyone we can think of. Like Brock and Munday he was excited about sticking it up a few European noses with the funny looking throwback from Down Under.
Munday's men, including Anthony Dove (another former HDT wrench) who did much of the fabrication, set about cutting out rust and patching up the pensioned-off 48-215, to use Holden's actual model designation, then fitted a Malvern Motorsport roll cage and sent the body to the spray booth for liberal application of some Standox two-pack paint. And here's where unheard Brock fact number two comes in.
One day Brock turned up at Munday's Kilsyth, Melbourne, shop with a large painting he had done of the FX and announced the colour depicted was the hue he wanted the car painted. No worries thought Munday.
"Brock called it Gum Leaf Green but it didn't look like that to me," Munday smiles. "We matched the colour and did a test panel for Peter but when he saw it he reckoned it was nowhere near the painting so we had to play with it to get it just right for him!"
While the two Michelangelos were bickering over pigments, Tate set to work bolting together a hot 'grey' motor, normally something he could do in his sleep. But this small capacity six had to make more power and torque than the race versions of its era to take on quick, bigger-engined saloons, like Jaguars, at Goodwood and it needed a little more thought and ingenuity. It actually took him 80 hours to build and dyno the donk.
Revival regulations allow engine capacity to be increased by up to 20 percent but Tate reckoned only a mild capacity increase from 2.2 to 2.4-litres was needed and he decided a high compression (11.5:1), high revving (6500rpm) screamer was the go.
Many of the components are the same spec as when grey motor Holdens were tearing up Australian tracks in the 1960s, like the classic 44mm triple SU carbies and Wade Cams-spec camshaft made new by Clive Cams, but there are also some more left-field parts too, such as Mitsubishi conrods!
For greater reliability, Tate installed a Vauxhall steel crank as original FX cranks used to crack under pressure. Interestingly, Munday says a Vauxhall of the same era was also dubbed FX, and it was quite easy to end up with a Vauxhall spare part instead of the Holden version if mechanics didn't specify Holden. As well, there's a remote oil filler for more efficient lubrication.
The rorty six makes a strong 140kW and barking through Facey extractors into a straight-out 57mm exhaust, it's loud but pleasingly raw to the ear.
The drivetrain is mostly tried and proven race Holden, with an XU-1 hydraulic clutch, tough Muncie four-speed 'box (instead of the original 'three-on-the-tree'), and a locked Holden diff running a 3.9:1 ratio.
While the diff ratio is fairly low, the gearbox ratios are high and Brock predicts good top speed from the lightweight (900kg) Holden. Incidentally, Brock says the FX is around 20kg lighter than a LC Torana coupe, which you'd never believe if you put the two side by side.
Suspension is Koni telescopic shocks front and rear and Koni coils up front with a custom wide leaf-spring setup in the rear, and even Brock admits making leaf springs work properly is a black art.
Stopping the FX is a set of miniature (compared to modern race cars) pair of Girling discs, circa HD Holden, and Torana XU-1 drums in the rear, amazingly, off Brock's 1972 Sandown 500 Torana.
How well the brakes work depends on tyre grip and a set of historic Dunlop Racing 550L-15 will be working hard to keep the car on the road once Brock starts flinging the FX at kerbs and getting air. Munday had Ajax Wheels make up two sets of custom offset, steel 15 x 5-inch rims by cutting and shutting 16 wheels.
Inside the cabin it's all business, with just a set of Cobra race buckets and Willans harnesses and a re-trimmed original back seat the only creature comforts. On its first test, the car was fitted with a gorgeous truck-sized pearl steering wheel but Brock has since gone to a smaller wood and alloy version from Revolution Racegear, which also supplied a modern pendulum pedal box. The original dash remains but it is augmented by a Smiths tacho on the steering column and Smiths oil pressure and water temperature gauges. A large yellow light warns of oil surge.
When Brock was an aspiring racing driver, giants of the sport like Norm Beechey were throwing FXs around at ridiculous angles, lifting wheels and drifting wildly through corners long before it became a movie craze, and that's what Brock wanted to do. Which leads us to little-known Brock fact number one: the Holden legend got his racing licence in an FX and owned quite a few.
"As a young man I watched every bit of automotive competition and there'd always be a 48-series Holden on the grid and I fell in love with them," Brock recalls. "I did enter an FX in competition once, it was a motorkhana in Hurstbridge, near where I was born and bred. It was the only motorkhana I ever did and I did it to get my CAMS licence – you had to do an observed run to get your provisional plates."
Brock also admits to doing "a lot of unofficial motorkhanas" around Hurstbridge in his wild youth and that required a steady supply of FXs. "I owned a lot of them," Brock laughs. "The idea back then was to fit Ford Customline rims with Pirelli Cinturato tyres, with Mintex Triple X brake linings."
Even Brock had his heroes.
"Norm Beechey was the man in those days and there were blokes like Warren Weldon, Spencer Martin…?everyone had a good early model in their repertoire and people kept racing them long after they were superseded. Why? They were cheap, and a light car with a big engine for those days, and on cross-ply tyres they were quite a reasonable sportscar. They had all the ingredients of a good race car."
Despite being brand spanking new the FX performed well in its first test. A few niggles were easily fixed and Brock was impressed with Munday and Tate's handiwork.
"Having only done a few laps on the Thunderdome, I'd say the car feels pretty close to an XU-1 in performance; torque, horsepower and body weight of the two is pretty close," he says. "And the car sounds like a racing car should when you rev it out to six-plus.
"Driving it, though, is like sitting in a kitchen chair. We couldn't move the seat back further because of the roll cage and door pillars, and we couldn't drop the steering column because it's fixed. I don't know how we ever drove them standard. We were probably sitting six inches closer to the wheel, on a bench seat; it must have been the weirdest driving position of all time. I won't be able to come up with any excuses at Goodwood, like 'I couldn't see the kerbs'.
"It was a thrill to drive it for the first time and after a couple of laps I thought, 'this thing sings!' I'm looking forward to Goodwood; I know that the racing is very willing and the machinery is very expensive but I can't wait."
Either can Munday and Tate.
"It's a great looking car and seeing Peter racing around in it is a dream come true," Munday beams.
More reviews:
> Classic racer: Holden FX review here
> Classic metal: Holden FX review here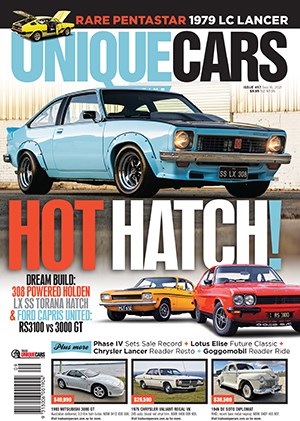 Subscribe to Unique Cars Magazine and save up to 42%
Australia's classic and muscle car bible. With stunning features, advice, market intelligence and hundreds of cars for sale.
Subscribe