Classic Rally, Cairns 2015 - Flashback
---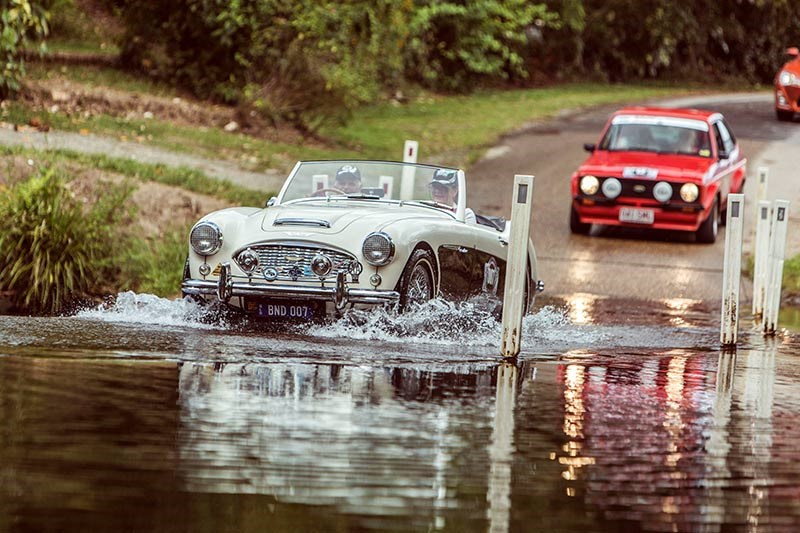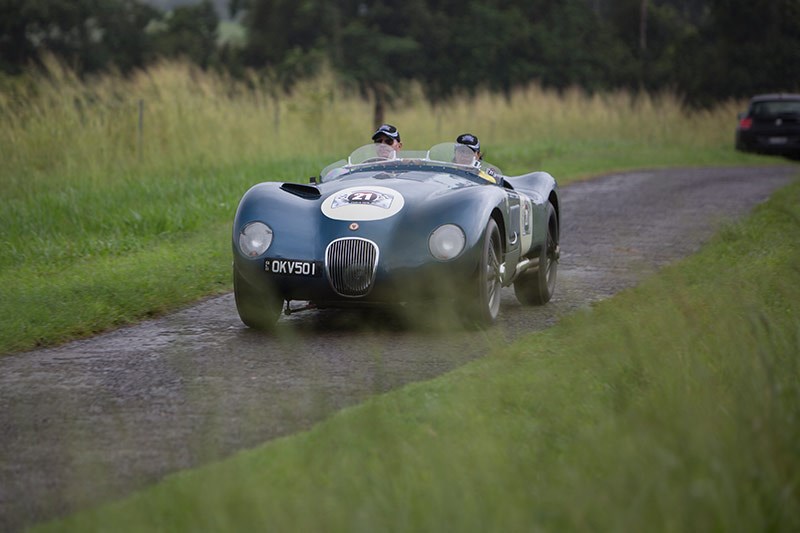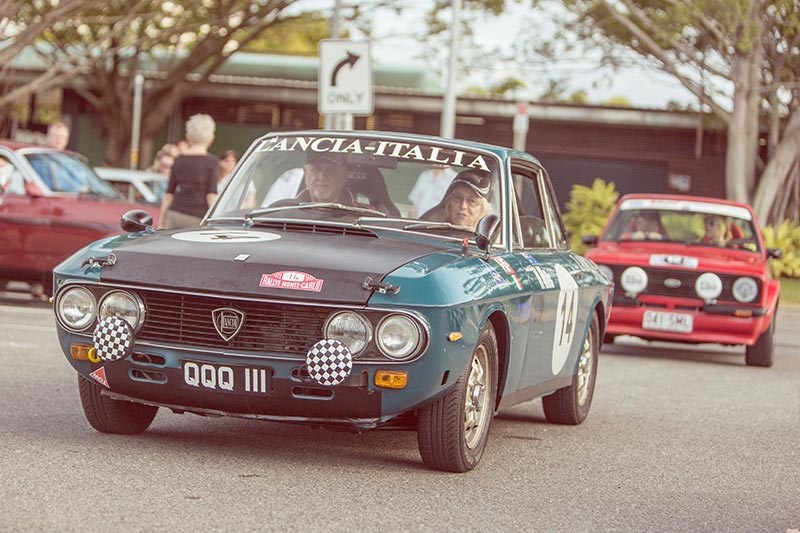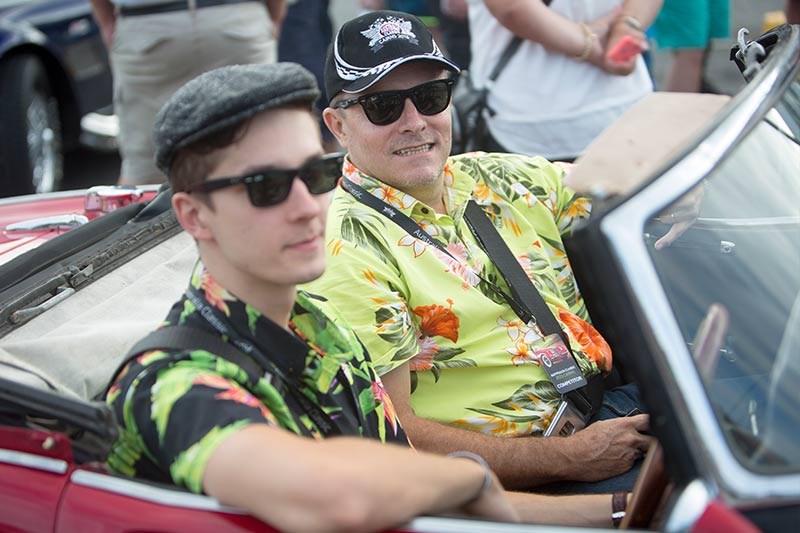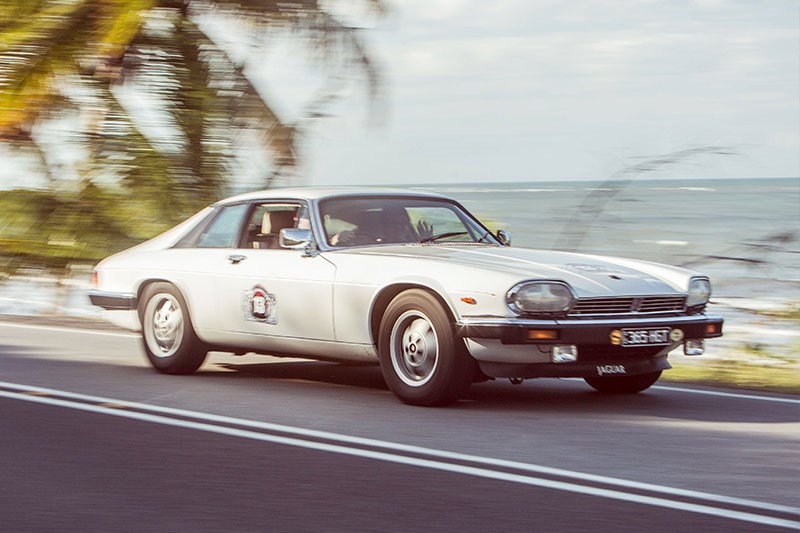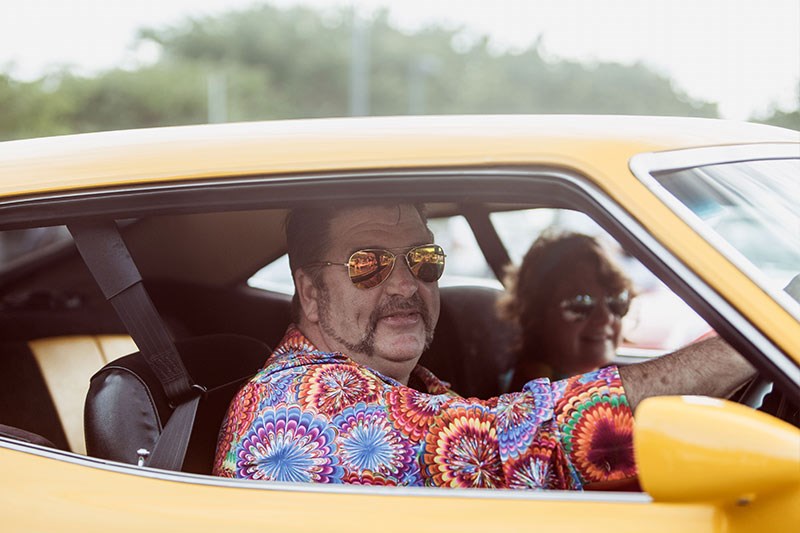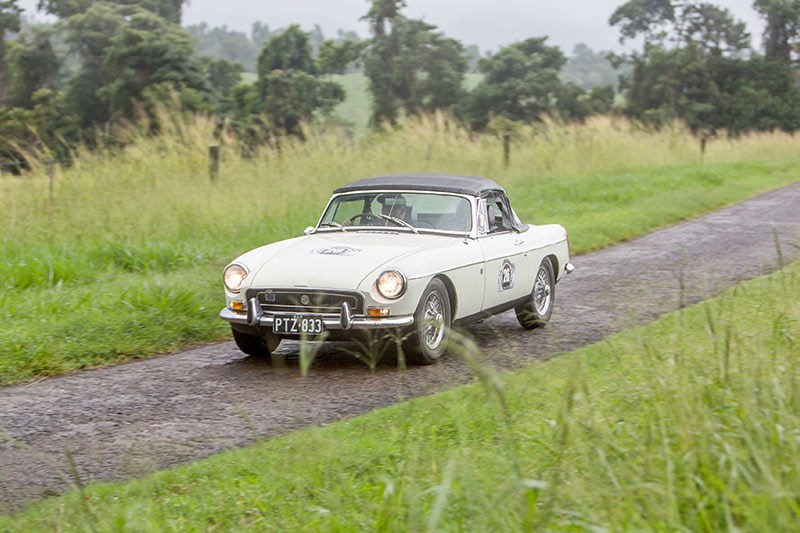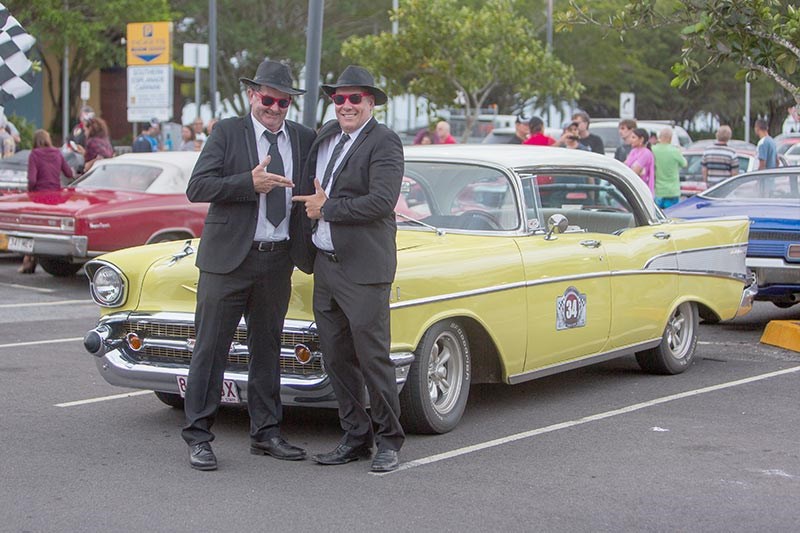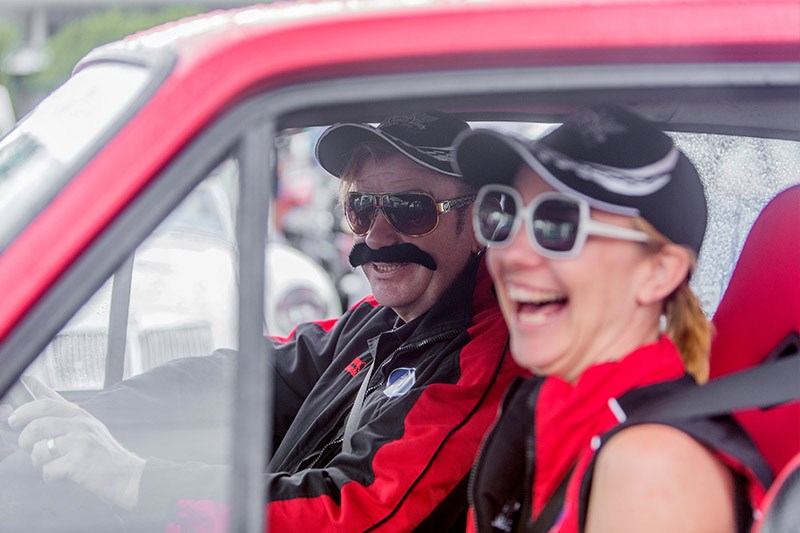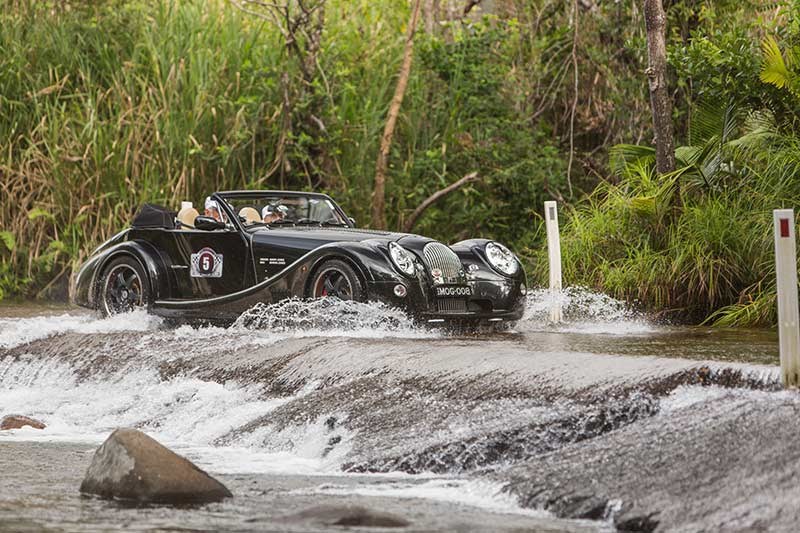 The Top End delivered European-style rallying in our own backyard, attracting owners of everything weird and wonderful from all corners for the 2015 Classic Rally
From Unique Cars #378, July 2015 
Classic Rally, Cairns 2015
Not quite Targa, less serious than traditional precision rallying, and more refined than a garden variety hillclimb – that's the Australian Classic Rally (ACR). Blending Australia's deeply embedded car culture with the flamboyance, style and strategy of a European Mille Miglia, the ACR takes the best of everything and puts it together in one big fun weekend for you and your favourite toy. Naturally, we couldn't help but take a look.
From June 20-21, Cairns, in Queensland's tropical north, played host to the ACR which set up base camp at the Hilton Hotel on the waterfront esplanade.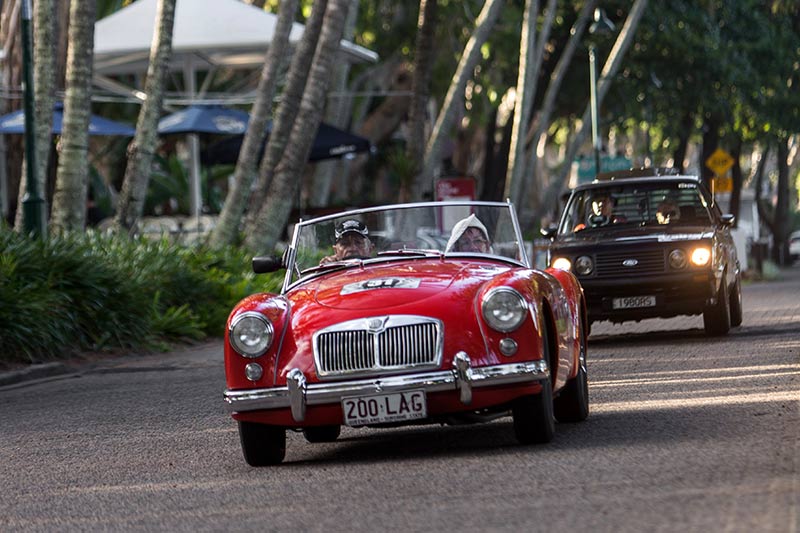 Day One (Saturday) took in the region around Cairns, with an early start for the first of two 300-plus kilometre days. Driving challenges along the way as well as aiming to reach checkpoints at designated times for certain sections of road meant competitors had to concentrate. Think Targa Tassie, only without the pants-soiling, heart-stopping mishaps. Because ACR is about getting to checkpoints as close to the designated time as possible, it's about calculations and accuracy, not outright speed. For every second over or under time, the two-person teams (driver/navigator) lose points.
ACR's director, and all-round petrol-head, Zoltan Vandulek, grew up in the car scene behind the Iron Curtain, pedalling whatever he could get his hands on through the ice, snow and mud of Eastern Europe. The rally is his baby and he believes it kick-started something special that Aussie enthusiasts had been missing out on. "I was always inspired by cars on TV – a bright red Corvette was so fantastic compared with all the grey cars in the streets," he says. "Growing up you had to learn what your car could do in dangerous conditions. I eventually started doing rallies, and moved to Australia in 2006 to find nobody was doing anything over here! I couldn't believe it! So I started nagging my wife… Well, here we are."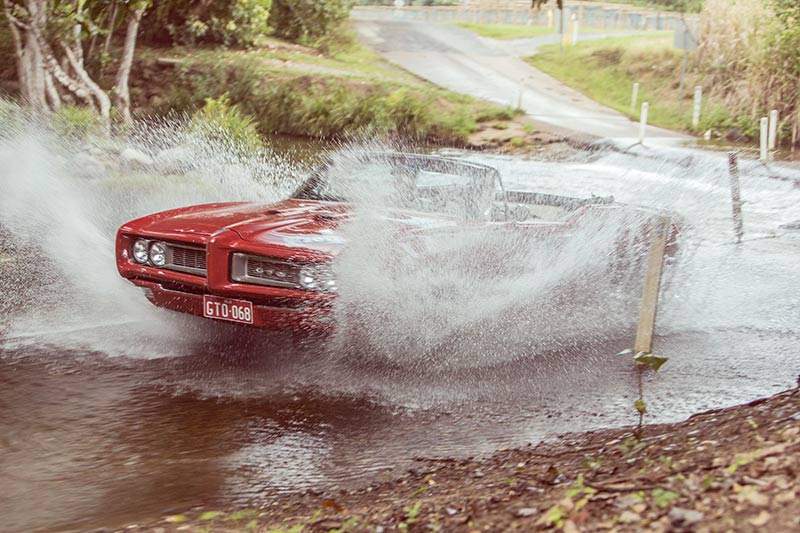 One stage that demands attention is the 16km zigzag to Lake Morris, which in the drizzly weather was testing for most drivers, especially in the bigger, grunty muscle cars.
The rally also took in the Kuranda Ranges and a long stint out to the Mareeba Aerodrome where a section of the runway was closed off for the 59 cars and their pilots to do go-kart style slaloms. There were further driving challenges heading north across the Atherton Tablelands, and one included a 30-metre section of road submerged by three inches of water. 
Back on the coast the entourage of classic cars pulled in to the Shannonvale vineyard near Mossman for a lunch break.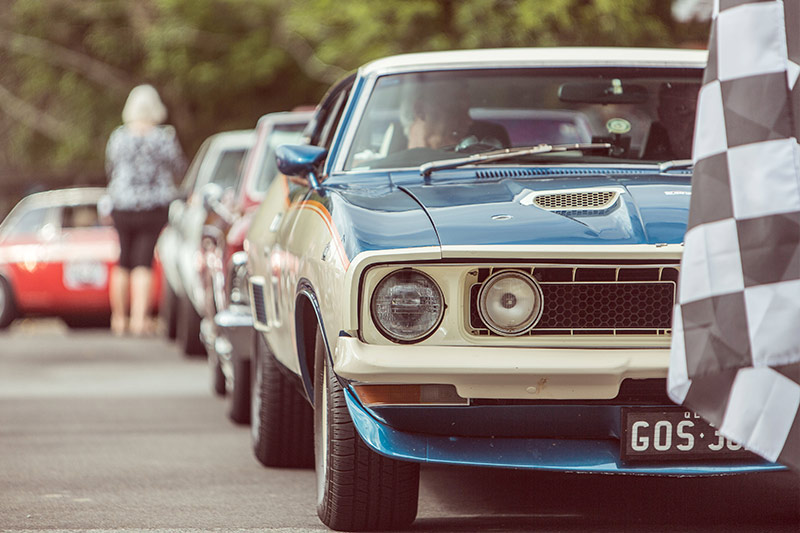 More driving challenges followed, including figure-eights, a Le Mans-style dash to the car to start the next stage, and Zoltan's particularly nail-biting "Rolling Challenge" in steep Ash Street, Yungaburra. Drivers put their cars in neutral on the slope, and only using the brake – no throttle – tried to cover a set distance in an allotted time. Again points were deducted for times over or under the target.
"Then we sent everyone from Port Douglas down to Palm Cove along the Captain Cook Highway," Zoltan says, "which is considered Queensland's very own Great Ocean Road. It runs right along the beachfront and is absolutely stunning. After a challenge at Cattana Wetlands we then finished up in Cairns again after 330kms of driving and eight challenges. So it was a big day."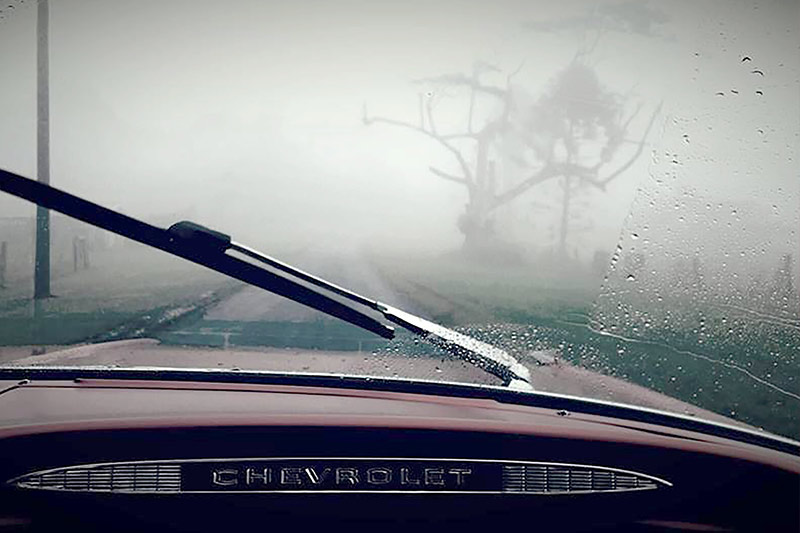 Sunday delivered the biggest surprise to the sunny city visitors – rain. "Not only was it wet, but the whole area was blanketed in fog for the first half of the day," Zoltan says. "For all the hardtop cars, this was no problem, but there were many roadsters among the group. I was pleased to find that everybody, including the droptop owners were all smiling. Nobody was fazed by the rain and everyone was enjoying themselves as we ventured south south-west out of the city toward Innisfail where everybody did a driving challenge." The ACR army continued out west along the Palmerston Highway to Mungalli Falls for lunch. "Unfortunately as soon as we left the fog really hit, and it was thick so we were meant to be doing 80-100km/h but couldn't see jack! It was quite scary but exciting."
"At the end of Sunday I expected some people would have been angry and despondent about the weather," Zoltan says, "but everybody was having a great time and really enjoyed the opportunity and that was nice to see, people enjoying themselves."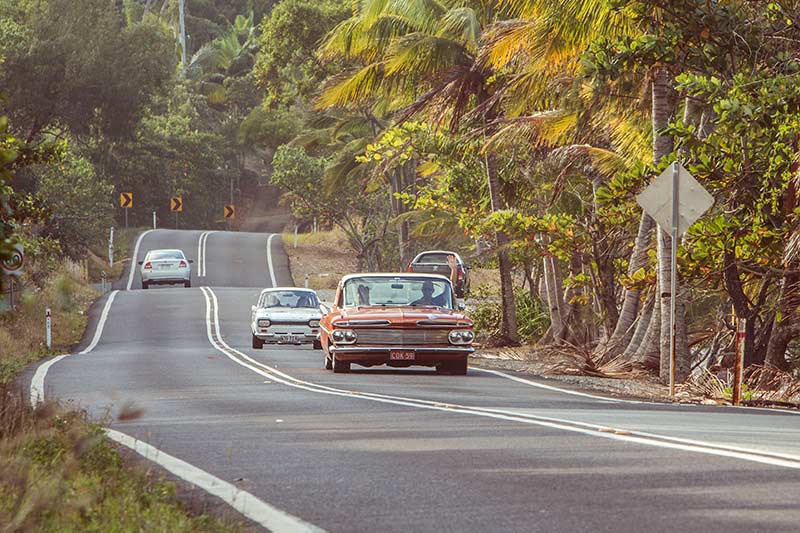 If Targa is not your cup of tea and car club days don't offer the variety you seek, think about giving the ACR a try in your pre-1986 classic. You'll get to see some fantastic parts of this big beautiful land of ours. The word is that there are plans for the rally to expand to Townsville and Brisbane, perhaps even interstate to NSW and Victoria. So Zoltan seems to have found the right formula for a bloody great time behind the wheel of your pride and joy.
COOL CAT - JAGUAR C-TYPE REPLICA 
The Sunday drenching of Australia Classic Rally meant open-top owners like Colin Needham copped what he describes as "a proper soaking". His gorgeous C-Type Jaguar replica "at one point had about 15mm of water on the floor of the car," he says. "It was coming in through various tiny openings quicker than it was able to drain out!" Colin and his trusty navigator wife Stella finished 30th overall which is a considerable improvement on their previous rally efforts in 2013. "We came in second last that year with a DNF in an Italian car… due to fuel pump failures."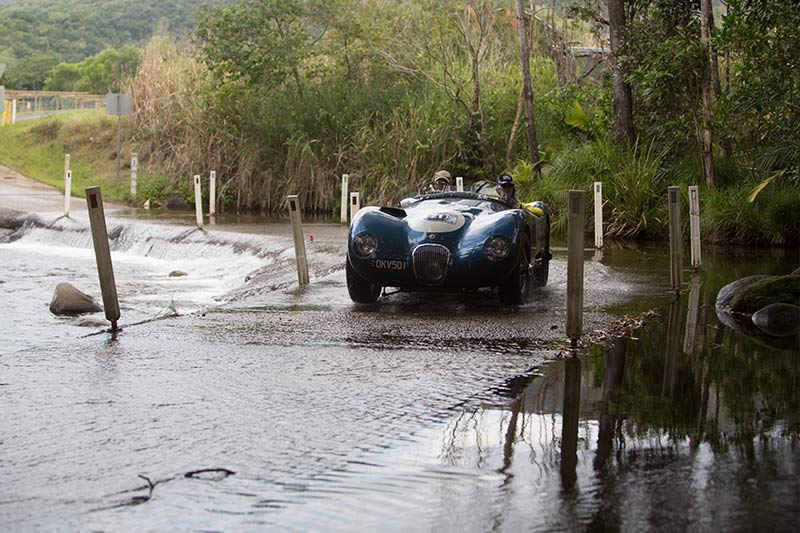 Colin says their day one highlight was the Captain Cook Hwy from Mossman back to Cairns, and the Copperlode Dam/Lake Morris run, both of which the leaping Jag was perfect for. "Despite the C-Type being a replica, it is a faithful rendition of the genuine article, with 1950 XK120 running gear, correct C-Type suspension and steering, with the chassis and body manufactured using original Jaguar drawings. So the driving experience is exceptional, the steering loads up nicely as the corners tighten, with very little body roll, and a healthy soundtrack from the exhaust. The only gripe is the early Moss gearbox, which generally doesn't like to be hurried." On the off-road stages Colin's highlight was the "Myola" section where they managed an impressive eighth place in an effectively 60-year-old car.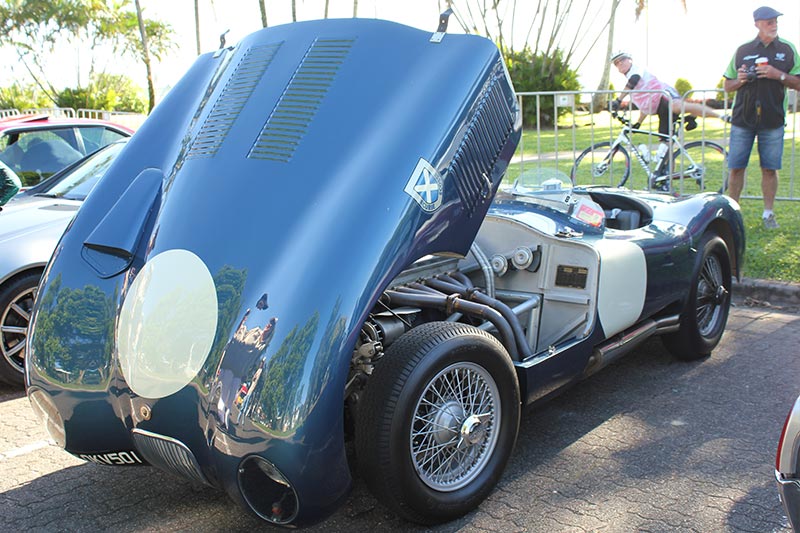 Come the morning of Sunday's soaking, Colin and Stella contemplated pulling out knowing they were in for a cold bath. "I was beginning to regret entering a vehicle without any weather equipment, and the screens do little in the way of wind protection. I had considered throwing in the towel, taking another DNF, and using a reserve car.  But we decided to accept the soaking and get on with it. With alloy bodywork and little in the way of a firewall, the C-Type's cockpit temperatures are on the high side – this was our saving grace. The Jag became our veritable clothes dryer!"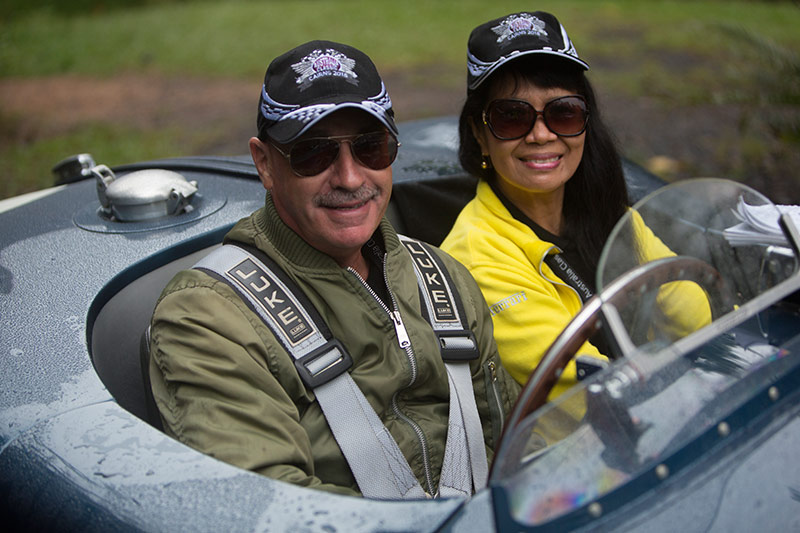 The rain eased off as they climbed into the Tablelands and the drive became enjoyable in the warm cockpit with the Jaguar's engine enjoying the cool dense air. "The engine is built to C-Type specification developing 210 horsepower," Colin explains. "One of the only excursions from originality is the 3.54 : 1 limited slip diff from a Jaguar XJ40, the limited slip clutch packs in this diff gave up the ghost some time back, and the car has a tendency to lift the offside rear with resulting wheelspin. Coupled to narrow Dunlop cross plies, and a light overall weight, all this makes for interesting driving in the wet," he says.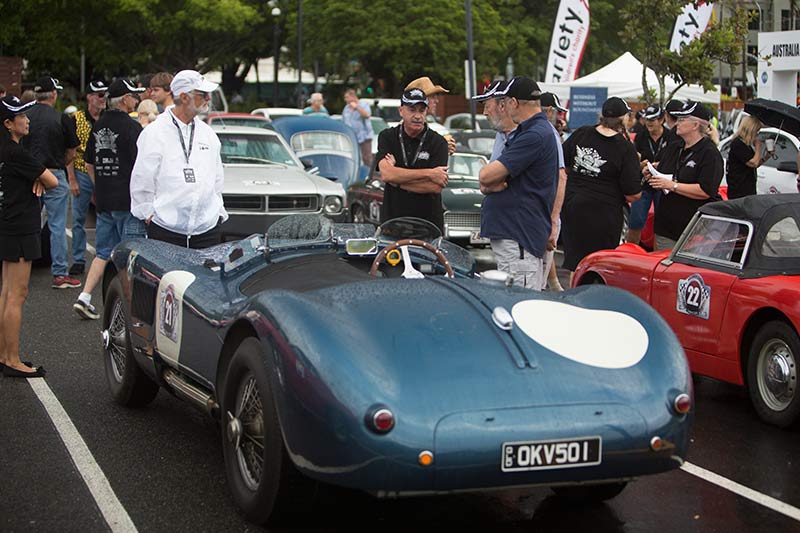 Throughout the weekend the C-Type ran faultlessly, Colin tells us. "It didn't miss a single beat. The only times the bonnet was opened, was for displaying and preparation at the end of day one. Despite the poor weather on the Sunday, I personally enjoyed the challenge the weather presented and being able to run the Jag in those conditions.
We had great fun."
Jaguar C-Type replica - in the build
Colin Needham's C-Type Jaguar replica build began back in 1999. "Having a mechanical engineering background, I decided to manufacture the chassis myself," he says. "I managed to source a copy of the works chassis drawing dated 1951, and built the frame centre exactly to chassis number 11 onwards, which incorporates a revised front sway bar location, the front and rear sub frames were produced by Classic Car Developments in Invercargill, New Zealand. As were all the dedicated C-Type mechanical components such as steering rack, split alloy sump, torsion bars, lower front wishbones, shortened gearbox lid, lightened flywheel, rear axle attachment brackets and rear trailing arms to name some.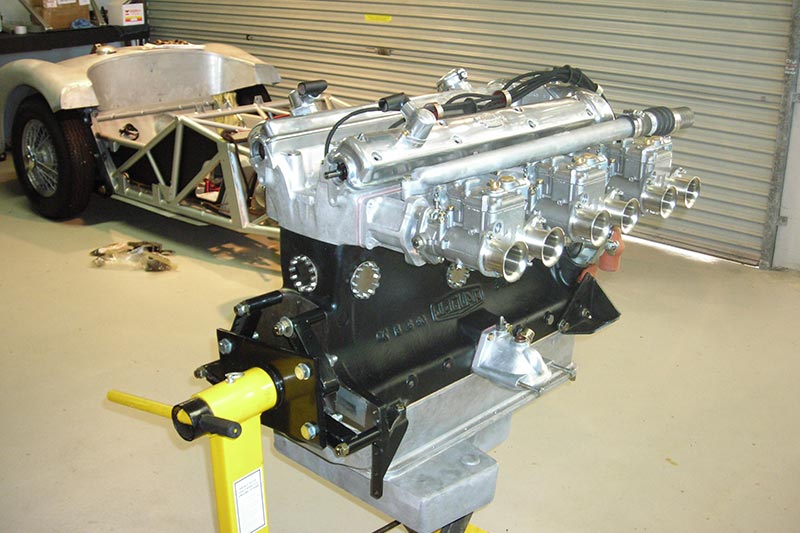 "CCD also produced the correct 39-gallon fuel tank and radiator in kit form, to be completed by myself.  The body was hand wheeled from 16swg 6061/0 alloy by Brian Dwyer of Coventry Classics in Gore, NZ, and is produced to the works body coordinates as used for the original 53 vehicles made. The remaining mechanicals were sourced from a scrap 1959 Jaguar MkIX. The engine's bottom end is from a 1950 Jaguar XK120 having been originally fitted to a car owned by the 1951 Le Mans winner Peter Whitehead. The cylinder head is a C-Type unit having been originally fitted to a 1954 XK140 Special Equipment and induction is via triple Weber 40DCOEs, mated to the correct manifold from Lynx Motors engineering in the UK." Colin had the Jag's bodywork finished in iconic Flag Blue of the Scots race team "Ecurie Eccose" and completion was in 2010, after some 5000 hours of labour and research.
YESTERDAY'S AERO
Kerry Jones is one determined bloke. After being told a week before by a transport company they couldn't truck his beloved Morgan up to Cairns in time for the Australia Classic Rally, he decided to drive it. Yep, Kerry drove 2500kms from the Northern Beaches of Sydney to make the start of ACR. But more bad luck was yet to come.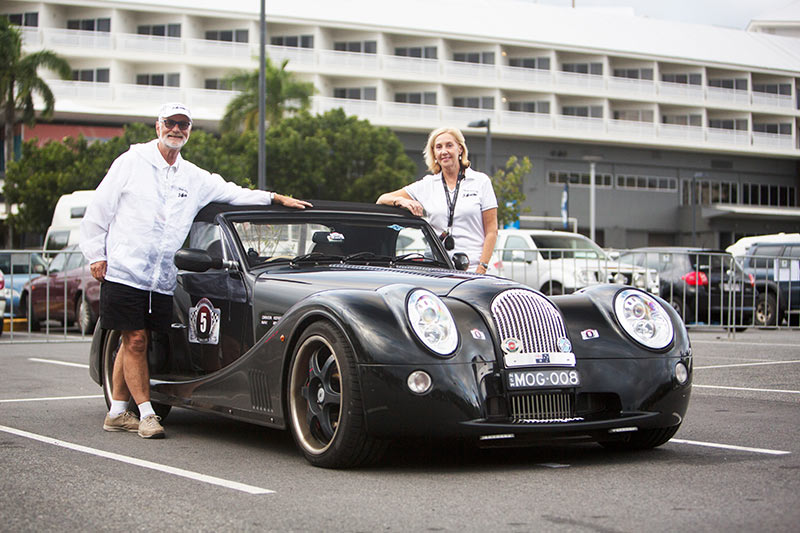 "I filled up in Ingham and got a boot load of rotten fuel, which didn't make me happy. But fortunately these cars run a BMW engine and I could get it fixed at the local Beemer dealer. I own property in Cairns and usually fly up, but this was a very different experience. I left on the 28th of May and arrived on June 1 to spend a month up there and do the rally while I was up there."
The stealthy black Morgan – his third now – was faultless and surprisingly frugal too, Kerry says. "I couldn't get over the fuel economy, it was outstanding. A thumping great 4.8-litre V8 pushing me uphill from Sydney to Cairns got me 7.1-8 litres per 100kms. I went Sydney to Coffs Harbour, Coffs to Gympie, Gympie to Rockhampton, Rocky to Ayr and then Ayr to Cairns – about 600kms a day, stopping religiously for a cup of tea. And every time I stopped I had people asking me about the Morgan."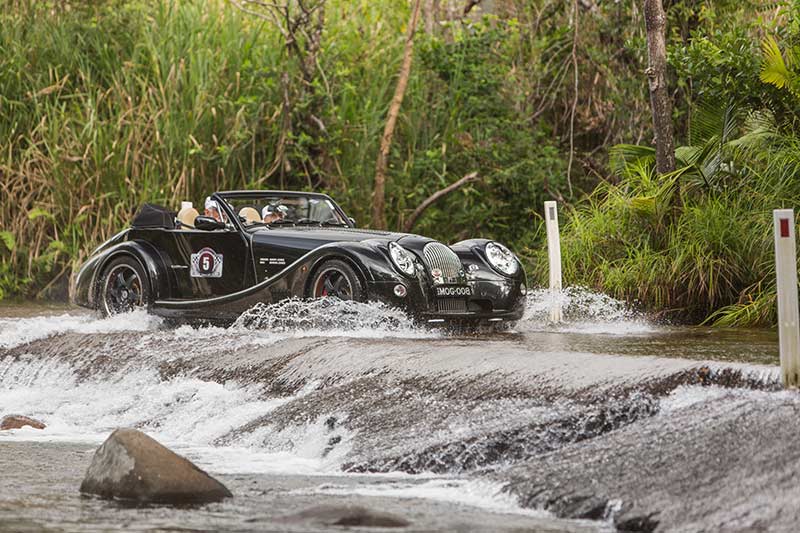 As for the rally, Kerry was one of those grinning droptop owners that director Zoltan was pleased to see. "I've never done a rally before in my life, my wife and I are total novices. After day one if we weren't last we'd surely have been second last. We finished mid-pack on Sunday but every single person on the rally was lovely. Everybody was welcoming, friendly, happy to chat, talk about their cars and enjoy the experience.
"Even though it bucketed down – like a sheet of water – and we tip-toed through the dense fog, the Morgan was an absolute delight to drive through the twisty roads and we had a ball." Kerry will be back next year too, possibly in his nearly-restored Morris Minor Traveller.
HOLDEN STATION
David Ireland is a third-generation Holden dealership manager from Cairns. His grandfather opened the first Holden dealership in the North Queensland city. So naturally his A9X was the weapon of choice for Australia Classic Rally. "I've lived here all my life, born here, and I saw some parts of the region I'd never seen before. It was absolutely fantastic. The car, which is virtually all original, was a dream to take on the rally."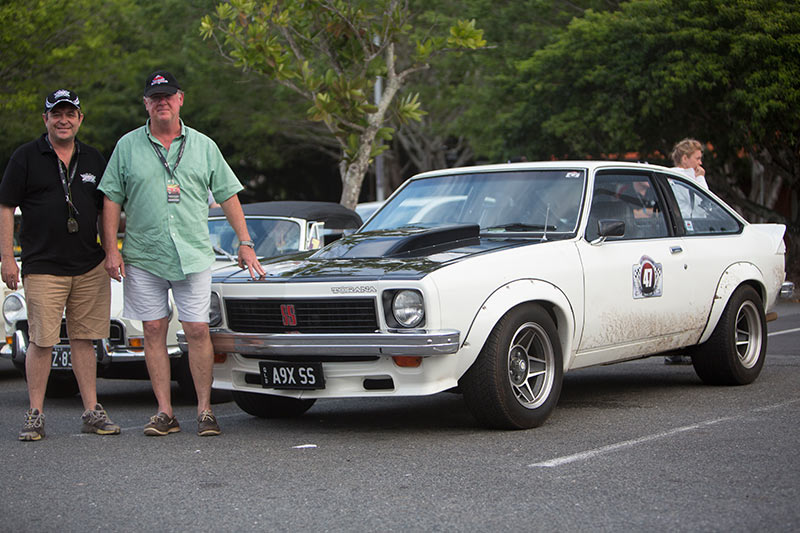 "It's an A9X we acquired about nine years ago. All it needed then was a paint job and new carpets. Seats, hood lining, dash are all original. I did bushes, replaced the rockers and rocker arms, and cam followers, but apart from that it's original. We actually drove it down to Bathurst for the 30 year anniversary of Brock's '77 Bathurst win."
You can bet that David and his white knight A9X will be back again next year too. "All the volunteers who helped Zoltan put together a fantastic event," David says, "that really is unique and we'll definitely be having another go next year. Hopefully the weather's a bit more 'Cairns' though."
Unique Cars magazine Value Guides
Sell your car for free right here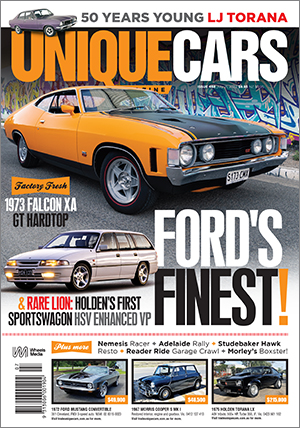 SUBSCRIBE TO UNIQUE CARS MAGAZINE
Get your monthly fix of news, reviews and stories on the greatest cars and minds in the automotive world.
Subscribe