Morley's Workshop home page
---
Got a problem with your car? Want to know which one to buy? Just want to get something off your chest? Welcome to Morley's Workshop, we discuss, debate and diagnose.
Get in touch
Unique Cars, locked bag 12 Oakleigh 3166
Morley's workshop 422
Teddy Bear tales, Starfire or misfire and mighty Mini Mokes
Morley's workshop 421
A new addition to the MBC, tow pig debates and aviation antics on buckboards
Morley's workshop 420
Somehow he missed the Celica, but gets into bent eights and backfire fours
Morley's workshop 419
And which racetrack were you conceived at? Morley gets way too much information
Morley's workshop 418
Alloy meets bluestone and ends badly. Haunting huntsmans and rego rorters
Stop-start technology, missing transfer-cases, Chev V8s powering planes - all that and more
Dave's on Cape York wearing a Les Hiddins hat and finding the tensile limits of a ute's steering rack
Dave Morley likens running in an engine to a first date and turns green at removing mould from interiors..
Luxo car bargains on a budget, future classic Mustangs and the tools needed for on-the-run repairs
Dave reckons it's a waste to buy cheap gear and reveals a soft spot for the Valiant Pacer
Morley has been dragging the chain on the Escort project but there's heaps going on about XJ40 Jags, a VH SS race-track refugee, XE Falcon durability, and yes, even the EJ/red motor question
Morley advises on future Ford classics, Comrade Peter Brock's Russian escapades, stuffing an LS1 into a Torana and Bimmer DISA valves
Having figured out last issue that the cylinder head gasket on the RS2000 was, indeed, toast, the next step was to see what other mayhem had occurred when the radiator dropped its guts on the freeway. The big danger was that the cylinder head was cracked and, from what I've learned by talking to folks who know their Pintos, it wouldn't have come as any surprise to find that that was the case. The cast iron head is a bit famous for cracking across the exhaust-valve seat when it gets a bit hot, so I was kind of bracing for the worst.
If you've been following my latest geek tragedy, you'll know that the RS2000 disgraced itself a few weeks ago and arrived back at the Melbourne Bloke Centre on a banana-back. A quick look under the bonnet revealed that the El Cheapo radiator I fitted a handful of years ago had suffered a fundamental and terminal failure and by the time I could pull off the freeway, the engine had gone flat and wouldn't idle.
If you've been on the Unique Cars Facebook page lately, you'll know that I had a slight mishap with the RS2000. Bombing along the freeway, all is right with the world until the temp needle suddenly goes berserk. Then I see a line of coolant dribbling up and over the bonnet towards me.
As you would know, Holden is now gone as a local manufacturer. Yes, I know, we've had a couple of years to get used to it as Australia seems to be entering a post-industrial phase. (Did we learn nothing from Thatcher?)
Anyways, there are a lot of blokes and blokettes out there, squatting in corners, rocking back and forth, having lost their minds at the loss of Aussie cars. It's really the thought of no more big-engined, rear-drive cars that is giving us the lie-awakes.
Ignition leads. You probably don't think much about them until the engine starts to miss, right? Exactly. But for all that, they're one of the most common replacement parts when doing a tune-up or attempting to revive an engine that has sat for any length of time. You know the drill; plugs, leads, fresh fuel, points if it has `em and oil and a filter.
But let me ask you this: Have you ever tried to change the plug leads on an injected Holden five-litre?
I had the pleasure of watching fellow UC contributor and serial VW-botherer Torrens in action spinning spanners recently. He'd done a deal to drag a mossy rock of a Commodore station-wagon out of a suburban backyard in Melbourne, and I organised to have it towed around to the Melbourne Bloke Centre so he could recommission it. Now this was a later Commo kid-hauler, so it was fitted – and this was the deal-maker for GT – with an LS1 V8. Only this one was more like an LS 0.75, because one cylinder head and all of the intake gear was sitting on the back seat.
Morley's workshop 404
Dave Morley enjoys a bit of a rant about the evils of too much tech and coming to terms with Ford Model A engines actually flying. Oh, and he's heard the final word on GT500 fuel tanks 
Morley's workshop 403
Morley's wrestling with headlight globe failure, expounding the merits of club permit schemes, analysing fuel consumption characteristics at idle, and there's yet another Commer Knocker yarn
Morley's workshop 402
Morley reckons paddock bombs teach you plenty about driving and your ability, unravels the mystery behind the dual fuel tanks in GT500 Cortinas and waves the flag again for Commer Knockers
Morley's workshop 401
Morley gets creeped by uppity machines, finds most new-tech nonsense and reminisces about Commer Knockers
Morley's workshop 400
Tools, early Cortinas, project cars and more
Morley's workshop 399
3D printed car parts, headers, tyres & more
Morley's workshop 398
VG Valiant castor, plus the debate on two-stroke diesels rumbles on - and Morley ends up wondering if respect does always get respect
Morley's workshop 397
Project costs, garage bodges, salt flat racing - and Centuras are still not going away
Morley's workshop 396
A Centura naysayer fires a broadside, VL Commodore woes, EJ Holdens and Minis
Morley's workshop 395
Morley's Omani fan club weighs in, he gets to diagnose Beetle and Barina woes and wonders whether cheats really do prosper
Morley's workshop 394
Old car character, Kingswood engine swap, Chrysler Centura & more
Morley's workshop 389
Our head shed-dweller gets stuck into family histories, gets antsy about barn finds, ponders the meaning of hot Commodores, investigates 8-banger Ford utes and demystifies rotary revs
Morley's workshop 388
Morley drops the knowledge on fuel tanks, plumbs the depths of 70s British ineptitude and, despite his love of sixes, lists the reasons why a Monaro with a bent-eight is the go
Morley's workshop 387
Dave argues Brock semantics, holds forth on Ro80s and offers his opinion on the best engine swap option for a Sonderklasse
Morley's workshop 386
VW Kombi prices, Holden 186 motor, car storage & more
Morley's workshop 385
Not the Brock, cheap muscle and more
Morley's workshop 384
Escorts, Datsuns, Dinos and storing your car
Morley's workshop 383
Shuddering turbos, Renault restos and cheap thrills
Morley's workshop 382
Customlines, Webers, Fords and GTS Holdens
Morley's workshop 381
Landaus, Holden protos and bugs
Morley's Workshop 380
Sleepers, red motors and Ford colours
Morley's Workshop 379
Holden Exports, Shaky Fords, the Great Red Motor Debate
Morley's workshop 378
Red motors, Chargers and flying Volvos
Morley's Workshop 377
Morley battles the wayward history of the red motor, consults on tools and has a go at a few other mysteries.
Morley's Workshop 376
We're back on the old red motor EJ debate, Morley's VN is still giving grief, we've got a bloke wondering what to blow $50k on...plus lots more
Morley's Workshop 375
Morley tackles an XE Ford upgrade, the great red motor debate, SS conundrums and more
Morley's back - issue 374
Morley was in witness protection for a while there, but now he's back!
Get in touch
Unique Cars, locked bag 12 Oakleigh 3166
Unique Cars magazine Value Guides
Sell your car for free right here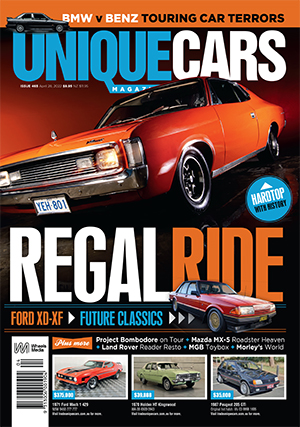 SUBSCRIBE TO UNIQUE CARS MAGAZINE
Get your monthly fix of news, reviews and stories on the greatest cars and minds in the automotive world.
Subscribe