Not the Brock, Cheap Muscle and more - Morley's Workshop 385
---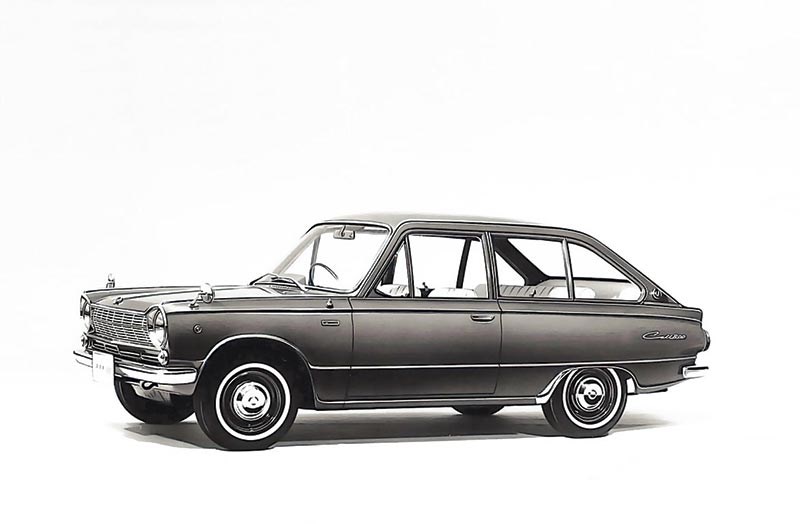 Write to Morley c/o uniquecars@bauertrader.com.au
or Unique Cars magazine, locked bag 12, Oakleigh 3166
Morley's soapbox
Regrets, we've all got a few
My old mate and colleaugue, the late Brian 'Woody' Woodward was a wise one. Marriages, he told me once, come and go, but a good divorce lasts forever. And he should have known, given the fact he had ex-wives piled up all over the country. But I reckon he was right. In a weird sort of way.
Forget marital partners for a moment, and instead apply the same statement to cars you've owned. I'll bet there have been plenty that have come and gone without leaving too much of a lasting impression. But just as certainly, there will be others that have left the shed - perhaps many, many years ago - that can still make you misty-eyed. Teary not just for the good times you shared, but for the fact that you should never have let them go in the first place.
Me? I wish I'd kept a VW Fastback I sold only a handful of years ago as well as an early Mitsubishi Colt - the 1960s one, not the 1980s one - that slipped through my adolescent fingers many moons back. Keeping it in the family, I wish my old man had never sold the bright yellow V8 HQ Holden Kingswood he bought brand new in 1974.
But what about you? What are the ones that got away that you dearly wish were still leaking oil on to your garage floor right now? It doesn't even have to be a car you owned. Maybe it was simply one that was offered to you, but for thickhead or financial reasons, you were unable to add to the shed at the time. Don't you wish you could hire a time machine for the weekend and go back to right those wrongs?
Of course, we're doing a lot of wishing here, aren't we? In fact, that was another of Woody's pearls of wisdom: If wishes were horses, beggars would ride. Come to think of it, I wish Woody was still around, too.
LETTERS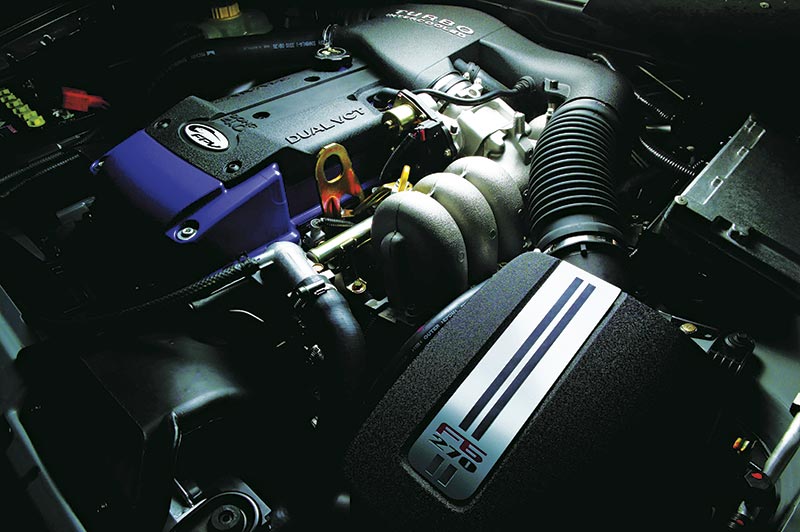 Another choice sleeper
I have a sleeper in mind. I'll have just aFord/FPV F6 turbo Barra motor, manual gearbox and Brembo brakes and associated computers so I can retro-fit them into my 1998 Falcon XR6.
Brett Ebb,
Email
Actually, Brett, I've given a similar swap plenty of thought over the years. Those EF and EL Falcon XR6s were great cars, but nothing that couldn't be improved with about 300kW of blown six from a later-model XR6 Turbo or FPV Typhoon. It shouldn't represent too tough a swap, either, since the basic architecture of the turbo six is pretty much identical to the SOHC 4.0-litre six you'd be swapping out. The cars themselves are cheap to buy right now, too, but I wouldn't count on that lasting. When you look at what's happened to VN SS Commodores lately, it's pretty easy to see that 1990s home-grown muscle is about to get a big shot in the arm collectability-wise. A good, clean, low-kay EL Falcon XR6 will always be worth having, I reckon.
Of course, if you wanted to take the whole sleeper thing a little further, what about the same driveline combo in something like a 1960s XM Falcon wagon. I'm thinking; that minty mid-green colour with a white roof and green-tinted glass. Throw on deep-dish steelies over big brakes, tweak the suspension and you'd have one heck of a surfing wagon. In fact, thinking about it some more, just the 4.0-litre Falcon DOHC six should do the trick which would surely make rego and insurance a lot easier. I can see it now…
DON'T CALL THEM BROCKS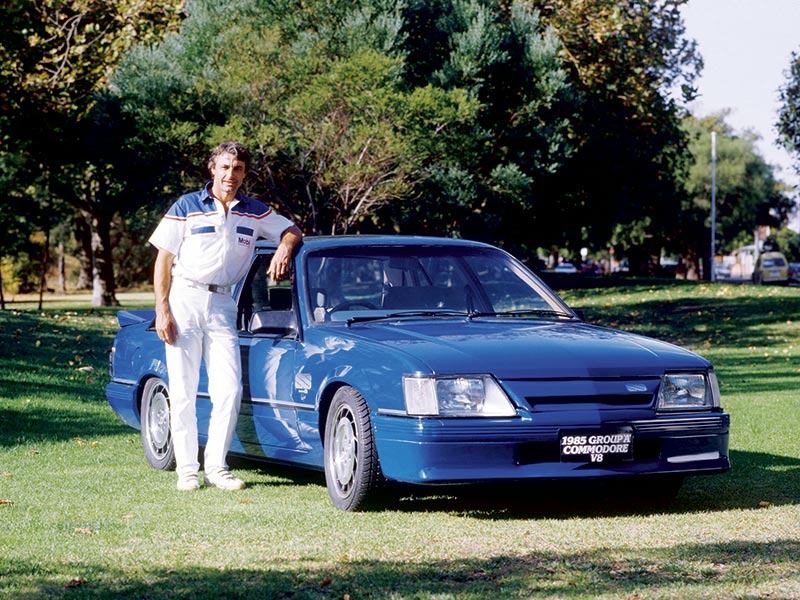 Hello Morley. Being an HDT aficionado, and a member (now an honorary life member) of the HDT (now HSV) Owner's club of Victoria for almost 30 years, I was delighted to read your story about the HDT VH Group 3. I am familiar with the car that was used in the article; it is quite well known within the HDT community. Unfortunately I've never owned a VH Group 3 myself, but it has been said that the VH Group 3 contained "more of P Brock than any other". Until the split, of course, by which time Peter's HDT Special Vehicles operation had built 4246 vehicles.
I have owned several HDT Commodores; a VK Group A, a black VK Director (the most highly optioned VK Director built), and a VL Group A Plus Pack. You will note that I do not use the term Brock Commodore.
In the days of Peter Brock's HDT Special Vehicles, we always used the term HDT Commodore; everyone knew that PB was responsible for them. We actually always thought that when we were driving our HDT Commodores we were pretty special, because we were of the opinion that we were driving a bit of Brocky!
Anyway, to your article: There are a couple of items, that need correction. Under the title Brock's Web Of Intrigue on page 72, you mentioned that "you could have a blueprinted engine in your Brock, the only limitation being the size of your wallet." That is a popularly believed myth, and it is simply incorrect. During the VH run, HDT did in fact produce (I think 20) HO VH Group 3s with a modified (engine out) engine; different camshaft, internals, blueprinted etc, This engine produced 314.7 horsepower at 5500rpm and 333.1ft-lb and 3500rpm. It was a very special engine, and these cars were supposedly fitted with red steering wheels rather than the normal black item, but I have seen both colours fitted to HOs and non HOs.
Engine modifications were never a welcome request at HDT. There are two reasons for this. The production line at HDT was invariably busy, but the guys on the line were not equipped to build engines, and of course for serious mods the engine would have to come out, disrupting the production line sequence. Secondly, as I've said, the production line guys were not qualified for engine work, so an engine to be modified had to be sent to the race team, who certainly did have all the requirements to build an engine, but who were also normally too busy to be bothered with the extra road-engine work.
Indeed, there were a few hotties built, but very few. Engine options during the later VK and VL runs were mainly the Improved Output engine option, comprising a Wade 169 camshaft and some minor headwork. My VL Group A had this option which equated to 155kW at the rear (not much by today's standards!)
You also mention on page 73  that "many VHs had the Scheel buckets fitted". That is not correct. I can tell you that a Scheel seat was never fitted to a VH by HDT during the VH production run. Most VH Group 3s had retrimmed standard seats, but the optional seat that was used on a very few occasions, late in the VH run, was the Stratos seat. This a very rare option, hardly seen these days, but highly sought after. The Scheel seat was of course used in the later VK and VL range of HDT Commodores.
I notice that Zoran says that he does not drive his much these days. That is the case with the owners of most HDT Commodores these days, because they are too rare, too special, and absolutely irreplaceable should something happen to one.
I enjoyed your article about the HDT VH Group 111, and would welcome further articles by you on other models of these very, very special cars, built by a very, very special company, under the direction of a very, very special man.
Martin Hayden,
Aspendale, Vic
See, this always amazes me about working for Unique Cars: You can never assume you have a subject covered off, because the moment you do, you discover somebody who knows more about it!
You are clearly more than just an aficionado, Martin, and it's quite obvious you really know your stuff. So thanks to fleshing out the story (which first ran a few years ago, it should be said) but I remember clearly talking to Zoran about his Group Three. (Oh, while we're on the subject, it's Group Threes, not Group IIIs or Group 3s,) You're not the first to pull me up on the Scheel seats thing, Martin, and my error was pointed out at the time by a couple of other readers. I'm not sure what happened that day, but I'd been driving a few VK and VL Commodores and also just bought my Ford Escort RS2000, so maybe I had Scheel seats on the brain.
It's interesting, too, that you dispute the statement that engine performance could be boosted in a HDT car by flashing your cheque-book. I can see the logic in what you're saying, but from people I've talked to from the era, Brocky was definitely not averse to giving the public what they wanted. In fact, it was this attitude that was a large part of the reason for the rather messy divorce of Holden and Brock in 1987. As far as Holden was concerned, HDT just couldn't be relied upon to stick with the engine specification that had been tested and certified for road use. Holden's view was that HDT was banging out all sorts of hot-rods and, since they were being sold through Holden dealerships, GM could be left holding the baby if anything went wrong and somebody got hurt by a car that, when subsequently tested, didn't comply with all ADRs. In fact, my mail suggests that while the polariser thing was indeed an issue for Holden, it also served as a pretty handy smoke screen for attempting to bring Brock to heel on the former subject.
And something else that strikes me about your comments: That the cars were not referred to as Brock Commodores back in the day. Well, where I grew up in country NSW, those hot-rod Commies were very definitely known as Brock Commodores in my street. Then again, I was hardly in a position to buy a VH Group Three (then or now) so maybe me and my mates were a bit careless in the semantics department. Wouldn't have been the first time. You should have heard what we called the Triumph TR7 when it landed.
$10K CHALLENGER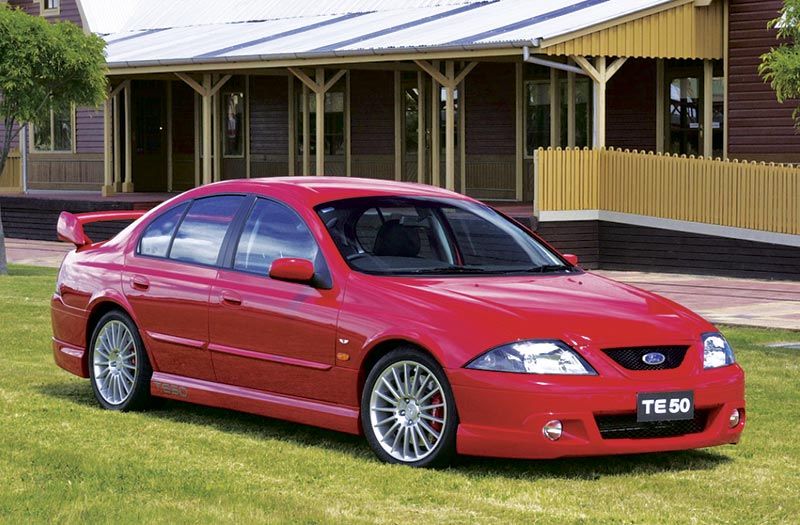 I just wanted to respond to your question regarding what car you would recommend a young person who was looking to buy something special with $10K in their pocket. 
I am pretty stoked with a purchase I made in 2015 of a Venom Red AUII TE50 for just eight grand. It needed a tidy up, but that's half the fun. A rare, original car, one of just 140, signed by the engine builder and [racer] Marcus Ambrose, leather, AP Racing brakes and 220kW with 180,000km on the clock. That represents great value to me.
Andrew Powell,
Western Australia
You are right on the money there, mate. As I've been heard to mutter at various times, Falcon-based cars of that era (late 1990s) are massively under-appreciated. Sadly, everything with an AU series build-plate got tarred with the same brush that made us turn up our noses at taxi-spec Falcon Fortes with their weeny wheels and that hideous waterfall grille. But stand back and take a look at the Tickford stuff - even the regular XR6 and XR8 - and the situation alters.
Those last AU Tickfords were a marvellous thing with their five-litre Windsors topped off with ported heads, roller rockers and the 220kW you've quoted. That engine found its way into the last handful of AUIII XR8s, too, and must surely represent the little Windsor's finest hour. Those 220kW motors were all hand-built, too, but mainly because they'd been warehoused for so long by then, many of them had developed rusty bores. So the hand assembly allowed Tickford to get rid of that during the reassembly. The standard XR8s of the same period had the motor bolted in as it came from the crate (the Windsor V8s were imported) and everybody at Ford crossed their fingers and waited for the phone in the warranty office to ring.
These cars would probably be worth more now if Ford hadn't dumped the Tickford badge for the FPV name in time for the BA Falcon. Or, if they'd simply been badged GTs. But even so, I reckon these high-end AU V8s are interesting cars to watch and great to drive.
MORE $10K OPINIONS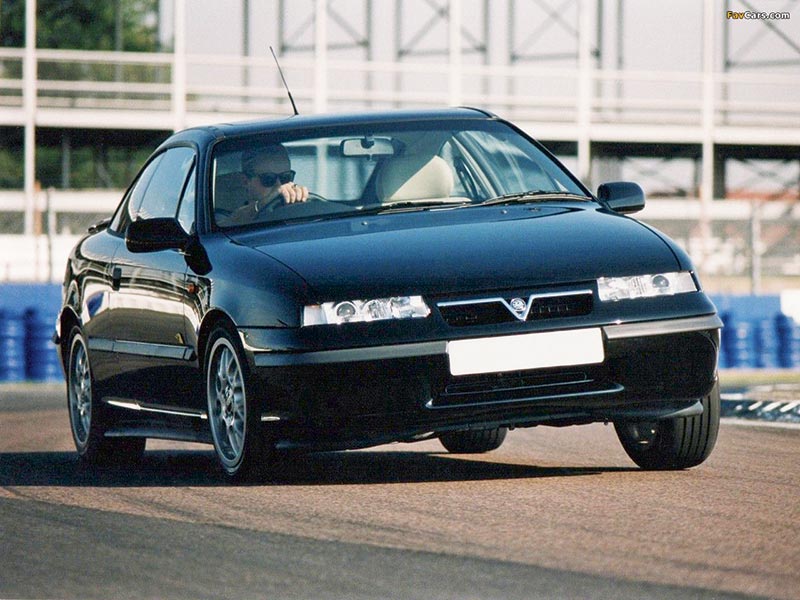 You asked a very good question in Unique Cars issue 383. A classic car on the road for under $10K, for a young enthusiast? The classics that I have enjoyed in 50 years of motoring are today either overpriced or have spare parts made from unobtainium.
So I would ask the prospective purchaser: What are your expectations, driving skills, restoration skills and maintenance budget? Then I suggest an affordable selection from these future classics: Ford Capri, MGF, MG Midget or MGB, early model Mazda MX-5, Alfa Romeo 156, Holden Calibra, Ford Probe. Mercedes Benz 230E/280E, Volvo 2-series and Chrysler PT Cruiser.
All have risks and the usual checks of service records, tinworm etc are recommended. Of course, a one owner shovel-nose Toyota Corona might just trump them all. Oh, I would also suggest including the cost of an advanced driving course in the budget.
Kev,
email
Hmmm. This $10K plot really has inspired you lot, hasn't it? Kev, I'm not sure your taste in cars and mine line-up all that closely though. Not entirely anyway. Of the car's you've nominated, I reckon you're on the money in some cases (early Mazda MX-5, for instance) but some of the others I wouldn't recommend to my mother-in-law.
The Ford Capri, for example, was a bit underdone on its launch and while quality improved, it always struggled against the Mazda MX-5 and its own shortcomings. The MGF? Just a pile of crap from day one, I'm afraid. I like the Alfa 156, though, and the Ford Probe was – dodgy name notwithstanding - a sensible Mazda MX-6 under the skin. But the Holden Calibra, stylish as it was in the day, is a car you just wouldn't touch now. All that hooey about it being a European sports coupe was another way of saying it was built, crappily, by Opel and our local conditions murdered them quick smart. I like your sedan choices, though, except the PT Cruiser which was an overstyled understatement of the highest order.
Don't, kids... just don't.
MORE WISDOM FOR THE NEWBIES
Just reading the new workshop column. For a car for a newbie, you could do worse than finding a T3 VW Transporter. They are still around at a few grand. They don't rust badly, they're like a queen size bed in the back, with some decent tyres they handle and brake well, have a very strong body shell, and when the engine blows you can install a Subaru flat-four. My newly licenced son has just borrowed mine for a schoolies holiday; the only casualty was a lost fuel cap.I am still kicking myself for not buying the sister of the $202,000 23-window VW microbus from the original owner for $4000 some years ago. I had just bought a house, and didn't need another old Kombi...
Mark Robertson,
Wonthaggi, Vic
Old Kombis, eh? There's a book to be written about the current cult of the Kombi in this country (and globally). I agree with your argument, Mark, but I'm not sure I'd recommend an early Kombi to a youngster, purely on the grounds of safety. The T3 you've mentioned is a better handler than those before it, but only because the early girls didn't have any characteristics you could accurately describe as handling. You had to tack into a breeze and a cross-wind could have you crossing a three-lane freeway without touching the wheel.
Also, in the case of the unthinkable – a frontal impact – the front-seat passengers become the crumple zone. Don't get me wrong, I love these old biscuit tins, but for the inexperienced, I reckon they're just an involuntary lane-change too far. I also hear what you're saying about the car that changed hands at auction a year or so ago for $202,000. Where will it end? And what's the next big thing in cars to enjoy now and sell in a few years time?
SUPER STUFF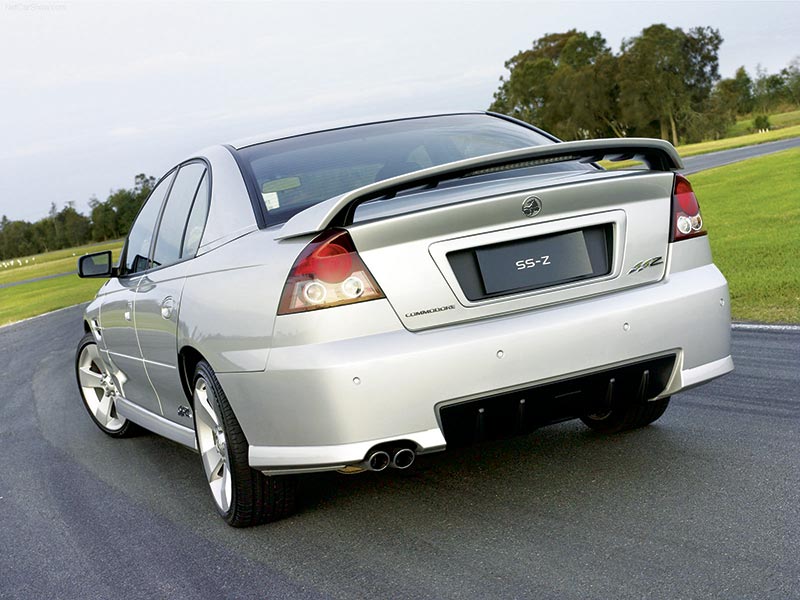 Reading through the SS Commodore buyer's checklist, I was reminded of my old VZ SS Commodore that I owned for three or four years. In my brain I began to check off all the issues listed in the book that I had with my car. It was like you had my service book in front of you when you were writing that checklist! Cracked and scraped front bar from driveways; battling with ground clearance at shopping centres and avoiding hitting the transmission on the big speed bumps; worn bushes and shocks in the front end; water pump replacement; replacement faulty air-conditioning compressor as well as the usual brake rotor wear and tear.
A couple of other things I would add to that buyer's checklist are the flimsy plastic steering wheel stereo controls that have a tendency to break, driver's side seat wear especially on leather-trimmed cars) and the reliability (unreliability!) of those Blaupunkt CD stackers and stereo.
But as much as I had issues with my SS, I loved it. It was a great car and I was sad to see it go when I sold it in 2013 to buy a VE SV6. Perhaps one day I'll get the SS bug again and buy a VF?
Chris O'Loughlan,
Qld
Funny, isn't it Chris, how we'll forgive a whole bunch of faults, flaws and outright poor design if we love a particular car overall! Surely it was that sentiment that kept Alfa buyers coming back for more in the darkest days of its reliability woes. And maybe it's this same ability for great cars to create blind-spots among their owners that will save the day for the Volkswagen brand globally.
I'm a bit like you, too, in that I'll cheerfully ignore the crappy interior plastics and the woeful switch placement of my VN Commodore SS and instead concentrate on that lovely little injected Iron Lion V8 under the lid and the way it sounds when you step on its frammits.
If you do decide to go back to a late-model V8 Commodore, may I recommend you settle for nothing less than the (current model) VF Series II SS. If the money will stretch, the SS-V is better again and if you're only really good terms with the bank manager, then the Redline model with the bigger Brembo brakes is bliss. This will be some kind of collectible car in the future, too, if it helps getting the idea over the line at home.
NOT WORTH A KIDNEY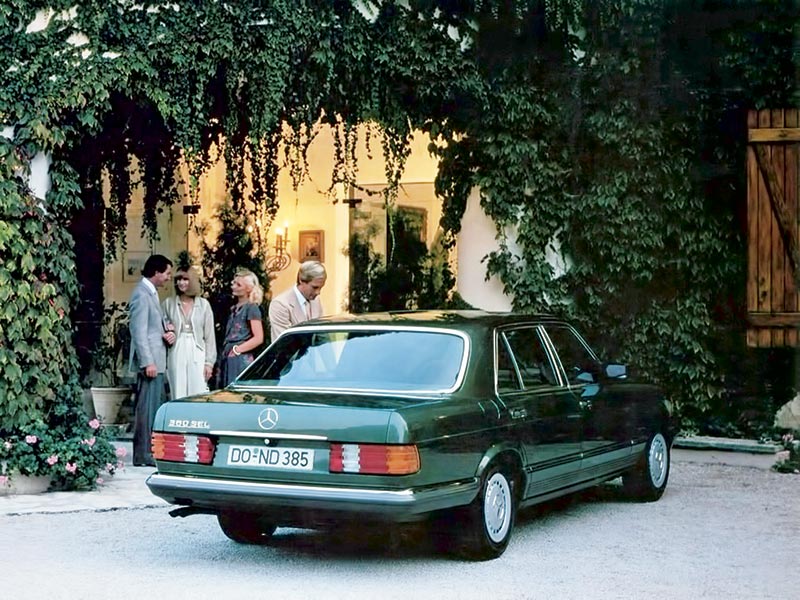 G'day fellow tragics. Firstly, your magazine wasn't broken so why change it? The new look is bloody horrible. Please really put it back the way it was, or I will kick the bloody dog.
Secondly my 1981 Mercedes-Benz SEL 380 has had a poo and I since I need my kidneys I won't be selling one of them to fix the SEL. it seems that I had my Burl Ives tape up too loud and didn't catch the timing chain jumping a few teeth, bending valves and denting a few pistons. You can guess the rest, including the $6500 repair quote.
Now, the big question is; what can I put in it to save a lotta dollars? I googled it and found that the yanks had the right idea but they only show the best stuff and I'm a back-yarder in a remote town in the deep south east of West Oz. Looking at the cross-member it sits well back so I'd have to have a V8 motor that has the lump in the sump up front like a 460 Ford motor.
Can anyone give me some good suggestions please as I WILL shove something in it whether the loyalists like it or not. I am a subscriber so I should get extra attention. Love your work and thank you.
Robert Bawden-Triplett,
Ravensthorpe, WA
Burl Ives: Now there's a name you don't hear often enough. As for repowering an elderly Mercedes, all roads lead to a Chev or Ford V8, I reckon. It's been done before and it makes sense since your small-block maxxes out your bang-per-buck and is compact enough to fit easily inside that huge Emm-Benz engine bay.
The other thing about American small-blocks is that they were fitted to everything from light trucks to delivery vans to muscle cars to limos, so you should be able to mix and match the block with a sump from something that will clear the cross-member. Just make sure you get the correct dipstick to go with the sump. If that fails, you could have a sheet-metal sump made up to suit the Benz exactly, but that's going to involve more cash changing hands.
I'd also be grabbing the transmission from the donor car, because it's going to be easier to make up a cross-member for the tranny and shorten the tailshaft than it would probably be to mate a Benz slushbox to a Chev or Ford block. Make sure you get any wiring and all the computers needed to make it run, too, if it's a late-model injected job. Fellow Unique Cars contributor Glenn Torrens has an odd proclivity for putting injected Holden 5.0-litre V8s into other things; that would be a viable option, too. But I've also heard of Toyota Supras in Volvos, small-block Chevs in Toyota Crowns and everything from a 302 Windsor to a 454 big-block into various Jaguar XJ6s. And what about that Lexus V8-powered Volvo 240 sleeper we showed a couple of issues ago? Clearly, what you have in mind can be physically done.
The other swap option that's been emerging in the last few years is the Chev LS1 as fitted to Holden Commodore V8s from about 1999. If you've ever seen the average >Commodore SS driver in action, you'll understand why wrecking yards are full of SSs that have gone into the trees backwards - and possibly on fire - leaving a perfectly useable V8 and auto box ready for you to rescue and repurpose. Personally, I'm not a huge fan of the the alloy LS; early ones were gutless down low and went through oil like a supertanker on a reef. But later ones are much better and the light weight of the thing would probably be a better match for the Merc's existing suspension. And tell the purists from me they can go take a running jump. I hope that's enough extra attention for you. See, it pays to be a subscriber.And one other thing: Leave the dog alone.
BACK AT HQ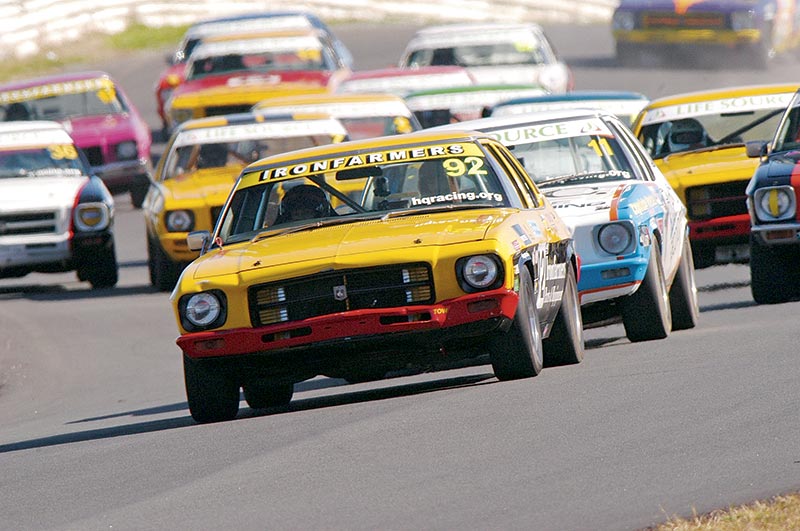 I've been thinking about building a cheap race or track-day car and I seem to recall you once did some racing in the HQ Holden series? What advice do you have about buying an HQ as the basis for a racecar and what should I look for in the way of potential trouble spots in the chassis and body? Also, I gather you can spend a lot of money extracting horsepower out of a Holden red motor but I want to keep the budget realistic. What do I need to spend the money on to get a good reliable engine with enough power?
Lex Gainsford,
Melbourne, Vic
everybody suddenly remembering that I'm old enough to have raced HQ Holdens in the early days of the series? But you're right, I did and I loved every minute of it. In fact, it only came to an end when I bought a house. I found myself one day looking at the HQ racer sitting in the driveway of my new house and thought to myself: One of you has got to go. The house didn't.
The problem as I see it is that HQ racing is not the inexpensive, entry-level formula it once was. There are too many guys with too much money who desperately want to win, and that's cruelled it for blokes like us on a shoestring budget and just wanting a giggle on the weekends. In the old days of HQ racing, you could build your own engine >for the price of a rebuild kit and the particular camshaft that was mandatory. Now, you really need a professionally built motor with a lot of costly hours put into it to maximise its potential. That said, the rules are still fairly tight with just a single carby, a three-speed gearbox, drum rear brakes, control suspension and tyres, and a stock bodyshell attempting to keep cost out of things. So it's still a relatively cheap formula in that sense.
If you do go down the HQ route, the simplest way is probably to buy a second-hand racer from somebody who's had enough. I've seen them advertised for as little as $6000 and that looks like brilliant value to me. Starting from scratch with an old road car will not only take longer, it'll also certainly cost more. And once you're set up, the understressed nature of the thing shouldn't see you spending too much for freshen-ups. I ran my car for two full seasons without freshening the engine beyond changing one head gasket. I was still on the original brake pads and clutch, too. They're tough old gadgets. Makes me wonder if I should...
Unique Cars magazine Value Guides
Sell your car for free right here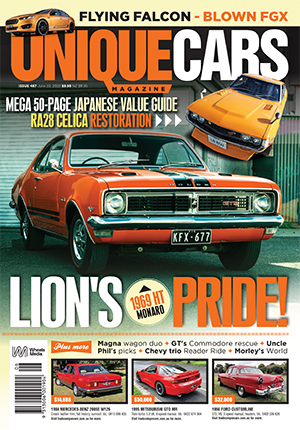 SUBSCRIBE TO UNIQUE CARS MAGAZINE
Get your monthly fix of news, reviews and stories on the greatest cars and minds in the automotive world.
Subscribe