Cape York Capers + Buying a Classic + Respray, or not? - Morley 416
---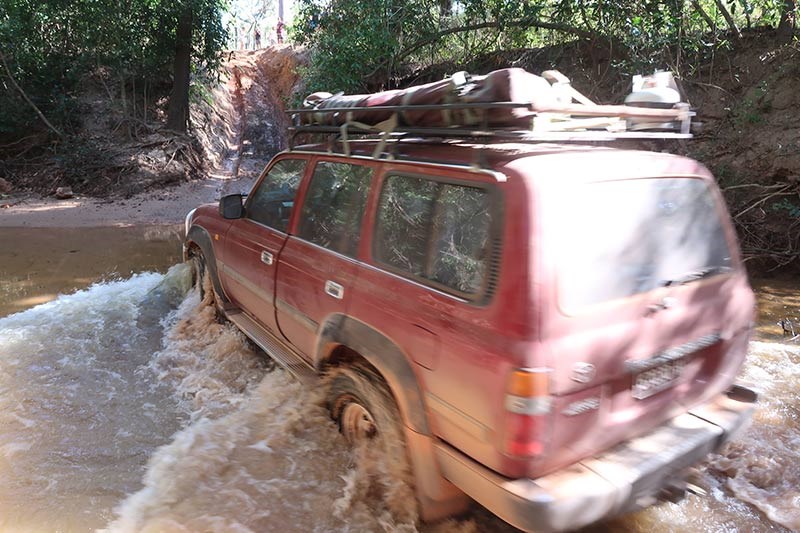 Dave's on Cape York wearing a Les Hiddins hat and finding the tensile limits of a ute's steering rack
Morley's Workshop
'We're' and 'Stuffed'
As I write this, camped on a beach on the tip of Cape York, forgive me if my train of thought bundies off at some stage and I start yaffling. Anyways, the trip up included the legendary Old Telegraph Track, so lots of low-range and some fairly deep (and sometimes technical) river crossings with the extra challenge of having to look over your shoulder while you're walking the crossing just in case Ol' Man Croc takes an interest in you. Boy's own adventure. Loved every minute of it.
Except the bit where one of the three vehicles in our party snapped a steering-rack end, minutes after we'd successfully crossed Cockatoo Creek (and 'creek' is selling this mutha way short). Luckily it didn't happen in the water, of course, but it was still a fair old bummer when you're 100km from the next community (and a welder) and the truck in question now has about 36-inches of toe-in. Oh, and a tow? Well, there was no phone service and the locals have since told us that a flat-bed from town would have run us anywhere from $1500 to $3000.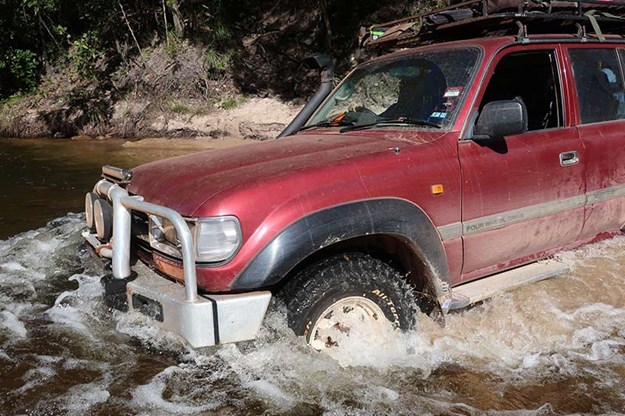 On this particular vehicle (a late-model Thai-made ute, if you must know) the rack-end broke right at the base of the threaded section where it screws into the tie-rod end and thence to the steering arm on the front knuckle assembly. So, we jacked her up and took off the left-front wheel – our quick assessment included the words 'we're' and 'stuffed'. We tried a few times to bodgy the thing up with tie-down strap; all that really did was enable us to drive it far enough off the track that we could bush-camp not too far away. We had plenty of water and camping gear, so it was a pretty good night in the bush with a fire going and a round of drinks or two with good mates.
Next morning, Batesy (the ute's owner) and I went back to the stricken vehicle, performed a brain-storming session and came up with a completely dodgy but hopefully workable solution. We started by bashing a section of my jack handle (which was about the right diameter) on to the snapped steering link and then strapping it to the tie-rod end. The clever bit (if you ask me) was the way we then used a pair of vice-grips to lock the strapping to the jack handle and prevent it shimmying back up the handle and letting go. We then zip-tied the vice-grips to stop them vibrating open. Don't forget, we're still on a pretty rough bush track with loads of horrendous corrugations. The final step in the plan was to disengage four-wheel-drive to take one more load input off the front end and then drive very, very, very slowly. And it worked! Took a few hours, but we eventually made it across the Jardine River on a ferry and up on to the township of Bamaga where we found a workshop and ordered the parts up from Cairns. Still took five days to get to us.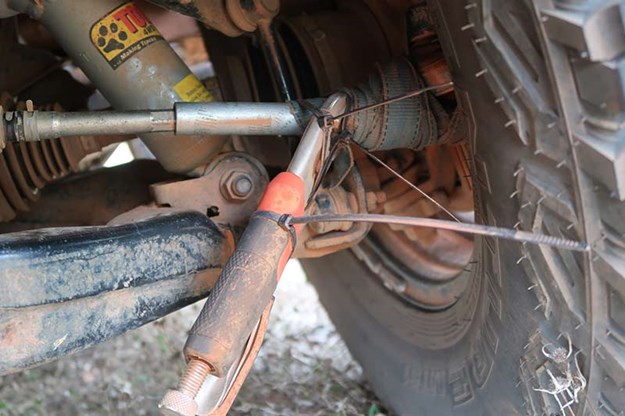 We haven't done a full post-mortem on the rack-end yet, but here are my thoughts: Firstly, if we'd been in any kind of Toyota from the last four decades, we'd have been able to cannibalise the required bits from any number of dead Tojos scattered in yards all over Bamaga. Secondly, the steering arm on my 80-Series Cruiser is about four times thicker than the one on Batesy's truck, so it probably wouldn't have failed so spectacularly in the first place. I'm not saying my 28-year-old 80-Series is the best 4x4 ever made, but it'll do me till the real one comes along.
Seriously, when you look at the piddly little rack-end fitted to this volume-selling ute, it's a wonder that he got as far as he did. Looks like it should have been on a three-cylinder hatchback, not a big, tough off-roader. Which brings me to my question: What other vital components have you run into that were simply under-engineered, poorly engineered or just too freakin' underdone to be taken seriously? And leading on from that, what have been the genius bush-mechanic fixes you've seen?
HERE'S MY TIP
Clamped
I've spoken about never throwing anything away before, but what do you do with all those clips, muffler clamps, spring washers, and whatnot that you replace in the normal course of things. Well, I know what I'll be doing with mine. I'll be loading them all into a big, screw-top plastic bottle and keeping them in my off-roader. A second-hand muffler clamp might have no commercial value, but it'll be worth a million bucks when it gets you going on a bush track when you murder or maim some critical part against a big rock.
LETTERS
Spoiled for choice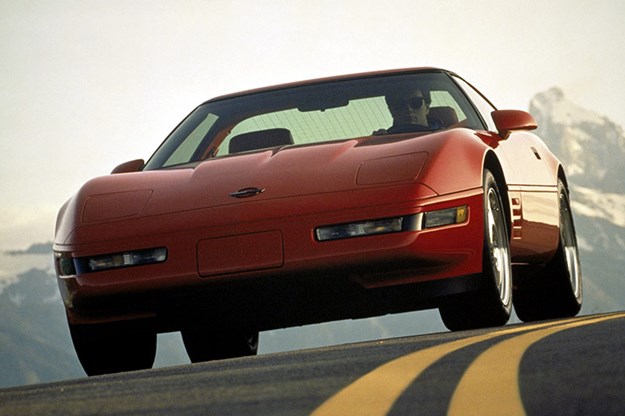 Morley reckons he's never driven a good Corvette yet
Love the mag and your column which I have been reading longer than I can remember. I have a stack of back issues in the garage you can't jump over.
I have been circling around buying a classic car for years and have been unable to make the move till now – time and readies have been an issue. But now that I can, what to buy? I have been very open minded and vacillated between many makes and models and considered old versus new. I love old but hear many tales of buying a great looker on the surface only to find after buying that it's a lemon underneath.
The cars I have particularly considered are as follows:
Corvette C4 – Love the look and while emission controls have dulled the power output somewhat there's probably enough to suit me and they  still seem to be reasonable buying. Do they have any issues?
Or what about a '69 Mustang 302 Boss? Love the car, getting a bit pricey for a good one and the possibility of buying a dud. Plus, buying a current series new Mustang GT seems like better value for money. The soon to be released limited edition Bullet (if you can get your hands on one) also looks attractive as it may have some value appreciation due to the 250 build numbers but would be subject to price which is yet to be announced.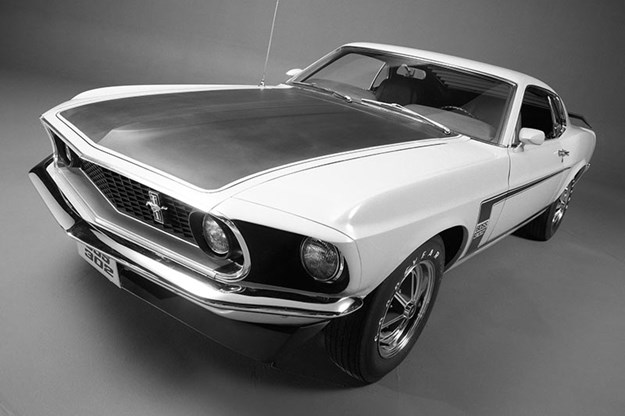 Boss 302 Mustang is a proper classic
Then there's the left field option: the Maserati M138 Cambiocorsa two-door coupe or Quattroporte. Just love the look and sound of the coupe and some Quattroportes seem good value in a dollars-for-age sense but are not quite  in the good lookers category.  But why are they both so cheap? Some low-kilometre cars seem too good to be true considering what they sold for originally. I've heard tales of reliability issues, and big service costs including  clutch problems. Is this the case and is this why they are so cheap? What should I look out for in these cars?
I would love to hear your thoughts as I am looking to make a move in the foreseeable future.
Pip Dowling,
Email
Hey Pip, glad to hear you're about to join the church. Sounds like you've been very patient, so I reckon you deserve a classic car of your own. As for what to buy, well, that's a real crap-shoot, aint it?
So let me start with your list. The C4 Corvette is not the looker the C3 is, and you're right about US smog laws taking their toll on performance. I mean, you wouldn't want a Chevy V8 that gets toasted away from the lights by a V6 Commodore with P-plates on it, would you? That said, these cars are now old enough that they might have been given a mid-life tickle-up, including liberating a bit more poke. Certainly, it's hard to imagine too many of them are still stock-standard.
The other thing with Corvettes, however, is that I've driven C3s, C4s and C5s, and I've never driven a good one yet. The bodies flex and crack, the ride can be pretty awful and the interiors are creaking, cracking, rattling, squeaking tributes to lousy plastic technology. The seats are tiny, the electrics suss and if the Vette in question has T-tops, it'll leak water. And to cap it off, a lot of them were three-speed autos. Yeah, I know, I've just made an enemy of every Corvette fan in the country, but the fact remains that there are cars I'd sooner own. A lot of them.
The Boss 302 Mustang is a proper classic, but you're bang on the money when you say they're w-a-y too expensive for what they are. Of course, that's if you want a car to actually drive, because a Boss 302 is a great investment classic. By which I mean that if you want the look, sound and feel of an early Stang, there are plenty of non-Boss ones around that will give you all the jollies at a fraction of the price. But you're also right in identifying the current Mustang as a pretty good-value alternative. It promises to be reliable and having driven a few, I really like them. The five-litre engine feels like a six-litre and the only niggle for me is the interior which is a bit cheesy in that way only North America can do. But I could live with it and as more and more new Mustangs get traded-in, the choice will only get broader.
I reckon you're smart identifying US makes and models though as the market for local chrome-bumper muscle is way overheated. Has been for some time. Fact is, there's better value in, say, a Ford Torino than an XA Hardtop. And right now, a Gen 2 Camaro or Pontiac Firebird is better buying than a HQ Monaro. Weird, but true.
A Maserati? Now there's a curve-ball. You're right when you've guessed that they're cheap second-hand because people are dead-scared of the running and servicing costs. Yes, clutches don't last long and the early robotised manual was a dawg of a gearbox. But you're also right in that they look and sound fabulous and they're remarkable value. Of course, that value thing only hangs around while the car continues to work properly, and if it goes bang with any real intent, you're going to be in the poor-house after fixing it. Frankly, that level of angst would spoil the fun for me.
If I was going to look at something fairly modern with a Euro badge, I don't reckon I could go past a 997 Porsche 911. These are the next 993 in terms of Porsche collectability, mainly because they were the last models with hydraulic power-steering and weren't as physically huge as the current 991 version. And prices for the basic Carrera might surprise you. They're should also be bordering on bomb-proof in terms of their reliability. Yeah, I know; Another bloody 911. But drive one before you condemn the idea.
Behind closed doors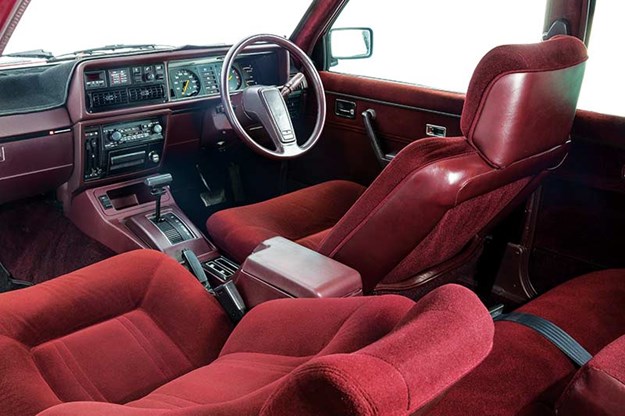 Burgundy velour and plastic spelt luxo Aussie motoring late 70s style
I enjoy reading your comments in Unique Cars each month just wondering if you can give me some advice please? It's time to get rid of one of my VH SL/Es, I have private-school fees coming on in the next year or so and have to move one of my cars on.
The car in question is an 83 VH SL/E. Mechanically its great and I've spent a few thousand getting it safe and to the point where I can just jump in it and drive it with no worries. Unfortunately my daughter doesn't share the passion for this car and I get a ho-hum response from her when I ask her if she wants to go for a ride with me in it. It's a 253, the interior is in really good nick, all the original trim, radio cassette and trip computer is there.
But the paint is rough. So, is it better to sell as is or invest in a closed-door respray to make it more presentable? And if so what would be an estimate for a closed door respray? I don't want to get ripped off and appreciate any advice you could give. 
Chris Hodgson,
Victoria
The cost of a respray, Chris, is one of those 'how long is a piece of string' deals. It depends on a whole bunch of things, starting with the condition of the car as presented to the paint shop. What looks like a straight, clean car usually winds up needing more work than you thought and, unless you're prepared to paint over dents, that means more dolleros. My own experience of this was on an old Valiant I was getting ready to paint. And what seemed like a car that needed just a panel or two to be lined up right, turned out to be typical in that, once I'd finished, the only panel I hadn't massaged was the roof turret. And this was, when you looked at it beforehand, a very straight piece of gear.
So there's that. Then there's the X factor of the shop you take it to. Prices vary enormously in the spray-painting game and I wouldn't advise an open-ended deal where it'll cost what it costs. You want as close to a firm figure as you can because, again, I've seen this stuff sky-rocket.
Also, how particular do you want to be? Obviously, a closed-door job is going to be cheaper, but even within that broad description, there are a thousand variables. Was the original colour metallic? Do you want to add a little more metal-flake for some added fizz? Is there any crows-feet or other terminal damage to the paint that would require a strip back to bare metal? That last one, in particular, will send the cost soaring.
Now, having digested all that, allow me to make it easy for you. For my own part, I'd much rather buy a car with shabby original paint than one with nice shiny new stuff. A new coat of paint is a great way to make a manky car look good and increase its sales appeal. But I reckon the switched on buyer can see through the grungy original paint and will be happier, knowing that it's not hiding anything horrendous. And let's face it; you're going to charge more for the car with a fresh paint-job, or the buyer is going to buy the car as-is and then spend the same money themselves to paint it. Either way, it's buyer-pays and, like I said, I'll take mine au naturale. Every time.
By the way, Chris, loving that green interior. I miss the 70s and 80s, I really do.
Happy Gardner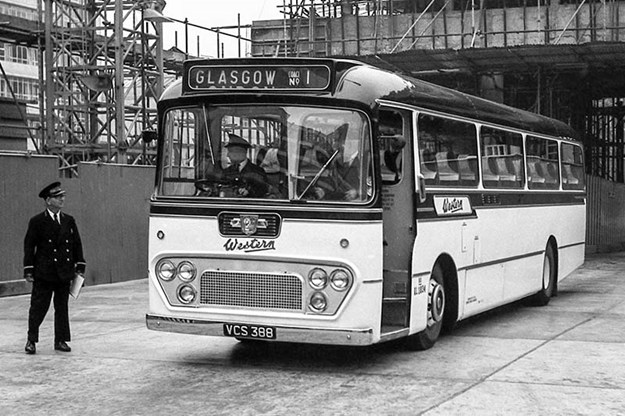 I've got to agree with Morley about Gardner diesels. I've also owned an Albion double decker Bus (built at the Commonwealth Works in Sydney in 1948, on an imported engine and chassis) that still had its Gardner diesel in place. It also had a semi-automatic trans fitted in the centre of the chassis and drove beautifully. While converting the top floor into bedrooms I peeled inch-thick tar insulation from the floor, to discover it was masking Oregon Pine floor boards, which polished up beautifully. I hope the old girl is still on the road today, with its unburstable Gardner Diesel still in place.
As for car/truck motors in strange places. I was on a course to learn how to prune grape vines in South Australia's Clare Valley. On a tour of a local vineyard, we were shown a Ford 351 V8 engine driving a huge fan on a large pole, which was used to keep frost off the young buds in Spring. The farmer got very worried when the local hoons on the course took a big interest in his engine. 
Gary G Smith
Ravenshoe, QLD
Gary, there must be something about busses from that era, because an old mate of mine, sadly no longer with us, did his apprenticeship at the Melbourne Tramways back in the 1950s and told me many times what a great pleasure these old gadgets were to work on.
He often told me yarns about how the engines were maintained, including frequent oil changes and lots of TLC from him and his co-workers. He also went into great detail about pre-selector gearboxes and reckons the Tramways even trialled a bus with a giant flywheel spinning horizontally under the floor to capture energy from braking and then using it to help accelerate the bus from the next red light. He reckons the only way to stop the flywheel disintegrating under centrifugal force was to wrap the steel outer part with layers of wire cable. Blimey, wouldn't like to be standing anywhere near that mutha when the flywheel was spinning at full chat. Oh, and just in case Formula 1 thinks it invented energy regeneration…
Anyway, my old mate always reckoned his favourite bus engine was the Leyland Leopard, built back in a time before Leyland was privatised and became a standing joke. Apparently these Leopards had a chromed bore and would cop rebuild after rebuild with just new rings and bearings. And all those apprentice oil changes, of course.
As for a Ford 351 being used to keep frost off grape vines, mate, you've got me again. Never heard of such a thing, but I love the idea. And how nice it must have sounded, firing up before dawn and drowning out the local roosters. Now, of course, you'd never be allowed to do it, nor could most farmers afford it with the thirst of a 351 running hard at a buck-fifty a litre.
Hare apparent
In response to your request for other applications for motors: Many years ago my father used to drive the "hare" at the Forbes Greyhound club. The motor used to power the machine was a flathead V8 out of a Ford Pilot.
As a young tacker I would happily spend hours in the driver's box with the old man just listening to that glorious sound. That old motor was there for many years until it was replaced with a Holden 186 red motor. The club disbanded some time ago and the entire infrastructure is now totally removed.
On another subject my first car was a one-owner EJ Holden sedan. Yes, with a grey motor. Great mag, love your work.
David Stibbard,
Email.
Great yarn, David, and just the sort of weird-burger use for a car engine I was talking about. Seems like a lot of you remember an age where Aussie ingenuity could be turned to making something out of not much at all and adapting what was on hand to do a completely different job was just the normal way of things. But lord, it must have been noisy inside that driver's box with a flathead V8 roaring away a few metres away!
My own experience of greyhound racing infrastructure occurred many years ago when a track not too far from where I lived had a major melt-down of the automatic camera system that recorded the photo finishes. This was a big problem as it not only meant that really close finishes couldn't be adjudicated on the spot, but the mutt's owner would be deprived of the photo of his little champion crossing the line first. You know, the sort of photo that gets framed and then goes straight to the pool room.
The racing venue's solution was to tear out the broken camera and its sensors from the little box right on the finishing line and hire a photographer mate of mine to sit in there for the night, trying to capture the exact moment that the winning dishlicker crossed the line. Sensing a long night ahead, he asked me to come along for a bit of moral support between races.
So, we turned up on the night and were shown to a little timber box that could have been from the set of a war prisoner movie. There was barely enough room for the camera and us. And a slab. Not sure how many actual photo finishes we recorded, but we certainly had a good night out. Just shows that you can still make your own fun if you have to.
Misappropriated Motors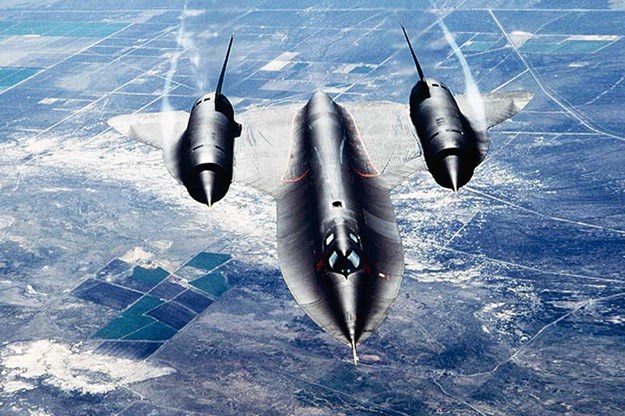 The Blackbird's downside was its incontinence issue while waiting for take-off clearance
The Lockheed SR-71 "Blackbird" used various V8s to start its engines. In Ben Rich's excellent book `Skunkworks' he gives an amusing description of the various increasingly powerful V8s used (by Lockheed in testing) in start-carts for the Pratt and Whitney J58. As each V8 tore itself apart under the load they would find more powerful ones. After trying several different engines they settled for a long time on twin (geared to the same output shaft) Buick Wildcat Nailhead V8s, eventually moving to twin Chevrolet 454 big-blocks.
There is plenty about this on the internet. Just Google something like "V8 engines to start SR-71 engine". It's even mentioned briefly in the Wikipedia entries for the Lockheed SR-71 and Pratt and Whitney J58. Just don't blame me if you get nothing else done today…
Shaun Jones,
Email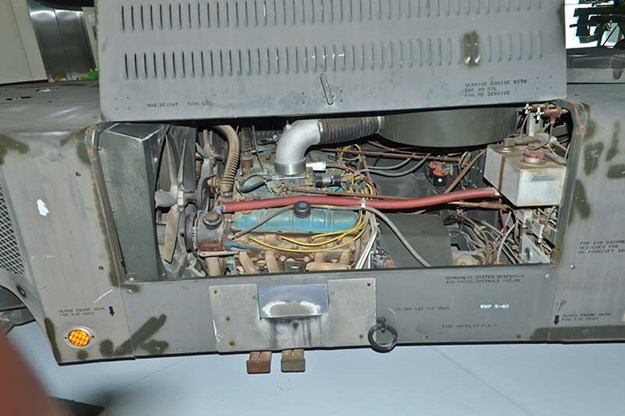 Yep, that's a long-suffering Buick Nailhead preparing to do its patriotic duty – trying to fire up the Blackbird
Great yarn, Shaun, and it kind of amazes me that for a plane like the Blackbird which was so utterly cutting edge and secret squirrel, that neither Lockheed nor Pratt and Whitney bothered to develop an in-house starter motor. I mean, when you look at the immense cost of developing a plane like the Blackbird, surely the cost of also developing a fail-safe starter-motor can't have been a huge chunk of the total budget. Then again, I guess the American-made big-block V8 was such a known quantity (not to mention cheaply available) that the designers figured they could do without reinventing the wheel on that one.
The most remarkable thing about the Blackbird for mine, was the way it had to be constructed so that it wouldn't fail in the super-low atmospheric pressures of the altitudes it was designed to work at or the super high temperatures associated with travelling at Mach 3. The engineers never hit upon the sealant they needed to seal the fuel tank at all temperatures and altitudes, so the fallback position was to put up with the thing leaking fuel as it sat on the runway at sea-level. And what makes it even more spectacular is that somebody sat down with a calculator and a set-square and worked that lot out and a whole bunch more. And then, some buzz-cut hero was prepared to take the thing on its maiden test-flight. It fair dinkum boggles the mind.
Six of the best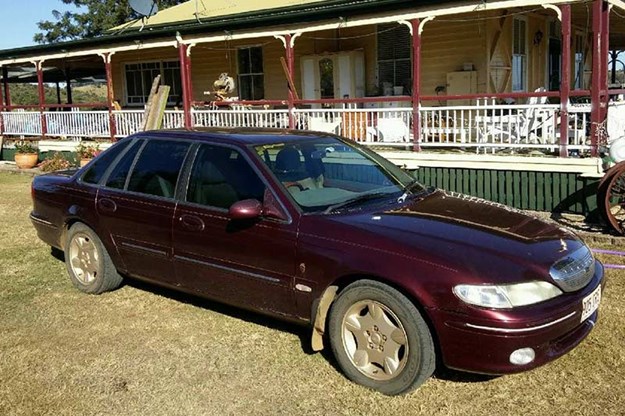 Been meaning to email you about my 'problem' for a while, and your Six Appeal article finally got me around to it. I bought my '97 Fairlane Concorde in '99, a one owner machine with only 60,000km on the clock.  It was a bargain because the Ford dealer had a heap of standard Fairlanes and nobody wanted a 'performance' version, apparently in case it had been thrashed. I looked closely at it and found it to be in immaculate condition, managed to scribble down the name of the original owner and rang him – he was a salesman and loved his Concorde. Only sold it because he lost his job.  He treated it like a baby.
The Concorde is my third Fairlane, I had a ZD and a ZL Sportsman – nice old cars. Brand new in '97 they sold for around $60K. The sad news for me (good news for anyone looking for one) is that a good one is now worth about $5K. Mine has about 260,000km on the clock and has suffered by being driven on a (rough) dirt road for about the last 10 years. Cosmetically it's a bit rough, but mechanically it's A1 because I've always kept it in perfect running order. I've lowered it about an inch and a half so the wheels sit beautifully in the 'guards, and it has a straight through 1.5-inch exhaust system. I ran it around Queensland Raceway with a bunch of hot hatches from the Renault Car Club (yes, I am afflicted) and the big beasty was voted Best Sounding Car of the Day!  Most people hearing it start up and idle think it's a V8, it's got quite a nice 'uneven' burble to it at idle into low revs – at redline it howls.
Interesting note about the Concorde; the six cylinder motor puts out only a few kiloWatts less than the V8, but the six is lighter. If you do the sums, the six has a better power to weight ratio than the V8 so you get V8 performance and six-cylinder economy!  A couple of other nice features are the bespoke two-tone grey leather plus the same Momo wood-rim wheel as fitted to the '97 Falcon GT.  As far as the design is concerned, I personally think the NL is one of the swoopiest looking cars ever made in Oz; the lines around the rear side windows, slightly flared mudguards and the little Kamm lip on the bootlid…just wow in my books. The lower stance from being down 1.5 inches really help. They are a beaut family car too, a true five-seater (the rear legroom is awesome), airbags in front, great brakes, and the six has reasonable fuel economy (until they are driven in anger).
Now for the 'problem'. At the end of the year I will become a poor pensioner.  I doubt very much I will be able to afford to register and insure my big beasty.  I can hear you yelling in my direction now "sell the bloody Renaults!". Nah, gotta at least keep the 16TS, it's an early retirement present from my long suffering wife. It's gonna break my little heart to see the big boy go for as little as $4k but, such is life. The thing is, you don't see them very often on the road now, and more often than not they are lowered with big wheels and non-standard paint. So I get the feeling they are right on the cusp of being 'discovered' by the younger generations, which might just start moving the values north….maybe?
Dave Tonks,
Email.
You know what Dave? If I had a Renault 16, I wouldn't sell it either. Much as I like an old Fairlane, I reckon the 16 is an absolute corker of a car. It's also much more likely to be discovered by the collector-car industry than a long-wheelbase Aussie Ford, too, and when it is, you can expect to be sitting on a good investment with the 16.
There are a couple of reasons for this. For a start, the Renault was a global car and will be worth something outside Australia. Secondly, while a Fairlane Concorde is hardly a common sight, the years, kilometres and rust have claimed the vast majority of Renault 16s ever made. I read somewhere a few years ago that there were just a handful of 16s still registered in the UK; a market that was once pretty flush with the little critters.
So, while I sympathise with you about not being able to hang on to a big, thirsty car, I'd say having a nice, tidy 16 in the shed is a pretty good consolation prize.
You're right about the six-cylinder Fairlane being as good a performer as the V8, too. Back in the day, the equivalent Falcon XR6 was packing just a few kilowatts less than its XR8 stablemate. Given the six was lighter, the XR6 was just as quick as the XR8 and sweeter to drive.
TRIVIAL PURSUIT
Cape York capers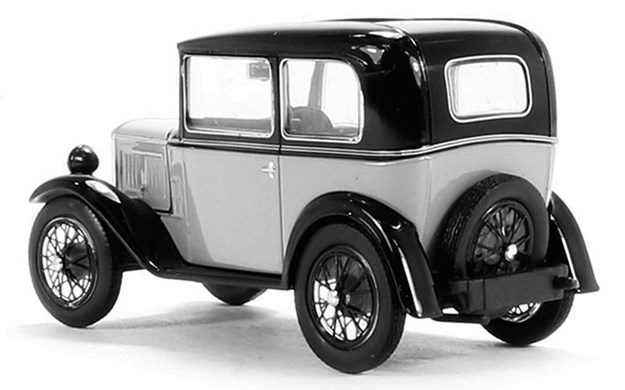 Bit of a Cape York theme this issue ('cos that's where I am right now). The Old telegraph Track from Bramwell Station to the Jardine River is still an iconic off-road challenge. But what was the first car to make it to the tip of Cape York? Here's a hint: it wasn't a four-wheel-drive at all. In fact, it was an Austin 7 which, as a brand-new car in 1928, was driven as far as you can go on the Aussie mainland by an intrepid pair of blokes named Hector Macquarie and Dick Matthews. Oh, and they were Kiwis. Typical.
Floppy Offy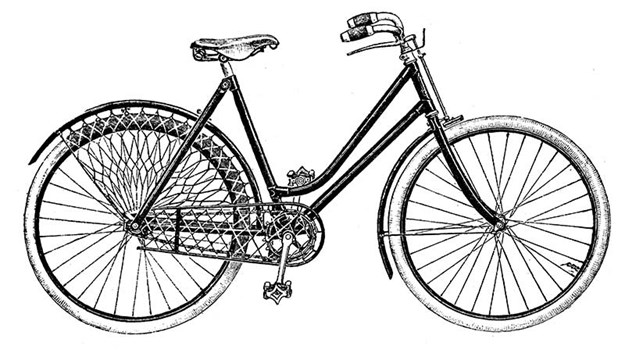 If driving an Austin 7 to the tip of Cape York in 1928 sounds like an adventure (and trust us, 90 years later in a four-wheel-drive it still is) then spare a thought for one of the greatest adventurers of all time, Francis Birtles. As well as setting many driving firsts and records, Birtles also rode a push-bike to the very tip way back in 1918. Yep a whole century ago.
Write to Morley c/o uniquecars@bauertrader.com.au or Unique Cars magazine, Locked Bag 12, Oakleigh, Vic 3166  
Unique Cars magazine Value Guides
Sell your car for free right here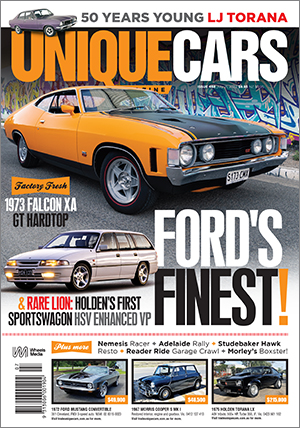 SUBSCRIBE TO UNIQUE CARS MAGAZINE
Get your monthly fix of news, reviews and stories on the greatest cars and minds in the automotive world.
Subscribe