Volkswagen Golf GTI Mk7 review
---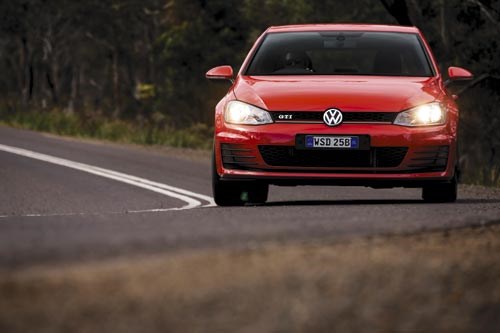 Volkswagen Golf GTI Mk 7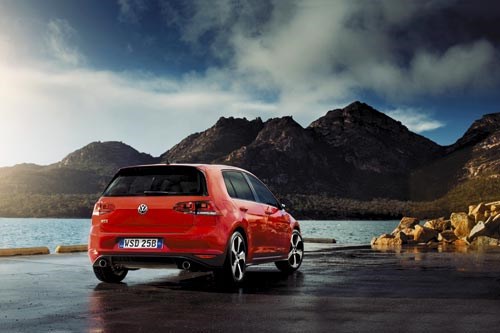 Volkswagen Golf GTI Mk 7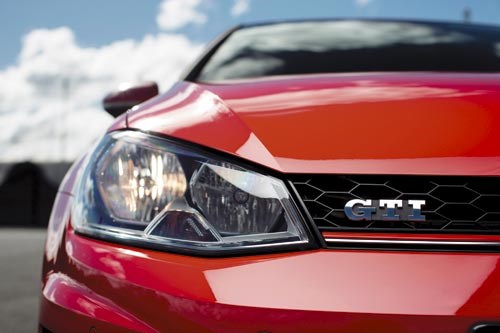 Volkswagen Golf GTI Mk 7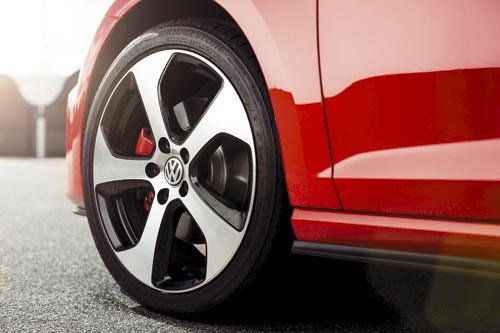 Volkswagen Golf GTI Mk 7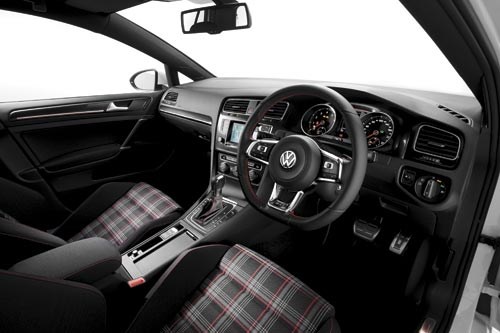 Volkswagen Golf GTI Mk 7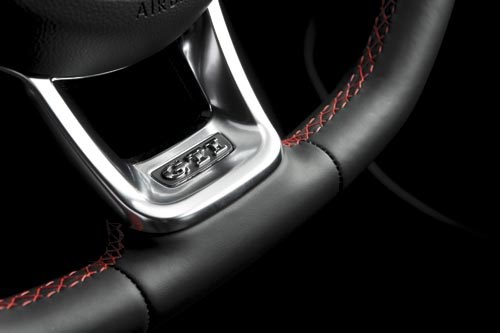 Volkswagen Golf GTI Mk 7

The new VW Golf Mk7 is here. We like...
VW Golf GTI Mk7
What sealed the love was a blind third-gear left hander over a crest on the east coast of Tasmania. We hooked in hard – maybe a little too hard – and then realised that the bend was tightening. Instead of the normal slight adjustment of accelerator, and twice within 40 metres, we merely cranked on more steering lock and maintained acceleration. The possibility of understeer clearly existed in this scenario, but the front tyres of the new Golf GTI maintained grip and without the slightest fuss, it hugged the inside of the corner and powered on… So neutral and so stable. And bloody quick.
For six generations of the Volkswagen's front-drive Golf GTI, adherents have accorded the hatchback tearaway unqualified cult status due to its sensible mix of pace and practicality and driving joy. Now the Mark VII is here, and the verdict is that it's better than ever, with a bigger bang for your rupees.
The new subtly styled GTI gets some stunning standard-issue technology that doesn't threaten the purity of the driving pleasure. It blends happily into a car that has historically delivered on a promise of performance with fun.
For those fond of history and numbers, contemplate this: the new Golf GTI has exactly twice the power of the original's 81kW, back in 1976, when we thought such an output pretty handy.
Lots of seriously good work has gone into the 2.0-litre turbocharged four cylinder, now with a dual injection system – with direct injection and multi-point injection. It can choose the injection type optimal at any given moment, reducing petrol use and particulate emissions. The crankshaft has four instead of eight counterweights, contributing to an engine weight reduction of 7.8 kilos. The cylinder head has been redeveloped with an integrated exhaust manifold, the turbocharger now bolting directly to the head for a reduction in lag and some judicious weight saving. An electric wastegate hastens the force-fed delivery, giving instant levels of torque from way down low. Clever thermal management helps economy and lower emissions.
The result is greater torque (and a wonderfully fat low-mid range) and the fastest-accelerating GTI. Magically, the GTI also gets improved fuel consumption and emissions (a lower overall weight also helps here).
As is almost the norm these days, even in a performance model, a Start/Stop system is standard and contributes to the low fuel consumption of 6.2 litres/100km (CO2: 144 g/km) in six-speed manual form while drinking the recommended 98RON. DSG models have a coasting function too.
The optional DSG variant is slightly less efficient at 6.6.
The way higher torque of 350Nm (up from the 280Nm of the previous model) made it possible to also reduce the gear ratios for lower engine speeds, adapting them to the engine's lower rev levels. The GTI is spectacularly driveable, pulling up hills in sixth from down around 1500 rpm up to the cut-out of around 6900.
VW expects around 75 per cent of Australian buyers to choose the optional six-speed dual-clutch gearbox (DSG), a $2500 premium over the manual car's $41,490 list price.
Contributing to the enhanced dynamics of the new GTI is an optimisation of the electronic differential system (XDL+), braking the inside wheel during hard cornering before any hint of understeer, and transferring the power to the outside wheel under acceleration and ensuring all the urge is transferred to the road.
Swing it into a succession of flowing bends and the GTI, riding on grippy Dunlop or Bridgestone 18s, changes direction without a sign of insecurity, or excess roll or pitch. Only negative was a hint of tyre roar on coarser surfaces (both tyres). We also punished the brakes rather excessively during some spirited highway work, and they were up to the task. Good pedal feel too.
The electro-mechanical steering, pleasantly direct at just 2.1 turns lock-to-lock, and now also progressive, Torque steer is virtually non-existent.
The anti-slip (traction control) system isn't as interventionist as some. In active mode it sits quietly until the GTI loses poise. It can also be deactivated, at which time it triggers a sporty stability control mode that we prefer.
There are broader choices of driving preferences – eco, comfort, normal and sport, The driver can also dial up his or her own ride, handling, engine and steering characteristics.
On bumpy roads, we opted for a comfort suspension choice, the ride being a little jumpy in sport. But in any mode, the GTI runs hard with no shoddy manners. The sports seats with bolstering are gems.
We don't know why anyone driving a GTI would need a fatigue detection system but it's there, analysing if the driver is drowsy and recommending a break.
The GTI comes with all the expected safety features, including nine 'bags, stability control, fatigue alert, and daytime running lamps, all of which helps achieve a five-star Euro crash score.
Standard stuff includes rear camera with front and rear sensors, small-screen sat-nav, Bluetooth with the usual audio streaming, ASB port multi-function steering wheel, and remote centre locking. There is also an in-dash lap timer even though VW clearly states that any motor sporting activity, even lap dashes, voids the warranty.
For those who like tradition, VW has provided the obligatory tartan fabric, now called (Jim) Clark rather than Jacky (Ickx), and red brake calipers.
Ignoring recent reliability issues with VW's DSG transmission, the new Golf GTI is a brilliant drive. We'd take the manual anyway.
The news is about to get better for hard-line Golf GTI enthusiasts. In the second quarter 2014, VW will introduce the GTI Performance model, with 169kW, larger brakes and running on 19s. Price will be $47,990. Returning in Q2 too, is the new-generation flagship Golf R, with 4Motion AWD and all of 206kW.
SPECIFICATIONS
VW Golf GTI Mk7
Engine: 1984cc 4 cyl, DOHC, 16v
Power: 162 kW @ 4500-6200rpm
Torque: 350Nm @ 1500-4400rpm
Weight: 1313 Man, 1324 DSG
Gearbox: 6-spd manual (6-spd DSG dual clutch option)
0-100km/h: 6.6sec (manual and DSG)
Top speed: 246km/h
Price: $41,490 (DSG $43990) plus on-road costs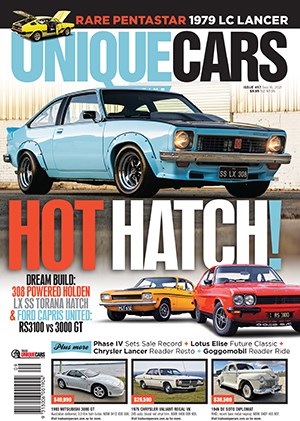 Subscribe to Unique Cars Magazine and save up to 42%
Australia's classic and muscle car bible. With stunning features, advice, market intelligence and hundreds of cars for sale.
Subscribe