Volkswagen Golf GTI Review: Classic Cars
---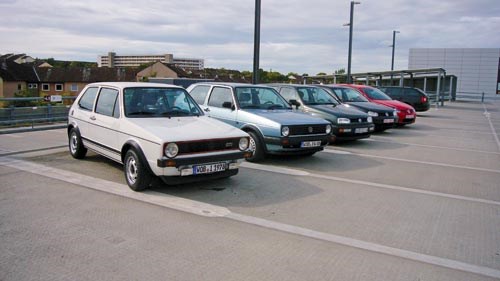 Classic cars: Golf GTI

Classic cars: Golf GTI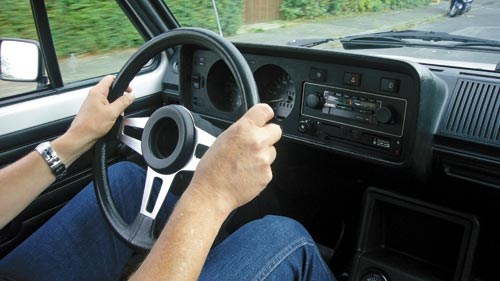 Classic cars: Golf GTI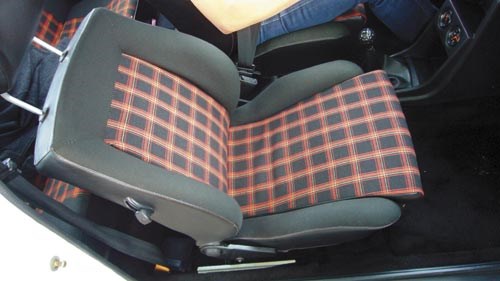 Classic cars: Golf GTI

Nathan Ponchard gets a rare chance to step back in time and drive a first-generation Golf GTI, plus a line-up of its offspring
VOLKSWAGEN GOLF GTI
The Mk1 Golf launched in Australia in March 1976 - assembled at Volkswagen's Clayton plant in outer Melbourne - and its instant popularity quickly sent the final, bastardised '76 Beetle packing for good.
But by 1980, just one fully-imported model, the Golf GLD, was left in Australian showrooms. Two years later, it was gone - leaving a hole in Volkswagen's Aussie line-up that wouldn't be filled until the next decade.
That context makes what we're about to do fascinating. We're in Wolfsburg, preparing to drive every generation of Golf from Mk1 through to Mk5. It's a motley bunch, scattering models and engine sizes from all eras, but there's one old Golf we're desperately craving - the Mk1 Golf GTI!
This example is a '78 model and showcases both the GTI in its infancy and the Golf in its purest form. The car itself is tiny by modern standards, but it is beautifully proportioned and would've looked brilliant rounding up V8s on Aussie roads back in the day.
The Mk1's cabin follows the same path - simple, yet beautifully executed. The seats themselves aren't that comfortable, but the driving position, pedal placement, golf-ball-topped gearshift and great steering wheel are all primed for hard-charging action.
The GTI's 1.6-litre, fuel-injected, in-line four punches out 81 feisty kilowatts at 6100rpm, from an era when the detoxed, carby-fed Aussie Golf 1.6 produced 55kW. And with well under 900kg to drag around, it's capable of stretching to over 180km/h, at redline in fourth gear. This 99,000km-old example from VW's Wolfsburg museum feels tight as a drum body-wise, but its engine is elastic and super-keen to pile on revs. What's most surprising, though, is its aural character. We knew the Mk1 GTI had performance; what we didn't expect was such a throaty induction growl.
The suspension is tied down tighter than a kidnap victim, so the ride is pretty firm even on good German roads. But the flip-side is on-rails cornering ability and the sort of wheel-lifting antics Golf GTIs have long been famous for. Without power assistance, the steering feeds through loads of info, and with under 3.5 turns lock-to-lock, it's pretty sharp for an old, manual-steered jigger too. Only problem with the '78 Mk1 GTI was that we had to give it back! Respect. Massive.
The Mk2 is an '88 Rabbit-badged CL, meaning a US-spec Golf packing an unleaded, fuel-injected 1.3 with just 48kW. The test car has only 22,000km on the odo, but it feels like about 200, and the engine is very reluctant to rev. Turns out it's because the poor thing is struggling with the Mk2's 120kg weight gain!
Asthmatic engine aside, what stands out about the Mk2 is its successful, evolutionary transition from the crisp, Giugiaro-styled Mk1 to a longer, wider, larger car, penned internally at Volkswagen. But while we appreciate the Mk2's neat style and quality packaging, this underpowered little CL simply doesn't do the design justice. Not like the 102kW 16-valve Mk2 that added so much substance to the GTI's powerful brand image in Europe.
The '93 Mk3 Golf CL up next is an intriguing example of early 'enviro' tech. It's official title is 'Ecomatic', but what it amounts to is a 48kW 1.9-litre naturally-aspirated diesel with a robotised five-speed manual and stop-start tech! Admittedly, the tech is crude, but the grumbly diesel delivers stronger performance than expected and the Mk3 proves unexpectedly good at things we no longer take for granted.
Even with a sunroof, there's ample front headroom, and vision in all directions is superb. The ride on 175/70R13 tyres is impressive and the dash is a sizeable step-up from the Mk2's. But the Mk3's interior represents the final throwback to a bygone era of hard, brittle plastics.
Of all the Golfs assembled here, the Mk4 represents arguably the biggest leap. Even today, it feels modern. In terms of dynamics, it was an underdamped softy, but in terms of quality, it was a standard-setter. And this 2003 Highline example, running a gutsy 110kW 1.9-litre TDI, is a great showcase for how high-end the Mk4 became.
The interior's slick blue-lit instruments, soft-touch plastics and damped grab handles are a great reminder of all the stuff the Mk4 Golf introduced to its class. Pity it didn't have a chassis to match.
If the Mk4 seemed modern, then the '06 Mk5 Golf GT TSI feels totally bang up-to-date - it could still stare down many of its rivals from 2012. It took until Mk5 for the Golf to regain the reputation for handling it lost after Mk2, and this 'twin-charged' GT perfectly exemplifies the polish Golf is now synonymous with.
As a neat book-end, VW brought along a '79 Golf L 5dr running the base 37kW 1.1-litre engine to the Mk7's Sardinian launch. Compared to the Mk1 GTI we'd driven earlier, the L was much slower and very sparsely equipped, but the DNA was there in abundance. The same hewn-from-stone feel, the chassis balance, the road holding, and a great ride on 155/80R13s.
What really stood out about the povvo Mk1, though, was its modernity - not compared to today's metal, but compared to the Beetle it replaced.
The final '75 Superbug L was a fabulous send-off for a legendary car, but the Mk1 Golf L made even that Beetle seem like an anachronism. Compared to the Golf's superb packaging, up-to-the-minute styling and all-round greatness as a package, the poor old Beetle simply couldn't compete.
Unique Cars magazine Value Guides
Sell your car for free right here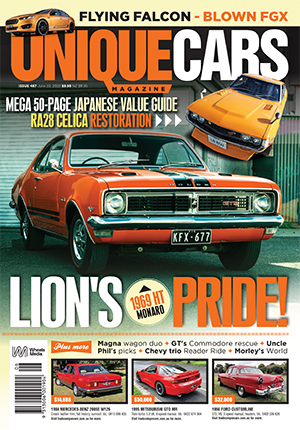 SUBSCRIBE TO UNIQUE CARS MAGAZINE
Get your monthly fix of news, reviews and stories on the greatest cars and minds in the automotive world.
Subscribe