Lexus LFA Review
---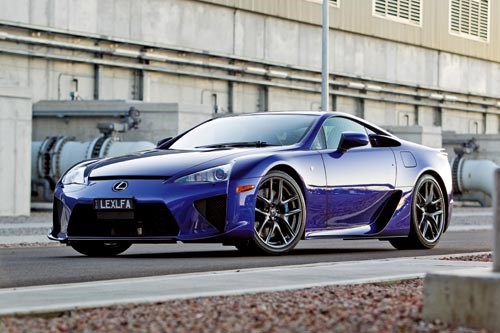 Lexus LFA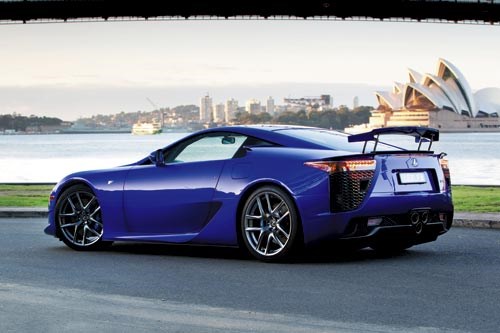 Lexus LFA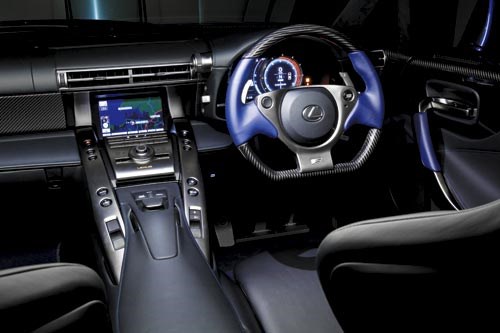 Lexus LFA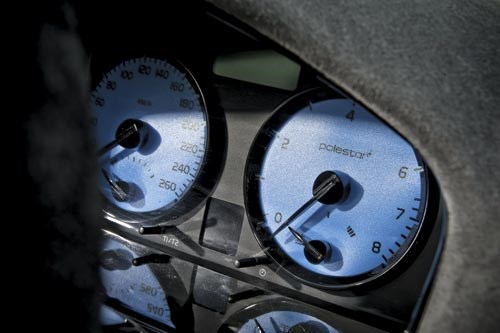 Lexus LFA

Lexus LFA. Meet Japan's shiny new supercar
LEXUS LFA
It's been nearly 10 years since the Japanese produced a truly exotic supercar (though the GT-R faithful may disagree), and that car wasn't wearing a Toyota badge, let alone a Lexus one. It was a Honda (the NSX), and at its 1989 release, it redefined what a supercar should be capable of. But once the NSX passed, nothing...
The last exotic sports car Toyota produced - admittedly in collaboration with Yamaha - was the 2000GT and it went out of production in 1970. And then there was Toyota's spectacularly unsuccessful, and hugely expensive, foray into Formula One that appeared to achieve nothing.
But here sits the Lexus LFA. Whether its gestation was worth the multiple billions of dollars Toyota blew on F1 is something for accountants to cry over, though none of that matters anymore. Japanese exotica is back, and it wears a Lexus badge.
To be frank, I haven't paid much attention to the LFA up until now. Yeah, it's packed to the eyeballs with tech and it's as futuristic as Tron: Legacy, but they're only making 500 of them (20 per month, by hand, for 25 months) and it costs almost as much as a Lamborghini Aventador! From a marque that has never built a sports car, let alone a supercar, that's an enormous ask.
But the LFA is a cracking supercar. From knee-height to the stratosphere in one fell swoop! Even the way it looks in the flesh is crowd-stopping, particularly if you're an origami fan, to the point where the LFA engenders a similar level of trepidation as you approach it as any Italian supercar.
What the photos don't convey is the bespoke and completely custom feel of all the materials that make up the LFA. The body is Carbonfibre Reinforced Plastic (CFRP), the foot pedals are single pieces of forged aluminium, and the seat controls are these exquisite white-gold-tinted, metallic blades that mimic the shape of the seat itself. No, Lexus couldn't quite leave the gold alone, although it's very subtle, as you can see in the dash pic below ... unlike the blue leather on the carbonfibre steering wheel or the Ginza instruments.
Crank the LFA's 4.8-litre, 72-degree V10 and it erupts into life, settling to a slightly cranky, uneven idle like all great supercar engines. Clack the slightly fiddly sequential transmission into first via the right-hand, column-mounted shift paddle, then negotiate the LFA's ponderous 12.2m turning circle out onto the road and adrenal pleasures await.
I swap the first few gears by instinct, only to discover I've been short-shifting at 6000rpm because the V10 is already making itself heard. But at that point, the LFA still has so much more to give. Max torque hits at 7000rpm, but max power doesn't arrive until 8700 and the rev limiter is set at 9500! That's what I call Formula One money well-spent.
The 412kW V10's high-rev scream is sensational. It transforms from a bassy gurgle at 4000rpm to a satanic wail at 9000, accelerative force building rapidly as the tacho's electronic band soars towards 10. For all the joys of turbocharging, there's something carnal, and utterly addictive, about squeezing every rpm from a big-capacity, highly-strung engine.
Throttle response is scalpel-sharp and the LFA's sequential transmission downshifts faster than anything I've ever experienced - it's light-switch quick. Indeed, everything about the LFA's controls is lightning fast, yet it blends movement into one seamless, progressive, velvet-smooth flow.
Its dynamics tread the same path. The 1540kg LFA is engaging from the outset, diving at corner apexes via its superb electric steering with an aggression that makes it feel 100kg lighter than it is, and with fabulous poise hinted at by its 48:52 weight distribution. And all this without any clever-dick switchable damping, although there are plenty of smart-arse electronics to assist you if you so desire. Even then, the LFA's ride is amazingly liveable considering its wonderful sporting focus.
Only 10 $700,000 LFAs will be coming to Australia, the last to be delivered late this year, so don't expect to see one any time soon. But when you do, don't judge by the badge, or the country of origin, or by the person behind the wheel. Just respect.
SPECIFICATIONS
Lexus LFA
ENGINE: 4805cc V10, DOHC, 40v
POWER: 412kW @ 8700rpm
TORQUE: 480Nm @ 7000rpm
WEIGHT: 1540kg
GEARBOX: 6-speed sequential
0-100km/h: 3.7sec (claimed)
TOP SPEED:  325km/h (claimed)
PRICE: $700,000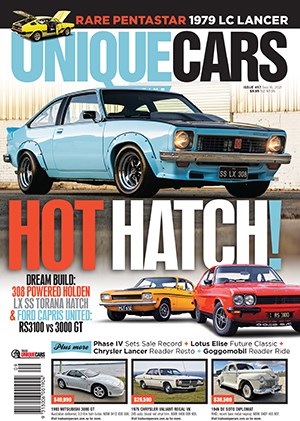 Subscribe to Unique Cars Magazine and save up to 42%
Australia's classic and muscle car bible. With stunning features, advice, market intelligence and hundreds of cars for sale.
Subscribe