Blackbourn home page - shed philosophy
---
Our resident engineer, part-time mechanic and full-time story-teller, Rob Blackbourn, shares his often weird and wonderful views of the world.
Anvils and buying rules - Blackbourn 422
The sound of steel on steel that has rung out through the ages is resonating in the back of Rob's mind
Remembering the Bob Jane era - Blackbourn 420
Bob Jane had been around for as long as Rob had followed motorsport...
Ford Four fun - Blackbourn 419
Rob's out there somewhere, conserving momentum maintaining corner speed, grinning like a loon
Valve chatter - Blackbourn 418
The humble poppet valve is putting up a half-decent fight against the ongoing existential threat
Creative engineering 101 - Blackbourn 417
Rob makes very little headway toward answering the eternal question - when is an engine not an engine?
Struts 'n' stuff - Blackbourn 416
The MacPherson strut story also uncovers GM's loss and Chrysler's embarassment
Hard to reach underbonnet components - Blackbourn 415
Rob reckons ease of maintenance often takes a back seat when new models are on the drawing board
Basket-case blues and project cars - Blackbourn 414
Rob loves a project and keeps looking lovingly at Lotus Elan despite their pitfalls
Brand awareness - Blackbourn 413
Rob's sage advice is wear your branded t-shirt with pride except when it's not a good idea
Edsell memories - Blackbourn 412
It turns out that history has more to offer us than cautionary tales
Trick Track Trucks: Diesel ute racing - Blackbourn - 411
Rob's been playing catch-ups in the last week or two about interesting goings-on at Supercars HQ
Vanguard Love - 410
Rob seems to be finding that clinging to old certainties has become increasingly challenging
Maserati 300S and hot sixes - 409
While Dennis Denuto reckons it's all about the vibe, Rob seems to think that the howl is more important
Driver communication - 408
Rob reckons driver to driver communication can be challenging
Classic instrument panels - Blackbourn 407
It struck me that while much of the basic architecture of these old-school cockpits survives in today's cars, details have shifted in a big way. For example instrument-panel design has changed radically over the decades. Then, the 'speedo' was clearly the dominant instrument.
Trend-bucking engines - Blackbourn 406
I finally got to meet Rod Hadfield recently. A bit surprising it took so long, given his venerated elder status in Australian hot rodding, drag racing and dry lake racing, all fields I've followed pretty closely during his decades-long involvement.
Brand name tools - Blackbourn 405
These days branding is about way more than searing your mark on your steer's hide
Funday Sunday - Blackbourn 404
Ace driver or top ambassador for his sport? Rob reckons Daniel Richardo ticks both boxes
When is a motor not an engine? Blackbourn 403
If kipling could claim that a good cigar is a smoke, Rob reckons it's fair to say that a good motor is an engine
Citroen race bred - Blackbourn 402
Curses, foiled again, says Rob, after another failed attempt to get a classic purchase over the line
Underbonnet Complexities - Blackbourn 401
Using engine heat for cooking was part of the mythology of my upbringing…
Holden/Peugeot Lion Badges - Blackbourn 400
Rob on Holden's French connection...
Route 66 - Blackbourn 399 
Rob comes out as a card-carrying member of the 'Romance of the Road' club. Is anyone surprised?
Lucky 7 - Blackbourn 398
The much younger Rob was hoping an Austin 7 would help him fly under the radar of the authorities. Some hope...
A Flying Ford - Blackbourn 397 
Rob reckons you don't need a laboratory to demonstrate basic engineering principles...
Play risky for me – Blackbourn 396 
Should you ride a horse? How dangerous is Russian roulette? Rob fails to answer these and other questions...
You Beauts? You bet! (on utes) - Blackbourn 393
Old tools - Blackbourn 390
According to Rob, there's no tool like an old tool. He should know...
VW Kombi prices - Blackbourn 389
Rob can see through the hysteria that's pushed the values of the once humble people's truck off the scale. Or perhaps not...
Reverse axle-tramp - Blackbourn 387
Not all reverse axle-tramp is created equal - and not all of us can be Steve McQueen
Studebaker Hawk: Luck O' The Irish - Blackbourn 386
Diversity Lost - Blackbourn 385
Harry (Ferguson) and his mates - Blackbourn 384
Holy Smokin' Strokers – Blackbourn 382
The French Connection – Blackbourn 381
Nothing but a heartache - Blackbourn 380
Shooting from the hip - Blackbourn 379 August 2015
Ron Flockhart, The Flying Scotsman Blackbourn - 378 July 2015
Them's the brakes - Blackbourn 377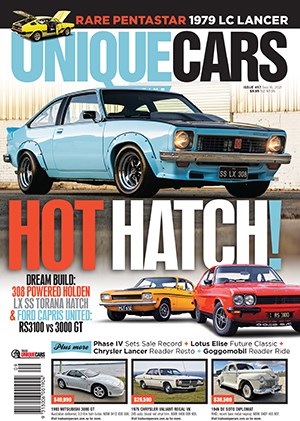 Subscribe to Unique Cars Magazine and save up to 42%
Australia's classic and muscle car bible. With stunning features, advice, market intelligence and hundreds of cars for sale.
Subscribe