Dick Johnson's Tru-Blu & Greens-Tuf Touring Car Legends
---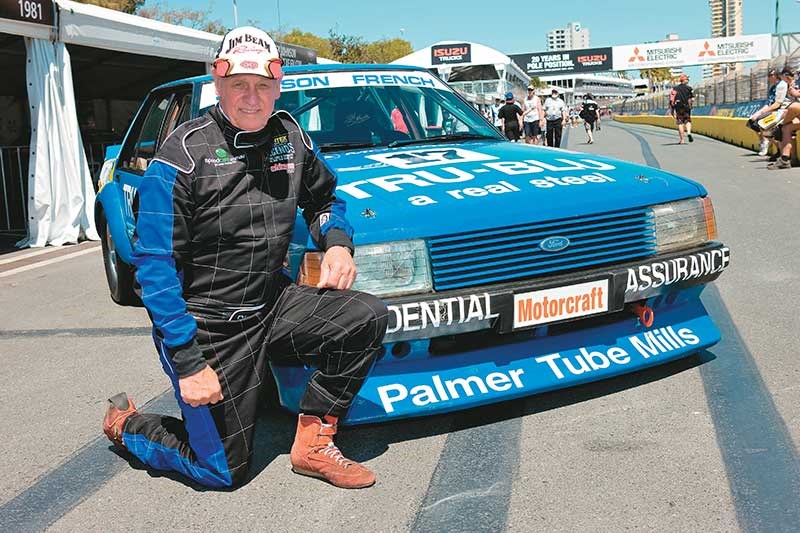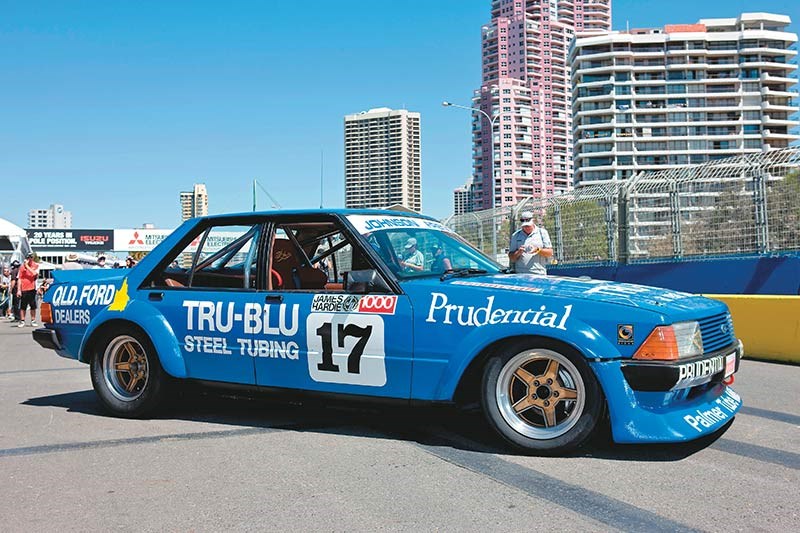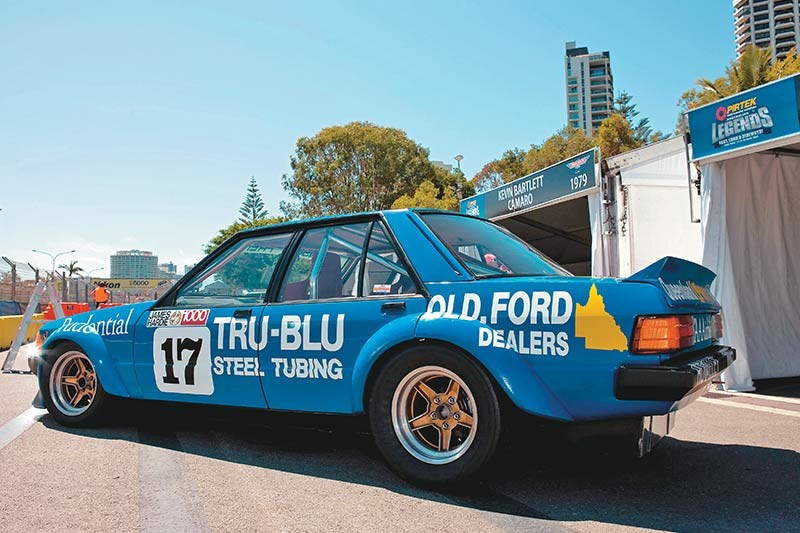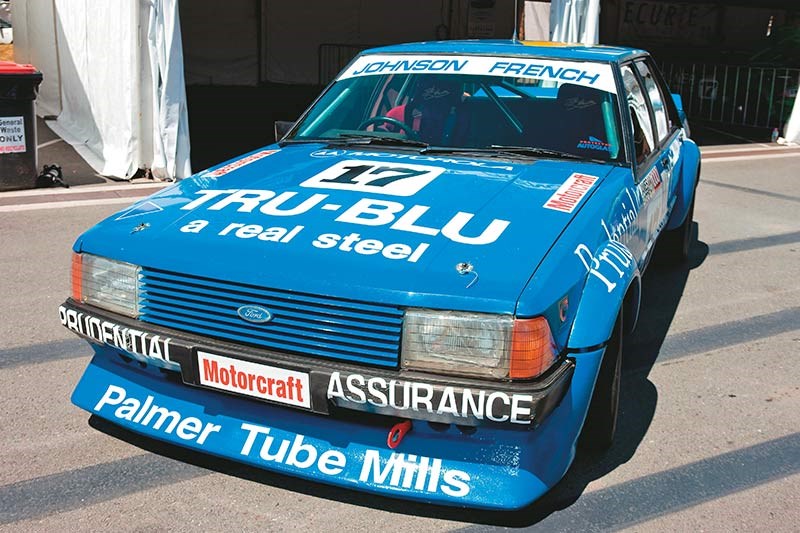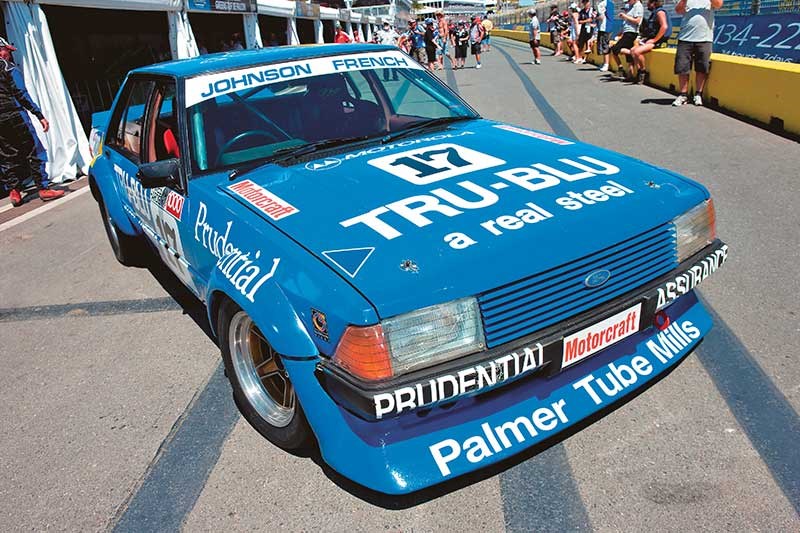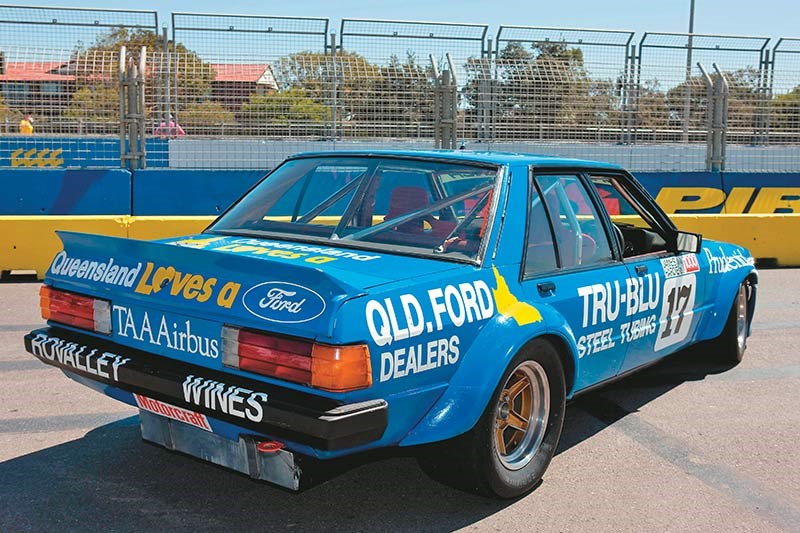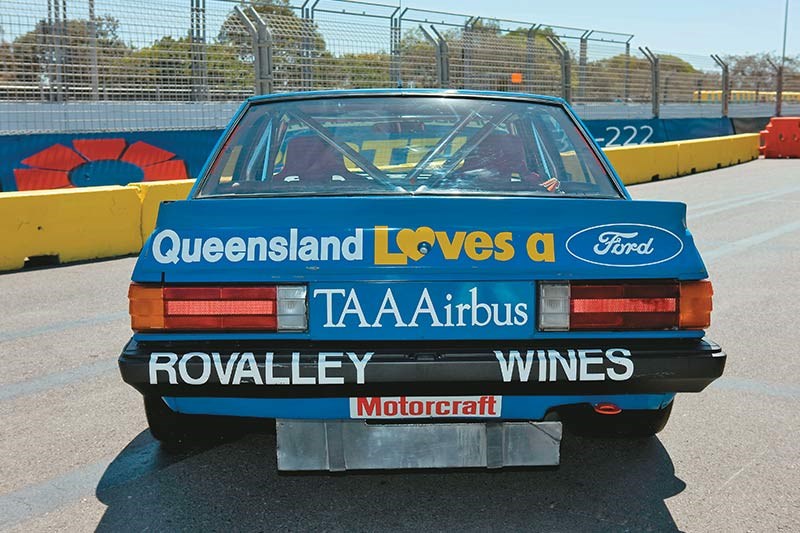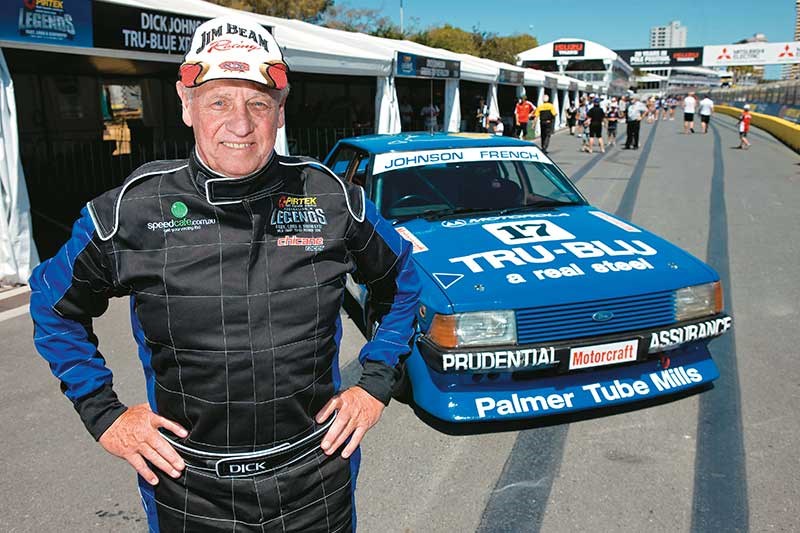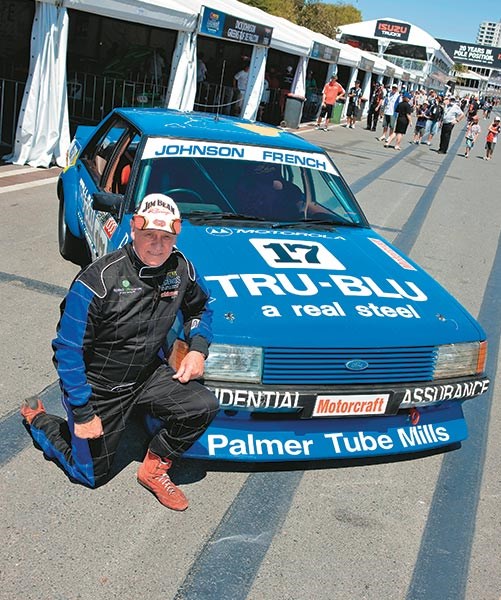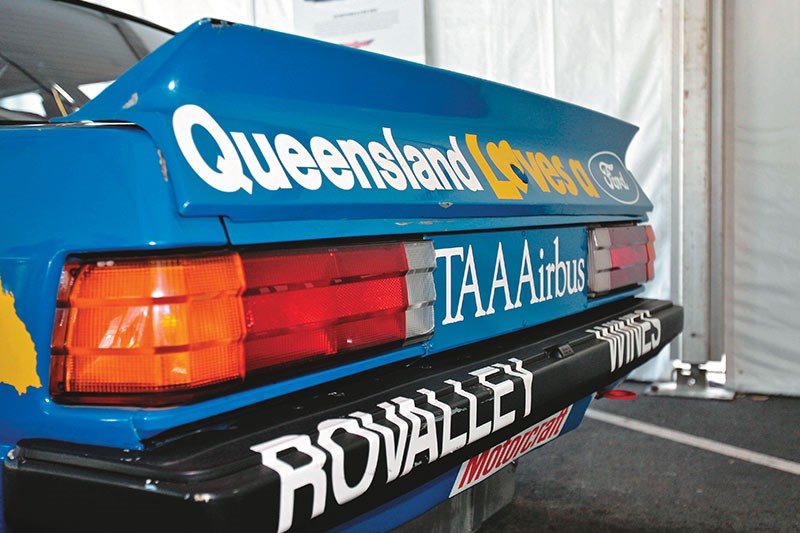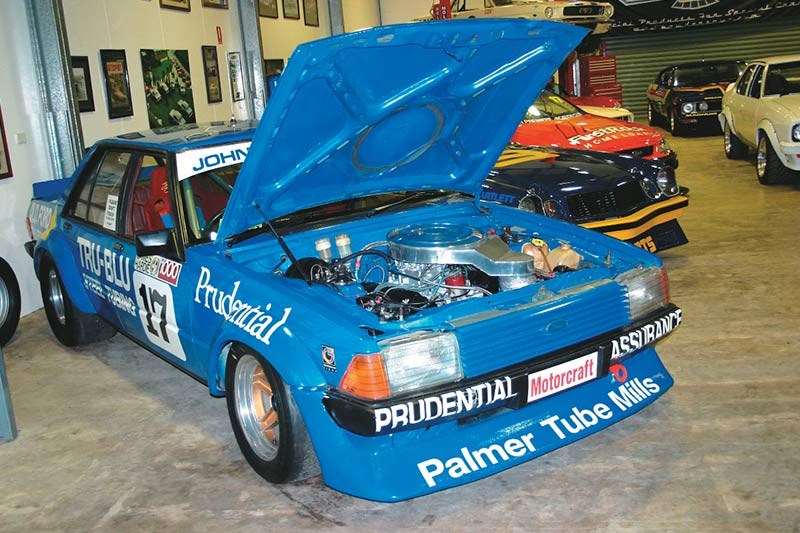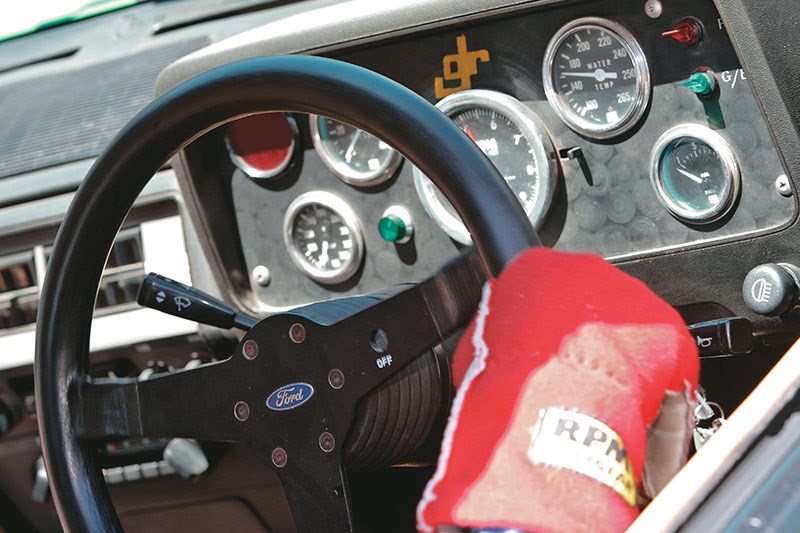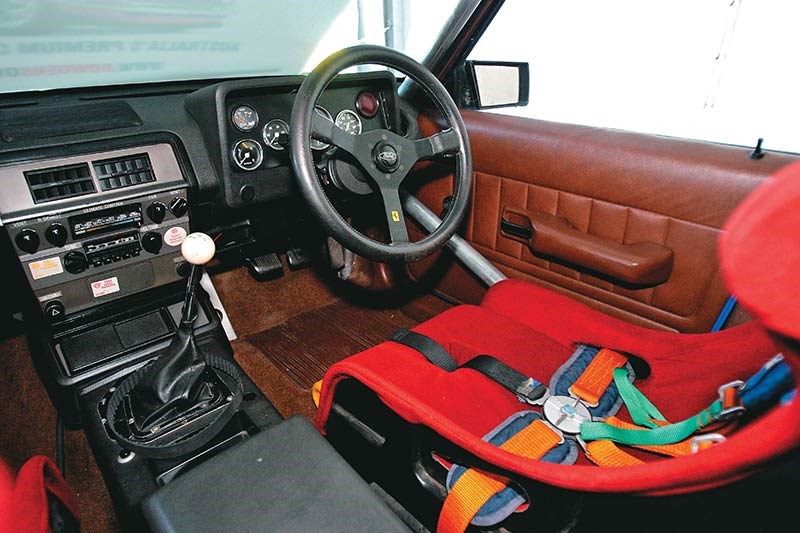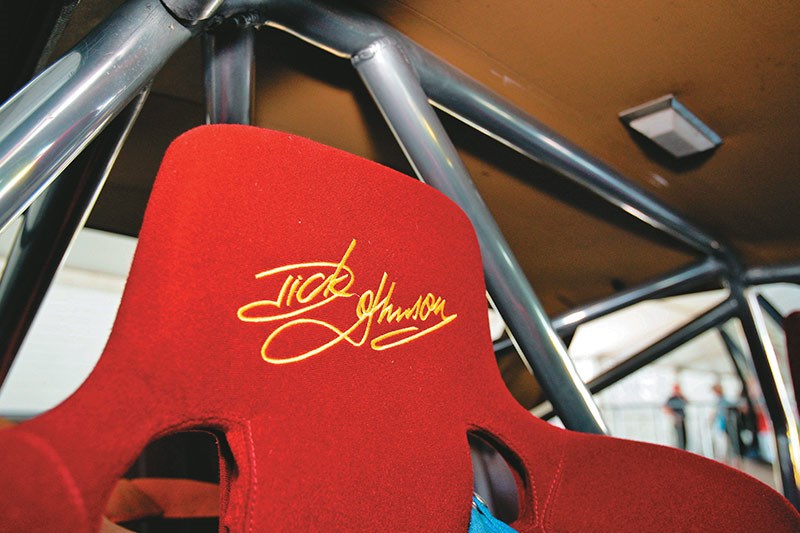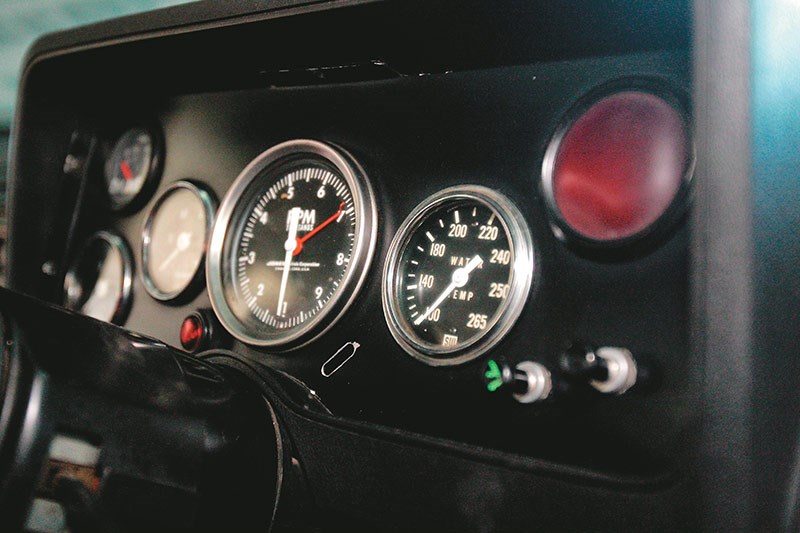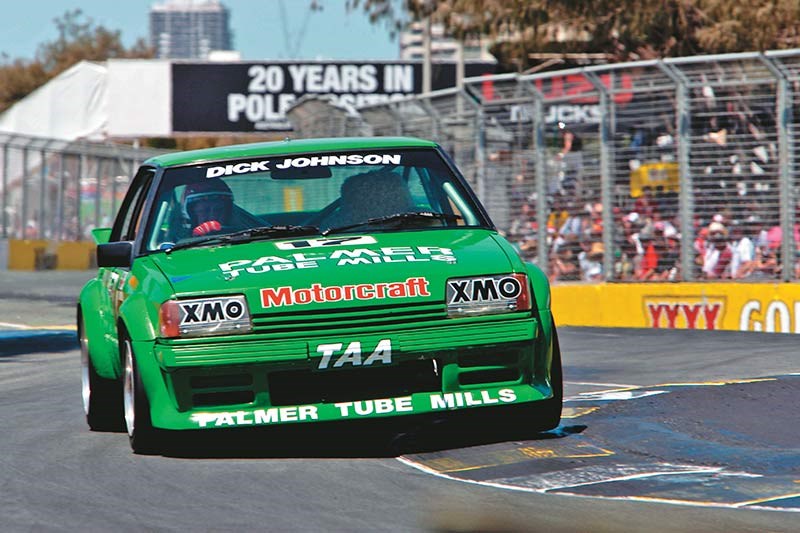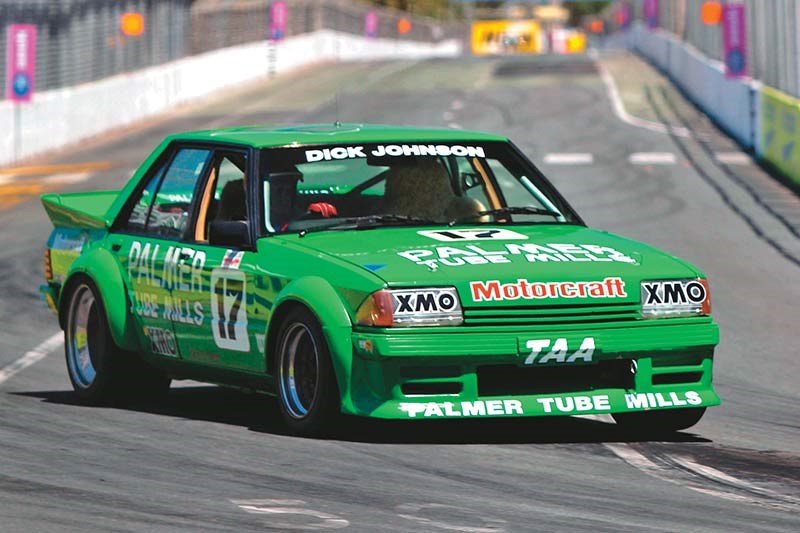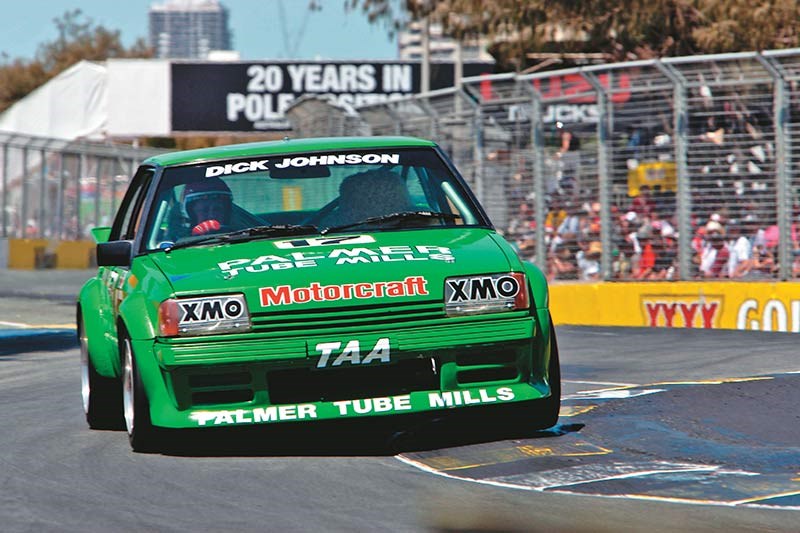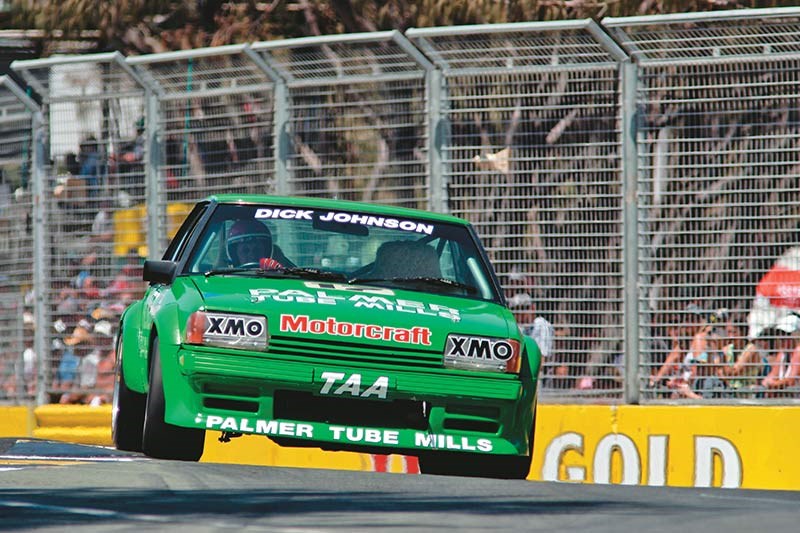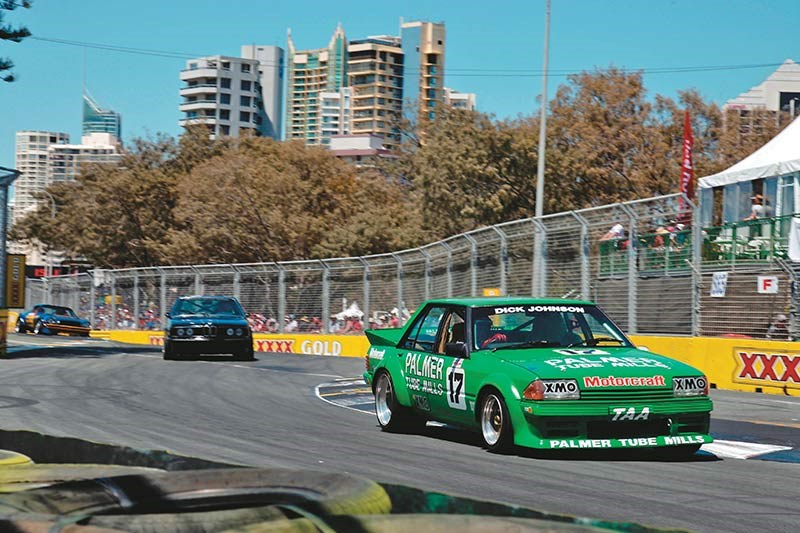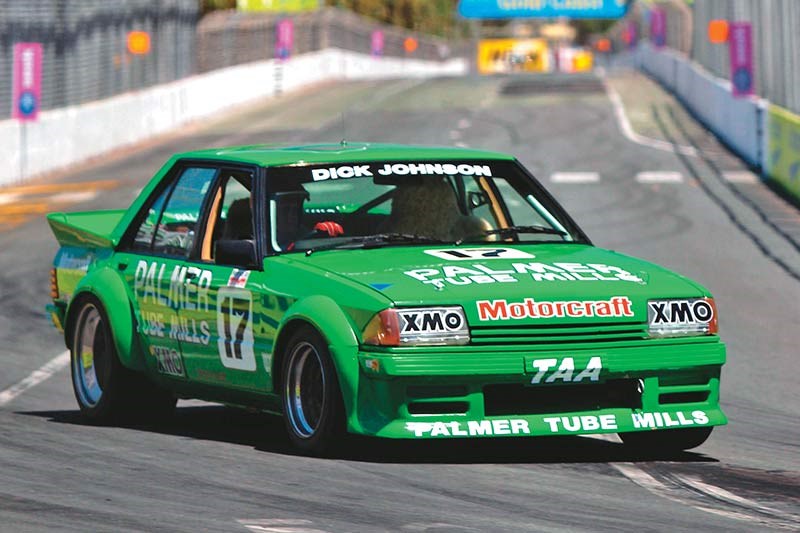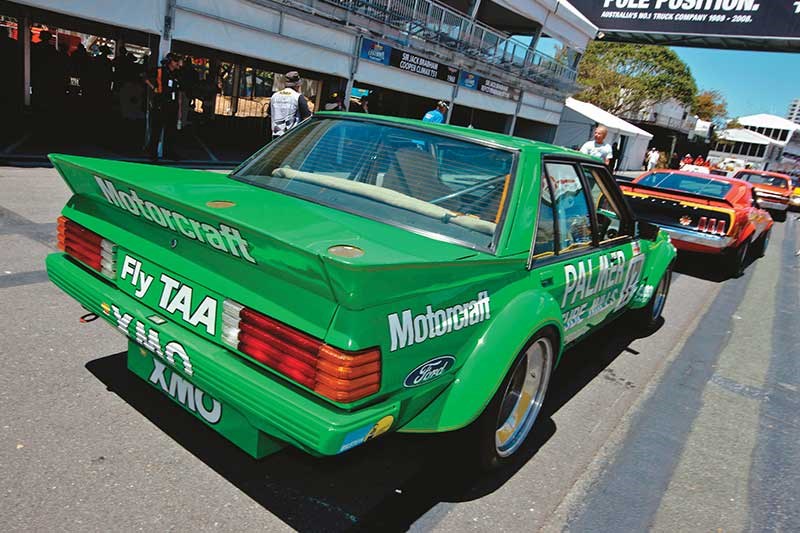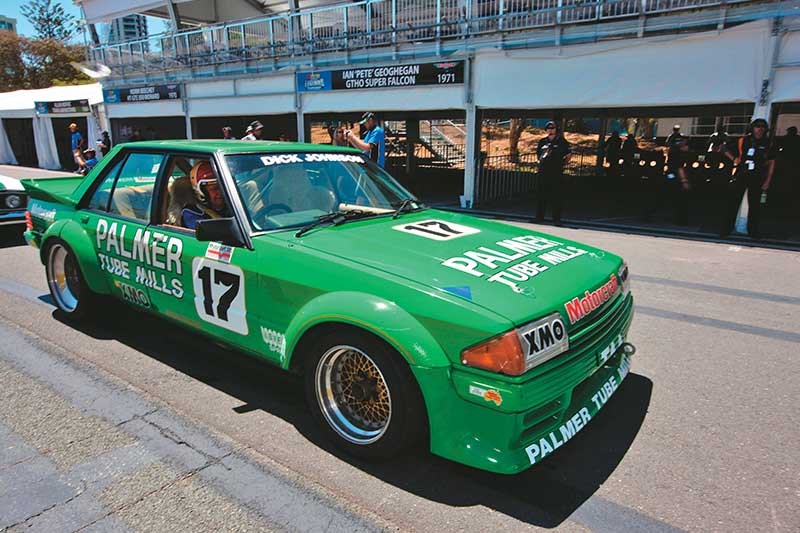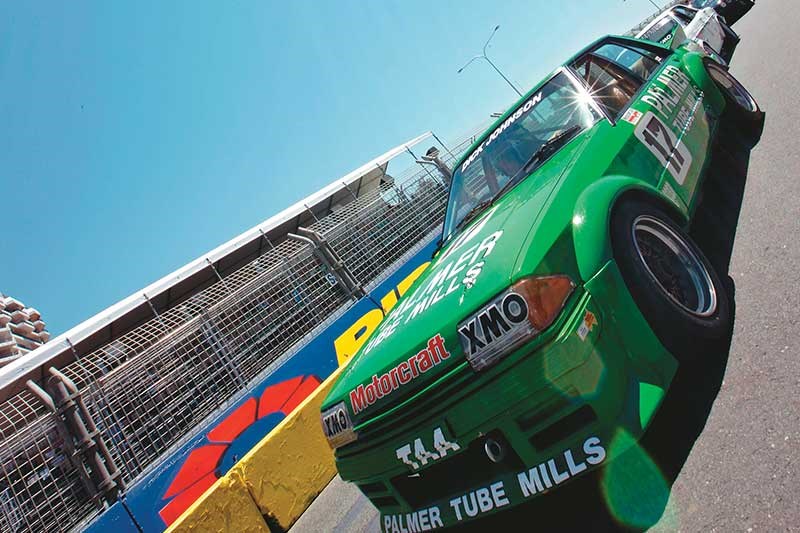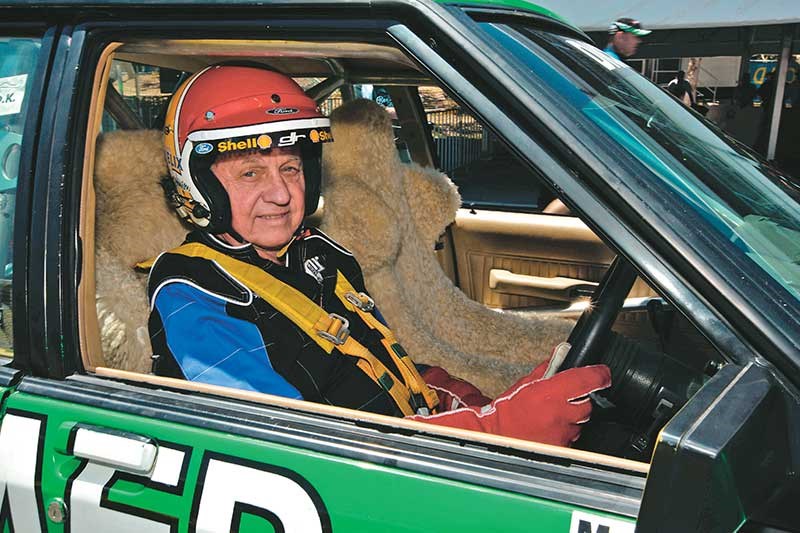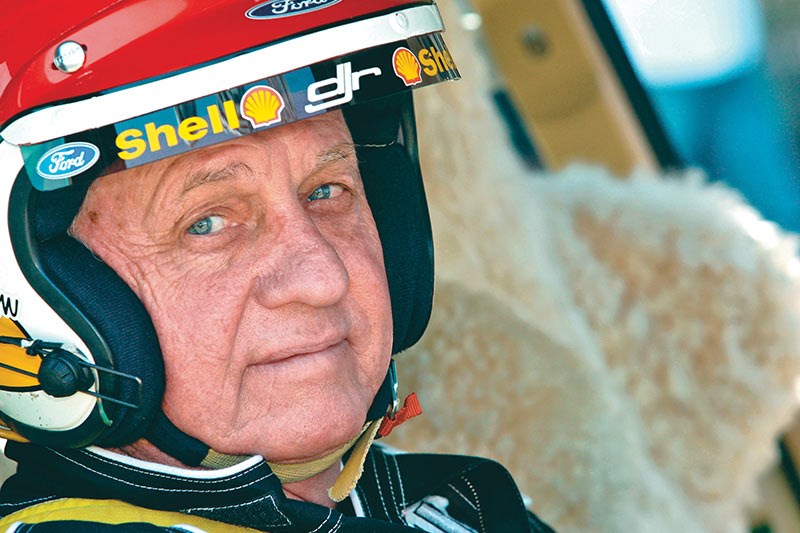 Looking back on Dick Johnson's Group C icons
From Unique Cars #306, Jan 2010 
Dick Johnson Reunited with Tru-Blu & Greens-
Tuf
Dick Johnson is buggered. It's mid-afternoon on the last day of the not-so-SuperGP at Surfers Paradise and he's been run ragged all week filling multiple roles of V8 Supercar team principal, event grand marshall and driving in Australian Legends demos; an 11th hour display cobbled together to fill holes in the schedule left by the predictable no-show of the headlining A1 Grand Prix cars.
Which is why Unique Cars is on the Gold Coast. We're here to talk to Johnson about two of his most famous race cars, the 1981-'82 championship and 1981 Bathurst-winning Tru-Blu XD Falcon and the mighty 1984 Greens-Tuf XE Falcon; two of the star cars supplied by the Bowden Collection for the Legends demos.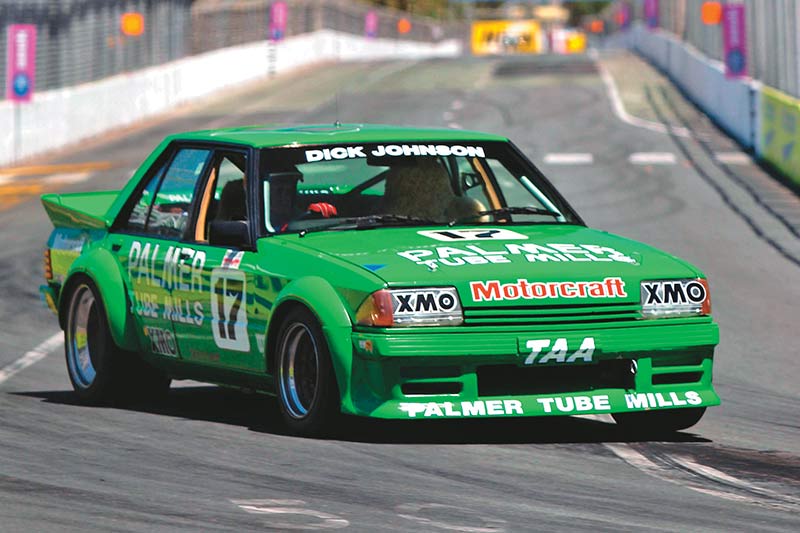 By the time we're fitted into Johnson's non-stop schedule the iconic blue Ford has already carked it – it didn't even complete a lap before the engine packed it in (more on that later) – but the Greens-Tuf XE has stayed together and Dick has been sharing hot lap duties with son Steven. And loving it. But all the glad-handing and official duties have worn Dick out and I feel bad about even turning up for our interview.
| Related: Bathurst Ford Sierras: Dick Johnson & John Bowe 
Escaping the public and others clamouring for his time, we sneak into a tent behind the Dick John Racing pits where, sitting amongst piles of slicks and wets, Dick looks every one of his 64 years, and the bags under his eyes seem to be drooping more than ever. He's knackered.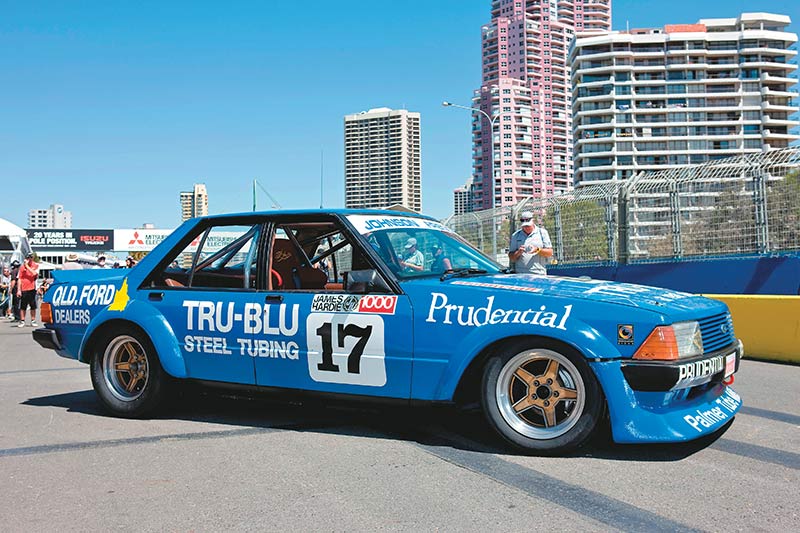 But when I tell him we want to talk about ol' Tru-Blu, his blue eyes light up and he gets a burst of energy. Clearly, this car still makes his heart beat faster.
Of course, the original XD's story is probably the best known in Australian motorsport history but in case you've been on Mars for the last 30 years, here's a quick reminder: battler privateer leading Bathurst easily, hits a rock accidentally kicked onto the track by spectator and crashes out. His tearful reaction galvanises the nation watching on TV and donations flow in, subsequently matched by a moved Ford president Edsel Ford.
The rock might have broken the XD that fateful day in October 1980 but it built a racing empire that is still going strong.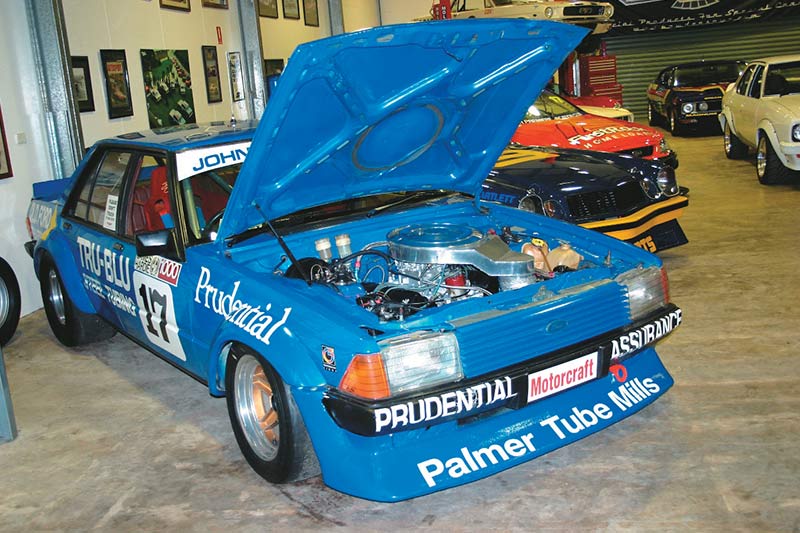 | Bathurst legends: Tru-Blu Ford XD Falcon
Hypothesising about what might have become of Dick Johnson had he not hit the rock and won Bathurst anyway is pointless. He might have gone on to become the Ford touring car icon that he did or he might have run out of money and spent the next 30 years flicking through his racing scrapbook with a heavy heart.
But, The Rock happened and you can't change history.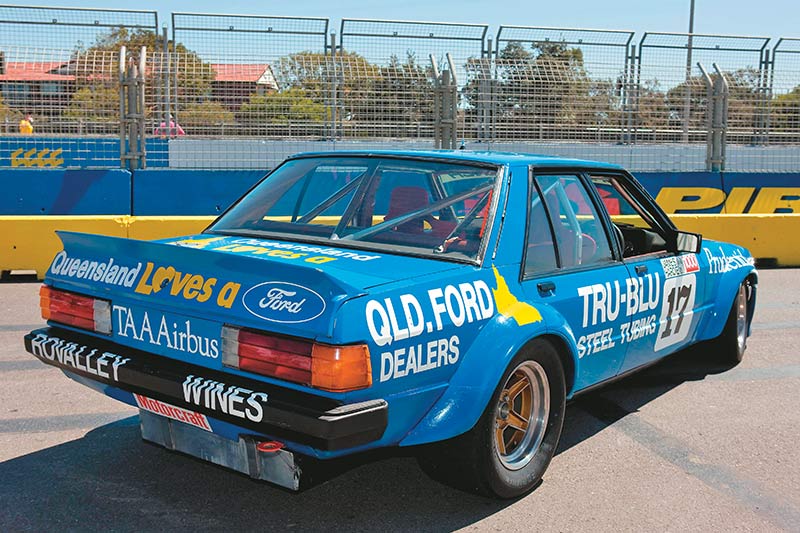 BLUE MONGREL
Tru-Blu #1, the 1980 car, was somewhat of a mongrel, cobbled up from old race parts and an ex-police car and built in Johnson's garage at home. After playing on the margins of big-time racing for years and missing out on factory drives despite great success in his home state, the XD was to be his 'last chance' race car, a final throw of the fluffy dice at being a professional racing driver or deciding to stick to running his servo. Maybe.
"I told (wife) Jilly, that I reckoned the XD was good enough to do the job so either we attack and stick our necks out financially or say enough is enough and never go near a racing car again and concentrate on the rest of our lives," Johnson recalls. "But if we did walk away she'd be living with the most miserable prick she would ever meet in her life, so she duly agreed to go the opposite way.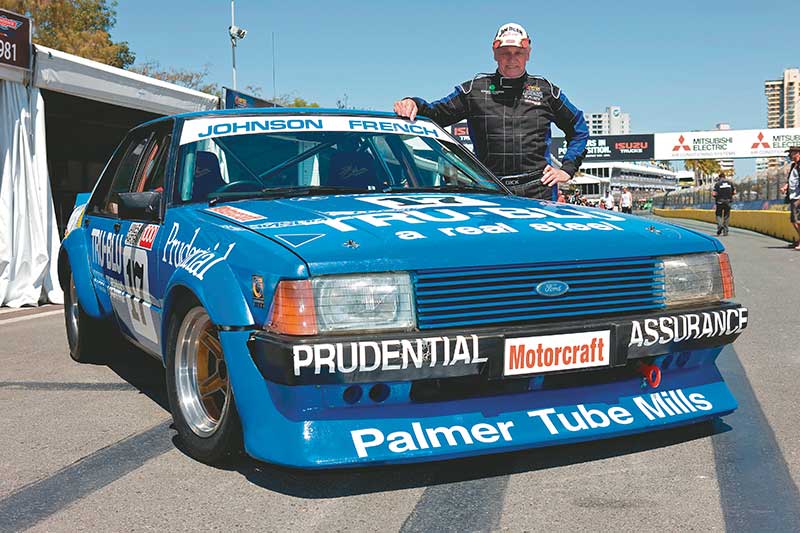 "I did a deal with John Harris from Bryan Byrt Ford and bought all the old bits and pieces from the XC two-door days because the engines were the same. Also in the deal he was to supply me with an XD Falcon and I'd give him back the two-door in road-going condition so he could sell it as a standard second-hand car. The XD was an ex-highway patrol car from Maryborough and we paid $36,000, for all the bits then there were the extras we did, probably another $15,000.
"We built the XD in the garage at home; myself, Roy and my brother Dave, who was actually running my service station then because I had left to work on the car full time.
"The rules only allowed standard wishbones and pickup points and so on, and there were only certain modifications you could do to the suspension – fat springs and sway bays and shock absorbers –  but we got a really good handle on it. We spent a lot of time making sure there was no excess weight in the car.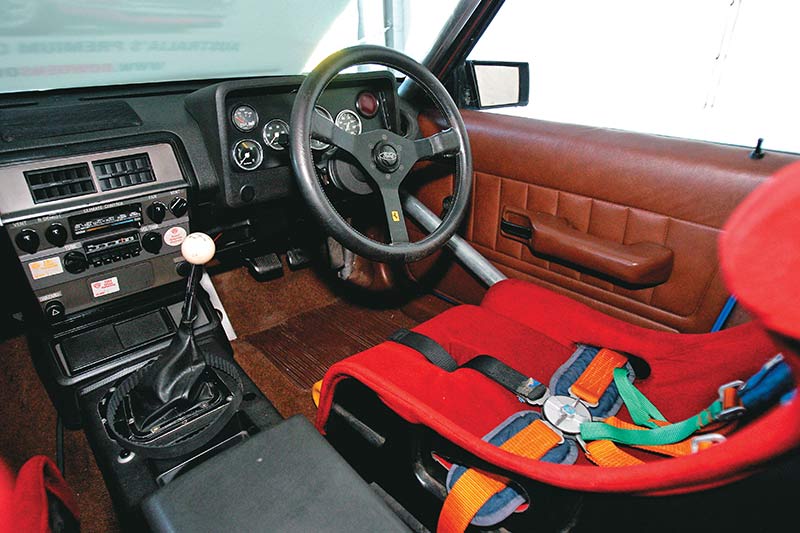 "Our first race was at a local Lakeside meeting and I had a deal going with a computer company that if we broke the lap record on our first outing we'd end up with a really good sponsorship.
"The car was finished at the last minute and was an absolute jet and I got pole and won the race but we missed the record by less than a tenth of a second.
"We went to Amaroo for the CRC500, with Frenchy (John French) as my co-driver, but I elected to do the whole race myself because the car was new and he hadn't driven it.
"I missed pole by a tenth to Brock but we led from the start until it wore the rear tyres out and John Harvey, who had taken over from Brock, passed me with five or six laps to go and we finished second. Then Sandown wanted us to enter the Hang Ten 400 because we were the only team challenging Brock but I couldn't afford to, I wanted to concentrate getting the car right for Bathurst."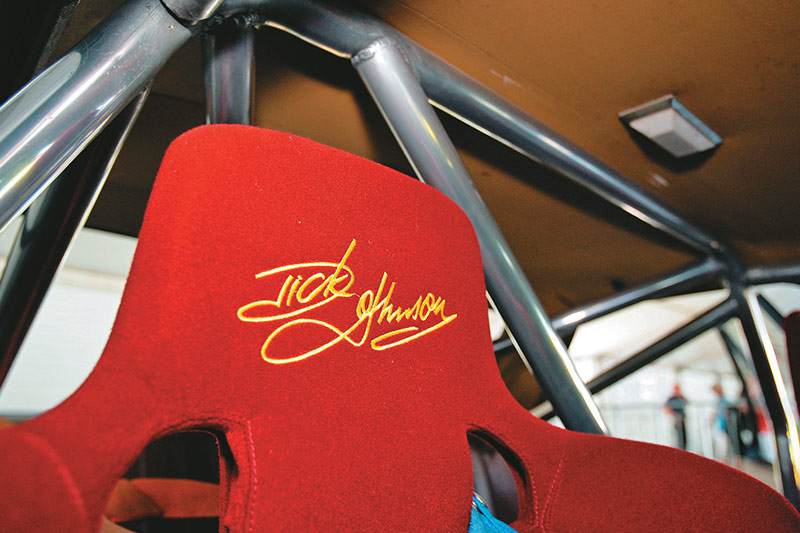 THE ROCK
"At Bathurst pole was worth $10,000, which was probably equivalent to my budget, and Kevin Bartlett was quickest and I was second, which paid nothing. We planned to run really hard early because we knew the Achilles heel of the Camaro was its brakes and that KB wouldn't be able to resist running at the front.
"We took off and led from the start and KB's brakes failed after about nine laps. We were just smoking around doing it easy then all of a sudden The Rock happened and I thought it was the end of the world."
Overnight, though, Johnson went from hard-scrabble amateur to a professional racer, bankrolled by public donations, Ford's dollar-for-dollar contribution, and a big slice of Palmer Tube Mills' marketing budget. With decent dollars in the bank, the man who just seven years earlier had been knocked back for a $30,000 home loan, could build an even faster XD, Tru-Blu #2.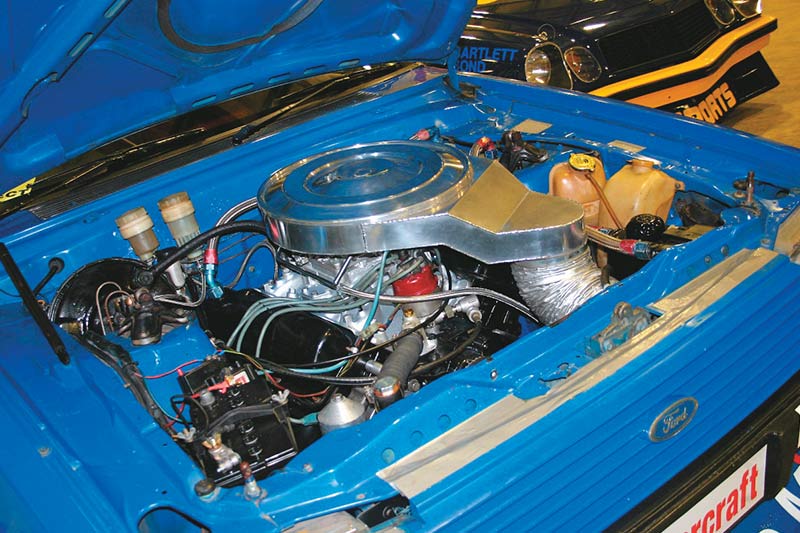 "We ended up with about $78,000 from the public and Edsel Ford – who probably thought it'd be about $4-5000! – chipped in and that gave us a fantastic budget to continue. Then Ross Palmer (Palmer Tube Mills) spent his entire marketing budget on the car: $50,000. That gave us enough to run a whole season and we were looking real good. We probably spent half of what we got on building the car. And I had a spare engine and gearbox... how good's this! And rather than scrounge around and fix a clutch up, I bought a brand new one. We now had luxuries we didn't have before."
Technical rules didn't change for 1981 but because Tru-Blu #2 was built from the ground up, Johnson again paid attention to paring down weight and it was another jet.
"Everyone thought we had nine million horsepower because we used to blow them away but we only had 413hp (308kW)."
It was all about weight, or the lack of it.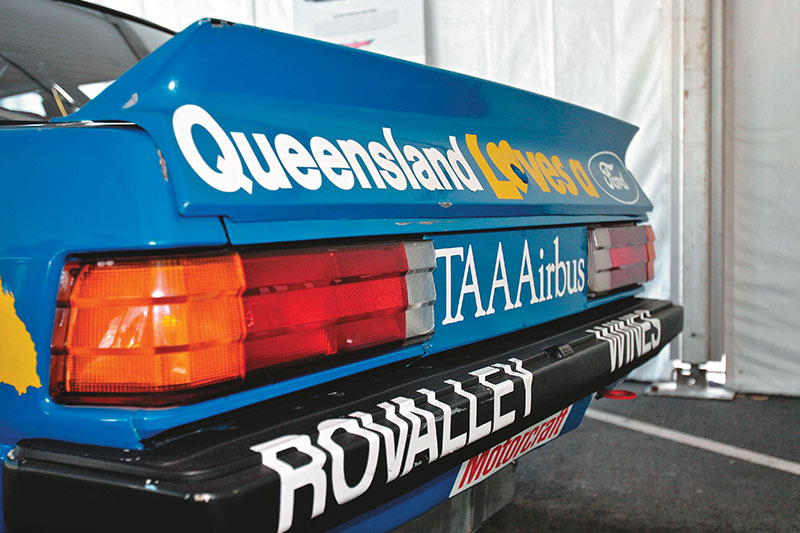 "The old car had paint and body deadener on it and fortunately Ford came to the party with a bodyshell that didn't have all that on it. We always used to scrutineer the car full of fuel but one day at Calder in 1981 the boys took it to down with very little fuel in it and all of a sudden the penny dropped: our Falcon weighed 1300kg and all the other Falcons ranged anywhere from 1500-1840kg. We were being accused of all sorts of things but we were well within the homologation papers."
THE CHAMPION
With good power, the chassis right on the weight limit, and good handling, Tru-Blu #2 was as sweet to race as its forebear, Johnson recalls.
"It was beautiful to drive. We had virtually the same power right through 1980-81. They weren't very highly developed engines; we had to use standard manifolds and cylinder heads but we had 100 octane AV gas and 10.5:1 compression.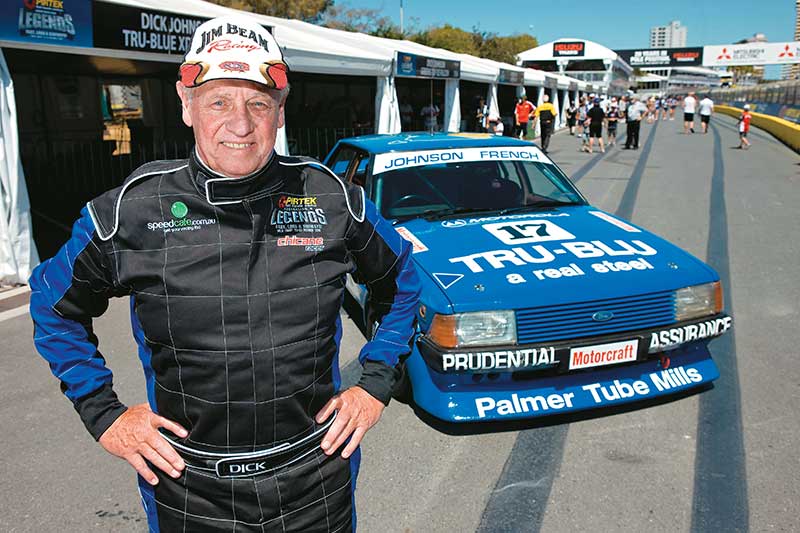 "(But) we used decent pistons, rods and crank and built them strong. I drove it without power steer but the car was well balanced, although you had to drive it straight and be really careful on the throttle and not buzz the engine up. But over and above the Holdens, we had capacity; 5.8-litres instead of 5.0-litres."
With this car Johnson would repay the faith fans had in him by winning Bathurst in 1981, the first of four Mount Panorama triumphs. And he made co-driver John French a very happy man.
"John's birthday is in November and on the morning of Bathurst '81 he said to me, 'I want to be the oldest guy that's ever won Bathurst and I'm going to win it before I'm 51'. He was 50 in 1981."
Johnson also won his first touring car championship in his first full year in the series. "We killed 'em in '81," he chuckles. "(But) it went down to the last race at Lakeside with Brock. Brock built a brand new (lighter) car without a muffler and power brakes – they did everything they could to beat us. On lap two, the Falcon broke the front sway bar and I had to run the whole race like that.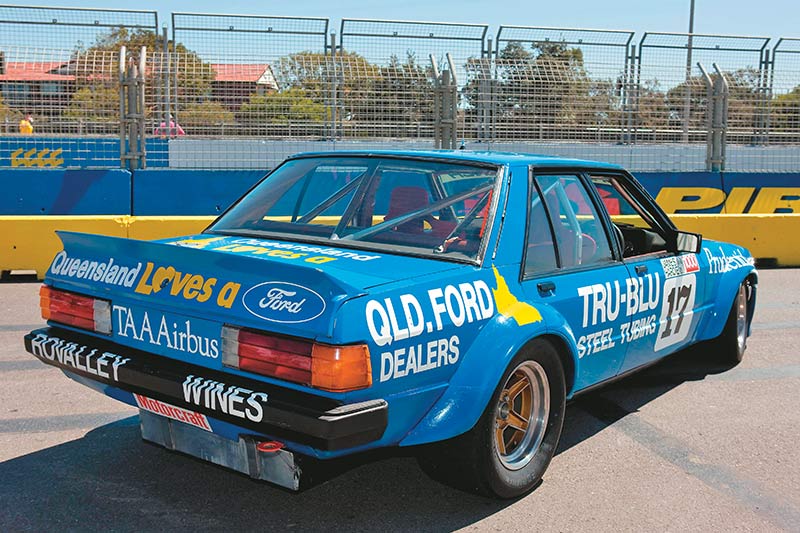 "It wasn't fun but I knew the track and when you're in that situation you can do anything. I used all the road and some of the dirt and poor old Brock's car looked like it had been in Iraq at the end of the race."
And Dick Johnson had won the Australian Touring Car Championship, a feat he'd repeat a year later in the same car.
Johnson says he felt invincible in 1981, winning five of eight rounds, and going from underdog to Ford standard bearer in 12 months. "When I was a kid I dreamed of being a touring car champion or winning a touring car race. Norm Beechey was one of my heroes and I used to watch him at Lakeside and before him there was Clem Smith and Brian 'Yogi' Muir. I'm not necessarily that proud of what I've achieved over many years but how I've achieved it."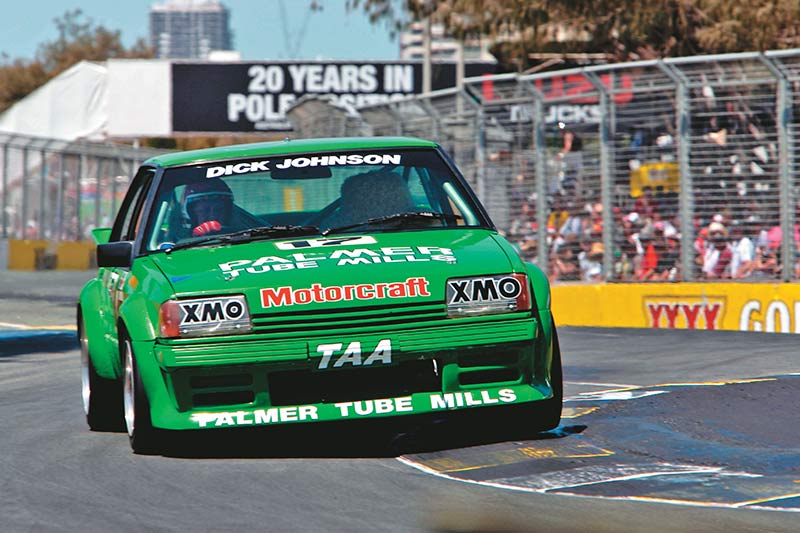 THE GREEN MONSTER
There were two 'green cars', as Johnson likes to call his Greens-Tuf XE Falcons. The first is remembered best for a shunt at Bathurst that made The Rock incident look like a carpark bingle. Johnson clipped the wall exiting Forests Elbow, which broke the steering, sending him crashing into trees and destroying the car. As Dick says, "It was turned into paperweights". Luckily, though, most of the running gear survived and it formed the basis for the 1984 version.
| Read more: Greens-Tuf Ford XE Falcon
The '83 car wasn't as competitive as the '82 XD, due in part to its "dreadful" four-link rear-end, which Johnson later modified to a three-link, and he also had four mechanical DNFs. Rule changes, though, allowed 19-inch diameter rear wheels and a new inlet manifold and cylinder heads to keep pace with Commodore development and Allan Moffat's rapid RX-7.
"The Tru-Blu cars only had standard cranks – I couldn't afford steel cranks – but the XE had a complete steel engine and we used to spin it to 7500 so it used to sound pretty good too."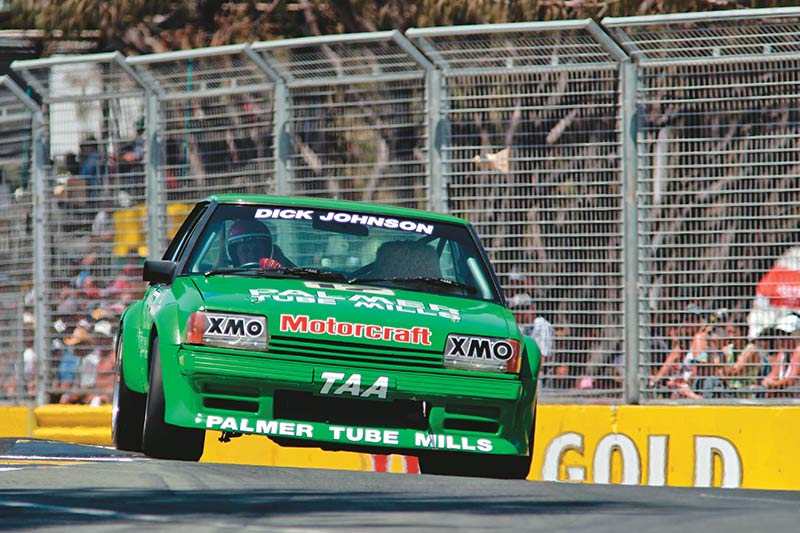 For 1984, the final year of Group C, DJR built a new XE with a special bodyshell straight off the Falcon production line to Johnson's specification, again, in search of low weight. "We walked down the line and said leave this and that off," he remembers.
This green monster dominated, despite only winning one race, but consistency paid off with Johnson's third title in four years. He was by now a top flight touring car star and Ford's main man and he and French were also looking good for their second Bathurst win in 1984 until gremlins hit the hitherto reliable XE.
"We were smoking them but a few laps after I passed Perkins in the Brock car to take the lead, the fuel pump failed. After we sorted that out we got back in the race and were smoking around (out of contention) and I was talking to the sports minister John Brown live on national television when the tailshaft shit itself!"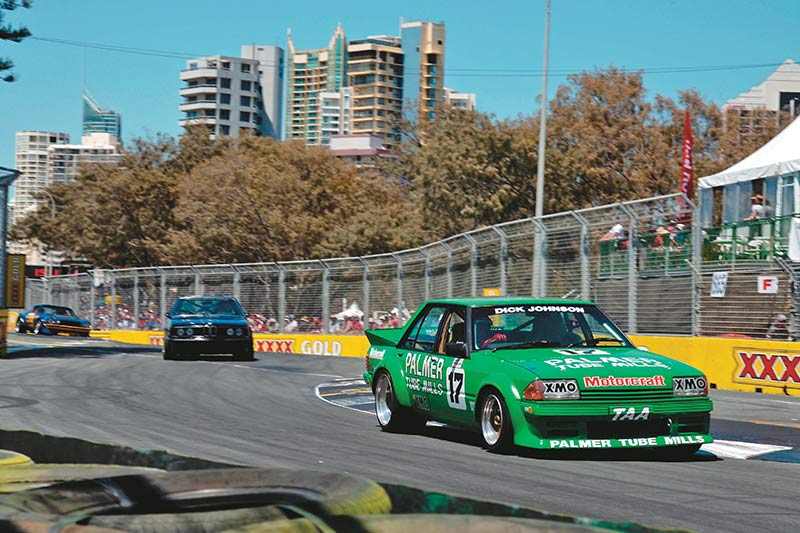 REUNITED!
At Surfers, Johnson was delighted to have the chance to drive his old cars again but a series of demonstrations in Tru-Blu was cut short when the engine mysteriously gave out. "It did half a lap then the oil light came on," he shrugs. "Apparently the engine was rebuilt at Bowden's but I don't know what they did to it. I'm going to get them to send the engine to me and we'll have a look at it; the carburettor and manifold were different (to original)."
With one car down, Dick did what any self-respecting team owner would do, he turfed his son Steven out of the Greens-Tuf car after he'd done one demo and did the remaining three himself. And had a ball.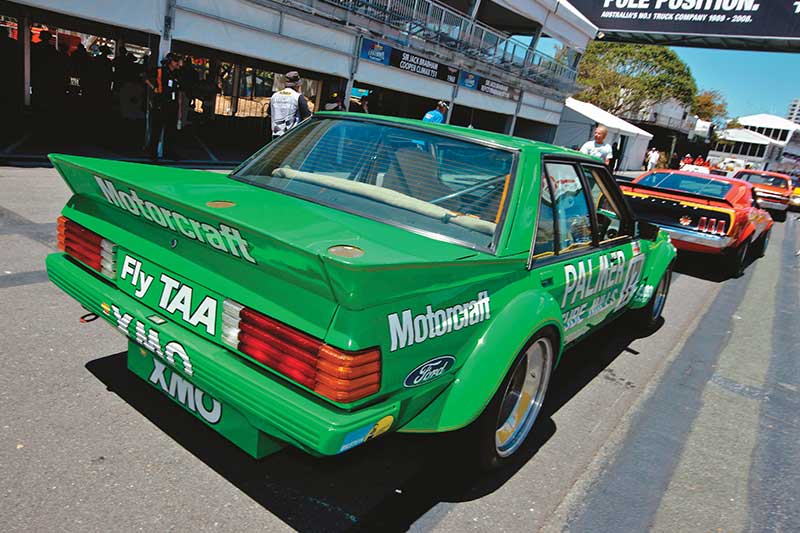 "It was bloody fantastic, I was really surprised," he grins. "It handled and stopped and it was doing 250 kays down the chute. I was amazed because all we did to the car before Indy was overhaul the brakes because it hadn't really fired a shot since '84.
"The green car is a favourite because it won the championship but also because it is just a fat looking car."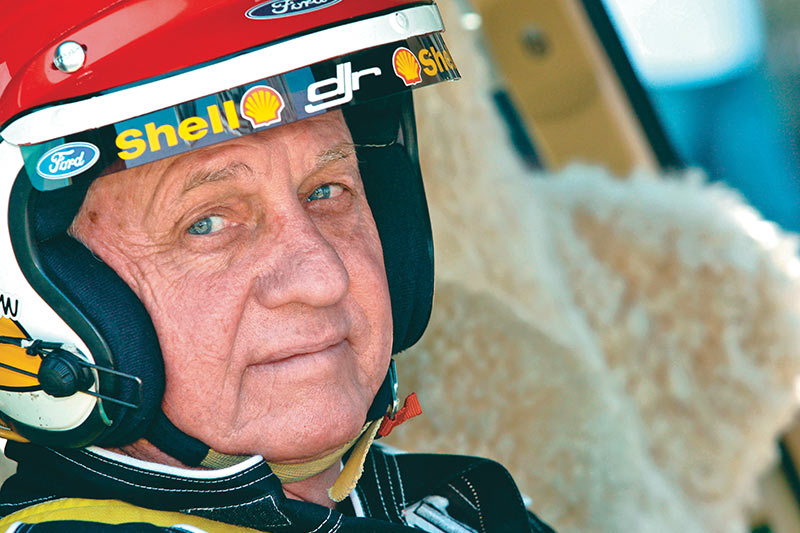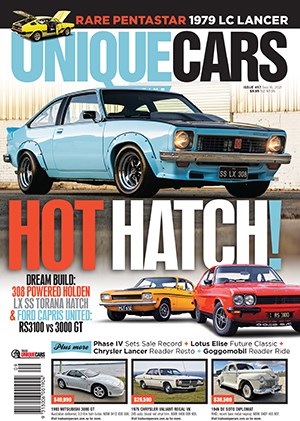 Subscribe to Unique Cars Magazine and save up to 42%
Australia's classic and muscle car bible. With stunning features, advice, market intelligence and hundreds of cars for sale.
Subscribe