Bathurst Motoring Festival 2015
---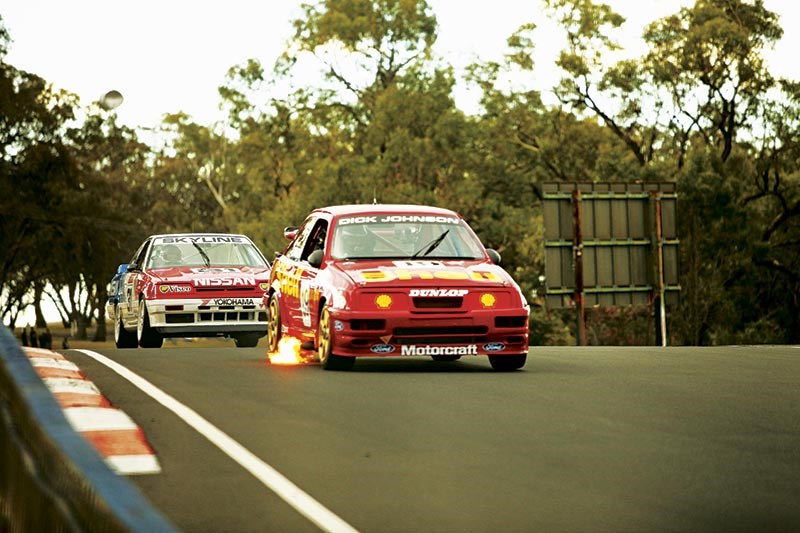 Bathurst Motoring Festival 2015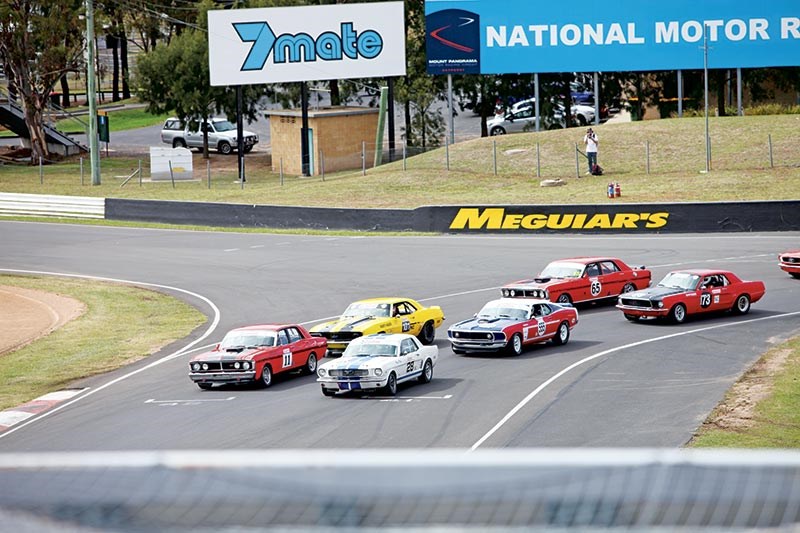 Bathurst Motoring Festival 2015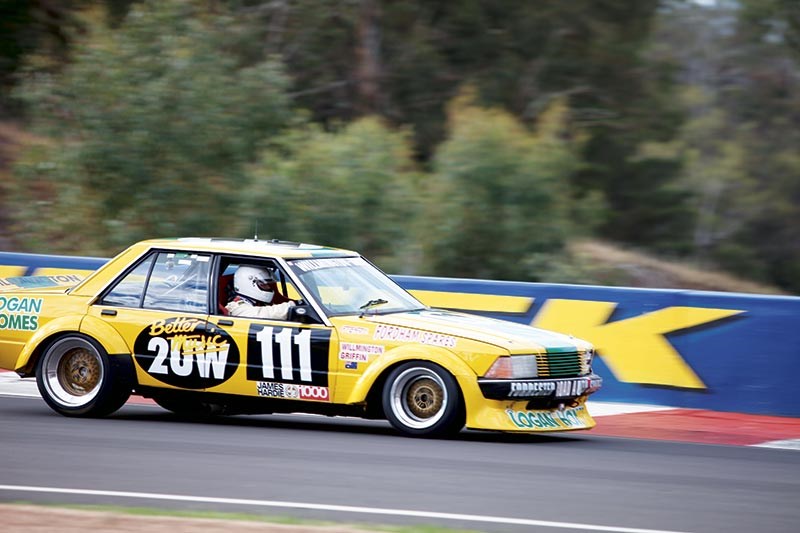 Neville Butler

Alan Grice's 1978 Bathurst A9X, driven by Tony Sawford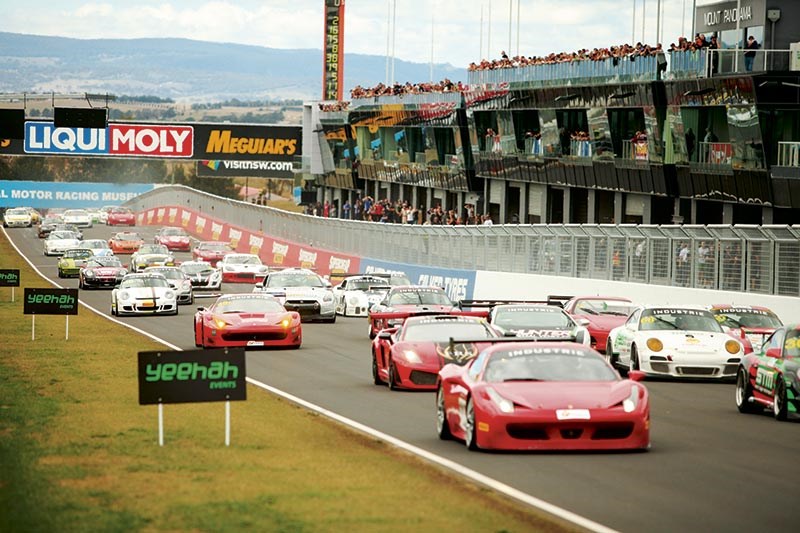 Production Sports categories are always a big crowd pleaser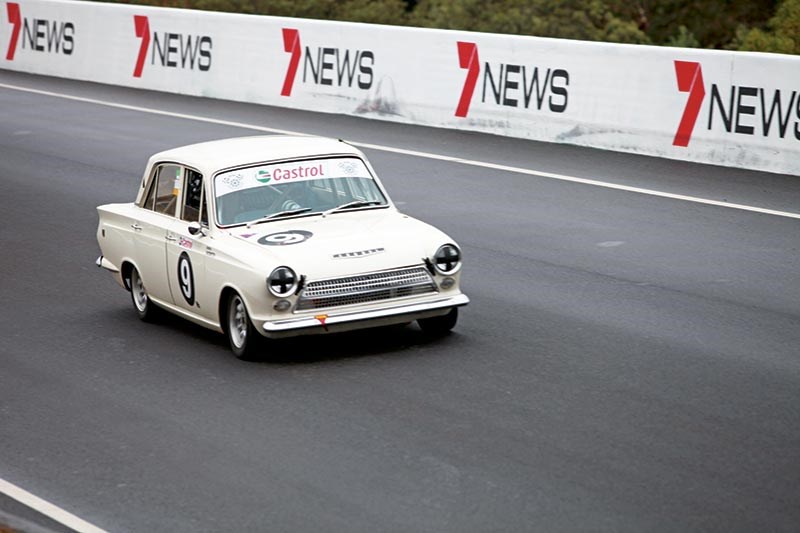 David Waddington's Lotus Cortina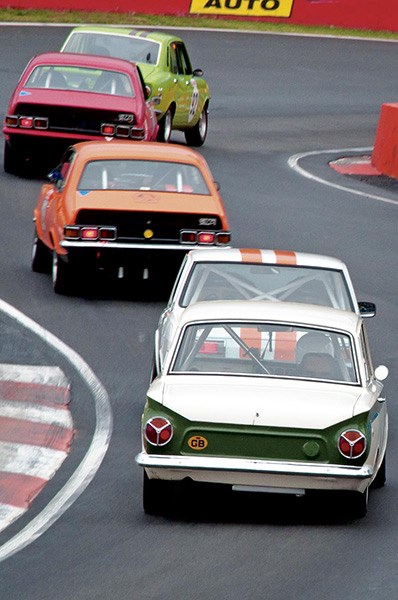 Bathurst Motoring Festival 2015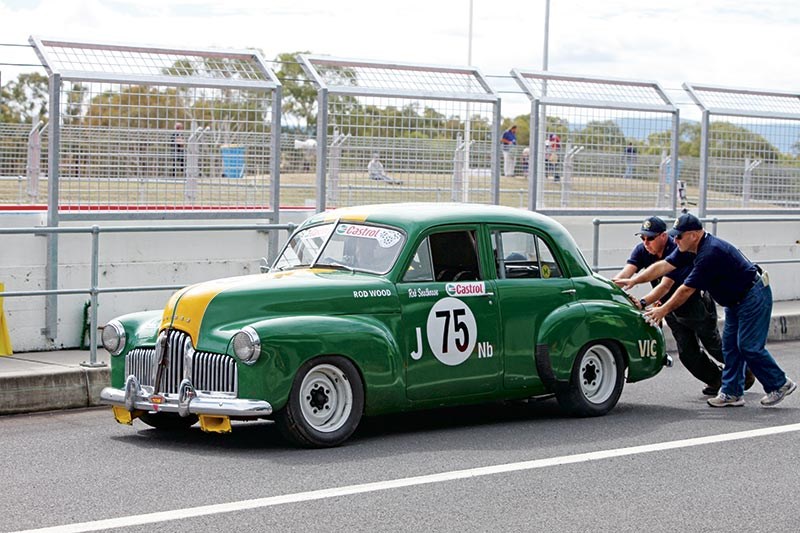 Rod Wood took home the title for most creative swearing

Rain in the pits and sun on the mountain - where else but Bathurst? Easter long weekend was all about looking back with eyes forward
Bathurst Motoring Festival 2015
Typical of Mount Panorama to pour with rain on Friday and Saturday, then come Sunday lunchtime, you're burnt.
Australia's Mecca of motorsport delivered in its characteristically charming ways over the Easter long weekend when retro racing categories descended upon Bathurst, with
entrants from every corner of Australia.
Heritage Touring Cars were the headline act, but there was so much hard-charging, knuckle-biting action from Group N, Combined Sedans, Production Sports, the Porsche Club, Production Touring Cars and Saloons that officials were flat out getting everybody out on track in their timeslots and there were highlights across the board.
It wasn't a points-scoring round for the Heritage Touring Cars, there were a few no-shows, but that only made everyone else stand out. A massive 51 cars in Combined Sedans
hit the track for Friday practice with slick tyres on and Mount Panorama did its thing – it bucketed down. Cars of every shape and horsepower figure barely made it a full circuit without mishap, racing on marbles. Their only saving grace was the recently resurfaced Mount Panorama road drip-feeding grip, but nothing to race on. As expected, the majority of Friday and Saturday was run on wets, or semi-slicks for the brave. Fog on Saturday morning delayed proceedings for an hour.
In the Sports category it was Rod Salmon from Victoria who took the first race win on Saturday in his Audi R8 LMS Ultra in GT class, setting a 2:35.8 fastest lap in the grease, ahead of Steve McLaughlin in the monstrous 8.3-litre Dodge Viper. Oddities like Iain Pretty and Scott Fleming's Roaring Forties GT40 came home second in Class A and Graham Lusty's Mosler MT900 tiptoed the hairy LS7-powered machine for an 8th finish.
Saloon cars of Travis Lindorff (#56 AU) and Jason Leoncini (#3 VT) played bumper cars up Mountain Straight, and the treacherous conditions allowed the underdogs to put moves on bigger horsepower cars which wouldn't happen in the dry. Ric Shaw in his Mazda RX8 cunningly took nine spots on lap one of the first race, ducking and diving beneath Falcons, Monaros and Evos. But it all came unglued when he aquaplaned as he prepared to enter the Conrod Straight kink and spun, slapping the concrete wall and finishing backwards in the sand.
History repeated in Heritage Touring Cars as the dementedly rapid Fred Gibson Skylines and the ex-Dick Johnson and Colin Bond Sierras hammered the big angry Holdens and
Falcons. The turbocharged Group A cars were not without their foibles in the wet, proving a handful across the top, but the all-wheel drive of Terry Lawlor's R32 seemed in a class of its own, dancing through McPhillamy and steering like it was on rails – although Brian Sala's red and white Sierra Cosworth tried hard to stay in Godzilla's wake. The HR31 Skylines of Mark Eddy and Tony Alford would've won the volume award if one existed, spitting flames at every opportunity and screaming around the mountain.
The hard luck story of the weekend went to Rod Wood in the former Ken Zinner FX Holden which owner Rob Stouthouse says he has remedies for after a string of problems all
weekend. The #75 Humpy broke down in pitlane less than a minute before the Group N Race 3 formation lap on Sunday.
The cars to beat in Group N were the blue and white-striped Brad Tilley Mustang and the red, white and blue Boss Mustang of Darryl Hansen, which finished first and second
respectively in Race 1, gapped by just 0.2 of a second.
Tilley then pushed the envelope further in Race 2 by taking Hansen and Michael Anderson's GT-HO elevating himself from third to first with only two laps to go.
The biggest crash of the weekend without doubt was that of Zach Loscialpo who, on lap one of Production Touring's Race 1 succumbed to The Chase, rolling six times into the sand trap and writing his HSV GTS off. Fortunately he walked away with only minor bruising.
The excitement of racing on the Mountain climaxed on Sunday afternoon's Group N, Heritage Touring Car and Combined Sedan races. The sun had delivered a dry track and
everyone pushed hard in their last races. Brian Sala and his lightning Sierra took an early lead but Lawlor put a stop to that with another authoritative pass in the R32.
Matthew Palmer in his ex-Brad Jones Racing BF V8SC swiped the lead from Stephen Voight in the #93 VZ Commodore on the penultimate lap.
One of the biggest highlights of the Bathurst Motor Festival is, of course, the backdrop. Even without the ATCC/V8 Supercars circus that gets you hyped up for The Great Race, no matter how old or how many times you've been, there's something soul stirring about Mount Panorama and the surge of noise as racing cars pile up Mountain Straight and across the top. It's even better when you can camp for next-tonothing and bring the kids. Try it next year – just bring a brolly.
GREAT GUNS
Tony Sawford won't let time weary Alan Grice's Bathursthardened war machine.
This is Alan Grice's actual 1978 Bathurst A9X. It started eighth on the grid that year, entering Hell Corner side-by-side with the ill-fated green and white Ron Hodgson/Channel 7 A9X Hatch of Derek Bell before pulling away from the Brit up Mountain Straight and turning into Griffins Bend with a car length between.
Grice wasn't at the very front with the XC Falcons of Allan Moffat and Colin Bond, or the Marlboro Torana of Brock, for the majority of the race. But he remained fast, consistent and most importantly, he kept it on the black stuff. While the factory cars fought among themselves, Gricey was waiting in the mirrors. Behind Brock by one lap, and ahead of Murray Carter by three laps at the end of the day, it was a smart campaign by the underdog to finish on the podium.
Tony Sawford keeps Grice's campaign going 37 years later and handled the hot hatch very well at a sodden Mount Panorama, also keeping it all-four down. The Torana was consistent all weekend, finishing fifth in Group C on the Friday and Saturday races, and fourth on the Sunday, as well as qualifying eighth. was ordinary in the wet because didn't have the best tyres. I had a locker problem once I got past Jeff Trembath on Saturday and it started playing up, so I slowed down not knowing what it was.
It won't take much and it'll be punching up front again."
"I'm not as quick as Ed Singleton's STP Commodore but if I could actually drive, I'm sure I'd be right on him," Tony laughs.
DAVID WADDINGTON'S LOTUS CORTINA
While the muscle cars of Group N were certainly the loudest and the fastest, it's the feisty attitude of the smaller cars that often provides as big a spectacle as the V8 brutes. Enter Queensland's David Waddington who drove as hard as he could in his Chapmananointed Cortina. "I couldn't get as much out of the car as last year because I was suffering a mis-fire and couldn't rev it too hard. I was 25km/h slower going up the hill and 40km/h faster coming down so there are good signs and I made the best out of the situation.
"I still have so much confidence in the Corty, it's awesome in the wet, could put it anywhere. At Muscle Car Masters last year I made the top ten in qualifying. So she's a
quick little car. I love her."
For the Northside Kustom Kitchens carpenter, it's a long trip to Bathurst, coming thirteen hours from Redcliffe in Brisbane. David's also a self-taught car nut. "I've been into street cars since I was 14 and Lakeside Raceway was only ten minutes down the road so I was hooked pretty easily. I'm 35 now, but I'm one of the youngest in the Heritage Touring Cars which my missus reminded me of on the trip home. Finishing second in our class was a good result so that's pleasing. I'm about to step into an XY but am enjoying getting experience in the Corty before I go bashing it into walls!"
Unique Cars magazine Value Guides
Sell your car for free right here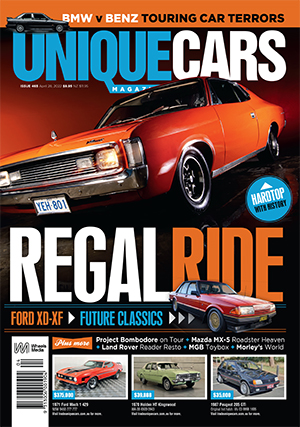 SUBSCRIBE TO UNIQUE CARS MAGAZINE
Get your monthly fix of news, reviews and stories on the greatest cars and minds in the automotive world.
Subscribe