Mercedes-Benz SL-Class - Buyer's Guide
---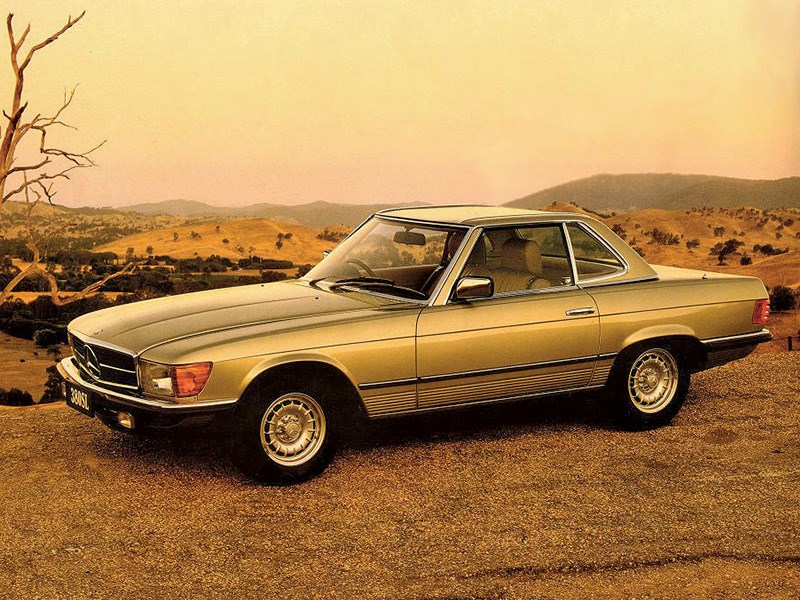 On the road the SL feels as substantial as it looks
Mercedes-Benz introduced the W107 model in 1971; its first V8-engined sports car that came with new styling, extra cabin space and handling that vastly improved on the previous year's 280SL.
Within a year M-B added a 4.5-litre V8 to its range. In SL form, the 450 offered a 200km/h top speed and 0-100km/h in a shade under eight seconds.
Boosting capacity by that extra litre involved extending the engine's stroke by 30mm over the 350. Power was up by a nominal 15kW, but the big difference was a 30 percent lift in torque.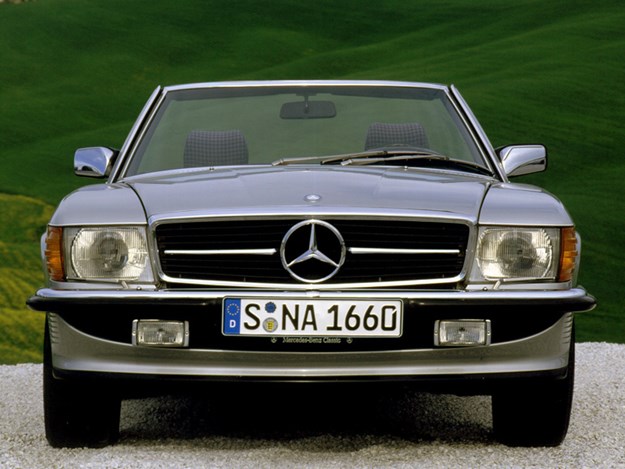 The transformation was most obvious at speeds above 100km/h - perfectly legal in rural Australia back then.
| Read next: 1995 Mercedes-Benz R129 SL500 review
SLs sat on coil springs, ensuring a smooth ride over tram-tracks and cattle grids alike while anti-dive geometry ensured stability under brakes. All versions had and needed M-B's exceptional power assisted steering which gave drivers a massive steering wheel to grip at high speeds or twirl with one finger when parking.
New in 1977, a 450SL cost $7000 more than Jaguar's leather-bound XJS, yet the interior was austere. MB-Tex vinyl was the norm, with leather or cloth rarely seen options. Air-conditioning was standard, timber dash embellishment arrived in 1978 and, from 1979, electric windows were included as well.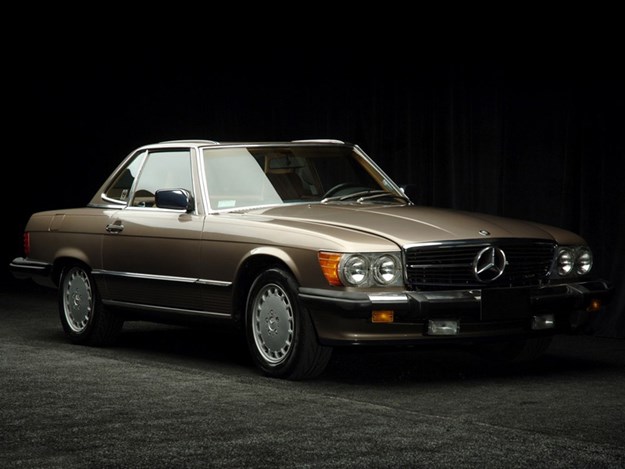 1977 had brought another big change for Australian buyers when ADR27A emission regulations chopped the 4.5-litre engine's output by 18kW. Three years would then elapse while the world waited on a modernised and more efficient 3.8-litre version of the V8.
| Past Blast: 1986 Mercedes-Benz 560SL review
The 380SL launched in 1980 and looked utterly the same as earlier models but under the bonnet was a new generation V8 that produced 20 percent more power than emission-controlled versions of the 4.5-litre V8. It was also quieter and used less fuel.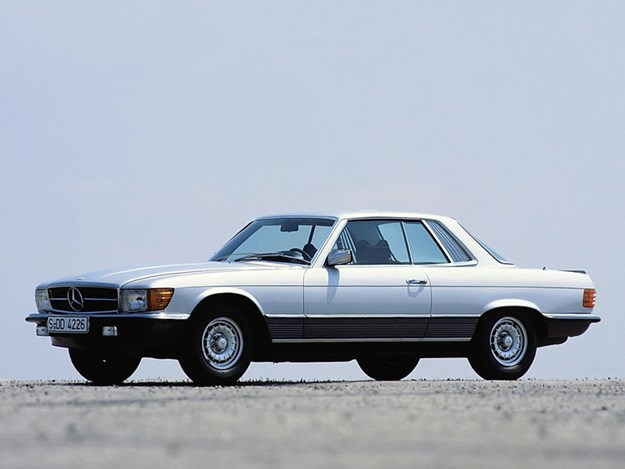 Most 107 Series SLs will come with a hardtop and a very substantial item it is too, weighing around 75kg. It can be removed carefully by two people, but owners who want to r&r the top solo should invest in a purpose-built hoist. Ask if one comes with any car you are considering.
On the road these SLs feel as substantial as they look. Hit a bump and the shock wave disappears into the wonderful suspension and massive structure. Dive too fast into a bend and the combination of exceptional balance and magnificent brakes will do their best to keep you on the road and pointing in the right direction.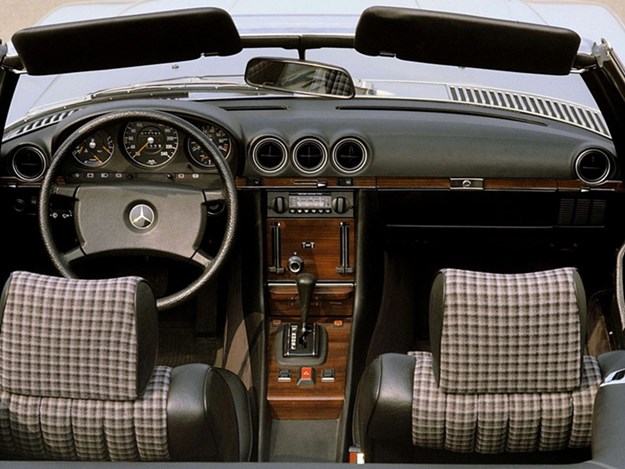 Neglected 350 and 450SLs needing work were not long ago selling at less than $20,000. However, those cars have by now been shedded or stripped as sources of parts for better ones. A few may have been sent for full restoration but going 'bare metal' on a car of this complexity is very expensive and recovering your investment far from assured.
Cars claiming to have undergone major restoration need to come with documentary evidence. So as well any being offered near the top of our value range. These require service histories which confirm that expensive items like engine, transmission, suspension and brakes have seen recent work.
VALUE RANGE: Mercedes (450SL)
Fair: $16,000
Good: $35,000
Excellent: $50,000
(Note: exceptional cars will demand more)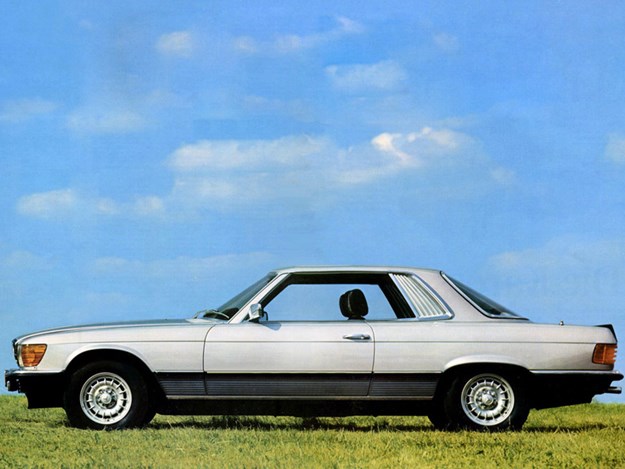 Buyer's Checklist
Body & chassis
Unless a car has been severely neglected, rust isn't a major concern for Mercedes-Benz buyers. To get an initial impression before sending the car for specialist inspection, areas to check include inner mudguards, the boot floor, battery tray, rear subframe and suspension mountings. Inspect chassis rails for welds where there should be none, and mismatched paint which is hard to hide as cars age. Damaged bumpers aren't cheap to fix and replacements new from the USA cost around A$4000 for a complete bar and fittings. Even the vulnerable front air-dam is $600 plus shipping. Look at the hardtop for damage and also body surfaces where scrapes can occur when the top is being fitted or removed.
Engine & transmission
Mercedes-Benz engineering and an understressed design ensure no inherent problems and properly maintained V8s are good for over 300,000 kilometres. Failure to use the correct mix of inhibitor leads to corroded cylinder heads and reconditioned they cost around $5000 a pair. A total engine rebuild with all-new internals, fuel injectors and fuel pump, allow $15,000. Watch for rear main bearing seal leaks and listen for timing chain noise. Chains rarely break and need replacing every 150,000 kms. Well-maintained, a Mercedes-Benz auto transmission will survive for decades and even neglected units work reasonably well. Signs that the transmission is due for some major surgery include jerky changes and grubby oil. Provided nothing significant is damaged, a transmission rebuild costs $4000-5000.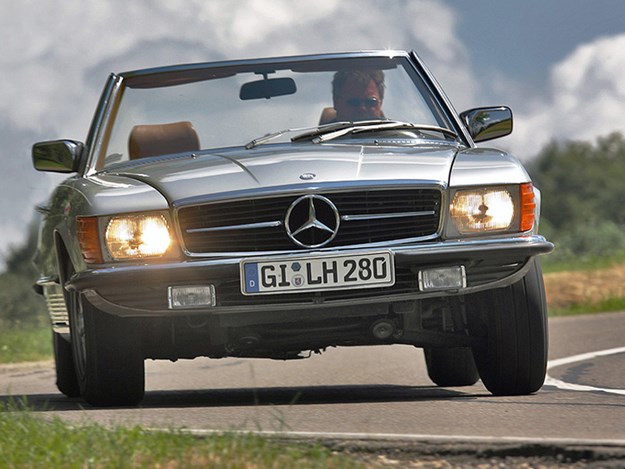 Suspension & brakes
Weight is the killer here, so expect to spend money if the car hasn't been fitted with new shock absorbers within the last 50,000 kms. Upper wishbone bushes are often neglected, upsetting the zero-offset geometry and causing tyre wear. Lower profile tyres on non-standard rims send increased levels of road shock into the suspension and steering, causing premature component wear. Big discs, vented at the front and with a massive power booster, make for effortless stopping but hard use causes rapid pad and disc wear. With normal use, pads last 40,000-70,000 kms, rotors can make 150,000 kms.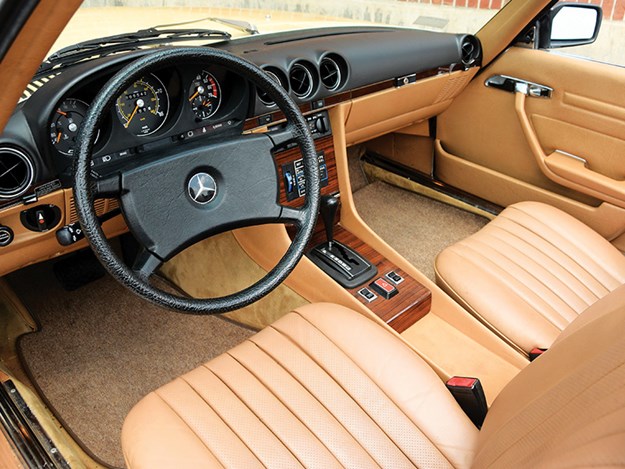 Interior & electrics
Bosch electrics are virtually bombproof so just check that everything, especially the sunroof, works. Power windows aren't the quickest items on the planet, but their progress needs to be smooth without jerks or shudders. Air-conditioning should deliver cold air almost immediately; a coolish flow and/or underbonnet noises means a $2000+ overhaul. MB-Tex - sometimes called 'leatherette' – is durable and easy to replace if it has become worn or damaged.
1971-1986 Mercedes-Benz 350/380/450SL specs
Total built: 134,800 (all versions)
Engine: 3499cc, 3818cc or 4520cc V8 with overhead camshafts and fuel injection
Power & torque: 165kW @5000rpm, 310Nm @2500rpm (450SL pre-1977)
Performance: 0-100km/h 8.5 sec, 16.7 (450SL)
Transmission: Four speed manual, three or four-speed automatic
Suspension: Independent with coils, wishbones & anti-roll bar (f) independent with coils, semi-trailing arms & telescopic shock absorbers (r)
Brakes: Disc (f), disc (r) power assisted
Tyres: 205/70VR14 radial
From Unique Cars 456, Aug 2021
Unique Cars magazine Value Guides
Sell your car for free right here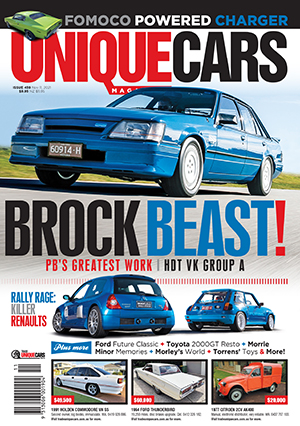 Subscribe to Unique Cars magazine for 12 months and save!
Australia's classic and muscle car bible. With stunning features, advice, market intelligence and hundreds of cars for sale.
Subscribe