Saleen S302 Extreme review
---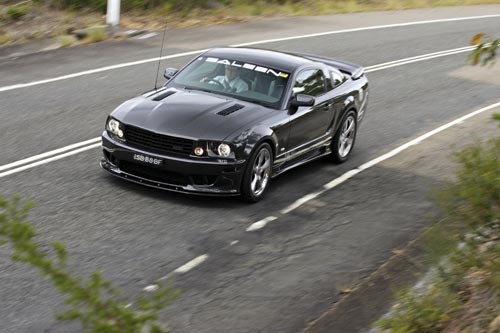 Driven: Saleen S302 Extreme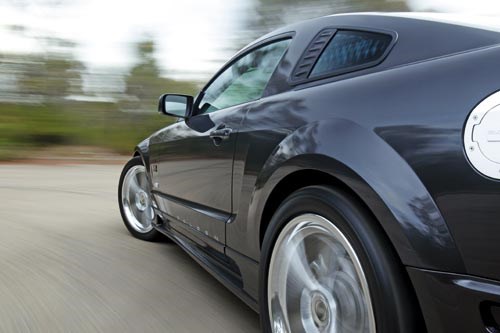 Driven: Saleen S302 Extreme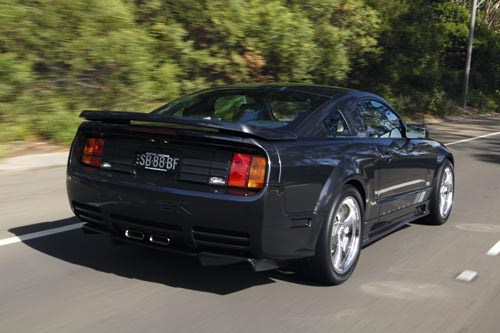 Driven: Saleen S302 Extreme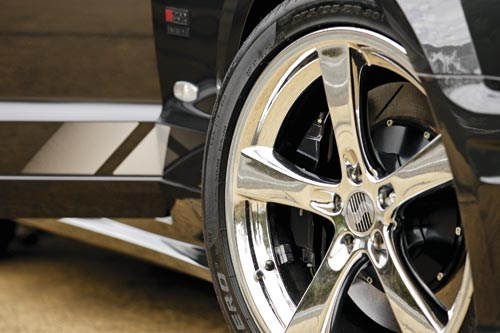 Driven: Saleen S302 Extreme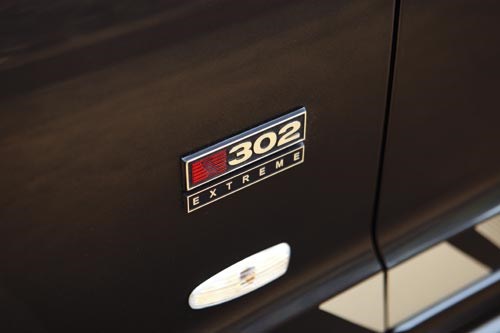 Driven: Saleen S302 Extreme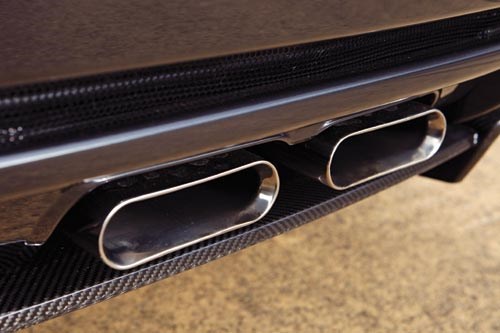 Driven: Saleen S302 Extreme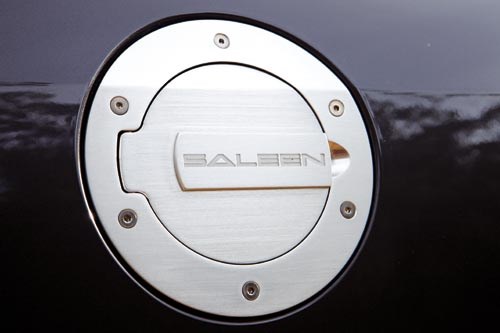 Driven: Saleen S302 Extreme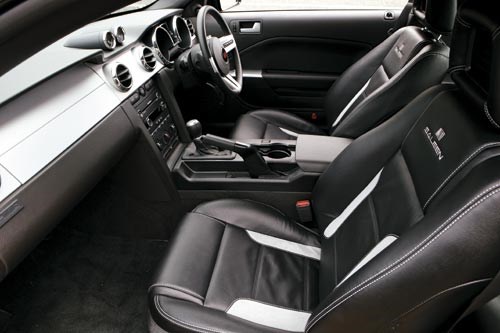 Driven: Saleen S302 Extreme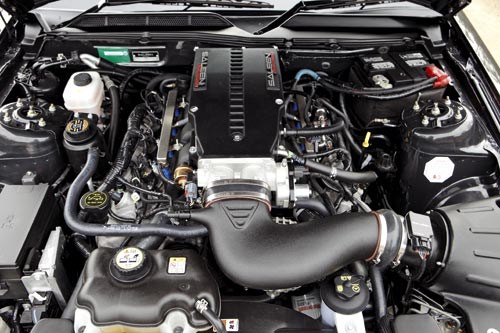 Driven: Saleen S302 Extreme

Driven: Getting to grips with an Extreme Mustang...
Saleen S302 Extreme
Remember the excitement surrounding the launches of the Saturn rockets from Cape Canaveral in the late 1970s – the countdown, the momentary fuel leak, the awesome blast on start up and the eventual lift off and afterburn.
I reflect on this as I push the start button on the Saleen S302 Extreme coupe, perhaps the most potent performance Mustang yet seen in this country and a bloody good looking one at that.
The charcoal coupe with sumptuous leather interior is one of six S302 Saleen Extremes that have made their way to Australia from a production run of just 200.
To be honest I'm a touch nervous – my initial excitement tempered by the fact the owner of this $225,000 rocket ship has slipped into the passenger seat. However, to my surprise his generous drive offer carries no limitations and I'm openly encouraged to explore its upper limits.
The Michigan-based performance company, established by former racer Steve Saleen in 1983, has been manufacturing limited-edition hi-po Fords for some time, and Saleen Inc, celebrated its 25th anniversary last year by producing its most powerful vehicle yet.
With the 302cu.in SOHC three-valves per cylinder V8 pumping out 477Kw at 6300rpm (that's 620 horses in Mustang speak) and 800Nm of torque the Extreme has the sort of "balls and all" performance you mostly dream about.
There's a momentary pause as I give the engine room the start message and the big V8 quickly explodes into life but duly settles to a dull idle. The 4.6-litre V8 with all-alloy block is bored and stroked to 5.0-litre capacity.
As you'd expect such awesome power and torque is developed from a special forged crank, forged connecting rods and individually blue printed pistons plus the adoption of specially ported alloy cylinder heads, high-performance cams and high flow injectors.
However, such an engine has a robust appetite and the Saleen's 'piece de résistance' is a patented port-matched twin-screw supercharger with dual-stage intercooler that pumps up a performance storm in record time.
What I like about large performance V8s is their ability to be relatively tame on a light throttle – a point I really appreciate as I try to familiarise myself with this very special Mustang before I kick it in the belly and explore its limits.
Lousy road surface conditions mean the tightly strapped down all-coil suspension is a little jumpy on the drive into Kuringai Chase National Park on the north side of Sydney and I'm conscious of picking up the carbon-fibre front spoiler.
However, our test circuit further out to West Head lookout is far better and the black top here is smooth with long sweepers where you can explore 'outer space' in a far more controlled manner.
The final drive is a 3.73:1 speed-sensitive limited-slip differential via a high-performance clutch and a close-ratio six-speed manual shift. The clutch pressure is surprisingly light and the Extreme doesn't feel like a full blown race bred thoroughbred when driven around town in a docile manner. Dig the spurs in though, and all hell breaks loose.
I've driven some great performance cars over the years but the 'get down and dirty growl' of the Extreme really stirs the blood. Despite limiting revs to 5000, (it's redlined at 7000) the feeling at launch is one of complete exhilaration, backed up by a 'go straight to jail' 0-100km/h acceleration time of less than four seconds.
At 1610kg, the Saleen is no lightweight but importantly the balance is great – the 53/47 front/rear split gives it great poise and with so much power it's easy to balance off the throttle.
There's no stability control but traction control helps gets the massive grunt on the tarmac with a minimum of fuss, backed up by Pirelli P-Zero rubber – the 20-inch five-spoke alloys, 9-inch on the front shod with 275 x 35-series, the 10-inch wide rims at the rear shod with 275 x 40-series.
Braking is just as aggressive – again, good pedal feel with 15-inch slotted and vented front discs with 6-pot calipers and 11.8-inch slotted and vented rear discs.
Steering feel is usually a giveaway on large US imports but the weight and feedback from the steering on this one is surprisingly good – a testament to the well-executed right-hand drive conversion carried out by local importer, Mustang Australia.
I hand the Saleen Extreme back to its owner at the end of a great afternoon's driving – fortunately, he's still smiling but I can now understand why. This car would put a permanent smile on anybody's face.
SPECIFICATIONS
2009 Saleen S302 Extreme
Body: two-door coupe
Weight: 1653kg
Drivetrain: front engine, RWD
Engine: 5.0-litre supercharged V8
Transmission: Close-ratio six-speed manual
Power/torque: 462kW @ 6300rpm/813Nm @ 4400rpm
Performance: 0-100km/h – 3.9 seconds
Price: $225,000 (est.)
Unique Cars magazine Value Guides
Sell your car for free right here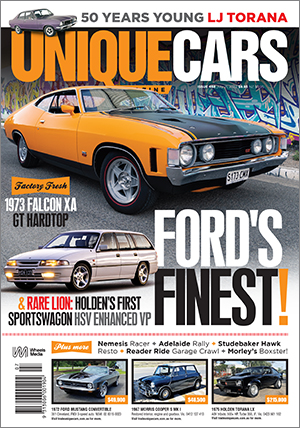 SUBSCRIBE TO UNIQUE CARS MAGAZINE
Get your monthly fix of news, reviews and stories on the greatest cars and minds in the automotive world.
Subscribe