Brexit hurts Brit makers
---
Uncertainty over the UK's exit from the EU is hammering the Brit car industry and could have long-term implications for historic marques such as Jaguar.
Incoming British Prime Minister Boris Johnson has not been warmly welcomed by the British car industry with the possibility of Britain leaving the European Union on October 31 without a specific trade deal.
According to figures from the Society of Motor Manufacturers and Traders, car production fell by 20 per cent in the first half of 2019, to its lowest level in eight years, and falling in June for the 13th consecutive month. The trade group is concerned that a no-deal Brexit will "threaten the overall viability the industry."
As well as the drop in domestic production, export sales also suffered. Shipments to China fell by 53.1 per cent in the first six months while Europe was down 15.6 per cent and the US by 12.9 per cent.
The sector trade group is concerned that in addition to the falling volumes carmakers are also having to contend with preparations for Britain's exit from the EU, due on October 31, which could result in strong tariffs and border complications making them far less competitive.
Tariffs under World Trade Organisation guidelines can be as high as 10 per cent on finished vehicles while the impact of tariffs and border checks can have a big impact on parts supply. As such, the industry has been stockpiling parts and safe-guarding its supply chain.
Leaving the European Union without a deal will end tariff-free trade with a market that takes 57 per cent of British car exports. Conversely, Britain buys one fifth of German car production and the SMMT believes tariffs alone will cost 4.5 billion pounds a year.
On top of the 20 per cent drop in production, investment in the industry dropped by 70 per cent as carmakers spent around 300 million pounds on Brexit contingency plans. Only 90 million pounds was invested in the first six months needed to survive the disruption currently facing the global industry including technological and environmental challenges. The 90 million compares with 588 million pounds last year and a healthy 1.1 billion pounds back in 2017.
The only bright spot came from Jaguar Land Rover last month who announced it will invest close to 1 billion pounds on electric car production at its Midlands plant.
Despite the concern regarding Johnson's no-deal Brexit he was quoted in 2016 that he felt the country's appetite particularly for German cars meant it would be inconceivable that tariffs would be applied. "We buy one fifth of Germany's entire car output. Tariffs would mean the Germans would be cutting their own throats. It won't happen," he said.
But while the car industry is one of the most productive industries in the UK and the single biggest exporter, the last three years of uncertainty since the Brexit vote has destabilised the industry as it transitions to electric power. The signing of a free trade agreement between Japan and the European Union is also a sign of concern moving forward.
Elements of the UK car industry are also under stress with Jaguar Land Rover already losing money – from a peak profit of Aus$4.8 billion in 2015 JLR announced it had lost Au$6.3 billion in the third quarter alone and was cutting 4500 jobs. Whilst its E-Pace and I-Pace SUVs are in strong demand, its XE and XF sedans, developed at huge cost, have fallen from favour and Jaguar sales overall have softened by six per cent.
Land Rover is also under stress with sales down nine per cent.
The downturn for JLR is the first since Indian Group Tata Motors bought the company from Ford back in 2008, a move that until now has seen strong global demand for its SUVs plus rapidly growing sales in China.
But it's just not JLR that's under stress, the French PSA Group has warned that continued production of the Vauxhall and Opel Astra in the UK depends very much of the terms of trade following Brexit. The Astra is the only model produced at the group's factory near Liverpool.
Honda is also planning to shut a major plant in England that produces up to 70,000 Civics a year for over 70 countries with the loss of 3500 jobs. Uncertainty over Brexit is also said to be behind the decision by Nissan to abandon plans to produce its new X-Trail SUV at its factory in Sunderland, while Ford recently said it would close an engine plant in Wales by 2020.
On the local scene, imports from the UK in the first seven months were down 16.2 per cent and from Germany down 10.2 per cent. The recent imposition of a state-based luxury car tax in Queensland and Victoria on top of an already stiff Federal luxury car tax has had a dampening effect on upper luxury cars in the past month and is also expected to slow imports further to year end.
Unique Cars magazine Value Guides
Sell your car for free right here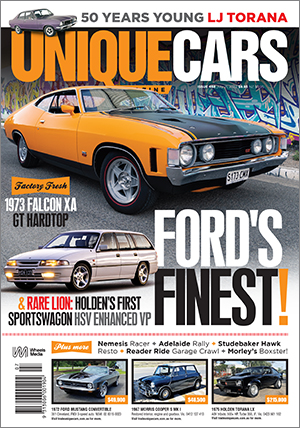 SUBSCRIBE TO UNIQUE CARS MAGAZINE
Get your monthly fix of news, reviews and stories on the greatest cars and minds in the automotive world.
Subscribe