Richo tackles Silverstone Classic
---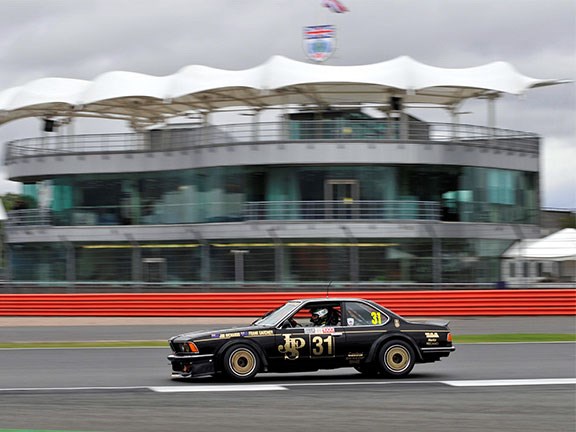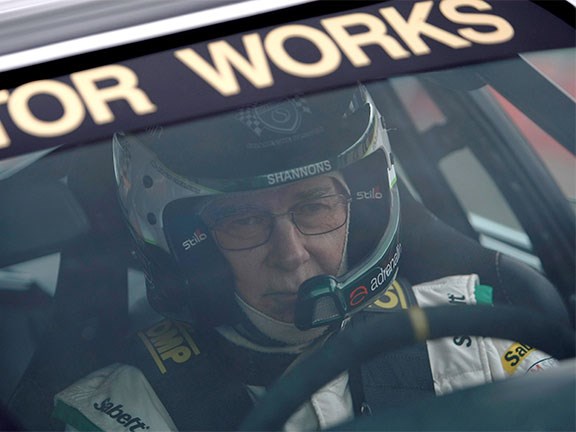 Takes on worlds best in JPS BMW Group C 635csi
Four-time Australian Touring Car champion Jim Richards slipped behind the wheel of his legendary Group C JPS BMW 635CSi to compete at the recent Silverstone Classic meeting.
Originally Richards 1983/84 Australian Touring Car Championship mount in the days of the Group C, it was then transformed to Group A regulations for the 1985 and '86 seasons before making way for the nimbler M3 in 1987. Many years later the 635Csi would undergo a full restoration back to its uniquely Australian Group C specs.
Richards now campaigns his old steed, owned by collector Peter Sturgeon and restored to its former glory by JPS chief wrench, Pip Baker, at historic race meetings throughout Australia and New Zealand.
When an opportunity arose for Richards to pit his gleaming black and gold Beemer at the Silverstone Classic against many of the top touring cars of the era from around the world, he jumped at the opportunity.
"It's terrific to be able to take it overseas. Group C was only an Australian class, it wasn't international like Group A, so to demonstrate it to the fans at Silverstone was a brilliant opportunity," said Richards.
"A lot of fans have never seen these cars in action before, especially in England. It was exciting to make this weekend a 'first' for a lot of people."
Richards wasn't expecting to be a front-runner, given both his lack of experience at the famous British Grand Prix circuit and that he was destined to run with later, faster Super Touring cars.
To Richo it was all about putting on a show for the fans and introducing them to a hugely unique part of Australia and BMW's motorsport history.
"Back in 1969 I went over to Silverstone and drove a Broadspeed Ford Escort around because a friend of mine had bought it. So I've only done a few laps around the very old Silverstone layout,"
"But with these cars, you don't drive them at ten-tenths. You respect their age, and the same goes for the driver,"
"The event itself was incredible," Richards continued.
"It's a lot, lot bigger than I thought it would be. It's almost comparable to the Goodwood Revival now. There were more than 30 historic Formula 1 cars there, and more like 50 sportscars. The grids were huge and every single car was a genuine car,"
"The Super Touring cars started the race first, regardless of where they qualified, followed by the Group A cars, and then us behind them – with a 30 second gap between the groups. So we'd catch the slower Super Touring cars. It was really enjoyable for everyone,"
"I was absolutely amazed at how much the British race fans knew about Australian motorsport. Everything that's happened in Australia, they knew about. They knew everything about what I've done in my career, I was really blown away,"
"We had more people visit our pit than anyone. The organisers of the event gave us the 'Best Presented' and 'Car of the Meeting', which was just fantastic. That's what it's about.
In a field studded with Sierra RS 500s and late-model Super Tourers from Honda and Volvo, Richards was able to qualify a respectable 17th out of 46 entries, comfortably ahead of fellow legend Steve Soper in a Group A Rover Vitesse."
The two indulged in some wheel-to-wheel action over the two races, with Richards finishing 20th and 24th respectively.
"It's an awesome track, and we had some great battles with the Group A Rovers. We were about a similar speed, and there were some slower M3s in with us as well. It was fantastic," he said.
Unique Cars magazine Value Guides
Sell your car for free right here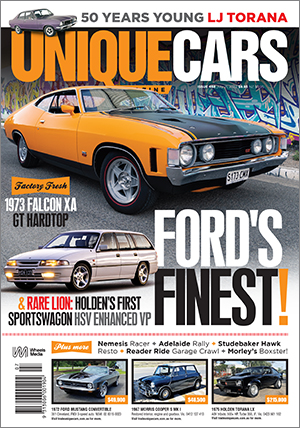 SUBSCRIBE TO UNIQUE CARS MAGAZINE
Get your monthly fix of news, reviews and stories on the greatest cars and minds in the automotive world.
Subscribe