Bolwell Nagari (2008)
---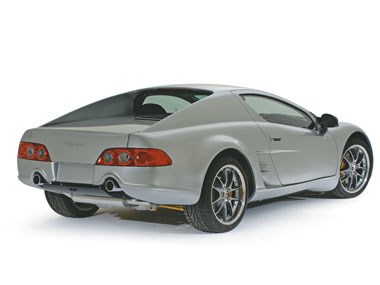 2008 Bolwell Nagari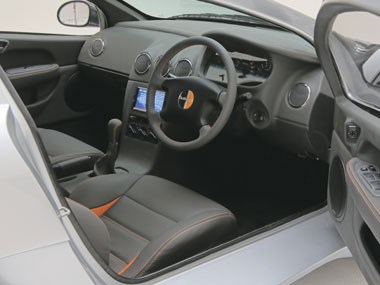 2008 Bolwell Nagari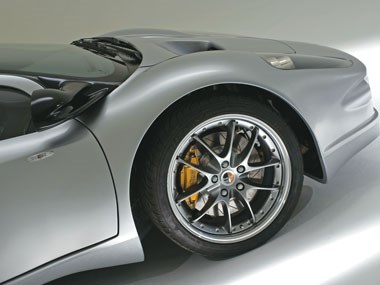 2008 Bolwell Nagari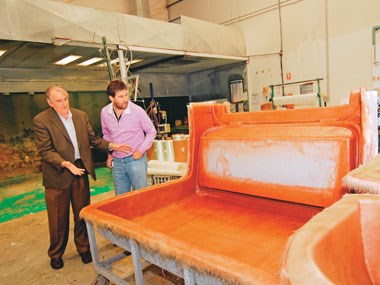 2008 Bolwell Nagari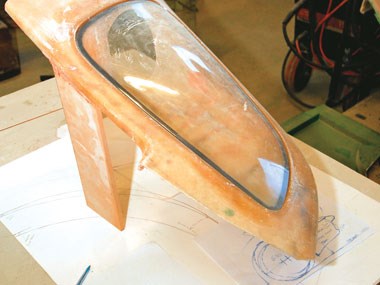 2008 Bolwell Nagari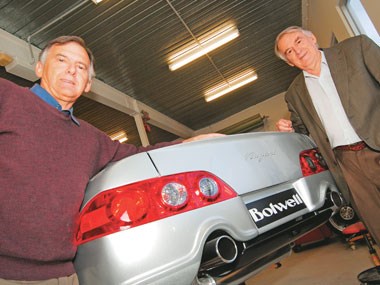 2008 Bolwell Nagari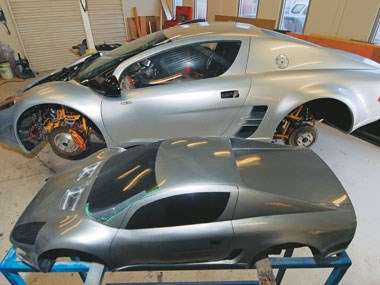 2008 Bolwell Nagari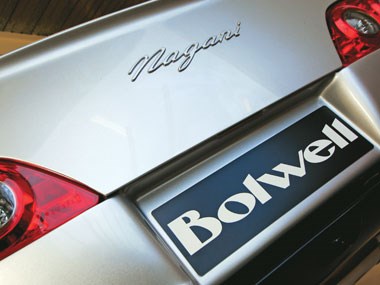 2008 Bolwell Nagari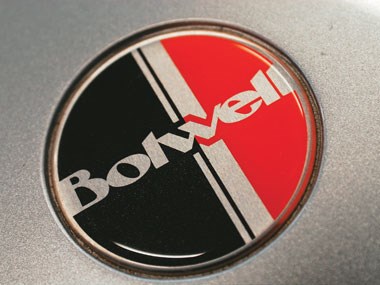 2008 Bolwell Nagari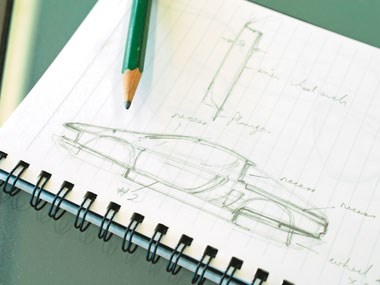 2008 Bolwell Nagari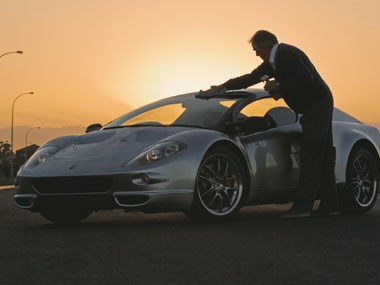 2008 Bolwell Nagari

Unfinished business: Bolwell Nagari. It was 50 years in the making but finally Campbell Bolwell made the car he always wanted to…
Bolwell Nagari (2008)
[May 2008] I can tell there's definitely something in the air as I approach the Bolwell factory in Seaford, south east of Melbourne. As I step out of my car the company's very essence penetrates my nostrils. And by essence I mean odour; the smell of fibreglass.

It is here, not in nearby Mordialloc where its previous cars were built back in the 1960s and '70s, that in a small, dedicated room some new Bolwell magic is coming to life. But unlike at the big car companies where security guards patrol the perimeters it's all a bit more laid back at Bolwell HQ.

I stumble through a side door and nearly trample over the top of the new and unique $1million Nagari prototype. A friendly sparky is tinkering with the car's headlights and glancing up, he smiles and points in the direction of the boss' office...

Upstairs the ever enthusiastic Campbell Bolwell greets me and we sit down to coffee he has prepared for me himself. But there's nowhere to place my cup for all the car mags sprawled across the table; he's a car guy is Campbell Bolwell.

He started out in the car business more than four decades ago, dropping out at the top of his game in the 1970s due to ever tightening legislative restrictions.

But he's back and more passionate - and prepared - than ever.

I'm here to pore over the born-again Nagari of course; its release at the Melbourne Motor Show in February/March amongst the biggest announcements in Aussie motoring for years and something of a Second Coming for the legions of Bolwell fans out there.

But for all of this new stuff to really resonate we have to go back to the beginning for as Campbell reminds me, this car was 50 years in the making. And it all began in the family backyard within spitting distance of his Seaford factory.

"When I was 16 my brother Winston had an Austin Healey and he wanted to put a Jaguar engine in it," begins Campbell. "He fabricated a new E-Type-like front for it and he used this new material that we had only just discovered called fibreglass.

"I hated it because it was wet and sticky and you couldn't get it out of your clothes. Then when you grind it you get splinters in your arms that are itchy for weeks. But it was the only way to get compound curves without rolling aluminium."

Making cars - and working with fibreglass - was Campbell's future. And he knew it instinctively.

"I sacked my boss at 20-years of age; I had £200 in the bank and my father asked me what I wanted to do for the rest of my life so I said 'I want to design and build sports cars'."

His headmaster father didn't say no, but with his eyes reaching skyward he gave Campbell the nod advising that if his son put his mind to it he could achieve anything.

Demonstrating his faith Campbell's father mortgaged the family house, his only asset, for £5000 and loaned the money to his son.
"I was going to put it into the business but I spent three fifths of it on real estate and put the rest of it into the business; it was the best thing I ever did.

"So we built cars - and struggled. We knew chronic poverty," he explains.

"In the midst of that (brother) Graeme joined. He (later) decided to go overseas and worked for Lotus in the research and development section with Colin Chapman on the Europa. He came back bristling with ideas which we then put into the Nagari.

"When we built the Nagari we wanted to step up a notch from the kit cars we had been building and of which we had no control over the final quality and specification. We did a deal with Ford to use their engines and components and we sold nearly all of them as complete cars."

That proved a cultural change for the small company. It was no longer dealing with the kit builder but a different customer - more akin to the buyer Bolwell envisages it has today with the new Nagari, which is only going to be sold as a complete car.

"He might be a petrol head," says Campbell of the new Nagari customer, "but he will be a more mature person who has the money to buy one. They are people who are looking for a rich man's toy.

"We don't want to compete head on with the Porsches of this world. We want to create a niche area for ourselves. So what have we got that they can't get from a 911? I think it is the individuality of the vehicle.

"Sure it's got the performance and the stunning looks, the classic lines but it is also pretty unique. My plan is to build 100-200 vehicles per year but our commitment is that we are only going to make 25 per year for the Australian market, the rest will go offshore. I would assume that they will go to the UK and Asia."

Campbell admits the LHD market is not on the radar at the moment.

"We finished building the (original) Nagari in 1974; we ran up against the ADRs with pollution compliance. Although the Ford engines passed (compliance) they wouldn't pass them in the Nagari; we had to retest them which would have cost heaps of money which we didn't have. That was the end.

"The next day our second company, which was already established, started building boats. Then we moved into mostly marine fibreglass contracts."

Bolwell briefly re-entered the motor business when it released the ungainly Volkswagen-based Ikara in 1979 which lead Bolwell to gaining its first contract with Kenworth trucks that continues to this day.

"The Ikara was our experimental development model to showcase our new closed-mold technology for fibreglass. It was to show off some radical new techniques that were coming through in the fibreglass industry. That led to us getting into the truck industry." 

Best known for its cars Bolwell has built up an enormously successful and diverse range of businesses and it is this success that has led Campbell full circle.

"We built flight simulators, we had a factory in Vietnam building playground equipment; we were in Taiwan and Mexico. In 2000 we went to Canada and bought a company building wind turbine blades for renewable energy."

The Bolwell Group grew and became more financially secure. These days it owns outright or is a major shareholder in a multitude of companies employing more than 200 people and turning over $75million. In short it is now in a position to create Campbell's dream car.

"We have the security to undertake a venture (like the Nagari) and do it properly; not on the cheap. It has a level of initial investment in seven figures but I believe the payback will be there. We have all the business plans in place to make it a success."

Bolwell has a team of five at the moment fine-tuning the first prototype. The early signs were promising when Bolwell club members were invited to a preview before the Melbourne Motor Show; 200 people arrived, flying in from all states. According to Campbell they loved the car: "At 12:30 at night they were still going, such was their enthusiasm."

Confident with the public reaction Campbell is adamant there is a market for the Nagari. Tucked away in his back pocket are several orders with deposits and a large number of serious expressions of interest.

"The next stage is to build the first lot of production products this year. Then for next year we are moving into full Australian production."

Drawing on some retro Nagari cues Campbell penned the new car's shape about seven years ago in Canada. He first saw the car in 3D three-and-a-half years ago and work on the car's development began on January 1, 2005 with the first 1:1 mock-up breaking cover about one year later.

Like many other small manufacturers the Nagari utilises components from other cars but several important parts have been specifically built for the coupe including the very pricey-looking windscreen.

"My philosophy is that the whole car design, the shape of the car revolves around the windscreen," says Campbell. "You can't use someone else's windscreen and expect to get the features that you want to get in it. It's expensive but absolutely necessary."

Because they are located well forward a big challenge was hinging the car's doors so a special hinging arrangement using bespoke hinges was created. The wind-up window mechanism also required a lot of engineering. In fact Campbell claims the doors accounted for around half the car's development time.

But perhaps the most controversial aspect of the car's specification is the number of cylinders used; and their location.

There was a certain amount of pressure to use a V8 again due to the early Nagari's muscle car underpinnings admits Campbell. But these days, he contends, Bolwell has had to use something more sophisticated.

The prototype, at least, boasts a mid-mounted all-alloy supercharged quad-cam, 24-valve Toyota V6. Complete with the six-speed gearbox it weighs only 230kg. Asked the question about whether a V8 engine could be ordered Campbell is adamant: "Not at this stage," he insists.

"There was some murmuring about not being a V8, I admit that. The point is that we have a similar power output from a lighter engine. I don't think it will be a sales-resistant item."

Using a carbonfibre tub that weighs a mere 38kg and a partly carbonfibre body shell molding that hits the scales at only 62kg it's easy to see that lightweight has been at the forefront of the Bolwell philosophy.

The subframes are aircraft-welded chromemoly; ceramic coated for lightness and strength. This kind of attention to detail has certainly paid off as the Nagari's curb weight is a Lotus-like 920kg.

"Because it is so light it is a phenomenal performer," boasts Campbell. "It has twice the power-to-weight of my Porsche Boxster S; that should give us 4.0secs to 100, maybe better."

Despite its anticipated supercar-like abilities the car is designed for those wanting an 'every day' car so it's roomy, practical and has a reasonable-sized boot. Campbell also points out that a lot of thinking and engineering has gone into accessibility of components for servicing and repair.

"Part of the business plan is to supply parts and panels and to establish a number of specialists in each capital capable of repairing the bodies. Initially servicing will be done at the factory but we will have other licenced people who can do the service," he says.

Cars will be marketed through the factory with no dealers planned at this stage.

"We want to have personal contact with the customer; to sit down with them and work out exactly the sort of trim and the driving position that suits the buyer. We would create the car for their individual needs."

The new Nagari is a Bolwell family affair with brother Graeme coming on board to assist with development, and sons Owen, who designed the badge, and Vaughan, who assisted with styling, playing behind-the-scenes roles in the company. The two siblings also shared the honours of pulling back the sheets at the motor show launch.

Graeme Bolwell came to the project 18 months back when the mock-up was finished on a rolling chassis.

"When we finished building the (original) Nagaris I went off to work for Nylex for 32 years and was made redundant 18 months ago so Campbell said, 'come and have a look at what we're doing around here'. So timing-wise it worked out quite well," Graeme says.

"I took it from (a mock-up) with the other guys and turned it into a complete car; finishing off molds, completing bodies, working on the doors, fitting it together; and I did a bit of engineering on the suspension.

"It brings back a lot of memories. It's good because you don't lose those sorts of abilities."

Standing shoulder-to-shoulder the Bolwell brothers look genuinely happy to be back together working on their first love.

"Personally this was very important to do," says Campbell, running his hands over the Nagari's curvy front fenders. "If I hadn't have done it I would have regretted it. It was unfinished business."
FAST FACTS
2008 Bolwell Nagari
BODY: two-door coupe
WEIGHT: 920kg
DRIVETRAIN: mid-rear engine, RWD
ENGINE: 3.5-litre supercharged Toyota V6
TRANSMISSION: six-speed auto
PERFORMANCE: 0-100km/h - 4.0secs (claimed)
PRICE: $230,000 (approx.)
WEBSITE: bolwellcarcompany.com/
Unique Cars magazine Value Guides
Sell your car for free right here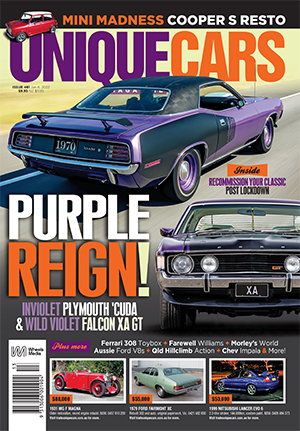 SUBSCRIBE TO UNIQUE CARS MAGAZINE
Get your monthly fix of news, reviews and stories on the greatest cars and minds in the automotive world.
Subscribe