Ford Falcon XD-XF - Future Classic
---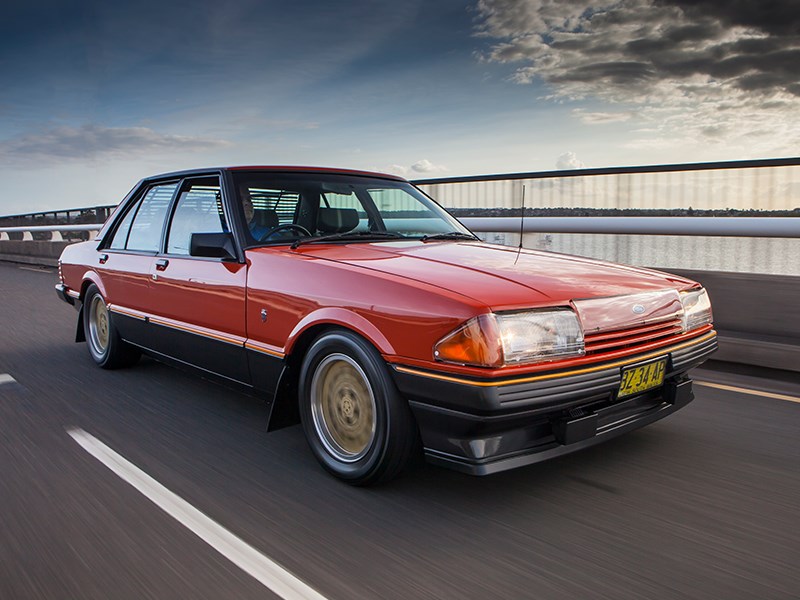 They may not have chrome bumpers, but these Aussie gems have a future in the classic world
Tagging a model that's 40 years old as a Future Classic might seem strange, but it does recognise a very significant Australian car that has gone virtually ignored for all that time.
'Virtually' is used advisedly because in the midst of the XD-XF dynasty we do find XE ESP Fairmonts that were built in smaller numbers than any GT-HO and were also the final cars – or so Ford intended – to use the company's locally-built V8.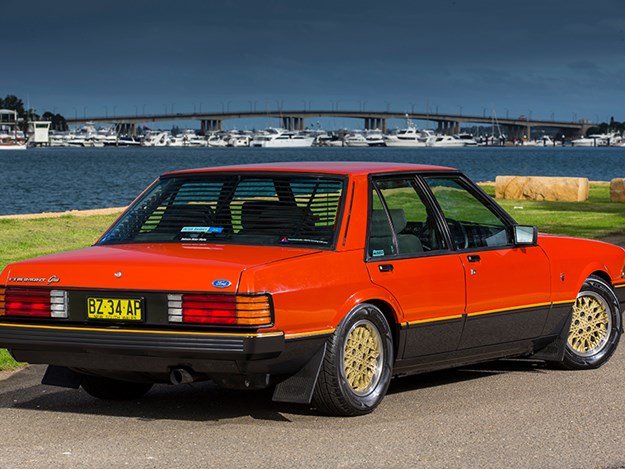 On 28 November 1982, an XE that should have been the last-ever V8 Falcon rolled beneath a commemorative banner and into history. Then in 1991 the great Aussie Ford V8 returned, but that hasn't stopped the silver-on-charcoal 4.9-litre ESP with its manual transmission remaining one of our most significant Fords.
| 2021 Market Review: Ford Falcon XD-XF
Work on the Blackwood project began during the 1970s, when Aussie cars were big, fuel was cheap and so were V8 engines. By 1979 when the XD Falcon range appeared in showrooms, the economic and social environments had radically changed, making its success all the more remarkable.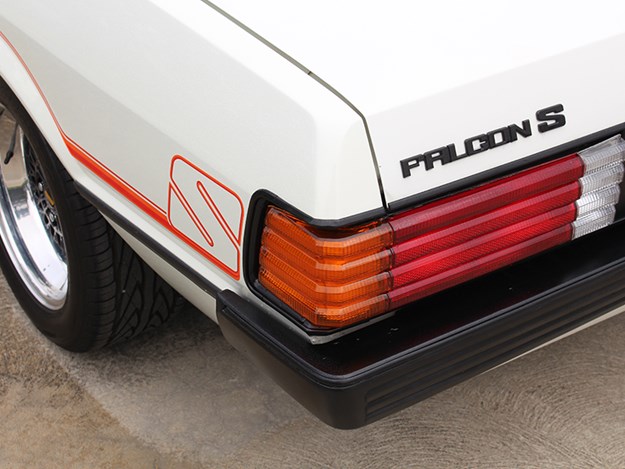 Holden had two years earlier ditched local design and gone with a compact Commodore sourced from Opel in Germany. Ford could have followed a similar path and based its Southern Hemisphere product on the European Ford Granada, but brave Australia chose to go virtually alone with the XD-XF.
| Buyer's Guide: Falcon ESP XD-XE
The XD's arrival was accompanied by predictions of disaster, due to Ford's failure to react in a market obsessed by rising fuel costs. Leading automotive publication Wheels chimed in too, declining to make its customary Car of The Year award and instead running a photo of a lemon on the cover of its COTY issue.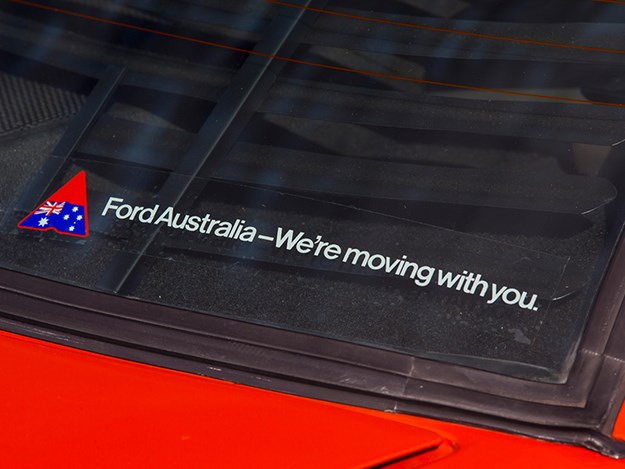 Perhaps it was good old Aussie defiance or the belief that a big Falcon offered more car for the money than the similarly priced Commodore, but XD sales took off and put Ford on the path towards local market leadership.
While it did remain a crude device, the XD had been lightened considerably to help with economy, introducing innovations like plastic bumper facings and an injection moulded fuel tank.
| Read next: Bathurst Legends - XD Falcon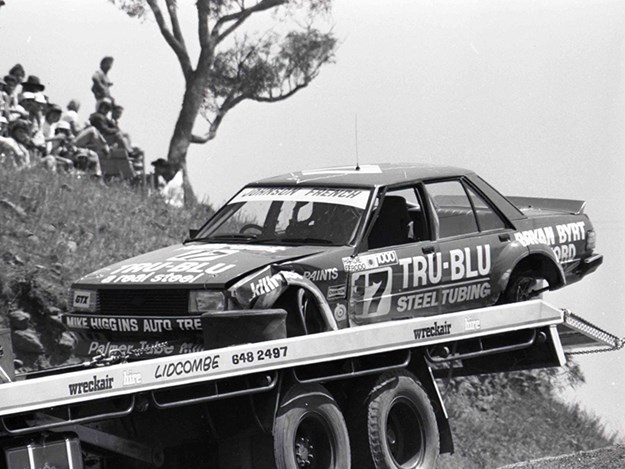 The new car was shorter than the previous XC but came with more interior space, bigger windows and easier access. Station wagons remained massive and the XD's ancient rear leaf springs were seen as better suited to heavy loads than coils.
The old iron-head six from the XC didn't change much, but they did go almost forever and when one needed work the cost of maintenance was minimal. Then there were the V8s.
With 4.9 or 5.8 litres, Ford's big motors made a distinctive and purposeful sound and for a lot of people in a world where austerity was encroaching, that made a difference.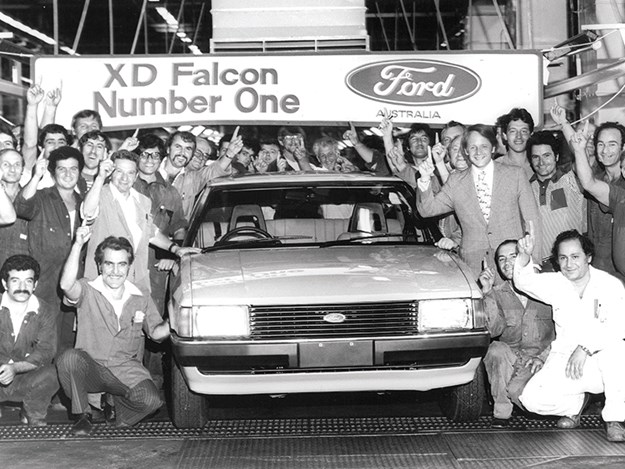 When installed in an upmarket Fairmont or more luxurious Fairmont Ghia, the V8 could be enhanced with power steering, electric windows and air-conditioning. Specify a four-speed manual transmission with a 351ci, and even when strangled by ham-fisted emission control measures, would be 0.6 seconds ahead of a four-speed, 5.0-litre Commodore at the end of 400 metres. To some people, that was important too.
| Ford Falcon history: XD, XE, XF Series (1979-1988)
Ford was still ruing its 1975 decision to spike the GT Falcon and with the XD made another attempt to bring performance back to its range. The XD ESP was available as a six-cylinder but always intended to run a V8 and survivors which today command the most money are 5.8 litre cars.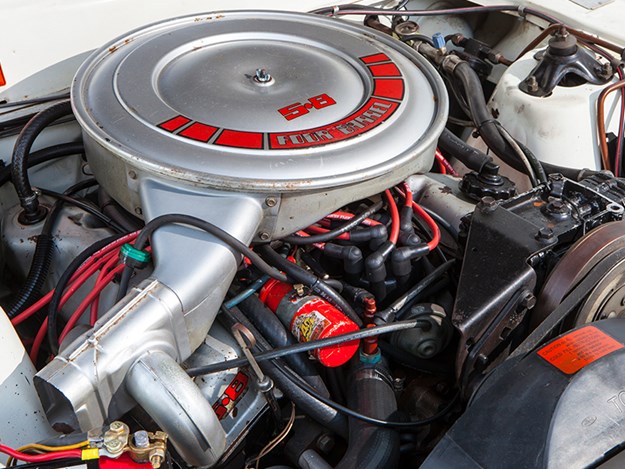 Change when it did come it was incremental and intended to maintain the atmosphere of tradition that the XD, by sheer good fortune, had managed to create.
A new alloy cylinder head for the six-cylinder engines appeared during 1980, bringing increased torque and improved efficiency. Then came the XE restyle.
The XD's basic shape wasn't altered but a new nose and taillights freshened the cars' appearance and beneath the boot lid there was plenty occurring.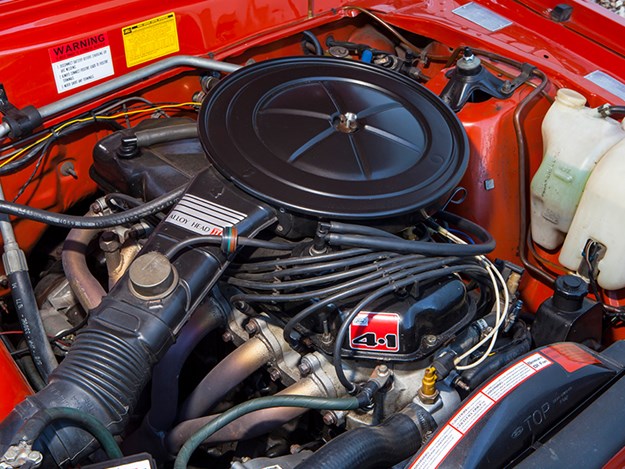 Most obviously, the boot was deeper which pleased owners of golf buggies and large drink coolers. Then, lower down, things really got interesting.
The old-style leaf springs were gone; replaced by coils and trailing arms all working in unison with a Watts Linkage that helped control axle hop and keeping the tyres in touch with the road.
With fuel consumption still a hot topic, five speed manual transmission became available with the 3.3-litre engine.
However, the vast majority of Falcons and Fairmonts still combined three-speed automatic with the trusty 4.1-litre six.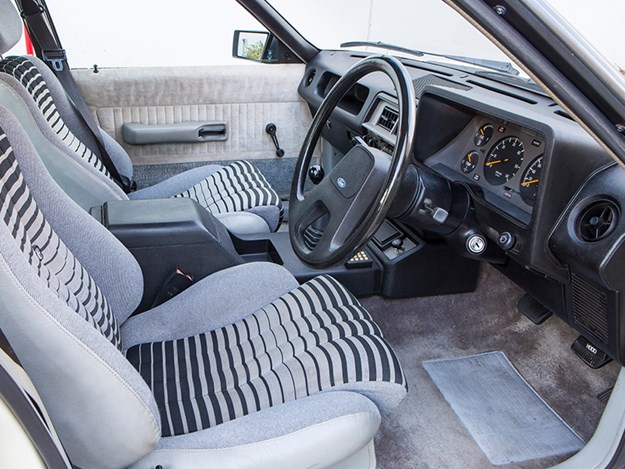 Enthusiast owners who cursed Ford for taking away their V8s but still refused to buy Holdens didn't need to wait long for a Falcon that could almost match the 4.9-litre's performance, even if aural entertainment diminished.
Arriving in February 1983 and boosting Falcon prices by $980, Ford's fuel-injected 4.1-litre engine made 111kW and was more efficient than the same motor when fed by a carburettor.
Almost two years after introducing EFI, Ford revealed its final and longest surviving variation on the XD theme.
It might have seemed by late 1984 that buyers would be sick of a same-old, same-as Falcon shape, but somehow the XF ticked lots of boxes with buyers and kept Ford at the top of local sales charts.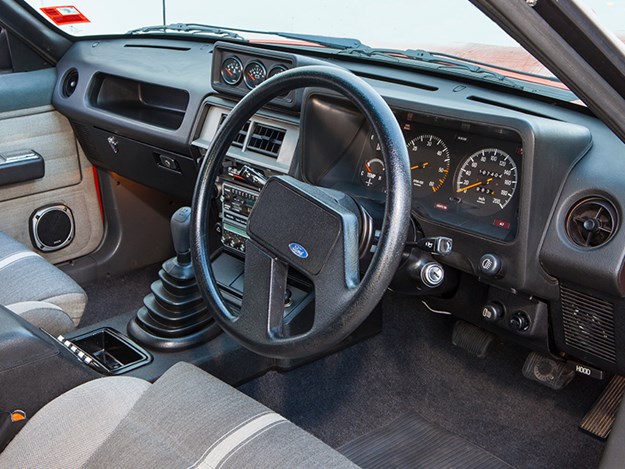 Minor styling tweaks softened the XF shape and an improved interior made the car feel and look more modern. Part way through the XF's extended lifespan, the switch to unleaded fuel occurred but Ford's engineers were on their game and while Holden turned to Nissan for a compliant engine, the Falcon soldiered on.
Combined sales approaching 620,000 might suggest that the nation should still be flooded with XD-XFs and enough of them would remain in exceptional condition to satisfy enthusiast buyers. Neither assumption is true.
Falcons of this era with the greatest appeal will predictably be XE V8 ESPs, especially scarce 5.8-litre four-speeds which can achieve very significant values.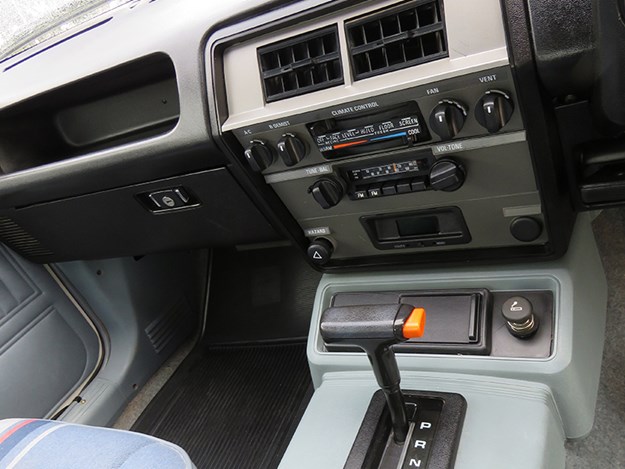 Some distance below the XEs and their six-digit pricing will be XD Fairmont 5.8s. Most popular at present are S Pack cars with extra equipment and their distinctive striping intact. Four-speed manual V8s remain more desirable than automatics.
Demand for six-cylinder cars is growing and specialist dealers have during the past couple of years presented some excellent examples. Even then, values have been slow to move and 4.1-litre, four-speed S Packs still sit at around half the price of similar-condition V8s.
Owner: Manny Mavridis
Manny Mavridis grins when he describes how he and a work colleague ended up swapping this Ford for a very tidy Mercedes-Benz W108. "It was one of those deals where we both walked away really happy," he said.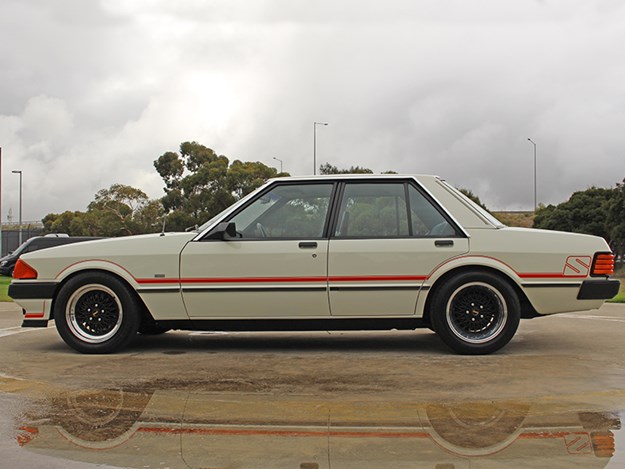 The real story with this car, however, is that for the vast majority of its life – up until the last few years – it was a one-owner example out of South Australia that spent around 15 years in storage. Whoever ordered the car way back in the early eighties would have appreciated the cloth seats and the dress-up trim that made the car stand out a little from the average family taxi. Under the bonnet is a 4.1lt alloy head six, matched to a three-speed auto.
It's in remarkable survivor condition. "It's a nice cruiser," says Manny, "I took it to a car show recently and a lot people came up to talk about it. They grew up with these cars." There's also an interceptor in his shed, which he's owned since he was 19. "I've got a long history with them, he admits, I love them."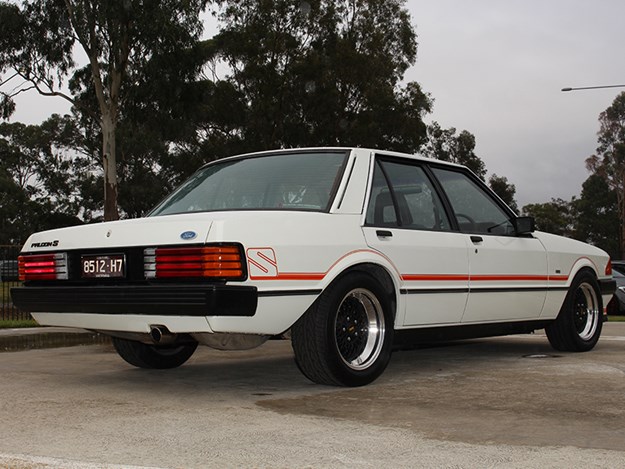 FOR
A definitive Aussie Ford with some competition heritage
Still works fi ne as a regular drive
All of them are spacious, Fairmonts well equipped
AGAINST
Lots of surviving XDs display neglect, aren't economic to repair
Struggling to shake their 'bogan' image
V8s drink like NYE revelers when the foot goes down
VALUE RANGE:
FAIR $8000
GOOD $18,000
EXCELLENT $30,000 (XE/XF FAIRMONT EFI)
FAST FACTS
NUMBER BUILT:
197,293 (XD)
191,209 (XE)
220,059 (XF)
FALCON XD-XF 1979-88
BODY: All-steel, integrated body/chassis four-door sedan & station wagon, two-door utility and van
ENGINE: 3273cc or 4089cc in-line six-cylinder with overhead valves, single downdraft carburettor or fuel injection, 4942cc
or 5750cc cast iron V8 with overhead valves and single downdraft carburettor
POWER & TORQUE: 149kW @ 4300rpm, 415Nm @ 3000rpm (5.8-litre)
PERFORMANCE: 0-100km/h: 8.8 seconds, 0-400 metres 16.1 seconds (XE 5.8 manual)
TRANSMISSION: 3, 4 or 5-speed manual, 3-speed automatic
SUSPENSION: Independent with Macpherson struts, control arms, telescopic shock absorbers (f); live axle with coil springs,
four-link location, telescopic shock absorbers (r) (XE/XF)
BRAKES: disc (f) drum or disc (r) with power assistance
TYRES: ER60H15 radial (ESP)
Unique Cars magazine Value Guides
Sell your car for free right here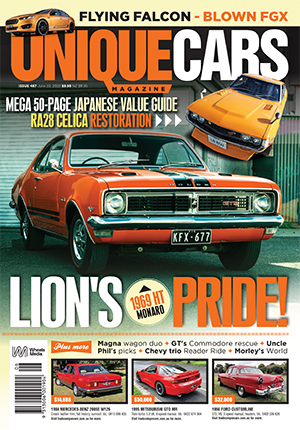 SUBSCRIBE TO UNIQUE CARS MAGAZINE
Get your monthly fix of news, reviews and stories on the greatest cars and minds in the automotive world.
Subscribe