1964 Holman Moody Ford Galaxie Racer Review
---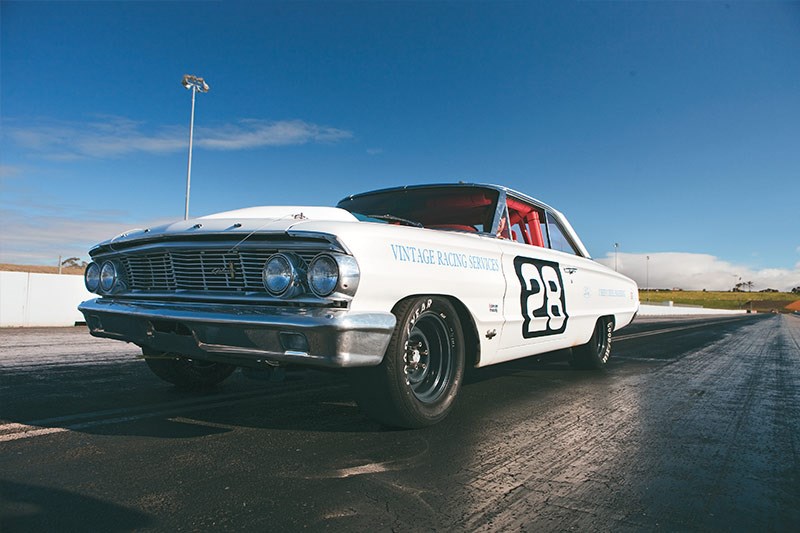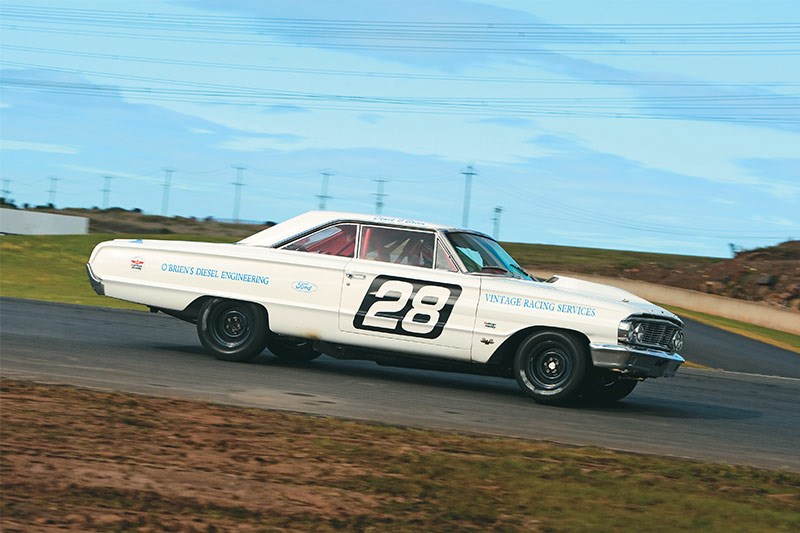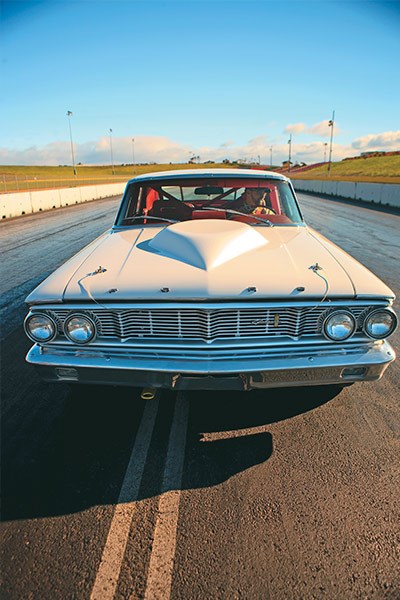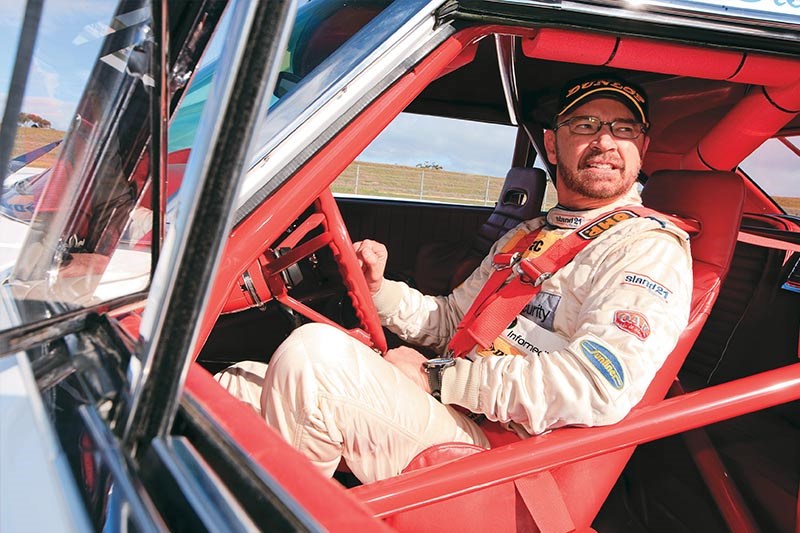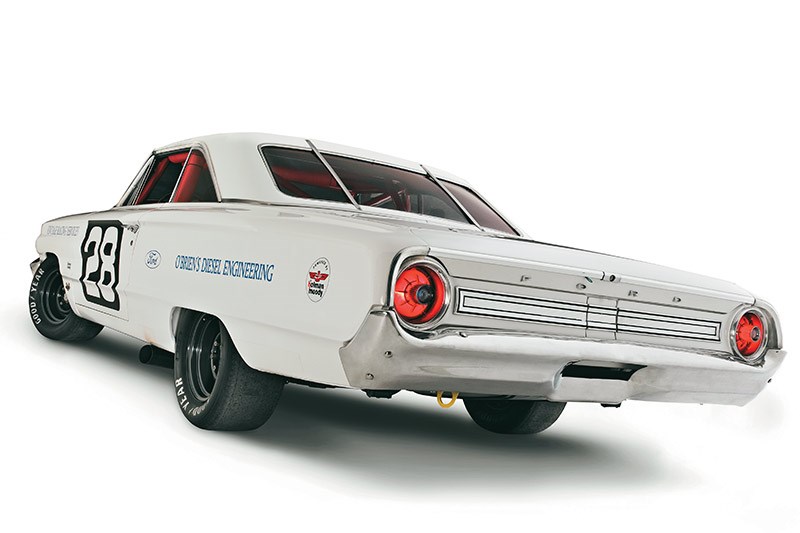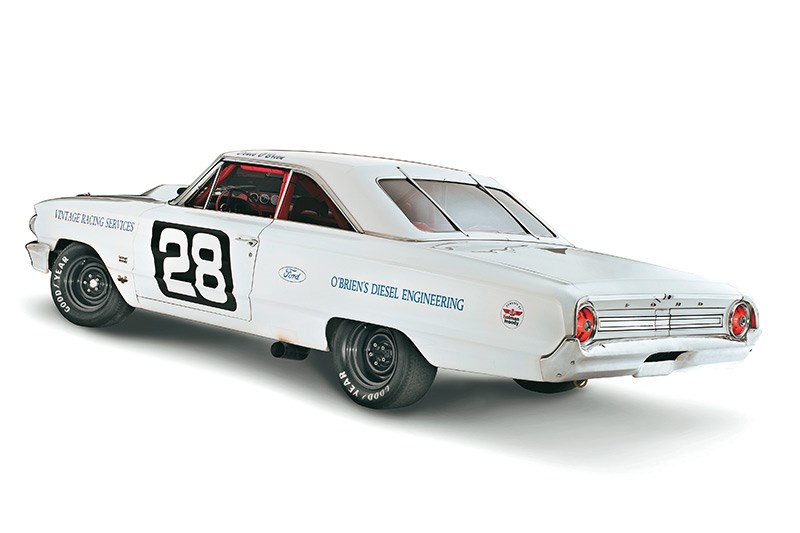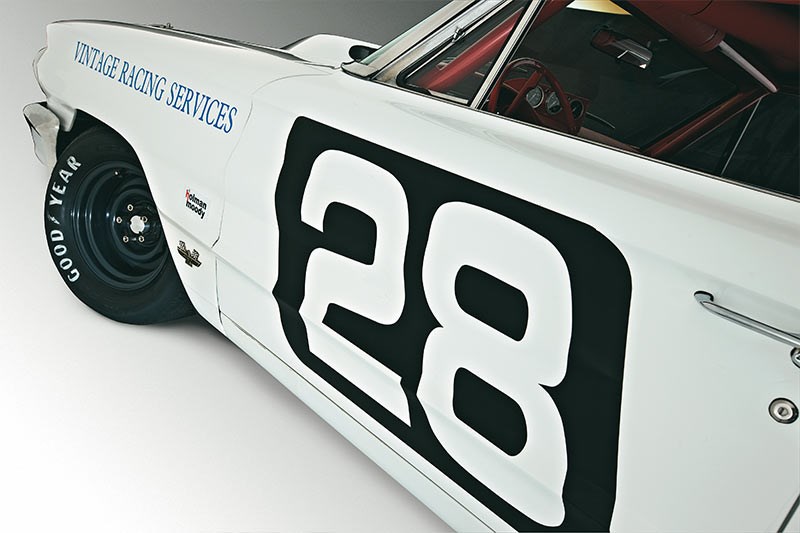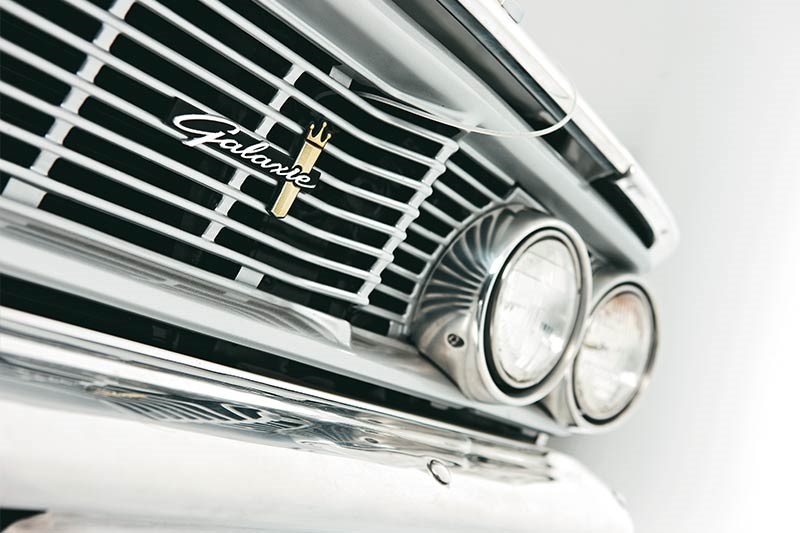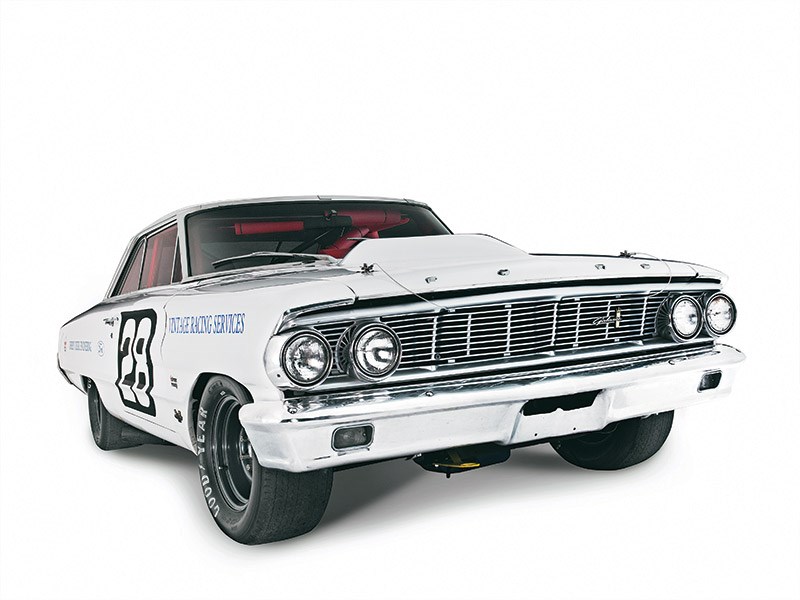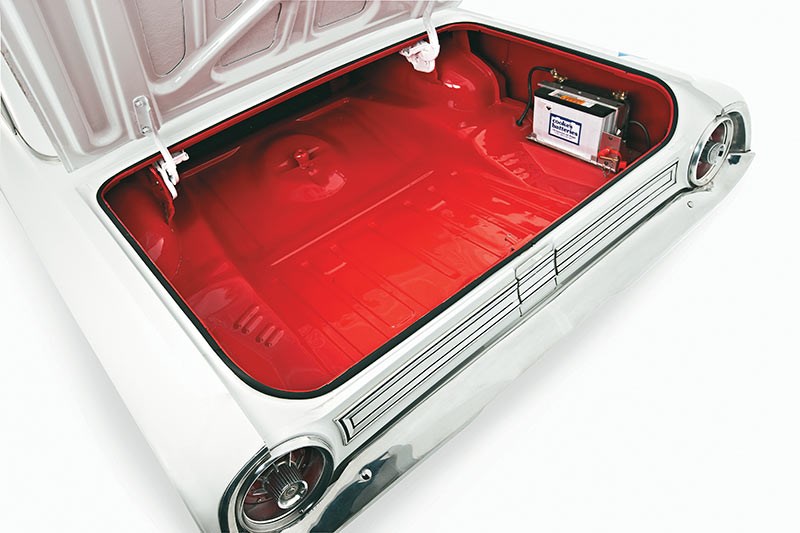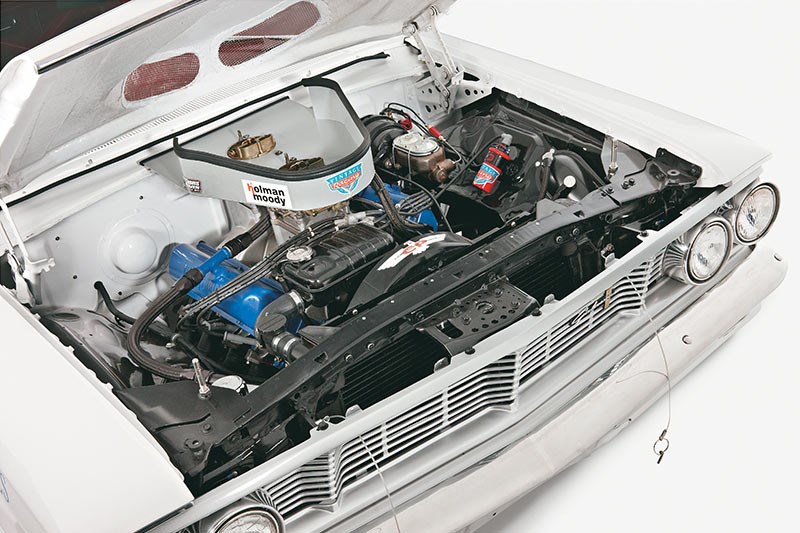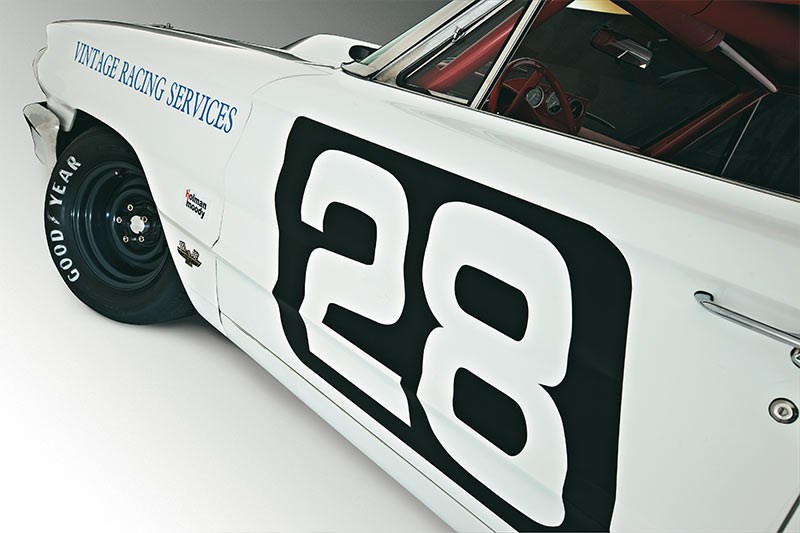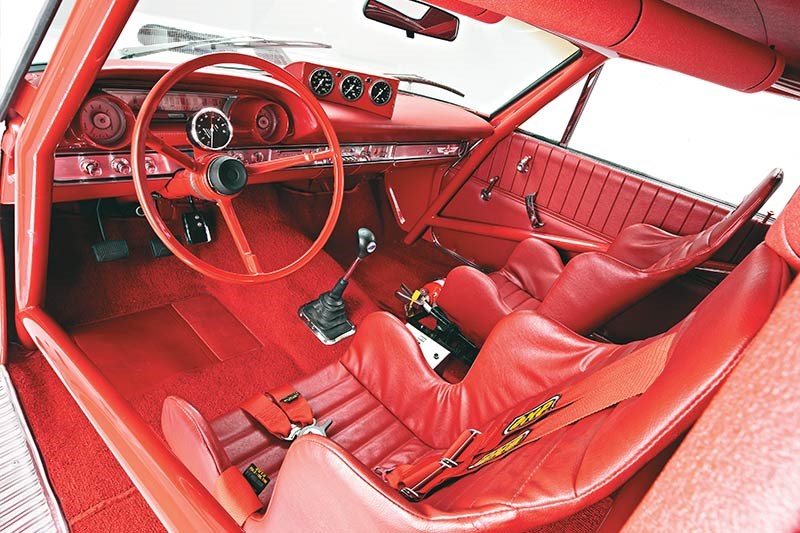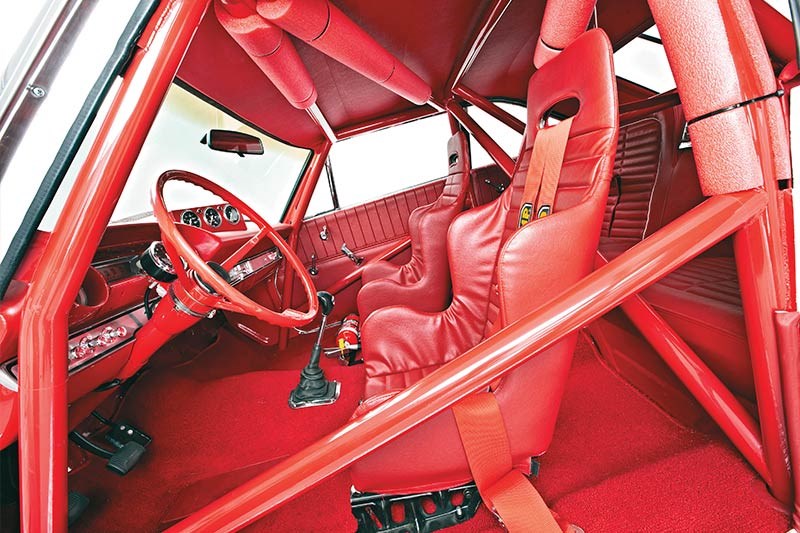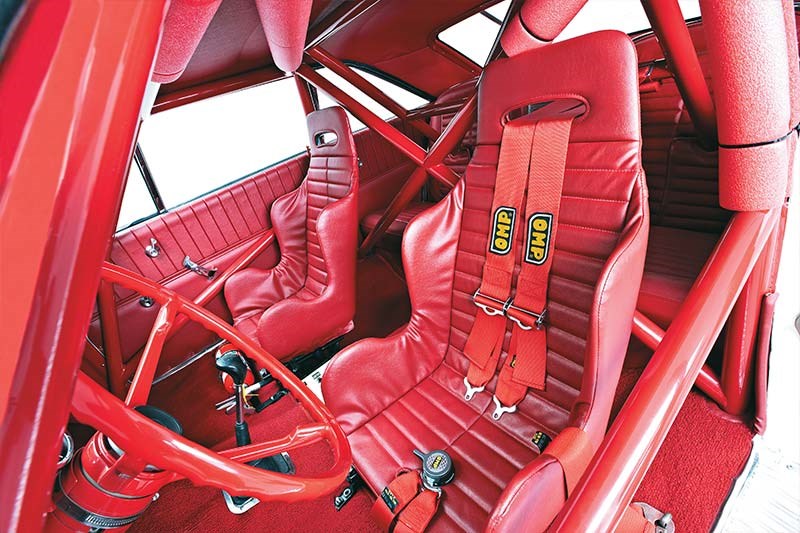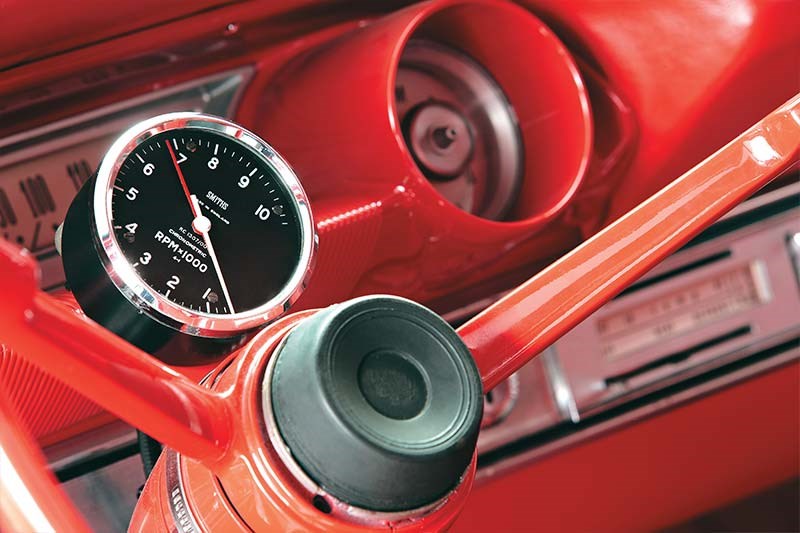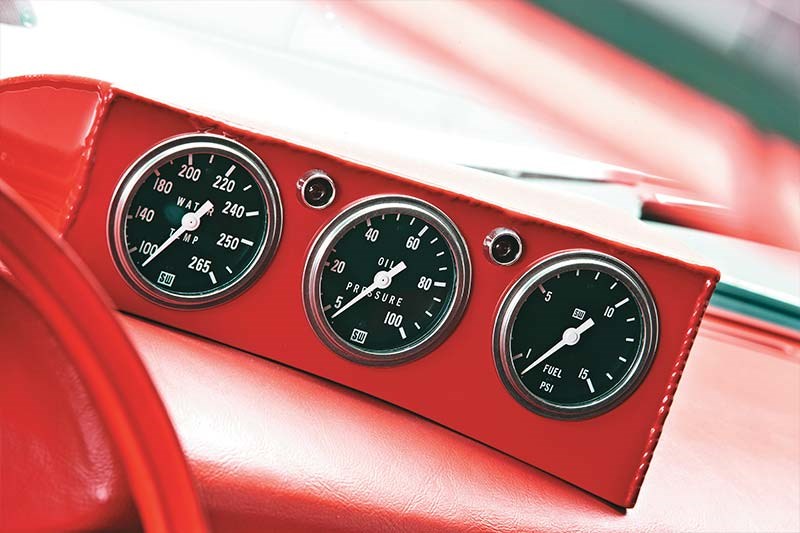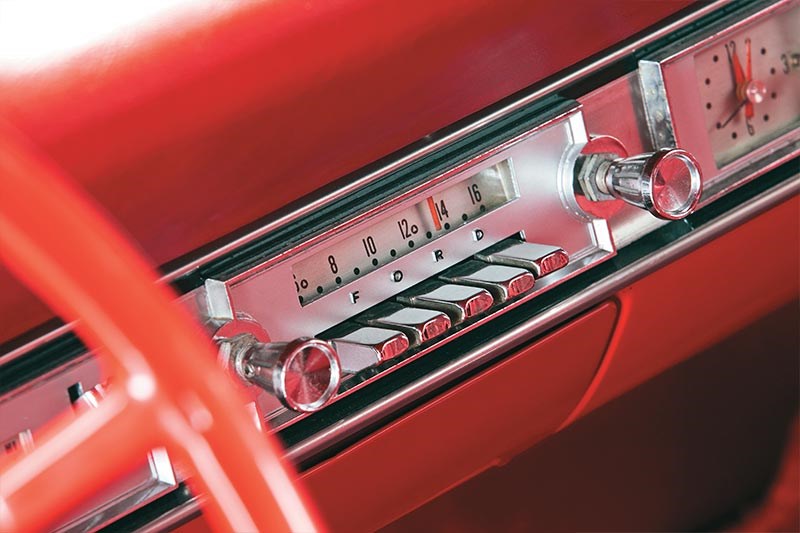 We take a look back at Denis O'Brien's rare 1964 Holman Moody Galaxie 427 racer
From Unique Cars #316, Sep 2010 
1964 Ford Galaxie 427
On a bitter mid-winter's day at windswept Calder Park, a tender scene between man and machine is being played out. Denis O'Brien is on his knees at the open driver's door of his mighty Holman Moody Galaxie, patiently warming up its 7.0-litre '427' V8 by gently resting his hand on the throttle pedal. Occasionally he glances up at the trio of gauges atop the vast red dash and checks the engine's vitals, then drifts off to another world – the ear-splitting bass of one side of the big block exiting centimetres from his right ear through a four-inch pipe. It must be love.
Few people get to own a rare racecar in their lives, let alone own the same classic twice, 20 years apart. O'Brien has, and that partly explains why he gets all misty when he looks at his gargantuan Gal'.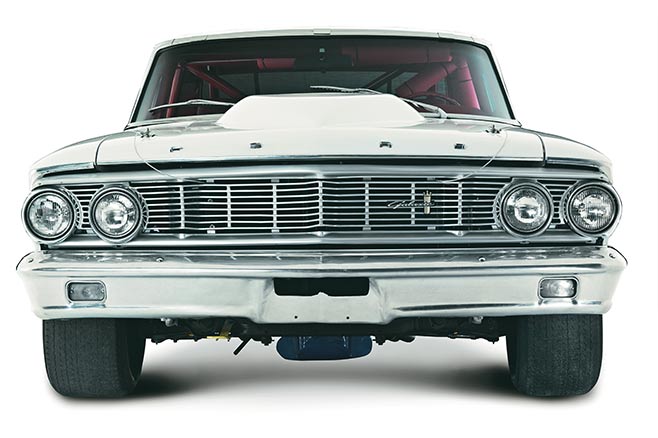 It's like reconnecting with an old flame. In the early '70s, O'Brien had some success harrying factory touring car teams in his rebuilt ex-Tony Roberts Phase II (yes, the same XW that disappeared backwards down The Mountain at McPhillamy), but he'd always had a yen for a '64 Galaxie, like those raced here by Pommie peer Sir Gawaine Baillie and local legend Len Lukey. Luckily, he ran into Harry Firth.
"I wanted to be different and always had the fantasy of racing one," O'Brien recalls enthusiastically.
"I bumped into Harry and said, 'Do you know where I can find a Galaxie, has Len [Lukey] got anything left in his shed?' and Harry, who's a pretty cagey guy said, 'Leave it with me'."
Six weeks later, Firth rang and asked O'Brien if he had a big truck – a big truck – because he'd found a car. Intrigued, O'Brien high-tailed it to Melbourne from Wagga Wagga, picked up Firth and drove to "Mrs Lukey's" house in Toorak. Firth opened the garage but there was no car visible, just a pile of wooden boxes stamped 'Holman Moody'.
"The car's in the boxes," Firth deadpanned. "All that's missing is the body shell." A wide-eyed O'Brien couldn't believe his luck.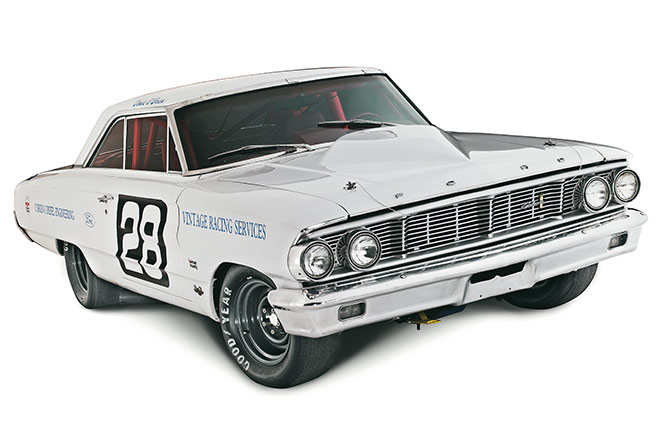 "There was a brand new 'Hi-Riser' 427, aluminium bumpers, diffs, gearboxes, axles, roll-cage bars, polycarbonate windows – everything was there but in six million pieces. It had never been assembled. No one knows where the shell went or if one was even sent out. Holman Moody have no record of it.
"I didn't even know what model it was until I looked at the bumpers because the '62, '63 and '64 models were all slightly different. Six of us staggered out of the garage with the chassis."
Lukey bought the car direct from Holman Moody in the US and to get around import duties, it was shipped as parts. When Lukey fell ill, the project stalled and when he died, the boxes were stacked in the garage and sat there until 1979 when a gobsmacked O'Brien entered Lukey's Aladdin's cave. Over the next three years, O'Brien located a shell (in a chicken shed in Canberra), rebuilt the Galaxie, then raced it for two seasons in Appendix J but not in its full US spec.
"It was homologated with disc brakes but I had to run it with drums and they [CAMS] didn't like the fibreglass panels or the aluminium bumpers it came with so I finished up having to run all-steel parts.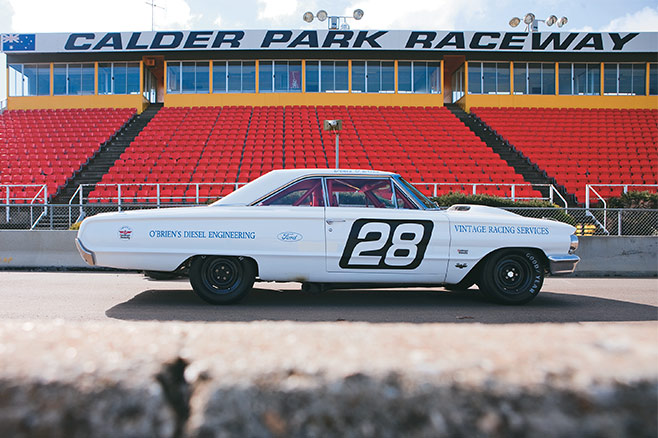 "It was horrific with just drums. At Sandown I thought I'd either knock the fence down or finish up on Dandenong Road every time I went down the back straight. It was terrifying. The novelty wore off after I couldn't run it correct to the period."
Disenchanted, O'Brien accepted an offer he couldn't refuse ($20,000) from a bloke in Melbourne who'd been keen on the car for a while, but it ended up sitting on his front lawn under a tarp for 21 years. "He drove it 'round the block a couple of times, got a fright, and put it away," O'Brien laughs. "I bought the car back in 2005."
Once again, O'Brien had to restore the Galaxie and, after five years, it debuted at the 2009 Muscle Car Masters in as-new condition. The interior is original and beautifully trimmed in bright red, with a pair of NASCAR-style buckets and even has its original AM radio.
It's a special car, particularly its engine – one of only 150 'Hi-Riser, centre-oiler' 427s made by Holman Moody, which makes it hugely valuable. 'Hi-Riser' denotes the height of the cylinder heads, inlet ports and inlet manifold. It was Ford's answer to Chrysler's Hemi and also explains the massive power bulge on the fibreglass bonnet. The engine simply wouldn't fit under the stock steel one and Denis had to change the inlet manifold when he first raced the car.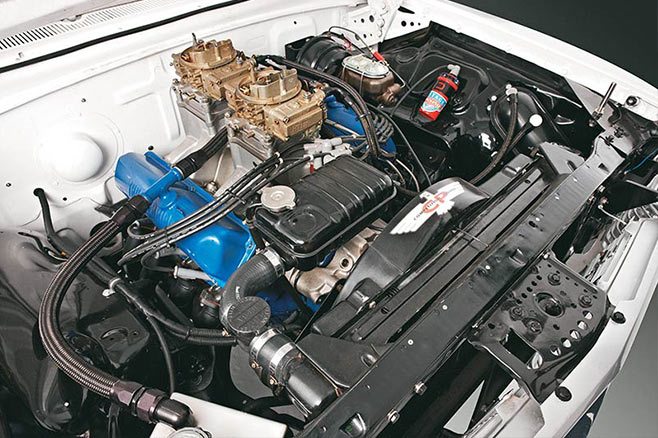 If you've been to the drags and heard a Pro Stock car, then you'll have some idea how loud the Galaxie is before it even gets angry. Two-inch primary pipes dump into a collector and straight into a pair of four-inch pipes that jutt out either side of the car. Earplugs help, but that would be like watching AC/DC from a glass box.
O'Brien tells a story about then-teenaged Lee Holman, the son of HM founder John, driving a sister Galaxie – unregistered and unmuffled – 1000km from Charlotte, North Carolina, to New York so it could be shipped to the UK. We suspect he now wears a hearing aid.
The engine is exactly as built by HM, with the exception of heavy-duty Carillo rods. The original, light 'Le Mans' versions are too fragile to risk using because the top-end of the 427 is almost irreplaceable, O'Brien says. Above the Hi-Riser inlet manifold are a pair of 660cfm 'centre squirter' Holleys, which give the raucous engine its, er, character, says Denis.
"The road engine came with 425 vacuum secondary Holleys to make them driveable. On this engine, all eight butterflies open together, that's why it's such a pig of a thing to drive; you've either got all eight or nothing. The power band runs from 4500 to 7500rpm and we usually rev it to 5500-6000, but at Muscle Car Masters last year it was pulling 7300rpm in top gear. I don't know how fast that was but it was fairly rockin'."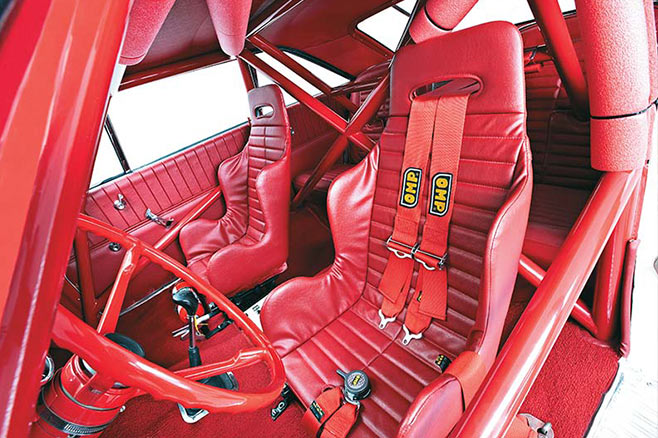 The rest of the hardcore mechanicals are almost identical to what the Phase III Falcons ran and are bulletproof, from the 11-inch steel Borg & Beck clutch to the close-ratio, 'bull nose' Top Loader four-speed (it'll do 100km/h in first!) and nine-inch diff with Detroit Locker centre.
"With the Locker, as soon as you touch the throttle the diff locks up," O'Brien explains. "Every time you hit the accelerator it jumps sideways so you just hold it on the throttle, slide it out of corners then stick your boot in and disappear...
"The thing is agricultural, but it's a lot of fun. It gets your attention, you've got to grab hold of it and wrestle with it. With no power steering, you need arms like a gorilla to drive it, but you never get more than about half a turn of lock because you drive it with the throttle."
At Calder, after regulation slow-ish laps for photography, John Bowe was just starting to explore the Galaxie's outer limits when one of its 46-year-old axles hollered enough mid-corner and the show was over for the day. Bowe was gutted, but Denis was his usual, sanguine self.
That minor flaw only made him love the big Gal' even more.
SPECIFICATIONS
1964 Ford Galaxie

Engine Hi-Riser, centre-oiler 7.0-litre V8, OHV, 16v, twin 660cfm Holley carburettors
Power 433kW @ 7200rpm
Torque 745Nm
Transmission close-ratio 'Bull Nose' Top Loader four-speed manual
Diff Ford nine-inch, 3.7:1 Detroit Locker
Wheels 15 x 7-inch, steel
Tyres Goodyear Blue Streak 'Sports Car Specials'
Brakes 292mm discs, four-piston calipers (f), 279mm drums (r)
Weight 1600kg (estimated)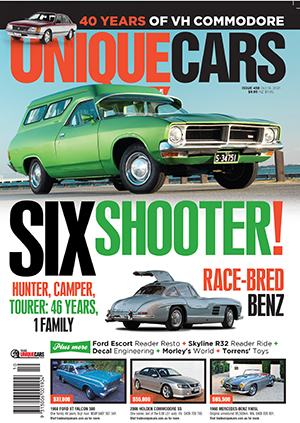 Subscribe to Unique Cars Magazine and save up to 42%
Australia's classic and muscle car bible. With stunning features, advice, market intelligence and hundreds of cars for sale.
Subscribe