Ford GT RHD (2006) Feature Review
---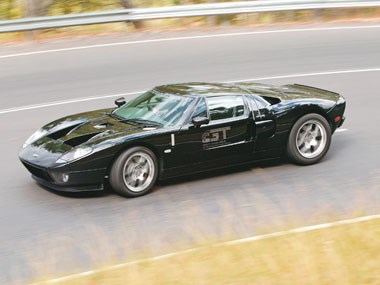 2006 Ford GT (RHD)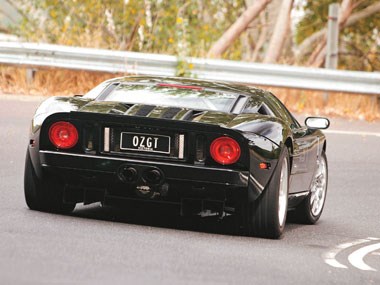 2006 Ford GT (RHD)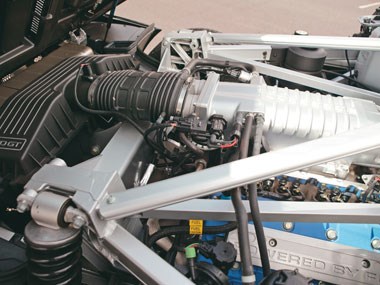 2006 Ford GT (RHD)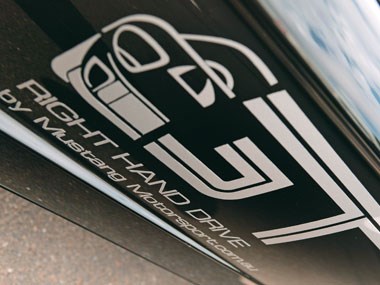 2006 Ford GT (RHD)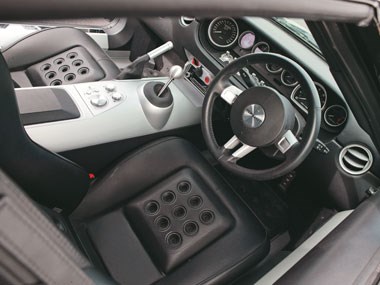 2006 Ford GT (RHD)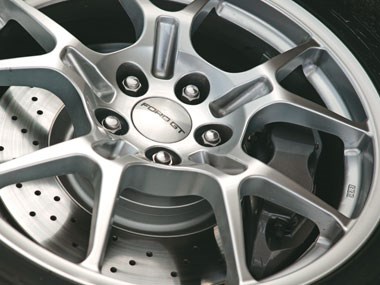 2006 Ford GT (RHD)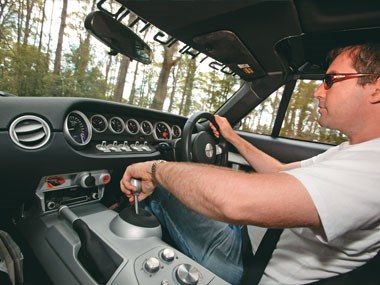 2006 Ford GT (RHD)

RHD Ford GT. Ford did a Houdini and created a supercar you could actually enjoy driving...
2006 Ford GT RHD
[April 2008] Talk to most people who lust after a Lambo or Ferrari and they will most probably confess to not having driven one. So let me burst their bubble right from the top. Most 'supercars' are a chore to drive, uncomfortable and impractical. In short, unless you are flying around a race track in one, they are crap. Full stop.
But not this one.
The original GT40 was built to wrest Le Mans from Ferrari. The history books record that they did just that - and more than once. A small number of road cars were also produced, but they're so valuable these days chances are that if you think you've spotted one it will almost certainly be a modern copy.
This Ford GT is not among them. It was conceived and built by Ford America as a modern-day reinterpretation of the 1960s icon - with all the benefits four decades of technological advances can bring. In short it was a hero car to showcase the Blue Oval's engineering abilities and to draw headlines where its SUVs and family cars would not.
In celebration of its 100th anniversary, Ford began hand assembling a small number of GTs in 2003. Full scale production did not begin until late-2004 (as '05 models) and by 2006 the dream was over after only 4038 (some sources quote 4200) cars had been made.
Only made in left-hand drive Australia, it's believed, saw only one car imported into the country; a red and white example used by Ford Australia for its round of motor show displays. Unable to be registered and driven on public roads we simply missed out on the Ford hero. Until now...
Sourced from a Saleen dealership in California by Melbourne-based Mustang Motorsport/Crossover Car Conversions' Craig Dean this Ford GT arrived at his Melbourne business in January 2007 with only 14miles on the clock.
His team reversed the car's floorpan, added adjustable pedals, relocated the fuel filler to the opposite side, incorporated new lights and swapped the windscreen wipers over (requiring alteration of the front aluminium fenders); there's a lot more to a right-hand conversion than simply plonking the steering wheel on the other side.
So after an exhaustive four-month/$95,000 conversion process that has so far scared off everyone else worldwide Dean is proud to claim this GT as the only RHD example on earth.
The thought is intoxicating because despite driving lots of great cars - old and new - here at Unique Cars it is exceedingly rare for us to be actually driving one. A genuinely unique car that is. The anticipation is almost too much.
It seems to be hitting the mark with other local customers too; a couple more GTs sit in Dean's workshop awaiting completion (already sold) and a few more are on their way from the US (also sold). Customers can order and spec their cars but the wait is going to be nearly a year.
Approaching the sleek coupe it's immediately apparent that it's bigger than the original - all of those super-sized cheeseburgers have taken their toll it seems. But if you've ever shoehorned yourself into a GT40 (or copy) you'll probably agree that the added four inches in height is probably a good thing.
Of course the car has grown in all areas to retain the coupe's elegant proportions - and weight is up too - but as we'll discover there is a lump of US beefcake down back that more than takes care of that.
Opening up the large doors and glancing at the thin Sparco leather seats and austere cabin could lead one to imagine an uncomfortable and bone-jarring driving experience. Not so.
The sills are wide and the seating position low, but once ensconced it's really quite comfortable in there. That's until this 189cm tester shut the driver's door and nearly tore his hairpiece asunder on the integral roof panels; watching the doors close is a little like peering up at a guillotine.
With the sublime shape originally built for racing it's expected there will be a few compromises with regards to vision. The expansive front glass is great but those steeply raked A-pillars are a little too close for comfort and make front three-quarter viewing a challenge. Attempting to look out the rear three-quarter too is tough.
The rear? Well just keep your right foot down and forget about what's behind because rearward vision is pitiful. Accepting this 'weakness' is best done while lustily running your eyes over the coupe's body; you'll soon be in a forgiving mood.
Pressing the starter on this beast is one of the automotive world's greatest thrills. Just behind the pews 5.4 litres of supercharged V8 lights up in a cacophony of violent rumbles and hisses; a tickle on the loud peddle unleashes even more of the car's potential. We're ready for launch...
With 410kW/678Nm at my disposal getting off the line is lightning quick - 100km/h can be attained without touching the gearlever - and there's five more to go! With the Eaton supercharger whirring in my ears like a startled cat I keep pressing on - hard. This thing is staggeringly fast.
After the adrenalin has settled down a bit and I have eased off on the accelerator something occurs to me. This coupe is not only fast, it's actually pleasant to drive. And that's important because cramped cabins, noisy exhausts, and clutches as heavy as your mother-in-law can get tiring pretty quickly.
I guess that's why you see so many low mileage supercars advertised for sale.
I can't see that happening with the Ford GT. It's a machine that could actually grow on me, which is the opposite reaction I've had to many supercars I've driven. In short, I've loved them but have been glad to hand the keys back after a blast along some back country roads. This one on the other hand I could keep.
Meanwhile the Ricardo six-speed gearbox, which is mounted in unit with the rear axle, smoothes out as the oil warms up. It's chunky, solid; a joy to use. The only criticism is the recalcitrant reverse cog which is a little tricky to engage until I develop the knack.
Riding on 18inch (front) and 19inch (rear) aluminium wheels shod in Goodyear Eagle 235/45 ZR18 (front) and 315/40 ZR19 (rear) rubber it looked like a brittle ride was a certainty. But the fully-independent suspension with unequal length aluminium control arms, coil springs and forged aluminium shocks provide a terrific balance between a tight ride that hangs on for dear life and one that is forgiving enough to endure on rough Aussie roads regularly.
The GT has an open-wheeler feel in terms of grip levels and being so wide and low body roll is almost non-existent. Huge stopping power is provided by pizza-sized Brembo vented discs with four-piston calipers and ABS.
Another positive is that the power is so usable it makes anything more powerful - not that there are that many about - redundant. And there is no negative payback when the traffic closes in around you. This car is almost as happy trawling the peak hour purge as it is winding up on your favourite country black top.
It's svelte, it's sexy, it's staggeringly quick, but to my mind the greatest achievement wrought by Ford's engineers is that in the GT they've created a supercar that drives so easily it's actually a joy to pilot. The fact that it's now available as a right-hooker to a select few is merely icing on the cake.
SPECIFICATIONS
2006 Ford GT (RHD)
BODY: two-door coupe
WEIGHT: 1582kg (approx)
DRIVETRAIN: rear eng, RWD
ENGINES: 5.4-litre supercharged V8
POWER/TORQUE: 410kW/678Nm
TRANSMISSION:  six-speed manual transaxle
PERFORMANCE: 0-100km/h - 3.5secs. Top speed - 325km/h
PRICE: $500,000 (approx)
CONTACT: www.mustangmotorsport.com.au
Unique Cars magazine Value Guides
Sell your car for free right here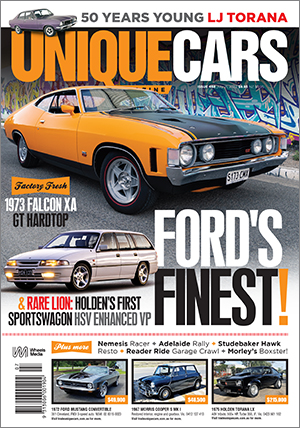 SUBSCRIBE TO UNIQUE CARS MAGAZINE
Get your monthly fix of news, reviews and stories on the greatest cars and minds in the automotive world.
Subscribe