Ford Galaxie 500 (1963) Review
---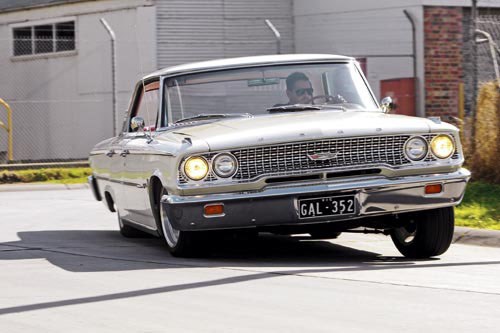 1963 Ford Galaxie 500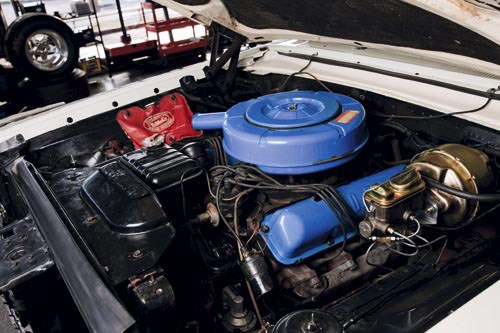 1963 Ford Galaxie 500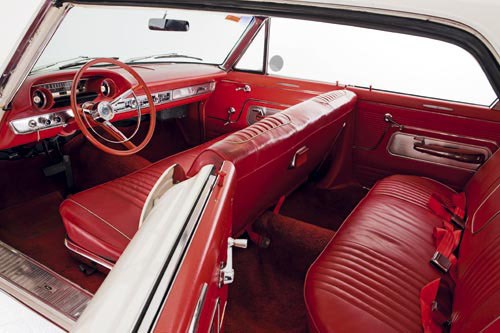 1963 Ford Galaxie 500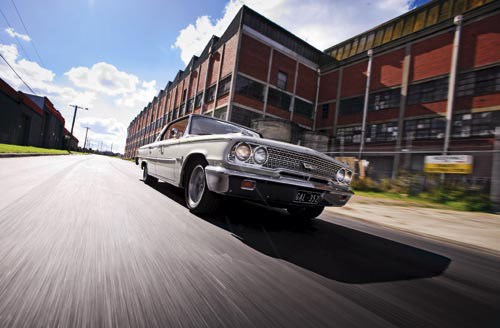 1963 Ford Galaxie 500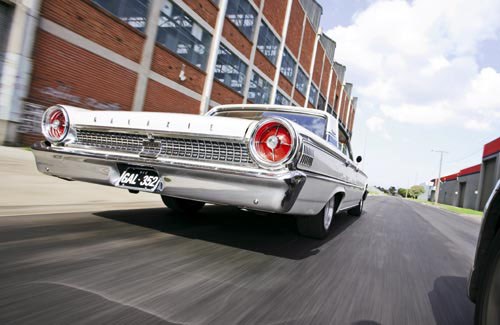 1963 Ford Galaxie 500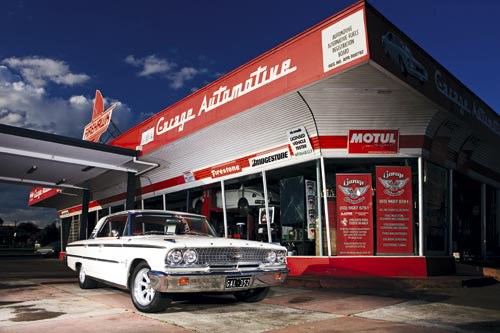 1963 Ford Galaxie 500

Classic Metal: Ford Galaxie 500. Join us for tour around the editorial Gal
Ford Galaxie 500
Down here in Australia, we love our 'big' things. The oversized prawn, the big merino, Coffs Harbour's mammoth banana, the Great Sandy Desert, Mal Meninga, Barry Hall. You can't accuse us of doing stuff by halves.
Ferchrissakes, we still seem to have a love affair with big, home-grown rear-drive sedans, albeit on a much smaller scale than we used to, and there's not a suburban street out there that doesn't rumble to the sound of a V8 at least once in a while, even if it's coming from a Land Rover Discovery.
But to truly understand the meaning of 'large', you need to look to that once-great city in the far north of America - Detroit, Michigan - and then add 25 percent. And subtract 45 or so years. Back when the EH 179 introduced horsepower to Holden (er, that'd be 115 electrifying ponies), the US of A was on the cusp of muscle-car mania and the domestic performance cars of choice were massive, eight-cylinder, 'full-size' sedans and hardtops with equally large engine capacities.
So how big are we talking? Try huge. The Galaxie pictured here (mine, a '63 Galaxie 500 4dr Hardtop) measures 5331mm long and 2032mm wide, riding on a 3023mm wheelbase. That's some serious highway acreage - 17cm longer than a WM Caprice (which is a big car), on a wheelbase as long as an S-Class's, and too wide to fit down or navigate many of Sydney's meandering Victorian-era back streets. Just like a Ferrari Testarossa...
By 1970, the Galaxie sedan had grown another 51mm in wheelbase and 155mm in length to create, in top-line LTD form with concealed headlamps, the sort of sinister sedan that gives children nightmares. The '70 Gal also happened to be one of the last genuinely desirable ones before enormous bumpers and unsightly grilles and body overhang turned what was once a rather elegant car for such a big beast into a slothful, over-fed Fat Elvis. But I'm getting ahead of myself.
In the beginning, the Galaxie was little more than an up-spec version of the 1959 Tank Fairlane - only difference being its squared-off, Thunderbird-inspired roofline. Then in 1960, the Galaxie transformed into an all-new, low and sleek-looking design, complete with a futuristic, panorama-windowed Starliner Hardtop coupe sitting at the top of the tree. But it was the '61 that set the Galaxie blueprint for the next few years.
A return of Ford's signature 'after-burner' taillights (the '60 had weird 'split-moon' lights beneath small horizontal fins) and a more imposing front end with the dual headlights positioned right at the outer edge made the '61 look bigger, even though it was several inches shorter and slightly narrower. The '61 also debuted the FE-series 390-cube (6.4-litre) V8 that would become a Galaxie mainstay right throughout the 1960s. In 300hp (224kW) 4V guise, the 390 replaced the previous 300hp 352-cube (5.8-litre) 4V, which was subsequently downgraded to a 220hp 2V (two-barrel carby) tune.
Then came the hotties - first the 401hp (299kW) triple-carb 390 in '61, followed by a 405hp (302kW) tri-power 406-cube in '62, and the legendary 425hp (317kW) 427-cube 8V in '63, breathing through twin four-barrel Holley carbies. Tick the box marked "425hp Hi-performance 8V 427' V8" in 1963 and you were up for $461.60 extra, though that sizeable ask included a heavy-duty battery, 'fade-resistant' brakes (yeah right - see sidebar!), chrome engine dress-up kit, heavy-duty suspension, and 670x15 5pr nylon tyres.
Ford also produced 212 '63½ Galaxie 500 Sport Special Tudor Fastbacks, all of them Corinthian White with red interiors and running 427 8Vs with the four-speed manual Top Loader, as well as fibreglass panels, aluminium bumpers and other lightweight components for a 170kg weight saving. It was essentially the test bed for a drivetrain that went on to achieve huge success in the Fairlane, and then the iconic GT40. But even the Cruise-O-Matic 390 4V Galaxie could nail the standing quarter-mile in the high 16s - bloody impressive for a 1700kg-plus land yacht from the early-60s.
This '63 Galaxie 500 4dr Hardtop shares its colour palette with Ford's lightweight race special of the era, but that's about where the similarities end. This Gal' is from the luxury end of the spectrum, the second-top model in a line that included the Ford 300, Galaxie, Galaxie 500, and Galaxie 500/XL.
But 'luxury' in 1963 was a little more modest than it is today. Extras included power steering ($81.70), a band-tinted windshield ($21.55), push-button AM radio ($58.50), rocker-panel mouldings ($16.10), padded dashboard and visors ($24.30), front lap seatbelts ($16.80), deluxe wheel covers ($18.60) and windscreen washers with two-speed wipers ($20.10). Standard 500 fare included crank-handle vent windows, a three-speed heater/demister, door armrests, full carpeting, an electric clock and reversing lights, though if you stepped up to the 500/XL (another $485!), you scored posh pleated trim, bucket seats, a front floor console, and courtesy lights in the footwells and doors. Then there was the huge options list, boasting extravagant extras like electric-adjust seats, power windows and Selectaire air-conditioning.
Being a four-door pillarless Hardtop, this Gal' is actually quite rare. Of the 660,606 Galaxies sold in 1963 (it's best-ever sales year), the 500 4dr Hardtop accounted for only 39,154 sales, and the 500/XL verison just 12,596, making it the rarest of all the '63s. The best seller was the 500 sedan (205,722), with the '63½ Sportsroof 500 2dr Hardtop next best at 100,500. Include the base Ford 300 and the Country/Country Squire wagons in the overall '63 tally and it's 857,898. No wonder there's still a few around!
This Gal' originally hails from California. It spent its first 45 years in Vallejo, about 50km north-east of San Francisco, before being purchased and brought to Melbourne by Miles Johnson of Thunder Road, showing barely 44,500 miles on the clock. Then it sat around for 18 months while Miles wondered what to do with it. In September last year, I became the Galaxie's lucky custodian.
She's a Cruise-O-Matic X-code 352 2V with twin exhausts and a claimed 220hp - at the time, a $51.50 option over the 195hp 289 V8. The engine most people want is the 390, but the big-block FE-series V8 is so incredibly smooth and torquey, the 352 has no trouble shifting the Gal's portly proportions off the line.
Where the 390 4V could manage a 16.7sec quarter mile, the 352 2V feels more like a 17.5, but when you realise that Aussies were raving about the EH 179 being able to crack a 19-second quarter in '63, the 352 Galaxie's numbers seem far more impressive. And it has a delicious, old-school burble as back-up.
Just as astonishing as the big-block's torque is the auto tranny's smoothness. The column selector is finger-light, clicking crisply into the green-dot position (D only uses second and top), and the Cruise-O-Matic slurs up and down its ratio set sweeter than any older auto I've ever driven. Contemporary road tests said as much, too - praising the drivetrain's uncanny refinement. Even kickdown is smooth.
Get used to driving such a big car and it's surprising how fast the Galaxie can be hustled. Sure, this car has Koni shocks and 16x8 Superlites wearing sticky 245/50ZR16 BF Goodrich rubber, but with tracks as wide as Bass Straight, the Gal' has a huge footprint on the road. Wearing '66 Thunderbird power front discs, it actually stops, too.
What this car does best, though, is remind you how life-enriching owning a classic can be. Thanks to an absolutely stunning acrylic make-over by previous owner Miles (who even touched up the badgework by hand!), I can't thank him enough for passing on to me such a mganificent beast. No, it doesn't fit in my garage and there are some streets I simply can't go down. But windows dropped, sun shining, filled with mates, it's paradise.
SPECIFICATIONS
1963 FORD GALAXIE 500
ENGINE: 5766cc V8, OHV, 16v, two-barrel carburettor
POWER: 164kW @ 4400rpm
TORQUE: 455Nm @ 2400rpm
WEIGHT: 1750kg
GEARBOX: 3-speed automatic
0-100km/h: 11.5sec*
TOP SPEED: 170km/h*
PRICE: $3239 (1963)
* estimated
Unique Cars magazine Value Guides
Sell your car for free right here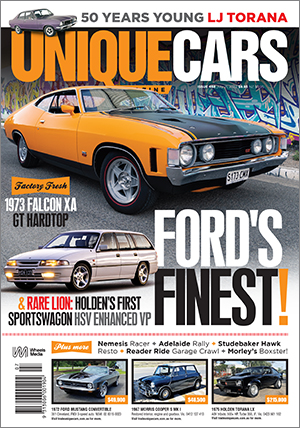 SUBSCRIBE TO UNIQUE CARS MAGAZINE
Get your monthly fix of news, reviews and stories on the greatest cars and minds in the automotive world.
Subscribe