Lincoln Premiere Hardtop (1957) Review
---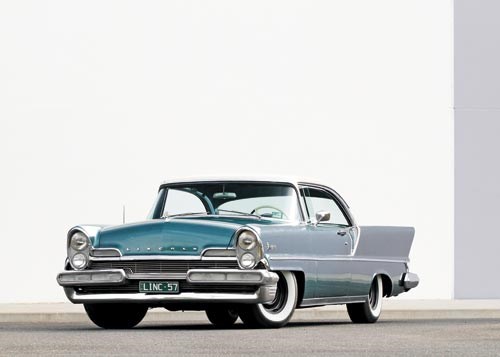 1957 Lincoln Premiere Hardtop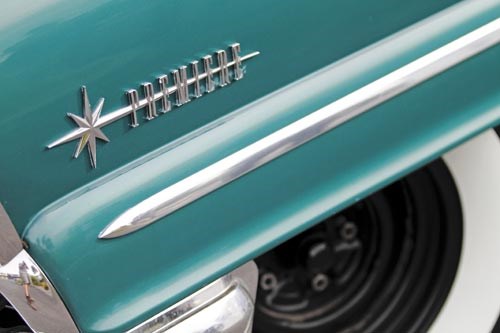 1957 Lincoln Premiere Hardtop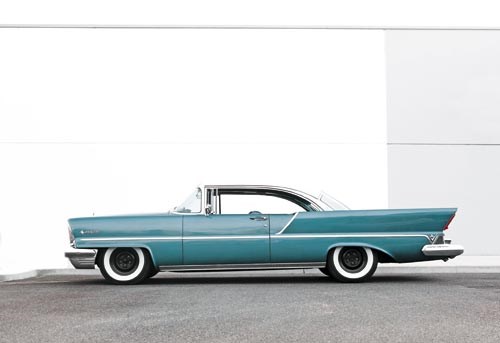 1957 Lincoln Premiere Hardtop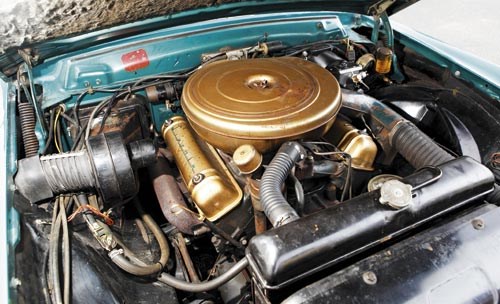 1957 Lincoln Premiere Hardtop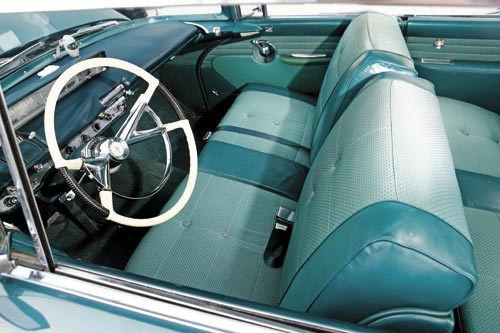 1957 Lincoln Premiere Hardtop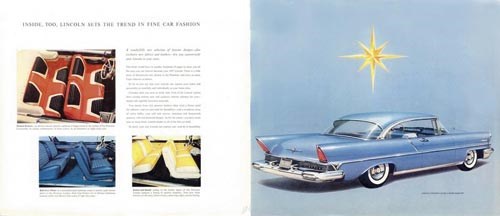 1957 Lincoln Premiere Hardtop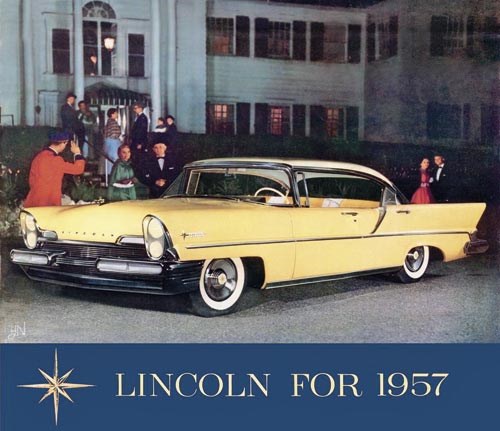 1957 Lincoln Premiere Hardtop

Classic metal: Lincoln Premiere. V8 Supercar driver Steven Richards shares his weekend toy
Lincoln Premiere Hardtop (1957)
The ink was barely dry on the rego papers when Steven Richards piled his wife Angela and the kids in to his 1957 Lincoln Premiere, planted his left elbow on the door and set off for the Let's Go Cruisin' club's Christmas shindig and part one of its shoot forUnique Cars.
Richards was keen to drive the big coupe after a protracted period getting it roadworthy. There wasn't much to be done but parts had to be sent back to the US for refurbishment and Richo, working on the car in between V8 Supercar racing duties, had been getting a little frustrated. But it was worth the wait.
Parked up, surrounded by other '50s fins and American muscle cars, the glamorous Premiere attracted a lot of attention. And no wonder - by our reckoning there is less than a handful of Ford's top-end coupes in the country. We'd never seen one before and neither had Richo and that's one of the main reasons why he bought it.
Stuck inside on a rainy day while on holidays early last year, he had begun idly thumbing through a car mag to kill time. And one thing led to another...
"I'm always scouring car magazines and I found a DeSoto and that led me to a website that had a heap of '50s and '60s American cars," he recalls.
"I saw the Lincoln and thought, 'Geez, I've never seen one of them, what a beautiful car'. I had a look 'round the net and this one popped up in the US. It had 30,000 miles on it, was in original condition, and in a collection of 20
cars being sold.
"It had been sitting around for seven or eight years but had recently been 'recommissioned', which meant they'd got it running. I did as much research as I could first, then rang the guy up. We agreed on a price and, before I knew it, and probably before I wanted to - and before Ange knew! - I'd sent a deposit over."
Only 15,185 Premiere two-door Hardtops were built in 1957, so it's no wonder it's rare. Yearly styling changes were the norm in the '50s and the 1957 Premiere is a slightly reworked version of the '56 model, itself based on Ford's 1955 Lincoln Futura show car.
The Futura would later be sold to California kustom king George Barris who turned it into the Dynamic Duo's most famous Batmobile.
"American cars were so outrageous in the '50s. The stylists seemed to have an open book to use as much chrome and steel as they wanted," Richo muses.
"From a car lover's perspective it was an unbelievable time in America - car companies were in a competition to out-fin one another. Lincoln was a small player in the luxury car market back then but it was Ford's prestige brand."
In the metal, the Premiere is impressive - from its heavily chromed front-end and stacked headlights to its protruding tailfins, jagged tailights, Hollywood-inspired badges and starburst emblems.
Electric seats and windows, power steering and brakes were standard. It had new-fangled safety items like a padded dash and deep-dish steering wheel. Air-conditioning and seatbelts were optional though, no doubt, rarely optioned.
Another optional extra was Ford's 'Multi-Luber' system with which the driver could lubricate the front suspension by pushing a button on the dash!
Richo took a risk and didn't ask for a mechanic's report. The seller sounded trustworthy and instead gave him the phone number of someone who had looked at the car that day for a reference and he gave it a thumbs up.
"Sometimes you just have to have a little bit of faith in someone when you're asking all the right questions," he says.
The Lincoln arrived last May but getting the 5.66-metre long car home from the docks was another matter - it was too wide for his car trailer and had to be towed. First impressions are everything and Richo couldn't believe his luck; it was in better nick than the photos had shown.
"The interior is virtually spotless considering its age," Richo grins. Some of the foam in the dash has sagged and there are little things that I want to do to it but it doesn't look like it's ratty and old.
"I spent two days looking over it, charged the battery then threw some fuel down the carby and it burst into life pretty well straight away.
"The engine is original - you lift the bonnet and there she is, as she was in 1957, and it's still got the inspection marks on the firewall and service stickers from 1957 on the driver's door.
"It's a bit of a time capsule and that's one of the reasons I like it. It's like it's come straight out of a shed after being stored for 50 years."
But time inevitably takes its toll and some refurbishment was needed.
The totally original 368-cube donk was in great shape but ancillaries like the brake booster, which has unique seals, had to be sent back to the US to be overhauled, as did the four-barrel carby.
The mechanical fuel and vacuum pumps were still in place but not working. They had been bypassed with an electric unit to get the car running so they were reconditioned too, as were the brake drums and shoes. Leads, plugs and points were also changed.
The exhaust system was falling apart and it was replaced by a new stainless system from the manifold back that has just enough rumble to hint at the power under the bonnet without being wearing on a long drive. New shocks and a set of whitewall radials on slightly wider rims completed the picture and the Premiere was set for its Aussie, er, premiere.
"On our first big trip we visited my sister in Corryong, which is about 450 kays each way from Melbourne, and we got there and back with no problems. Fuel consumption isn't bad - it's running a bit rich and needs a tune but it got 400km to a tank (80 litres). That's not great but it's not too bad. We didn't buy it for its fuel economy!"
Ford's brochures proclaimed 300 horsepower for the 6.0-litre V8 and Richo reckons that's about right.
"I'd say it's got every bit of 300hp. It accelerates really good if you have a big go at the lights. Put it this way: you definitely don't hold anyone up." And stopping the 1975kg monster?
"I haven't had any dramas. But it's a big, heavy car and you've got to use a lot more force on the brake pedal to get it to pull up. There's a bit of play in the steering box but apart from that it's a very comfortable car to drive. You put up with a huge-diameter steering wheel."
There was, and is, no plan to do a nuts and bolts resto - Richo wants it to remain as stock as possible. He wanted a cool cruiser and a head-turner and the 53-year-old Premiere is certainly that. And, most importantly, his family loves the Lincoln.
"Once we got past 'You bought what?', Ange loves it and the kids do too because it's different. [But] it's still a work in progress. I want to get the radio going." It's just a pity that old valve-job can't tune into 1957 - that would be something else.
SPECIFICATIONS
1957 Lincoln Premier Hardtop
ENGINE: 6030cc V8, OHV, 16v, four-barrel Carter carburettor
POWER: 300hp (224kW) @ 4800rpm
TRANSMISSION: 3-speed automatic
SUSPENSION: independent, telescopic shocks, anti-roll bar (f); live rear axle, leaf springs, telescopic shocks (r)
BRAKES: hydraulic 12-inch drums
WEIGHT: 1975kg
0-60mph: 11.5sec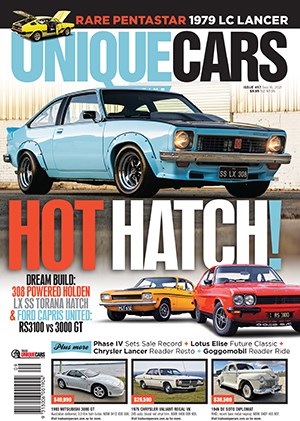 Subscribe to Unique Cars Magazine and save up to 42%
Australia's classic and muscle car bible. With stunning features, advice, market intelligence and hundreds of cars for sale.
Subscribe