1970 Porsche 911 ST Review
---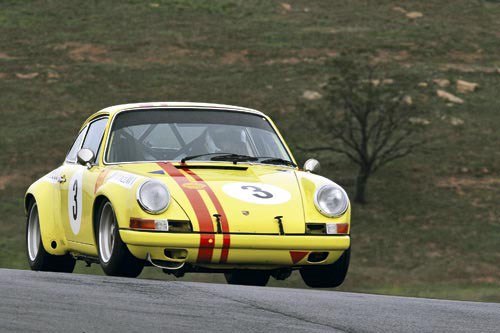 1970 Porsche 911 ST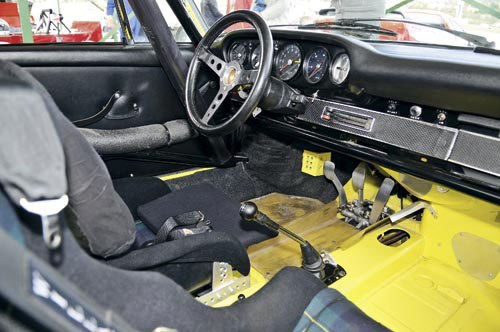 1970 Porsche 911 ST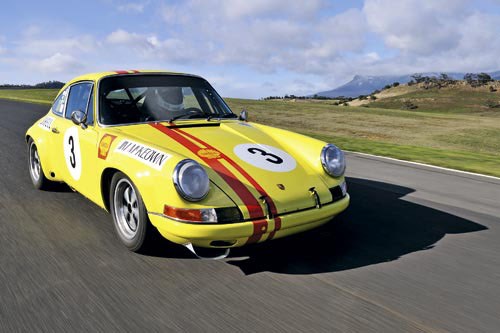 1970 Porsche 911 ST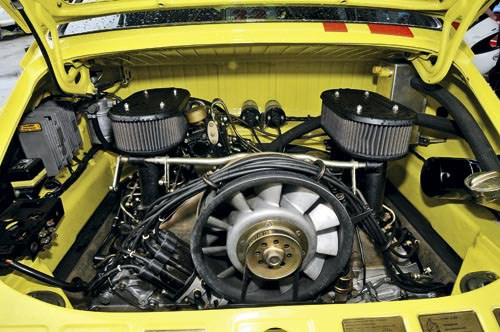 1970 Porsche 911 ST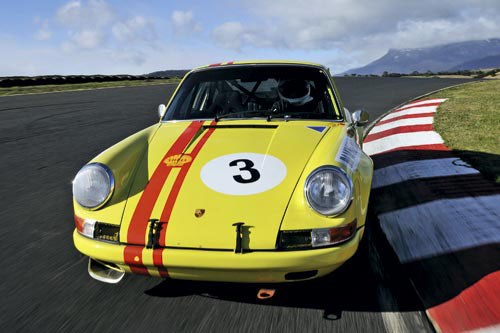 1970 Porsche 911 ST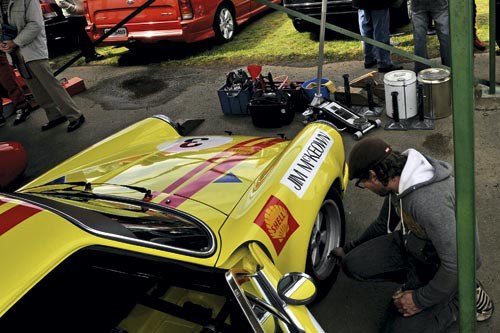 1970 Porsche 911 ST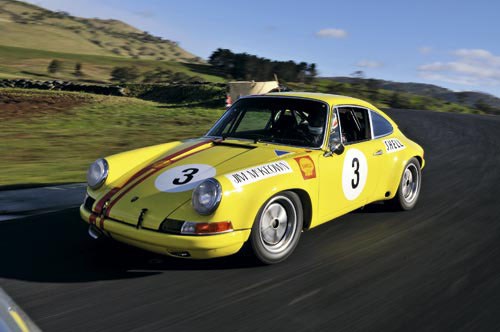 1970 Porsche 911 ST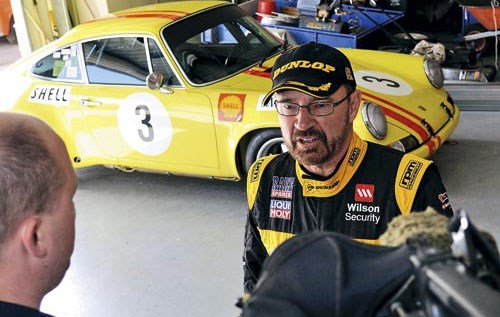 1970 Porsche 911 ST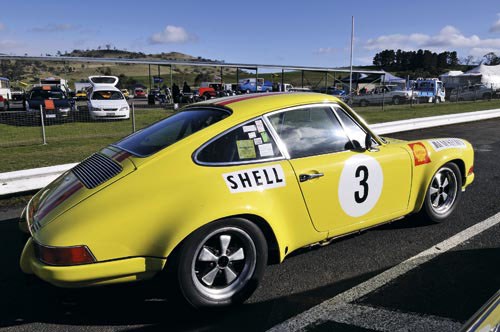 1970 Porsche 911 ST

Track test: 1970 Porsche 911 ST with John Bowe. Find out why these cars had such a fearsome reputation
1970 Porsche 911 ST 
I've been coming to Baskerville Raceway since I was eight or nine years old. My dad had a series of racecars, so I spent most of my youth here.
When the MG Car Club of Tasmania asked if I would like to race at their historic race meeting in 2009, I didn't need to be asked twice. I thought it was a terrific event, it's such a good little track and I saw so many interesting old cars and people I hadn't seen for 30 years.
My part in the 2010 event was to drive a 1970 Porsche 911 ST owned by Mark Johnson, who's been involved in Group N racing for a long time. I asked Mark if he'd bring the car to Tassie and he thought it was a great idea.
He's a Porsche lover and he and Dave Belford of Classic Road and Track built this car as a recreation of the car Jim McKeown raced in the early-70s in the Australian Touring Car Championship. For some reason, Porsches were considered touring cars in those days and McKeown came second in the 1970 ATCC in an ST.
A lot of manufacturers come and go in motor racing, but Porsche has always been involved in motorsport as an image builder and as a motorsport lover I admire them for that. The 911 ST was basically a turn-key racecar - if you had the money you could go and buy one. It's got alloy doors and lightweight panels. It's a bit like a GT3 RS of its day.
I had the opportunity to drive it early in 2010 at the Phillip Island Historics and of the hundreds of race cars I've driven, it's one of the most challenging - 911's are difficult to drive due to their huge rear-weight bias.
The first 911 came out in 1963 and I think they've spent the last 47 years trying to prove to the world that they were correct. Over the years they've become fatter, with wider wheels and bigger wings, but this ST is the pure side of it and it's a tricky thing to drive.
At high speed it generates lift, so at Phillip Island I was getting a tow off the Chargers and XU-1s down that long straight and it would stand up on its haunches like a cat and float from one side of the road to the other. It was white-knuckle stuff.
I've often wondered why they have those little ducktail spoilers and now I know, but you aren't allowed to run ducktail spoilers in Group N because it's not of the period - they didn't come out until about 1972.
I first raced at Baskerville when I was 16 in a Formula Vee. I started my first race in fourth position, which I held until a corner called Calvin's that leads onto the back straight. It's downhill, off-camber and taken in top gear in a Formula Vee.
It's a really tricky corner and I can clearly remember thinking how clever I was for running fourth before missing the apex and disappearing into a paddock! They used to have thistles growing out there then and all these thistles were falling in on top of me. It was a very inauspicious racing debut.
I set the lap record of 50.16 seconds in 1982 with my Formula Atlantic Ralt RT4. The record still stands, which is a bit sad I reckon - records shouldn't stand for 28 years! It's a pretty amazing place and I hope the track gets more support from the historic community because it's the greatest secret in Australian motorsport.
I qualified second for the Over 3-Litre category with a 1:01.8, just a tenth down on a 400-odd kW HQ Monaro. That's about the pace of a modern-day 911 Carrera. This car has a beautiful engine, like a little jewel. It's only 2.25-litres but it revs to 9000rpm. It handles really well and has nice brakes because it only weighs about 900kg.
The more I drove the car, the more I became used to having the engine swinging out the back. It's like having a yo-yo on a piece of string.
You have to make sure that after you brake, before you give it any throttle or steering input, it's returned to its ride height, otherwise it disappears off the road backwards. We made a few little adjustments to it over the weekend and it helped settle it down.
The car actually understeers mostly but you don't know it when you're driving it because your bum is getting these mixed messages. I don't want to make it sound like it's a beast because it's not, but it's tricky. I've never really raced one before and I think people that are Porsche experts are a bit like Mini drivers in that they are very specialised.
The upside of this rear-weight bias is incredible traction though. Once you've got the back-end down, you can do anything with the throttle, just nail it. It launches off the start line, so if you drive like crazy it takes everyone the rest of the race to catch up. This allowed me to win all three of my races and Mark won two of his so it was a successful weekend.
Anyone who reads this story should think about bringing their car over and having a race at Baskerville because it's the best little circuit in Australia, no doubt.
I really loved driving this car. It's so well suited to Baskerville. The more I drove it the more I enjoyed it and I now understand why they were so successful in their heyday.
ABOUT THE OWNER
Owner Mark Johnson has been racing Group N historics for over 15 years. A pushrod Cortina was followed by a Lotus Cortina and a Mustang before he was attracted to the Porsche 911 by the Stuttgart marque's famed reliability.
"The car was built about four years ago as an authentic 911 ST replica racecar," he said. "In Australia, the ST was raced extensively from 1969 to 1971 by Alan Hamilton, Jim McKeown, Brian Foley, Bill Brown and even the Geoghegans had a go.
"When Porsches became eligible for historic touring cars, I thought it had to be a lot more reliable and a lot less stress to run [than the Mustang]. I only do two or three meetings a year so it's nice to have a car you can just pull out and drive without all the hassle of a rebuild.
"JB had an openwheeler drive fall through at the Phillip Island Historics this year, and a friend suggested he drive the Porsche. As they split Historics into over and under 3-litre, I drove it in the under 3-litre and John drove it in the over 3-litre just like Baskerville. We had a great weekend with John helping me sort the car out and getting it handling so much better."
SPECIFICATIONS
1970 Porsche 911 ST
Engine 2273cc flat 6, SOHC, 12v
Power 165kW
Weight950kg (approx)
Gearbox Close-ratio 5-speed manual
SuspensionTorsion bars, Koni shock absorbers, anti-roll bars (f&r)
Brakes discs (f&r)
Unique Cars magazine Value Guides
Sell your car for free right here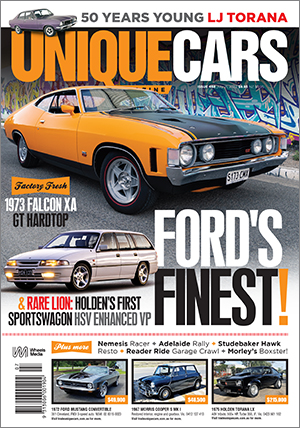 SUBSCRIBE TO UNIQUE CARS MAGAZINE
Get your monthly fix of news, reviews and stories on the greatest cars and minds in the automotive world.
Subscribe