Porsche 959 supercar review
---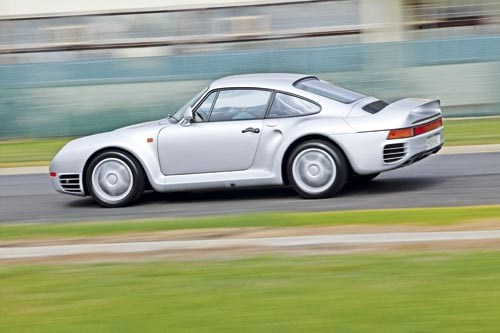 Porsche 959 supercar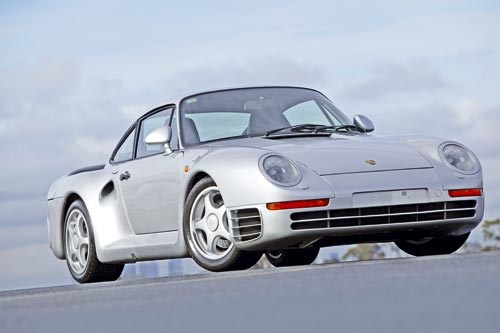 Porsche 959 supercar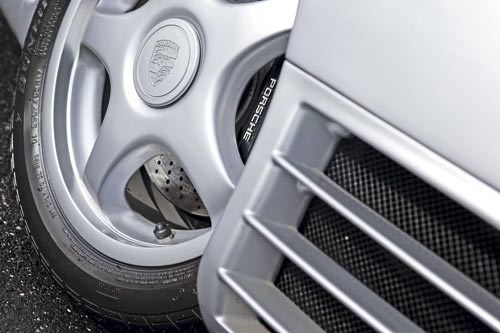 Porsche 959 supercar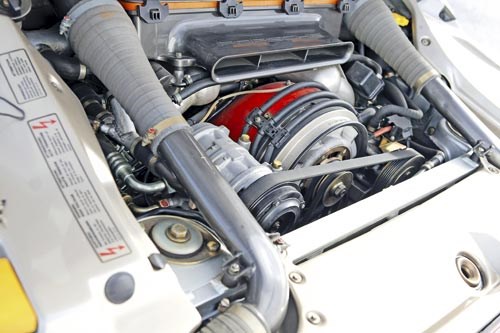 Porsche 959 supercar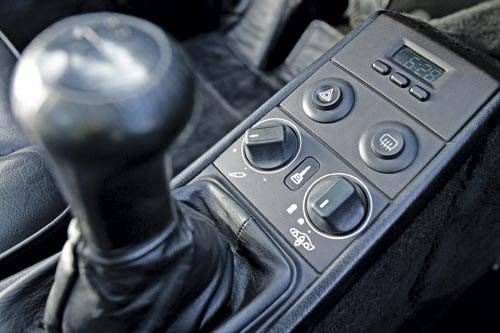 Porsche 959 supercar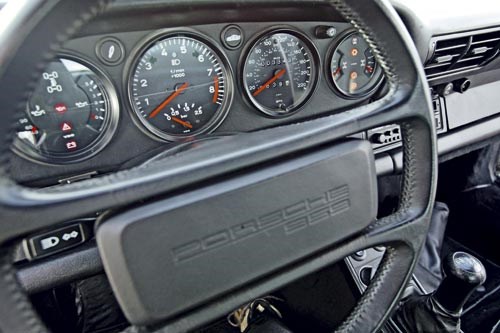 Porsche 959 supercar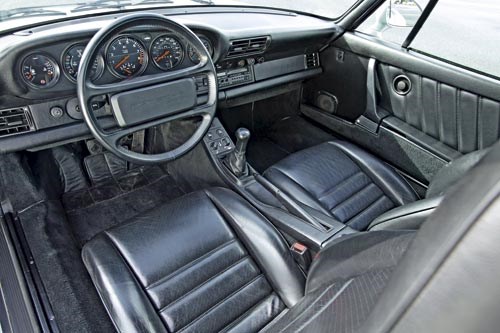 Porsche 959 supercar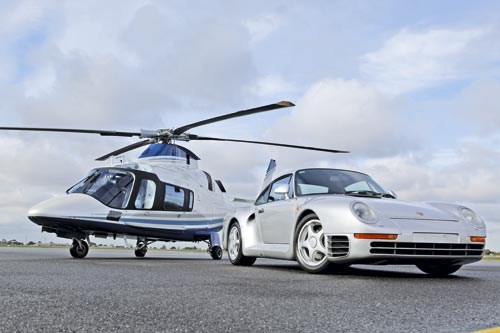 Porsche 959 supercar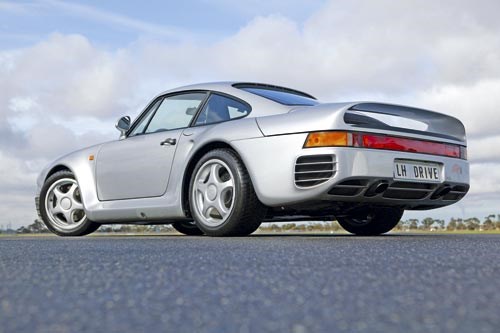 Porsche 959 supercar

Even for Porsche, this was an exceptional vehicle
Porsche 959 supercar 
More than two decades after it stunned visitors to the 1983 Frankfurt Motor Show, the ground-breaking 959 is still very much a supercar ...
It's hard to overstate. In one limited production model, the company's first true supercar helped salvage the 911 from the scrap heap and became the progenitor for today's cutting-edge models, from the 911 Turbo to the Cayenne.
Park the 959 just about anywhere but next to the newer Carrera GT and it's still a very special Porsche.
The smooth and flowing cocktail of a steel monocoque, Kevlar superstructure and alloy doors and bonnet is still spectacular, even in contemporary supercar circles.
But it is what that body hides that makes the 959 a motoring landmark – a ground-breaking four-wheel drive system with its front/rear torque split adjustable from the driver's seat; variable-height suspension to allow the 959 to cross terrain out of bounds to other ultra-high performance cars; driver adjustable ride settings; a new six-speed gearbox, Group C racing brakes and run-flat 17-inch tyres.
The real sting in the tail was the spectacular twin turbocharged, quad cam liquid-cooled 2849cc flat six-cylinder engine that pumped out 331kW (450hp), which promised Group C sports car thrust all the way to a promised top speed of 315-plus km/h.
Open the driver's door, which shares an identical profile with every other 911 door stamped from 1964 until 1998 and you wonder what all the fuss is about.
Like most of the 283 examples built from 1987, Australia's only 959 is a 'Comfortable' model, meaning it has the leather and other familiar trimmings of an early '80s 911 Turbo. But apart from a couple of different gauges and console knobs, there's little indication of anything to justify today's seven-figure collectable value.
Owner Lindsay Fox may have had the same thought when he took delivery of his left-hand drive silver metallic 959, chassis No 242, from the Stuttgart factory in August 1988. But he certainly thought differently after reputedly covering 300km in one memorable hour shortly afterwards on a deserted German autobahn.
Fire up that classic boxer six and you get more clues. Despite the engine's liquid cooling, the harsh, almost metallic exhaust note provides a hint of the enormous power and sophisticated technology at your command. The throttle is light, the clutch is heavy and the low-speed ride is firm and sporting, yet the 959 is as easy to shuffle to the shops as a Turbo of the same era, maybe easier.
It's not until the road clears and you plant your right foot that the car's racing heritage reveals itself in spectacular fashion. Spooling up sequentially, the two turbos deliver a brutal shove to your spine that totally confounds all earlier driving impressions, seamlessly sucking you into a leather cocoon as you bang the stubby lever through the six forward gears.
Zero to 100km/h in just over four seconds and 0-160km/h in under 10 seconds is right on the money amongst today's supercars, but sheer straight-line zoom is not what the 959 is all about. While the Ferrari F40 and Lamborghini Countach of the era delivered more raw acceleration, they could not live with the 959 when road conditions or the weather got rough.
The ability to vary the ride height, suspension stiffness and select the appropriate torque split to front and rear axles, mean that the 959 can maintain its spectacular momentum where others can't. In fact its maximum ride height of 180mm is not far short of a Ford Territory's and its off-road potential is even greater, as witnessed by the model's steamroller 1-2-6 victory in the 1986 Paris-Dakar Rally.
Sadly, in an increasingly collectable, privately-owned vehicle, exploring this potential today is virtually impossible. But the desert endorsement of Rene Metge, Jacky Ickx and other Porsche pilots still stands in the record books.
Short of a new Cayenne Turbo, the 959 – as it approaches its 20th birthday – remains unchallenged as the fastest point-to-point supercar on the planet.
Although it shares few specific features of the 959's technology, today's 911 Turbo owes a great debt to the 959.
The vultures were circling ominously over the 911's future in 1982 when the FIA issued new Group B rules to encourage more manufacturer participation in international motorsport.
Following the success of its new front-engined 924 and 944 models, Butzi Porsche's classic sports car design, unveiled 19 years earlier in 1963, had few boardroom friends left in Stuttgart. Tightening emission, noise and crash regulations in the US had continually challenged Porsche's trademark rear-engined, air-cooled concept since the early 1970s and were feared to spill over to Europe. Only the most optimistic traditionalist would have expected new model 911s by the end of the '80s.
In this climate, the FIA's new regulations – which required a minimum build of 200 identical vehicles – were read by Porsche development chief Helmuth Bott both as a racing exercise and the perfect opportunity to explore exciting new areas of technology.
On January 21, 1983, Bott launched the project to build Porsche's first supercar, internally known as the 'Gruppe B' (Group B). Cashed up from the profitability of the 924 and 944, Bott reputedly had no trouble finding a budget of more than $US100 million and faced no hard time constraints to build his automotive tour de force.
From the outset, it was accepted that the new car would feature four-wheel drive. Porsche already had such a system under development on a 911 coupe-based project model codenamed the C20, but there was pressure to develop an entirely new vehicle. Adapting the company's existing front-engined models was discounted because of the technical complications of their front engine/rear gearbox layout. Bott also ruled out the idea of a mid-engined car because he believed it would be too much like a road-registered racing car for the 200-odd wealthy Porsche customers he had in mind.
That left the 911 and it soon became clear the Group B represented an ideal test bed for assessing the model's tremendous unexplored potential in its 11th hour.
A little more than eight months after getting Bott's green light, the first rolling prototype was finished and made its debut as the drop-jaw star of the 1983 Frankfurt Motor Show.
Although still more a show car than a fully running prototype, the Gruppe B stunned the motoring world, not merely with its smooth, metallic silver-white Kevlar and aluminium bodywork, its radical wish-list specification and mind-blowing performance potential.
Unlike its more exotic Lamborghini and Ferrari rivals, which employed tubular space frame chassis, the 959 was based on the 911's classic steel monocoque, sharing the same door, glass and roof dimensions. With its hard points all fixed, styling options were limited, yet the 959's flowing lines fashioned from Kevlar and aluminium bridged Porsche's past and future, with styling elements such as the flush-mounted oval headlights even appearing on the very latest 997-series 911.
One of the functional requirements of the design was good aerodynamics. The front air dam, huge rear spoiler and wide skirts were created step by step in the wind tunnel. Combined with a full Kevlar undertray they contributed to a then benchmark drag coefficient of 0.31: a major contributing factor to the car's claimed 315km/h top speed.
The quad cam 24-valve 2849cc flat-six, with its alloy heads and crankcase, forged pistons, titanium con-rods and dry sump lubrication shared virtually nothing with the 911 because it was derived from the racing engine that powered the 956 and 962 Group C racing sports cars. Also unlike the 911's power unit, it was water-cooled because the excessive heat generated by its pair of small KKK turbochargers could not be cooled by air.
Different to the racing engines, the turbochargers operated sequentially for better responsiveness, with both spinning simultaneously at full 0.9 bar boost above 4200rpm to deliver 331kW at 6500rpm and 500Nm at 5000rpm.This output was not matched by another production Porsche until the arrival of the current 911 GT2, 20 years later in 2003.
Transmitting this prodigious power to the road was a new six-speed manual transmission developed in conjunction with Borg-Warner and Porsche's PSK (Porsche-Steuer Kupplung) 4WD system, still regarded as the most sophisticated ever applied to a production vehicle.
Compared with other all-paw systems, the PSK uses a multi-plate clutch instead of centre differential to split the engine's torque between the front and rear driven wheels. The default split was 40:60, mirroring the 959's weight distribution and making the best use of traction, but under fierce acceleration on dry roads, PSK transferred up to 80 per cent of the power to the rear wheels.
Conversely, on wet and slippery roads, a touch of the steering column switch changed the traction program to 'Wet' and the split became 50:50. As a result, PSK system provides a near perfect traction system for the sporting driver.
Peek under the 959's smooth, flowing mudguards and you'll see another landmark technical feature for a 1980s supercar – double wishbone suspension with adjustable ride height and shock absorber settings.
As with Porsche's latter-day air suspension on the Cayenne, the adjustable ride height function endowed the 959 with a go-anywhere ability unmatched by any other supercar.
A console switch allows 959 drivers to select 120mm, 150mm or 180mm ride heights, however manual settings are over-ridden by the computer, automatically lowering the car to 150mm above 80km/h and to 120mm above 160km/h. There was also a choice of three shock absorber settings via the console switch.
The ventilated and cross-drilled 322mm front and 308mm rear disc brakes came straight from the racing 917 sports car, while the alloy wheels – 8-inch wide front and 10-inch wide rear – wore specially developed 235/45-17-inch and 255/40VR17 run-flat tyres respectively.
Following its Frankfurt debut, the Group B prototype went through physical and mechanical surgery at Weissach over the next 18 months to prepare it for production.
Meanwhile, Le Mans legend and Porsche racing hero, Jacky Ickx persuaded Porsche and Rothmans to support him with a team of three 911s featuring the Group B's 4WD technology – but without the variable drive-split function – in the 1984 Paris-Dakar Rally and was rewarded with 1st, 6th and 26th outright placings.
At the 1985 Frankfurt show, Porsche unveiled a pre-production prototype, which it announced would be called the 959. But it took almost another year before the first production-ready car was unveiled to journalists in 1986. It had taken just over four years from decision to production reality, but the 959 was still clearly well ahead of its time.
Two models were offered: 959 Sport and 959 Comfortable. The Sport had the same power, but weighed 100kg less by discarding the variable ride height and shock absorbers in favour of stiffer springs and dampers, while occupants did without most of the luxury features. Few customers were interested and only six Sports were ordered.
In January 1986, a Jacky Ickx-led team of true Porsche 959s finished 1st and 2nd in the Paris-Dakar Rally, while at Le Mans the same year, a racing version codenamed the 961 developing 500kW and running a 20/80 front/rear 4WD torque bias, finished seventh overall and took first place in the IMSA GTX category.
Porsche sold every 959 for DM 420,000, which then was enough to buy you a Lamborghini Countach plus a Ferrari Testarossa, yet with its roll-call of technology, that now looks somewhat of a bargain. Some sources have estimated that each 959 cost Porsche more than double its sale price to produce, but today that's an irrelevant and unprovable statistic, which the factory books would doubtless record as R & D.
For the model that effectively saved the 911 and has paved the way for such production jewels as the current 911 Turbo S, it was clearly money well spent.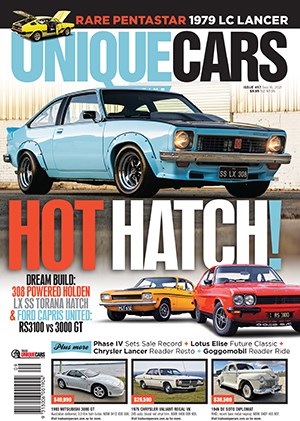 Subscribe to Unique Cars Magazine and save up to 42%
Australia's classic and muscle car bible. With stunning features, advice, market intelligence and hundreds of cars for sale.
Subscribe