Jaguar X350 XJ8 V8: Future Classic
---
2003-2010 Jaguar X350 XJ8 V8 3.5/4.2...
Jaguar X350 XJ8 V8
Not everyone is convinced that the latest Jaguar XJ 5.0 V8 captures the essence of Jaguar's finest saloons, nor does its $254,000 starting price leave much room for upward movement. In time, this will bring the spotlight back to the out-going X350 series and its more timeless combination of old and new.
Already 'big cat' fans are clearly divided over which model best defines the last traditional Jaguar saloon. Many regard the final steel-bodied, post-2001, X308 XJ8 4.0 V8 as the cat's whiskers. Others argue that its 2003 X350 XJ8 3.5/4.2 V8 replacement is the no-brainer. After all, its aluminium structure slashes at least 200kg from an earlier XJ's hefty payload and its heavily-revised V8 engines finally ruled a line under a seemingly endless litany of problems. If only it were that simple, because used prices for both cars meet in the $28-35,000 range.
The X350's 3034mm wheelbase and 5090mm length versus the X308's 2870mm/5024mm highlight the fundamental differences. Once the X350's traditional looks were stretched over a much longer wheelbase without the excessive overhangs of earlier models, the character of the XJ saloon was fundamentally changed. And therein lies the dissent. Combined with a boost in height from 1314mm to 1448mm, there is no arguing that the X350 lost the sportier, intimate feel of previous models, even if the newer car was much easier to live with and more fun to drive.
Then there are the intangibles. Ultimately, the X308's 1900kg steel structure has a better chance of beating a broken Aussie road surface into submission. And with a little flex, it will do so even more discreetly. The X350's clever aluminium monocoque – strategically reinforced with magnesium beams for a 60 percent boost in stiffness while pegging weight to 1615kg – is by definition going to feed more harshness into the cabin, even if the suspension is really clever.
A lighter, more balanced chassis will also deliver a crisper, more responsive drive that can also make the whole car feel less substantial. Anyone who has driven the latest Falcon back-to-back in four- and six-cylinder guises will recognise the huge differences in feel that even minor changes can generate.
The bottom line is that you can do your head in trying to decide between the two. When you can add both to your garage for around 30 percent of the cost of the latest model, the process is academic anyway. The reality is that neither was bodily stiff enough to challenge the best of the Europeans or Japanese, nor were they totally on top of the brutal supercharged Jaguar drivetrains on offer. Yet time and rarity seem to be treating the X350 XJ8 kindly.
Its stand-alone, traditional presence, excellent power-to-weight ratio and extra fuel efficiency are unlikely to be challenged by Jaguar, let alone rivals, for some time.
Unique Cars magazine Value Guides
Sell your car for free right here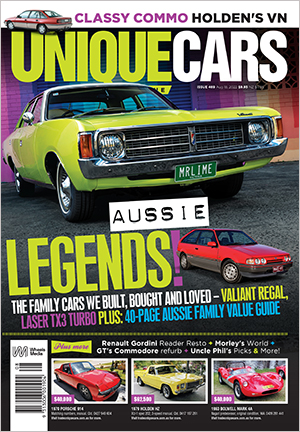 SUBSCRIBE TO UNIQUE CARS MAGAZINE
Get your monthly fix of news, reviews and stories on the greatest cars and minds in the automotive world.
Subscribe