Mercedes-Benz SLK55 AMG Review
---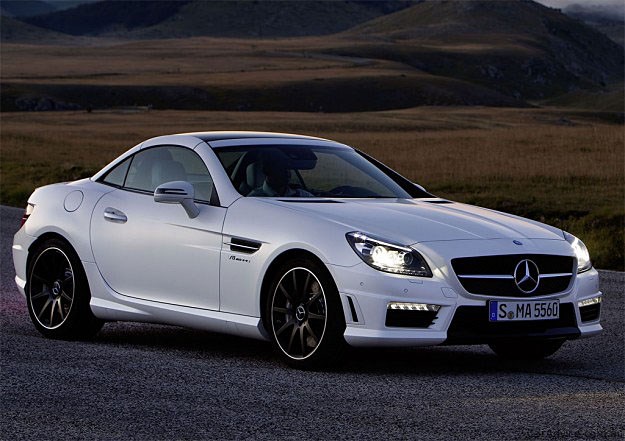 Mercedes-Benz SLK55 AMG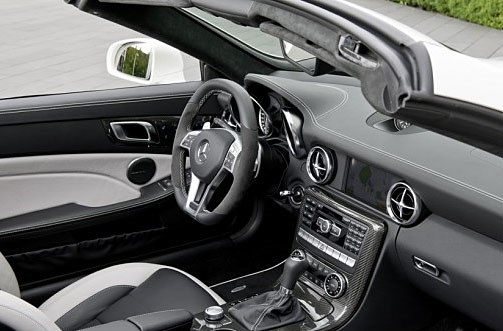 Mercedes-Benz SLK55 AMG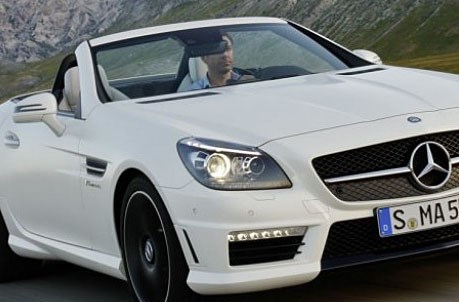 Mercedes-Benz SLK55 AMG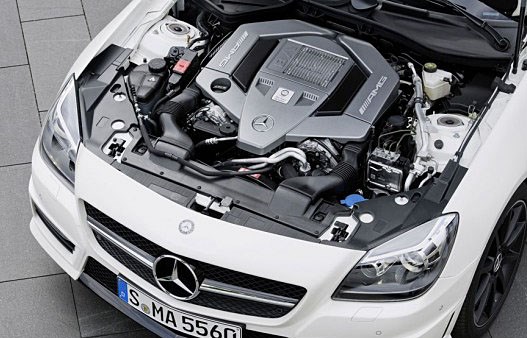 Mercedes-Benz SLK55 AMG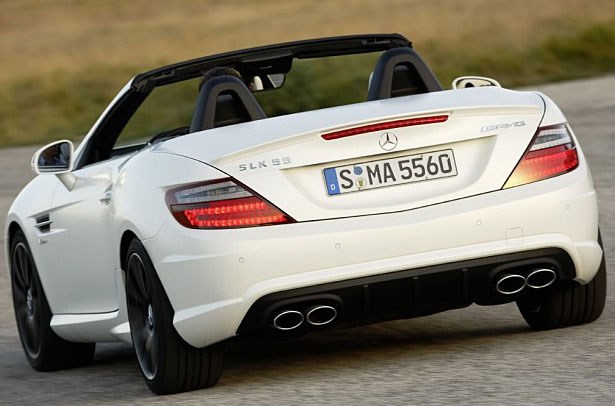 Mercedes-Benz SLK55 AMG

Mercedes-Benz SLK55 AMG. A big V-eight and sharper handling make for a great combo.
Mercedes-Benz SLK55 AMG
She went on sale here early this year, and six months later, we've finally gotten around to driving the buff new SLK55 AMG. But this one is different from the seemingly endless stream of other uber-Mercs. It's the first car powered by AMG's new-generation V8 that isn't twin-turbo. Instead, like the C63, the SLK55 remains naturally aspirated.
So what do you miss out on by removing the hairdryers? Not performance, that's for sure. The SLK55's 5461cc V8 punches out a fleshy 310kW at 6800rpm (up from 265kW in the old one) and a solid 540Nm at 4500rpm (was 510Nm), and does great things in a roadster weighing 1610kg. The engine is fairly light too - 187kg without fluids - thanks to an all-aluminium crankcase and a myriad of other weight-saving measures, all of which matter in a sports car as compact as the SLK.
Natural aspiration means you lose none of the AMG V8's trademark rumble. In fact, the new SLK55 is right up there with the best, bellowing its lungs out like Big Foot on a rampage as it charges towards 7200rpm. Then, as the AMG Speedshift 7G-Tronic auto grabs the next gear, an ignition-cut 'braap' blurts out the quad tailpipes. It's hugely addictive, and is amplified to great effect if you can spare a little under 20 seconds waiting for the roof to open. It's also a sound none of the SLK55's (cheaper) roadster rivals can match. And if you want to simply cruise without the acoustic song-and-dance, integrated flaps inside the two rear exhaust silencers can vary the degree they're open - from completely closed below 2000rpm on a light throttle, to wide open when the horizon needs to be reeled in.
Counter-balancing all this horsepower and enough accelerative urge to hit 100km/h in 4.6sec is another AMG first - cylinder de-activation. Every time you crank the SLK55 into life, the transmission automatically selects 'C' mode (which stands for 'Controlled Efficiency'). Under partial load at engine speeds between 800rpm and 3600rpm, cylinders two, three, five and eight are cut off, which helps lower the SLK55's official fuel average to just 8.4L/100km. Problem is, if you have the roof down, you can hear the engine switching between modes, and when running on four cylinders, there's an unpleasant, audible vibration that instantly disappears the moment the engine switches back to eight pots. Solution? Push 'S' and enjoy the drivetrain in its full-fat format.
The old SLK55 was a great wafter, but had a reputation as a lead-tipped arrow when the road turned pretzel. The all-new one is a big improvement in terms of balance but it's still more of a muscled cruiser than a corner slicer. The steering feels blunt and disinterested at straight ahead, especially around town where it has almost none of the tactility you'd get in a Boxster. But once there's a decent chunk of lock wound on, the steering wakes up - changing direction quickly and pointing sharply.
Chassis balance is pretty good up to about eight-tenths, though start to really push the SLK55 and the front end lets go first, followed by the rear. But the SLK55 now feels like it was designed for a V8 engine, unlike before. Find a smoothly surfaced, twisty road and it sits flat, tucks its nose in promptly, and will progressively drift its tail on exit if your right foot asks it to. It also has really nice brakes - big vented and drilled discs, 360mm up front and 330mm behind. But what the SLK55 doesn't do is ride. Even the four-cylinder models ride poorly, and shoving a V8 into the engine bay fail to quell this car's abruptness.
What makes the new SLK55 AMG, though, is its engine. It's stupendous. What the SLK55 doesn't do, however, is send excitement tingling through your fingertips. This is a wafty baby-SL, not a V8 Boxster.
SPECIFICATIONS
Mercedes-Benz SLK55 AMG
ENGINE: 5461cc V8, DOHC, 32v
POWER: 310kW @ 6800rpm
TORQUE: 540Nm @ 4500rpm
GEARBOX: 7-speed automatic
WEIGHTl: 1610kg
0-100km/h: 4.6sec (claimed)
TOP SPEED:  250km/h (limited)
PRICE:  $155,000
Unique Cars magazine Value Guides
Sell your car for free right here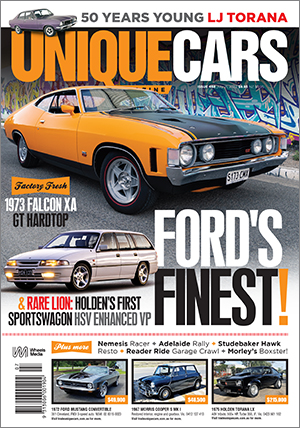 SUBSCRIBE TO UNIQUE CARS MAGAZINE
Get your monthly fix of news, reviews and stories on the greatest cars and minds in the automotive world.
Subscribe