Subaru WRX STi-22B (1999) Review
---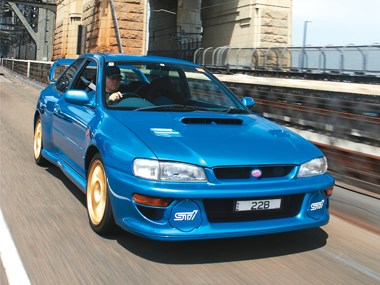 1999 Subaru WRX STi-22B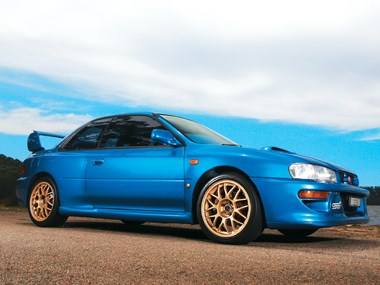 1999 Subaru WRX STi-22B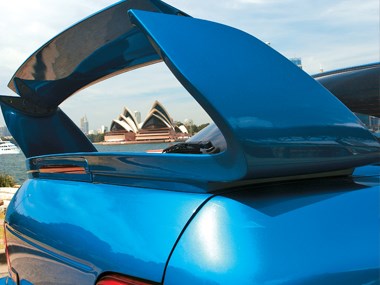 1999 Subaru WRX STi-22B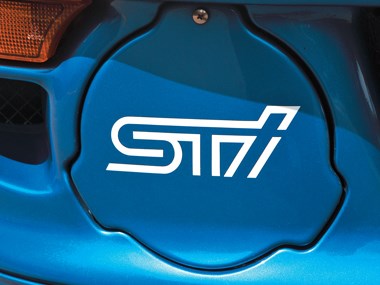 1999 Subaru WRX STi-22B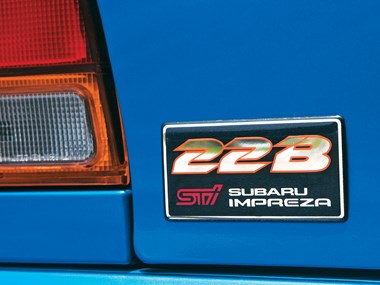 1999 Subaru WRX STi-22B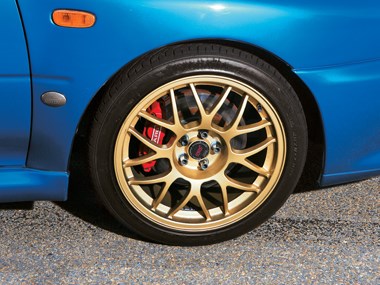 1999 Subaru WRX STi-22B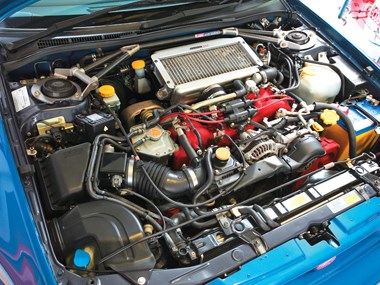 1999 Subaru WRX STi-22B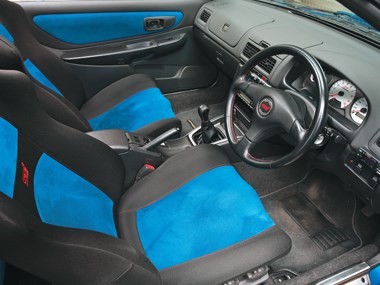 1999 Subaru WRX STi-22B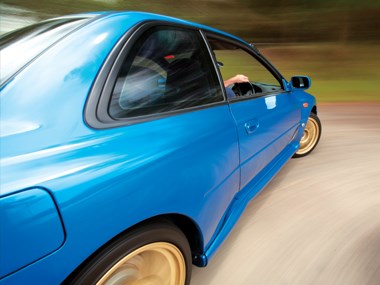 1999 Subaru WRX STi-22B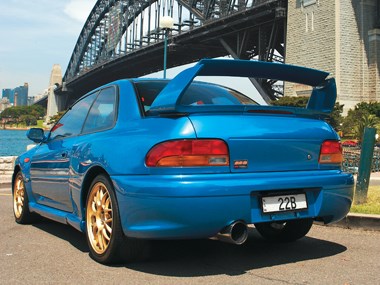 1999 Subaru WRX STi-22B

Bad to the bone: Subaru WRX STi-22B. David Berthon flips the cap backwards, yells 'C'mon' and tries to come to grips with a very special version of Japan's cult car.
1999 Subaru WRX STi-22B
[Feb 2008] Have you heard of Subaru's Impreza WRX 22B STi?" the editor asks.
"No not really," I mumble as I struggle to recall the model.
"It's one of five imported into Australia in 1999; Rex fans simply go mad over them and we've got the opportunity to drive one."
The model number didn't ring a bell - after all it had been 14 years since I first road tested the Subaru WRX. The year was 1994 and no performance road car had excited the market so much apart from perhaps the Nissan Skyline GTR for a lot more money.
So I arrived at the Classic Throttle Shop's refurbished premises between Milsons Point and North Sydney railway stations, under the north side railway approach to the Harbour Bridge, with a degree of real interest and curiosity.
A quick glance around the showroom and it was clear that this was no ordinary dealership - an Aston Martin DB4 and 'Oscar India' V8, the latter formerly owned by the late Heath Ledger, a Lancia Delta rally car, a Renault Sport Spyder, Austin Healey 100 BN1, a gorgeous 1951 Ferrari 212 Barchetta roadster, once owned by Mike Hawthorn, two Lamborghini Miuras, even a 1960s Volkswagen Transporter dual-cab utility - just some of the rare or unusual classics on display.
The Subaru 22B STi duly arrived and at first sight looked pretty much like the stock Blue STi WRX I'd driven in the late-'90s. But I quickly realise this is no ordinary Rex. Take the bulging two-door body for a start with its accentuated and hand-formed alloy fat wheel arch flares and a bolder looking rear spoiler with an adjustable top wing.
The alloy bonnet has two extra small vents to the normal large central inductor which are blocked off and obviously intended for homologation of the potent WRC rally car.
I peer inside and the finish on this limited edition is a cut above the standard cars with hand finished and higher grade trim and nicely sculptured Recaro seats that actually fit my wide posterior.
Just 400 numbered cars were initially bolted together and such was the cult status of the WRX at the time that they sold out in a weekend in Japan. To placate its distributors and importers around the world Subaru then built a further 25 22Bs and Australia was able to secure just five. Subaru Australia kept one while the others fell into private hands.
When new it cost three times the amount of a standard WRX - a cool $125,000 with the real worshippers expected to also pay a further $7000 certification cost. At the time there was no shortage of takers. In fact, there's probably no shortage of takers at present if you know what I mean - good then that the car is fitted with the annoying but highly secure punch-in security code alarm system.
B-BOY RACER
I start the 22B STi and it sounds exactly like the last stock WRX I drove several years back; the longitudinally-mounted horizontally opposed four-cylinder almost lifeless and uninteresting on start up and at low revs - which means it doesn't leap into life if you give the throttle a quick poke.
The plan is for a quick familiarisation trip over the Harbour Bridge into the city and back for photography, then a run down to West Head in the Kuringai Royal National Park for some performance driving.
I ease the clutch out with a minimum amount of revs and the Pirelli P-Zeros grip the black top like a Koala bear hugs a gum tree. The clutch is light with plenty of free travel; there's no progression, it simply bites in one spot and that's it. No sense feathering the ceramic-faced twin-plate clutch, just pick the right revs and get into it. Having covered 43,000km it's possible the clutch on this car has taken a little punishment.
At 1270kg the kerb weight is slightly less than the standard STi coupe and the stated performance figures suggest it's marginally quicker over 400m.
The 22B uses a larger 2.2-litre version of the WRX's 2.0-litre 'four' - hand assembled after being fully balanced it's the nearest thing you can get to a fully blue-printed race engine.
On top of that it gets a more sophisticated turbo/engine management system - Subaru had trouble with the conventional STi map sensor and fitted a three-core valve unit delivering boost better matched to a wide variety of driving conditions.
Having said that this big bore engine delivers 206kW at 6000rpm, no more power than the conventional WRX STi limited-edition four-door of the same year although it serves it up at 400 lower revs.
However, what is impressive is the torque output of 360Nm at 3200rpm, well up on the standard WRX's 290Nm at 4000 revs. The spread of this torque from so low down is impressive and coupled with the road adhesion via four-wheel drive it feels as safe as a slot car.
The massive torque means it can amble about town with minimal revs and feel relatively docile. But plant your foot and from 4500 revs up it displays more agro than Wayne Carey on a good night out.
You have to remember this is a nine-year old car with body rigidity a step or two behind today's performance coupes but in many ways that's what makes it so interesting. It has that raw mongrel feel at the limit that more modern computer design and refinement has diminished.
On the open road with some fast flowing corners it also lacks the added flexibility that a modern six-speed gearbox could provide. At times the change quality of the five-speeder could be better, but again, the spread of torque is so impressive that it tends to negate the fidgetiness of the gearshift.
It performs best in the overtaking range of say 80-110km/h where in fourth gear it takes around 2.9secs (2.4secs in third) and becomes so eager you immediately look in the rear vision mirror for the Boys in Blue.
Turbo lag, evident at the bottom end of the rev range on a standard Rex, is better on the 22B STi and becomes progressively less evident as you reach towards the 8200rpm redline.
The steering, always a high point on the standard cars, is communicative with superb turn in and response, obviously aided by the astonishingly high levels of grip. But I soon realise that while the 235/40ZR 17 Pirelli P-Zero rubber provides exceptional adhesion they produce a punishing and noisy ride that jars on the smallest bumps. But to be fair this is near enough to a race car with a fully rose-jointed rear suspension and it's not going to be your daily driver.
An important performance aid is the adjustable dial-up torque split between the front and rear wheels - a small roller switch to the right of the handbrake alters fore/aft torque from 36/64 percent to an even 50/50 at which point you've locked the diff for maximum grip. On an unsealed road a locked diff obviously provides enormous benefits - witness the rally results - but on the tarmac its best to simply ignore this rally-derived feature for optimum results.
IN DA 'HOOD
I soon realise that WRX enthusiasts know what the 22B is all about - the personalised number plate is a dead giveaway and in a relatively short distance I get numerous nods and waves of enthusiastic approval. It's a nice feeling to be driving a revered low volume car, even nicer if it's your own and you're not so worried about bending it.
There's no way I can explore the 22B's upper speed limit of 180km/h (electronically limited) but on the quiet West Head road I quickly discover how rewarding this car can be. I reverse my Subaru cap, Leighton Hewitt style, and sing out 'C'mon' as I tackle some demanding switchback corners on a course surface in third gear - I haven't experienced this much aggression in years.
But then despite the euphoria this car generates you quickly return to normality and as I head back to the Classic Throttle Shop I settle down for some very relaxed motoring. There's nothing quite like bucket loads of torque and this car loves to dawdle on a lazy throttle.
In fact, Subaru's 22B STi is very much a Jekyll and Hyde. It's a car with dual personalities and in many ways that's a good thing for as a road car it needs to be driven with respect for its high level performance capabilities. It's perhaps best suited for closed tarmac rallies where it can be campaigned to the fullest in a high degree of safety by an experienced driver.
Certainly at its asking price of $119,995 it represents an opportunity to buy a low-volume limited-edition performance car the likes of which we may not see again and which can only grow in investment value as time goes by. 
SPECIFICATIONS
1999 Subaru WRX STi-22B
PRODUCTION: 425
BODY: two-door coupe
WEIGHT: 1270kg
ENGINE: 2.2-litre four-cylinder turbo intercooled
DRIVETRAIN: front engine, AWD
POWER/TORQUE: 206kW/360Nm
PERFORMANCE: 0-100km/h - 4.7secs
TOP SPEED: 180km/h (limited)
PRICE: $119,950 (classicthrottleshop.com)
Unique Cars magazine Value Guides
Sell your car for free right here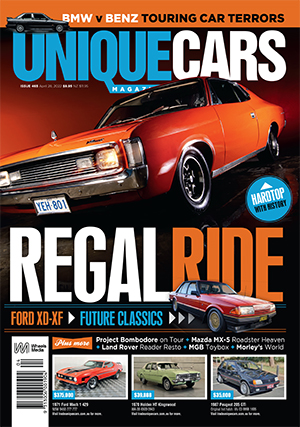 SUBSCRIBE TO UNIQUE CARS MAGAZINE
Get your monthly fix of news, reviews and stories on the greatest cars and minds in the automotive world.
Subscribe