2008 A.D. Tramontana Review
---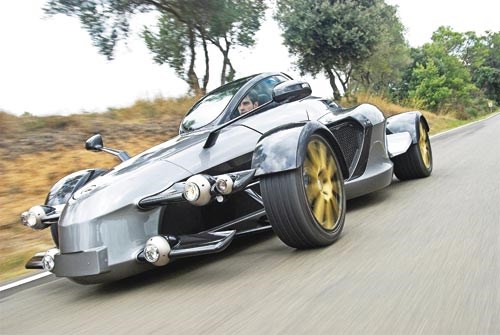 Grand Designs: Tramontana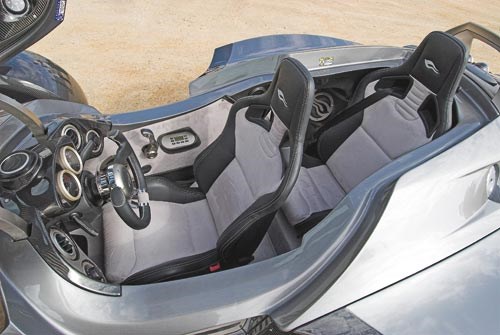 Grand Designs: Tramontana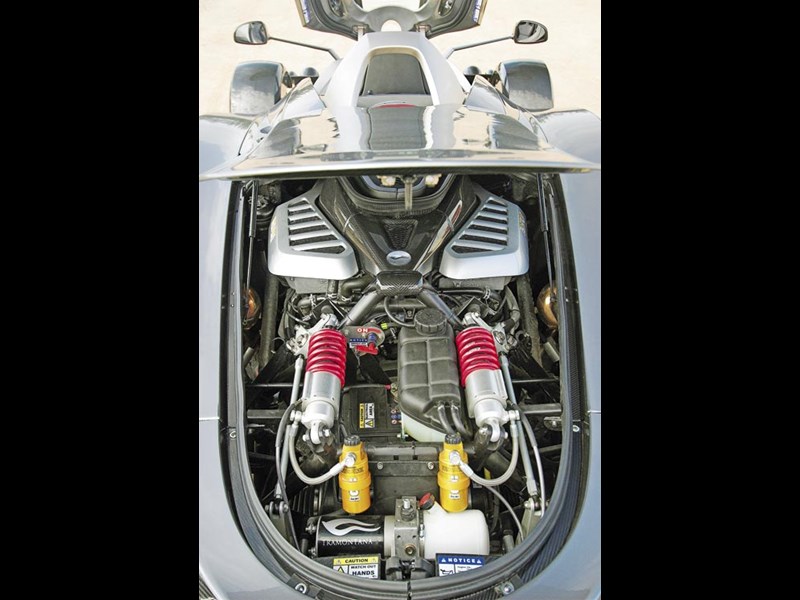 Grand Designs: Tramontana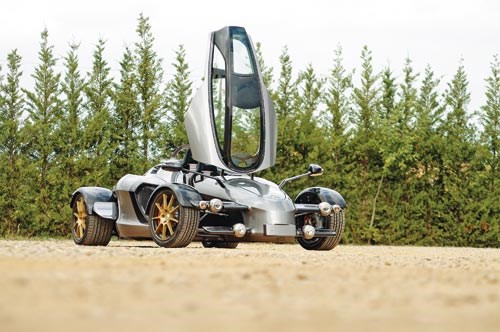 Grand Designs: Tramontana

Grand designs: Tramontana. Cars are often likened to art, and never was the connection stronger than with this Spanish marque.
A.D. Tramontana
Tramontana's customers don't just buy a car. No, instead they buy a piece of art, which can be enjoyed in the privacy of their climate controlled garage, preferably with the aid of studio lighting, a plinth, a cigar and a fine Cognac for company. That is the verdict of company boss Josep Rubau, Spain's answer to Horacio Pagani and an eccentric man with a vision.
Royal College of Art graduate Rubau set up shop in the grounds of a rural farm just outside Girona and, in open top form, his first hypercar is a work of beauty: a flowing, organic, albeit fatter F1 racer. Indeed from above it even fits the silhouette of Lewis Hamilton's company car and, while the press material's assertion that the car was inspired by the Tramontana winds of the Costa Brava seem a bit much, you can kind of see their point when looking at that hourglass of a side profile.
Rubau took inspiration from two distinct sources and when it came to the hard-top fitted to our test car, deemed essential for hotter climes and everyday use, his attempt to marry a bulbous F1 car with a fighter jet cockpit works about as well as oil and water. But then art isn't always beautiful, indeed Tramontana's factory lies just a few short miles from the birthplace of Salvador Dali and you can't help thinking there might be something in the water in this part of the world.
Whether the overall shape is to your liking is entirely subjective; what is not is the immense attention to details like the white gold badge, the yellow gold used throughout or the silver wiring that goes some way to justifying the €600,000 ($1.176million) starting price that can be ramped through the roof with extras such as a diamond-encrusted interior. A simple road test is only half the story with this car to truly assess its value you'd need the services of a qualified jeweller.
Look past the dominant aesthetics, and this is one almighty car that is every bit the match for the Pagani Zonda that rewrote the hypercar rulebook back in 1999. It even uses a carbon-fibre monocoque built around a Mercedes V12 engine, just like Pagani, although Rubau opted for a 5.5-litre twin turbo that knocks out a near dangerous 529kW with the wick turned up.
I clamber in to the beast and get intimate with development engineer Jordi. The inline seating arrangement was essential with this design and helps the handling, but if you're taking a passenger they had better be a close friend.
It has a BMW M5-style 'sanity mode' that restricts the engine to a mere 410kW until the push of a button unleashes the dogs of war. There's even a hydraulic lift system for speed bumps and a muted exhaust note at low speeds to make this most ornate hypercar liveable on the run to the track, country club or wherever it is you'd take such a creation.
Push that button, though, and get ready to pull back on the jet-style sequential lever, and all hell breaks loose. The V12 hardens to a mechanical roar and the chirruping turbos, taken from a "larger AMG application" let rip through the cockpit as the sheer violence of the moment takes over. Tramontana claims relatively conservative figures, with the 96km/h mark falling in "less than four seconds" and the car topping out north of 350km/h.
The speed is amplified thanks to that central driving position almost on top of the nose. The enclosed cockpit gives a near motorbike sensation of speed and even the Zonda can't match this monster's sense of pure occasion as it rips itself from the leash and tears towards the horizon. Perfectly weighted steering and a clear sight of all four corners provide the confidence to throw the car into bends and monumental downforce will stick it to the floor at simply outrageous speeds.
This 1250kg creation could have gone well beyond the 350km/h mark without any drama whatsoever, but then that is a near pointless milestone as there are few racetracks where such speeds are possible before the next braking zone. Rubau wanted a car that works in the real world, as well as the race track, and opted for blistering acceleration up to that point, rather than a headline figure.
F1 drivers have been involved in the set-up. It's designed to be taken on the track, and racing technology runs to its core, from the carbon-fibre wheel rims to the ceramic brakes and the aerodynamics that go well beyond the giant wings affixed to many cars that simply look the part. Rubau drafted in one of the Eurofighter's designers to help stick the car to the road and the high-speed grip of this machine is simply phenomenal.
Yet the wishbones are designed like a plane's wing to reduce drag, the front spoiler offers less downforce than the rear to aid sensitivity and there is even mild ground effect thanks to the diffuser that sucks the car to the tarmac.
The suspension is unique in this class: double wishbones with pushrod systems inspired by Formula One and crammed full of advanced materials like cromolibdenium, duralumin and magnesium. This is all expensive kit and everything is there for a performance advantage. With the base qualities of a wide and low slung body, and a centre of gravity that virtually skims the floor, it can carry prodigious speed through the bends and won't get unsettled on the public highway.
In fact it's hard to imagine wanting to get unstuck that planted rear, or having the skill to control it once it does let go, but for the brave few willing to risk a million dollar accident there are four levels of traction control and a race team on offer for track days. In fact that personal service goes to the nth degree. All work is carried out on site, while Tramontana sends its engineers out to fix anything but a serious accident. This is more like entry to a super exclusive gentlemen's club rather than simply the purchase of a new car.
It's a privilege open to just 12 new members every year. Rubau doesn't want a world full of Tramontanas; his is a special creation for a few discerning souls who already have the world's finest metal and want something truly unique to sit and enjoy as it sits atop a plinth. After a hard day's driving, of course.
SPECIFICATIONS
2008 A.D. Tramontana
Body: aluminium/carbon-fibre, two-seater
Weight: 1250kg
Engine: 5.5-litre twin turbo V12
Transmission: six-speed manual
Drivetrain: mid-engine, RWD
Power/torque: 529kW /920Nm
Performance: 0-100km/h – 3.6sec.
Top speed: 350km/h
Price (as tested): €750,000 ($1.47million)
Unique Cars magazine Value Guides
Sell your car for free right here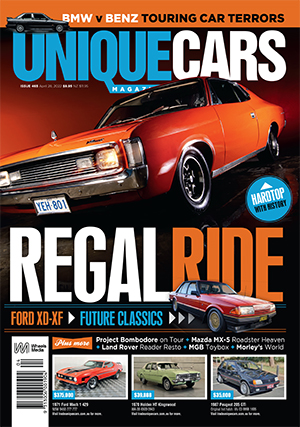 SUBSCRIBE TO UNIQUE CARS MAGAZINE
Get your monthly fix of news, reviews and stories on the greatest cars and minds in the automotive world.
Subscribe