2010 Jaguar XJ Review
---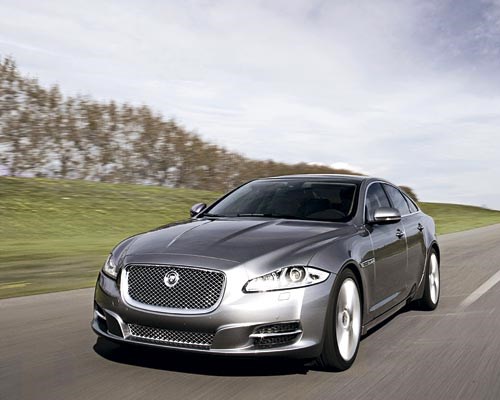 Driven: 2010 Jaguar XJ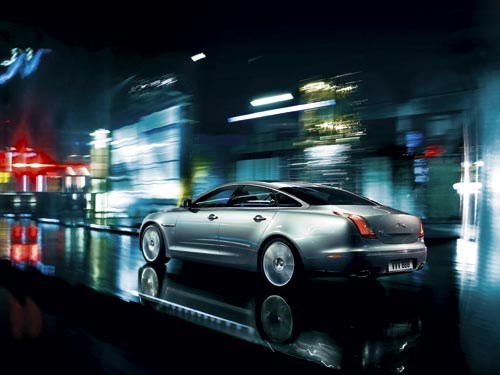 Driven: 2010 Jaguar XJ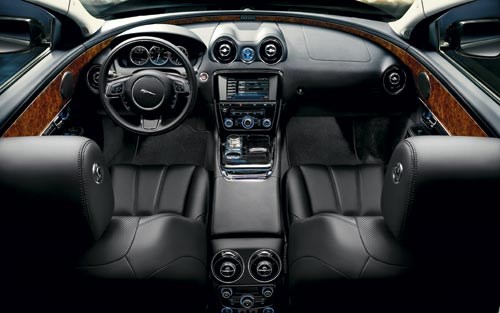 Driven: 2010 Jaguar XJ

British icon takes on the German heavyweights with new look sedan...
2010 Jaguar XJ
I had absolutely no idea what the French bloke was saying until he waved his hands and said "beautiful".
We were in Paris testing Jaguar's new top-line luxury sedan, the XJ, which plans to grapple tackle the Mercedes-Benz S-Class, BMW 7-Series and Audi A8 when it comes to Australia in August.
The big cat's styling has been evenly praised and criticised and Jaguar admits the styling is controversial.
Parisians, who are a fairly fashionable bunch, responded enthusiastically to the XJ taking countless photographs and standing around the car taking in those bold lines.
It won't please everyone, but the new-look XJ shows Jaguar is confident enough to move on from traditional designs.
The last XJ was a technologically advanced car, with an aluminium chassis and a strong engine line-up, but few people noticed because of the plain design which was simply a remake of previous models.
It pleased a lot of older Jaguar owners, but did nothing to attract younger customers who had plenty of exciting rivals on offer from the Germans.
The shape of the new XJ, which has elements of Maseratis, makes the promise of an exciting drive.
Thankfully, it delivers.
Jaguar's engineers have come up with a car that, from first impressions, seems every bit as dynamic as its three German competitors.
In fact, I wouldn't be surprised if it was actually a better drive than some and possibly all of these cars.
The Jaguar is a full-size luxo sedan, measuring 5122mm from nose to tail (there is also a stretched version) and is full of gear, but the V8 tips the scales at just 1755kg.
That's pretty light for a car this large and helps when it comes to handling.
The XJ runs air suspension with adaptive dampers which provides a generally very comfortable ride, even on the cobblestones of Paris, retaining a good level of body control.
There is also a sporty setting that firms-up the damping, as well as sharpening the throttle and increasing the weight of the steering, which makes the XJ a sharper tool with minimal body roll and excellent road holding.
The engine line up is certainly strong, with everything you could ask for except a base petrol six-cylinder.
Apparently one is on the way, but for now, the entry level car will have a 3.0-litre twin turbo diesel. This is a cracker of an engine, delivering a massive 600Nm of torque at 4000rpm and 202kW at the same point.
The diesel makes a lot of sense, but these cars are about passion too and that's where the new 5.0-litre V8 comes in. The only naturally aspirated engine in the range, the V8 generates 283kW and 515Nm.
It turns the XJ into a very quick car, 0-100km/h in 5.7 seconds, and is lovely engine to wind out. Most importantly it delivers a delicious V8 engine note, a lovely restrained burble.
For those who just have to go faster, the XJ is available with two versions of the same supercharged 5.0-litre V8.
The first manages 346kW and 575Nm and enables a 0-100km/h time of 5.2 seconds.
The second, available in the Supersport model, pumps out an incredible 375kW and 625Nm, which allows the big Jag to blast from 0-100km/h in just 4.9 seconds.
This is the same grunt mill that has turned the XF-R into a BMW M5 challenger.
I tested the most potent XJ and found it to have a real dual personality. Around the streets of Paris, driven with respect it was quiet and perfectly well behaved, but when you put the foot down, it exploded with incredible force.
The acceleration has to be felt to be believed. It will take you from zero to demerit points in an instant. Jaguar has worked hard to suppress the sound of the supercharger and it is very hard to pick. Surprisingly, the Supersport engine doesn't actually sound as good as the naturally aspirated V8 with the burble being partially lost in the rush of air.
All the engines are teamed to a standard six-speed drive-by-wire automatic which is controlled an innovative dial that pops up out of the centre console or by steering wheel mounted paddles.
This is two gears less than most of its rivals, but it is a perfectly good transmission.
The XJ's interior is a highpoint. It is sumptuous and has more warmth than the German rivals. A belt that runs around between the dashboard and the bottom of the windscreen, which is leather with leather and features a strip of woodgrain (or carbon fibre) caps off a wonderfully indulgent interior. There is no confusing iDrive system, it uses a touch screen, and all the controls are easy to use.
Not surprisingly, the prices have risen to match the repositioning of the XJ as a top-shelf luxury limo, the diesel costs $193,800, the V8 is $246,000, it will cost $306,000 for the supercharged V8 and $349,000 for the range-topping Supersport model.
That's a lot of money, but Jaguar is confident the new XJ is worth it. I won't buying one any time soon, but I would if I could.
SPECIFICATIONS
Jaguar XJ Supersport
Body: Four-door sedan
Weight: 1892kg
Drivetrain: Front-engined, RWD
Engine: 5.0-litre supercharged V8
Transmission: Six-speed automatic
Power/Torque: 375kW/625Nm
Performance: 0-100km/h – 4.9 seconds. Top speed - 250km/h
Price: $349,000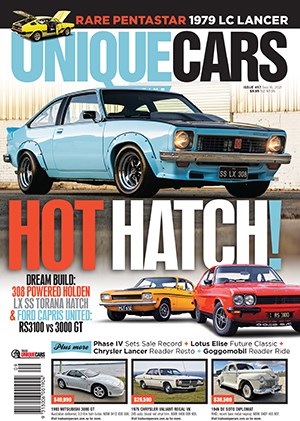 Subscribe to Unique Cars Magazine and save up to 42%
Australia's classic and muscle car bible. With stunning features, advice, market intelligence and hundreds of cars for sale.
Subscribe