Project HQ GTS tribute - part 9
---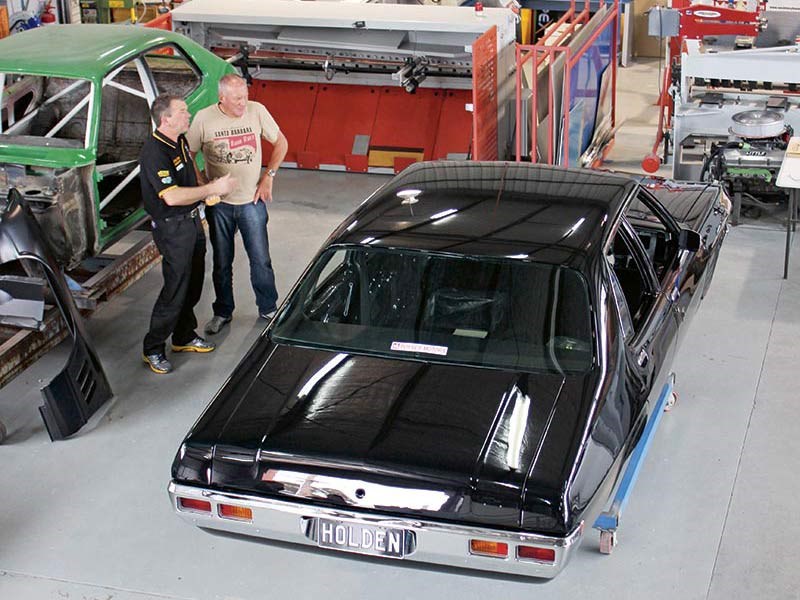 Gary O'Brien and Phil Walker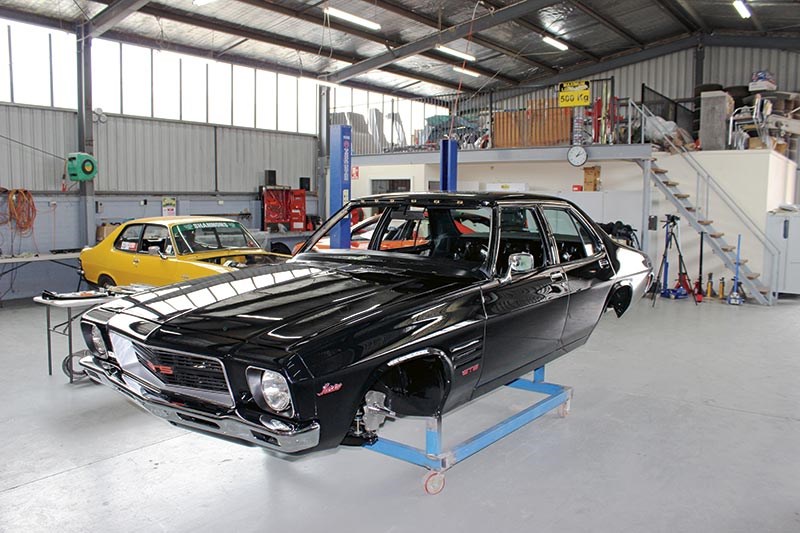 Project HQ GTS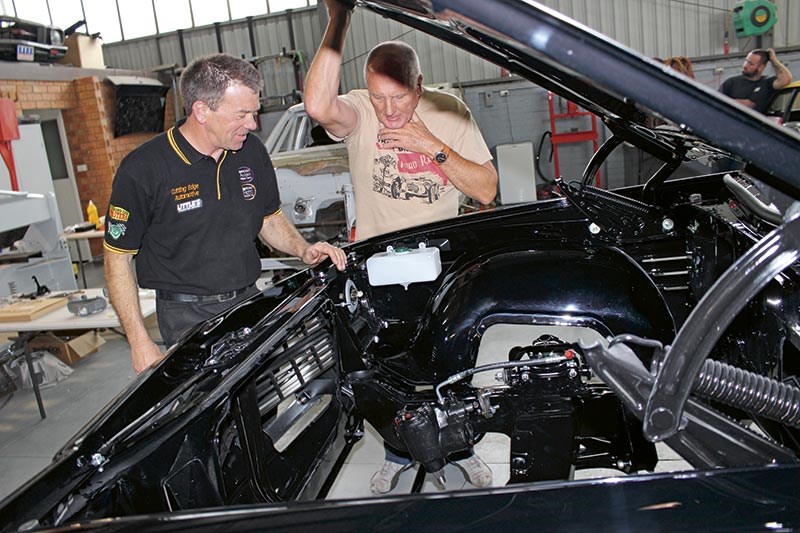 Gary O'Brien discusses the transmission tunnel modification with Phil Walker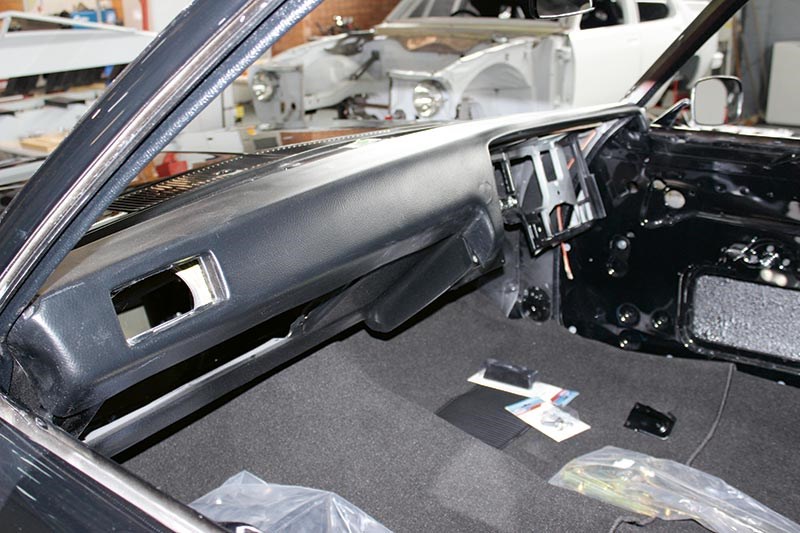 Tremec manual gearbox is going to look good in here...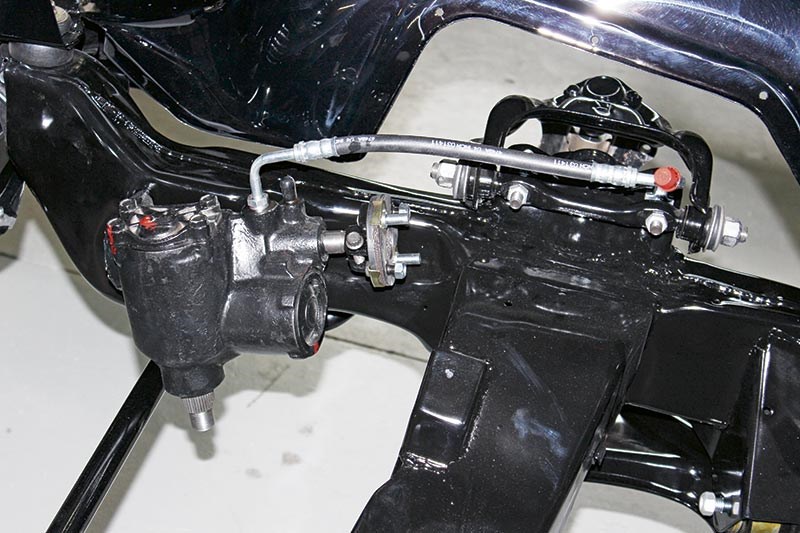 Gary's aim - better than factory fresh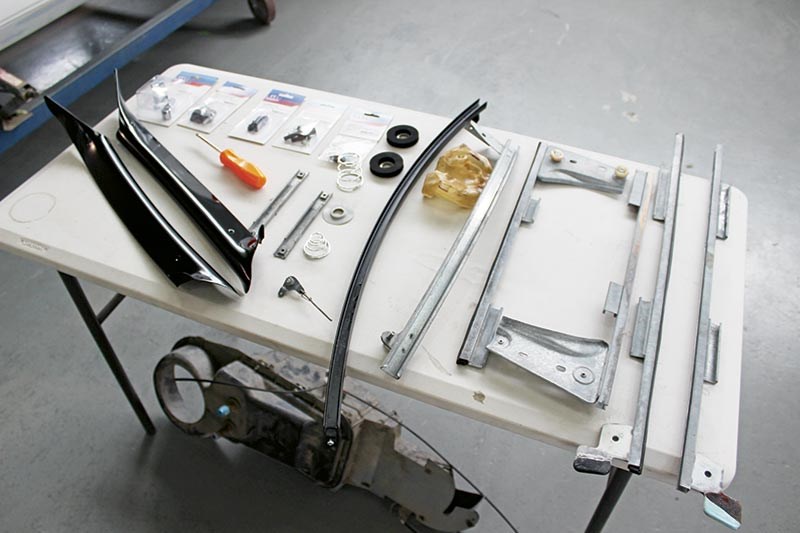 Rare Spares parts

As the assembly gets underway, you find that sometimes even the smallest things can hold you up...
Project HQ GTS tribute build update #9
Wander into Bendigo Retro Muscle Cars, a whole month after our last visit, and it seems like not a whole lot has happened. Ringmaster Gary O'Brien knew we'd reach this stage eventually, and takes the jibes from Uncle Phil, our in-house project manager and car-wrangler, in good part.
"The body's right, it just needs a polish," says O'Brien patiently. "Now we're up to fitting it out and that's the hard part of the build. Each of the things that can go wrong at this stage will cost you a day, but we've got to get it right."
You can see this stage of a build being a point where anxious customers start pulling their hair out and the paranoid wonder whether they're being taken for a ride. They've sat through several months of watching a complete car being pulled to bits, with components being either stripped or rejected along the way, and then the project slows almost to halt.
That's largely due to the ultra-painstaking body prep, with panels repaired and welded – more than likely with a few Rare Spares skins slipping in here and there – and eventually copping some primer. The paint seems to go on incredibly quickly, but again that's a deceptive process and the real work is in the finishing.
So now we're at the stage where there are boxes of bits lined up against the wall, holding many of the thousands of parts that go into what is effectively a re-manufacturing process. It certainly seems like something more than a resto.
Of course, some of the major components aren't even in the same shed. As we mentioned last issue, Top Performance in Melbourne is building us a 355 cubic-inch V8, using parts from the good folk at Precision International, and they're confident of getting 500-plus horses. That little project is now underway. "We really wanted that Holden-based stroker engine," said Gary at the time, "Because it gives good torque and the engine systems in these now are well sorted. If you've got 450 in one of these you'll be frightening Nanna. If they get 500 it will be a real stunner."
Then there's a Tremec manual to run behind it – the transmission tunnel in the car has been specifically modified to accept it, so hopefully that will slip in with no fuss.
Suspension is coming from Koni, while Di Filippo is doing the exhaust. But that still leaves a staggering amount of meticulous work in the Bendigo shed. Laid out on two separate tables are the parts for the door internals – including window runners – and front parking lights. In both cases, every component has been checked, with the major pieces then stripped, painted and (in the case of the window runners) lubed with the correct grease for the specific task. Uncle Phil chimes in: "You see 90 per cent of restored cars never get this done – they wouldn't even look at that."
"At the start of the project," says O'Brien, "I wanted to show what happens with a high-end restoration – what needs to happen. But we're not aiming for a high-end show car (the sort you might see in sister mag Street Machine – Ed), what I'm trying to replicate is a brand new Holden. So when you shut that door, it'll thud right, and when you wind the window down it works."
Looking to the door assemblies, he points out that now you can order complete sets of Rare Spares parts, such as bolt kits, which speeds up the process.
But there are slip-ups and frustrations along the way.
An example is the glass, which is new from another aftermarket supplier who is normally reliable. O'Brien explains, "The rear screen has a slight twist in it and is too 'fat' on one side. We've had a couple of other little things on the car that aren't first class. Some people won't notice the difference, but we do and so we say 'hey mate, we want another one.'
"You ring the people up and they say, 'sorry that's happened', but that's what occurs when you're trying to build a nice car. You can muck around trying to fit a crook part, but it's still a crook part."
Then you'll get ridiculous challenges, where the car is meant to have four obscure bolts and they can only find two – the others were replaced with whatever was on-hand, years ago, as part of a quick repair. "We have to go and source those bolts. That's where you start to lose time."
Meanwhile, of course, he potentially has a client who's standing there tapping their feet, wondering where the car is. According to O'Brien, that's where communication becomes critical. "You have to make them part of the journey," he says.
In our case, he may be wondering what the hell he let himself in for. Every month we're on his doorstep, armed to the teeth with cameras and questions.
Within seconds of arrival, Uncle Phil (the world's fussiest man) is going over the car like some sort of petrol-powered sergeant major, cross-examining the ever-tolerant O'Brien on what he's been up to.
The truth is we had a lot of faith in the mob at Bendigo Retro Muscle Cars. The surprise has turned out to be just how high-end their work is. It's not as though we've scrimped with past builds, but this exercise has raised it to a whole new level.
Next time, hopefully, we'll be taking a closer look at what's going into the sharp end of the car – that nice big V8. Wish us luck…
RARE SPARES HOT TIP:
With the body complete and ready for refitting, now is a good time to sit back and plan out, or list what components you need, and in what order.
A quick check with your suppliers on parts availability will help you to come up with a final plan of attack that can save time, frustration and money.
*****
Links:
| | |
| --- | --- |
| | Rare Spares: Looking to restore, repair or rebuild a HQ? Contact your nearest Rare Spares store for parts, advice and service. Visit the website: www.rarespares.net.au |
Unique Cars magazine Value Guides
Sell your car for free right here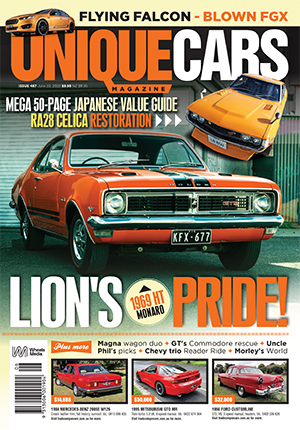 SUBSCRIBE TO UNIQUE CARS MAGAZINE
Get your monthly fix of news, reviews and stories on the greatest cars and minds in the automotive world.
Subscribe