1958 Austin-Healey Sprite Review
---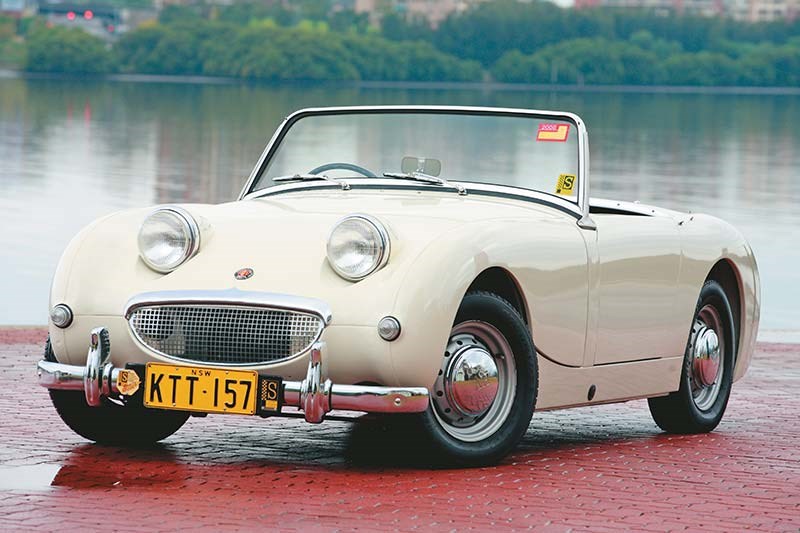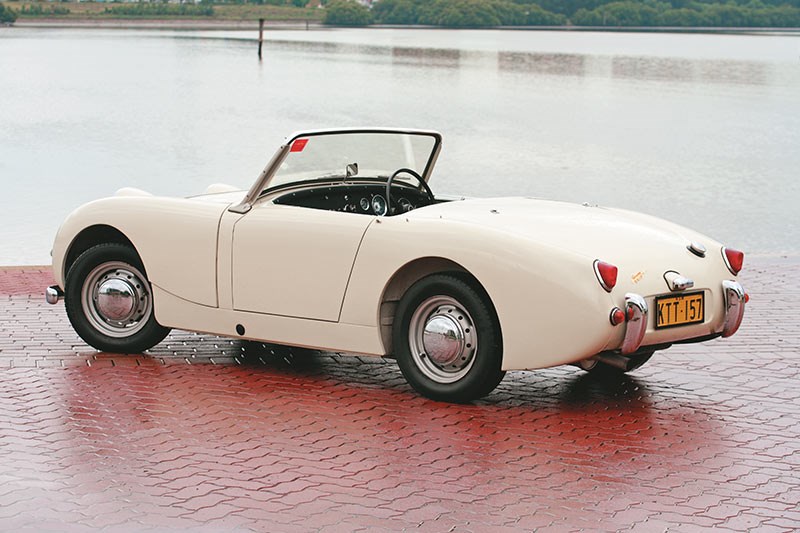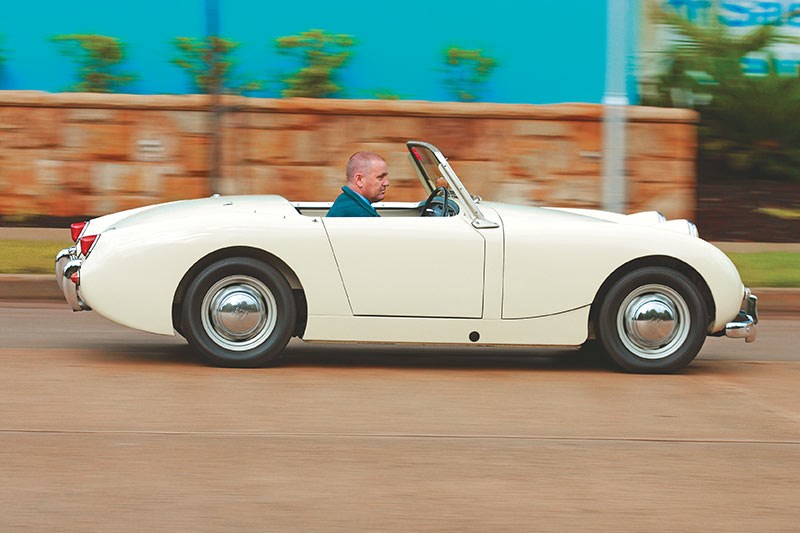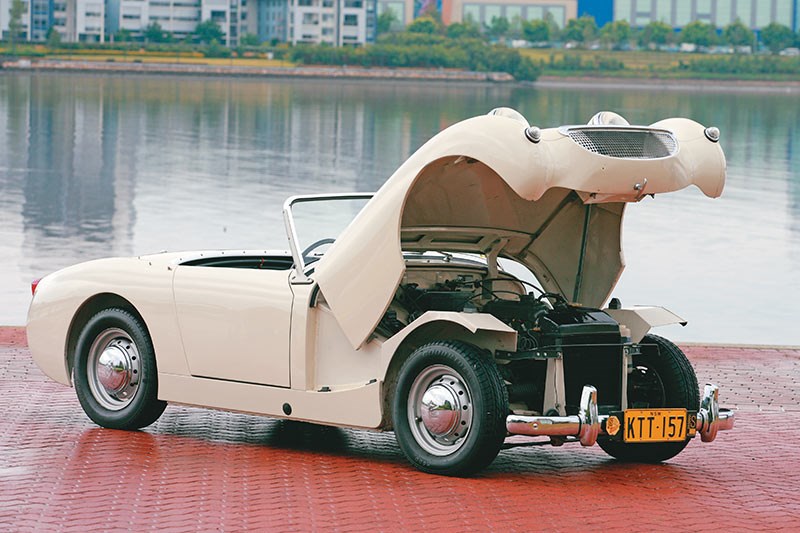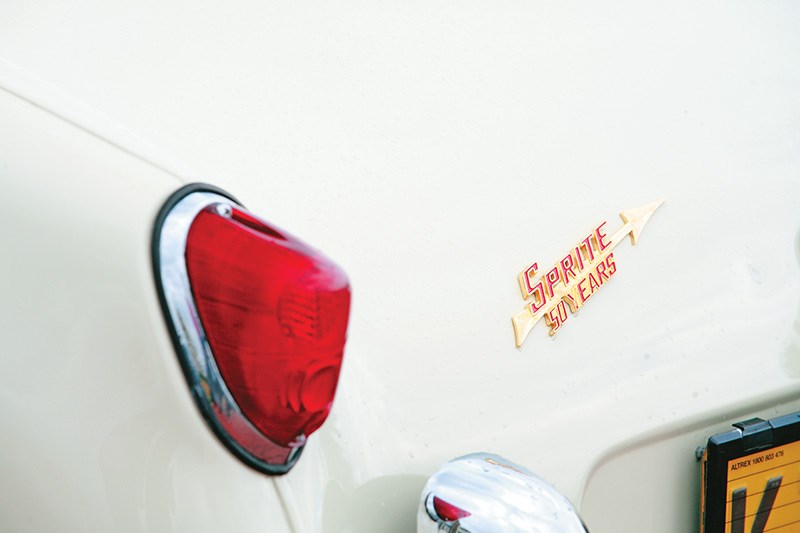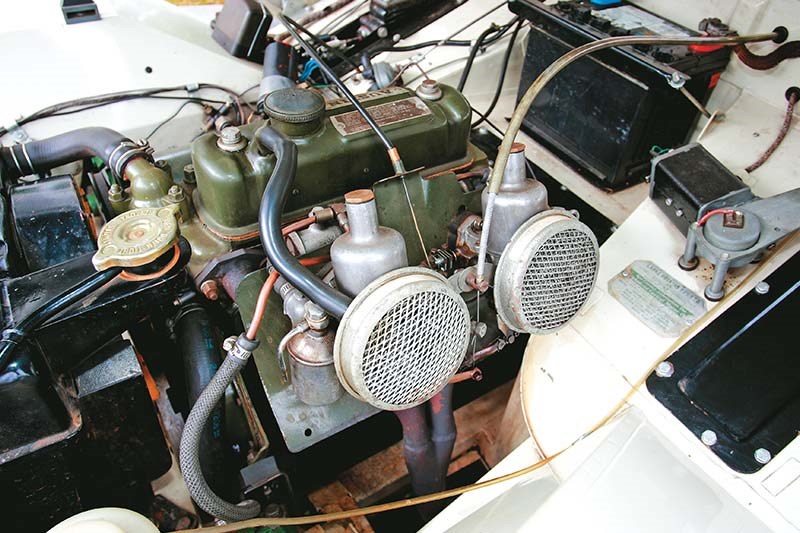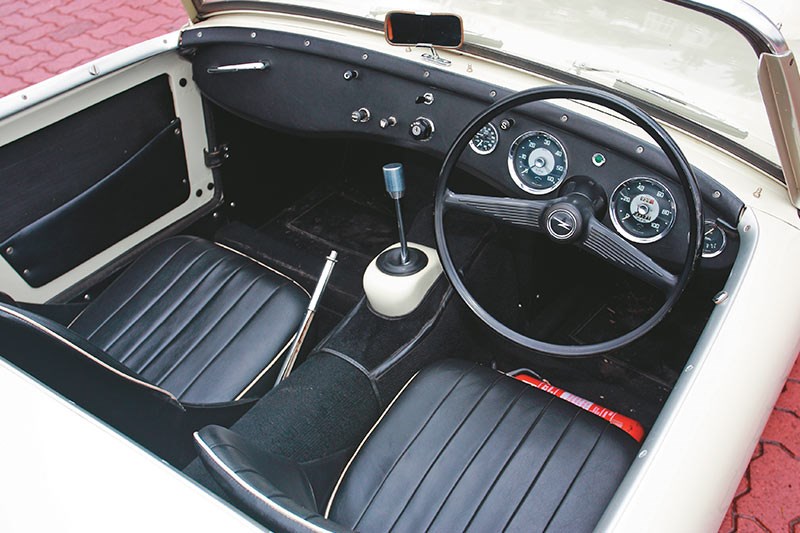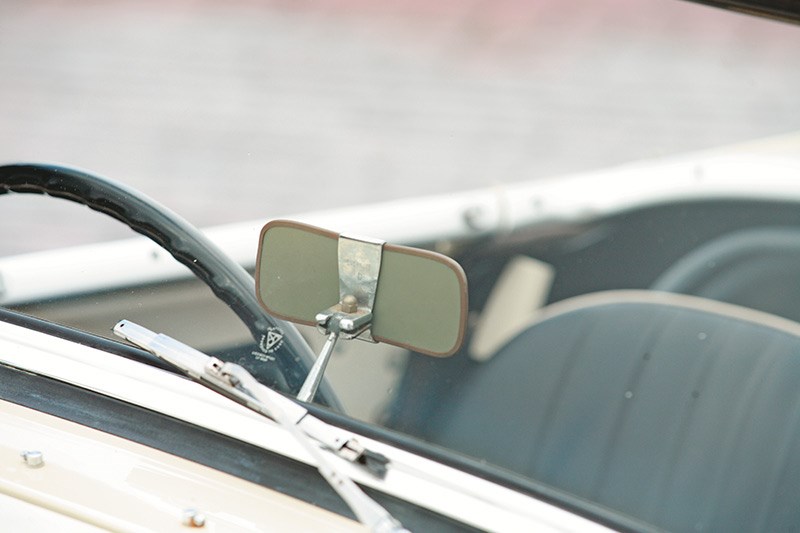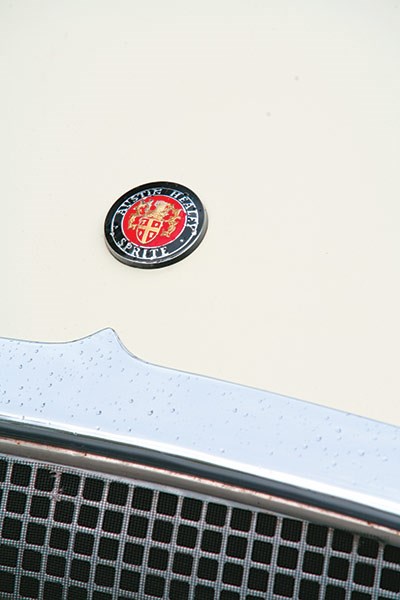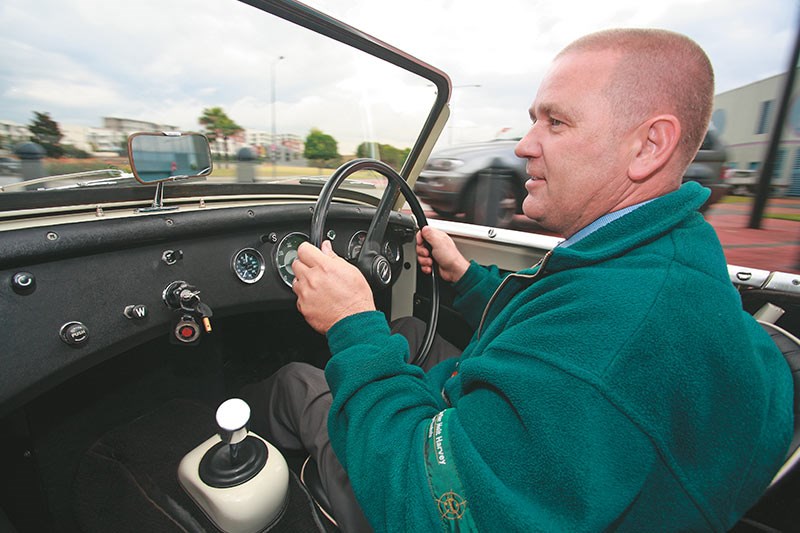 The little Bugeye roadster offered bang-for-your-bucks at speeds less likely to hurt you
First published in Unique Cars #286, May/Jun 2008
1958 Austin-Healey Sprite
The first Sprite cost under $2000 new, about the same as a Ford Prefect or a basic early VW Beetle. Although this was still out of reach of many young Australians, the Sprite was a sports car equivalent in price and performance to today's Ford Fiesta or Toyota Yaris.
Imagine a smaller, lighter version of a Mazda MX-5 for around $16,000 and you soon get a sense of why the arrival of the first Austin-Healey Sprite was a cause for excitement around the world, even in the US despite the big car climate of the times. Demand immediately outstripped supply as sales raced to almost 50,000 for the first Sprite.
Later MG Midget versions added to the tally before the same basic design bowed out almost 20 years later with a total sales tally of almost 355,000. Several versions were even styled and built in Italy wearing the Innocenti badge.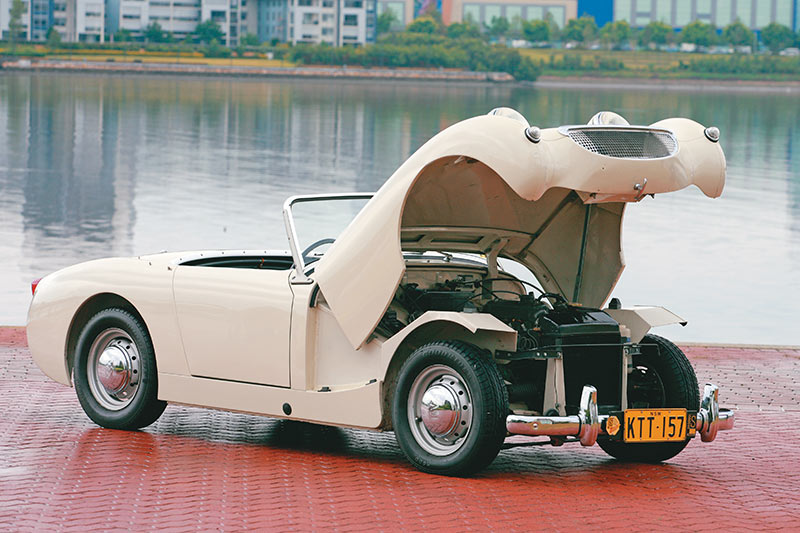 The Sprite gave a young Aussie driver coming out of an early Morris Minor or Austin A30 an opportunity to experience and enjoy grown-up sports car handling and low centre of gravity with a fresh, sporty image. With its tiny engine and basic gearbox, the Sprite challenged drivers to get the best out of it without reaching warp speed.
| Review: 1960 Austin-Healey 3000 MKI
The two young Scotsmen, who set-off on a round-the-world trip in their tiny Sprite during 1959-60 and succeeded, highlighted the fundamental challenge in coaxing a tiny open two-seater with an engine of just 0.9 litres through the global frontiers of the period.
Firing up a V6 or V8 in a VN Commodore, selecting Drive before lighting up the tyres for a series of doughnuts in a suburban back street suddenly looks futile by comparison yet understandable when it is all too easy and boring. And it's here that the gap in reality must hurt.
The Sprite had just 32kW hauling 650kg; enough to post a top speed of 128km/h, a standing 400m sprint of just over 21secs and 0-100km/h in about the same time. By today's standards, you would take an hour glass to the strip, not a stopwatch, yet Aussie highways had an open speed limit at the time. Although young Aussies still managed to hit things in a Sprite and put them on their lid, it all happened so slowly that you could usually jump clear and survive!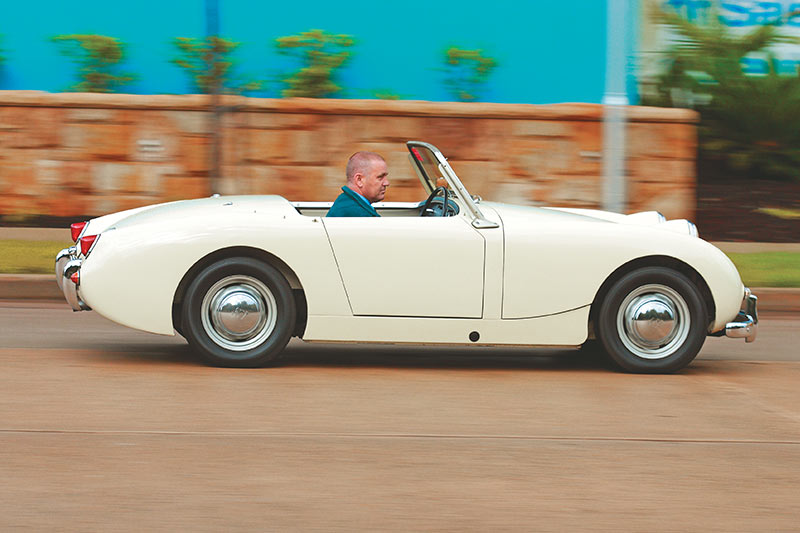 Road laws needn't be broken to enjoy Sprite says owner Greg Holden
By comparison, a VN Commodore (or similar Falcon) boasts suspension that is no real advance over the 50-year old Sprite. The Commodore might weigh twice as much but even in its most basic specification boasts a power output that is 400 percent higher. Yet today's drivers must stay within a speed regime well under the Sprite's capabilities.
A VN Commodore effectively replicates the high performance and chassis layout of a '58 Jaguar or Ferrari; cars once renowned for catching out and killing their playboy and experienced racing driver owners without discrimination.
| Review: 1965 Austin-Healey 3000
The big difference is that while the Jaguar and Ferrari in 1958 were out of reach, a VN Commodore can be bought today for about one tenth of a new Sprite in real terms. When such a package is now about as disposable as an iPod, any restraint generated by pride of ownership and concern for the vehicle or others has also gone.
It seems strange that authorities used to worry about young drivers and their Sprite sports cars when today, a young driver can progress from a driving school front-drive Corolla to the equivalent of a 1958 Jaguar or Ferrari in one step.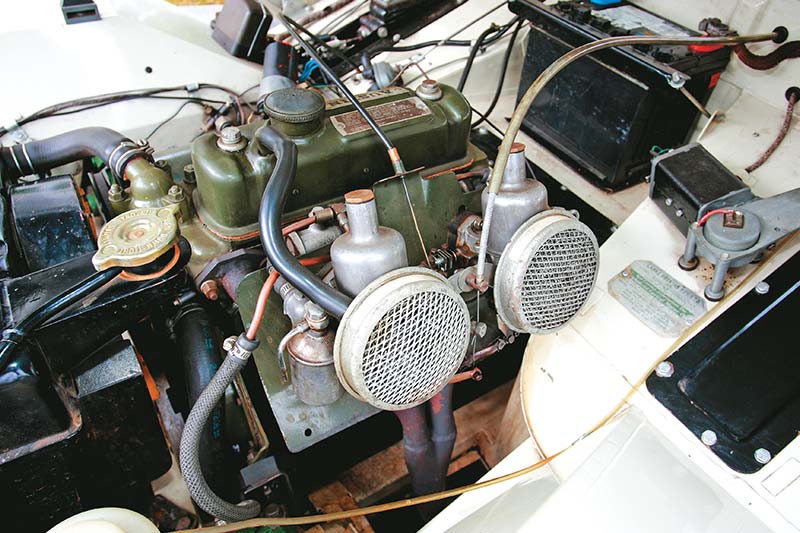 Unlike the '58 Sprite driver, today's young pilot is likely to make the switch without the slightest understanding of how any rear-drive car behaves, let alone a powerful one. Late model Commodores with their brutal power delivery are not the forgiving teachers in the way that the Sprite was.
Because drivers can now bypass manual driver licence requirements, the delicate balance between traction, engine revs and exactly when to apply the throttle is also lost. It's not as if evolution has filled the gap since 1958 either, as more Australians spend their childhood behind a computer mouse, not a set of wheels.
The Healey Sprite's biggest contribution is that it made the honing of driving skills an absolute hoot and a challenge while allowing a reasonable chance of survival if you got it wrong. It also never allowed you to forget that you were travelling at speeds that can hurt.
As hard as it might be to view an early Healey Sprite as a vital part of a young driver's education, the chilling images of yet another Commodore or Falcon wreck with a shocking loss of young life are now almost a daily feature of Australian TV news bulletins.
When these cars are light years ahead of a Sprite in crash safety, by definition, there must be something so fundamentally wrong that even a nation of dobbers can't fix it.
ABOUT FACE
The Austin-Healey Sprite was commissioned by BMC hard man, Leonard Lord after his own people failed to deliver an entry sports car to replace the sporty versions of the Austin 7.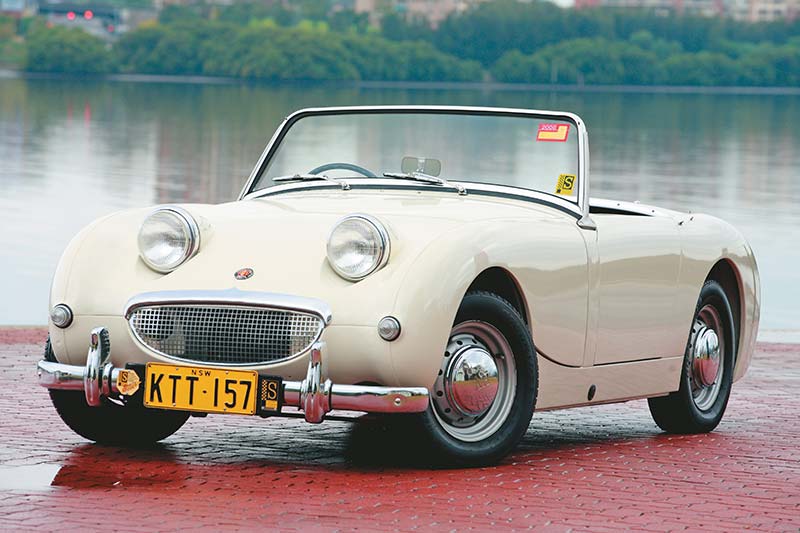 Sprite's famous 'face' resulted from headlight height laws
Under Donald Healey's brief, the Sprite emerged with his son Geoffrey as engineer, Barry Bilbie as chassis designer and Gerry Coker, as stylist. Just these three men brought this exercise to life by combining the A-Series engine with an Austin A30 double wishbone front-end and Morris Minor rack and pinion steering.
The rear live axle located by trailing arms was sprung by quarter elliptic leaf springs that ended at the axle. These springs, which looked like a normal leaf spring cut in half, were mounted solidly to the body and behaved like a trailing arm as well as a spring.
This spring design also cut out the need for any structure beyond the rear wheel centres, a move exploited by deleting the boot lid which left the luggage space to be accessed behind the front seats. The basic drum brakes were all hydraulic, adequate for the times given the car's light weight.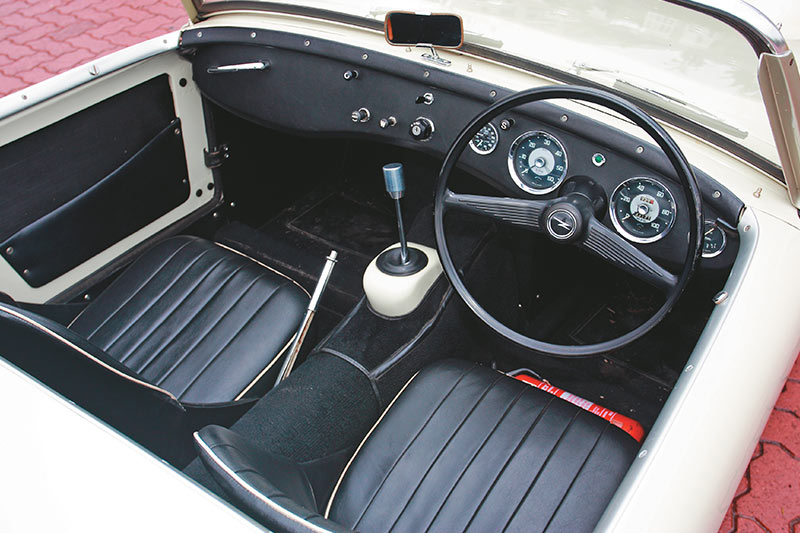 Basic but comfortable accomodation for two
The initial design brief called for a variation of Studebaker's 'coming and going' look with interchangeable front and rear panels which was later dropped. Because elements of this brief survived, the rounded front required either a faired-in headlight D-Type Jaguar-style or a retractable version as for the later Lotus Elan. Because both threatened to run foul of various headlight height requirements, the lights were planted over the grille hence the 'frogeye' tag in the UK or the more endearing 'bugeye' in Oz.
Healey and MG collaborated on the first Sprite upgrade hence the MGB DNA in the MkII Sprite and almost simultaneous appearance of an MG Midget version. Engine upgrades followed other BMC models with A-Series power until it was replaced by the Triumph 1500 engine for the final examples.
OWNER - Greg Holden
Greg Holden (above right) first fell in love with the Sprite at age 18, after a chance drive of one. He bought the featured car about nine years ago, after encouragement by his wife, and has never looked back.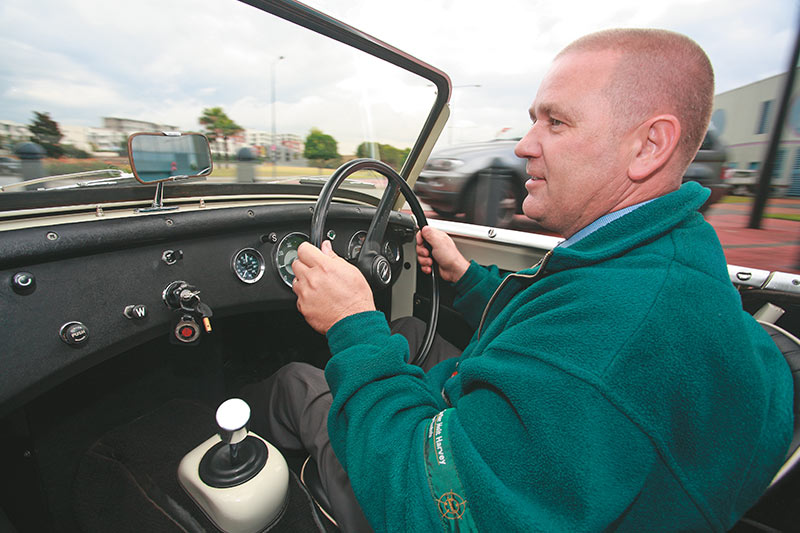 "It's perfect for windy, hilly roads," he says. "You're never going fast, you are not even breaking the speed limit but you have a lot of fun without doing any damage or harming anyone. It's a cheeky little car that brings a smile to everyone."
Greg let his three children learn to drive in the car, all of whom now own classics. He notes that you can still buy a later Sprite for under $10,000 and if driven sensibly, they can be very reliable. He also acknowledges the Sprite Car Club of Australia for making ownership much easier with its camaraderie and parts support. Greg is also preparing a Sprite MkIII for racing.
Unique Cars magazine Value Guides
Sell your car for free right here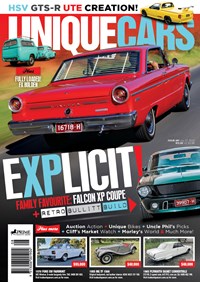 SUBSCRIBE TO UNIQUE CARS MAGAZINE
Get your monthly fix of news, reviews and stories on the greatest cars and minds in the automotive world.
Subscribe