Feature: Victoria Vetri's Playboy AMX
---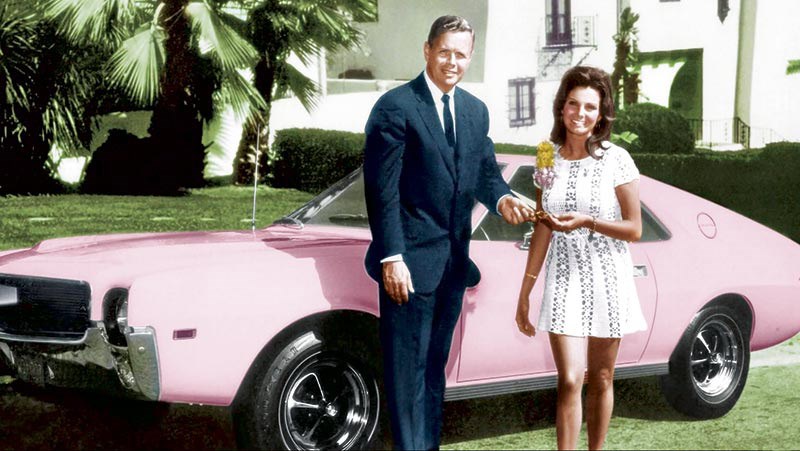 Victoria Vetri and her Playboy prize AMX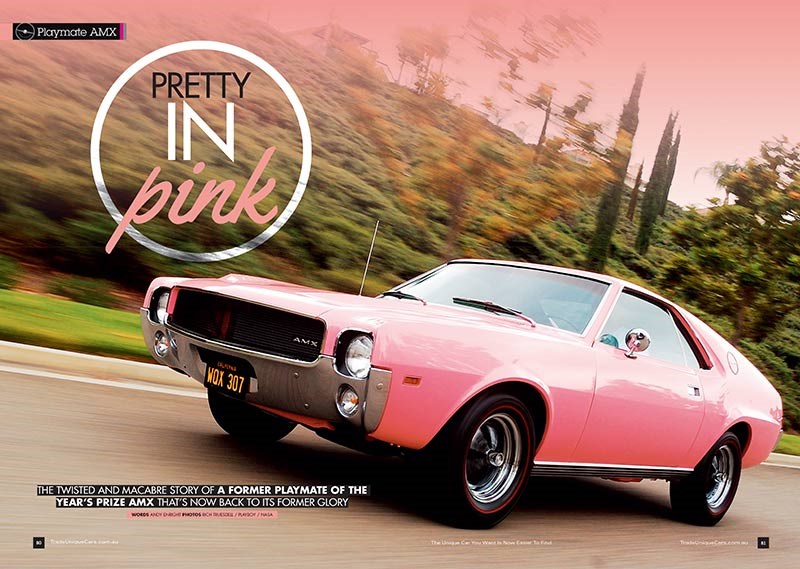 Playboy AMX - Unique Cars issue 377

The twisted and macabre story of a former Playmate of the Year's prize AMX that's now back to its former glory
Victoria Vetri's Playboy AMC AMX
The California Institution for Women is no place for a Playmate of the Year. Just ask Victoria Vetri who has called one of its cells home for the past five years.  She's got a few more left to serve and doesn't get too many guests.
Born to penniless Italian immigrant parents in San Francisco in 1944, Vetri  followed a well-worn path to the balmier climes of Los Angeles, later scoring a few minor TV roles appearing under her stage name Angela Dorian.
Her big break came in 1967 when she was selected as Playboy's Playmate of the Month for September, subsequently winning the 1968 Playmate of the Year. Playboy at the time was awarding every one of its annual award winners a brand new car, finished in Playmate Pink.
Vetri was the fifth winner of a pink car and the only recipient who kept her car pink, for a while at least. Wherever she travelled in the course of her official duties, an AMX would be at Victoria's disposal courtesy of the local AMX dealer. AMC would traditionally number their cars but because her car was the Playmate special, Victoria's numbered plaque read 36-24-35. Times were a bit different then.
She soon found the car attracted all manner of unwanted attention. "I hate the colour pink… Police would even pull me over, not for ticket, but for an autograph, and this happened once a week. Most people just would ask if I was 'Playmate of the Year' and that was end of it, however a few times I would be followed for great lengths and things would get ugly."
There were really only two options. Sell the car or disguise it. "It was painted brown, then grey, and later black," she says. It had a hard life, becoming a battered daily driver as money gradually dried up for Vetri. She vowed that one day she'd get it repainted pink.
At this point, the story takes a bit of a turn for the macabre. Vetri had a few celebrity friends and was particularly close to actress Sharon Tate.
One evening in August 1969, Tate invited Vetri to her mansion in Benedict Canyon. Her husband, film director Roman Polanski, was away filming in Europe. Vetri declined, claiming she wasn't feeling too well, only to wake up the next day to hear that every occupant of the house had been butchered by the Manson family.
Roman Polanski flew back to California and, with the murders still unsolved, handed Vetri his personal handgun, clearly worried about her personal security. It was at that point that Vetri decided to respray her pink AMX. The gun was tucked away in her purse and there it stayed.
Vetri scored the odd cameo in TV shows but work soon became hard to come by. She married Bruce Rathgeb in 1986, and in 2010 her well-worn AMX appeared for sale on eBay. Cue Mark Melvin, a massive AMX fan and collector, who realised he just could not miss out on this storied vehicle.
After selling the AMX, Vetri had an argument with her husband, over what she perceived was unfaithfulness on his part. He walked away and as he stood at his apartment block's elevator doors, Vetri pulled Polanksi's Walther PPK, which had stayed in her purse for 42 years and three months and shot him in the back from about eight feet away.
Both Vetri and her husband were allegedly using methamphetamine at the time of the shooting. Investigators concluded that Victoria "has a serious and violent anger management problem, and lacks impulse control."
Vetri was sentenced to nine years in state prison for shooting her husband after pleading no contest to attempted voluntary manslaughter and was ordered to pay $70,000 to California's victim restitution fund.  She cut a sorry figure at her trial, her beauty long faded, her wealth and fame a similarly distant memory. 
All the while Mark Melvin, owner of Vetri's old AMX watched in dumbfounded disbelief. As he started the restoration on the vehicle, he found a .380 calibre bullet from the Walther on the car's floor. Perhaps when she's released, he can take her out in WQX 307, her old car now as perfect as the day she was first handed the keys.
PLAYMATE CARS
1964: Ford Mustang
Donna Michelle
1965: Sunbeam Tiger
Jo Collins
1966: Dodge Charger 383
Allison Parks
1967: Plymouth Barracuda
Lisa Baker
1968: AMC AMX
Victoria Vetri
1969: Shelby GT500
Connie Kreski
SPECIFICATIONS
AMC AMX (1968-1970)
NUMBER BUILT 19,134
BODY All-steel, integrated body/chassis two-door coupe
ENGINE 290ci (4749cc) V8, four-barrel, 16v
POWER 168kW @ 4600rpm
TORQUE 407Nm @ 3200rpm
PERFORMANCE 0-100km/h – 9.5sec, Top speed – 173km/h
GEARBOX 3-speed Shift-Command automatic
SUSPENSION Coil spring front; parallel leaf rear with torque links
BRAKES Drums front/drums rear
TYRES 205/70/R14



 - Read the full article including a summary on the restoration of the AMX in the current issue of Unique Cars, on sale now.
Unique Cars magazine Value Guides
Sell your car for free right here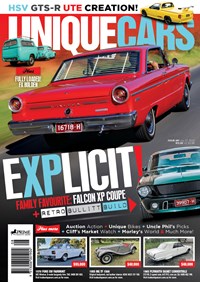 SUBSCRIBE TO UNIQUE CARS MAGAZINE
Get your monthly fix of news, reviews and stories on the greatest cars and minds in the automotive world.
Subscribe