Ford Escort Ghia: Aussie original
---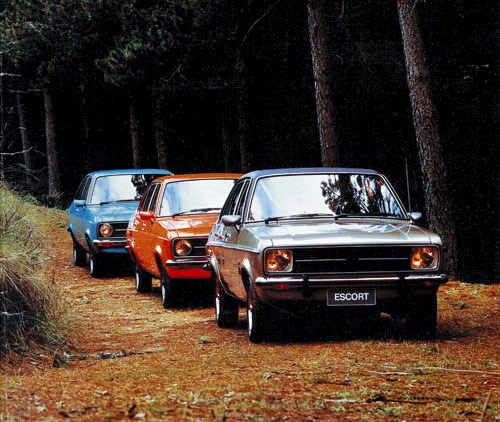 Ford Escort Ghia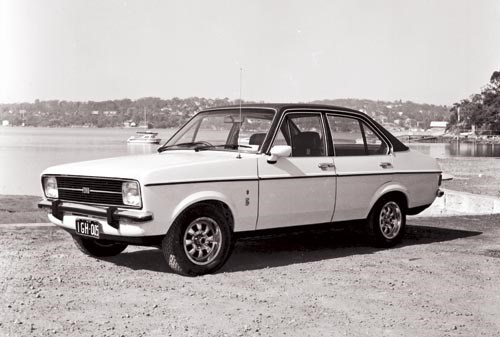 1975 Ford Escort


1975 Ford Escort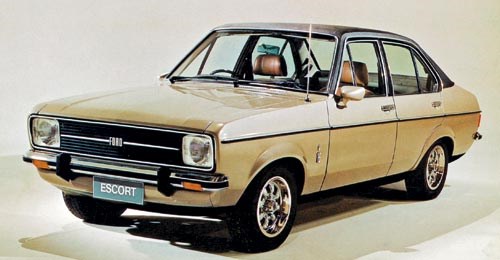 1975 Ford Escort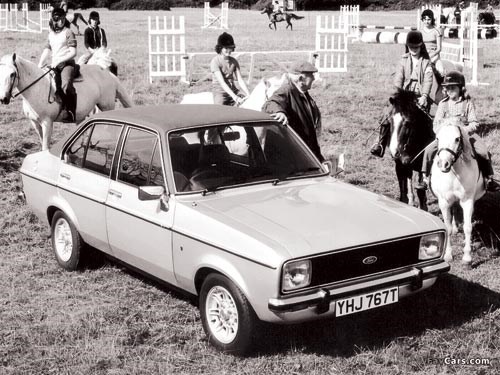 1977 Ford Escort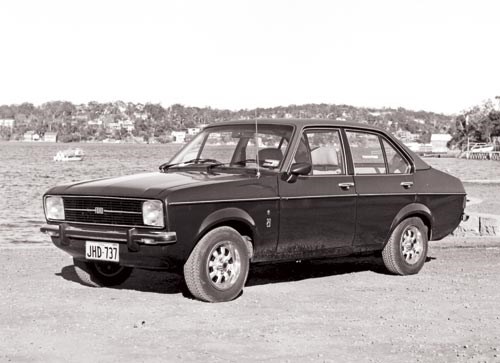 1977 Ford Escort


1975 Ford Escort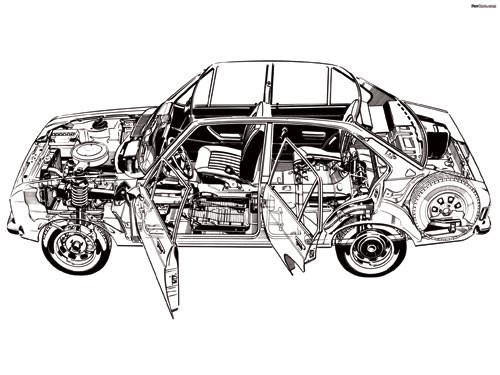 1977 Ford Escort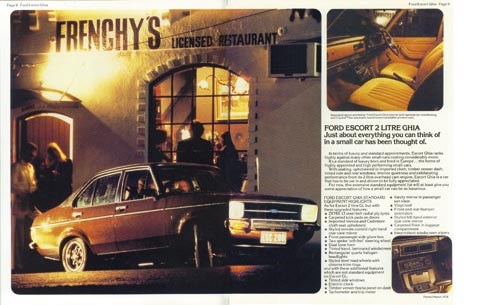 1978 Ford Escort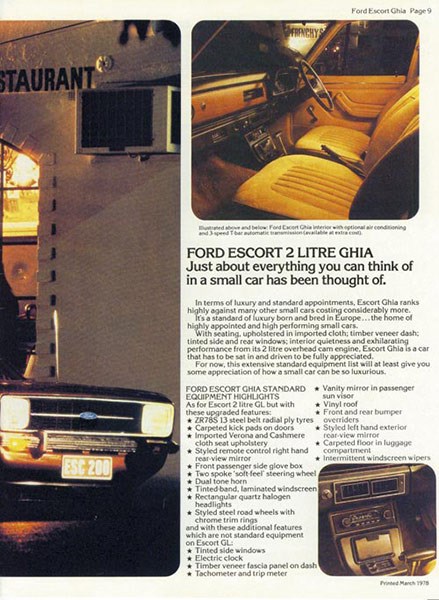 1978 Ford Escort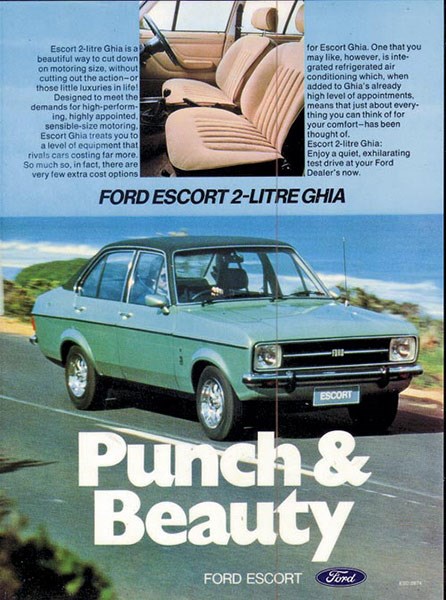 Ford Escort Ghia

Emissions regs gave the MK II Escort an unexpected boost
FORD ESCORT
Anyone who drove an E494A Anglia or even a mid-'50s 100E Prefect would appreciate that Ford of England's early post-war approach to small cars was conservative, even cynical.
When the E494A was presented again in 1953 as the 100E Popular, it was far and away Britain's cheapest car. As for the Prefect, it still had a three-speed gearbox with no synchro on first. By contrast BMC offered a choice between the orthodox but cute Austin A30 and the innovative Morris Minor. Then, in 1959, it added the Mini to the mix, followed by the 1100.
Ford persisted with rear-drive, while adding a more sporting flavour through the 1960s. The 105E Anglia of 1959 marked the starting point of this development. Its oversquare Kent engine would enjoy a proud future with larger versions powering Cortinas and Escorts. Once Lotus engineering was added to the mix there arose an expectation that small Fords would be sparkling performers.
The Australian Ford Escort Ghia 2.0 of 1977 is among the finest embodiments of Ford's small car orthodoxy, combining relative mechanical simplicity with strong performance, excellent dynamics and a high level of specification: It was a long drive from the 1949 Anglia to the Ghia.
If it hadn't been for the punitive ADR27A emission regulation that became law on 1 July 1976, Ford Australia would probably never have offered the 2.0-litre (Pinto) Cortina engine in the Escort. In 1977 the 1.3-litre Kent engine was dropped and the 1.6 Kent became standard issue; the 2.0-litre overhead-cam became available as an option pretty much across the range.
The effect of ADR27A on most engines was to reduce power and improve fuel economy but the Escort's 1.6-litre engine was severely undermined. Maximum power was down from 60kW in 'dirty' form to 46. While such a drop may have been (barely) acceptable in entry-level Escorts, which had, after all, previously been equipped with a 42kW 1.3-litre unit, many – perhaps most – prospective buyers of the Escort Ghia would have taken their business elsewhere. There was no real alternative other than to make the 2.0-litre engine standard on the Ghia, turning it into a most desirable package.
Of course, Ford Australia's engineering team had a prior record when it came to the 'let's drop in a bigger engine' principle. Equipping Cortinas with either the 3.3-litre or 4.1-litre Falcon straight sixes had been a huge task which yielded a less than successful outcome. By comparison, modifying the Escort to accept the Cortina's 2.0-litre unit, which had been designed for the American Pinto, was easy.
The most important upgrades were to the fuel tank and cooling system. A larger 55-litre tank (up from 36) was fitted under the boot. The filler cap was relocated from the mudguard to behind the number plate (where a novice might take almost forever to find it!). The new taller radiator was moved forward and lowered into a specially created recess to allow the bonnet to clear it. Other modifications were to the sump, cross-member and front strut towers.
A bigger exhaust system was fitted and the larger-diameter Cortina clutch was fitted to manual 2.0-litre Escorts.
Front spring and damper rates were changed, but significantly the final drive went from 3.77:1 to 3.54:1 which made a considerable difference to noise levels on the highway, while aiding economy.
There was little to criticise about the pre-ADR27A Escort Ghia 1.6 but peak power of 60kW was a touch underdone for what was otherwise almost a sports sedan.
The larger engine not only endowed the manual Escort with plenty of urge but it allowed the three-speed automatic variant to comport itself in the style of a mini-LTD; somehow one never quite sees any Gemini as a scaled-down Caprice! Even in 1977 many Australian buyers wanted two-pedal motoring in their small cars, which was another reason the Ford Oz product planners modified garden-variety Escorts to accept the bigger engine.
Two versions were offered. All manual 2.0-litre Escorts got the high compression (9.0:1) unit and 70kW while auto cars had the lower compression (8.2:1) engine with 64kW. Perhaps the key factor here was that the 70kW version complied with ADRs when coupled to the manual 'box.
Those extra 10kW (1.6 manual to 2.0 manual) made a big difference, giving the (just) sub-1000kg Ghia superior acceleration to a 'dirty' 2.0-litre Alfetta. The little Ford's 0-400m time of 17.5sec was remarkable in an era when performance had become a dirty word. And while the Alfa commanded $10,990 by mid-1978, the Escort Ghia was little more than half the price at $5886, while giving little away on standard equipment save for one gear ratio.
The Alfetta and Escort Ghia were hardly direct rivals, but comparison highlights the value packed into the Ford. Nicely executed faux wood trim (if that's not an oxymoron), cloth seats, lots of sound deadening, shag-pile carpet, vinyl roof and – wait for this! – a glovebox (lacking on lesser Escorts) were standard.
Perhaps a vinyl roof has little appeal in 2013 but it serves to illustrate that Ford Australia took that handsome Ghia crest seriously in the late 1970s. Ford bought Carozzeria Ghia in 1970 and began using the crest in 1973. Quite why a 'Titanium' badge was deemed a few years ago to exert more appeal than the Ghia crest has never been properly explained!
Ford Australia's marketing suits obviously had to make the Escort Ghia considerably less expensive than the Cortina Ghia which was $6523 in four-speed manual guise, and the Cortina had to be kept below the Falcon. Frankly, it was easier to see value in the Escort Ghia manual than the entry-level XC Falcon with three-on-the tree and just 80kW in a car that weighed 50 per cent more and offered little in the way of niceties.
Even when the XD Falcon arrived in March 1979, and the Escort Ghia had just two years to run before being replaced by the front-wheel drive Laser, it was still the best car to drive and the best value in Ford Australia's lineup.

*****


More reviews:
> Buyers guide: Ford Escort RS2000
> Our shed: Ford Escort RS2000

Search used:
Unique Cars magazine Value Guides
Sell your car for free right here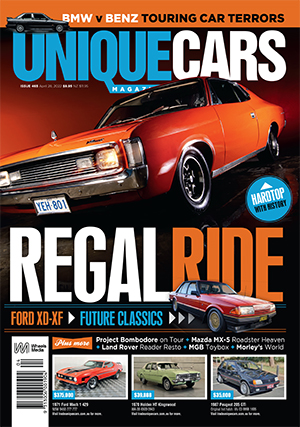 SUBSCRIBE TO UNIQUE CARS MAGAZINE
Get your monthly fix of news, reviews and stories on the greatest cars and minds in the automotive world.
Subscribe