Holden HQ Monaro (1971) Review
---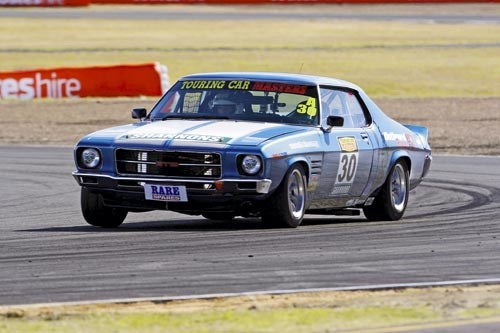 Holden HQ Monaro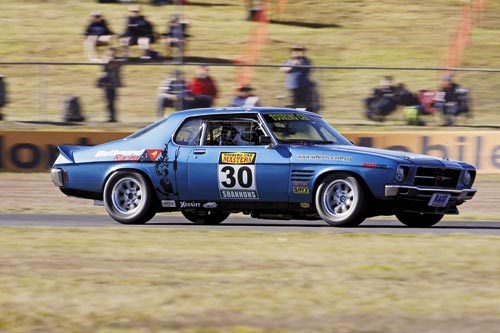 holden hq monaro side view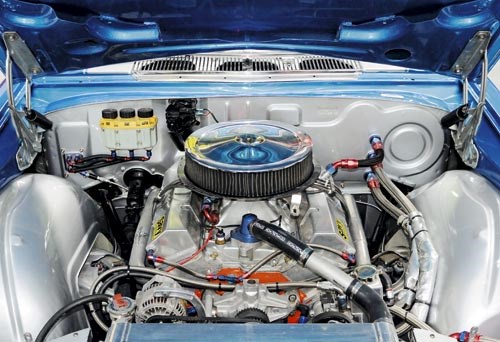 Holden HQ Monaro Engine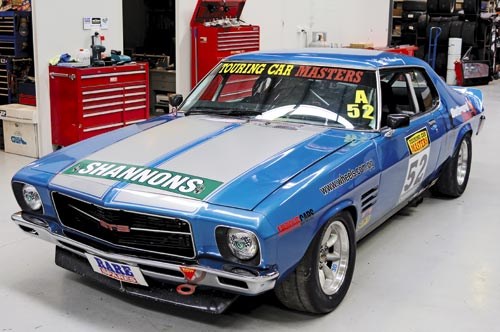 Holden HQ Monaro Front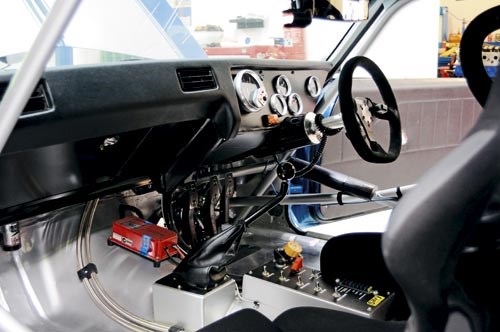 Holden HQ Monaro Inside

Monster Monaro - inside the Walmsley/Kassulke Touring Car Masters weapon
Holden HQ Monaro
Regular readers will remember that we recently featured the ex-Jim Morton/Glenn Seton Falcon XB Coupe now owned and very successfully campaigned by New Guinea-based racer Keith Kassulke.
What you may not know is that Kassulke also owns the thundering 1971 Holden Monaro gracing this page.
Kassulke choose to keep his powder dry prior to committing to which car he would campaign during the 2012 TCM season. After subsequently posting good results with the big Ford, his decision was made easier. Indeed, as many suspected, the Falcon got the nod.
This left him with a conundrum. What to do with the hot Holden for the remainder of the season?
With round four of the 2012 series at Queensland Raceway in Ipswich looming, Kassulke offered the drive to Les Walmsley, a regular in the Savy Motorsport camp and an accomplished part-time racer.
Little could Kassulke know that at meeting's end, Walmsley would stand one step higher on the podium than his good self, taking an astonishing second place behind series leader and reigning champion John Bowe in his Trans-Am Mustang, affectionately known as 'Mustang Sally'.
It was a clean sweep for Savy Motorsport, an incredible result for the Campbellfield (Vic) outfit. While there was very good reason for surprise, the ingredients were already in place for a good result at Ipswich for the Walmsley/HQ combination.
You see, the car had just undergone a complete and thorough rebuild, and Walmsley is a very seasoned performer to boot, having raced a wide variety of machinery in various categories since his first foray into karts, way back in 1979.
In 1995, the 63-year-old retired builder bought and raced his own Mk1 Cortina historic touring car, stepping up to a Chevy Nova in the late-'90s. Next came an NC Historic-spec LJ Torana, before a couple of stints in ute racing in 2000. In 2004, Walmsley took in some GTP production racing, before taking the wheel of Garry Treloar's E55 Charger in both Historic and Biante Touring Car Masters fettle.
Next came three seasons in Steve Makarios' XY Falcon, which delivered Walmsley the historic touring car championship. He still races his own NC Charger and has had runs in Phil Morris' ex-Leanne Tander TCM XA, so his racing apprenticeship had been well and truly completed. But to race at the front in a field that features Bowe, Richards and Andrew Miedecke was probably considered a bridge too far.
While he acknowledges the magnitude of the round four second placing, he's in no way falsely modest when speaking of his personal expectations. He's all racer, and his eyes narrow as he explains:
"My expectation is always to run in the top 10. If the car feels right, I'm confident I can run in the top five and keep moving forward from there."
Walmsley had never driven the HQ prior to the Ipswich round and had never completed a single lap of the track.
"I'd only had a test day at Winton in the wet and that didn't tell me a whole lot," he says. "It was just one of those magic weekends where everything clicked, the car was just great and I really wanted to do it."
So, while the software was slightly 'old school', the hardware itself represented another matter entirely. Kassulke is fastidious when it comes to his race cars. In line with this, the big Munro underwent a ground-up, rotisserie rebuild following the opening round of the season, the Clipsal 500 in Adelaide.
The car was soda-blasted and heavily re-welded and new Penske double-adjustable shock absorbers were fitted, along with a Savy designed coil-over front suspension set-up. With the new suspension configuratiion allowing both bump and rebound adjustability, the HQ is now easier to make alterations to, specific to different tracks.
"It's a Savy Motorsport one-off design, but we have had a few phone calls about it since the Queensland round. The car is much more user-friendly now," says Savy Motorsport's Andrew Wheatley.
Rebuilding an HQ bucks the TCM norm somewhat, with American cars being much preferred; their Trans-Am race heritage is reflected in more race-friendly engine and chassis dynamics. Wheatley suggests that, indeed, the Aussie offering presents well and, as proven, can make for a front-running car.
"The HQ actually makes a pretty good basis for a race car. For an Australian car, the centre of gravity is quite low. Not as good as a Camaro, but close," explains Wheatley. While the rebuild freshened the car considerably, it's on the pace due to continued refinement of the package, something for which the Savy crew have become renowned.
"A lot of people lay out three sets of springs and four roll bars," says Wheatley. "We reckon that is too much; it's a case  of keeping it simple. You do your set-up in the workshop so that by the time you are at the track [you're only making] small adjustments.
"In fact, the only adjustments made to put the car at the pointy end of the field in Queensland were a roll-centre adjustment and a front bar adjustment." The Savy team was rightly over the moon with the podium clean sweep at Queensland Raceway.
"We jokingly said, 'Imagine if we get all three cars into the top five?'. Realistically, we hoped to have them all in the top 10. To walk away with the top three, well, we were absolutely ecstatic," says Wheatley.
The result could have been very different, however. Very different...
The weekend's celebrations could well have been turned very sour, as hearts were in mouths when Walmsley's HQ and Bowe's Mustang came together during the weekend's racing.
According to Wheatley, it went like this: "JB went to pass Les on the outside and he thought Les would give him some racing room," Wheatley grins. "Les just held the line and they touched. As JB said later, it was his own fault because it was he who was off the racing line." Yep, the old boy is a tough racer!
"Les also pushed the car owner pretty hard as well, passing Keith on the line in the last race!"
Likeable and modest, Walmsley is keen to recognise the input from Kassulke. "It was a big commitment from Keith, investing as much as he has in both cars and indeed the category," he says. "He deserves huge accolades, he hasn't been around all that long (in TCM) and his rise has been very swift.
"I'll drive the HQ again at Muscle Car Masters at Eastern Creek. Now that I'm confident, I can go there and my aim is to run in the top five. You have to remember that the blokes around you are professional race car drivers, and they're the ones that I have to catch and maybe even beat."
So, the big question has to be asked. Can Walmsley beat the number one driver at Savy Motorsport, reigning champion Bowe?
He takes a while to answer while he considers the question. This writer thinks he's about to be delivered a great controversial headline but, sadly, it's not to be. There's simply too much race wisdom between those ears.
"No [I can't], I'm not a professional race car driver," Walmsley shrugs. "JB's two seconds ahead of everyone else. I drive once every six weeks, John is in a car every week, that's how he earns his living. I just feel privileged to be able to run with JB, Jim Richards and Andrew Miedecke."
He allows himself a little pride, though, saying, "I've run against fast blokes before, Peter Brock included. I'm just happy to still be able to do it!"
Yep, there's no doubt. Les Walmsley can still do it. Big time, in the big thundering Monaro.
SPECIFICATIONS
1971 Holden HQ Monaro
ENGINE 5734cc V8, OHV, 16v, 950cfm Holley carburettor
POWER 425kW @ 7000rpm
TORQUE 644Nm @ 5300rpm
GEARBOX 4-speed Tex Racing
SUSPENSION Independent, coil springs, Penske shocks (f); live axle, leaf springs, Penske shocks (r)
BRAKES Brembo 4-piston calipers, 305mm rotors (f); Alcon 4-piston calipers, 295mm rotors (r)
Unique Cars magazine Value Guides
Sell your car for free right here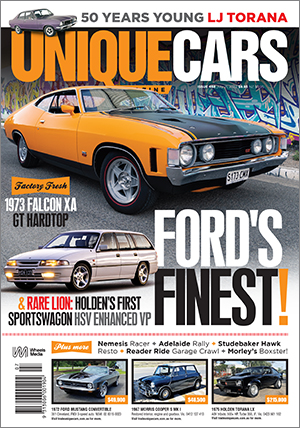 SUBSCRIBE TO UNIQUE CARS MAGAZINE
Get your monthly fix of news, reviews and stories on the greatest cars and minds in the automotive world.
Subscribe