Ford RS1600 Escort Race Car (1969) Review
---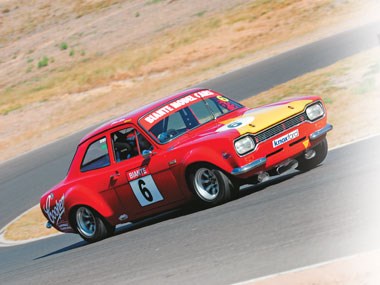 1969 Ford Escort RS1600 race car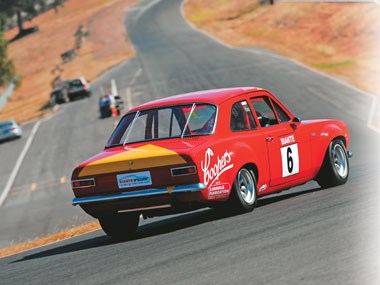 1969 Ford Escort RS1600 race car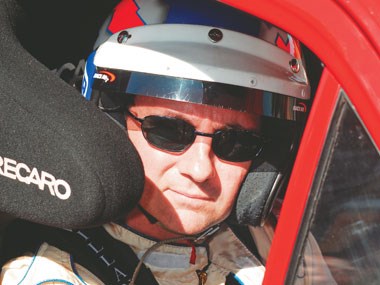 1969 Ford Escort RS1600 race car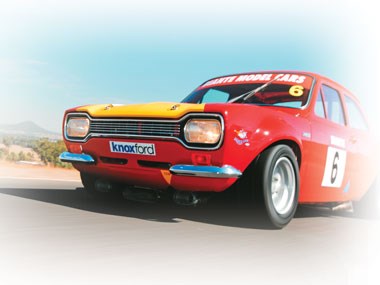 1969 Ford Escort RS1600 race car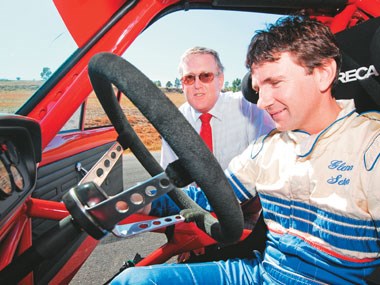 1969 Ford Escort RS1600 race car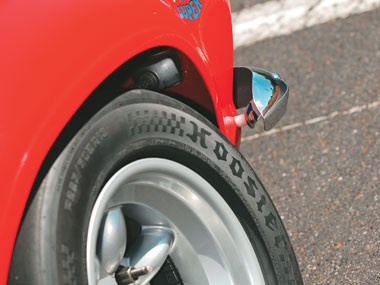 1969 Ford Escort RS1600 race car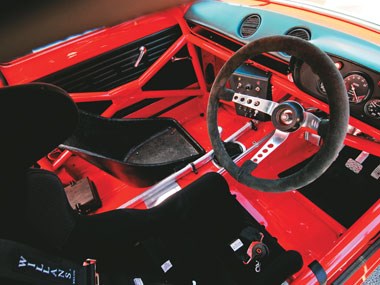 1969 Ford Escort RS1600 race car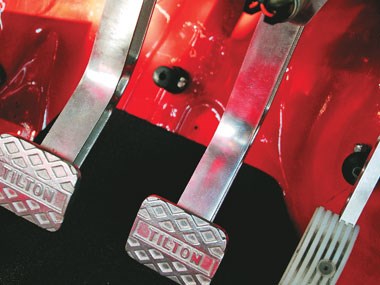 1969 Ford Escort RS1600 race car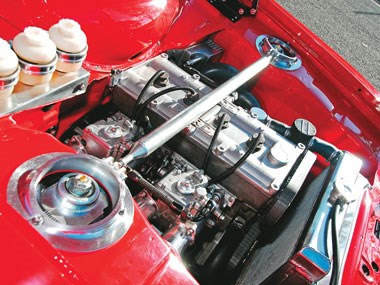 1969 Ford Escort RS1600 race car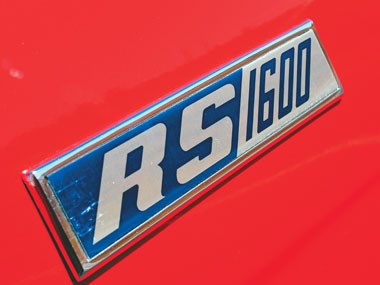 1969 Ford Escort RS1600 race car

Championship-winning 1969 RS1600 Escort. Glenn Seton's happiness is now historic...
1969 Ford RS1600 Escort Race Car 
[May 2008] His car was broken and parked within sight of a certain podium, yet dual Australian Touring Car Champion Glenn Seton was grinning - no make that beaming - a big ear-to-ear jaw-splitter that we hadn't seen on the man known as the baby-faced assassin for more than a decade.
Yet he wasn't even in the main game at Adelaide's Clipsal 500 meeting. While his former V8 Supercar rivals and teammates were crunching the concrete, he was suiting up to enjoy a car that his father Bo might have driven nearly 40 years ago.
To his modern day fans a diminutive Ford Escort RS1600 and Glenn Seton might not be familiar grid fellows, but small Fords and the Seton name share serious history and in Adelaide they reignited like a house on fire in Round 1 of the 2008 Biante Touring Car Masters.
The invitation to drive the car that finished second in the 1972 Australian Touring Car Championship and won the inaugural Under 2000cc ATCC title had come out of the blue from the Biante organisers, and Seton, who has been out of a regular V8 Supercar drive since his sudden split from Dick Johnson Racing during the 2005 season, grabbed it with both hands.
Although his father started racing in FJ Holdens and then Minis, the family's racing colours were distinctly 'blue' by the time Glenn was born in 1965 and the colour became indelible when Bo drove a Ford Cortina GT500 to victory in the Armstrong 500 at Bathurst that October.
As he began attending race meetings, Glenn saw a string of GT and GTHO Falcons and later Escorts race in his father's hands and when he pulled on his own helmet in 1983, it was at the wheel of a Ford Capri in his father's team, Barry Seton Racing. In recent years, small racing Fords made a welcome return to the Seton garage.
"Dad had a lot of class success in a Capri and when we looked at the Historic Group Nc rules a few years ago it looked like an economical and competitive car to run again," he said.
They built one and after driving it about four years ago at Oran Park, Glenn enjoyed the fast trip down memory lane so much that he built his own.
It made its debut at last year's Muscle Car Masters at Sydney's Eastern Creek, but after seeing a familiar red Ford Escort racing in the Biante series round at the same meeting, he made enquiries about converting his Capri to the more liberal Biante specifications.
So when the offer came a few months later to race that red Escort in Adelaide, he didn't have to think twice..Childhood dreams
Glenn was just four-years old when four-time Australian Driving Champion Bib Stillwell went shopping in England, purchased a brand new RS1600 and had it sent straight from the showroom to legendary Ford race tuners Alan Mann Racing to have all the latest homologation parts fitted.
It arrived in Australia in 1970 with a four-speed factory gearbox, but Melbourne gear-whiz Peter Holinger was asked to squeeze an extra cog into the original housing.
At that stage, Holinger had only built gear sets and never a complete gearbox and for some reason the shift pattern was back-to-front when it was all assembled, so first was where fourth would have been, and so on.
It wasn't an issue for the Escort's first drivers, Richard Knight and Graham 'Tubby' Ritter, who were so grateful for the extra cog they happily raced it for two years in this configuration.
When a new Under 2000cc category was introduced for the 1972 ATCC, Bib's eldest son Michael, who had served his racing apprenticeship in Formula Ford, took over the Escort as a 21st birthday 'present'.
Under the new rules, the Under 2000cc cars earned ATCC series points on the same 9-6-4-3-2-1 basis as the big-banger Camaros, Mustangs and Monaros, with bonus points of 4-3-2-1 applying to outright places.
With such an attractive scoring system, the Under 2000cc category attracted considerable interest from mainly Escort and Alfa entrants, but the Stillwell/Escort combination was the pick of the new crop. By the penultimate Surfers Paradise round of the eight-event championship series, Stillwell was unbeatable for the sub-2.0-litre crown.
He also finished the year in a fine second place in the outright ATCC pointscore, just nine points behind winner Bob Jane and with such driving luminaries as Allan Moffat and Ian Geoghegan behind him.
Thirty-six years later in Adelaide, the Escort looked just the same to Glenn Seton as he had seen it race in his childhood.
LOST AND FOUND
Michael Stillwell first heard that the car was for sale in Geelong when he got a call from a prospective purchaser in 1995. He told younger brother Chris, who is now the Stillwell Group's CEO, and Chris jumped in his car, drove straight to Geelong and bought it on the spot.
They got it with its original 1600cc BDA engine, Holinger gearbox, differential, LSD and most of the suspension, but as the car had gone through the transition from a Touring Car to a Sports Sedan since they last raced it, the first step was to establish a specification that the car should be restored to in order to get it an Historic Racing log book.
"We chose to rebuild it as when Tubby Ritter raced it in the Mallala round of the Australian Touring Car Championship in late-1971," said Stillwell Motorsport Manager Euan McDonald, "because that's when it was most highly developed as an Improved Touring Car, with the five-speed gearbox, four-wheel disc brakes and Lucas mechanical fuel injection."
It took 12 years to bring the car back to that spec, with the project continually going on the back-burner as other Stillwell racing and business imperatives took precedence. But finally the Escort made its circuit return at last year's Muscle Car Masters, resplendent in its original 'Track Red' with yellow triangle on the nose and with the Stillwell trademark number '6' slapped on each door.
Euan McDonald and his crew finished the car on the Wednesday before the meeting and it hadn't turned a wheel when it rolled out of the transporter in Sydney. That was no real issue, as its mission was purely to do a few demonstration laps in the hands of Steve Hoinville, while Chris Stillwell was to race his Mustang in the Biante Touring Car Masters series round that same weekend.
But Chris got busy at work and couldn't make the meeting and then the Mustang blew a head gasket, so the Escort was hurriedly substituted for Hoinville to drive in the Biante race.
FORD-FED
As a member of an equally-famous small Ford family, Steve Hoinville is a dab hand at Escorts and gravel-rallies a similar model, so it was very familiar territory. Showing his and the car's class, he qualified in the top 10 and finished fifth in the race.
Flushed with this success, the team entered him for the Bathurst Biante round, but the car struggled to keep up with the Big Bangers of Jim Richards and others up The Mountain, although it was the fastest of any across the top.
Finally, Chris Stillwell drove it in the final Phillip Island Biante round of the year where, with its 1600c engine, it again struggled to keep up with the pack. So after the meeting it was decided to give the car an upgrade for Biante competition in 2008.
Out came the original BDA engine and in went a new 240hp, 2.0-litre BDG alloy block engine purchased from Steven Richards, while the Holinger gearbox was replaced by a new five-speed Sierra unit. And this is how Glenn Seton found it in Adelaide.
As you'd expect from a professional driver with a small Ford family history, he took to it like a duck to water, qualifying sixth on the Adelaide street circuit and praising the car enthusiastically afterwards.
"Compared with a V8 Supercar, it's more like driving an open wheeler," he beamed. "Sure, it's down on power compared to what I've been used to, but the chassis is set up properly, so it really stops and handles well."
We saw a 'new' Glenn Seton when the flag dropped, with the two-time ATCC winner driving with new enthusiasm and aggression and when the chequered flag came out he was fifth in the first race on Friday, fourth in the second on Saturday and clearly having a ball.
"It doesn't have the straight line speed of the V8s, but it's got no weight in it and there's plenty of grip, so you can be more aggressive and carry a lot more corner speed," he said.
"Being so light, it looks after its tyres and brakes a lot better, so I could really attack the bigger cars late in the race. It also rides the kerbs really well, which is an advantage on a street circuit, as you can make up a lot of time."
But in the third and final Biante race on the Sunday when he was in third and looked a certainty for a podium position, the differential broke and he was sidelined. But driving it had been a lot of fun. More fun than his V8 Supercar Falcons, I asked? "Absolutely!" he said.
"The Biante series is a great category. It takes me back to my childhood when Dad was racing and the cars all had different characters and potentials.
"It's a real crowd-pleasing category and the idea of a little car nibbling at the heels of the big V8s is always fun. It was interesting after my first race to see all the people that gathered around the Escort - they loved it.
"In those days you could go to an iconic place like Bathurst, run in the event in a modified road car and maybe win your class. Even in the 1980s with the Nissan HR31s that I raced there were differences amongst the cars that the public used to enjoy, but today the V8 Supercars all look much the same and it's really down to the drivers."
Seton no longer has a regular V8 Supercar drive and his current duties as a member of the Holden Racing Team's 2008 Endurance squad enable him more time to spend enjoying his motorsport.
For the 43-year old 'veteran' of more than 200 ATCC races, this means mentoring his nine-year old son Aaron in karting, sorting out sports sedans and historic racing cars for other enthusiasts and developing his Ford Capri - perhaps for Biante competition.
"I still love racing, but now I want it to be fun," he said. "That's why historic racing and the Biante series make a lot of sense for me.
"I'm certainly not going to get lonely there. More and more of my friends each year, like Jim Richards and John Bowe are going the same way. It's going to be a ball."
SPECIFICATIONS
1969 Ford Escort RS1600 race car
BODY: four-door sedan with chromemoly roll cage
ENGINE: race-prepared Cosworth BDG 2.0-litre four-cylinder 16-valve with steel crankshaft, two 48mm sidedraft Weber carburettors and dry sump lubrication
POWER: 240hp @ 8500rpm
GEARBOX: five-speed Ford Sierra Type 9 with Detroit locker differential
PERFORMANCE: max speed at Bathurst with 4.4:1 final drive ratio - 246km/h @ 9000rpm
SUSPENSION: Koni double adjustable coil-over shock absorbers all-round, with fabricated lower control arms with compression struts at front and four-link leaf spring with Watts linkage at rear. Adjustable sway bars and rear roll centres
BRAKES: four-piston ventilated discs (front), two-piston callipers and solid discs (rear)
WHEELS/TYRES: 13x8inch Superlite Minilite-pattern alloys with 225/50-13 racing tyres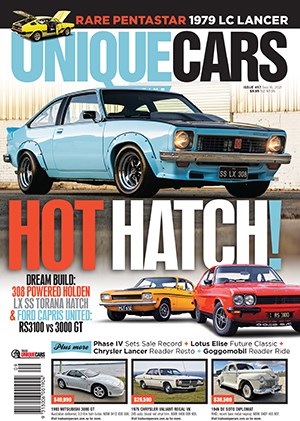 Subscribe to Unique Cars Magazine and save up to 42%
Australia's classic and muscle car bible. With stunning features, advice, market intelligence and hundreds of cars for sale.
Subscribe