Ford Fairlane Victoria Coupe (1956) Review
---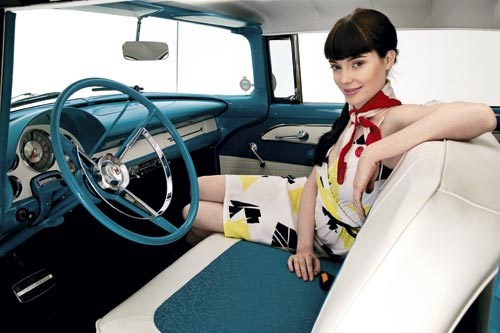 1956 Ford Fairlane Victoria Coupe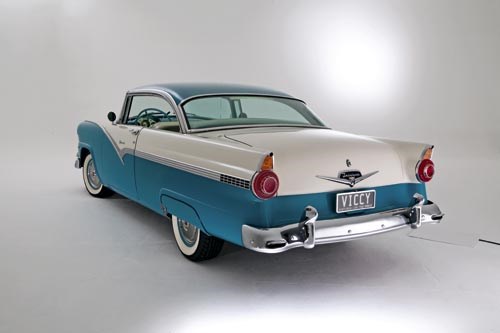 1956 Ford Fairlane Victoria Coupe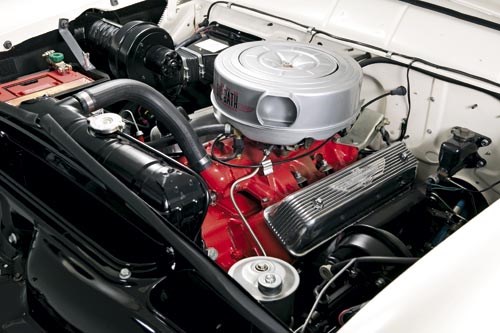 1956 Ford Fairlane Victoria Coupe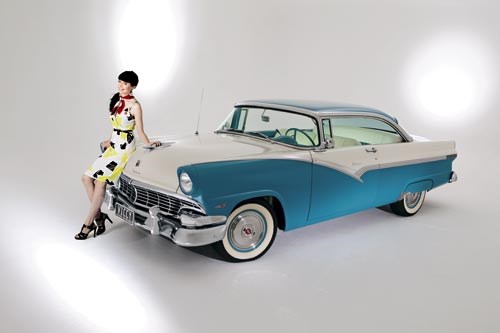 1956 ford fairlane victoria coupe

Driving Miss Viccy. One man's obsession with big Fords led to the revival of this spectacular cruiser.
1956 Ford Fairlane Victoria Coupe
Ford's iconic Fairlane series has a much longer history than many would give it credit for.
During its heyday in the 1950s, it represented far more than just a model name, but in effect was a marque in its own right, featuring several variations in two and four-door, plus soft and hard-top and clearly aimed at the well-heeled who did not necessarily want something ostentatious. Perhaps those who thought a Cadillac was too expensive, or too much car.
The 1956 Fairlane Victoria Coupe (affectionately known as a Viccy) you see here, is one of the nicest examples you're likely to come across.
For Melbourne collector Peter Hibbert, the passion for big old Fords got serious decades ago when he bought a 1948 Mercury.
"I had that car 21 years, until I almost wore it out," he recalls. It was the start of an obsession that now sees nine classics in the fleet, built from 1940 to 1965.
"I don't have any other engine (than a V8)," he admits. "It takes three years to restore each one, and I don't sell."
As for the stunning '56 Victoria pictured, he liked the fact it was a rare car locally. Never officially imported to Australia, the model remains relatively thin on the ground.
That year's Ford brochure boasts a baffling array of 19 big cars, including the Mainline, Customline, Station Wagon and Fairlane series, in addition to the Thunderbird performance flagship which, in that year, was probably the most elegant design the series ever produced.
Under the Fairlane nameplate, you could order the four-door Town Sedan, a two-door Club sedan, the Sunliner convertible, plus four models bearing the Victoria name. They included the Crown Victoria and Crown Victoria Skyliner, both of which featured B-pillars whose line was extended across the roof with a massive chrome strip. The Skyliner was highly unusual in having a tinted perspex roof forward of the B-pillar strip - an idea that failed to find popularity.
Meanwhile the Victoria Hardtop came in two variants, both with a low roofline (down two inches, according to the factory) and steeply raked rear window, and missing the B-pillar above the waistline for a much cleaner side profile. It could be ordered as a two or four-door.
The stock powerplant was a 292ci (4.8-litre) Thunderbird V8 with a four-barrel carburettor, running 8.0:1 compression and claiming 200hp. That was for the manual transmission, which could be ordered with an overdrive. Order the auto and, curiously, you got a slightly warmer engine running 8.4:1 compression and claiming an extra two horses. It's the latter package in this car.
The Fordomatic generally relies on its upper two ratios to do most of the work. Finding low requires a determined stomp on the loud pedal and is referred to as a "getaway gear" in the brochure.
The same K-bar twin-rail chassis ran under the entire series, featuring five cross-members. It looks and is immensely strong - something which no doubt contributed to the vehicle's reputation for good, predictable, handling. Front suspension is what Ford called its Angle Poised ball joint system with tele shock absorbers and coil springs, while the rear ran semi-elliptic leaf springs aided by telescopic shock absorbers fitted with what the company termed friction-control leaf inserts.
Hauling up that lot was a set of 11-inch drums all round, with a power booster offered as an option.
A massive range of accessories was on offer. The stand-out on the list was a Thunderbird-style extended rear bumper which mounted a semi-enclosed spare wheel.
ROTISSERIE TIME
Peter Hibbert's Victoria was brought in several years ago and run around by the then owner, as is, for the best part of four years. Peter used it for another couple after he acquired it, and then got stuck into the make-over.
"It was a full body-off restoration," he reveals, "Every nut, bolt, screw and part was restored to original," although some items such as lenses are reproductions from the USA. "Nothing was left untouched, except the rivets holding the chassis together."
That's very easy to believe, as the car looks, sounds and feels tight - probably better than when it came off Ford's Long Beach assembly line.
To begin with, the body was placed on a rotisserie and examined. Minor rust was fixed and the entire package was bead-blasted, before priming and painting back to factory spec in Peacock Blue and Colonial White, with a PPG semi-acrylic.
Peter says that, if nothing else, the restoration project gave him an extraordinarily intimate knowledge of the vehicle. "You could blindfold me and put a few pieces on the table and I could tell you where they came from," he claims.
The powerplant was a relatively straight-forward overhaul job, as the 4.8-litre Thunderbird V8 (or "Y8" in Ford-speak) has a well-deserved reputation for reliability. The three-speed auto transmission has had an oil-cooler added, due to the fact it can spend a fair bit of its time travelling slowly.
"It never overheats and it's extremely reliable," he says, adding that the Ford has completed numerous decent-sized trips including an RACV Fly the Flag tour.
Another upgrade was the fitting of a power booster for the hydraulic brakes, as per the factory option.
Weirdly, the most challenging job was fitting the wind-up windows in the doors and rear quarters. Apparently it helps if you have three hands. Second on the best-avoided list was getting in behind the instrument panel to sort out heater and windscreen wiper hardware.
The highly decorative interior, with its Peacock Blue panels and brocade finish, is stock and the materials, including mats, were sourced from ABC Upholstery in Philadelphia. The bright colours are typical of this model, which also ran to flamboyant pink or bright yellow schemes. Peter says this is because the Victoria was, in its day, pitched strongly at women drivers, who feature heavily in the advertising material.
Its 12-volt electrics are handy from an ownership point of view - this was the first year for the upgrade.
So what's it actually like behind the wheel? The Victoria was described in brochures as having a "boulevarde ride", which meant a relatively soft and rolling set-up. Peter felt it was a little too spongy for our roads and went for a stiffer front anti-roll bar, plus gentle upgrades for the shock absorbers and springs. Now it's a good cruiser and he clearly loves the way it performs. "It's a very pleasant car to drive; very safe and powerful," is his simple summation.
In the metal, this '50s classic is simply a stunner and most people would be content to sit back in the shed with a glass of something and admire their handiwork. Not Peter. He's already working on the next project, a 1947 Ford Tudor.
LATE ZOOMER
Peter Hibbert, a retired builder, says he started collecting classic cars "relatively late in life" - in his late thirties - once the major distractions of raising a family and establishing a business were under control.
The first of the current collection was a '57 Chev, though he has owned lots of cars over the years. It was his childhood memory of a '48 Mercury which soon saw him concentrate on Fords, and he joined the Early Ford Club in 1986. "The then President said, 'One day, Peter, you'll have a garage full of Fords,' and he was right," he reveals.

So does he have any favourites? "No. They all have their own personality and they all get driven.
"They all have custom plates - I bought them very early - and they're all fully registered. I like to be able to jump in one on any day and go for a drive."
While he doesn't, as a rule, restore for other people, he did play a major role in getting John Watson's rare 1950 Ford Courier van, which featured on the cover of Unique Cars #290, up and running. His 'daily driver' is a Homebush-assembled '64 Fairlane 500, running 289ci V8.

HANDY HINTS
Given Peter Hibbert is a very experienced owner and restorer, it seemed worth picking his brains on what he would advise anyone to do when looking for a big American car project. His top hints are:
1. Buy a car from a dry area. Places like Arizona and Texas are perfect.
2. A sound body is critical. Fixing a poor one is hugely time-consuming, expensive, and sometimes not possible.
3. Look for the complete package. A car with all the hard-to-get items such as brightwork and some trim will save a lot of stress.
4. Get to know the owner, as that will tell you a lot about the car.
5. Whether or not the car is running is not necessarily a big issue - mechanical components can be fixed.
6. Find reliable suppliers and stick with them.

SPECIFICATIONS
1956 Ford Fairlane Victoria Coupe 
Body: two-door coupe
Engine: 4.8-litre V8
Transmission: three-speed auto
Power: 202hp @ 4600rpm
Drivetrain: front engine, RWD
Performance: 0-100km/h - 12.2secs
Price (when new): US$2,103
Unique Cars magazine Value Guides
Sell your car for free right here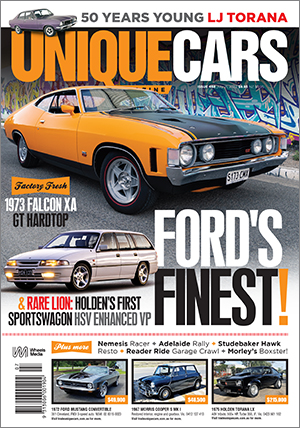 SUBSCRIBE TO UNIQUE CARS MAGAZINE
Get your monthly fix of news, reviews and stories on the greatest cars and minds in the automotive world.
Subscribe