Porsche Type 804 Formula One winner
---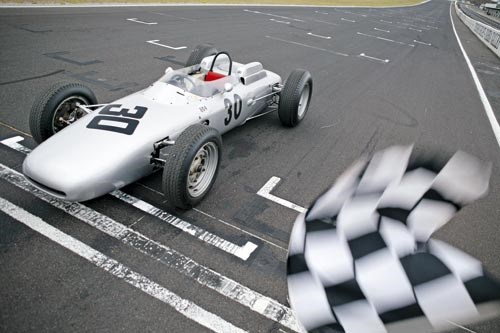 Porsche Type 804 Formula 1 winner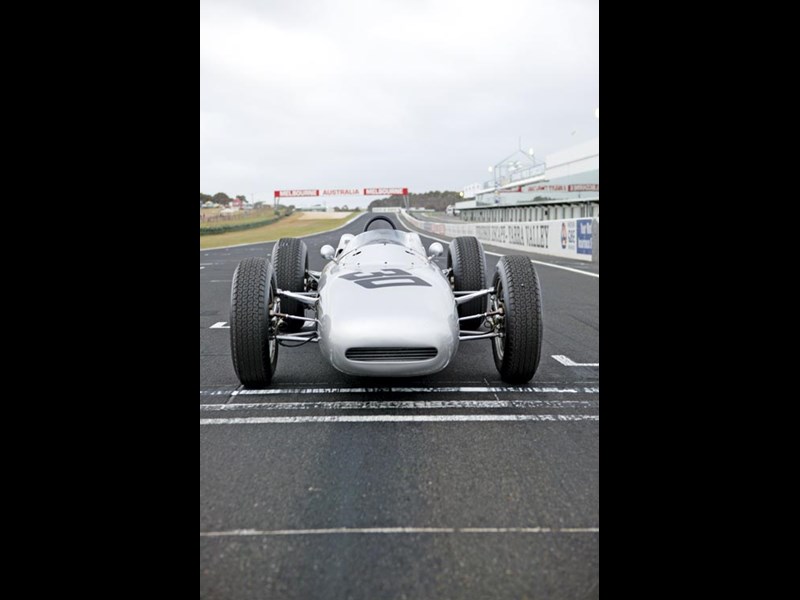 Porsche Type 804 Formula 1 winner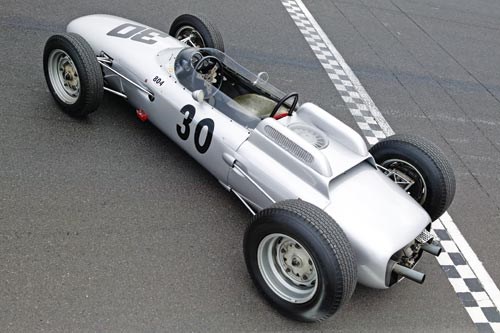 Porsche Type 804 Formula 1 winner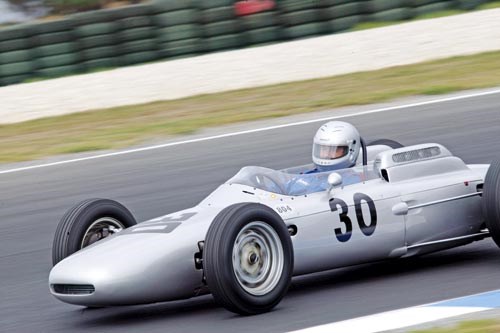 Porsche Type 804 Formula 1 winner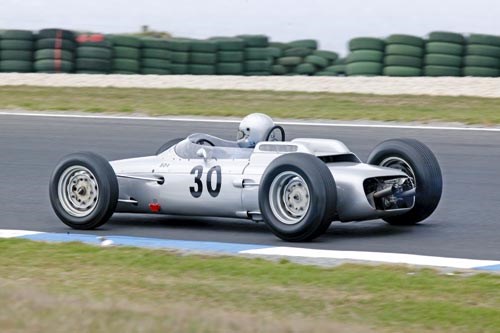 Porsche Type 804 Formula 1 winner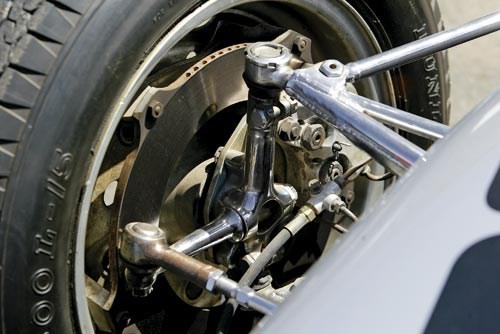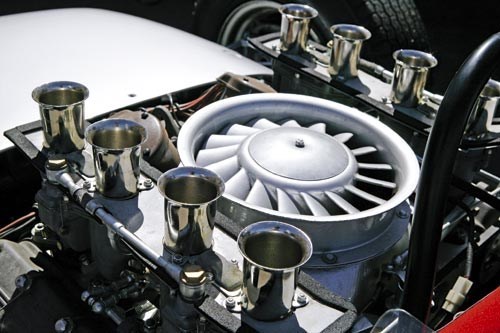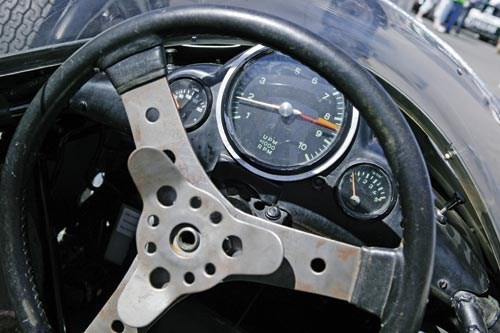 Porsche's Formula one success was fleeting but it paid dividends later on
Porsche Type 804
Did you know Porsche briefly flirted with F1?
If Ferry Porsche had got his way, Porsche's name would probably never have graced the F1 record books.
The father of the Porsche car never really approved of the company's entry into the premier league of international racing in the early-1960s. For him, Porsche was a sports car maker first and foremost and he generally disapproved of the idea by competition boss Huschke von Hanstein to go 'off message'.
But von Hanstein not only had Ferry's ear, but also a compelling argument. After nearly a decade of achieving countless class victories in European sports car races, hillclimbs and Sicily's tortuous Targa Florio, the factory's engineers were getting bored.
The Ernst Fuhrmann-designed Type 547 four-cylinder quad-cam engine introduced in 1953 had peaked in development. Although it had powered an RS60 Spyder sports car to victory in the Sebring 12-Hour race in 1960 when the Ferraris stayed at home and had taken Porsche's Formula 2 car to third place in the World Championship in the interim year of the new 1.5-litre Formula One in 1961, it was at the end of its development road.
"The engineers need a fresh challenge," von Hanstein is said to have told Ferry Porsche early in 1961, supported by new engine development wunderkind Hans Mezger. "They need to get excited again."
What he wanted was for Porsche to take on the biggest names in motorsport and challenge for outright rather than just class wins by building his own F1 car.
It should have happened that year, when Porsche could have capitalised on the unpreparedness of its rivals in that first year of the new formula, but it took a year to wear Ferry down. Then, faced with such a putsch of enthusiasm, he reluctantly agreed, but on one strict condition: if the new monoposto to bear his family's name was not fast enough in practice for its first event, it couldn't start.
At the Dutch GP on May 20, 1962 the paddock was buzzing when the technicians from Stuttgart unloaded two brand-new Grand Prix Porsches for American Dan Gurney and Sweden's Jo Bonnier to drive.
With F1 as their new 'playground' Porsche's engineers took the opportunity to try out many new ideas. The type 804 was not only a brand-new racing car in every aspect but it also pioneered many new technical features for Porsche.
Behind the driver sat a new flat-eight 1494cc air-cooled engine codenamed Type 753, featuring titanium conrods and a horizontal cooling fan above its boxer engine for the first time on a Porsche.
It initially produced 178hp (133kW) – not exceptional by modern standards, but good enough for 270km/h in a car weighing just 50kg above the new minimum weight limit of 450kg. Still, it was about 12hp off the benchmark 190hp being achieved by the latest Coventry Climax V8s used by Brabham, Cooper, Lola and Lotus.
Channelling the power was a new six-speeder, while the fabricated suspension arms and the disc brakes on all wheels were other 'firsts' for any Porsche.
Initially it looked as though Ferry might exercise his veto, as neither Gurney nor Bonnier could get near the 1961 times of the factory's four-cylinder F2 Porsche, let alone the fastest 1961 qualifying time of 1:35.7, as both drivers complained of unsteady handling.
However the gritty Gurney was determined that the Type 804 should succeed and in the afternoon session pulled a 'blinder' to lap in 1:34.7. While still well off Jim Clark's pole-setting time of 1:32.5 in his new Lotus 25, it was enough to get Ferry's nod and two F1 Porsches lined up on the grid for their first Grand Prix the following day.
It wasn't a particularly auspicious start. Bonnier was never really on the pace and although Gurney ran as high as third in the first 10 laps, the car's gear linkage broke after 48 of the 80 laps, ending the team's day.
Ferry was anything but pleased. A privateer in last year's car had beaten the works cars and initially he decided the team wouldn't go to the following Grand Prix at Monaco. However his mind was changed by Gurney, who successfully argued that only by racing could real progress be made and he worked day and night with the engineers to get a single 804 car ready for the street race.
The Californian fully justified the effort by qualifying amongst three cars tied for third on the grid, proving that Porsche's 'eight' could aspire to F1 success. However his work came to nought when he was rammed from behind in the race, shoving the 804's engine forward 10cm and breaking its frame. Its GP was over.
Huschke von Hanstein decided to bypass the Belgian GP at Spa a fortnight later, instead setting his sights on the French Grand Prix at Rouen on July 8. In the interval, Hans Mezger continued to massage the engine to improve mid-range torque, while development engineer Helmuth Bott concentrated on the chassis, among other things, lowering the seating position of both Gurney and Bonnier for better aerodynamics and handling.
Considerable testing was also undertaken on the Nurburgring, with Gurney eventually turning in the fastest time ever achieved on the challenging Nordschleife circuit, recording an 8:44.4 – well under the lap record. So the team arrived at the Rouen-Les-Essarts circuit in early July with new confidence.
There were two other things in their favour. Ferrari had decided not to come to Rouen, while the rough nature of the 6.2km circuit suited Porsche's robust chassis, buffed on the similar surface of the Nurburgring.
They also had the lion-hearted Gurney who, despite suffering an untimely bout of flu, qualified his Porsche on the third row – 1.7secs adrift of pole, but 1.4secs faster than Bonnier on the next row.
By the time things settled down in the race, Gurney was running sixth behind Jack Brabham. But the Australian's car was faster and the American had to wait until the rear suspension of the fragile Lotus broke to get past. Then the other cars ahead of him began to self-destruct.
Bruce McLaren spun his Cooper; John Surtees made a pit stop in the Lola; Graham Hill's BRM was hit from behind by another car while braking, losing ground and Jim Clark, who had then inherited the lead, also stopped with broken suspension on his Lotus. And when Hill finally succumbed to a sticking throttle, Gurney found himself in the lead, over a lap ahead on Tony Maggs' Cooper when the chequered flag fell. Porsche had won a Grand Prix with its first F1 car.
The engineers were delighted, but even happier were the wives and girlfriends of the team's mechanics, who had communally vowed not to shave until Porsche won a Grand Prix.
It had been a lucky win, for sure, and from a racing perspective, the 48th Grand Prix of the Automobile Club of France was hardly a classic spectacle. But none of the other teams begrudged Porsche its moment of glory, even though they considered it a fluke. They were soon to be proven wrong.
The victory gave Porsche, and Ferry in particular, the confidence to sign off on the remainder of the 1962 season. But just a week later there was a non-championship Grand Prix on the Solitude circuit just outside Stuttgart and the team thought it would be a nice idea to show off the cars to their hometown supporters.
Porsche again entered two 804s, Bonnier keeping his car, chassis 804-2, from Rouen and Gurney driving a new car, chassis 804-3.
Although the 285km Solitude race lacked championship status, the opposition was no less fierce than any title GP, with Clark's Lotus the fastest qualifier ahead of Gurney and Bonnier.
But the fanatic German crowd estimated at an incredible 350,000 erupted when Gurney passed Clark on the first lap and led to the finish, setting a new 174.5km/h lap record on the ninth lap. Gurney said he had never seen such a crowd outside the Indianapolis 500 and the sea of hats in the air was like a wave as he made his final lap to victory.
Porsche's F1 car this time had earned its laurels, beating its rivals fair and square with no excuses. It mightn't have made the F1 record books, but to Huschke von Hanstein and his team at Stuttgart, this was like winning the World Cup. It was also the end of Porsche's purple patch.
In the next GP at Aintree, Clark's Lotus was untouchable and both Porsches struck mechanical bothers; at the Nurburgring, Gurney chose the wrong tyres in alternating wet and dry conditions and finished third; it was the same result in Sweden; and there were more mechanical problems at Monza and Watkins Glen in the US that in each case denied Gurney a place on the podium in each.
Although it was never acknowledged as such, the US Grand Prix turned out to be the 804's last. Rumours that the company might withdraw from F1 were circulating in Europe in October and the following month Porsche withdrew its entries from the season-closing South African GP. When von Hanstein released his two drivers, it became obvious there would be no Porsche F1 campaign in 1963. The adventure was over.
Quite simply, the F1 programme had been too costly for its benefits, both in cash and company resources. As Ferry Porsche pointed out, the design was getting too far away from that of a production car, which was completely at odds with all that Porsche stood for previously, and since.
The Type 753 engine took 220 hours to build, while it took no more than two eight hour days to assemble a quad-cam Carrera four-cylinder engine. The compact design made it a nightmare to work on and for these reasons it was never even remotely considered for limited production as had once been hoped.
It was a case of 'good idea; wrong time'. Because it was not endorsed fully by Ferry Porsche from the outset, the project effectively was a season too late and in that interim the British F1 manufacturers, initially starved of a decent eight-cylinder engine, made big gains in chassis design and aerodynamics. There was also the 'Jim Clark' factor – a once in an era driver. Against these odds, Porsche struggled.
But in hindsight the F1 project was the foundation of Porsche's domination of international sports car racing in the late-'60s and early-'70s, a legacy that still delivers returns in customer racing vehicles like today's LM2 Spyder RS.
While work on the 1.5-litre F1 engine ceased in 1962 the design developed by Hans Mezger became a potent weapon for Porsche in sports car racing. As the Type 771, it spawned a series of 2.0, 2.4, 2.7 and finally 3.0-litre eight-cylinders that resulted in outright victories in the European Hillclimb Championship, the Targa Florio road race and finally brought Porsche its first Constructors' World Championship in 1969 with the Type 908-2 sports car.
Perhaps even more important, the F1 project left behind the 'idea' at Porsche that it could be an outright winner on the world stage, rather than a supporting actor picking up class awards.
Of course Porsche's F1 story doesn't end with the Type 804. When McLaren in the early-1980s found itself uncompetitive with its Cosworth engine against the new turbo cars of Renault, BMW and Ferrari, TAG boss Mansour Ojeh brought together Porsche, John Barnard and Hans Mezger in a unique partnership to develop a new McLaren around a new engine.
The combination of these great talents, Porsche's unrivalled experience with turbocharging in sports car racing and Niki Lauda's fierce desire to win the World Championship again after his near-death experience at the Nurburgring, resulted in the TAG Porsche McLaren winning the title in 1984 and going on to take another two.
Even more significantly, Porsche made rather than lost money on this venture, as it was a paid customer project for its Weissach research and development centre, just like more than half the work carried out there today.
But we have to wonder whether it all would have happened had Dan Gurney not tasted the champagne and Porsche learned how to win in the big league at Rouen on that July Sunday, 45 years ago in 1962.
Unique Cars magazine Value Guides
Sell your car for free right here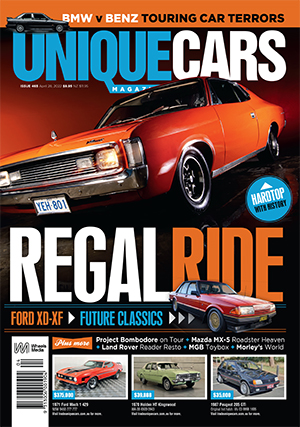 SUBSCRIBE TO UNIQUE CARS MAGAZINE
Get your monthly fix of news, reviews and stories on the greatest cars and minds in the automotive world.
Subscribe