Porsche 911 Turbo in Northern Territory
---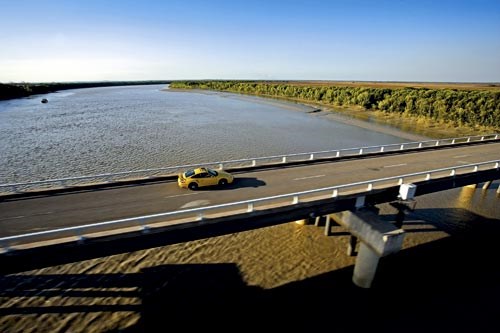 Porsche 911 Turbo in Northern Territory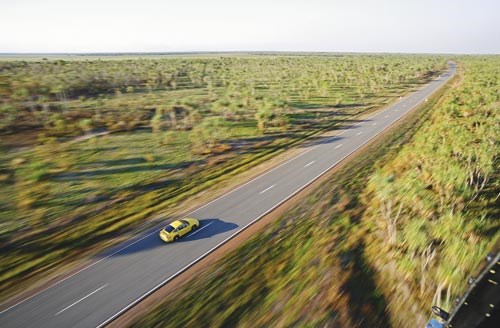 Porsche 911 Turbo in Northern Territory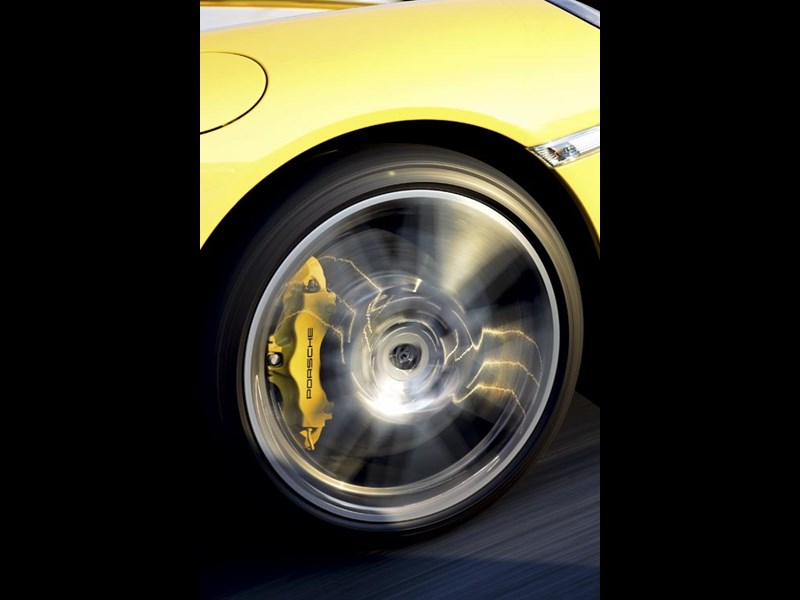 Porsche 911 Turbo in Northern Territory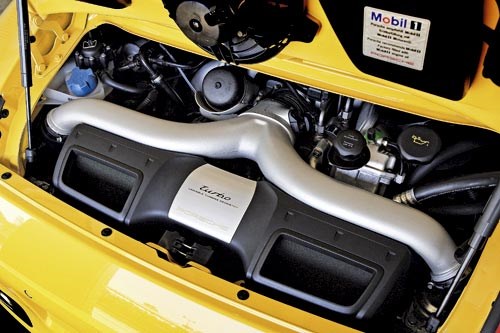 Porsche 911 Turbo in Northern Territory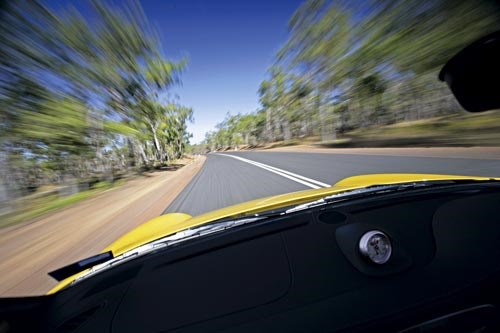 Porsche 911 Turbo in Northern Territory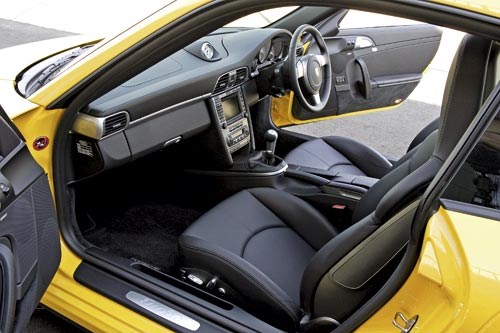 Porsche 911 Turbo in Northern Territory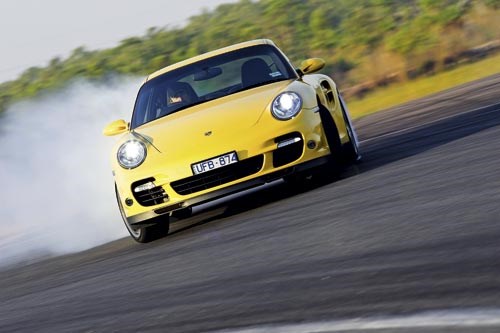 Porsche 911 Turbo in Northern Territory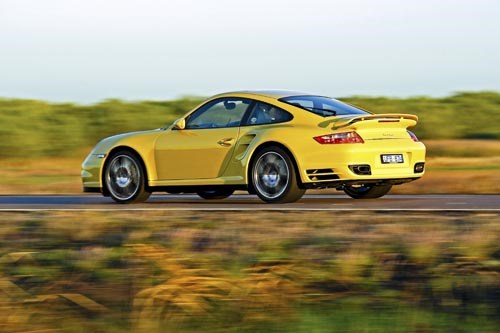 Porsche 911 Turbo in Northern Territory

It's not every day you get to cut loose a top-end sports car, in the Top End...
Porsche 911 Turbo
First published unique cars magazine, #265 (Sept- Oct, 2006)
There's nothing like giving a high performance car its head on the de-restricted roads of the top end of Australia
Statistically, we were flying. Nearly 89 metres a second; a heartbeat over 320km/h, or 70km/h faster than a laden 747 needs to get 'air'. Faster than Craig Lowndes' Ford flies at Bathurst and matched only by another Falcon, the Peregrine.
Even Robert Doornbos could do little better a few months back when he reached a record-breaking 326km/h in his Red Bull Racing F1 car on a closed-off Dutch freeway.
At this speed, scenery is a colourful smudge in your peripheral vision and the narrowing line of bitumen ahead becomes surreally like an X-Box game.
It's an out-of body-experience that only those who have been there can really appreciate. Less fortunates can only shake their heads and wonder.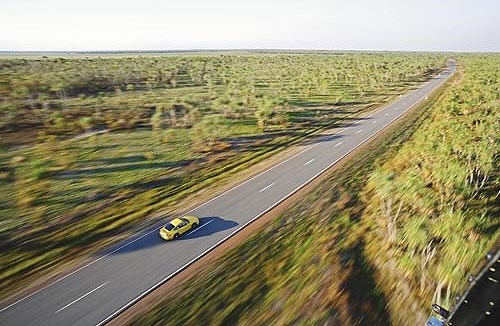 On a German Autobahn, with its perfectly formed, multi-laned pavement, ever-present Armco fencing, absence of wandering wildlife and the comfort that other road users will behave obediently and responsibly as you rip the paint from their VWs, it's different. There, nearly 90 metres a second is an exciting, but far less adventurous concept.
In Germany, many mild-mannered citizens regularly travel at over 200km/h on their way to work or to inter-city meetings. But in Australia, few road users other than those being pursued by the law will reach speeds that many Europeans regard as 'normal' – certainly not outside the comfort zone of a well-engineered, controlled roadspace such as a freeway.
In the Western world, there's only one place that you can legally let rip on a one-lane each way road, 24/7: the Northern Territory. It's been a unique privilege afforded Territorians for many years, thanks to the independent nature of its Government and the unique tyranny of its vast distances and isolated townships.
Fully-sealed in only the last decade of last century, the Stuart Highway, named after Scottish-born explorer and surveyor, John McDouall Stuart, is the only major road linking Australia from north to south, splitting the continent as it straight-lines its way from Darwin through Alice Springs on its way to Port Augusta in South Australia.
Folklore has it that a well-known Darwin architect in the mid-'80s used to leave his northern office in the morning at the wheel of his 911 3.2 Carrera and keep afternoon appointments in Alice, 1491km south.
In 1994, the road found infamy, when a highly-publicised crash in the inaugural Cannonball Run left four dead, as the Ferrari F40 of two Japanese enthusiasts crashed into an officials' post on the way from Alice to Uluru.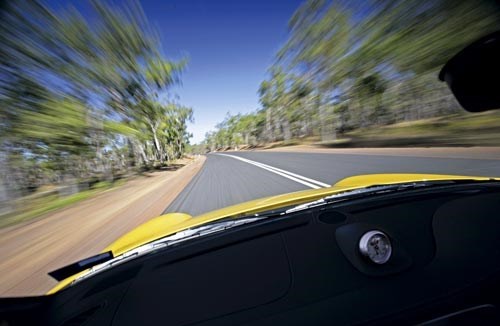 More recently, TV 'naughty boy' and football commentator Sam Newman shipped his Lamborghini Murcielago to the 'Territory' to test the top speed of his latest toy.
But we had no appointments to meet and no averages to maintain when we indulged ourselves on the northern extremities of the same road recently.
The occasion was the Australian launch of the new 911 Turbo. Where else in Australia can you conduct a real-world evaluation of what is now the fastest production Porsche since production of the V10 Carrera GT ended?
From Darwin, we did what most Northern Territory visitors do: make a 'small' 260km detour to Kakadu National Park, which since 1984 has been the World Heritage listed home to 275 species of birds, 75 species of reptiles, 25 species of frogs and around 10,000 species of insects. During our two-hour trip, we encountered perhaps a hundred of the latter, but little more.
High-speed travel in the Northern Territory is all about timing. Despite the beautiful soft light that bathes its enormous dawns and spectacular dusks, any Outback highway trip – particularly a rapid one – is best undertaken when the sun is well up.
The cooler hours between sunset and dawn bring many creatures to the roadside to enjoy the vegetation generated by its water run-off – particularly during the wet season – and few are road-wise enough to dodge road trains travelling 100km/h, let alone a Porsche at more than three times that gait.
As the fallen lie on, or beside the road, daylight signals feeding time for many large birds, whose take-off speeds are totally inadequate to clear a fast-approaching vehicle.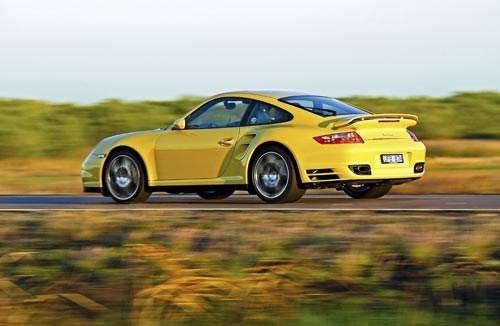 At the other end of the day, wheeling birds and flocks of wild budgerigars pose another problem. A colleague hit a cockatoo at speed, leaving its beak embedded in his windscreen. If it had been a kangaroo it would have taken out both the front and rear screens and everything in between!
Fortunately, most wildlife lies low during the heat of the day and kangaroos and emus are relatively rare sights during these times. Certainly none was to be seen as we left Darwin in the early afternoon and headed for Kakadu, turning left off the Stuart onto the Arnhem Highway.
With a population of only around 80,000, it takes little time to clear the Darwin city limits and by then, nearly half of the Northern Territory's entire population of 170,000 citizens was already behind us. Ahead we had 1.35 million square kilometres of sparsely inhabited land, roughly equal to the combined areas of France, Spain and Italy, largely to ourselves.
At our media briefing in Darwin, there was little doubt that our vehicle had the stuff to pull big numbers. Slot a 353kW twin turbo flat six into the tail of a 1585kg four-wheel drive coupe, temper its animal ferocity with clever traction control, active suspension management, motorsport honed aerodynamics and the biggest brakes you can squeeze under its forged 19inch wheels, and you have tacit approval to travel faster in safety than other mortals.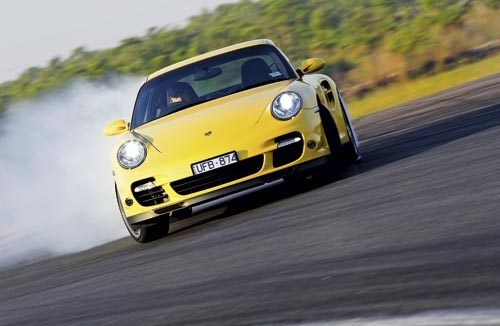 But despite all the hype and anticipation, if someone earlier had told us that we would find cruising at 180-190km/h normal on this road, we would have laughed. But here we were, sitting on 180 clicks, chatting, relaxed and realising that the parameters have now been re-set.
This section of the Arnhem Highway is not the pride of any road engineer. Pounded, patched and potholed, with sudden suspension-compressing floodways and bridges to clear the drenching wet season rains, it gave the Porsche's chassis a severe workout, with only the occasional squiggle over troublesome sections and the constant jiggling of the steering wheel in our hands to telegraph the turmoil going on beneath us.
It's a road on which our 'comfortable' touring speed was risky business for other travellers. We discovered this later when talking to a Porsche admirer at the Gagaju Resort in Jabiru. He'd left Darwin in his Mitsubishi renter and ventured up to 180km/h before his thumping heart got the better of him and slowed him to 140km/h!
Apart from our flotilla of Porsches, he was one of the fastest travellers we saw on the NT roads. During the 460-odd kilometres we covered on the launch, only once did we find a vehicle other than ours travelling at that sort of speed.
Rather than 'going for it', as road safety legislators in other states would have us believe if limits are lifted, most people settle on a speed at which they feel comfortable, usually around 120-130km/h. The exceptions are the legions of 'Grey Nomads' towing vehicles large enough to qualify as retirement complexes behind wheezing LandCruisers and Patrols, who slug along from morning tea to 'sundowners' at around 80km/h.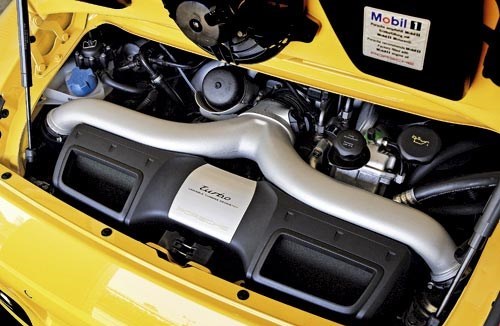 Hereby lies the greatest challenge – estimating closing speeds for safe overtaking becomes a black art. It begins with a dot on the horizon and that's when you start computing: Which direction? How large? How fast?
There's no official overtaking etiquette for cars traveling at 250km/h or more in the Northern Territory, so we set our own. Using the Turbo's massive stoppers to slow down well in advance of same direction travel seemed the smartest idea, then blasting past once sure you had been seen.
Not that overtaking is a problem for the 911 Turbo, particularly one fitted with the 'overboost' function that comes with the optional Sports Chrono package. Pressing the 'Sports' button on the centre console raises charge pressure in the middle engine speed range by 0.2 bar for up to 10secs, increasing torque by a staggering 60Nm to 680Nm. As a result, 80-120km/h comes up even faster in just 3.5secs, by which time you've easily dispatched a 60m long road warrior.
In truth, you don't need it. Thanks to new variable turbine geometry, the engine's 'normal' 620Nm available all the way from 1950rpm to 5000rpm, you don't even need to change gears in the six-speed manual.
It's amazing how the brain adjusts to new expectations. Heading south from Jabiru to Pine Creek the following morning, we immediately found ourselves cruising comfortable up to 225km/h when visibility and the road surface made it prudent. And before we'd left the park gates, we'd already seen the magic 300km/h once on the dial.
I would be lying if I said it wasn't a rush. Driving at 225km/h is one thing, but low-flying into a vanishing point of bitumen with your right foot nailed to the floor is something else.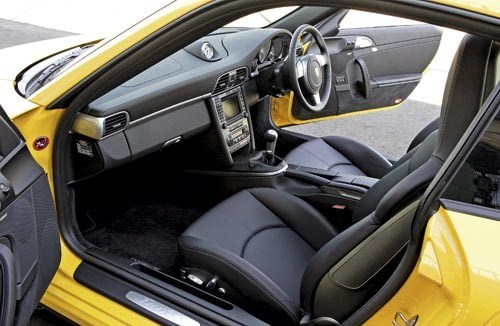 The 911 at that speed remained as immovable as John Howard in office and was still accelerating. But it was the rapid slideshow of my childhood and images of wife and kids that made me lift prematurely.
Back on the Stuart Highway after refueling at Pine Creek, the run back to Darwin initially seemed like 'game over'. Huge road trains, towing up to four trailers of highly combustible substances and an increased flow of tourist traffic, made further low-level flying an unlikely pursuit.
But hey, suddenly the Stuart opened up right to the horizon, straight as a dye. No crossroads, no traffic, no time to waste. This time the accelerator stayed buried in the carpet as the digital speedo climbed past 300km/h and surged higher: 310km/h, 315km/h, 320km/h.
One of our colleagues later reported 325 and produced photographic proof. Perhaps he was braver or had fewer slides in his show.
Trickling back, 220km/h now felt like suburban crawl on an East Coast freeway. And when we hit the 100km/h speed-limited roads of outer Darwin, it seemed almost dangerously slow. We also felt suddenly alone with our experience.
Like Top Guns, we had been into the danger zone. Only a handful of other Aussies, including the owners of the 80 new 911 Turbos that will be delivered here over the next 12 months, will ever understand.
Unique Cars magazine Value Guides
Sell your car for free right here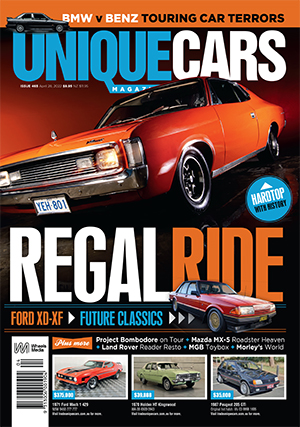 SUBSCRIBE TO UNIQUE CARS MAGAZINE
Get your monthly fix of news, reviews and stories on the greatest cars and minds in the automotive world.
Subscribe